Towards the end of 2018, a housing estate in Tebong, located in the outskirts of Malacca, was hit by a severe thunderstorm. After due evaluation and assessment, it was decided that emergency cash relief be distributed to 17 families to help tide them over the new year.
It was about 4 pm on a Sunday afternoon, December 30, 2018, when Taman Sri Cahaya, a housing estate located in Tebong, Malacca, was badly hit by a rainstorm and strong wind, blowing off the roof tiles of more than ten houses and causing damage to nearby houses too. One of the houses was severely damaged.
On that day, Tzu Chi volunteers received news of the disaster together with photos from the assistant of the Malacca State Executive Councillor Ginie Lim, who is also the chairperson of the Women, Family Development, Social Welfare and Orang Asli Affairs Committee. The next morning, volunteer Tan Teck Siang and several members of the disaster relief team had a meeting at 9 am, and thereafter at 10.15 am, rushed to the site to have a meeting with state government officials. At the meeting, Teck Siang shared with the officials Tzu Chi's principle of being direct, focused and respectful in disaster relief efforts. At the same time, he was there to understand the government's approach to disaster relief. Both parties achieved a mutual preliminary understanding.
Together with government officials, Tzu Chi volunteers moved from house to house and visited 17 families affected by the disaster. The aftermath of the disaster was not considered as severe, as minimal damage was inflicted on tiled or zinc roofs. After due assessment by Tzu Chi volunteers, it was decided that cash relief will be distributed to 17 families affected by the disaster on the following day (January 1, 2019).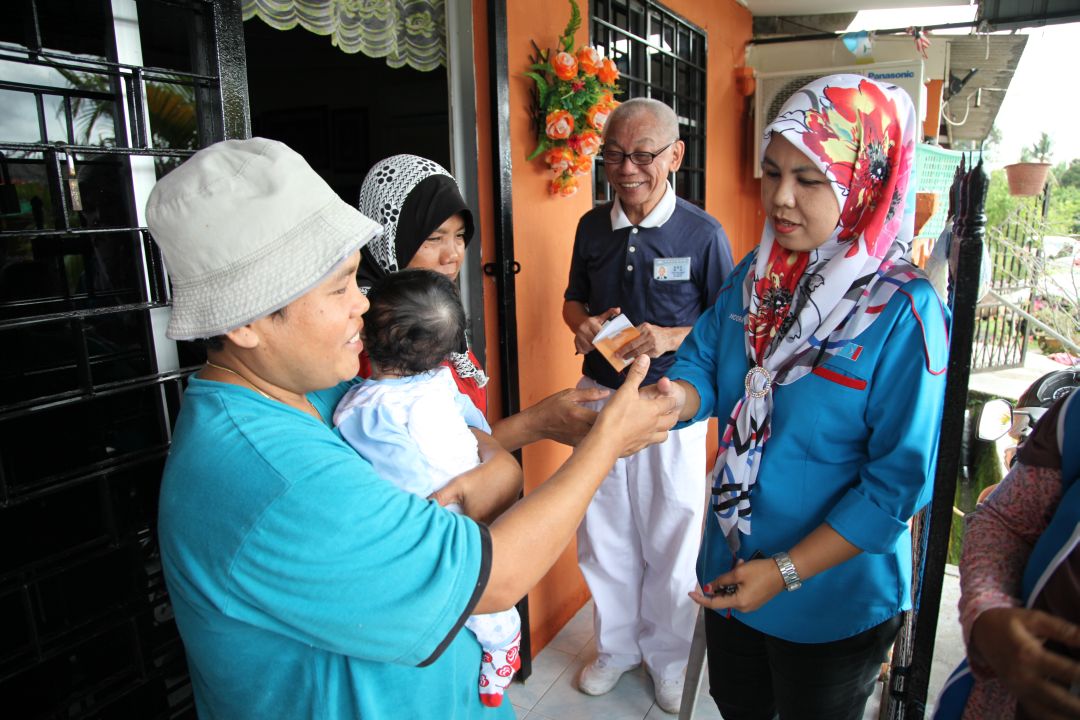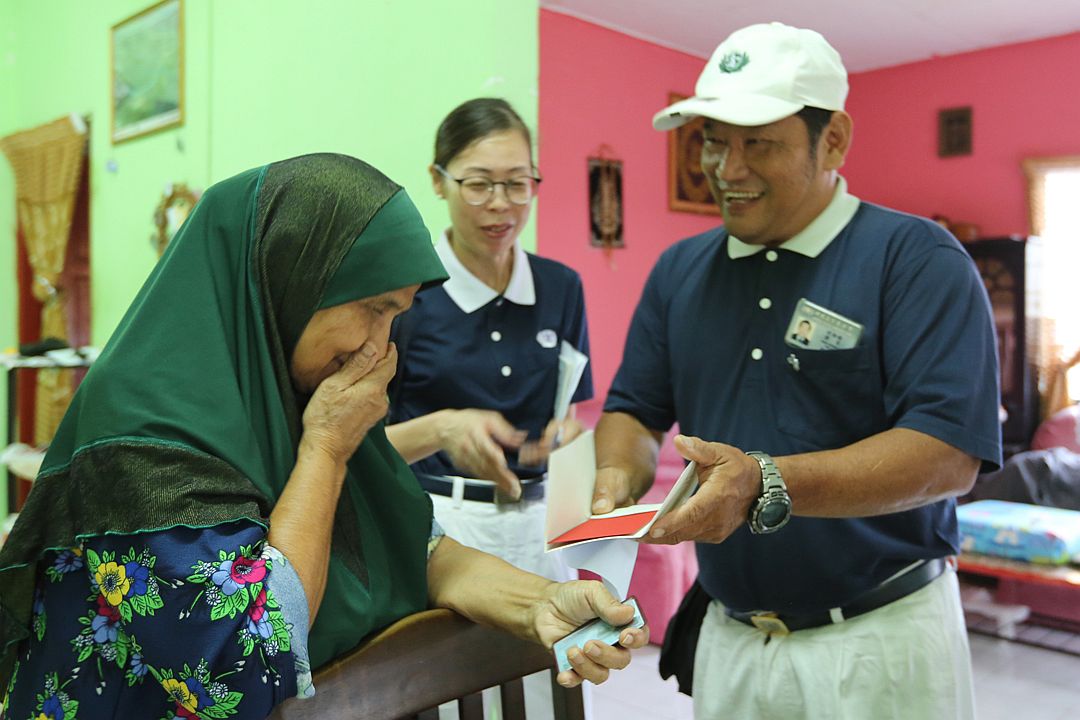 A collaboration between Tzu Chi and the government
This disaster relief effort is an outcome of the visit by Ginie Lim and four others to Tzu Chi on August 7, 2018, to know more about Tzu Chi's missions and to explore collaborations in the future.
It was then when Teck Siang first explained to Ginie Lim the operations of Tzu Chi's missions in Malacca. Lim expressed interest in Tzu Chi's charity efforts and education grant for deserving students. As there is a charity unit under her department, she hoped to have more opportunities to exchange views or co-operate with Tzu Chi in the future.
Coincidentally, when the storm struck, Lim was out of the country on official duties. But her assistant and her team have been keeping in touch with Tzu Chi volunteers, hence this maiden collaborative effort went on very smoothly.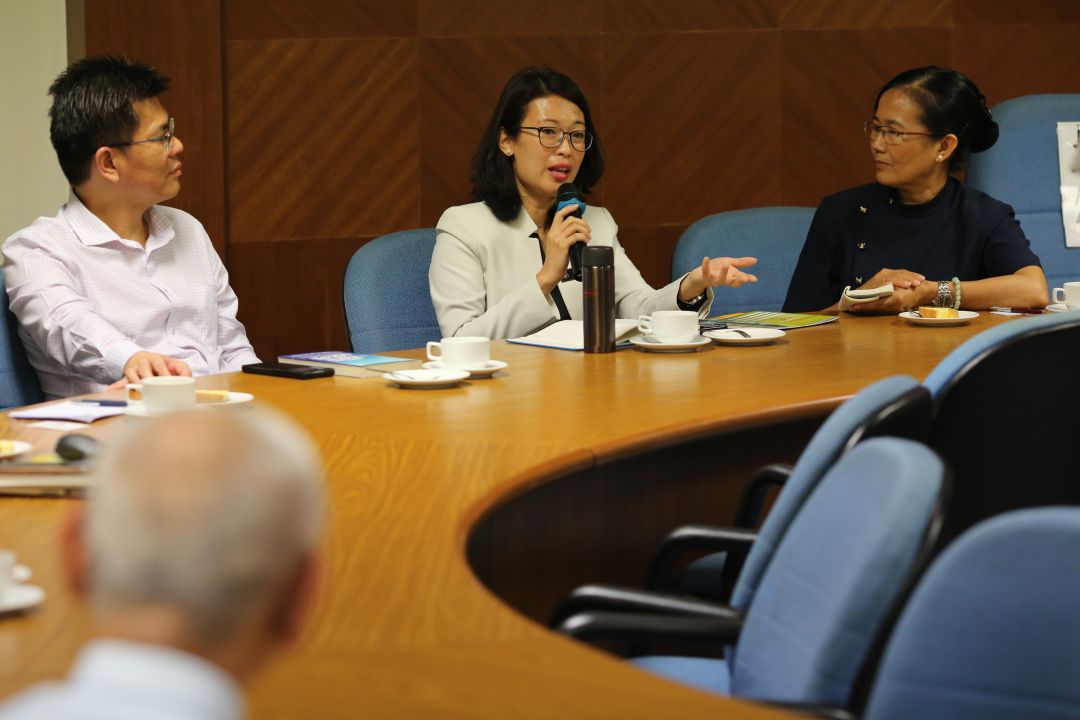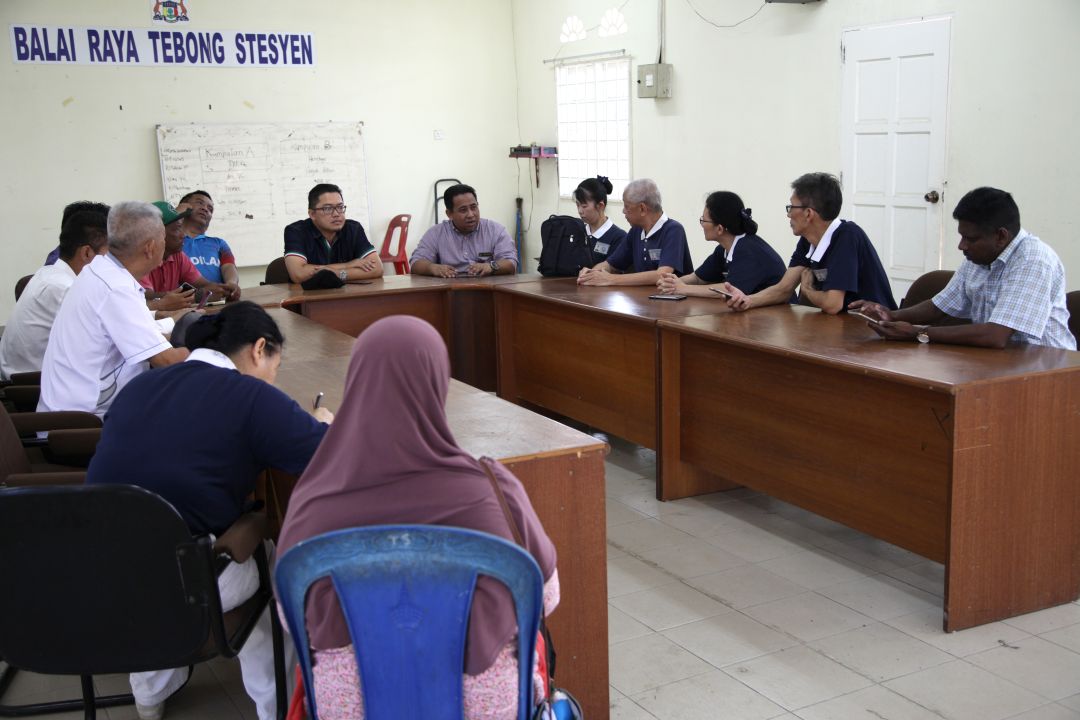 Expressing gratitude for reaching out
When the rain lashed at Muhammad Shahrol's house, he and his diabetic mother, whose toe was amputated recently, managed to salvage only the rain-soaked furniture.
"The gust of wind was fierce and lasted only a minute. The roof was ripped off, rainwater gushed in and flooded the house. It was very frightening indeed. Many thanks to all of you for helping us," said Shahrol's mother, still shaken.
    
"We appreciate your help. It has lessened our burden," said Shahrol. Many years ago, the area had experienced a windstorm, but Shahrol's house was spared from its wrath. He now knew and acknowledged how traumatic it can be when struck by natural disaster, especially when his house was badly affected.
Shahrol is no stranger to Tzu Chi. When he was 11, he had received a Study Grant from Tzu Chi, and when he was studying in a Chinese-medium primary school, he had seen Tzu Chi volunteers. He is now working and his factory is located not far from Tzu Chi Malacca Branch. Volunteers invited him to drop by the Tzu Chi grounds during his spare time and to take part in recycling efforts.
Many of the locals do not know of Tzu Chi, except for those who had received a Study Grant from Tzu Chi, such as an Indian neighbour of Shahrol's, who is also a disaster victim, and the family of Genie Lim's assistant, Razman bin Kosain.
Razman knew, though not in-depth, of Tzu Chi's recycling efforts since several years ago. Later, when his child became a beneficiary of Tzu Chi Study & Awards Scheme, he and his wife and child started to step into Tzu Chi's grounds and gained a deeper understanding of Tzu Chi's various missions.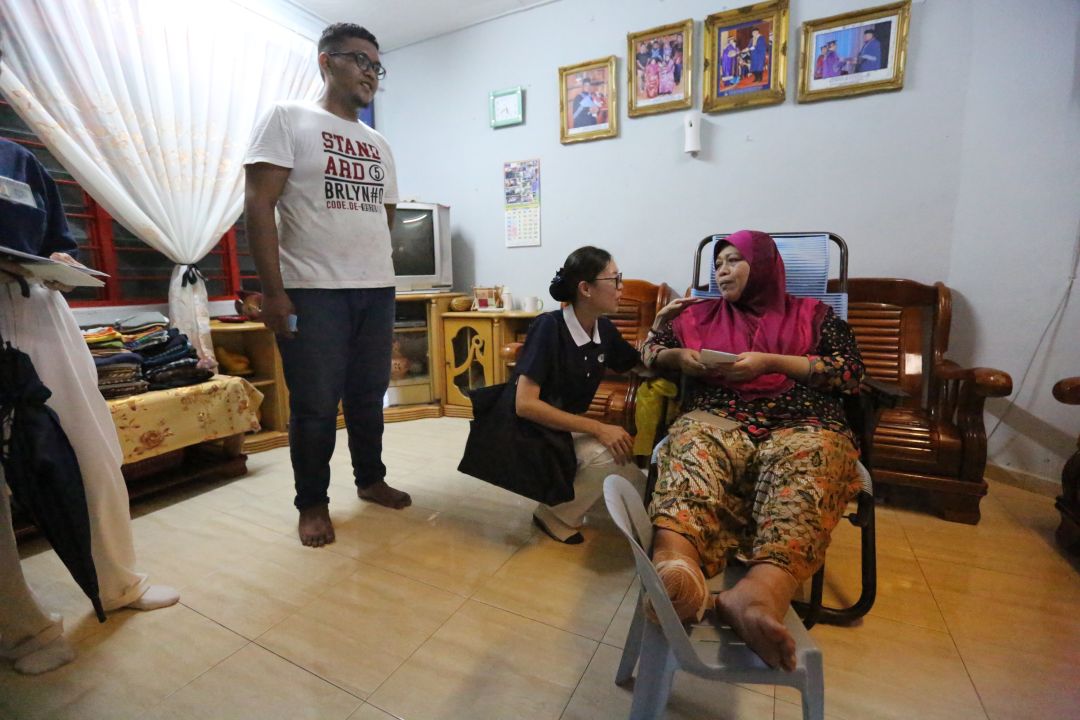 "Tzu Chi helps people regardless of their religion or race. I am very impressed. That should be the way. Human beings should help one another. So, with Tzu Chi coming to lighten the burden arising from the disaster, many people are very happy..." said Razman.
"What touches me most is that Tzu Chi's relief efforts are not limited within Malaysia, but also extend to other parts of the world where there are disasters," Razman's wife added. This is the Tzu Chi quality that left the deepest impression on her.
•
Teck Siang has mindfully prepared a report, ready to be presented to Ginie Lim when she returns to Malacca, with an appointment to be fixed to share his thoughts on this collaborative relief distribution initiative. In future, Tzu Chi Malacca hopes to take part in more co-operative efforts and interactions with other relevant units so that those in need can be served.