How do we get along with ourselves, others and the environment? And how do we do things so that it is more likely for us to achieve our goals? One purpose of education is to nurture children into individuals with sound character and interpersonal skills.
On October 20, 2019, Tzu Chi Malacca held a Tzu Chi Study & Awards Scheme presentation ceremony at its premises. The ceremony was attended by 803 award recipients from 64 schools and higher learning institutions, as well as government officials, school principals and teachers.
Despite attending the ceremony for the first time, Ter Kee Leng, school inspector for Central Malacca District, and Lim Chee Meng, principal of SJK (C) Cheng, have long learnt that character education is part of Tzu Chi Study & Awards Scheme. Hence, they gave their affirmations for that. Inspector Ter remarked that character shaping should start in the family and from young. He believed that Tzu Chi's efforts would supplement what some underprivileged families lack. Their parents are either too busy working, thus they may neglect character education; or, in cases where the children are raised in a single-parent family or by their grandparents.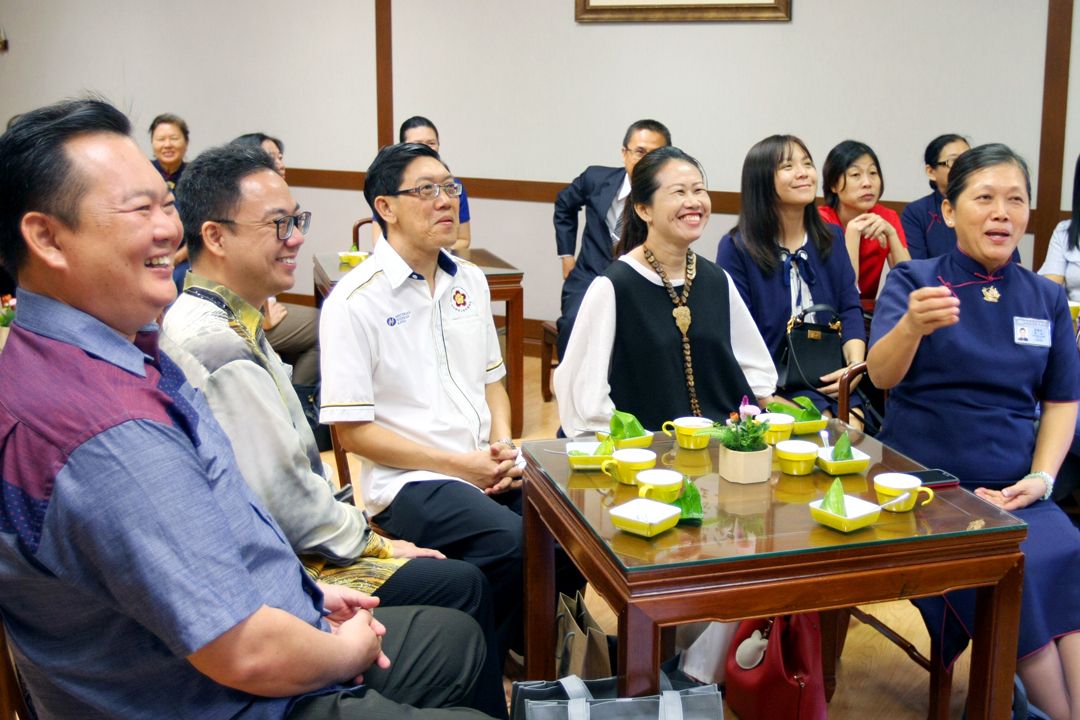 Principal Lim shared that in this information age, the children's values might be influenced by what they come across and become deviated, as they lack the ability to discern right from wrong. He has seen some children from underprivileged families, who, due to lack of self-esteem and care, react to being bullied or try to grab attention using violence or improper speeches. He stressed that character education stems from education in daily life.
This year, special arrangements were also made to share with the parents on parenting skills and highlight to them the importance of inculcating empathy, living skills, filial piety and other moral values in their children. On the other hand, the children could experience teamwork as they make eco-friendly handicrafts in small groups.
Cultivating character in daily life
A parent, Seah Wee Chuan, and his wife, Tang Wee Chain, both operate a food stall. Their eldest son, Wei Shuan, began to help out at their stall since he was in Primary 3; and their twins daughters at the age of six. The children were also taught to manage their lives, including taking responsibility for their studies, washing and ironing their school uniforms, and helping with house chores.
Wee Chain concurred with the speaker's view that parents should allow their children to learn through mistakes, instead of being over restrictive. She shared that her son once thanked her for the education he received upon noticing that his classmates did not know how to fold their uniforms. Wee Chain was glad to learn that and offered her son words of encouragement, hoping that he would be proud of his ability and grow in self-confidence. Her husband also hoped that his children could pick up living skills and be independent. Both of them place greater emphasis on their children's interpersonal skills and character development than their academic results, for they feel that those were the keys to a successful life.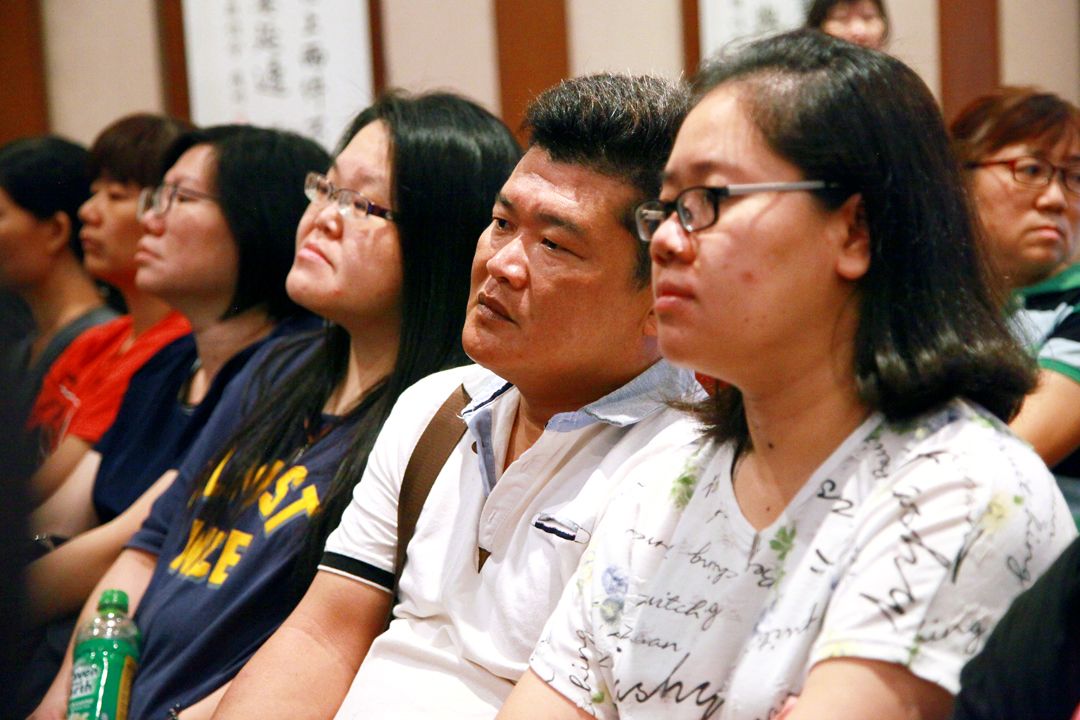 All their children received Tzu Chi's study aid for the second year, and they learnt from their daily reflection filling up the self-assessment booklet. Wei Shuan, who is in Primary 6, said politely, "The self-assessment booklet has its purpose. It serves as a reminder for us to reflect upon ourselves daily and improve our behaviour. My sisters used to be bad-tempered but they have changed so much now, even our parents praised us for our much milder temper."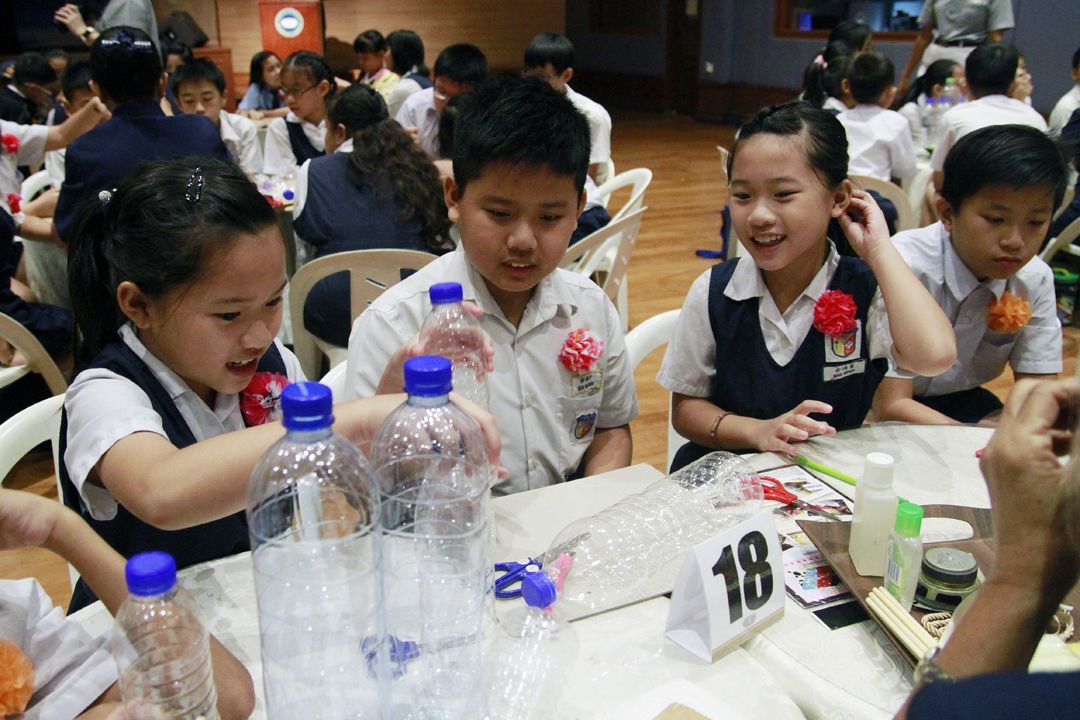 The twin sisters, Wendy and Winnie, revealed that they used to be verbally bullied by their schoolmates, who doubted their needs for financial aid seeing their big family car, and they would get angry and argue with them. "The car was bought 30 years ago, not in recent years," explained Wendy, adding that the misunderstanding had led to a poor relationship between them and their schoolmates. The situation eventually improved when they were requested to foster a harmonious relationship with their schoolmates, as specified in the self-assessment booklet.
In order to fulfil the requirement and qualify themselves for the study aid, they asked for help from their teacher to resolve the issue. Winnie said that the self-reflection helped her to calm herself down and explain to her schoolmates in a softer tone. Thanks to the constant self-reflection and practice, she managed to tame her temper and won herself the school's Good Character Award.
In the past, Winnie always argued and fought with her sister. They would even beat each other with a cane. When Wei Shuan failed to stop the fight, all three of them would end up in an altercation. Wendy said smilingly, "We used to get angry, but now we learn to take things easy and apologize to each other; and naturally we stop throwing tantrums."
The three siblings have also been filial and diligent. They would help out at their parents' stall after school, only to return home past 4 p.m. Then, they would share the house chores. During school holidays, they would join their parents as early as 6-plus in the morning. Occasionally, they would hope to sleep in longer instead of going to the stall, but Wei Shuan said, "The thought that our parents work diligently reminds us to be filial towards them. Naturally, we would not feel tired or lazy. I want to take my parents on tours when I start working."
Witnessing the positive change
This year, many secondary school students joined the volunteers to serve at the ceremony, in addition to receiving their awards. Among them were two sisters, Too Li Ting and Yi Hui, who offered warm hospitality to the registrants at the registration counter. Volunteer Liew Fong Chiang and their mother, Low Siew May, were gratified to see them serving.
Siew May said, "My youngest daughter was a person of few words and didn't like to socialize. She preferred to stay at home instead of going out with me. But Sister Fong Chiang managed to bring her out."
Siew May was worried about her daughter but since volunteers started to pay them monthly visits last year and encouraged her daughter to participate in volunteer service this year, she has shown some improvements. Fong Chiang recalled that during their first few visits, Yi Hui was very shy and stayed in her room. She tried to ask her to come out from her room and offer her words of encouragement, besides inviting her to volunteer for Tzu Chi's activities. She also guided her on managing relationships with others upon learning that she was not close to her parents.
Siew May shared smilingly that Yi Hui was in a rebellious period. Initially, she would give an unpleasant expression when others offered her advice. Her mother then shared with her what the volunteers had said, and slowly, she changed for the better. Participating in volunteer service also helped her to open up her heart and become more mature. "Now, she would share with me her encounters at school and things about her friends. I'm truly happy to see so much changes in her! The speaker just now mentioned to parents that some children refuse to share their inner world. I'm so lucky that my children are willing to share with me! Thank you Sister Fong Chiang for her care and guidance!"
Yi Hui admitted, "I used to be very shy but not so much now. My courage grew as I participated in volunteer service. I realized that interacting with others is not as hard as I had imagined. What's more, I'm doing good deeds. This makes me happy."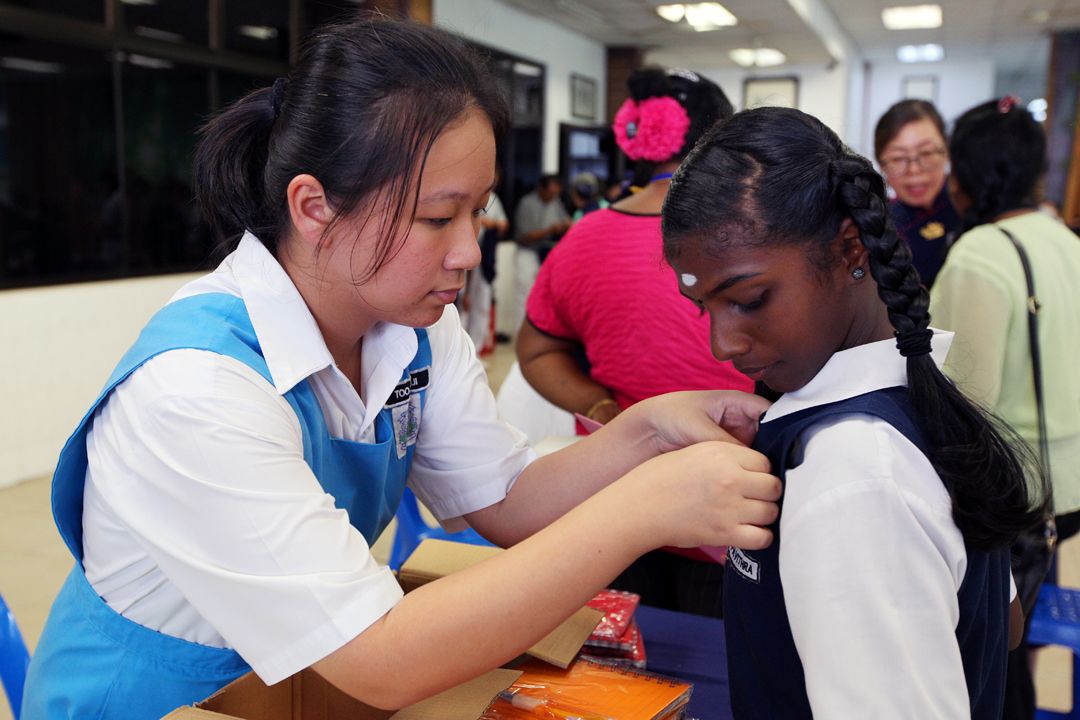 Although she was a little nervous having to interact with so many people at the registration counter, she managed to overcome her uneasiness and became more relaxed came the afternoon session. She acknowledged her weakness and believed that her positive changes will help in her future dealings with others.
Noting his strength
Muhammad Daniel Hakimi, a Primary 5 student from SJK (C) Merlimau, was raised by his neighbour, Misma binti Omar, as his mother abandoned him three days after he was born. Being a sensible boy, he would help his adopted mother with house chores to ease her burden. At the ceremony, he showed leadership skills by leading and helping other children in making handicrafts.
Misma commended Hakimi for his honesty and kindness. He would share his free meals sponsored by his school with his peers who had no food to eat; and he believes that telling lie is sinful. Misma was thankful that Tzu Chi noted the strength in Hakimi and granted him the Morality Award for the third year, besides giving him encouragement.
There was once Hakimi lose his temper in school due to overwhelming school work, and Misma was asked to meet his teacher. Hakimi honestly penned it down in his self-assessment booklet and reflected upon himself; and he has never repeated the same mistake since.
Another beneficiary, 17-year-old Sim Tien Hsin once made a mistake that broke her mother's heart. In order to qualify herself for the study aid and reduce her family's burden, she regularly filled up her self-assessment booklet, and the constant self-reflection helped her to see her shortcomings. Now, she smiles more and would help her teachers to carry their things as well as help her peers and siblings in their studies. She is conscientiously cultivating good character, hoping that she would one day become a recipient of the Morality Award.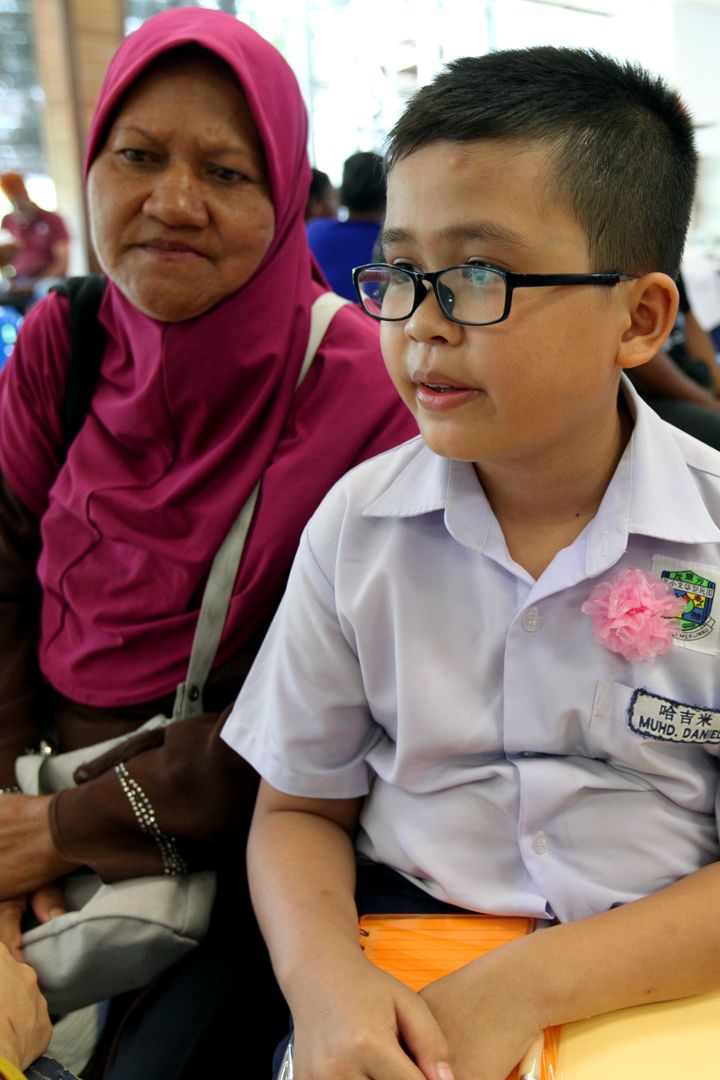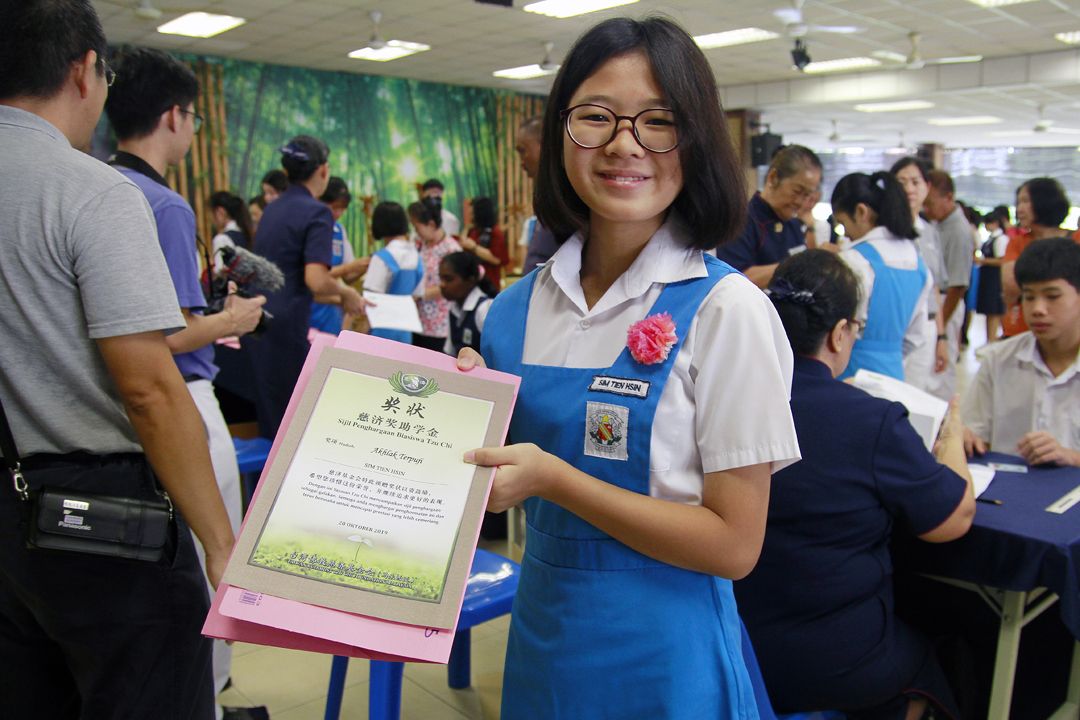 Loh Cheh Ann, who comes from a single-parent family, is also a shy boy. He has received study aid from Tzu Chi for eight years now. His mother, Yong Yok Lan, was grateful to see his boy becoming more independent, and she hopes that he will have more confident in himself.
• 
Character shaping is a continuous process that takes place in daily life. By instilling the habit of self-reflection and self-assessment in the applicants of Tzu Chi Study & Awards Scheme, it is hoped that they will slowly refine their character and benefit society in the future.