The elderly volunteers were intrigued by the idea of "going back to school" when the establishment of the Elders' Enrichment Centre was announced. They were curious: What are the classes on offer? How would it feel like being a student again, decades after bidding our schooling days goodbye? 
A cursory glance of the classroom reveals a group of students with greying hair and reading glasses perched on the bridge of their nose. Despite their delayed movements, they were no less attentive and eager to learn. Their advanced age proved not a handicap; rather, it spurred them on to cherish this rare learning opportunity.
Pairs of wrinkled, thickly-calloused hands were working on drawings and handicraft creations in this unique learning centre, where students in their 70s participate in morning exercise routines, art and craft sessions, mind-stimulating games and lessons on maintaining personal hygiene, instead of studying conventional subjects taught in school.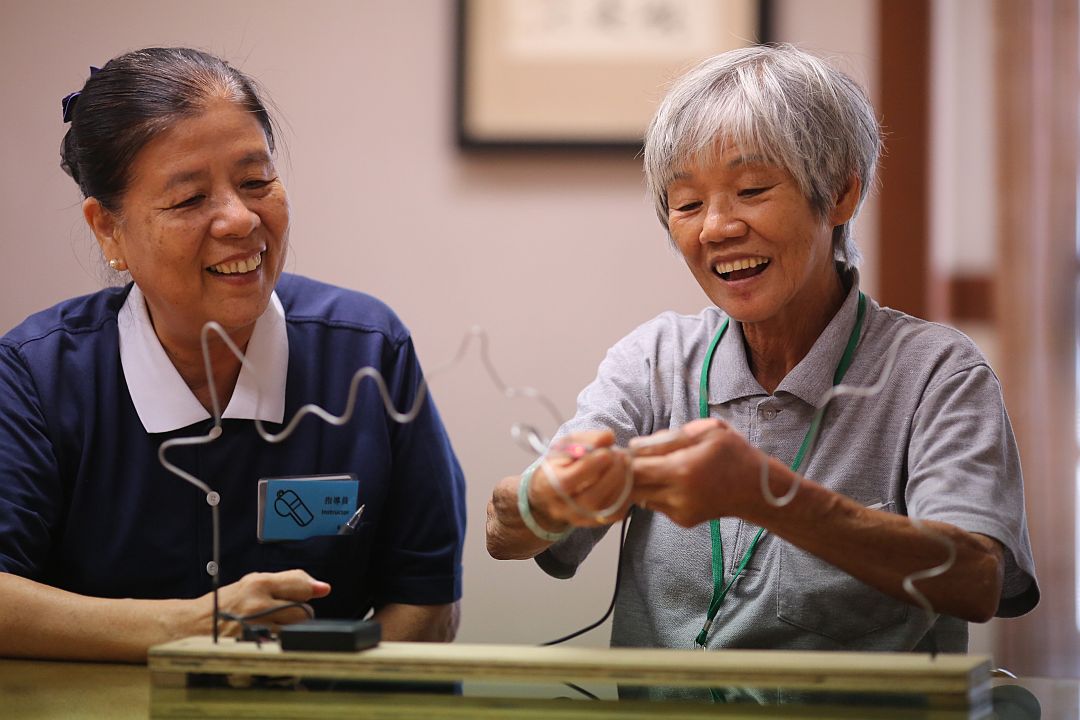 March 5, 2019 marked the first day of lessons for the seniors. After completing the registration procedure, the senior students were escorted to the Tzu-Chi Free Clinic to have their blood pressure levels, body temperature and weight measurements taken. Following that, the seniors were led on an exercise routine to flex their muscles for a fitter start to the day. Some of them were supple and could stretch and bend easily without breaking a sweat, while others were stiff and could only manage minimal activity. The art lesson built the students' confidence by encouraging them to pour their innermost thoughts into their artwork. The seniors were also treated to a varied selection of games that evoked in them unadulterated joy. During the second session on March 12, 2019, Renette Gan, a dentist, was invited to present a talk on dental care. The weekly lessons cover an array of topics, enabling the senior students to discover a diverse range of unique experiences.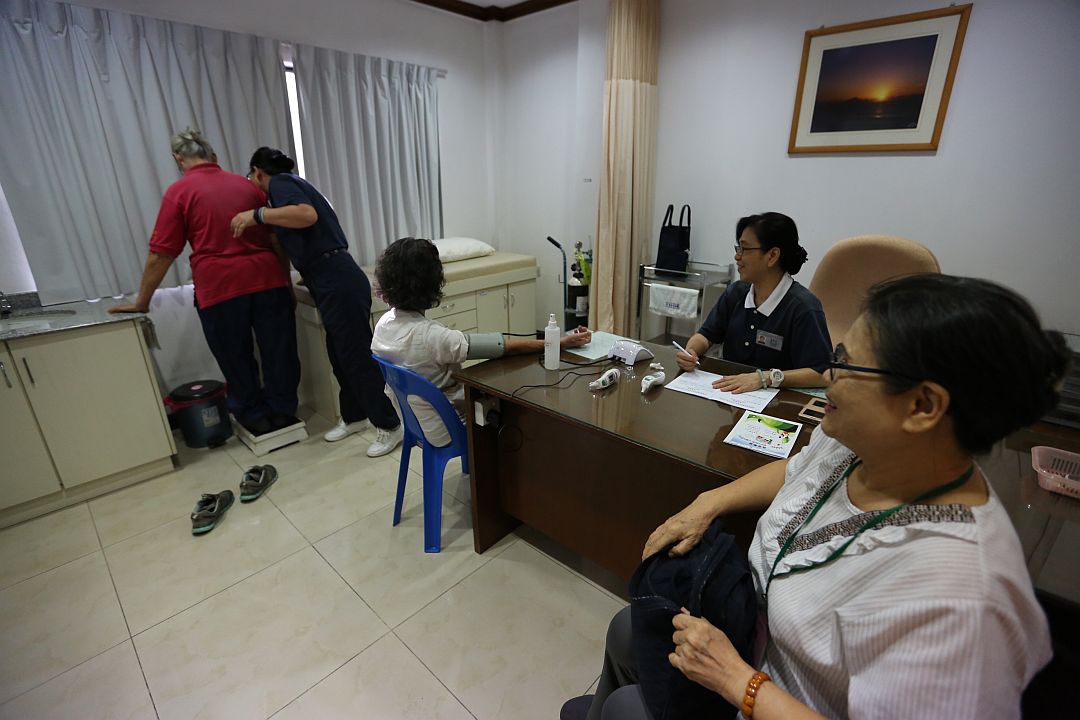 Love for the elderly  
Statistics show that the ratio of Malaysians aged 60 and above is estimated to increase to 10 percent of the total population, or 3.4 million people, by 2020. Malaysia would have transitioned into an ageing society by then, according to the Ministry of Health of Malaysia, quoting data from the United Nations.
With this in mind, Tzu Chi Malacca launched a "Caring for the Elderly" programme this year, with the Elders' Enrichment Centre as one of its initiatives. The Elders' Enrichment Centre aims to foster an enjoyable learning environment for the elderly to encourage them to socialize and stay active in keeping with the spirit of lifelong learning. Approximately 20 Tzu Chi volunteers in their 70s signed up for the inaugural intake of classes.
"These elderly volunteers are usually preoccupied with Tzu Chi's activities or volunteering work, hence there is little opportunity for us to show them concern, or to chat with them. They might feel lonely deep inside and long for a listening ear to confide in," highlighted volunteer coordinator Lee Chay Yean.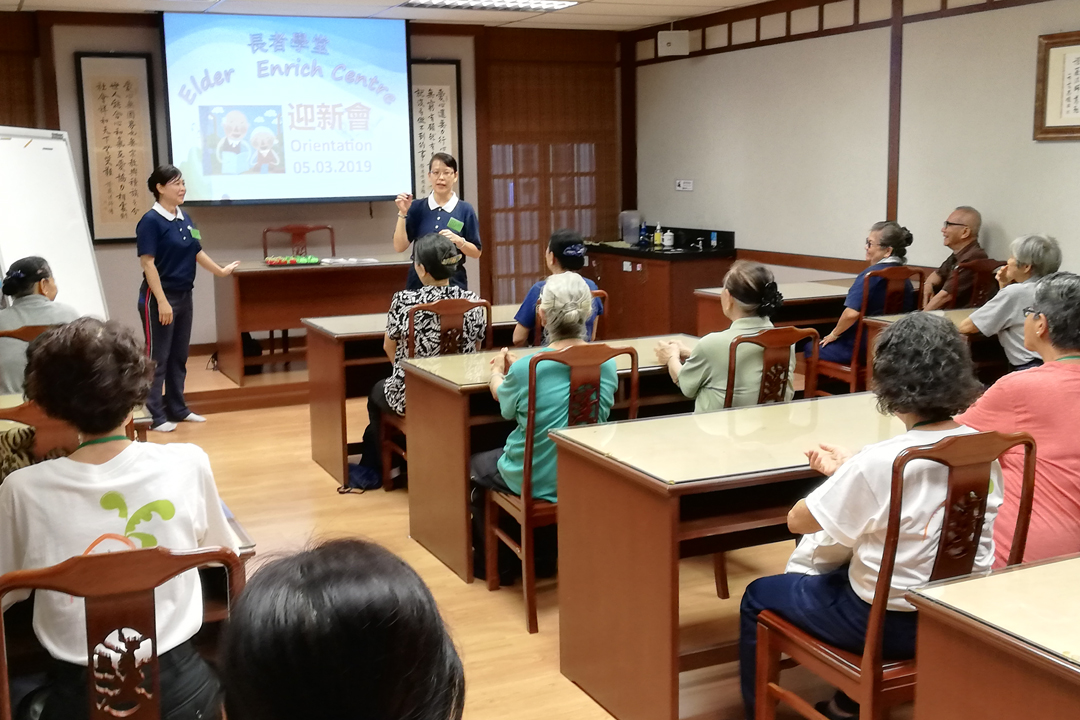 The enrichment activities arranged for the seniors include painting, lessons on the art of the tea ceremony, mind-stimulating games, music lessons, handicrafts and storytelling sessions. It is hoped that this pioneer batch of senior students will benefit from the classes and be motivated to reach out to other seniors and invite them to join Tzu Chi's charitable cause.
Conveying stories through drawings
The sole male student in the class, 75-year-old Cham Yon Fa picked up a paintbrush and drew a huge black rat. He shared jokingly, "The rat is sneaking around for food, so I drew a bowl of water for it to drink!" He recalled his days spent in his rural hometown, which was infested with rats. He admitted to having killed plenty of rats in a bid to rid his home of the pests. But joining Tzu Chi introduced him to the workings of karma, prompting him to "release" the rats from his guilty conscience by repenting through his drawing. He prayed, "I choose to set them free. I hope they will never cause trouble again in their future lives."
Yon Fa gleefully claimed that he is still young at heart – in his 20s, in fact – after depositing 50 years of his actual age in the Age Treasury. His youthful spirit motivates him to carry out recycling work daily. Although he has to take a day off every week from his recycling duties to attend the enrichment classes, he is pleased to be able to meet and learn with like-minded acquaintances who share common conversation topics and life experiences. The Enrichment Centre offers classes of a more dynamic nature, such as morning workout sessions, as well as sedentary yet mind-stimulating activities to prevent cognitive degeneration in the elderly, as Yon Fa surmised, "We will only improve ourselves by actively seeking out learning opportunities."
Broadening horizons
When other students were busy drawing on paper with crayons, Goo Yee chose to make crayon prints on paper by using her index finger, creating a colour gradient effect with the layered prints. Print by print, a flower and a butterfly gradually took shape on paper, depicting the scene of a butterfly gathering nectar from the flower.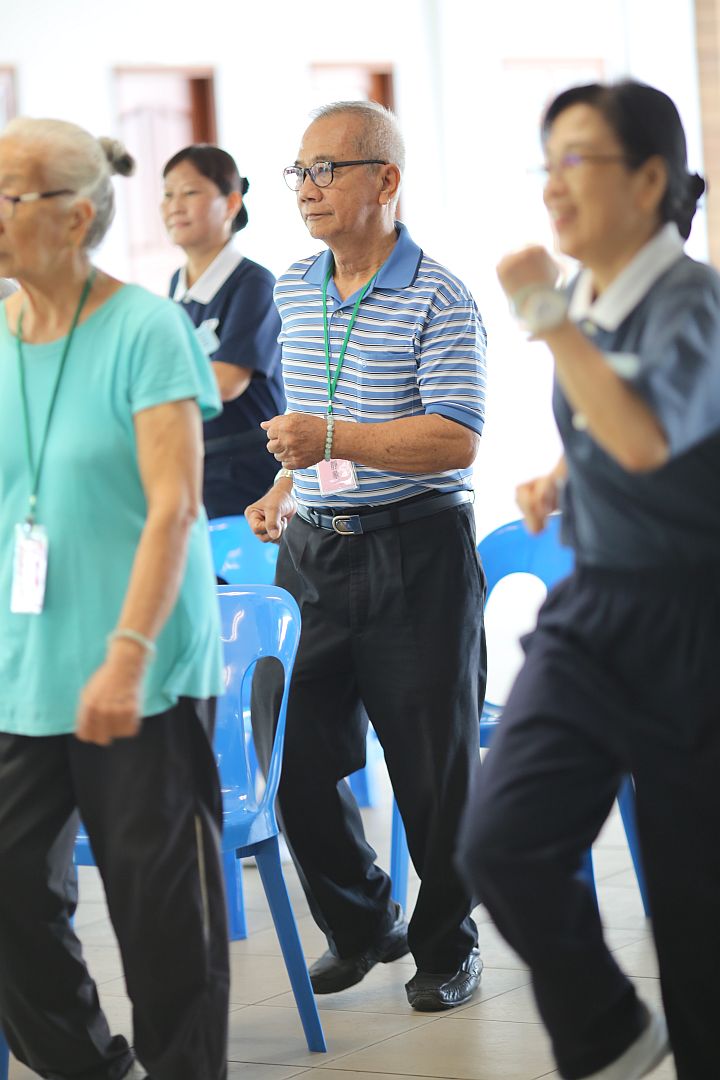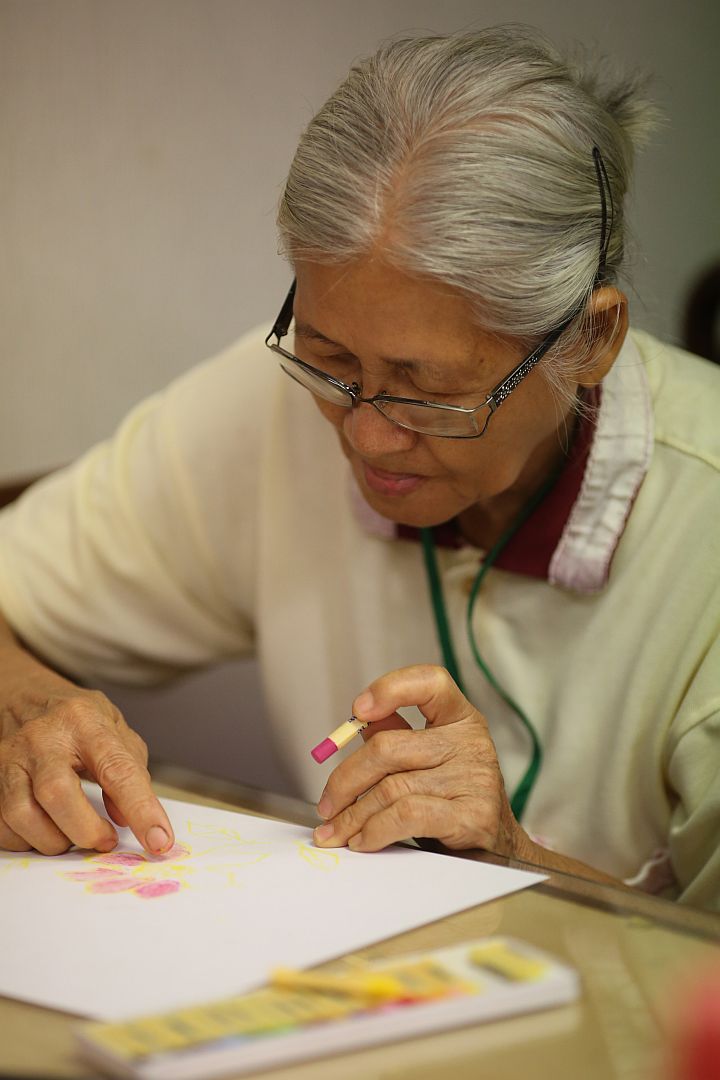 "I haven't drawn since I was 8," she reminisced with a smile. She admitted to having lost her touch for drawing after decades of not having picked up any drawing tools, yet she was a picture of wholehearted concentration in completing her artwork.
For the second lesson, the students crafted handmade bookmarks adorned with hand-pressed flowers. This activity delighted Goo Yee, who has long held an affinity for flowers. "Never have I thought that these unassuming flowers and leaves could be used to make such exquisite creations," she mused, while working on her handicraft.
Goo Yee lives in a more remote area, hence she is grateful to the volunteers for fetching her to and from class. Although she is usually occupied with her daily errands, she appreciates the opportunity to venture beyond the confines of her home to explore and broaden her horizons as a respite from her solitary life.
Another student, Ong Poh Lian wasted no time in completing two hand-pressed flower bookmarks. She relished the compliments by fellow students on the harmonious choice of colours and intricate design of her handmade bookmarks. "Thank you, everyone! I didn't expect to be able to achieve this," she gushed in response. Receiving praise for displaying artistic potential in her maiden attempt at handicraft gave her a gratifying sense of satisfaction, so much so that she decided to teach the craft to her children and grandchildren.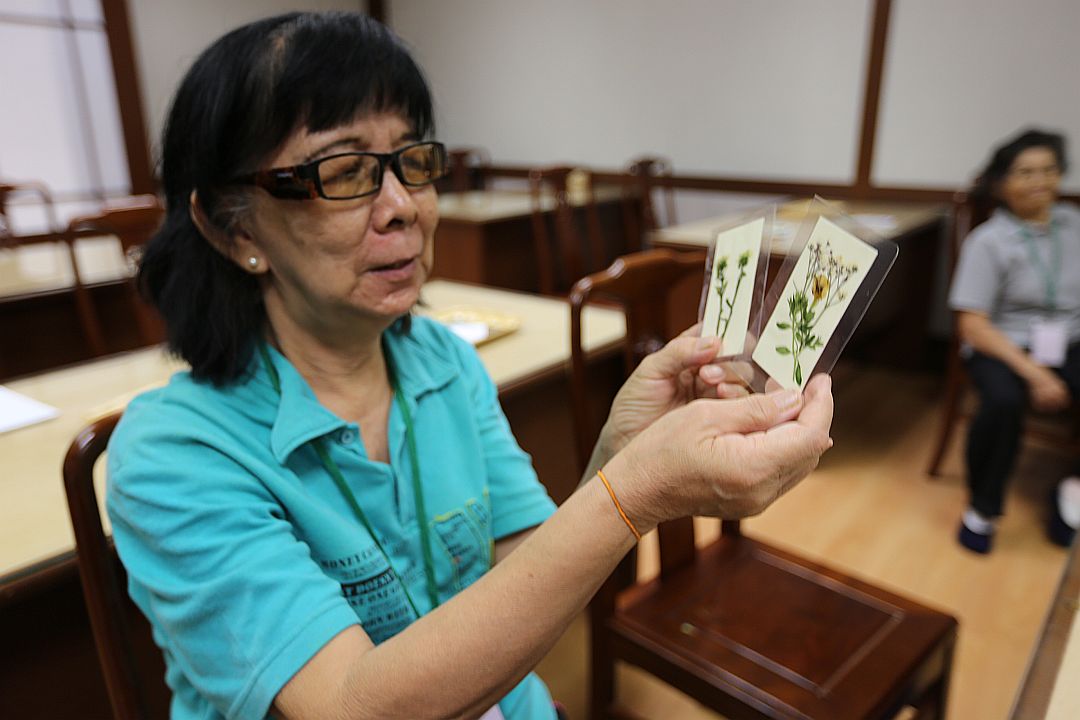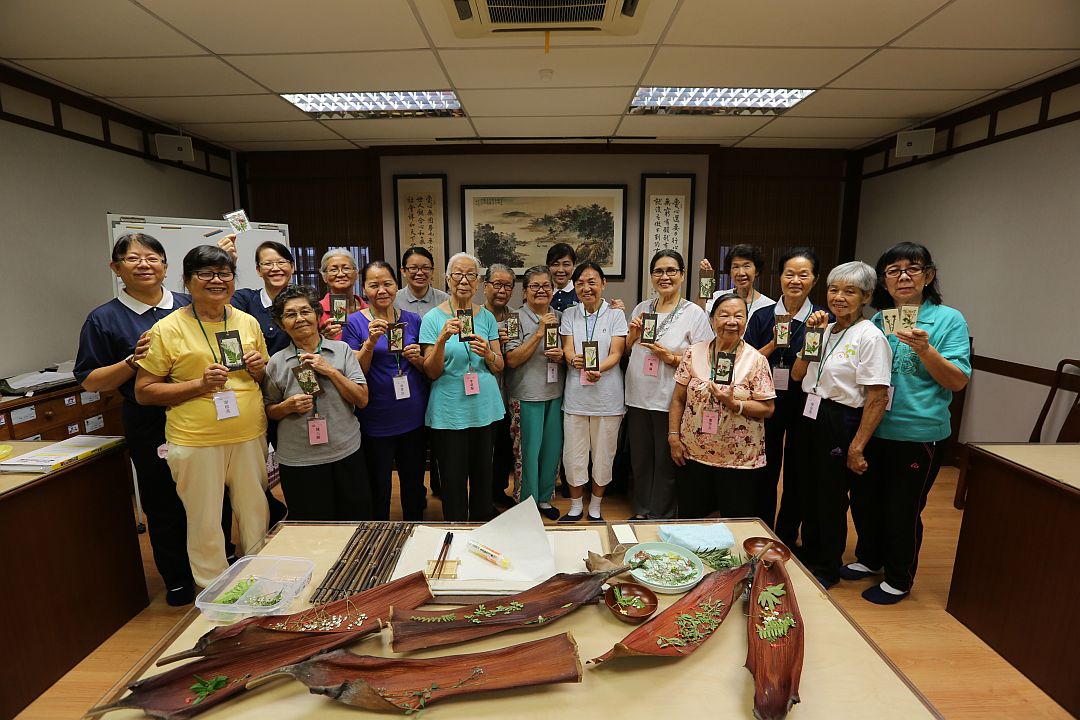 Poh Lian added, "Attending the lessons allows me to gain knowledge, in contrast to staying idle and dozing off at home. Furthermore, I feel more comfortable after sweating it out during the workout sessions." She believed that it is important to take care of her own health and well-being, as she loathes to burden her family and friends with caring for her.
A test of concentration
"I signed up for the classes with a curious mind and the expectation that I could benefit from them," shared fellow student, Tai Man, who found the lineup of classes refreshing and interesting.
She challenged herself with bated breath to a game that required passing a small steel ring through a twisted wire circuit. If both components were to come into contact with each other, a beeping sound would be emitted. "My clumsy hands were getting in the way. This game is indeed a test of concentration. You are bound to falter if you are nervous, and your anxiety intensifies when the beeping sound is triggered," she confessed. Her grasp of the game improved with every repeated attempt, yet she maintained that there was still room for progress.
Tai Man opined that seniors of her age should refrain from retreating into complacency, and strive to stay both physically and mentally active to delay the process of degeneration instead. "Our ultimate wish is to achieve spiritual fulfillment, be it through volunteering with Tzu Chi or attending enrichment classes. We might lapse into a brooding state if we were to stay idle at home."
•
Most seniors in their golden years would have already retired and left their financial obligations behind. Yet, at the same time, they might be susceptible to loneliness and depression as they are likely to face the loss of their spouse or an empty nest. The Elders' Enrichment Centre provides a platform for the elderly to pursue lifelong learning, empowering them to lead a meaningful life.