While the Bodhisattva statues on the altar table could not respond to her prayers in action, a kind soul heard her and mobilized more Good Samaritans to clean and beautify her house. She was touched and readily accepted their invitation to do recycling.
Placed on top of a table in a single-storey house at Ayer Keroh Heights were some fruits and biscuits meant for offerings. It was the house of Tzu Chi care recipient Wang Lew.
"Granny, are you home?" Volunteer Lee Ming Choo called out, and a grey-haired elderly woman answered the door with a welcoming smile. "Luckily she's home!" Ming Choo heaved a sigh of relief.
Kind souls are everywhere
Seventy-eight-year-old granny Wang Lew, lives alone. She frequently spends her time at a coffee shop or pavilion, listening to other elderly people chatting away, but never chips in the conversations. The coffee shop owner is so familiar with her that he allows her to put the orders on the slate; and some patrons would even settle the bills for her. Granny Wang also frequents a nearby temple, where she whiles away her time with prayers. Most of the days, she would leave home early in the morning and return home past 11 pm.
Her unusual behaviour caught the attention of a Tzu Chi volunteer, Chow Fock Heng, who helps with cleaning chores at the temple. He said, "I frequently heard her talking to the Bodhisattva statues, which could not respond to her prayers in action. But we could move, speak, and hear her woes. So we quickly mobilized manpower to help her."
In May 2019, when the volunteers visited her, they noticed that besides a foul stench, her house was messy with thick layers of dust. There were unwashed meal boxes and pails of clothing left in the basin and bathroom respectively. They also learnt that the small steps that separate the living hall and dining hall in the single-storey terrace house had caused her to fall a few times.
After three months of follow-ups, volunteer Lee Ming Choo discovered that some charity groups and neighbours had helped Granny Wang in spring-cleaning. However, after a while, the house returned to its original state and grass grew again around the house. So, the priority was to trim the grass and ensure her safety, before cleaning up the house.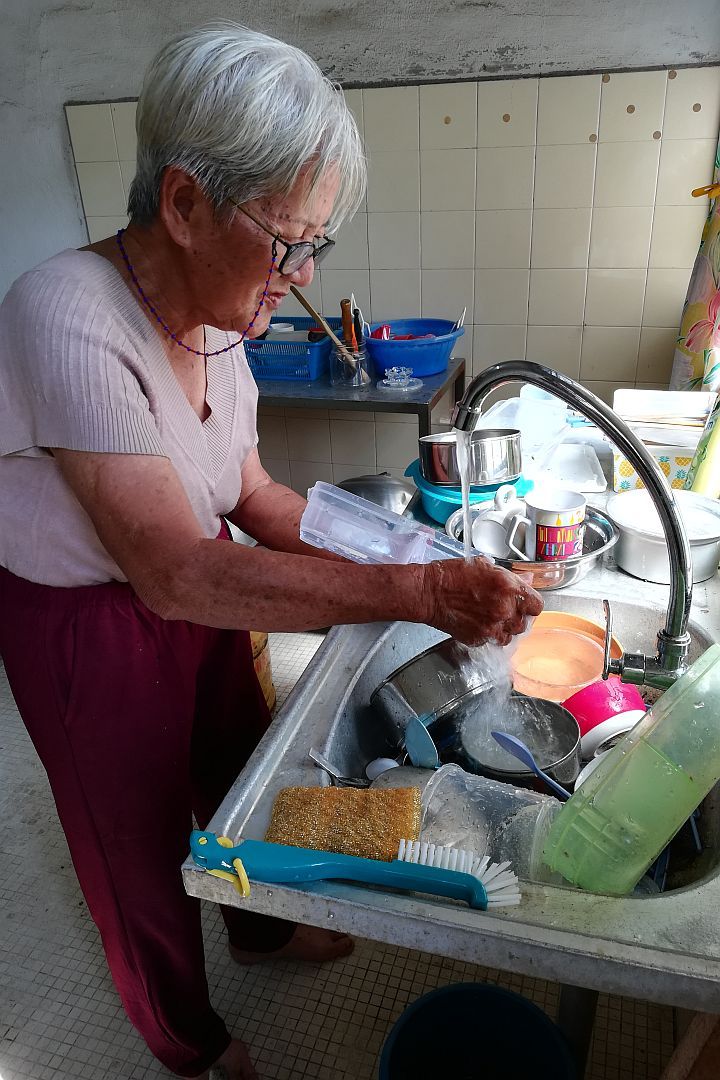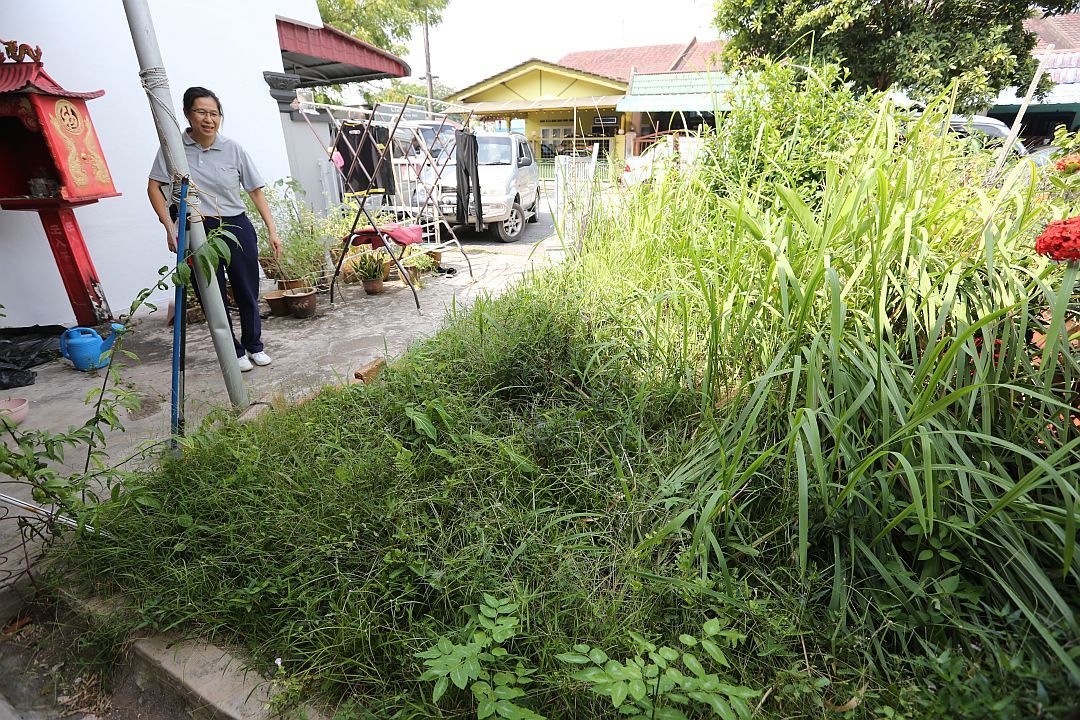 Safety first
On August 6 afternoon, Ming Choo and volunteer Yew Kwong Chai arrived at Granny Wang's house and were greeted by the latter, dressed with a top and a towel covering the lower part of her body. The granny explained that she was waiting for her pants to dry under the sun. Volunteers were shocked to learn that she would only wash her clothes when she needs to wear them.
With the granny's consent, Kwong Chai installed a handrail at the steps, as well as extended electrical wires to the house exterior for power points, as he planned to get a second-hand washing machine to lighten the granny's burden in laundering. The following morning, volunteer Tan Oon Han brought his grass cutter and roughly cleared the grass around the house.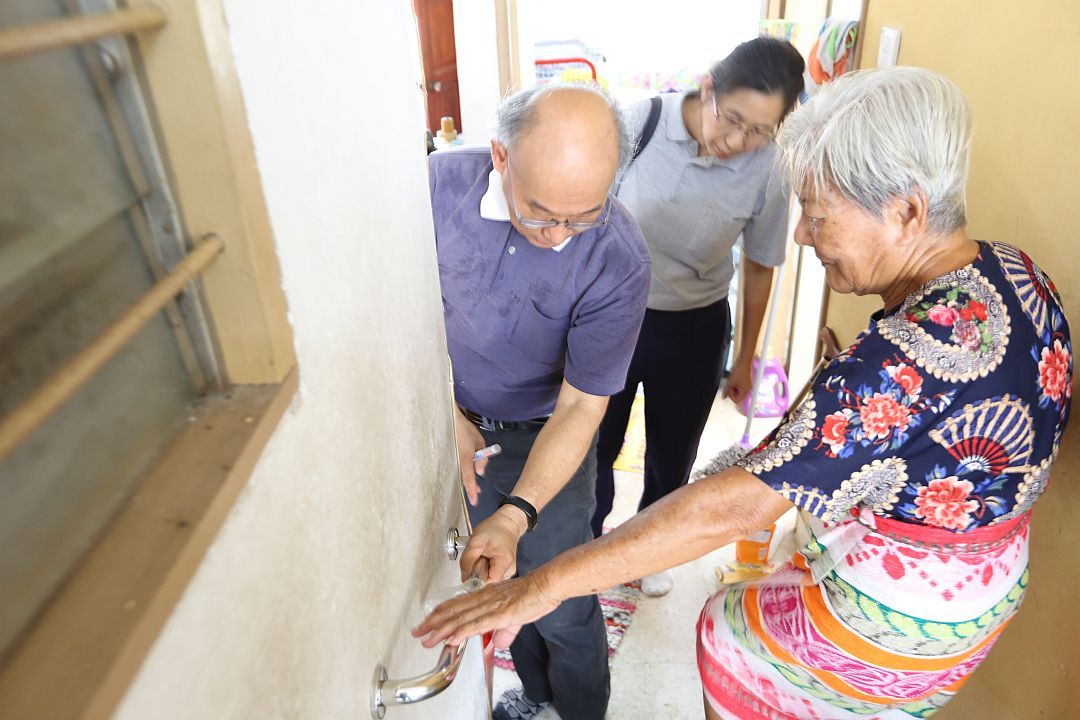 Then on August 11, about 20 people, including volunteers, a plumber, recipients of Tzu Chi study grants and children of care recipients, arrived at Granny Wang's house with paraphernalia for cleaning, repairing and beautifying work. The men removed the grass with hoes and covered the ground with flannel carpets to prevent weeds from growing while allowing rainwater to sip through.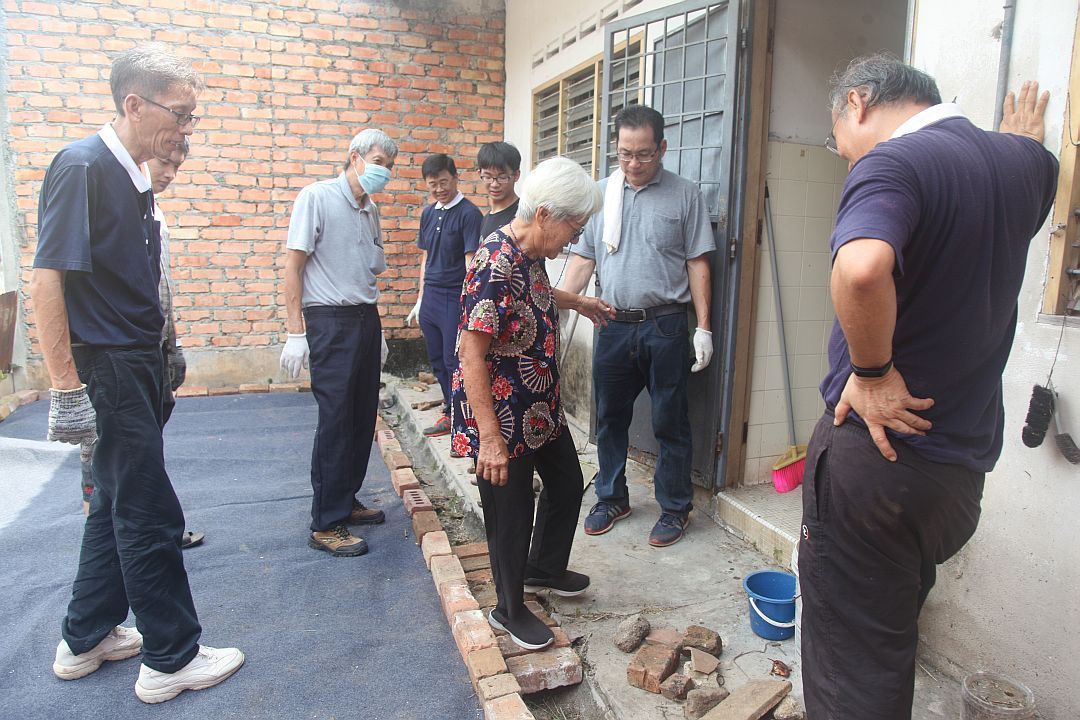 A Form 3 student, Wong Jun Tong, participated in cutting grass for the first time. He was a little clumsy initially, but managed to increase his speed seeing the efficiency of other volunteers. Later, he even tried to join the volunteers in chopping down trees with a saw and an axe. He also assisted in laying bricks on the ground.
When he saw the messy place becoming cleaner and neater, he smiled and said, "I can feel the sense of achievement."
Choo Cheng Hock, son of a Tzu Chi care recipient, is a quiet person by nature, but prompted by volunteers, he slowly exchanged conversations with them. Initially, he helped to gather the grass into a plastic bag, but later, he also helped to chop off a tree, besides hoeing and raking the grass. He found the chores considerably tougher than the previous time when he helped an Indian family to clean up their house. "I got ant bites too!" he said, and a volunteer responded saying, "Each cleaning task is different from another. Therefore, appreciate the unique experience each time."
Like the rest of the helpers, volunteer Goh Pee Tiong was sweating and panting away. He exclaimed that the cleaning task was even more tiring than playing badminton. Nonetheless, he did not stop working. He remarked, "The weeding task is akin to getting rid of one's bad habits." His involvement in home visits and recycling activities, which require patience and perseverance, has helped him to tame his temper. He is gentler in his speech and is more patient in communication; even his subordinates noticed his changes and are more willing to discuss matters with him now.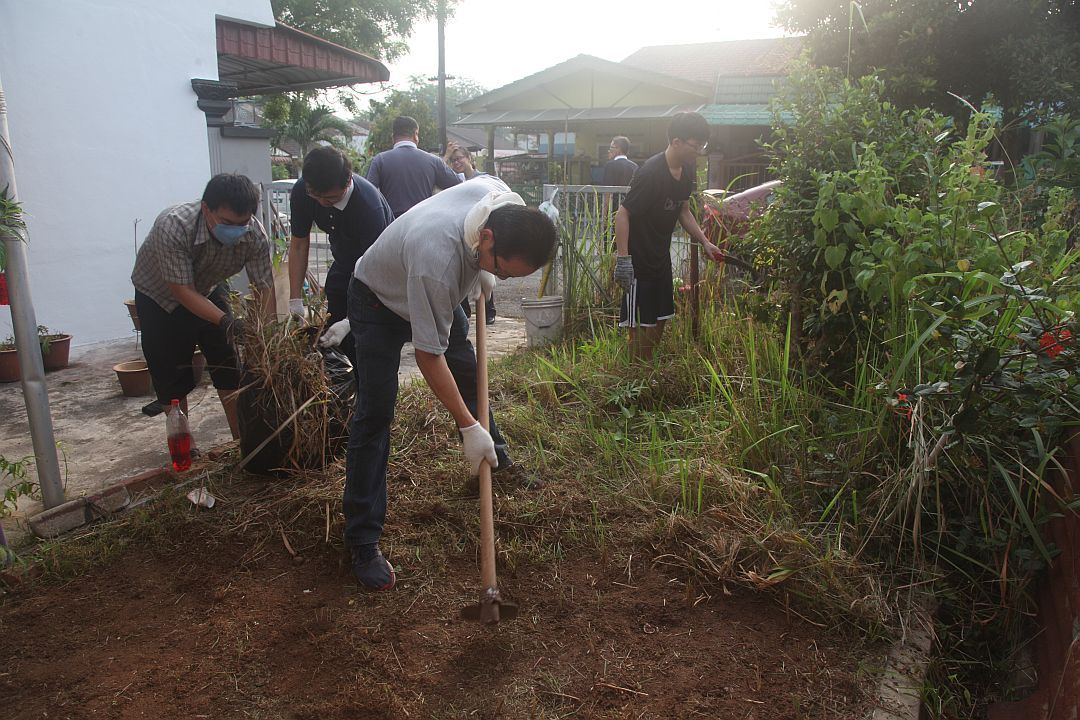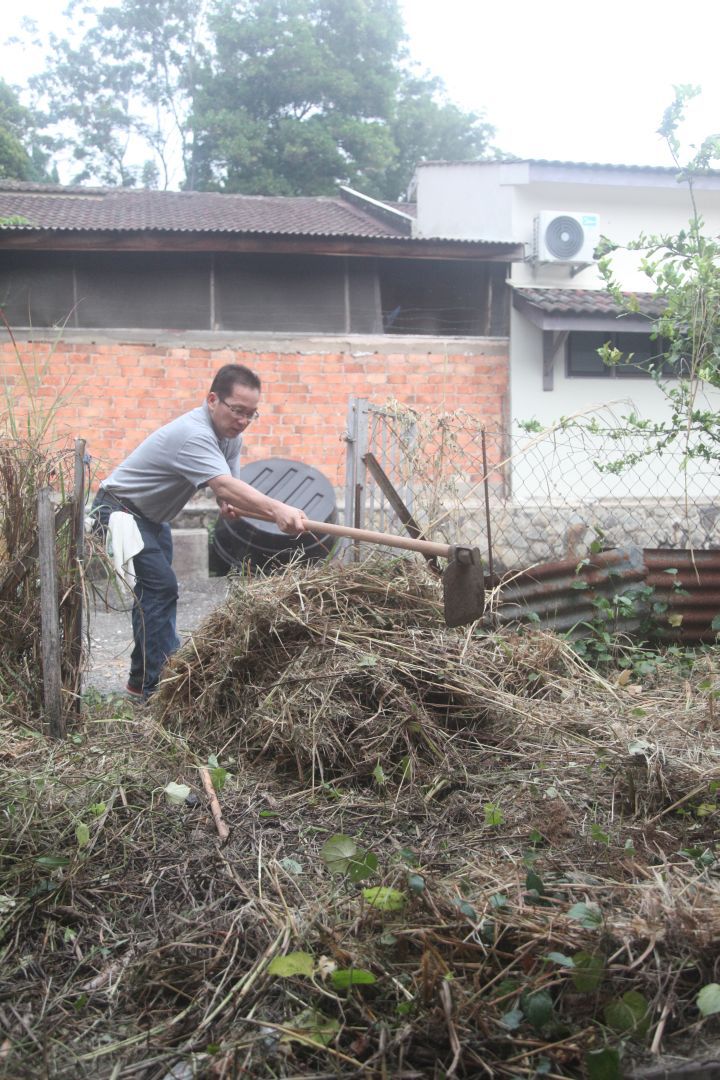 Seeing everyone moving around her house, Granny Wang broke into constant smiles. Besides preparing drinks for the volunteers, she would also caringly remind them to mind their safety.
The reasons behind the odd
It was a thorough cleaning of the house. The plumber helped to install the piping and fix up the second-hand washing machine, while Granny Wang was asked to select the clothing in the pails and pass them to volunteers to take to a laundrette for washing. She was also asked to identify which items to be kept or discarded in the bedroom.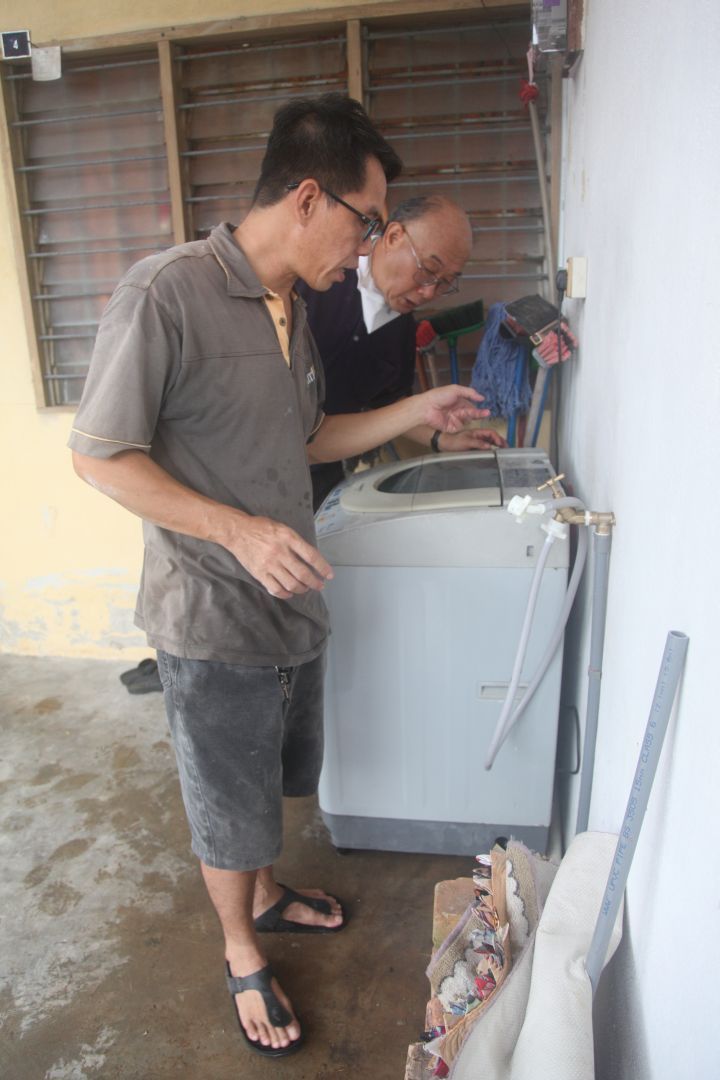 On the wall, there is a family photo taken in March 2007, during her mother's funeral. She shared that she bought the house using the money she earned working as a tailor in Singapore; and her parents and siblings used to stay with her.
Two years after her father's demise at age 70, her mother fell ill and became wheelchair-bound. At night, her mother would sleep on the bed and she would sleep on the floor. But due to superstitions, she dared not sleep on her mother's bed after the latter's demise. Thus, she has been sleeping on the lounger in the living hall for the past 12 years and has never turned off the lights. In addition, she has also frequently burned paper money in front of her house.
How is life living alone? Granny Wang used to keep a pet but she has neither friends nor purpose in life. She always spends her time away from home and eats out, leaving her house in a mess. Even if someone helped to tidy up her house, it would soon be filled with miscellaneous items again. Her younger brother, Lim Kok Wah described her as an elderly scavenger. Now, her circumstances are compounded with high cholesterol levels, high blood pressure and glaucoma.
All spruced up like a new house
Granny Wang is the fourth child amongst seven siblings. Kok Wah, who is from her step father, has been keeping in touch with her most frequently. He also helps to take care of her welfare allowance and living expenses, while other younger sisters help to pay the utility bills.
On the spring cleaning day, Kok Wah and his wife came to help in sorting out the items, and were surprised to find their wedding photo in a cabinet. He thanked the volunteers for their thoughtful suggestion to install Da Ai TV for Granny Wang so that she could find spiritual sustenance.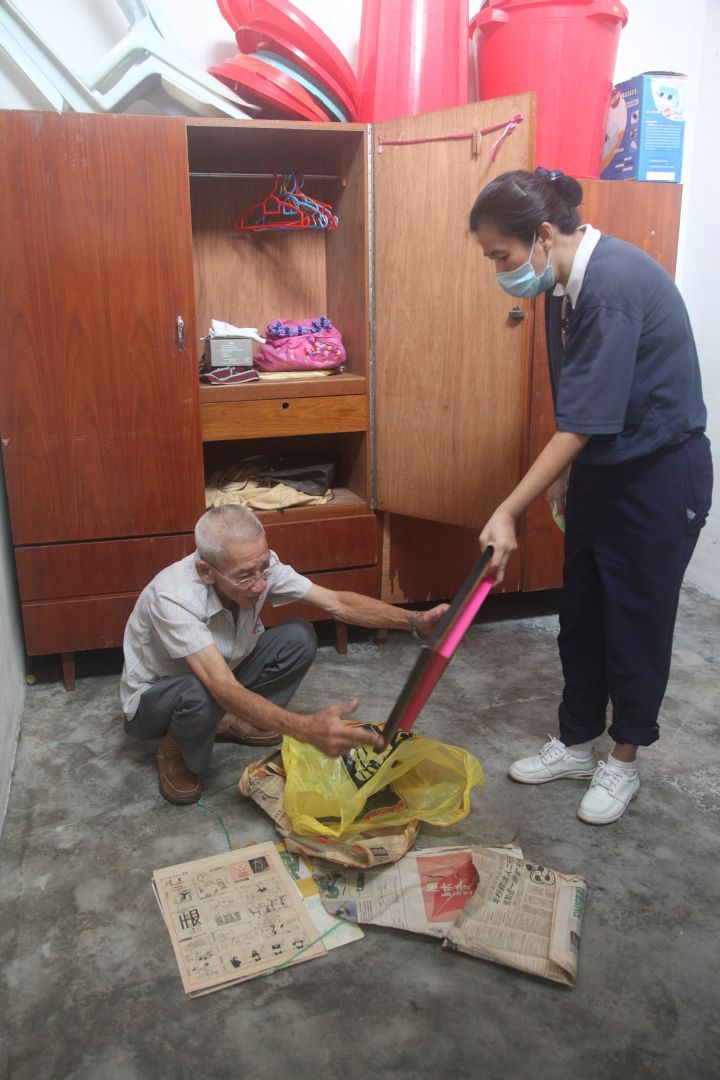 "She likes to eat out, even though it's painful for her to walk out. Sometimes, when she is short of money, she would ask her friend to call me. I would then rush from Krubong to give her money. Since there's no one else taking care of her, so long as I'm still able, I'll take care of her …" That was how Kok Wah fondly narrated on her sister.
It was then that volunteer Tuang Bau Too realized Granny Lew is capable of managing housework but is not in the mood of doing it, as she had claimed. Thus, the more important step following the spring-cleaning is to inspire her to take actions on her own accord.
Knowing that old habits die hard, Fock Heng said, "To me, whenever I look at old folks, I always visualize them as my own; what more a 78-year-old elderly who lives alone?" So, for a start, he and fellow volunteers decided to try to influence Granny Wang to sleep on the bed, then bring her to volunteer at Tzu Chi Ayer Keroh Recycling Education Centre. Hopefully, with everyone working together, they could slowly motivate her to do housework.
Fock Heng also cleaned up the altar table, incense burner and Bodhisattva statue so that the granny will find solace in talking to the Bodhisattva and find peace in her heart in the absence of volunteers. He also took the opportunity to share with the granny some stories incorporated with life's principles.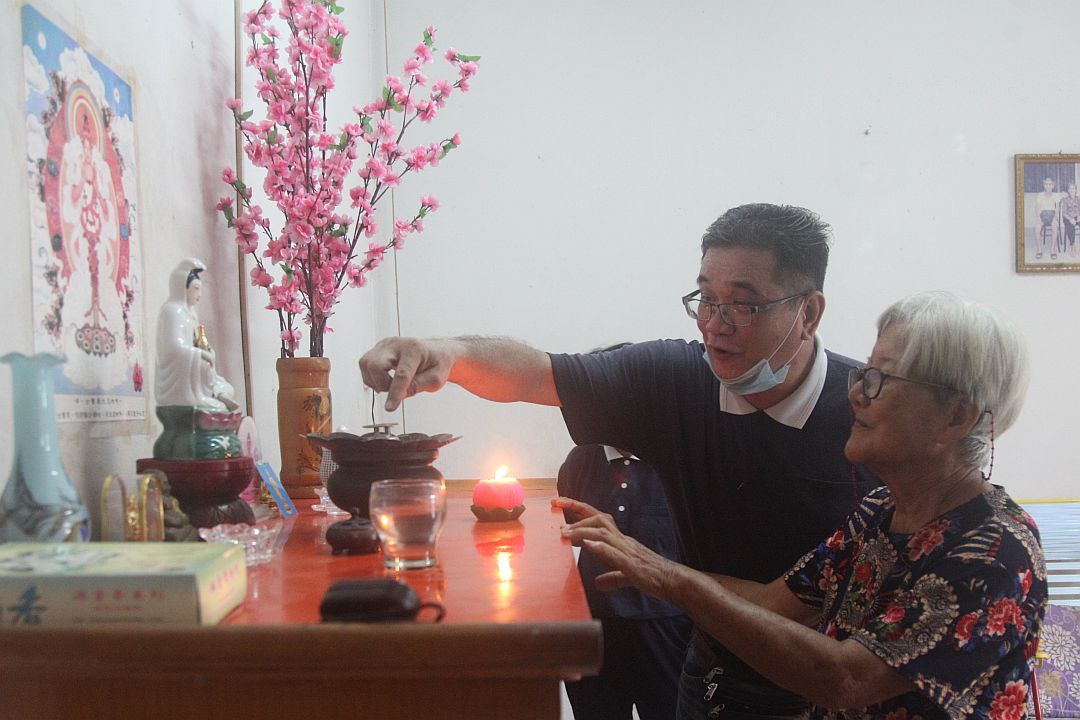 After half a day of hard work, the house is all spruced up and more spacious with no passage obstruction. Granny Wang's brother, Kok Wah said that finally it looks like a home.
•
When Granny Wang saw the pure and divine-looking Guan Yin Bodhisattva, decorated with the presence of plum blossom and lights on the altar, she pressed her palms together and exclaimed, "So beautiful!" Volunteer Tan Tin Kiang jokingly said, "Now, we can breathe inside the house," before quickly encouraging the granny to make a vow: "Wish my health stays good, and that I'm able to do housework and recycling!"
After lunch, volunteers asked Granny Wang if she wanted to go to the recycling centre, to which the latter nodded and replied, "Yes!"