Harmony School and Unity School, two refugee schools jointly established by Tzu Chi KL & Selangor and the United Nations High Commissioner for Refugees (UNHCR), held a sports meet on June 15, 2019 to instil the spirit of fair competition, sportsmanship and teamwork among the refugee students.
On June 15, 2019, 360 students from two refugee schools co-founded by Tzu Chi KL & Selangor and the United Nations High Commissioner for Refugees (UNHCR), namely the Harmony School and Unity School, participated in a joint sports meet. 
Due to concerns arising from their undocumented status, the refugee students usually conduct their day-to-day activities indoors, either in the safety of their own homes or within the confines of the refugee school nestled upstairs in a shophouse. Hence, Tzu Chi volunteers and teachers from both participating schools have invested notable effort in organizing this annual sports meet to provide a platform for the refugee students to express themselves freely on the field and discover their potential in sports. This event also aimed to hone the students' sportsmanship and foster the spirit of teamwork through sports, thus inculcating positive values and building character.
The students and their parents started arriving at the sports field of SJK (C) Jinjang Selatan, Kuala Lumpur at 7.30 am. The students were divided into four teams: Harmony School was represented by the Blue and Red teams, while Unity School was represented by the Green and Yellow teams. 
The event commenced with a grand entrance by the students, who marched in unison onto the sports field in an orderly formation to an uplifting tune. All present stood at attention when the national anthem was played, including the refugee students, who gave a spirited rendition of Negaraku despite calling different countries home. The opening speech was delivered by UNHCR-Tzu Chi Project Coordinator, Dr Foo Seay Liang, who noted that an education and proper meals are insufficient in attaining holistic development, as engagement in sports is equally instrumental in moulding a well-rounded individual with a wholesome character.
After the students were neatly grouped in four contingents according to their corresponding team colours, student representative Mohd Hossein Rezaie led them in taking the athletes' oath. Hossein, an Afghanistan native, had recently transferred from the Malaysian Social Research Institute (MSRI) to Unity School in Ampang to pursue his studies.
The students dispersed into two groups to perform a lyrical sign language interpretation of the song "Children of the Earth" and an aerobics routine respectively. They set the tone for the event with their lively, well-rehearsed moves and infectious energy; even the parents and volunteers watching from the sidelines could not resist joining in.
Volunteer and retired school principal, Tan Woon Kee, who is responsible for overseeing the welfare of the students of Harmony School in Selayang, remarked that schools should strive to achieve a balance between enhancing students' academic performance and maintaining their physical well-being through sports. "Our students practised the basic moves for the performance in the limited space afforded by the school premises. In the final week leading up to the sports meet, our enthusiasm for showcasing our best at this event led us to rehearse our contingent formation at a field nearby," she said.
Camaraderie above all
The students were eager to prove their mettle in 34 sporting events, including track-and-field events, a beanbag race, hopscotch and various other games. Parents were not left out of the fun as they participated in the short-distance sprints.
The highlight of the day was a friendly tug-of-war match between the volunteers, teachers, alumni of the refugee schools and parents. Winning was the least of the participants' concern, as they cherished the opportunity to bond over light-hearted banter and shared memories.
The racetrack was dotted with streaks of mud and puddles of rainwater from the heavy downpour the night before, but the wet weather ceased to dampen the students' spirits. The students gave their all in every event and competed in good faith. Instead of clamouring for the top spot on the winner's podium, they long for a more inclusive world that grants them a sense of belonging and dignity.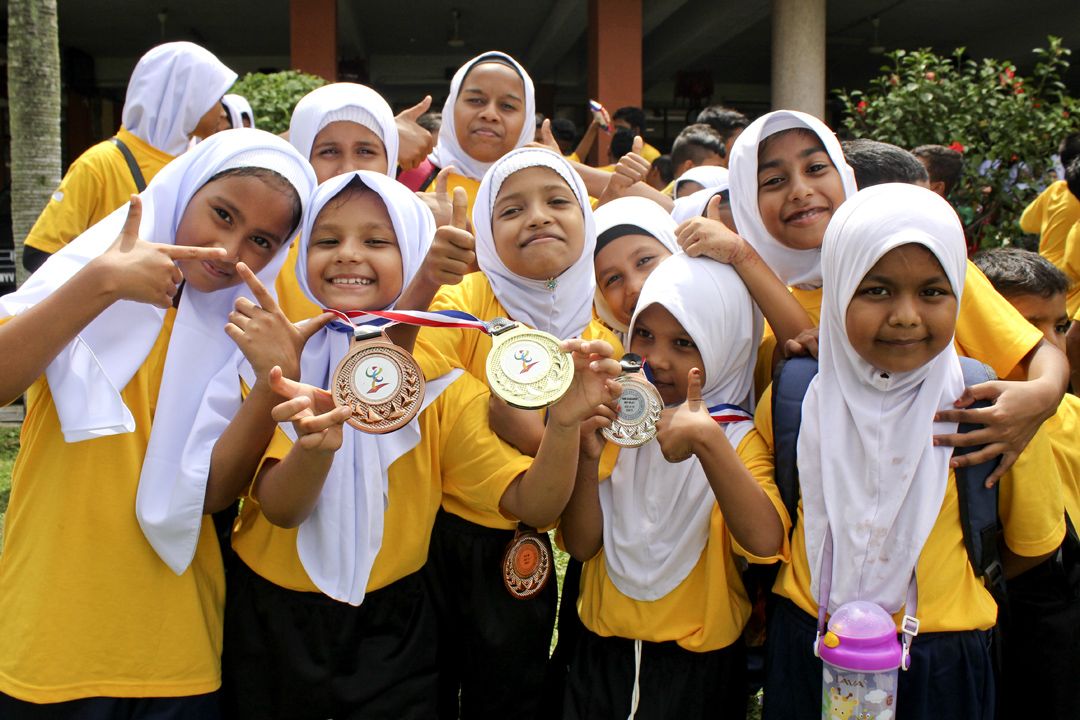 "The refugee children come from different backgrounds, nationalities and religious faiths, yet they have managed to transcend all boundaries to learn together and achieve mutual understanding in contributing to a stable and peaceful society," noted UNHCR Representative, Thomas Albrecht in his closing speech. He also expressed his gratitude to Tzu Chi for supporting the balanced physical and emotional development of refugee children to empower them to forge ahead in life.
The final sprint
Kamal Hussin, a 14-year-old refugee student, was raring to go. After completing his first race, he was once again selected to represent his team in another event. At the blow of the whistle, he dashed from the starting point down the racetrack, leaving his opponents in the dust. By the end of the sports meet, he had emerged victorious in three sporting events. 
Unbeknownst to many, Kamal was disqualified from participating in the sports meet in the practice rounds for retaliating against Teacher Leena, a teacher from his school. But on the day before the sports meet, he had been issued a resettlement letter by the UNHCR that permitted him to migrate to the US with his older sister and nephew. Kamal was aware that his time in Malaysia was now limited, prompting him to repent his misbehaviour and plead Teacher Leena to reverse her decision of disqualifying him as he had hoped to bring sporting glory to his school before his departure.
After due discussion, the teachers decided to grant Kamal his wish, on the condition that he was only permitted to participate in a single relay race event as a reserve. Kamal's fervent prayers for his chance to shine on the field were answered when one of the contestants was declared absent, allowing him to stand in for three sporting events. He and his team were cheered on by his fellow schoolmates as they paved their way to victory. 
Kamal's parents are both deceased. He earns his own livelihood by working odd jobs after school. He has an older sister, but depending on her was not a feasible option as she is an unemployed single mother. He would only call it a day at midnight, hence he would often doze off in class. Sometimes, he would skip school altogether. As a result, his academic performance suffered. Upon learning of Kamal's plight, Teacher Leena arranged for a visit to Kamal's home with volunteers. She sympathized with Kamal's predicament and started caring for him since; she would even share her lunch with him.
Kamal was keen on submitting a migration application, but an improvement in exam grades was a prerequisite. Nevertheless, Teacher Leena encouraged him to submit an application and offered to tutor him at work. After two weeks, he managed to score 80 and above in every examination subject. Furthermore, his ability to converse in English throughout an interview conducted by the UNHCR impressed the interviewer. His application was eventually approved.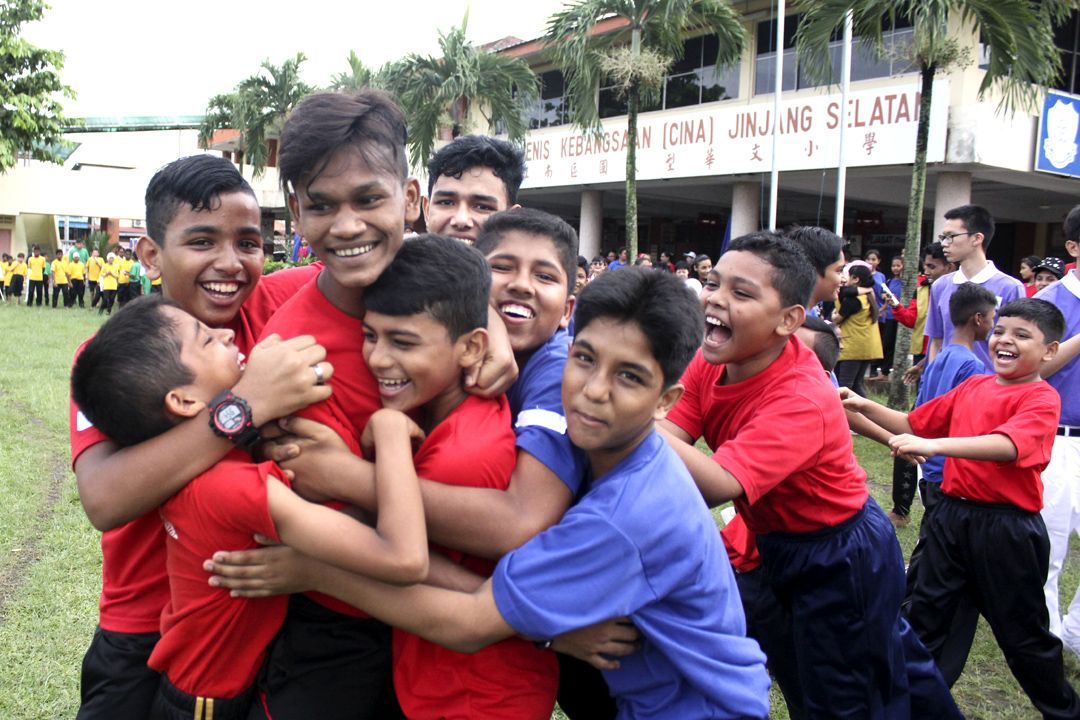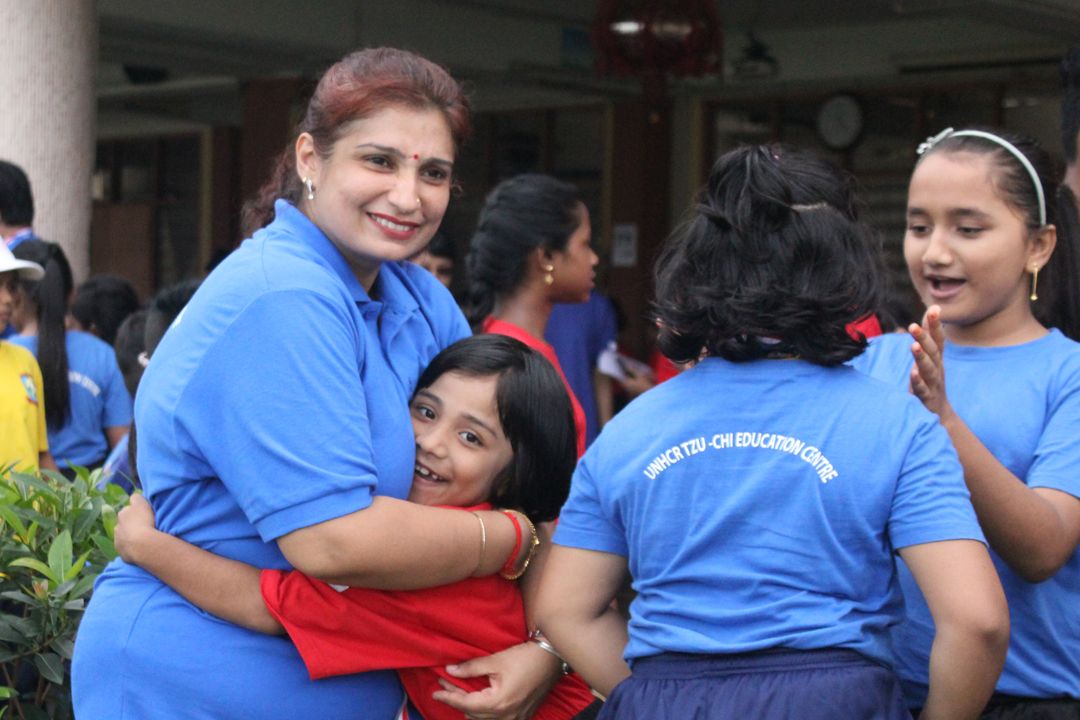 •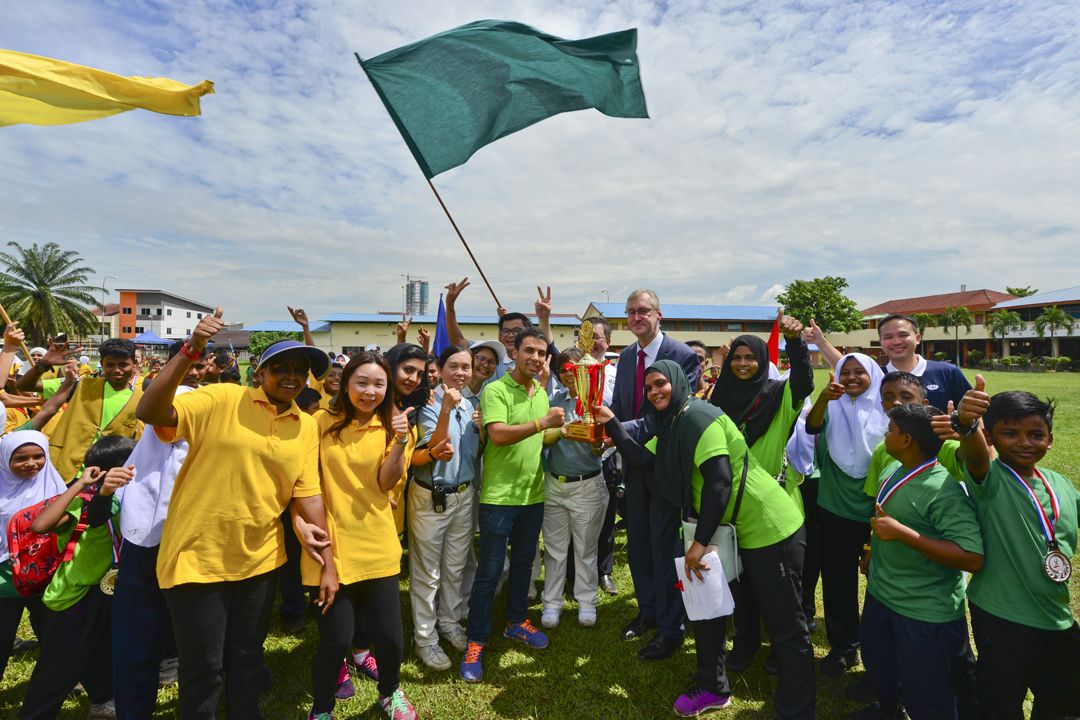 The Green team was crowned the overall champion of the sports meet amid the students' jubilant cheers and joyous embraces. The well-deserved victory was the icing on the cake, a fitting recognition of the students' efforts that marked a memorable end to the occasion for both the students and their parents alike.