In her small living quarters, items are neatly kept in used boxes and containers, while recyclables are cleansed and properly sorted out. This good habit of the children, who are beneficiaries of Tzu Chi Study & Awards Scheme, is attributed to the volunteers' guidance and companionship, as well as the mother's supervision.
Tan Kim Lin and her three children left their home to seek shelter at her elder sister's home in Malacca, a result of her ex-husband's gambling habit, which had not only exhausted their savings but also incurred a huge debt with unlicensed loan lenders. With her two-year-old daughter and two primary school kids to care for, she had to rely on her sister and brother-in-law for financial support temporarily following her divorce.
When volunteer Tan Yoke Teng, a colleague to Kim Lin's sister, learnt about her predicament, she visited Kim Lin along with other volunteers. Having discovered that it was stressful for Kim Lin to handle the extra expenses incurred on stationery, books, school uniforms and shoes during the start of a new school term, and that she could only buy her children what she could afford, Yoke Teng suggested that the children apply for Tzu Chi Study & Awards Scheme to avoid disruptions to their studies.
Changing for the better
Academic achievements aside, the Tzu Chi Study & Awards Scheme also takes into consideration the students' behaviour and attitude. They are required to reflect upon themselves and fill up a self-assessment form on a daily basis, while their parents check their children's "Self-Assessment Booklet" (see Note). Volunteers will then follow-up on their progress during their monthly visit. This is done to foster good character and discover the children's fortes.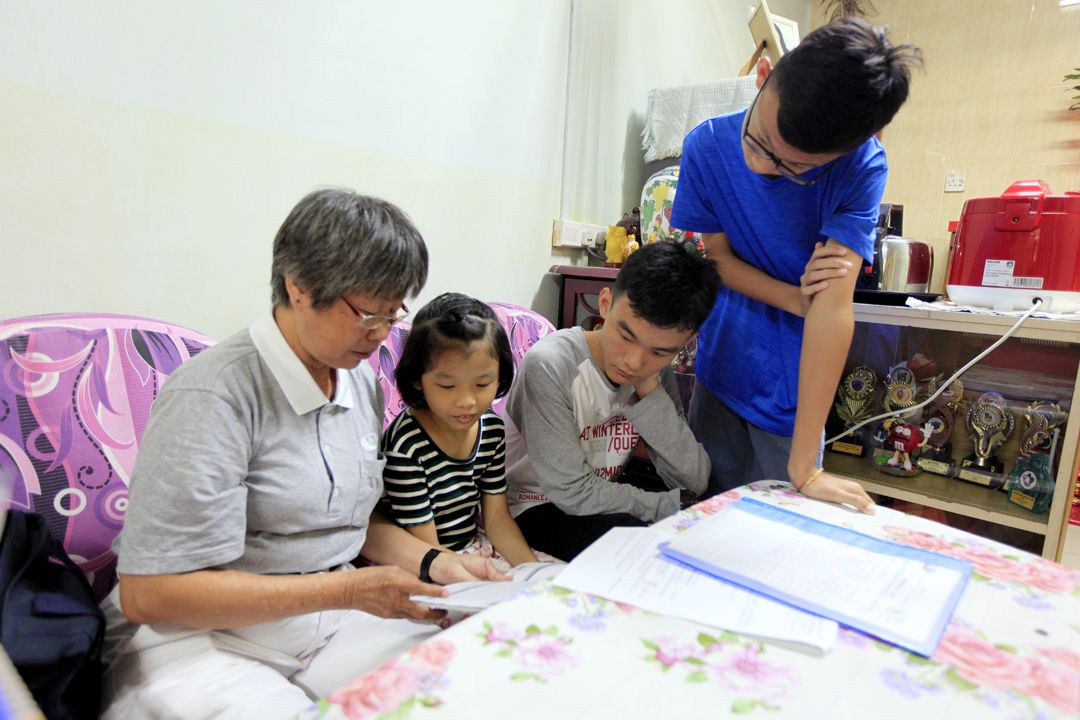 Five years on, Kim Lin's sons, Soh Soon Dat and Soon Seng, are now in Form 2 and Form 3 respectively. Their younger sister, who was enrolled into a primary school last year, has also been a beneficiary of the Scheme for the second year. This has eased Kim Lin's burden, and she was relieved to see her children changing for the better.
Yoke Teng remarked smilingly, "Back then, Soon Dat was in Primary 5 and Soon Seng in Primary 4. Both brothers were very shy and would hide in their room whenever volunteers visited them. But slowly, with guidance from volunteers, they learnt to interact and now, they would even offer the volunteers a hug before they leave."
Soon Dat shared that the daily reflection and self-assessment have helped him cultivate good habits, besides learning to be more filial towards his mother. For example, instead of doing household chores occasionally when he had the time, he would now remind himself to help with the chores daily. He now understands her mother's hard work saying, "Now I know how tiring it is to sweep and mop, hang the clothes, do the dishes and so on. These were all handled by mum previously."
Every year, Soon Dat would aim for the "Academic Progress Award", hoping to make his mother proud and to repay her unconditional love in raising them. To qualify for this award, he is required to show improved performance in at least two subjects in the examinations. He cheered on, "This award is also to motivate myself to study harder and get good results, besides relieving mum's burden with the financial aid that comes with it."
A reward for self
Soon Seng has also been sharing the same goal as his elder brother for the past five years although his academic performance is not as good. Prior to Primary 4, he was a timid boy who was afraid of asking for help with his studies. But later, motivated by the Study Grant & Awards Scheme, he became more courageous and would consult his mother, brother or teachers whenever he had problems in his studies.
Soon Seng also admitted that he used to be bad-tempered and would often quarrel with his brother. Thanks to the Self-Assessment Booklet, they have learnt to correct their behaviour, otherwise their mother would evaluate them accordingly and they would risk being disqualified for the awards. On the other hand, their younger sister would also diligently carry out the duties listed on the Self-Assessment Booklet. Soon Seng commented, "She always refused to help out when she was younger, but it's different now. She will happily check the boxes after completing the respective tasks and get mum's endorsement."
The positive changes in the three siblings are evident to the volunteers and their relatives. Kim Lin revealed, "Initially, they would slack off sometimes, and I would remind them that they must make an effort in order to qualify for the awards. What's more, the financial aid comes from the kindness of many people, so we must be more heedful. Later, they make progress."
When the brothers entered secondary school, Yoke Teng invited them to participate in recycling activities. In order to ensure that they sorted out the recyclables correctly, the brothers would consult Yoke Teng whenever they had doubts. If Yoke Teng was not present at the recycling centre, they would wait until she returned for clarifications instead of seeking advice from other volunteers. Knowing that they were introvert by nature, Yoke Teng encouraged them to overcome their barriers and learn to communicate with other volunteers.
As time passed, the brothers began to enjoy recycling activities. They would greet the volunteers and help unload recyclables from the public members' vehicles without being asked. They are also much more familiar with the categorization of recyclables. Soon Seng said that the volunteers' friendly attitude has bridged the gap between them, enabling him to learn to interact with strangers. Now, he is no longer afraid to ask questions and communicate with others – a barrier that he was unable to overcome in the past.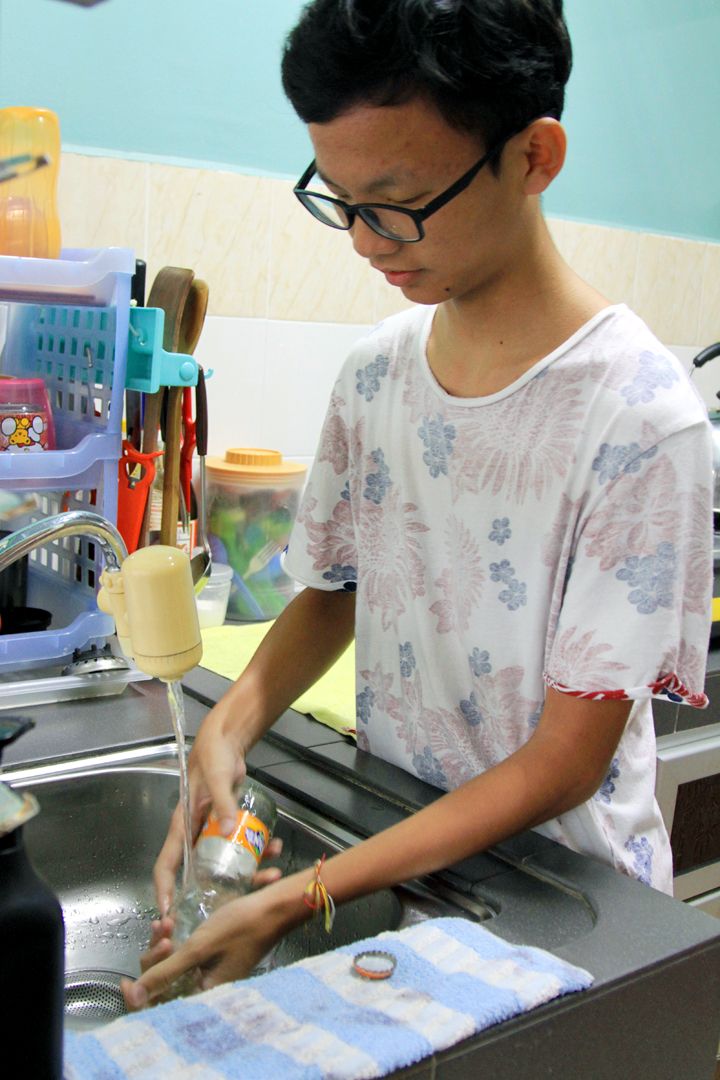 For that, Kim Lin is grateful. She appreciates the implementation of the Self-Assessment Booklet, which helps to shape the children's character from a young age, and the volunteers' efforts in encouraging her children to serve as volunteers. Not only have her children gained social skills and become more proactive, they have also learnt to cherish resources thanks to their knowledge on environmental protection.
Reinforce environmental conservation concepts
The unwanted items sent to the recycling centre, such as gift boxes, damaged desk lamp, shaky chairs and used pencil cases, are treasures for the brothers. They would seek their mother and uncle's advice before courteously asking the volunteers' permission to bring them home for reuse.
Kim Lin affirmed her children's efforts in participating in recycling activities and practising recycling at home. The drinking glasses, clothes, stationery, cabinets and tables at home are mostly used items, some with modifications done together by the mother and sons. Kim Lin related, "I have not bought them any new clothes for the past two to three years, and they did not complain or request for extra material comfort. Instead, they learn to cherish resources by repairing and reusing them."
Soon Dat admitted that he did not realize the significance and hard work involved in recycling, not until he was involved personally. To him, recycling is no longer a slogan, but a practice in daily life. He would even collect recyclables that he comes across and sort them out at home. As for Soon Seng, he would take the courage to advise his friends not to litter and to sort out recyclables properly each time he saw them littering or discarding recyclables indiscriminately. He stated firmly, "They wouldn't understand if I don't tell. But if I keep telling, they might understand one day."
Their uncle, Kee Hoo Keong attested to their changes by sharing that they would try to repair defective items themselves rather than getting his help all the time, like they used to do previously. Thanks to their positive influence, Hoo Keong's son would also partake in recycling activities and reuse items.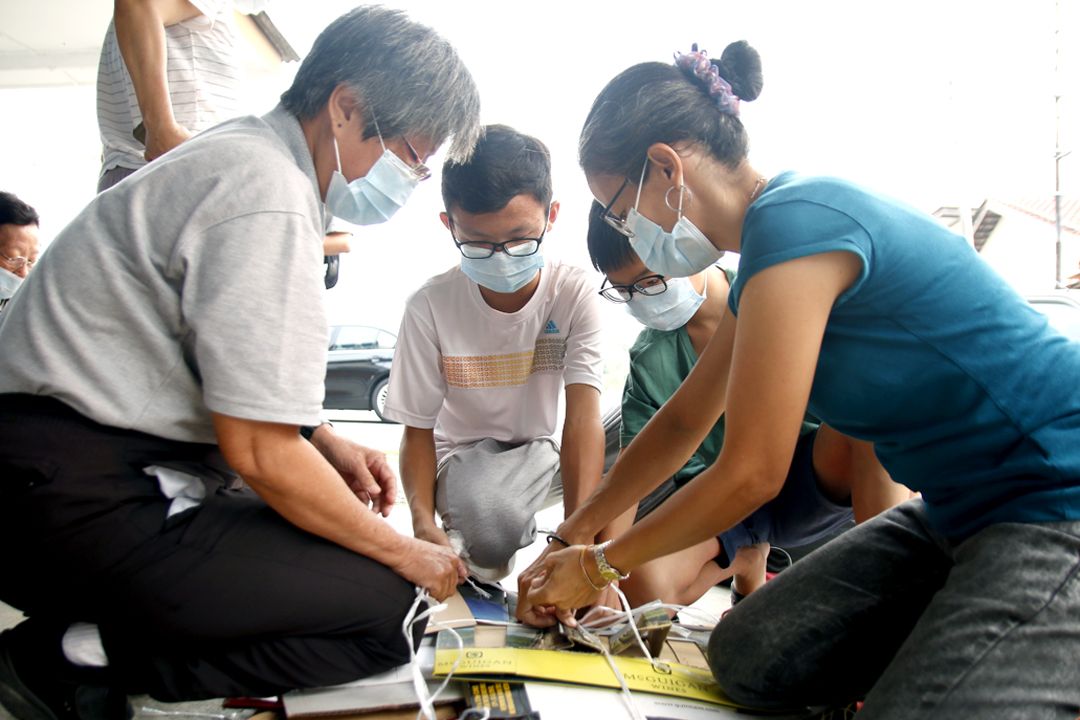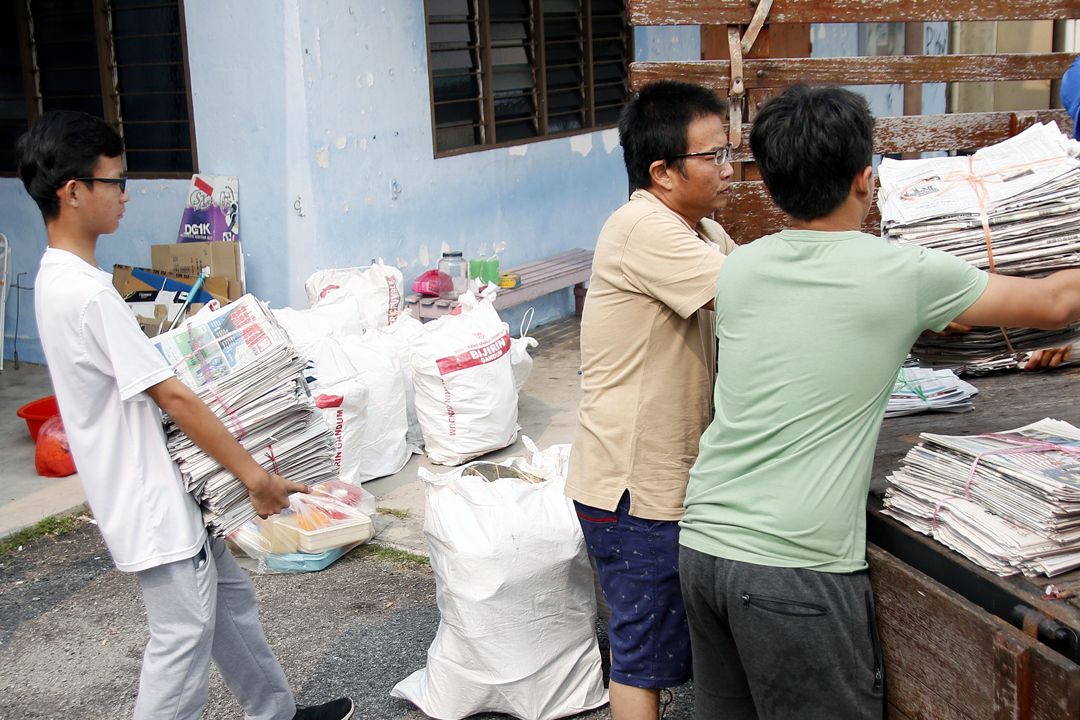 Raised in a poor family, Hoo Keong feels that children nowadays enjoy a life filled with materialistic things, and tend to compare with one another and think highly of themselves. Hence, instilling positive life values in them is of utmost importance. While volunteering at the recycling centre, he noticed that the volunteers are in uniforms and everyone carry out tasks together regardless of age groups or social rankings and without showing preferences. He said, "It's a good example for the children to learn interpersonal skills."
●
Now, the Soh brothers would participate in recycling activities on the fourth week of every month without being urged by their mother. They also continue to contribute at the recycling centre although their required terms of voluntary service had ended in August. They said in unison, "We are happy volunteering here. Instead of idling away time at home, we should just come and help out here."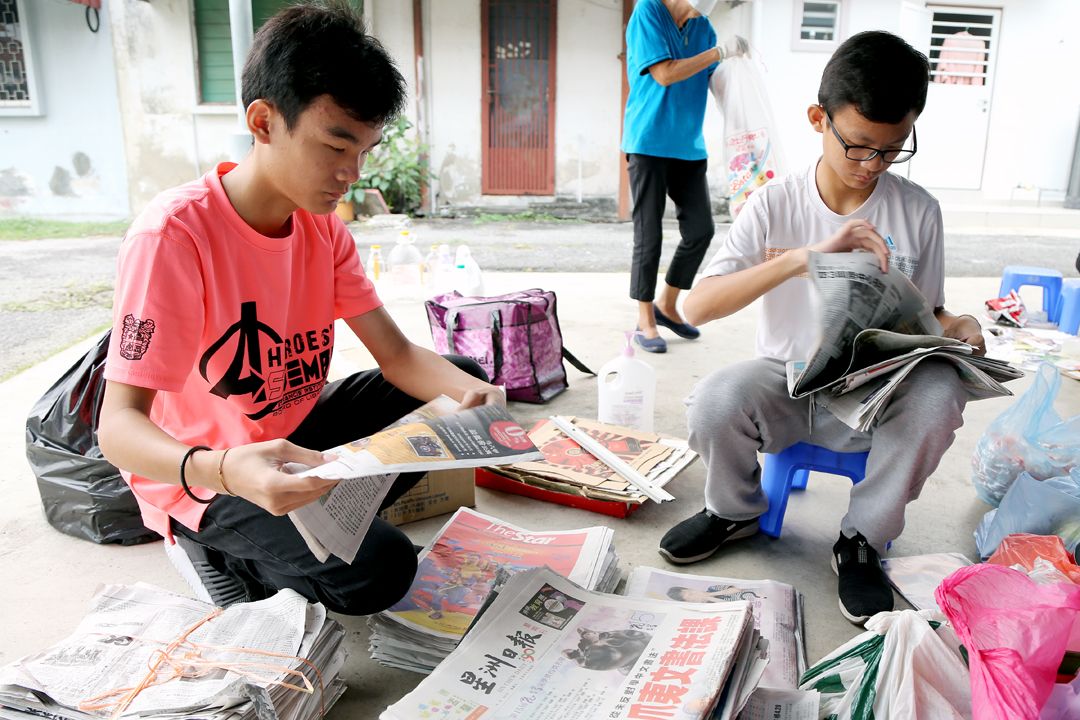 To the brothers, Yoke Teng, who has been supporting and guiding them in the past several years, is as caring as their aunt. Gratified to see her well-behaved and sensible sons, Kim Lin expressed, "We are still better off than many though not affluent. Thank you Tzu Chi for the continuous assistance and volunteers for the caring love. We are contented!"
The kindness and love amassed from the public has paved a smoother path for the children in the pursuit of an education. It has also broadened their horizons and inspired them to perform good deeds. Everyone in the family is looking forward to attending the Tzu Chi Study & Awards Scheme presentation ceremony scheduled for October 20.
Note: The "Self-Assessment Booklet" is a record book, which keeps track of a student beneficiary's attendance, proactivity in completing and submitting homework, and the display of positive attitude, such as showing respect for teachers and elders, being courteous, helpful, and neat, and cherishing resources. This helps the students to cultivate good habits through self-reflection, with joint supervision and encouragement from their guardians and teachers.