If she could turn back the hands of time, Yap Ling Sien wished to return to the day of the accident, to save her from the greatest regret in her life. If he had the privilege to write the script for his life, Sam Joon Wai hoped to do his best to bring hope to others through his helping hands. However, there are no 'ifs' in life. Instead of waiting for miracles to happen, the mother and son summoned up their courage to face the adversities in life.
"Ever since I could understand things, my world has been as wide as where I can see turning my head 90 degrees to the left and right. Unlike other teenagers, my life is confined to the bedroom and living room; either on the bed or my wheelchair. I have no idea what boredom is because I have never experienced liveliness of the world outside." – Sam Joon Wai
"My world fell apart following the accident, but life went on like a spinning top. The more love I shower on him, the less guilty I feel. Is a 14-year-old boy too heavy to carry? No, he is not, because he is my son." – Yap Ling Sien
Every time the volunteers visit the family, Yap Ling Sien would be seen busily attending to her son Sam Joon Wai – either feeding him, cleaning after him, clearing his phlegm, massaging for him, or washing the phlegm collection bottle. It is normal for her to spend more than half of her day on her son. Even at night, she could not sleep soundly because she needs to be alert of her son's needs, including clearing his phlegm.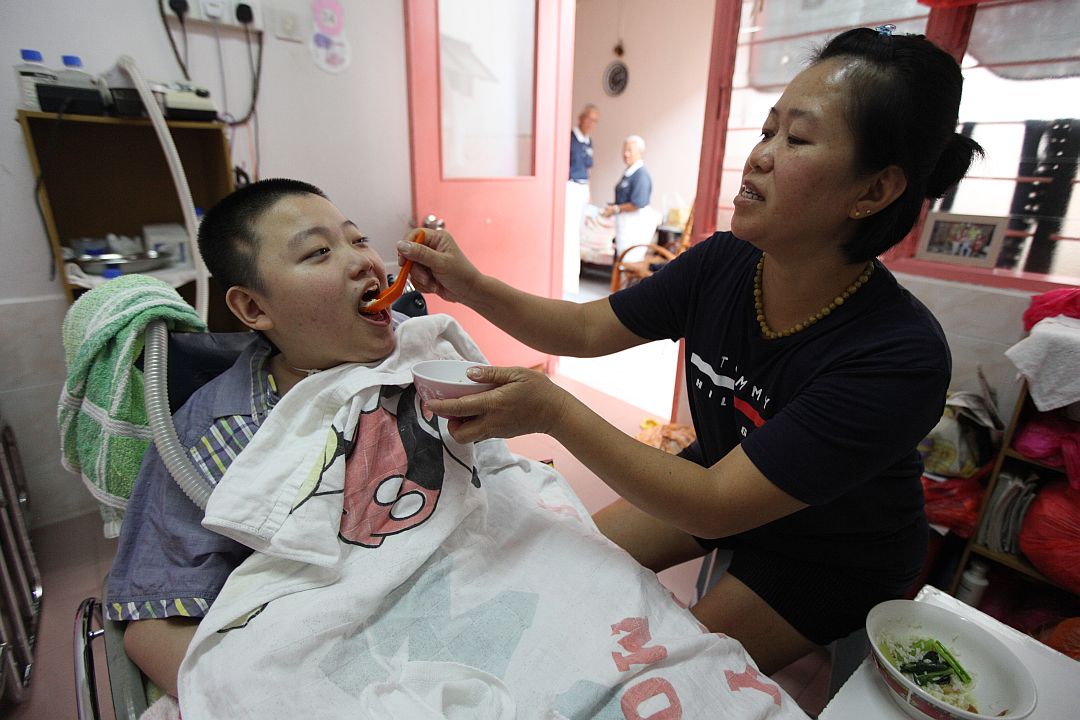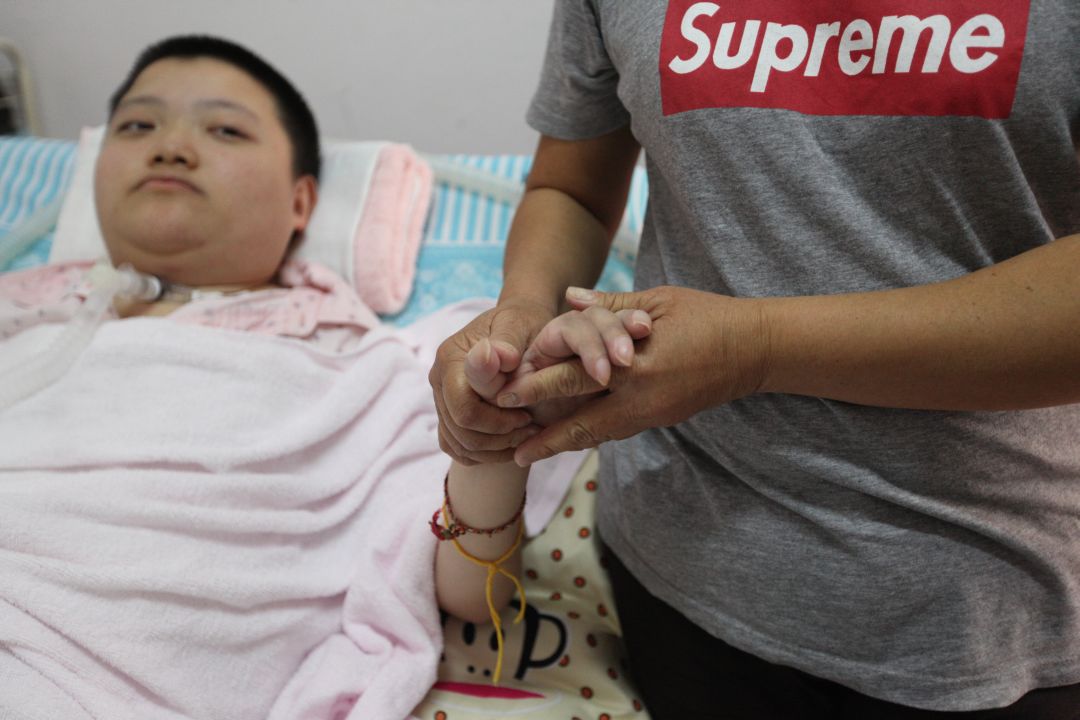 The son, a 14 years old teenager, is paralysed from the neck down and has been relying on life support and a wheelchair for mobility. His mother has been his caregiver since he was about two years old.
It takes him at least an hour to finish a meal, as quick feeding would cause him to choke on food. "He could only take liquid food at first. Then, he slowly learnt to chew and eat rice. Initially, he would take about two hours for a meal, and I felt like I was going crazy….," related the mother, smilingly.
Depending on the son's condition, the mother has to use the suction machine to clear his phlegm regularly. "Doctor said his lung function is deteriorating. Hence, we need to use the machine to clear his airways, or else, it will cause hypoxia." Ling Sien's skilled actions revealed no signs of her apprehension when she first learned to operate the machine years ago. She had overcome her uneasiness to learn in order to provide better care to her son.
Other than operating the suction machine, Ling Sien's daily activities include massaging Joon Wai's limbs to prevent muscle stiffness and atrophy, and patting his back to help with phlegm discharge. "I need to do these at least twice a day; the best is three to four times. I can't be lazy, otherwise he will suffer," shared Ling Sien.
A pain that never fades
Ling Sien has long been accustomed to taking care of Joon Wai, but the accident more than a decade ago remains a pain that never fades.
When Joon Wai was two, he playfully locked himself in the bathroom one day, and slipped to the ground as his anxious mother pushed the door opened, without realizing that he was standing behind the door. "He kept crying but we didn't find any injuries. Half an hour later, we noticed something had gone wrong – he was feverish and flaccid. We immediately rushed him to the hospital and he was admitted to the Intensive Care Unit…" recounted Joon Wai's father, Sam Kin Man.
The family did not expect the doctor to declare that there was no chance for recovery, and that Joon Wai could no longer stand up. After Joon Wai was discharged from the hospital, his family brought him to Chinese and Western medicine practitioners, masseurs, and 'tui na' masters, and even sought divine intervention. However, all efforts were in vain.
Kin Man remembered that his boy would run to him to help carry his briefcase whenever he returned home from work. "He would drag the briefcase if it was too heavy for him to carry. He was really cute..."
After the incident, the heartbroken family could not help but blame Ling Sien for her negligence, causing permanent disability to the once healthy boy. But they gradually let go of their resentment, having witnessed how she took care of her child painstakingly. "There's nothing we can do except to face it," said Kin Man.
Serving with mindfulness
Learning of the family's financial burden to cope with the extra expenses incurred by a bedridden child who needed life support, the doctor referred their case to Tzu Chi. In 2014, volunteers visited their home and started to subsidize their medical equipment purchases.
With the passing of time, a closer bond was established between Sam's family and volunteers. Ling Sien views the volunteers with much trust, just like a family member, while her mother-in-law, Tan Ngo, always welcomes the volunteers with great hospitality and shares with them about their family life. As for Joon Wai, he was less friendly initially, probably because he lacked interactions with strangers, but after he was acquainted with the volunteers, he began to look forward to their monthly visit.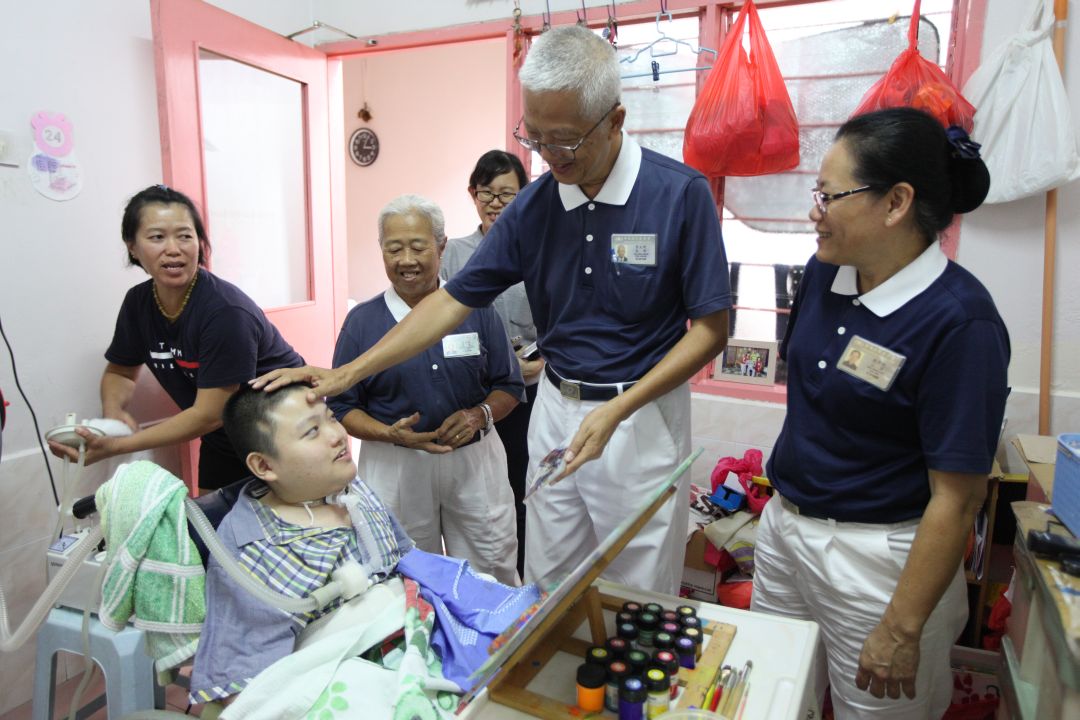 Through their interactions, volunteers observed that Joon Wai would ask them the same question during their visits. They figured it was because he did not attend school or leave his house that led him to have delayed development. Hence, in January 2018, they installed Da Ai TV for the family, with installation cost borne by volunteers Lee Mun Meng, Lau Chong Meng and Chung Kuang Ping. This would allow the family more exposure to a TV channel that spread messages of human kindness and gain knowledge through the programmes.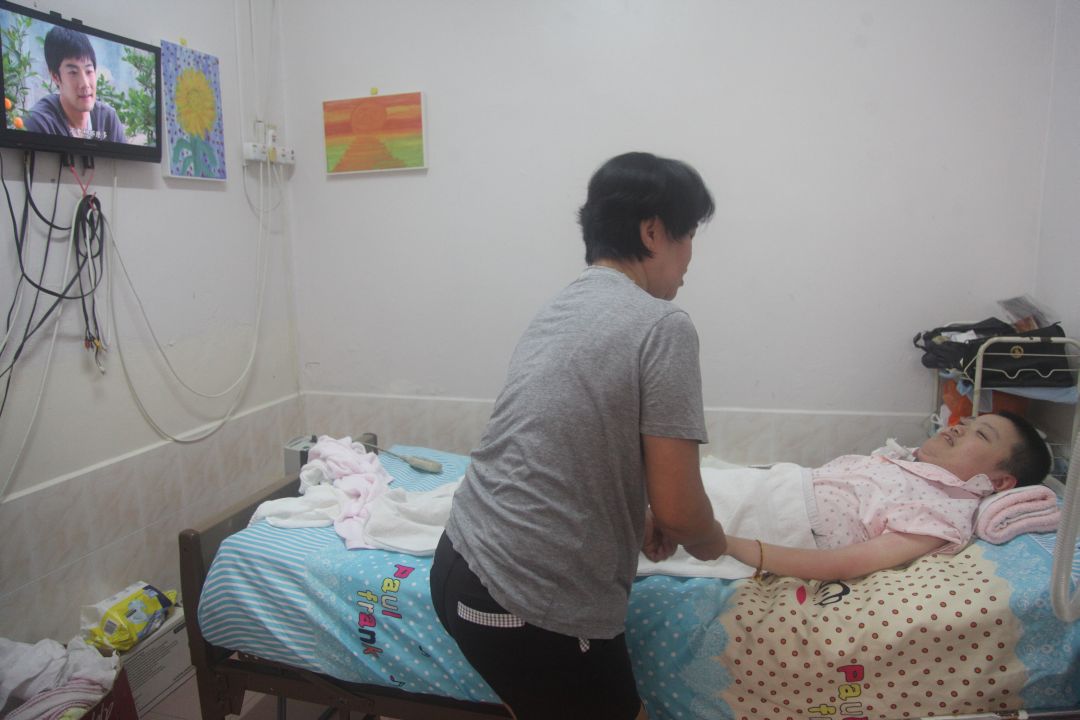 Now, instead of common conversation, such as, "What did you have for breakfast?", they would talk about the Dharma teachings delivered by Master Cheng Yen and happenings in Tzu Chi, among others. Ling Sien was pleased to comment, "Joon Wai is more polite now. He also knows more vocabularies and countries around the world, and is aware of the natural disasters that happened." In addition, Joon Wai could express himself better.
Ling Sien on the other hand, has also benefitted from the TV programmes. She is more appreciative and cheerful now, having realized that she was not the least fortunate people in this world. The Jing Si Aphorisms that she comes across on Da Ai TV have also become her source of spiritual support and motivation.
Seeing through each other's eyes
Ling Sien and volunteer Gan Siew Toh are as close as sisters. As a mother, Siew Toh could understand Ling Sien's worries and struggles whenever the latter confided in her. She would always comfort Ling Sien with Jing Si Aphorisms and Dharma teachings preached by the Master. She remarked, "Ling Sien has gained some weight and smiles more now."
Joon Wai and volunteer Lau Chong Meng have also fostered a close friendship despite the age gap. Chong Meng would always share with Joon Wai about his life and work, and show the latter some photographs and videos to expose him to the outside world. With his curiosity piqued, Joon Wai would always pose questions to Chong Meng and their conversations flowed. His mother remarked smilingly, "Joon Wai has more to talk to Brother Chong Meng than his father and brother."
Whenever Ling Sien faces problems that she could not solve, she would turn to the volunteers for assistance. For example, she would ask for the volunteers' help to pick up some medical supplies that she had ordered as she had to take care of her children at home; or she would seek the volunteers' favour to send her husband, who had a stroke, for follow-up visits. It moved her deeply that the volunteers always offered help readily.
When volunteer Chung Kuang Ping noticed that Joon Wai's wheelchair was no longer suitable for use, and heard that Ling Sien had back pain after carrying her son, he brought them a functional second-hand wheelchair, an electric patient lift and a lower-back support belt. He lightly brushed away the acclamation saying, "I just think that they are still new and suitable for use, so I just fixed them and brought them over."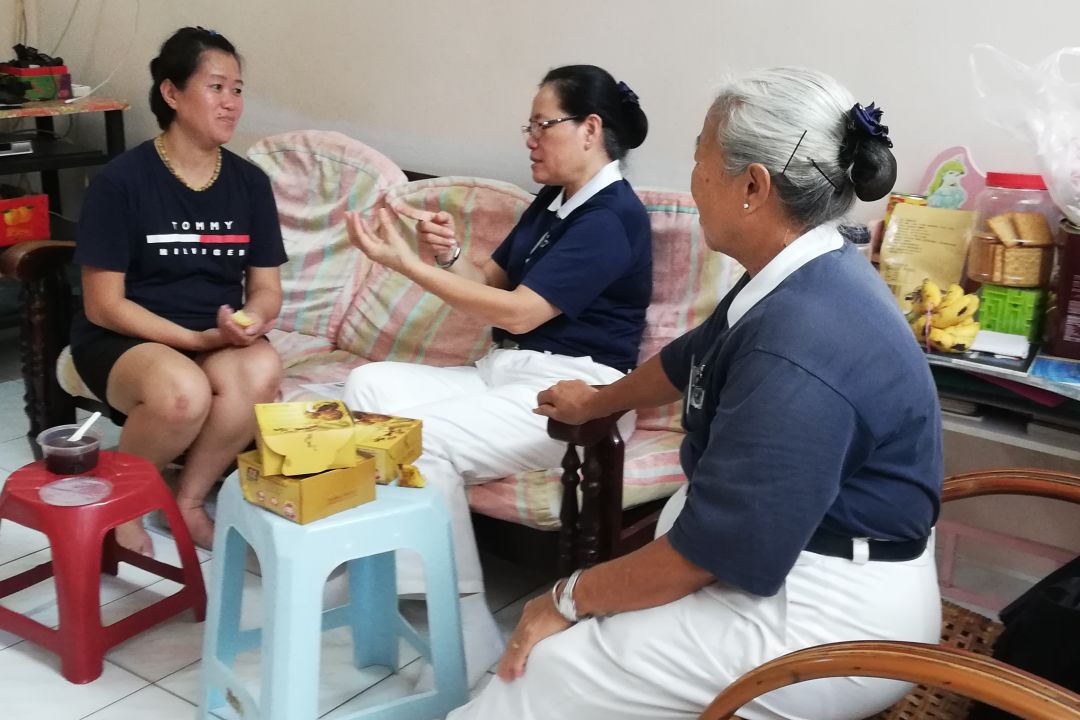 Once, Ling Sien burst into tears hearing the song, "We Are Family", at Tzu Chi's year-end distribution event. She shared, "You have not only helped us financially, but also offered us mental support. What's more, you do not ask for anything in return. You treat us like a family, help us and change my family for the better. I'm truly happy to have known you all!"
Embracing the present with courage
Even though they appear to be much at ease now, the past journey was not without struggles.
Ling Sien shared, "In the beginning, I would trap myself in pointless overthinking, wondering why did I live my life that way; it wasn't my normal self. I used to like swimming and dancing, have my own activities and circle of friends, but at that time, I seemed to have nothing left; I couldn't even return to my parents' place because Joon Wai needed me."
However, nothing rises above a mother's love. "As Master always says, there's no turning back in life. We have to face whatever comes to us. Should I have kept holding onto the past, I wouldn't be who I am today."
"I'm a healthy person entrusted with a patient to take care of. I need to be mindful in order to do it well. I'm thankful to Joon Wai for the learning journey. He has also put in a lot of efforts and is improving."
Ling Sien is constantly running against the clock; her life revolves around Joon Wai while her husband works to support the family and her mother-in-law helps with household chores. Her eldest son is willing to help take care of the brother but is occupied with his own life and seldom stays at home. Her daughter is unable to provide proper care to Joon Wai due to a lack of patience. Thus, Ling Sien could only get three to four hours of sleep daily, and get a nap when her husband is free to take over the caregiving task.
Is she tired having such a packed schedule? She admitted, "I'm a human being, not a robot. Of course I would feel tired…" Despite that, she found her exhaustion worthwhile so long as her son lives on well.
Everyone is here for a mission
Upon entering Joon Wai's room, one would be greeted with colourful paintings on the wall. The verdant green trees, blooming flowers and bright sun were especially eye-catching. All these painting were drawn by Joon Wai using his mouth. He has been painting for two years now, after his doctor introduced a friend to give him free painting lessons.
Joon Wai would hold the painting brush with his mouth and paint on the board, while his teacher Loh Chong Yeen moves the painting board according to his pace and guides him along the way. About an hour or so later, a painting is created.
Teacher Loh revealed that Joon Wai would tire more easily initially, as he had yet to master the skills in moving the painting brush with his mouth. He would complain of dizziness after drawing circles. Although there were times his paintings did not turn out as desired, Teacher Loh explained that the main purpose of painting is to bring him joy in the process. Moreover, the vibrant colours used in the paintings would also fill him with positive energy. "Joon Wai's happiness shows in his facial expressions when he paints," he added.
Ling Sien commented, "I asked him if he feels tired, and he said no. But we feel that it's tiring and not easy at all."
Besides making some of Joon Wai's paintings into canvas prints for him to keep, Teacher Loh also sells his paintings so that he can earn some pocket money with his own efforts, thereby developing his self-worth.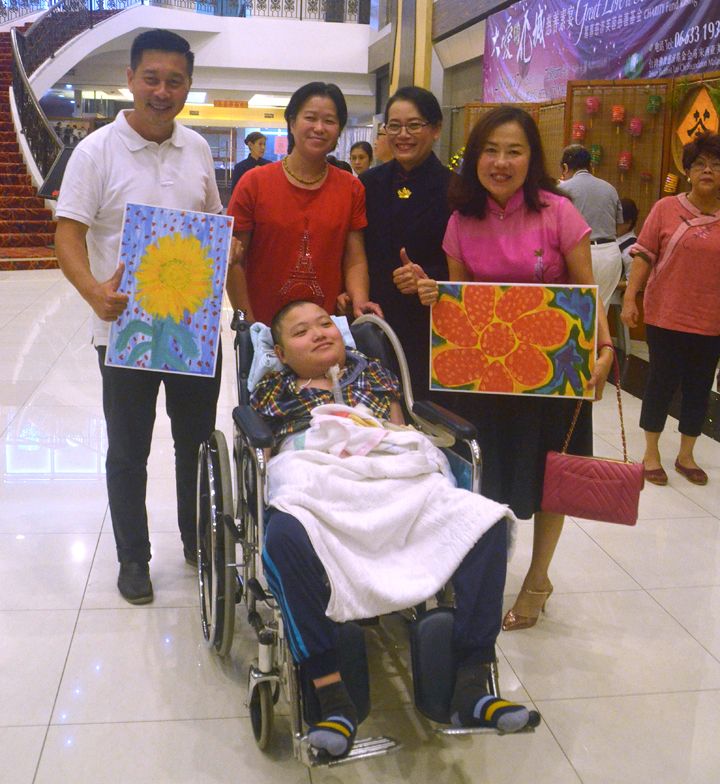 Joon Wai also donated his paintings for charity sale at a charity banquet organized by Tzu Chi Seremban on August 17, 2019. The canvas paintings were printed at his expense with help from Teacher Loh. Many of the guests were impressed when they learnt from his mother how he completed the paintings despite his physical conditions. "We saw on Da Ai TV some families whose conditions are worse off than us but are doing good deeds. So I proposed to Joon Wai that he could also do the same and pray for a healthy body in his next life. He agreed without hesitation."
The value of these paintings does not lie in their price tags or skills involved, but a child's passion for life and his efforts to paint his life with colours despite his physical disabilities.
•
During their visit in July 2019, volunteers held an early birthday celebration for Joon Wai, whose birthday falls on July 24. The shy teenage boy was reluctant to express his gratitude but the warmth that he felt would give him courage to face his life, knowing that there are people who care about him.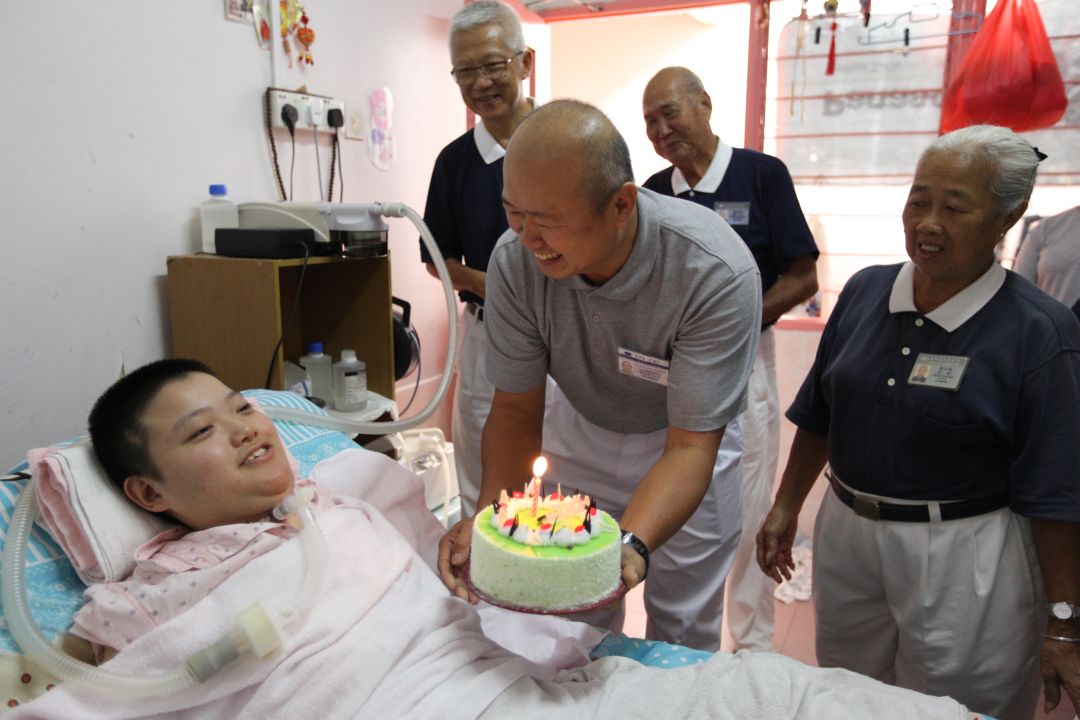 Life may not always be ideal, but we must not be defeated. We should face the trials and setbacks that we encounter bravely and live out the best of our lives. Day after day, everything goes on as usual, the mother continues to take care of her son meticulously, the son continues to find his worth in painting, and the volunteers will always be there to offer their support through thick and thin.