"Mum, I love you!" These simple words uttered by Amy warmed the hearts of all present, while her mother embraced her and prayed in between sobs, "You'll recover one day, you surely will…"
"You asked how deep is my love for you. My affection for you is real and my love for you is genuine, as the moon can tell… My affection for you will never waver and my love for you will never change, as the moon can tell…"
The 62-year-old mother, Wong Ah Chun, led her 29-year-old daughter, Amy Tan, to sing the famous Chinese classics, "The Moon Tells My Heart". When they sang the second verse, "the kiss was gentle but it moved my heart," the mother kissed her girl on the cheek with a blissful smile on her face, and both of them broke into tears.
After letting go of her emotion, the mother wiped away her tears and continued to guide Amy to sing the song. Then, she mentioned again that no one had celebrated Mooncake Festival with them in the past several years, but since Amy became paralysed, she did not have the mood for celebration anyway. The volunteers' presence however, warmed her heart.
A cruel fate for a mother
On September 8, 2019, volunteers visited the mother-daughter duo with some food, mooncakes and lanterns. Madam Wong was filled with gratitude upon learning that the volunteers had arranged the visit on the eve of Mooncake Festival because of her earlier remark.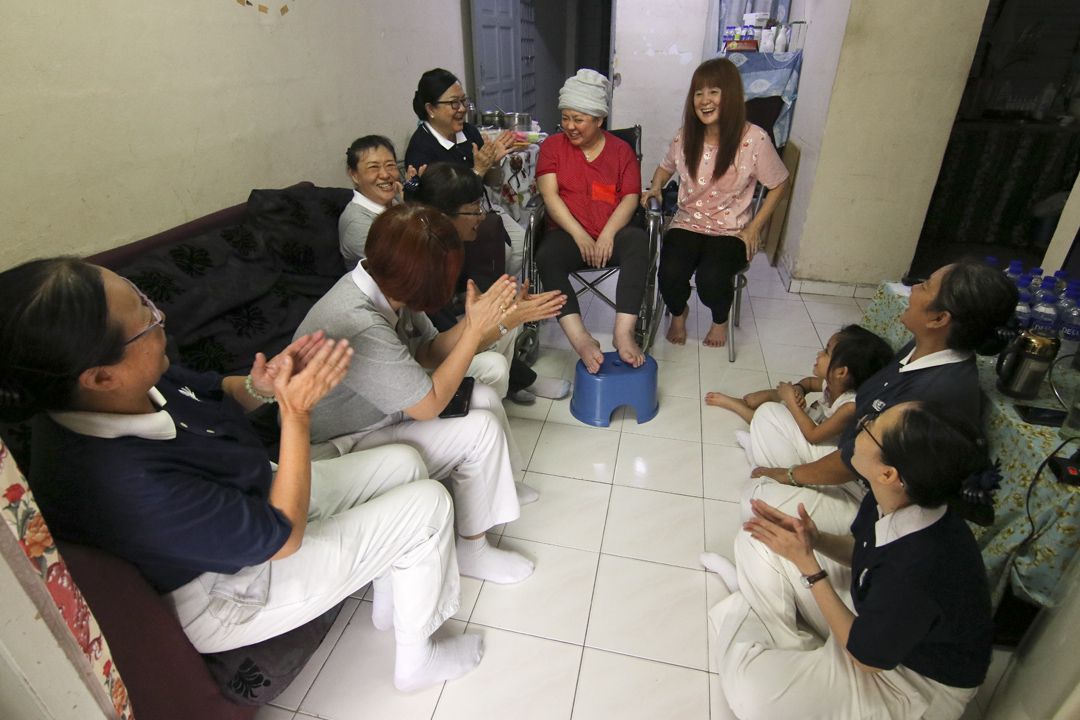 Volunteers passed Amy a small piece of mooncake to feed her mother on this day as an appreciation of her tender care all this while. The strong affection between the mother and daughter touched everyone present. Volunteers then requested Amy to sing a song for her mother, and the latter chose the song "The Moon Tells My Heart", which Amy loved to sing.
The joyful atmosphere became melancholy as the mother was overwhelmed by emotion. The volunteers offered their comfort but Madam Wong shook her head and said, "I prayed every day that this is just a nightmare and things will get back to their previous states. But, my prayers only resulted in disappointments because this is reality. I'm helpless with Amy's conditions…"
Madam Wong always felt miserable and hopeless at the thought that her daughter would be wheelchair-bound for life and is unable to speak fluently or manage her daily activities independently. She was also worried that no one would take care of her daughter after her demise.
A dream shattered
Madam Wong thought that she would be able to enjoy her life after years of hardships working to support her family's livelihood, but it was not to be.
She got married in her teens and gave birth to her eldest daughter at the age of 20. She then had three other children, with Amy being the youngest among them. Life was peaceful until she encountered marital problems more than ten years ago, which resulted in her having to raise her four children single-handedly.
She chose to work in a restaurant in Singapore due to her financial circumstance. Fortunately, her eldest daughter had started working and her second daughter was able to take care of her younger siblings.
Madam Wong revealed, "Those days, I had off-day fortnightly. I'd take a bus home to do some house chores and spend time chit-chatting with my children. It's tiring but it's worth it when I see my children completing their studies and started working."
Madam Wong informed that she resigned and returned home to be reunited with her children when Amy found a job as a sales person after graduating from secondary school. But not long after that, she noticed that Amy, who was 18 then, complained of having headache frequently.
She sought medical attention but no abnormality was found, so they thought it was due to work stress or the long hours she spent facing the computer. That, coupled with irregular menses, led to Amy's frequent job changes; and Madam Wong mistook that as Amy's excuses for her slacking work attitude.
As Amy's headache worsened, she always held her head high. Madam Wong suspected it was due to neck problem and brought her for traditional Chinese medicine and acupuncture treatments. However, it relapsed after some time, and the cycle continued.
Three years ago, Amy started to have severe headache, which was associated with vomiting and she even fainted on one occasion. As her condition was worrying, her sisters suggested that their mother take Amy for further examination. They were shocked to find that there was a growth the size of a tennis ball in her brain. It required immediate operation in order to save her life.
After undergoing operation, Amy did not recover fully as expected. There was still 20 percent growth left in her brain even after a second operation. Although the family was informed of the complications and side effects of the operation, Madam Wong did not expect Amy to experience upper half body paralysis, weak lower limbs, impaired hearing, partial memory loss and the inability to converse normally.
"Amy stayed in the intensive care unit for two months post-operation. Although the growth was benign, her suffering continued. She suffered from a facial paralysis, which then improved with acupuncture. Later on, she developed severe bed-sores and required a transplant from her thigh muscle…"
The painful journey of rehabilitation
Madam Wong informed, "I'm not sure when she can walk again. She has been lying on her bed most of the time these three years, and has gained a lot of weight. She used to be thin and cared a lot about her look. But now, she has a depressed scalp without the skull and deviated vision after the surgery..."
Madam Wong also revealed that Amy took up a beauty course before her illness, and loved to dress up. To become a make-up artist was her biggest dream but she would never be able to fulfil it anymore. To that, Madam Wong blamed herself for not bringing Amy for a brain scan earlier, as this could have saved her from her current conditions.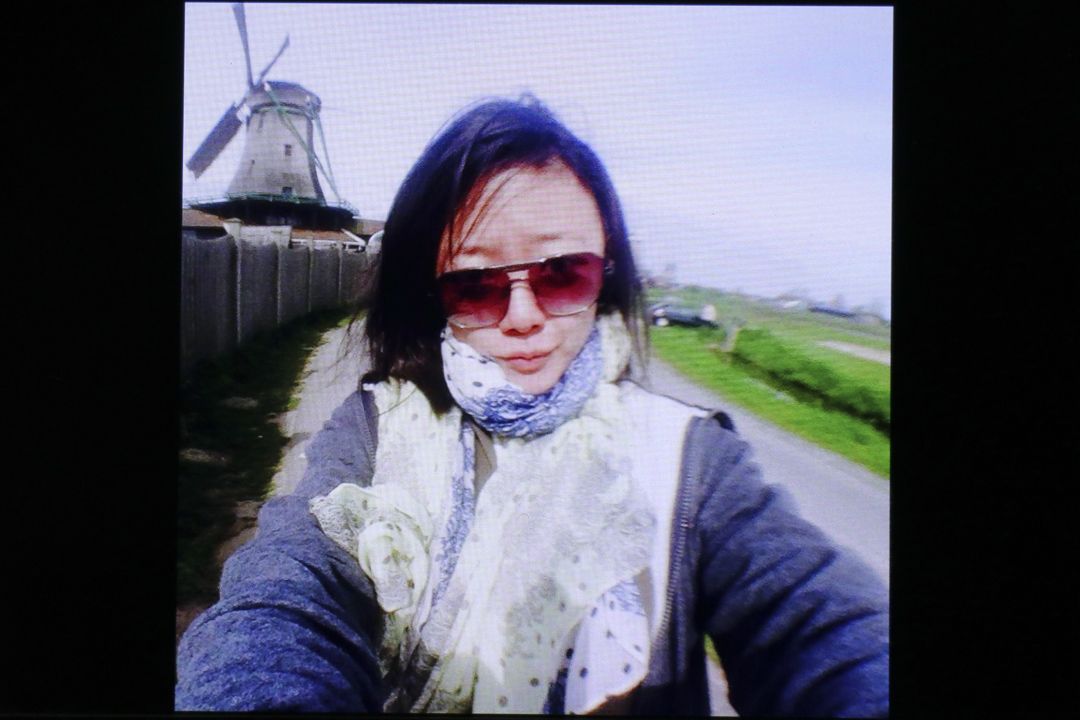 It was taxing for Madam Wong to take care of Amy day and night, especially when the latter has put on 20 kg in weight within three years. With Amy's current weight of 70 kg, Madam Wong has to get her son's help for tasks, like bringing Amy to the bathroom and hospital, and changing her diapers.
To avoid curious stares and questions from others, Madam Wong had stopped taking Amy for a stroll. She also gradually lose hope on Amy's recovery and thought of giving up on herself. But, she could not bear to leave Amy alone.
"I felt miserable and helpless. There's no one I could confide in. My other daughters have their own families and could not help much. I was really tired…" Madam Wong said, and added that if it was not for the support from Tzu Chi volunteers, she did not know how much longer she could hang on.
It was in August this year that a neighbour suggested to Madam Wong to seek support from Tzu Chi. The former was even kind enough to look for a Tzu Chi volunteer staying nearby and inform her of Madam Wong's predicament. After home visitation, the volunteer team decided to engage TIMA members to provide medical assistance.
Light at the end of the tunnel
Madam Wong is deeply grateful for what the volunteers have done for them. Other than a doctor and a traditional Chinese medicine practitioner, a physiotherapist, Cheng Guat Ling, and a speech therapist, Tan Chuan Xiong, also visited Amy to help her with rehabilitation.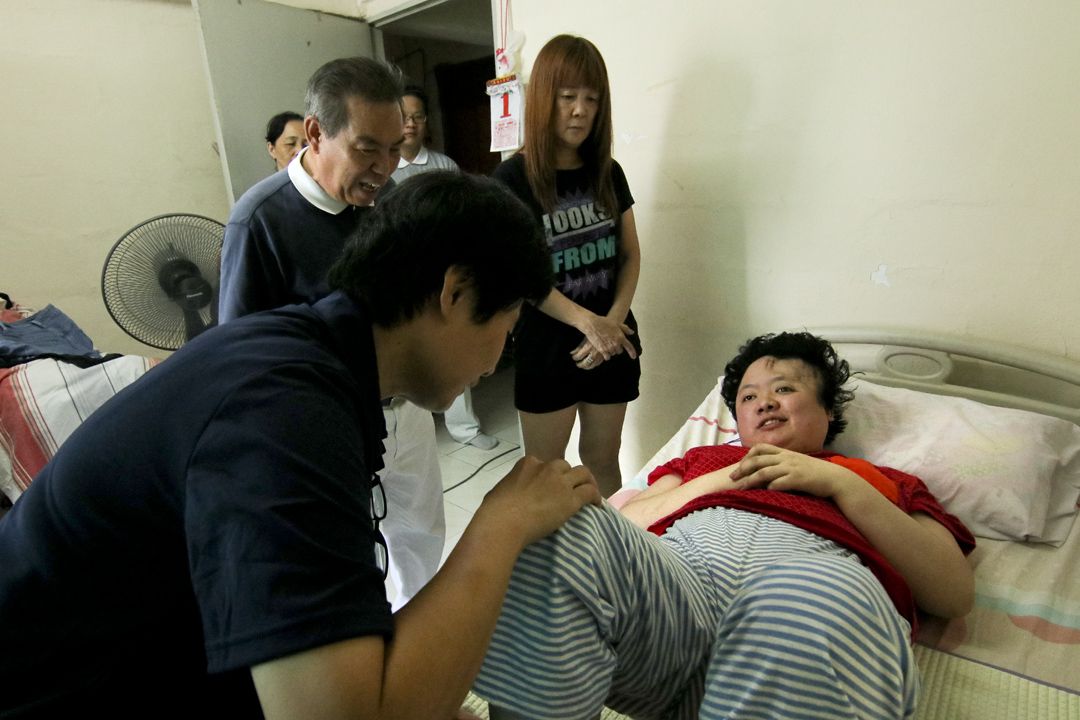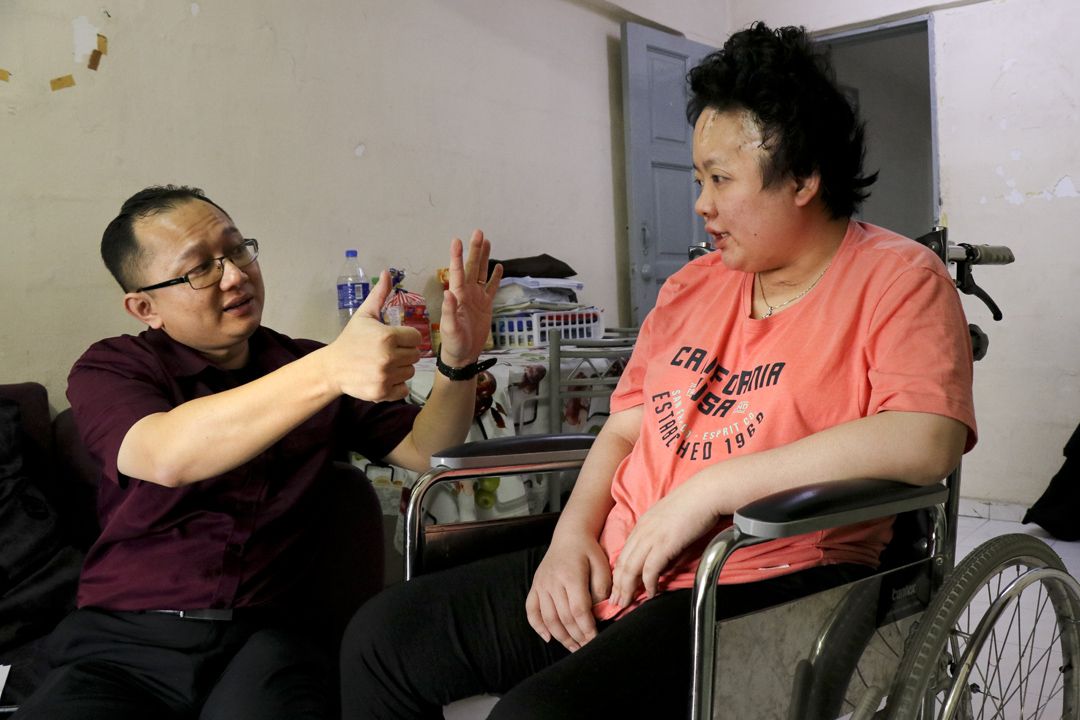 Madam Wong was surprised that after several tries, Amy was able to sit up from her bed using a rope tied to the edge of the bed. Guat Ling also reminded the mother to help Amy with some stretching exercises to strengthen her limb muscles.
There were times Madam Wong strained her back when carrying Amy from her bed to her wheelchair. Thus, Guat Ling showed her the correct way of doing it, and encouraged Amy to learn to stand holding onto the grill so that she could slowly walk again.
Chuan Xiong, on the other hand, checked on Amy's recognition ability and discovered that she had retained her basic ability and could construct simple sentences with repeated coaching. Thus, he advised Madam Wong to train Amy to express herself using simple sentences instead of only replying with "Yes" or "No".
Guat Ling's frequent visits and Amy's efforts in doing the rehabilitation exercises on her own have alleviated Madam Wong's hope of Amy's recovery one day.
The volunteers continued to extend their care to the family and even delivered a small static bicycle to Amy for rehabilitation purpose. They also guided Amy to construct sentences and encouraged her to draw using her left hand as she had difficulty lifting her right hand. They would boost Amy's morale by praising her even if all she could draw were some lines. In addition, they also installed some facilities for safety measures.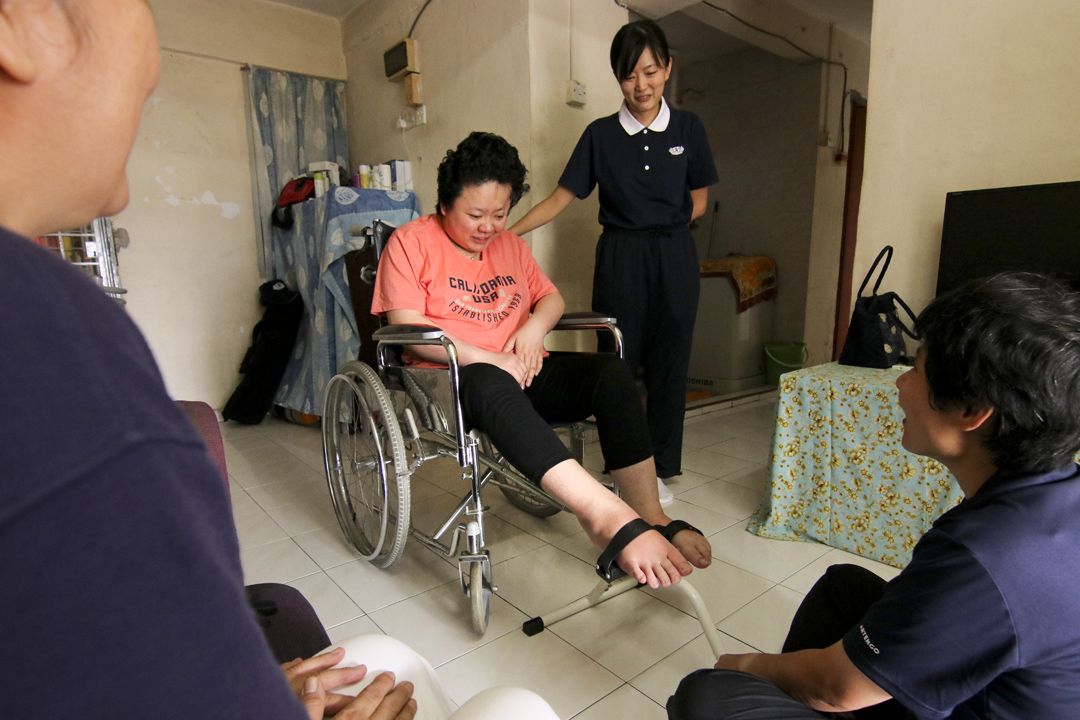 Through their interactions, volunteers observed that Amy has retained part of her memory. She remembered her trip to Redang Island, and would comfort her mum when she saw the latter in tears. She would also say "Mum, I love you," to her mother in appreciation of what her mother has done for her. To their surprise, Amy remembered her favourite songs and could sing a song till the end though she needed to pause to recall the lyrics.
"To motivate Amy, we promise her that we will bring her for a stroll at the park when she gets better and bring her to Redang Island when she regains her ability to walk. She was so happy to hear that!"
Volunteer Siah Swee Leng, who always visits Amy together with TIMA members, loves to see the smiles on Amy's face. She always tells Madam Wong that with the help of the medical team, Amy will surely recover one day.
Madam Wong expressed that the volunteers have enabled her to see light at the end of the tunnel. Amy can now use some simple sentences and will take the initiative to exercise her limbs.
•
"Amy, promise me that you will do exercises and not lie on the bed all day long, alright? Mum is getting old and is not able to take care of you for as long as you live. You must recover soon. I believe you will…"
Madam Wong's only wish is to see Amy recovering from her illness. And Amy told her mother, "Thank you, mum, for all that you've done for me. I love you, mum!"
"Mum, I'll keep up the effort" Amy added when her mother held and kissed the back of her hand. In tears, Madam Wong said that it was what she had hoped to hear from Amy, that she will keep her motivation to stand up again and make a fresh start in her life.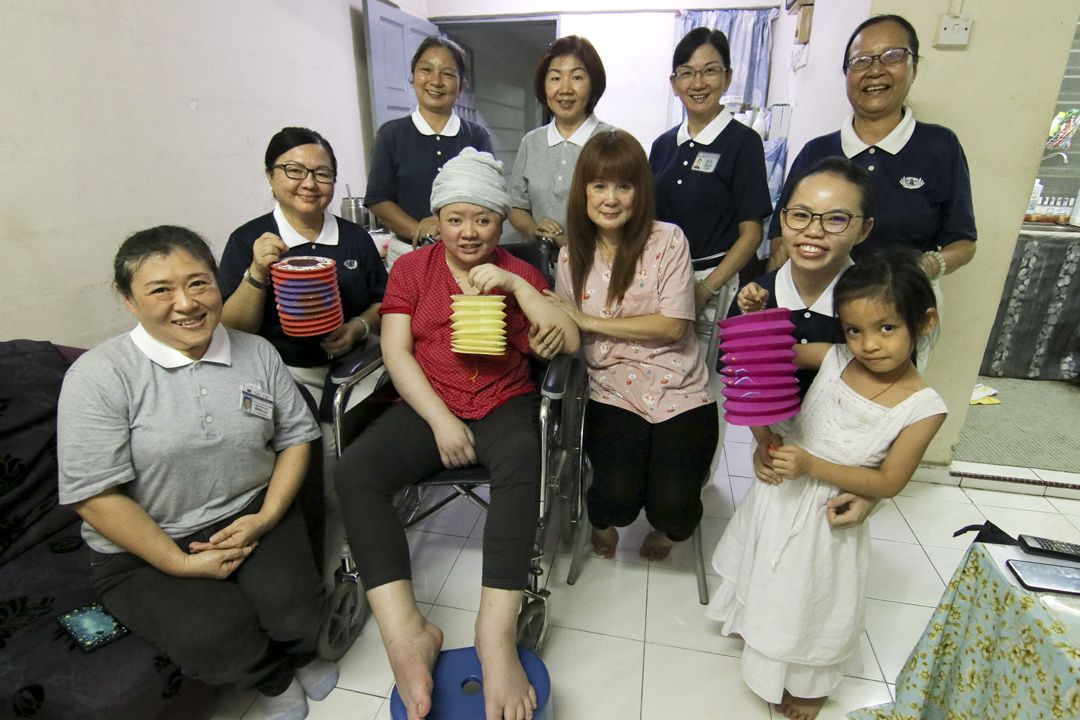 The volunteers wished Amy speedy recovery before they bade the mother and daughter goodbye. Holding the hands of each volunteer in turn, Madam Wong said smilingly, "I'm no longer afraid with you all by my side. Thank you for being there for us!"
Her smile warmed the hearts of the volunteers, who promised to keep them in company no matter how tough the future may be.