More than 20 from the low-income group lost their homes in Kampung Melayu in an arson attack by a mentally-ill person. After learning the news, Tzu Chi volunteers rushed to offer assistance to those affected.
At about 6 am on July 27, 2019, a fire in Kampung Melayu destroyed ten houses, leaving the tenants homeless within a few minutes. The ten families included four Malay families, three Rohingya refugee families, a Thai family and two Indonesian bachelors.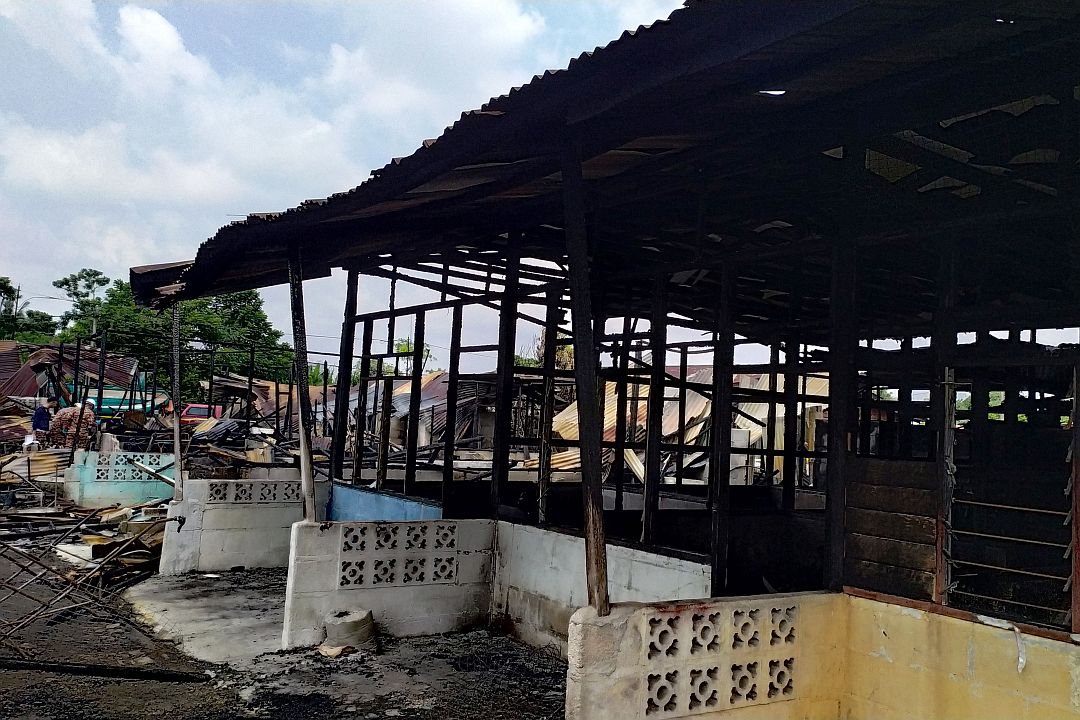 A 24-year-old young man, who is a drug user and suspected of psychotic disorder, was detained by the police and had confessed to his crime. According to him, he poured some petrol in front of his house and ignited the fire to release his anger following a heated argument with his father. The fire unexpectedly engulfed the entire row of half-brick-half-wooden houses. Fortunately, all the tenants managed to escape unhurt.
After the fire-fighters arrived and successfully extinguished the fire, officers from the Social Welfare Department helped to settle the 28 victims, who were still shaking from their experience of escaping death, at a nearby community hall.
Tzu Chi volunteers learnt about the unfortunate incident through Internet news that same day. Later that evening, they went to Kampung Melayu to assess the situation, and carried out caregiving and information gathering work the following morning. Noticing that the fire victims had received second-hand clothing and daily supplies from some charitable organizations and individuals, and the Social Welfare Department had also begun to supply meals, volunteers decided to give out financial aid instead of material supplies. They returned to the shelter two hours later after their visit and distributed relief cash to the victims. Their efficiency won them commendations from the Social Welfare Department's officers on duty.
Solving the pressing issue
While attending to the victims at the shelter, the volunteers noticed that Shamilar Abdul Syukor, a Burmese woman, was sitting in a tent alone, looking worried. She responded to the volunteers' greetings with a faint smile. Upon caring enquiry, volunteers discovered that she has to take medications daily to regulate her unstable blood pressure. However, she could not retrieve her medication while escaping the fire, which broke out when she was sleeping. The volunteers quickly informed the person-in-charge of the shelter about her condition, and requested for help to bring her to the hospital to get her medication. Shamilar shared that her husband had been busily looking for a new place to stay, so that her family could settle down before the shelter is closed. She was surprised to receive the relief cash from Tzu Chi and expressed her gratitude, "We didn't manage to bring any clothes in the hurried escape, and we're lost on how to get a new place to stay. This RM1,000 relief cash will really solve our pressing issue."
Another Burmese victim, Abas bin Ali, stayed in the shelter with his child and expectant wife, Shabana binti Wahid. The family is in desperate need of settling down as Shabana is due to undergo a Caesarean delivery ten days later. Besides handing out relief cash, volunteers also soothed the family's worries by promising to find out more about the surgery and related cost from the hospital, and to provide appropriate aid and support should the need arise.
The couple fled to Malaysia six years ago to seek a livelihood, and they would send money back to their mothers in Myanmar monthly. Knowing that it is costly for foreigners to seek medical services even from a government hospital, Abas has been saving a portion of his meagre salary working in an eatery, in preparation for his wife's labour. Unfortunately, his hard-earned savings of RM1,200 and the baby items they had purchased, had all turned to ashes in the fire. Shabana recounted that she forgot about her safety and returned to the house to get her prenatal record book when the fire broke out. Fortunately, she was not injured.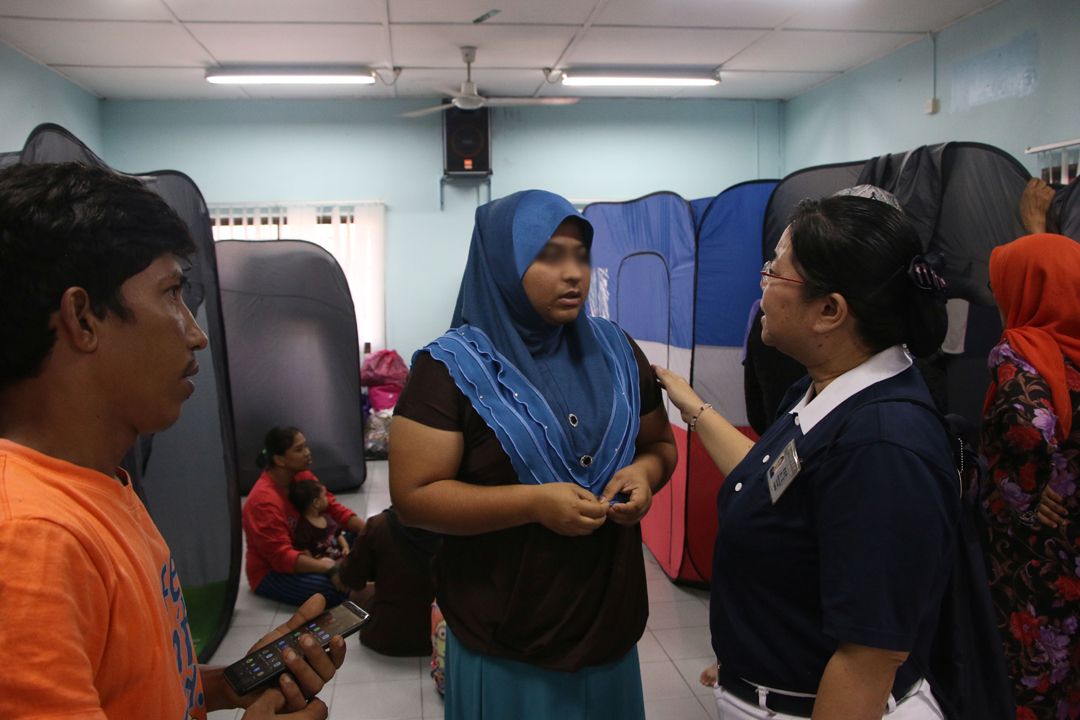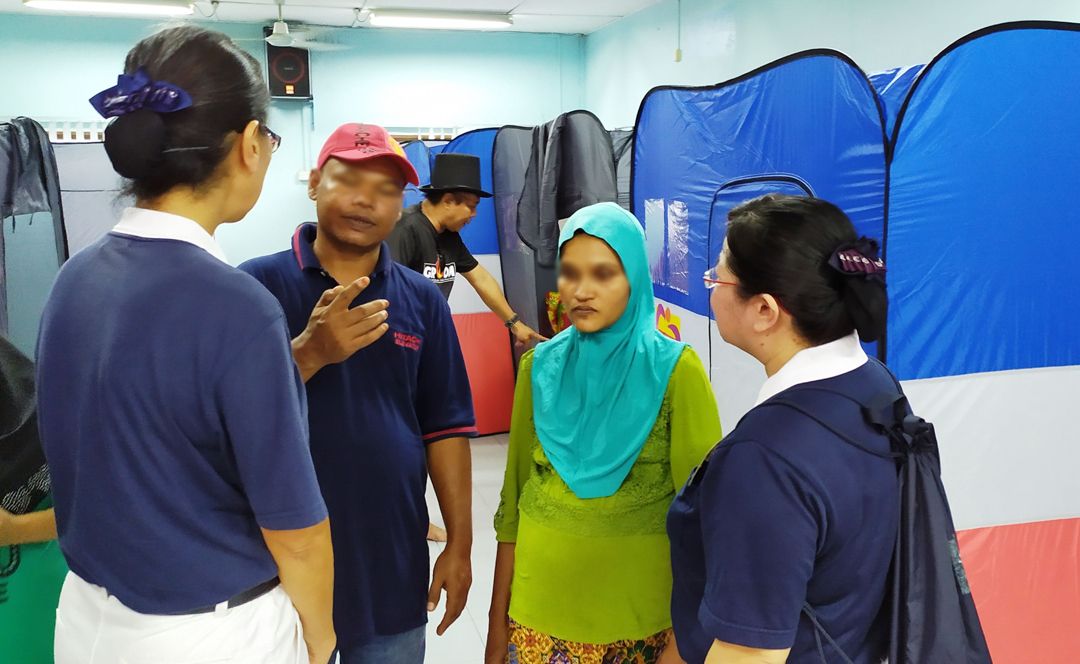 •
The ruthless fire has destroyed the homes and belongings of ten families, but timely comfort and care from Tzu Chi volunteers and other kind-hearted individuals and groups have shown the families that there is still human warmth in this world.