On November 23 and 24, 2019, a musical adaptation of the Sutra of Profound Gratitude to Parents was staged at the KL Tzu-Chi Jing Si Hall. Through musical drama and sign language interpretation, the 300-strong performers, comprising members and alumni of Tzu Chi Collegiate Youth Association, Tzu Chi Mums and Dads, and volunteers from various communities, advocated the virtue of filial piety.
Filial piety is the most fundamental of all virtues. Yet, it is often neglected in our busy life. In order to remind everyone on the importance of fulfilling filial duties and cherishing parent-child bonds, members of Tzu Chi KL & Selangor Collegiate Youth Association (Tzu Ching), presented "The Greatness of Parental Love" sutra adaptation, for two consecutive days on November 23 and 24, 2019, at the KL Tzu-Chi Jing Si Hall. The performers, crew and audience members, some of whom participated in the same performance six years ago, were reunited for the meaningful cause.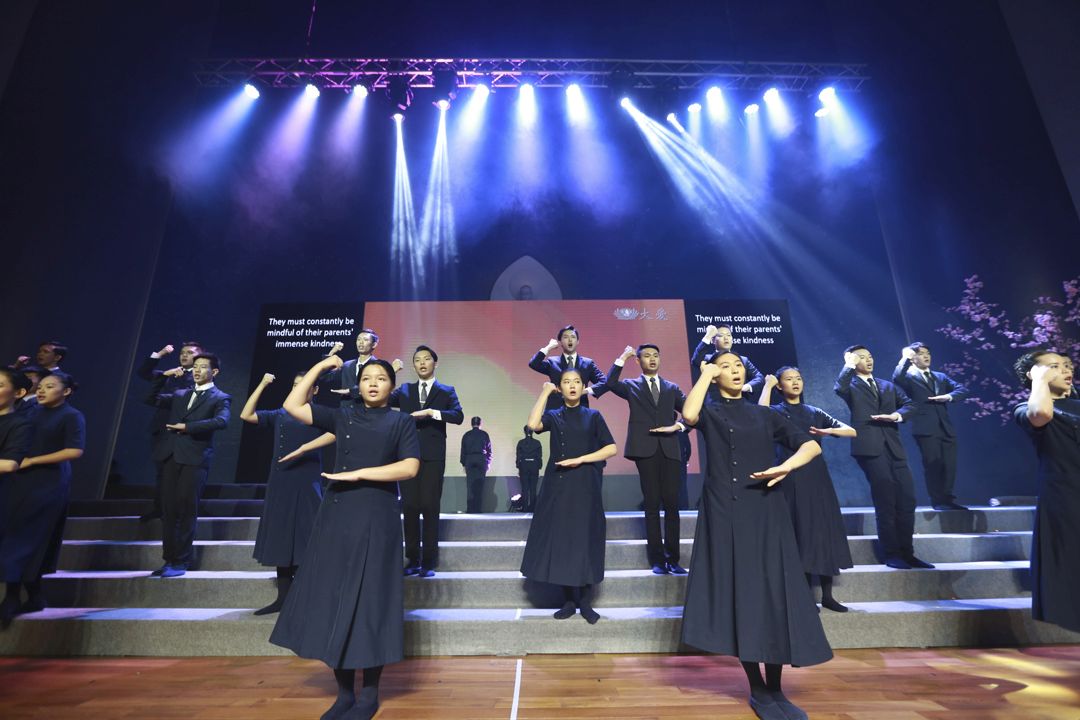 Propagating the Dharma through performance
"The kindness bestowed by our parents is as immense as the mountains, as explained in detail by the Buddha…" The performers conveyed the origins of the Sutra through drama and sign language interpretation, giving the audience a new experience in sutra learning.
Master Yan Rong, who watched the sutra adaptation performance for the first time commended, "It allows us to understand the profound love of our parents whilst appreciating the arts."
Professor Dr Ewe Hong Tat, President of Universiti Tunku Abdul Rahman, remarked that the young people are faced with numerous temptations, living in a world of advanced computer technology, where online social media platforms are widely used. He believed that the active promotion of various activities could lead everyone back to their families, and from there, learn to repay society. He was moved by the young performers' initiative in propagating the virtue of filial piety, and hoped that the young generation could make good use of their lives for good deeds, for it is the best way to repay their parents' love and kindness.
The scenes depicting the ten months of pregnancy allowed the audience to feel the agony endured by a mother, bringing them to reflect on her boundless love.
Lenny, an undergraduate student from City University, could feel the hardships of a mother in bearing a baby, and the parents in raising their children from an infant to an adult. Living away from her homeland China, Lenny keeps in touch with her parents frequently and would help her parents with house chores and cook for them when she returns home.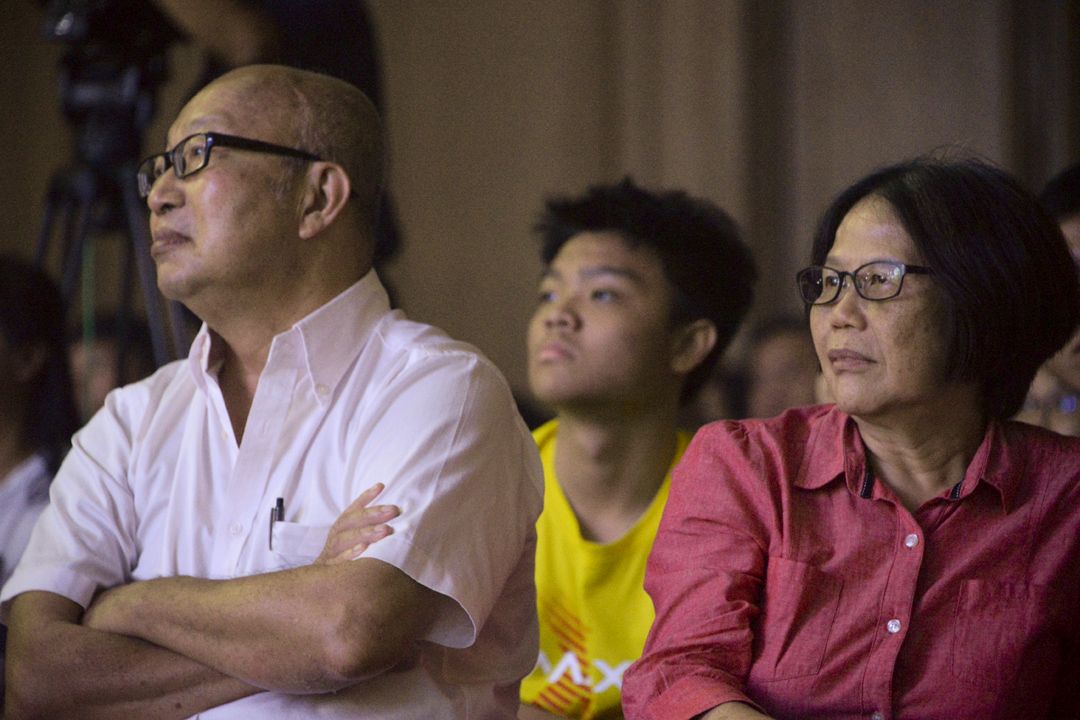 Another audience member, Chan Kok Chee, whose wife and daughters participated in the performance remarked, "My daughters are about to turn 20, but the most significant phase of life is the ten months of pregnancy." He explained that pregnancy marks the beginning of a life, and the ten months' pregnancy determines whether or not a child would be fully developed and grow up soundly, and that would further determine a child's future. That is why a mother would take meticulous care of her baby.
Repenting for past misconduct
The "Children's Wrongdoings" chapter portrayed the various wrongdoings of a child, tugging at the heartstrings of many.
Tan Shi Wei, a law student from Universiti of Malaya, played a disobedient child in the act. She admitted that she often loses her temper with her mother. But her mother, Liew Nguk Mooi, was understanding towards her daughter. She said, "I knew that it's due to her self-demanding character, which she can't change yet…" Appreciating her mother's love, Shi Wei seized the opportunity to serve tea to her mother for the first time; and both of them were moved to tears.
A local artiste, Kenny Gan, recalled that unlike those young people who dedicated their time to the performance, he used to stay out late drinking during his university days, disregarding his father's care and concern. Thanks to his participation in the sutra adaptation performance, the soon-to-be father hopes to mend the estranged relationship with his own father, and learn to listen and understand his father's thoughts.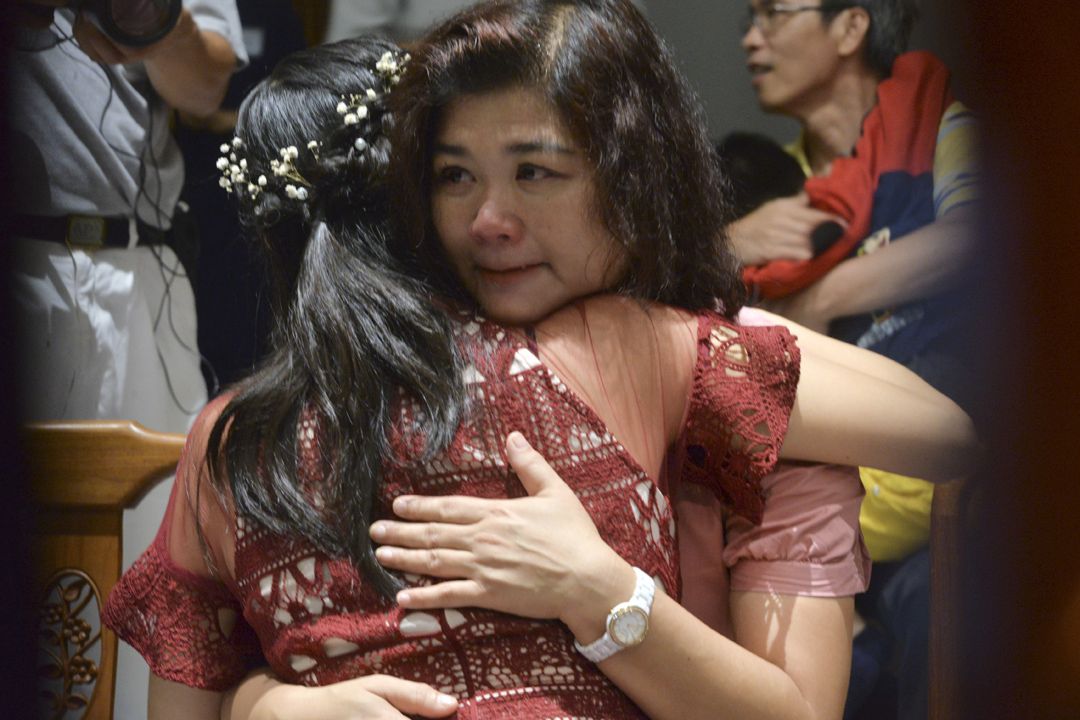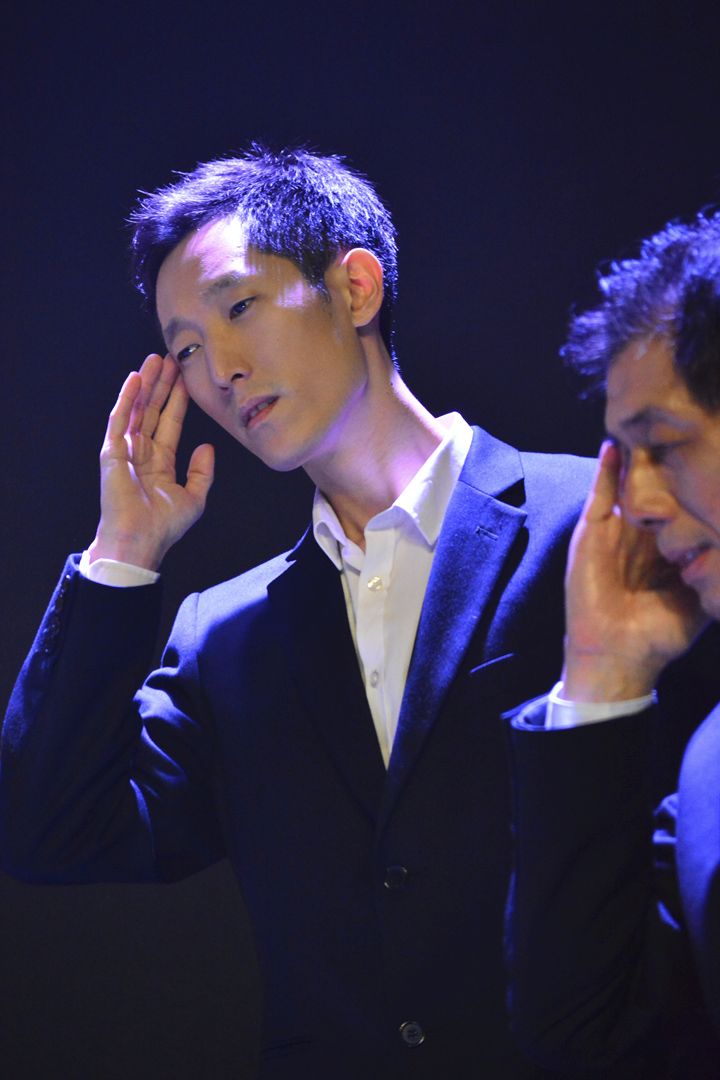 Lim Chong Wah, who is not conversant in the Chinese language, attended the performance along with his wife and three children. He gained a deeper understanding of the concept of filial piety through the acting and subtitles. The song, "Kneeling Lamb" triggered his feeling of remorse towards his parents, for his rebellious acts in the past. Due to work commitments, he seldom returns home to Ipoh to visit his parents. To him, keeping his parents from worrying about him is a way to fulfil filial duties. Hence, he would handle any issues he faced at work by himself instead of sharing with his parents.
Fulfilling filial duties now
"How should they repay their parents' profound kindness? Once again the Buddha explained to them…" The sutra verses plus the sign language interpretation brought to mind the fact that we can hardly repay our parents' profound kindness.
Sio Yen Jinn, a Tzu Ching from Universiti Putra Malaysia, performed in "Karmic Relationships" and "Repaying Kindness". She was once again reminded of the importance of being filial to her parents.
She was especially moved by the verses: "Were one to carry one's father on the left shoulder and mother on the right, such that one's skin rips open, blood spills and pain cuts to the bone? This kind of compensation is still hardly sufficient. It repays barely one ten-thousandth of their kindness." She realized that she would never be able to repay her parents' love and kindness. She likened filial piety to the sign language performance – one must always bear in mind one's filial duties instead of showing care to one's parents occasionally. This is akin to a performer needing to take care of his/her hand movements while taking his/her steps. Moreover, the firm movements signify that one should practise filial piety determinedly.
After watching the performance, Nur Shahirahbinti Abdul Latuff, a second year medical student from Universiti Malaya expressed, "I came from a family that doesn't express their love verbally." She related that although her family members understand their love for each other, they had never said it. The performance dawned on her that it might be too late to express her love for her parents if she does not do it now.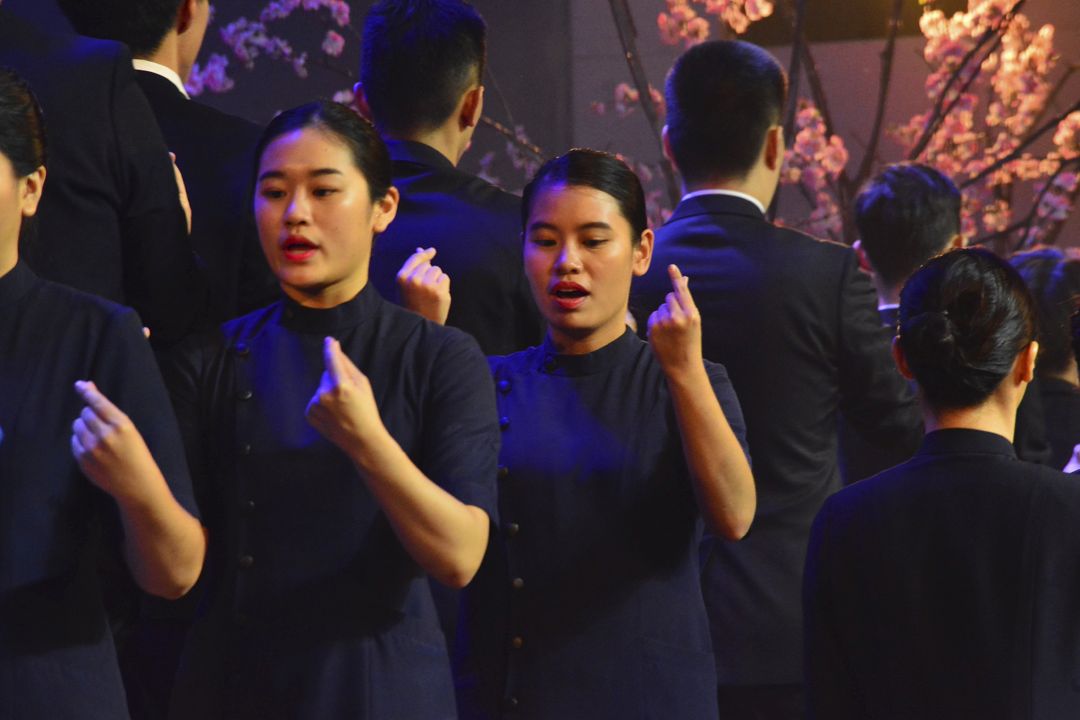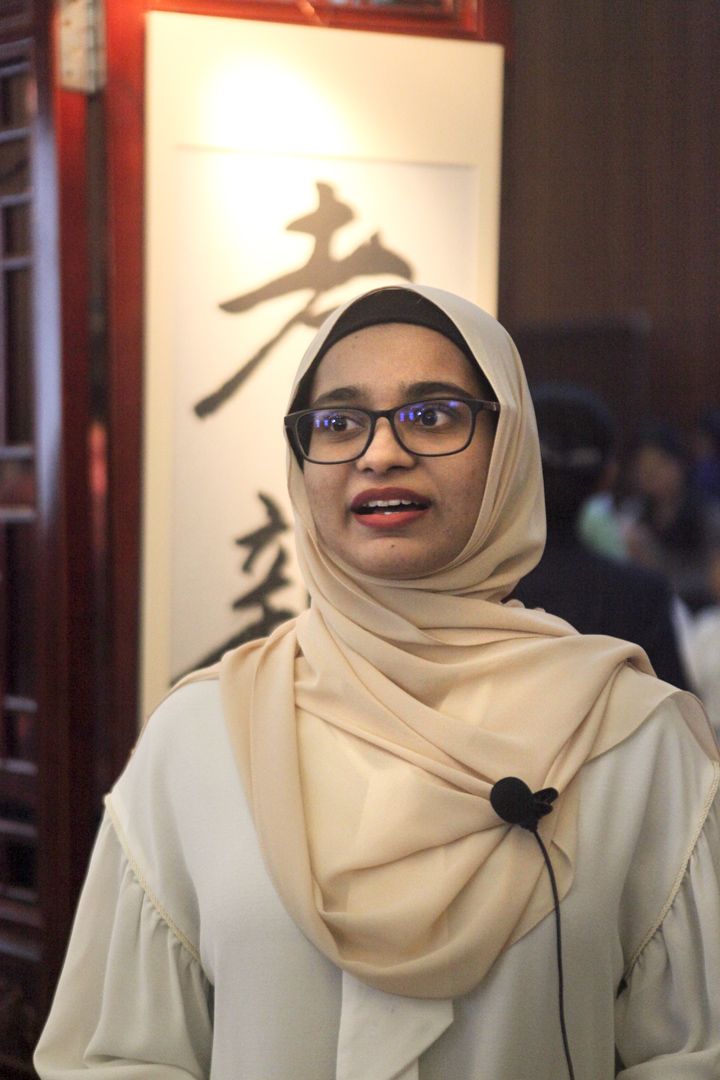 • 
"It's you, who added colours to my life; and it's you, who fill my world with beautiful melodies…" The performance concluded with a synchronized and captivating drum performance, accompanied by the song, "Painting the Masterpiece of Our Life".
Hopefully the audience will take home the messages and act now to fulfil their filial duties.