The drizzle did not stop the group of parents and children from experiencing recycling on the island. Dragging bags of PET bottles collected, they were filled with only happiness and a sense of accomplishment.
Since 1990, Master Cheng Yen has been calling on everyone to do recycling. In response to the Master's appeal, volunteers in Malaysia have been working hard to promote the concepts of recycling. Many recycling centres have also been established across the country, including on an island – Pulau Ketam.
On June 23, 2019, the Tzu Chi Pulau Ketam Recycling Education Centre welcomed a group of 45 parents and children from Taman Eng Ann's Parent-Child Bonding Class (PCBC).
Tan Siew Cheng, leader of the PCBC remarked, "In view of the good response, I thought of arranging something different, which will allow the participants a new experience. I have heard about the great work of volunteers at the Pulau Ketam Recycling Education Centre, so I think it's good to make a learning trip here. The happiest thing is that everyone was engrossed in the activity. I hope that they will start sorting out recyclables at home and make it a habit."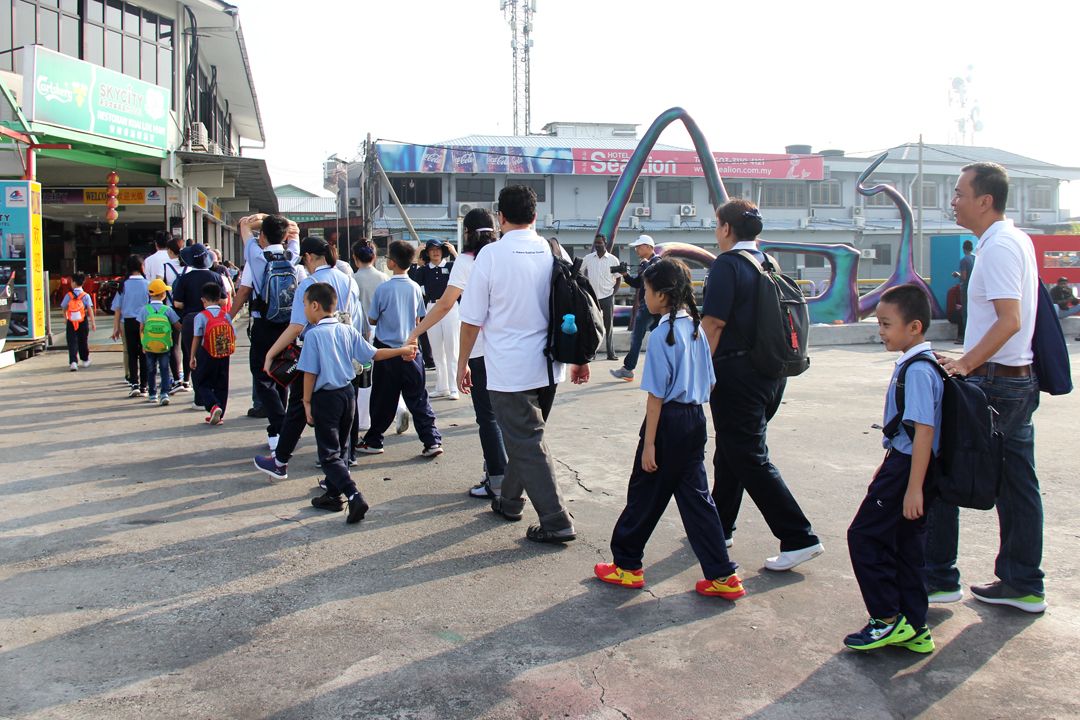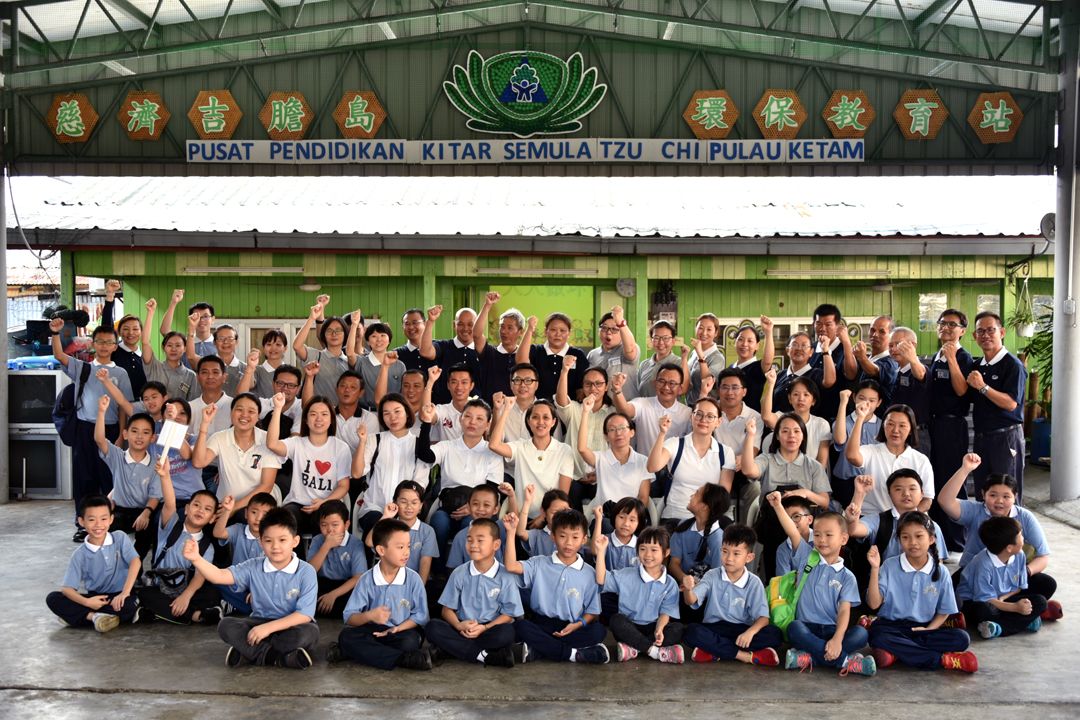 A shared responsibility
Be it first-time visitor or not, everyone hopped on the speed boats with anticipation for an exceptional recycling experience on the island. On arrival, everyone posed for a group photo before setting out in two groups, to collect recyclables from the collection cages placed on the main street and tourist spots.
Despite the sudden drizzle, everyone carried on with their tasks. After a 2 km walk, the participants arrived at a house by the riverbank. In front of the house that was under renovation was a recyclable collection cage filled with PET bottles. Volunteer Heng Bok Meng, who led the group explained, "The house owner had requested us to place a collection cage here as the renovation workers would always throw empty PET bottles into the river; and we're more than happy to provide that."
While listening to Bok Meng's explanation, a child carrying a recyclable collection bag repurposed from a fishing net asked abruptly, "Excuse me. Do we use this to catch fishes?" Her innocent enquiry made everyone burst into laughter. After Bok Meng clarified that it was to collect the PET bottles in the collection cage, everyone began to take action.
Soon, all the PET bottles were transferred to the fishing nets, and the high-spirited children dragged the bags happily towards the Recycling Education Centre. The sound of the plastic bottles rubbing the road surface created a beautiful melody for the Sunday morning.
A habit since young
On arrival at the Recycling Education Centre, the participants poured out the plastic bottles and worked on the next step – categorizing them, removing the caps and outer packaging, and stepping on them to flatten them so as to save storage space.
A 9-year-old Charice Mah participated in the activity along with her mother, Caren Tan. She muttered that it was exhausting while pulling the collection net back to the Recycling Education Centre. But upon seeing her peers stepping on the plastic bottles with all their might, her fatigue disappeared.
She said shyly, "It's more tiring doing recycling here because we need to walk around the island. We didn't have to walk for such a long distance in the past recycling activities, but this time, we have to walk a long distance, not to mention carrying the bag of recyclables. That's why it's very tiring. But, if we don't do recycling, there will be lots of rubbish. So I'll still do it."
Caren admitted that visiting the island as a tourist was relaxing, but it was different this time with a sense of responsibility, as the purpose of the visit was to experience recycling activity. Moreover, she needed to instil the importance of recycling to her child.
She shared, "I feel touched because doing recycling here on an island is different. It's not easy to start recycling here as environmental awareness among the islanders was rather low. I truly admire the volunteers. In fact, every one of us must be conscious and contribute towards environmental protection."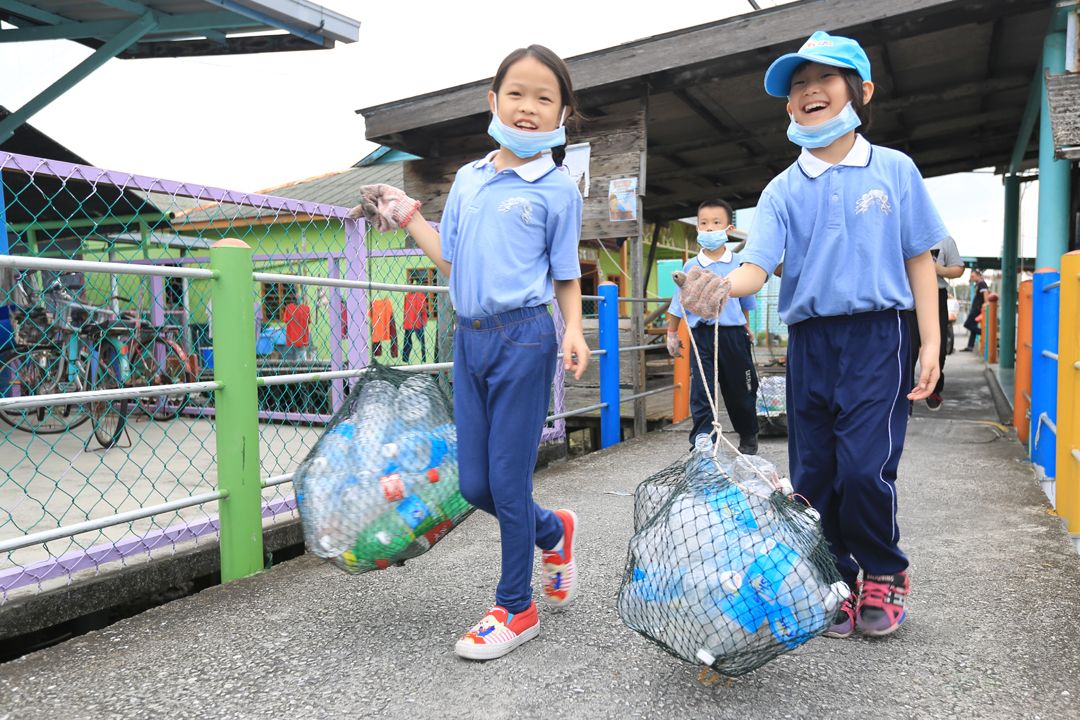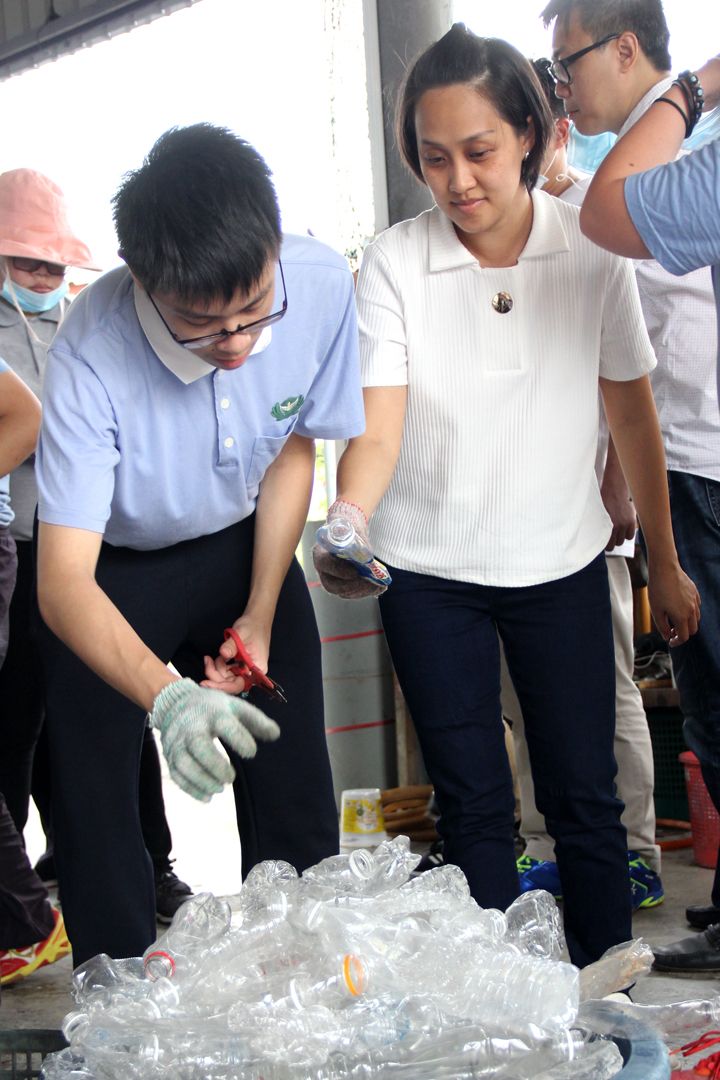 There was also a family of five enjoying themselves in sorting out recyclables. The mother, Lim Chui Hoon, taught her son how to remove the bottle caps while reminding her daughter, who was stepping on the plastic bottles, to be careful. She remarked smilingly, "I'm grateful for this opportunity to sow blessings together with my children."
She was amazed to find Pulau Ketam much cleaner than what she had seen in a video. She related her visit to the island during her secondary school years saying, "It stunk with a bad odour back then, but not anymore now. It also appears to be better planned now."
Chui Hoon was particularly touched by the volunteers' spirit in conserving the environment. Without their efforts, the recyclables would be treated as garbage and the resulting pollution will only harm human beings, who produce the garbage, in the long run.
She said, "If we don't practise recycling, we'll deprive our future generations of a good environment. That's why I educate my children to love and cherish Mother Earth."
A choice to change
Seven-year-old Tee Yew Fong shared his first experience of recycling with his limited vocabulary. He claimed that he did not want to participate in a recycling activity anymore as it made him sweaty and tired. However, upon recalling the scenes that animals died as a result of consuming garbage, he suddenly said, "I want to do recycling. I'll continue doing recycling when I go back to Klang. I want to see animals in the future."
The boy's change made his mother, Chua Lye Y'ng smile. She said, "This is my first time participating in a recycling activity. I'm very happy because it means we're protecting the Earth. I'll invite my family and friends to practise recycling together."
Lye Y'ng was surprised to see some rubbish floating on the sea. She was thankful to the volunteers for placing recyclable collection cages around the island. Otherwise, more recyclables will be thrown into the sea. She firmly believes that it is everyone's responsibility to conserve our one and only Mother Earth.
Lee Pey Yun, a mother who had spent her childhood in Pulau Ketam, recalled that the sea was their "garbage bin" back then. They would throw food scraps and other items into the sea, if they were not burned. Either way, it was polluting the environment. She said, "But ever since Alam Flora came to handle the garbage, and with the setting up of the recycling centre, the islanders began to discard garbage into the garbage bins. Such changes do not happen overnight, but anyway, it's a good start."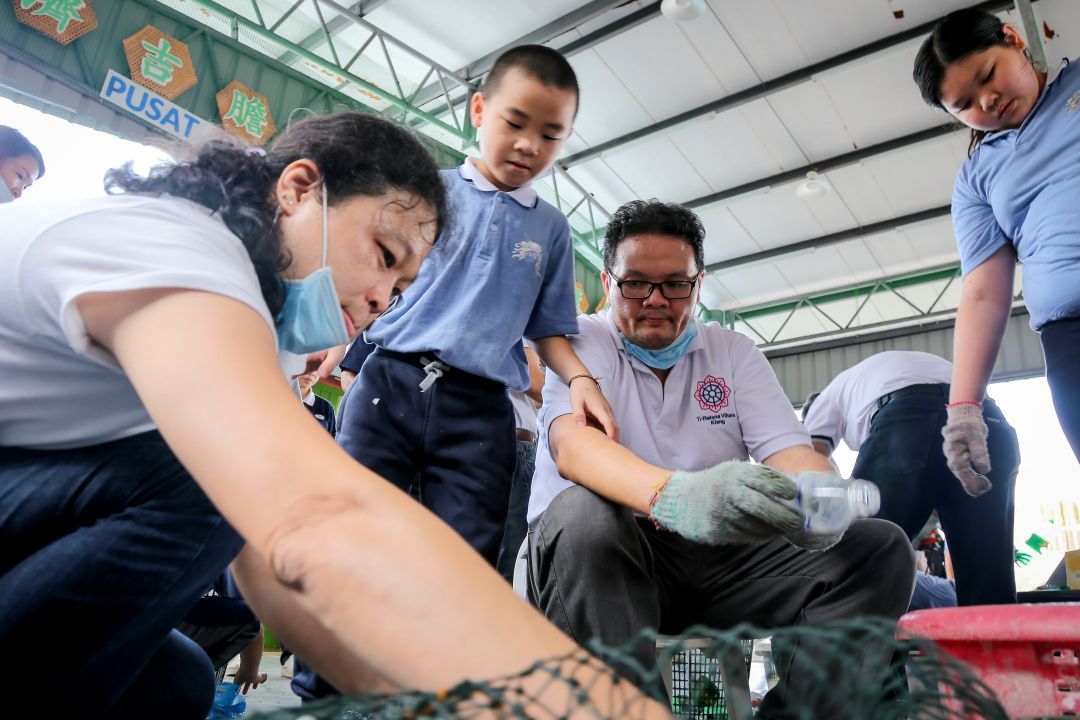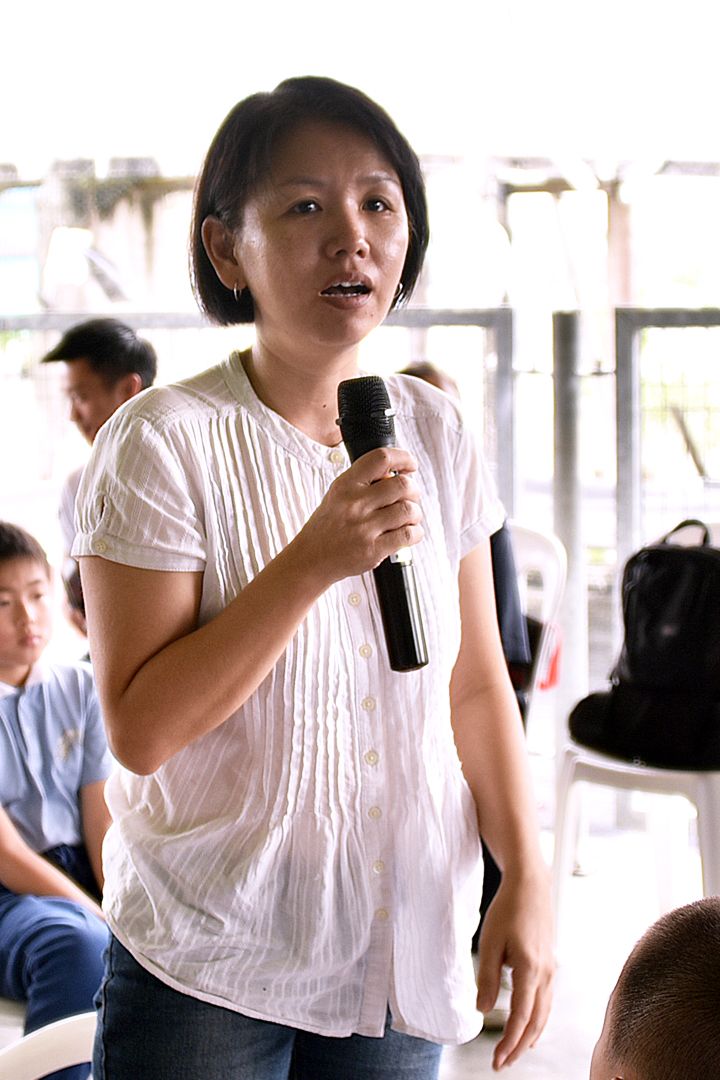 •
Although the recycling activity lasted for only a few hours, it is hoped that the experience and knowledge gained will initiate a positive change in the parents and children.