The unique characters of teens manifest gradually as they grow up. Some, although appeared cold, are keen on helping others; some are quiet but filled with courage for change, some turned cheerful because of influence from others. During the last lesson for the Tzu Chi Teenagers' Group in 2018, the host conveyed a message to the teens: "Fear not to be yourself and live a worthy life."
They were a group of quiet teens. When the host was talking, they just looked at her without any response. But the heedful emcee managed to capture a ray of hope in their eyes.
This happened during the "Adventure at Devil Tower" activity. The host, Ng Woan Chi, used a scene from a Korean movie, "Along with the Gods: The Two Worlds", to describe the moment when the male lead actor was about to be sentenced for his wrongdoings and held accountable on his judgment day.
She asked the audience: "What would you do if you were the screenwriter or director, and was given the chance to change the ending of this scene?"
This year, the Tzu Chi Teenagers' (Tzu Shao) Class focused on the Buddhist teachings of the Noble Eightfold Path. Through the movie, "Adventure at Devil Tower", games, experiential learning, sharing, talks and other activities, the teenagers learnt about the meaning of "right view, right thought, right speech, right behaviour, right livelihood, right effort, right mindfulness and right contemplation". In groups, they discussed how they could change the ending based on their understanding of the Noble Eightfold Path.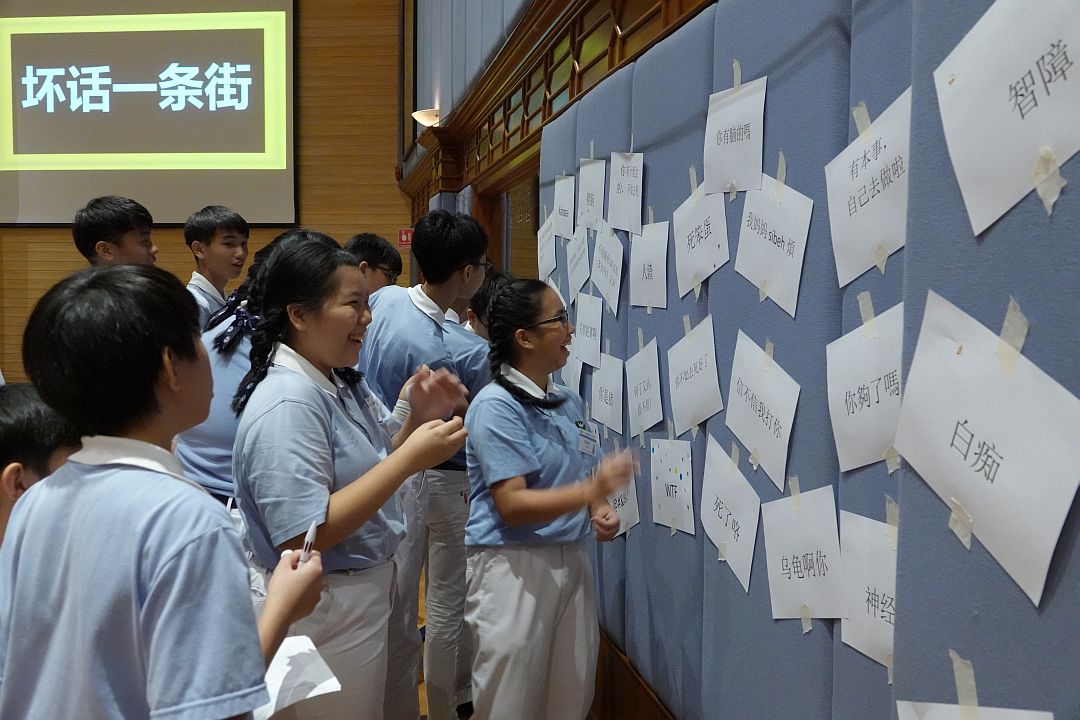 As expected, apart from the few active teens, the majority did not contribute their ideas or views. There were three groups with blank sheets when time was almost up for discussion. It was not until the host started to urge everyone that some group members finally took the marker pens and began writing and drawing on the sheets. At last, every group successfully completed their tasks and presented their conclusions through either acting, drawing, writing and/or narrating.
The host was moved by the teens' performance and could not help but choke when she summed up the activity. "There were three groups that caught the volunteers with worries, but to their relief, they completed and presented their work. Your cooperation fully demonstrated your sense of respect and you did not give up until the last minute to ensure that you came up with something. Such determination showed that you want to give it a try and you want to be a good person. This touched me deeply…" Hearing the acknowledgement and feeling the faith the host had on them, the teens' eyes lit up.
Overcame difficulties using the Noble Eightfold Path
On November 25, 2018, Tzu Shao of Malacca and Kluang jointly hosted a concluding ceremony to mark a meaningful end to the Tzu Shao Class for 2018. Besides the "Adventure at Devil Tower" activity, there was a station game designed based on the Noble Eightfold Path.
The five stations were "Challenge the impossible", which brought out "right view and right thought"; "Jing Si Aphorism contest", which conveyed "right behaviour and right livelihood"; a metal ring game that challenged the teens' "right mindfulness and right contemplation", and two other stations that brought out "right speech" and "right effort", mainly through sharing and experiential games.
At the "right effort" station, the host, Xu Rui Fang, shared about "breaking through oneself and living a worthy life". She told the teens that everyone is unique. So long as one sets a goal, has good attitude and confidence, works hard persistently, manages one's time efficiently, and takes immediate actions, it is possible for one to "fly high with hope".
This time, the teens' parents assumed the responsibilities in preparing delicious snacks and food for the teens. After completing their tasks, there was a tea ceremony for the parents to settle their mind, followed by an "ask the expert" session.
The parents had so many things in common to talk about where their children were concerned. Even after a few "time's up" reminders by the host, they did not want to stop. It was as if they had finally found someone who understood each other to talk to.
Kindness under cool appearance
Sixteen-year-old Fiora Kwok looks cool and indifferent from other teens, but after knowing her, one would discover her kindness and attentiveness.
She had the experience of receiving visiting guests at the Tzu Chi Recycling-cum-Educational Centre and guiding them on recyclable classification, as well as, visiting a centre for the disabled, where she helped push the children on wheelchair to the park nearby for sunbathing. These life education taught her to count her blessings, and she felt blessed for the opportunity to have contact with the less fortunate, and to understand their feelings and help them.
She likes drawing and meeting new friends. In one of the Tzu Shao lessons, the host got the teens to unleash their creativity on an imperfect circle. Fiora's drawing was an eye, and in front of the eye were mountains of different sizes, which represented setbacks.
After a few months, she said that even though there were many setbacks she could not overcome immediately, she still enjoyed joining Tzu Shao. Her three years with Tzu Shao has allowed her to learn to plan activities and acquire new knowledge. Every lesson is different with interesting games and brainstorming activities, which she found inspiring.
Due to joint pain, she attended the concluding ceremony with bandages around her hands and ankles. Despite that, she still actively participated in every activity. When her group mates were clueless about the games, she would start drawing so that they could at least hand in something.
Fiora's mother, Tan Shin Shin, gave a testimony of her helpful attitude saying, "In order to partake in today's event, we have to leave her younger brother at home alone. So a day earlier, I requested her help to make rice balls in large quantity. She was efficient. If I were her, I would have taken a few hours to get them done. She was really a big help."
Courageous though shy
Another Tzu Shao, 16-year-old Lee Sze Ying, is a shy person. She and her youngest brother were both recipients of the "Diligence Award". She shared calmly about her personal growth before the audience – a mission impossible for her in the past.
She said, "I used to be one who lacked confidence in myself and disliked socializing. I was not keen on mingling with strangers. But after joining Tzu Shao, I came in touch with many people and matters. It gave me the opportunities to challenge myself, like for example, guiding the juniors, performing sign language on stage, and sharing with everyone here. I took up the challenge because I wanted to improve myself and become a better person."
 
Her mother, Lai Sook Ling, a group facilitator for Tzu Shao Class, witnessed her daughter's progress and commented that her girl is considerate of her parents' hard work in supporting the family. She would guide her younger brothers patiently and get them to help in house chores together.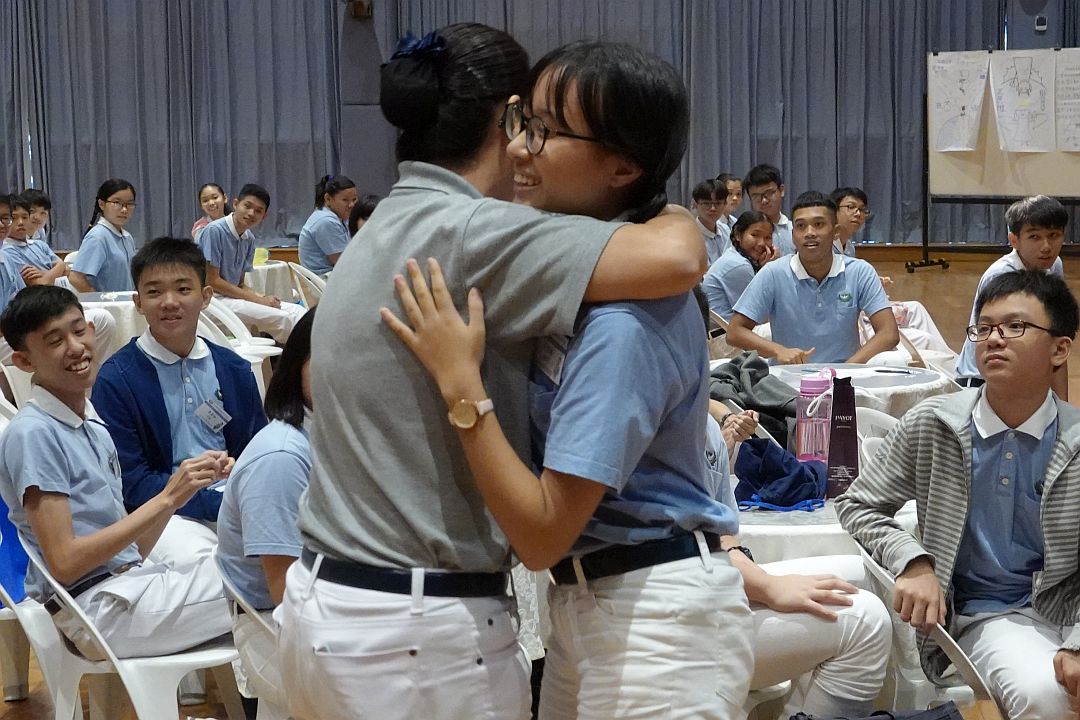 Learnt from the role model
As there are not many volunteers in Kluang, frequently in an activity, a volunteer would have to take up multiple roles. The same happens to the Tzu Shao, and this allows the teens many opportunities to help out in activities and lead games or some lively activities.
At the concluding ceremony, 15-year-old Law Shi Jie, was one of the teens active in expressing their views. She was most afraid of awkward silence and time delay, and would often seek advice from her team: "What do we do now?" and would give suggestions to attract the audience.
Before joining Tzu Shao three years ago, she was a shy girl, afraid of expressing herself. She learnt from her elder siblings, who joined Tzu Shao Class, that it was very interesting. Thus, she decided to join as well.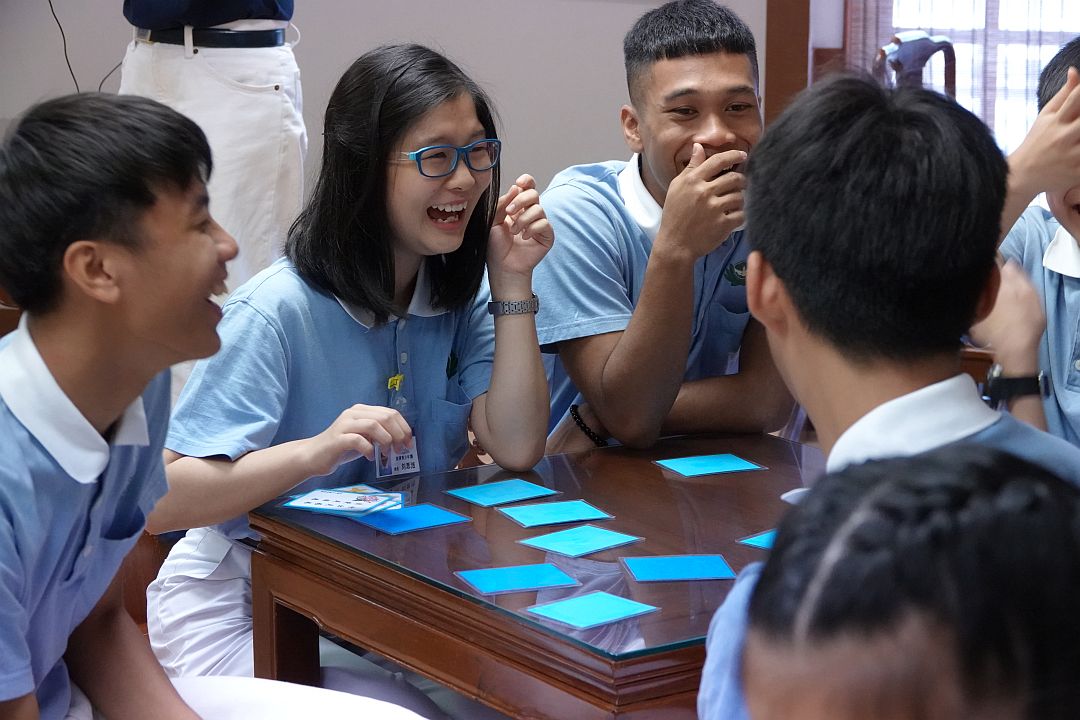 She said, "During my first year, I found that many seniors were lively and sociable. They got to know many friends, and it seemed like they were very happy. So, I felt like trying too because I want to be that happy as well. Initially, I was kind of reserved, but gradually, I found many friends who got along well with me. Hence, I learned to let go, was open to them, and learned to lead everyone along for some fun time."
She shared that although there are not many volunteers in Kluang, everyone works hard to develop creative activities for the teens and care for them.
Her sharing touched the host deeply. She told the volunteers, "The love you extended to the teens was really felt and appreciated." To motivate Shi Jie, she said, "Don't build walls around you. So long as you are willing to take the first step out, the world is yours."
●
Towards the end of the closing ceremony, Tzu Shao of Malacca performed a sign language presentation, "Growing Up", with lyrics about having the courage to fly high and far, regardless of the challenges ahead.
 
For the past four years, Khoo Ee Zen's mother, Tay Bee Leh, has been driving her son from Batu Pahat, Johor, to Malacca, a 2-hour journey, to participate in Tzu Shao Class monthly. This is Ee Zen's final year of participation in the Class.
According to Bee Leh, "I have learnt in these four years to be wiser in guiding my child towards the right direction in life. This is a very good group. Everyone is diligent and making progress. As parents, we should cooperate and take active part because this is the most crucial time to accompany our children at this age."
The hostess extended her appreciation to the Kluang Tzu Shao for travelling the distance to join the Tzu Shao Class. The teens' active participation had allowed the volunteers an opportunity to share and grow together with them.