With the trend of fewer kids in a family, many children grow up in an environment with undivided love and care from their parents and elders. While receiving much love, they lack the chance to share their love. Thus, a home visit was arranged for the participants of Tzu Chi Parent-Child Bonding Class, enabling them to extend their love beyond their families and acknowledge their blessings.
On the first Sunday of every month, volunteers from Tzu Chi Malacca will visit care recipients, which include underprivileged families requiring long-term assistance, elderly living alone, needy students, those who suffer from medical conditions, and those who require emergency relief. On July 7, 2019, participants of Tzu Chi Parent-Child Bonding Class (PCBC) joined the volunteers on their visits to the care recipients.
Prior to the home visits, the participants were briefed on the purpose of the visits, etiquette to observe during the visit, as well as backgrounds of respective care recipients. In order to enhance the participants' understanding of Tzu Chi's principles and practices in its charitable work, volunteers also explained the procedures from the initial assessment visit, approval of cases, to reassessment.
Realizing one's blessings
Stepping into the home of care recipient Lee Siew Fun along with volunteers and their mother, Bryan and Winson Tan felt something different about this home. The house was full with them and the family of nine, and the siblings were playing together happily. Bryan was attracted to the 4-month-old baby girl, and the latter responded to him with sweet smiles and baby words.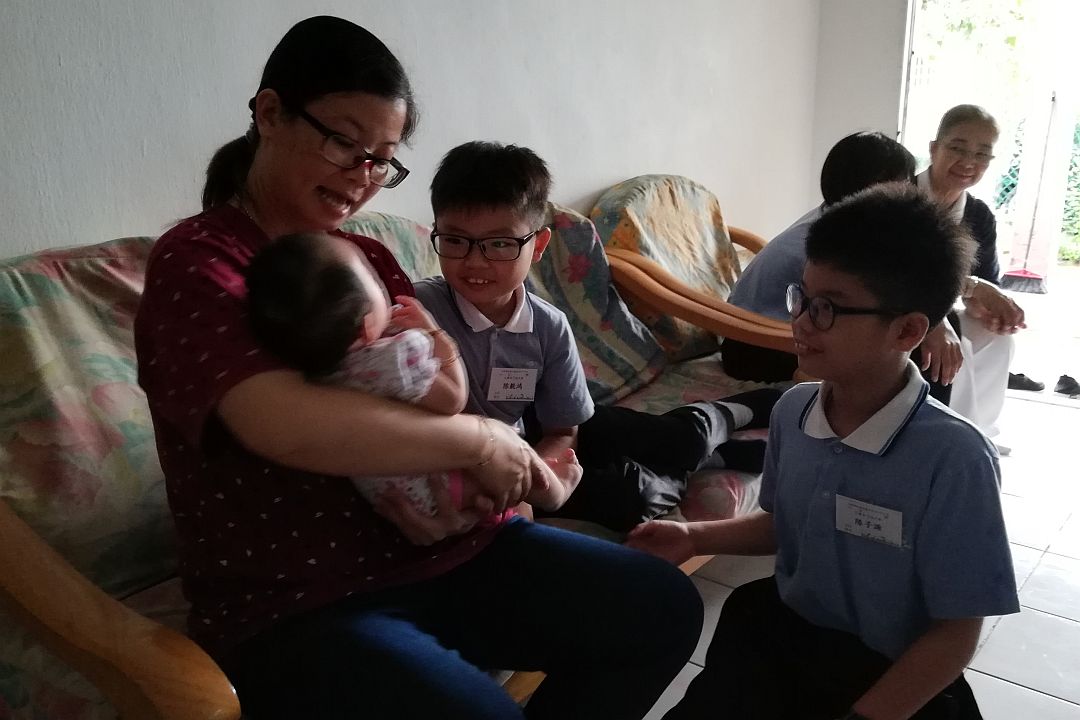 Then, remembering his mother's reminder, Bryan started a conversation with a boy around his age. "What's your name? How old are you? I'm Bryan. I'm 11 years old. This is my brother, Winson." But as the boys were too shy, the conversation stopped after a few exchanges.
The Tan brothers were initially envious of the merry ambience of the big family, unlike their family of four, which was usually quieter. But later, they were told that the children's father has been jailed several times, leaving their mother to bear the family's burden. During the bad times, the mother could only feed the children with one meal per day, and that the seven children have to share toys, food and love from their parents. The brothers had some reflections and began to appreciate the small family size, and feel lucky that although their parents are always busy with their careers, they have given them a comfortable life and wholehearted love.
Besides working full-time, the boy's mother, Lee Yi Fung, has to take care of her two sons – one with autism and another with learning difficulty. As her husband is frequently away from home on business trips and is a person of few words, he does not have a close relationship with his sons. Thus, Yi Fung could relate with Siew Fun's feelings, and admired the latter for her optimism and positive outlook. She remarked, "The mother is very tough. Many others would have chosen to leave the family under similar conditions, but she has persisted for her children and family. Even I may not be as strong as she is."
Every family has its own issue. Although Yi Fung feels that no one could fully understand her weariness, she has learnt to count her blessings and be content with what she has.
Learning to care
Another group, comprising 11 children, 8 parents and 5 volunteers visited the Kenangan Old Folks' Home. Some children felt awkward initially, but with volunteers and their parents leading the way, they began to greet the elderly and close the generation gap through singing, dancing, massaging and stretching exercises.
While a mother, Tay Ying Boon was chatting with an elderly woman, her two daughters offered the granny a massage. The elderly shared her daily routine: "I wake up at 4-ish every day and wait for the caretaker to help me with my shower. Then, I'll wait for my breakfast, and then wait for lunch. Thereafter, I'll wait for dinner at 6 o'clock and watch some TV shows before preparing to retire by 8 o'clock." Her words revealed a sense of helplessness over her life that is without much meaning but "waiting" day after day.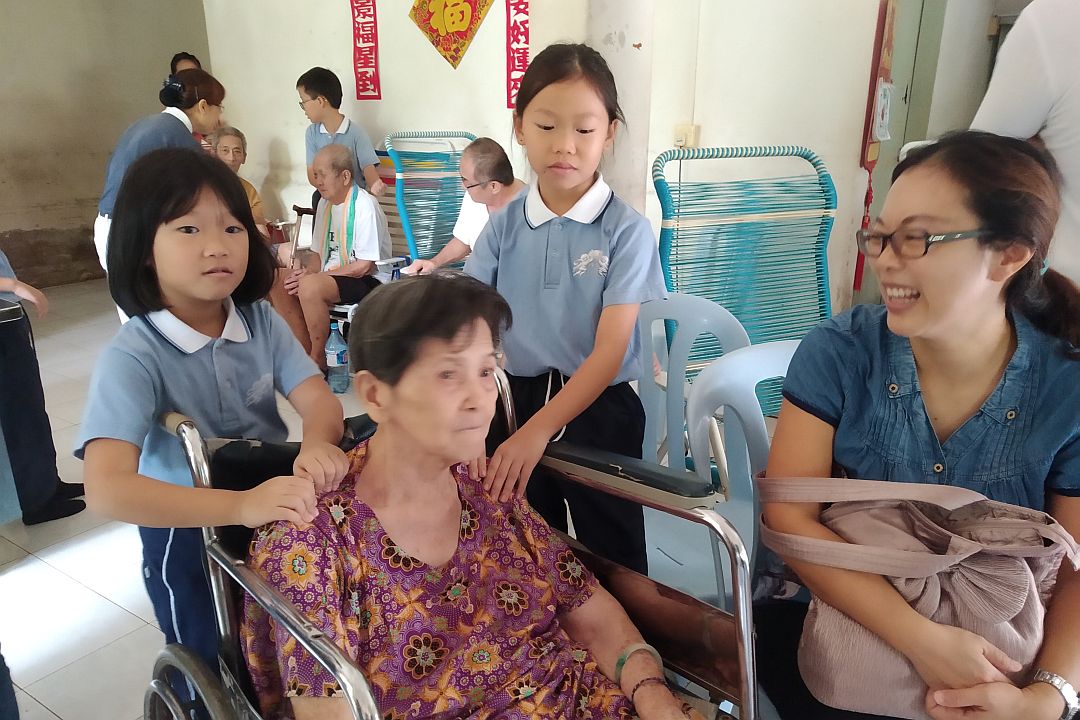 Ying Boon felt for the elderly and related that her mother-in-law has been bedridden and relying on life support for over a year now. Compared to the elderly at the old folks' home, she felt that her mother-in-law is somewhat luckier with her family around her and taking care of her painstakingly. They will also talk to her daily although she could not respond verbally. Ying Boon also felt grateful for the chance to fulfil their filial duty.
Her youngest daughter, See Yan Yee, a Primary 1 student shared naively, "I play with my grandma daily. I'll lie beside her and watch TV shows together with her. Sometimes I'll also help to pour milk into her feeding tube. My grandma is more blessed and happier than the elderly here because there are many people who love her."
Seeing how the many elderly people, most of whom have limited mobility, living under one roof with no family members by their side, Yan Yee could feel their loneliness and started worrying for her parents. She said, "I don't want my parents to get old! I'll take good care of them in the future just like how I take care of grandma." She also wished to visit again to bring joy to the elderly through her singing and massage.
Learning about love
A third group made up of four families and volunteers visited the Happiness Centre for the Mentally Disabled Children in Klebang. Despite this being her first visit, Lai Jia En was brave enough to interact with the children with disabilities, by either touching them gently or shaking their hands. She sympathized with some inmates who have only one eye and felt that she was a little happier than them.
When 6-year-old Ting Yu Hsiang heard the screams of some inmates, he was curious and scared at the same time. After listening to volunteers' explanation, he gradually braved himself to interact with the inmates in the company of his mother.
After the visit, he shared, "They're unable to stand, walk and jump. I can stand and bend my legs whenever I feel like it, but they can't…. I have toys and they don't…"
Then, guided by volunteers, he gently thanked his mother and promised to take his meals obediently, to change his clothes and wash up by himself when he wakes up, and to stop throwing tantrums. He also offered his mother a tight embrace.
His mother, Wu Wan Ling, was deeply moved by the inmates, who still have dreams and live life seriously despite their physical limitations. She hoped that the visit could serve as a reminder for the children to count and cherish their blessing, and to learn to give.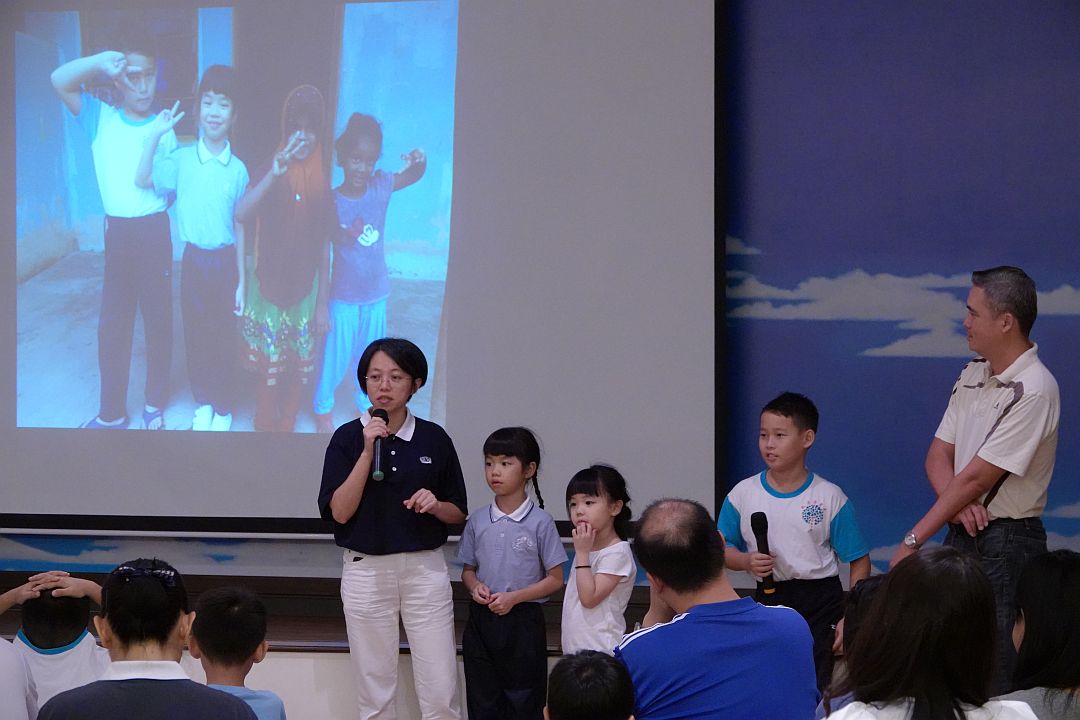 ●
Everyone shared their thoughts after returning from the visits which exposed them to another side of society that they seldom come into contact with. The volunteers also encouraged all the participants to join them on such visits in the future, to multiply the power of love and kindness.