The International Conference on Youth, Ocean and Sustainable Development Goal (SDG) 14 hosted by World Youth Foundation aimed to gather the power of youth around the world, and inspire them to play their roles in ocean protection, by discussing the issues of ocean pollution and sustainable development of the fishing industry.
Seventy percent of the Earth is covered by the ocean. However in recent years, the ocean's ecosystem was threatened by habitants on the remaining thirty percent of the Earth surface (i.e., the land), wherein human beings were the main factor. From acidification of seawater to plastic consumption by marine animals, the crisis had started to receive world attention.
Following the 2015 workshop themed "Youth Action on Climate Change", the World Youth Foundation held a 5-day International Conference on "Youth, Ocean and SDG14" in AMES Hotel, Malacca this year. The theme was selected in conjunction with the United Nations' (UN) 14th sustainable development goal on conserving and sustainably using the oceans, seas and marine resources for sustainable development. It was hoped that more young people would be inspired and empowered to take action to protect the ocean, through discussions on ocean pollution and sustainable development of the fishing industry.
More than 10 speakers and 70 youth representatives from 13 countries participated in the 5-day conference. Representing Tzu Chi Foundation, nine Tzu Chings (members of the Tzu Chi Collegiate Youth Association) and three alumni from Malacca and KL & Selangor divisions attended the conference. They started the preparation three months leading up to the Conference, with multiple online discussions, researches and finally a 2-day workshop to deepen their understanding on Tzu Chi's ideals on environmental protection, while at the same time, polish their skills in English presentation.
The marine ecosystem crisis
"In 2050, the number of plastics in our ocean will be more than the number of fish, if human beings do not change their habits in plastic use!" said Varsha Ajmera, Chief Operations Officer of the World Youth Foundation at the Opening Ceremony. Representatives from Maldives and Fiji were invited to share their policies and preventive measures on ocean pollution with the youth participants. On a professional level, through presentations by academicians and professors, the participants learnt that apart from solid wastes, such as plastic bags and PET bottles, other factors invisible to the naked eye, including micro-plastics and ocean acidity, could also contribute to the damage of marine ecosystem.
Dr Sahadev Sharma, Deputy Vice Chancellor of the Institute of Ocean and Earth Sciences at the University of Malaya, presented the importance of mangrove forests. Besides preventing the destruction by tsunami, its roots were important habitat for fish and the plant itself a major carbon sink. Munim Anees, First Secretary of the Maldives Embassy in Malaysia, pointed out that although fishery is the main income source, their government still bans the use of fishing nets for large scale capture. Fortunately, the local community agree with this policy and adhere to the traditional fishing method – one fishing rod with one fishing line. Not only could they achieve the goal of sustainable fishing, they could also reduce the solid waste caused by the industry.
The soft power of Tzu Chi
On the first day of the Conference, the emcee, Peggy noticed the neat uniform worn by Tzu Chings. Upon approaching them, she asked, "Are you all Tzu Chi volunteers?" One of Peggy's friends has been a Tzu Chi volunteer. When she learnt about the 12 young attendees from Tzu Chi, she was so touched that she invited them to share Tzu Chi's mission of charity and the concept of practising environmental protection in daily lives, in the Self-Introduction session.
On the second day, Varsha Ajmera encouraged all participants to have more interactions with Tzu Chings and to learn how Tzu Chi volunteers promote environmental protection in local communities.
During lunch break, Tzu Chings presented the "Da Ai Treasures" by sharing the concept behind Da Ai Technology with the participants and speakers from the initial step of collecting and sorting out PET bottles, to re-processing materials and the final production of eco-friendly blankets. Tzu Chings also gave examples of how Tzu Chi volunteers would bring their own utensils when attending activities, practise vegetarianism and the 80/20 lifestyle (eating 80% full while helping others with the remaining 20%), as well as conduct monthly recycling activities. Many participants were touched by these real-life examples where soft power was exhibited.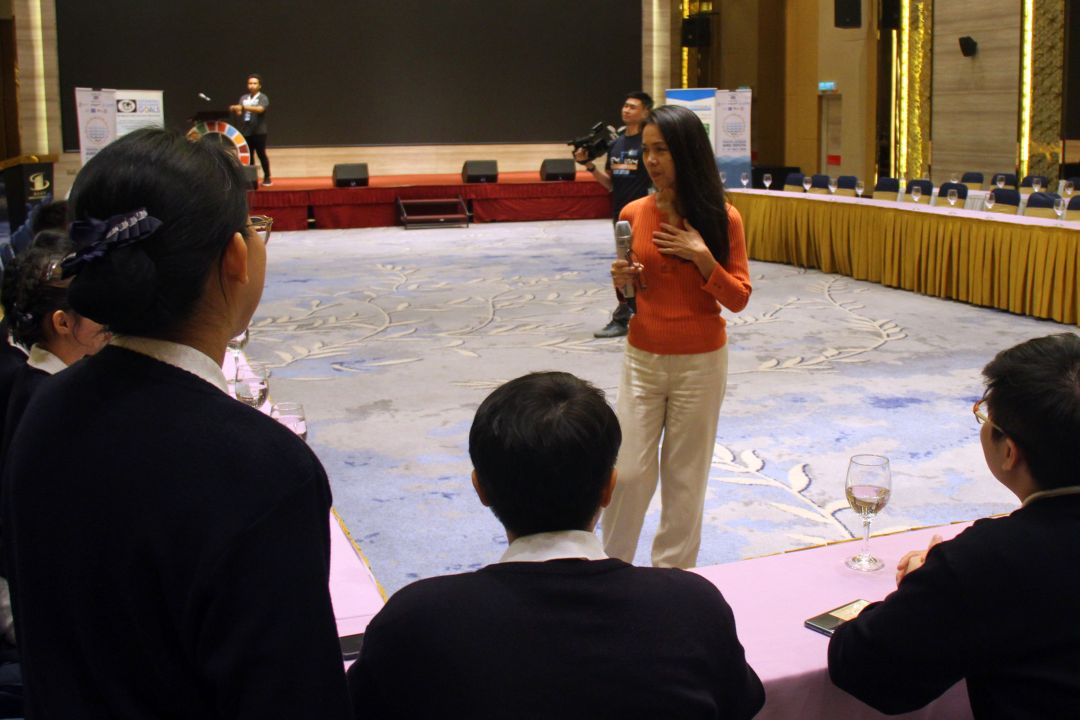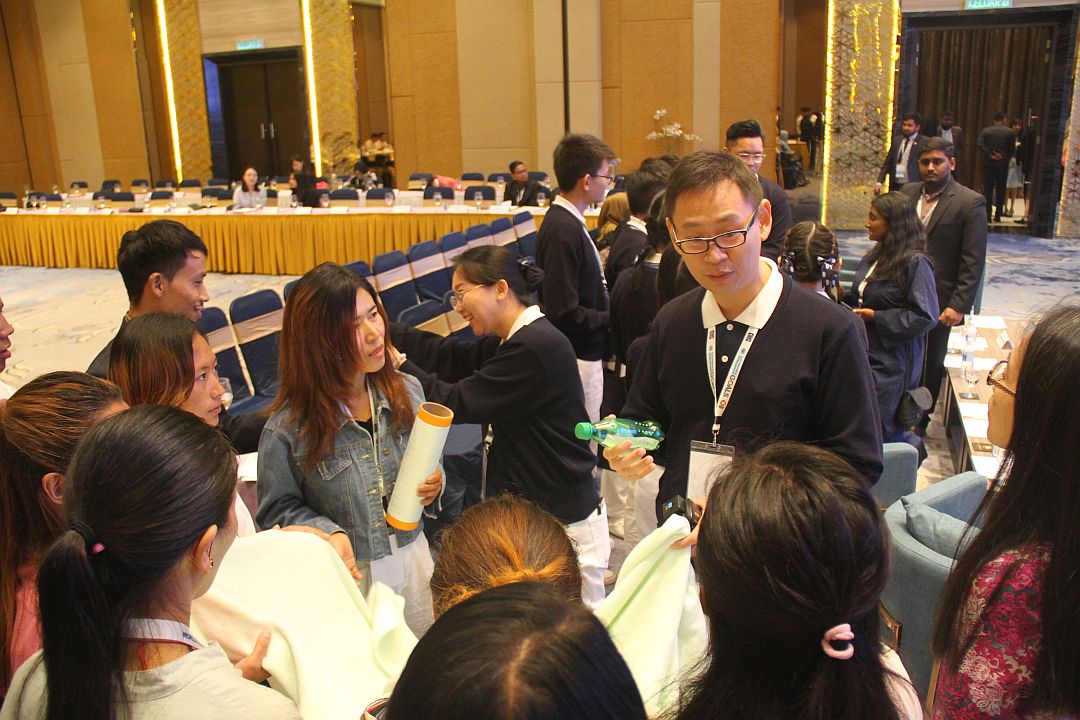 One participant, William Hopkinson, a volunteer with the Darwin Animal Doctors of New Zealand, presented with videos on how they raised awareness on environment protection among local communities living in remote areas. He also had discussions with Tzu Chings throughout the 5-day conference, and even visited the Tzu Chi Malacca premises to learn more about Tzu Chi's missions and activities. Being one who had long admired the compassionate concepts in Buddhism, he respected Tzu Chi for integrating and practising Buddhism in charity and environmental protection. With encouragement from Tzu Chings, he attempted vegetarianism and responded that initiating environmental protection from one's diet is not too difficult.
Another visitor to the Tzu Chi Malacca premises was Wang EnHao from China. "My curiosity towards Tzu Chi was sparked by the emcee's introduction of Tzu Chi, as well as the interesting explanations by Tzu Ching alumni Seak Chia Yan." When EnHao, who used to be a charity volunteer herself, learnt about Tzu Chi's charitable efforts by going through the posters, she was moved by Master Cheng Yen's wisdom and philosophies, like offering continuous care and aid, utilizing local resources, and planning short, medium and long-term relief efforts as needed. During the Conference, she shared her learning and heart-warming stories on social media, and unexpectedly received multiple feedbacks and acknowledgements from her friends on Tzu Chi's footprints in China. She hoped that she could continue to share her experience with more friends and participate in Tzu Chi's activities.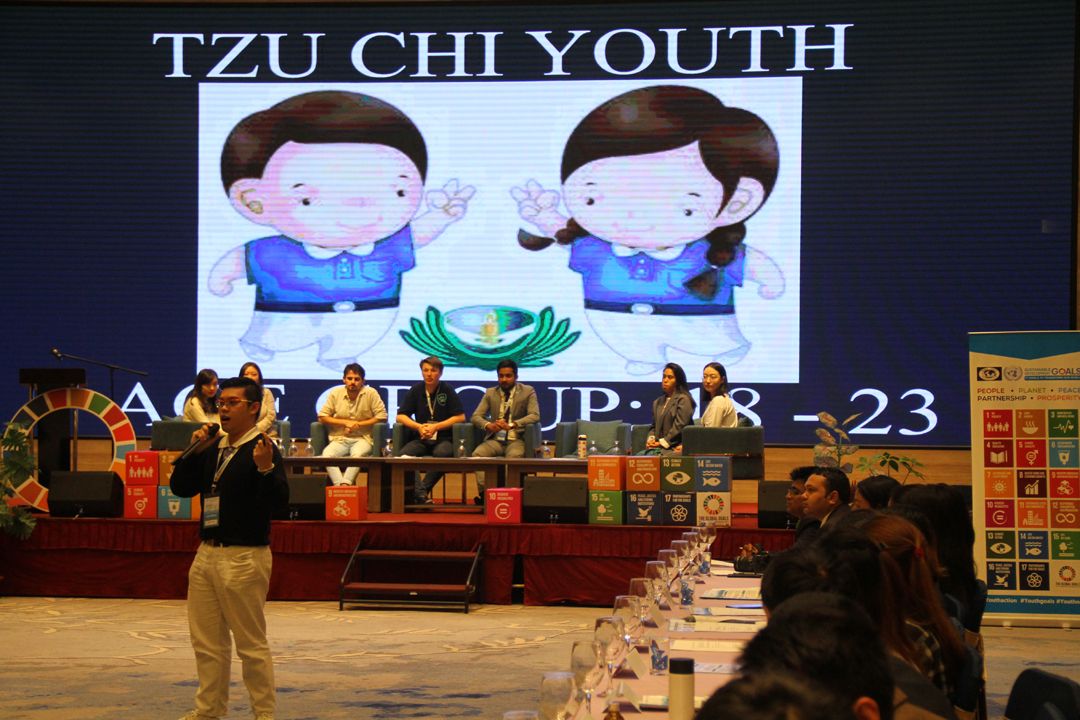 Bearing responsibility with courage
Master Cheng Yen has three expectations for Tzu Chings. Firstly, they are to perform meaningful deeds during their spare time; secondly, to cultivate a heart of compassion; and thirdly, to learn to get along with people from all backgrounds. With these three expectations in mind, Tzu Chings grasped the opportunity to communicate with different participants, while self-reflecting and accumulating wisdom during the process.
As a Tzu Ching member, Wong King Yew learnt about the spirit of teamwork. Since all Tzu Chings have their own skills and forte, they have learnt to be considerate and to appreciate one another's strengths. In inter-group discussions at the Conference, Tzu Chings utilized such soft skills to enable well-rounded discussions.
Tzu Ching Liew Chee Yung, who used to be more reserved, gathered courage and started introducing Tzu Chi and interacting with others more proactively, after he witnessed his team members' passionate and energetic way of communication. Motivated by the efforts of the youths worldwide in conserving the marine ecosystem, he hoped that he could persist in practising and promoting environmental protection, since it is the right thing to do.
Prior to the Conference, Tzu Ching Chen Chau Seng had doubts on how it is possible for him to influence and change the world. Through the Conference, however, he realized that what he had was a tunnel vision on the future result, where he overlooked on what he could act on. Rather than worrying about what the others are doing, he should have focused on his own responsibilities to spread more influence.