It was a weed-strewn thicket in the township of Kota Kemuning, where a lot of garbage and waste were piled up, while stray cats and dogs foraged through the stench from the kitchen waste, and mosquitoes and other insects bred. However, with the planning of Tzu Chi volunteers to make good use of every inch of land, it has become a pleasant recycling education centre!
"Ding Ding, Dong Dong, Chiang Chiang..." Thirteen children from the Tzu Chi Kota Kemuning's Parent-child Bonding Class, each holding PET bottles of different sizes filled with sand and stones, as well as percussion instruments made of tin cans, glass bottles, chopsticks, and so on, performed along with the song, "Children of the Earth". The crowd picked up their mobile phones to capture the performance, and amidst the shutter sounds, the opening ceremony of Tzu Chi Kota Kemuning Recycling Education Centre commenced.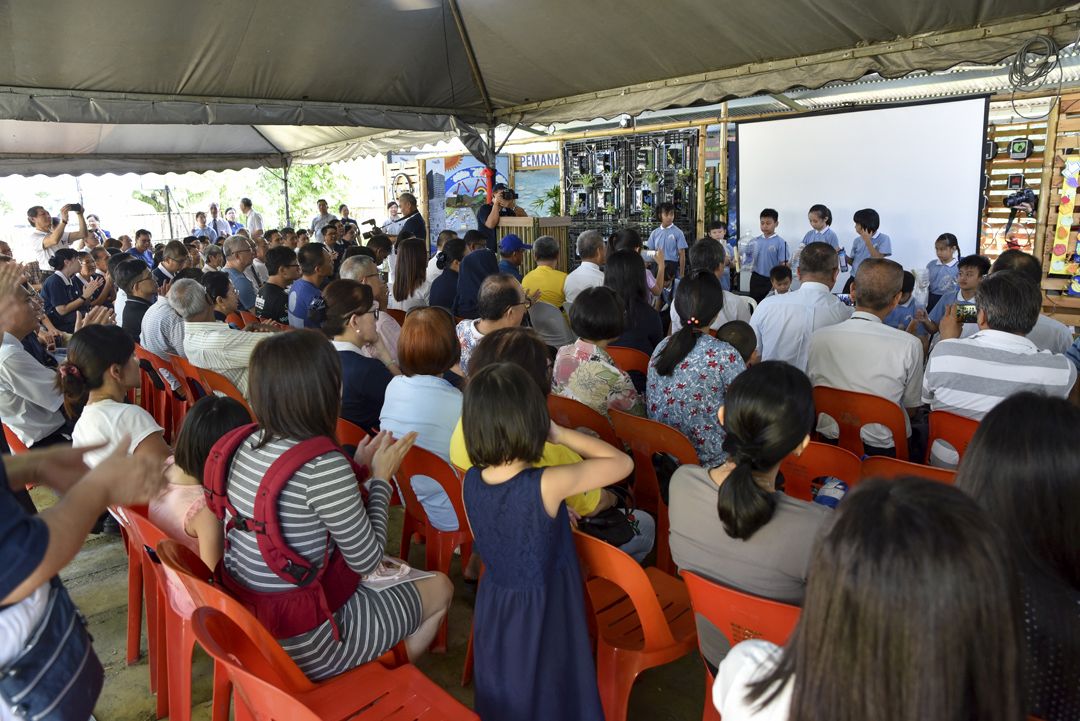 Ninety percent of the building materials of the well-planned and informative Recycling Education Centre, set up on a 2,600 sq ft land, were derived from recycled materials. It is also the first Recycling Education Centre in Malaysia with an efficient "drive-thru" facility, bringing Tzu Chi's recycling mission to a whole new level.
Advocating environmental conservation
A beautiful landscape welcomes one as one steps into the Recycling Education Centre. The realistic mural paintings on the walls add to its appeal. There are also different exhibits set up by the volunteers using handcrafts and various displays to provide important information on environmental protection.
The construction process was, however, not without challenges. The most worrying issue was when volunteers discovered half way through the construction that this vacant land was not the one approved in the blueprint for Tzu Chi to set up a recycling education centre. At one point, the authority even issued an order to stop work. Fortunately, it was approved after several appeals to the City Council. The Shah Alam City Councillor, Kamarudzaman bin Sanusi, expressed his regrets for this incident. He said in his opening remarks on stage, "This is God's will. Since Tzu Chi had completed the basic structure on this land, we could only support the good cause. Today, I'm pleased to see that it has been transformed into a beautiful and tidy attraction."
Environmental protection is more than the practice of recycling, and the Recycling Education Centre serves to share knowledge on this subject. The City Councillor informed all present that "Environmental awareness should be deeply rooted in everyone's mind. In order for the next generation to have a clean planet, we should all work together to conserve Mother Earth and to impart environmental awareness to the younger generation." 
On behalf of Tzu Chi KL & Selangor, volunteer Jee Say Loo, a cadre member of Tzu Chi Environmental Protection Mission, thanked the volunteers and public members for their concerted efforts in enabling the successful establishment of this beautiful and pleasant Recycling Education Centre. He remarked, "When it comes to a recycling centre, it's always reminiscent of being a dirty place that collects used, broken items. But if you walk into this 'garden', you'll think differently about a recycling centre. The Tzu Chi Kota Kemuning Recycling Education Centre is one of the most unique centres among the 270-plus Tzu Chi's recycling centres in Klang Valley."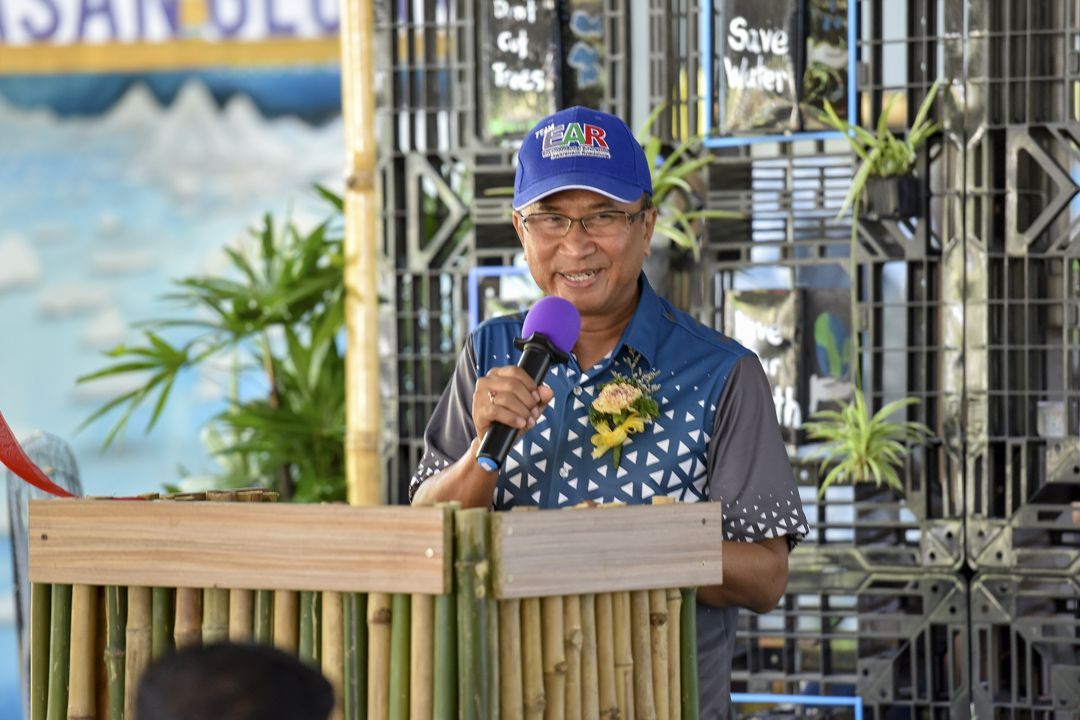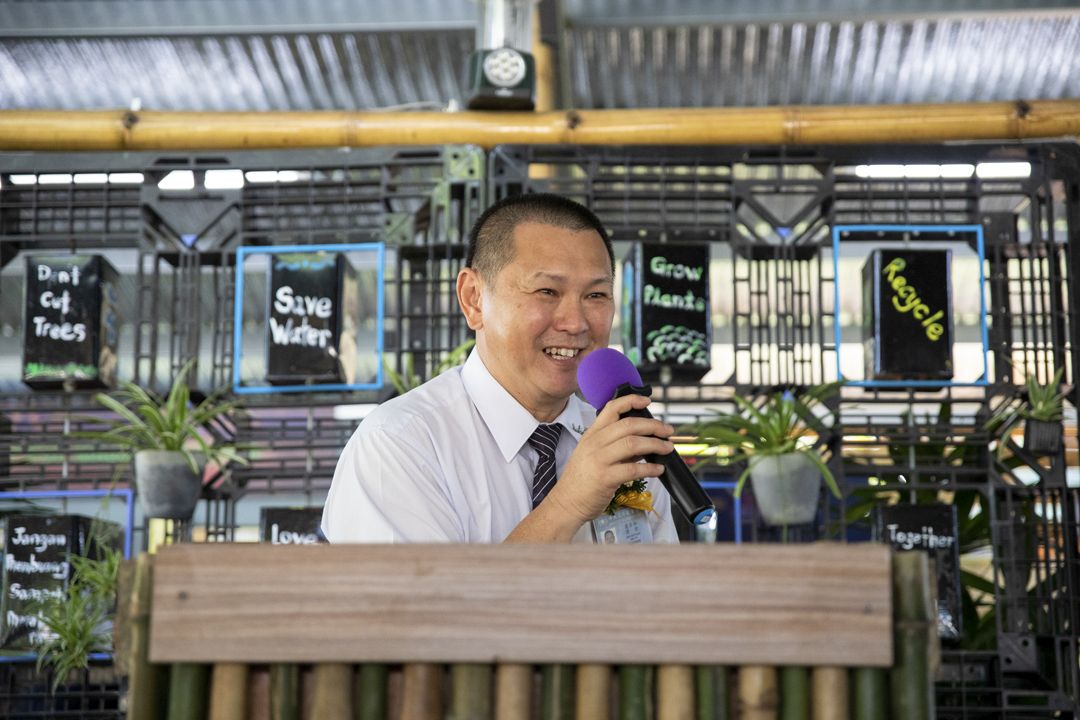 Some volunteers regard the Recycling Education Centre as their home. It is not only a place to collect recyclables, but also a "classroom", where the public members who send in recyclables can learn more about recyclable sorting and enhance their environmental knowledge. Moreover, it also acts as a "guardian" to unite the residents within the neighbourhood to protect the environment and create a greener home. Thus, Say Loo took the opportunity to thank the City Council for giving priority to maintaining environmental cleanliness and providing Tzu Chi the piece of land to set up a recycling education centre.
Public support for environmental efforts
Humans consume a large amount of natural resources, but also discard them at convenience. The trash goes with the wind and flowing water, often resulting in blocked drainage. Consequently, flood occurs when it rains heavily.
Speaking on stage, Selangor State Councillor, Ganabatirau a/l Veraman mentioned that he has been in contact with Tzu Chi since late 2014, during the East Coast floods. He related, "I deeply admire Tzu Chi for being the first non-profit organization to enter the disaster area, and a humanitarian charity that extends aid regardless of race and religion."
Ganabatirau felt that a recycling centre serves to educate everyone of their responsibility to conserve Mother Earth, besides collecting recyclables. Despite the Government's policies to reduce the use of plastic bags and to ban the use of polystyrene containers at food outlets, many still opt to pay a small amount for plastic bags, oblivious of the impacts of plastic pollution. "Humans are the most dangerous creatures on the planet, as they kill other life forms for self-interests. Not only plants, humans also kill and devour animals, endangering the lives of many creatures."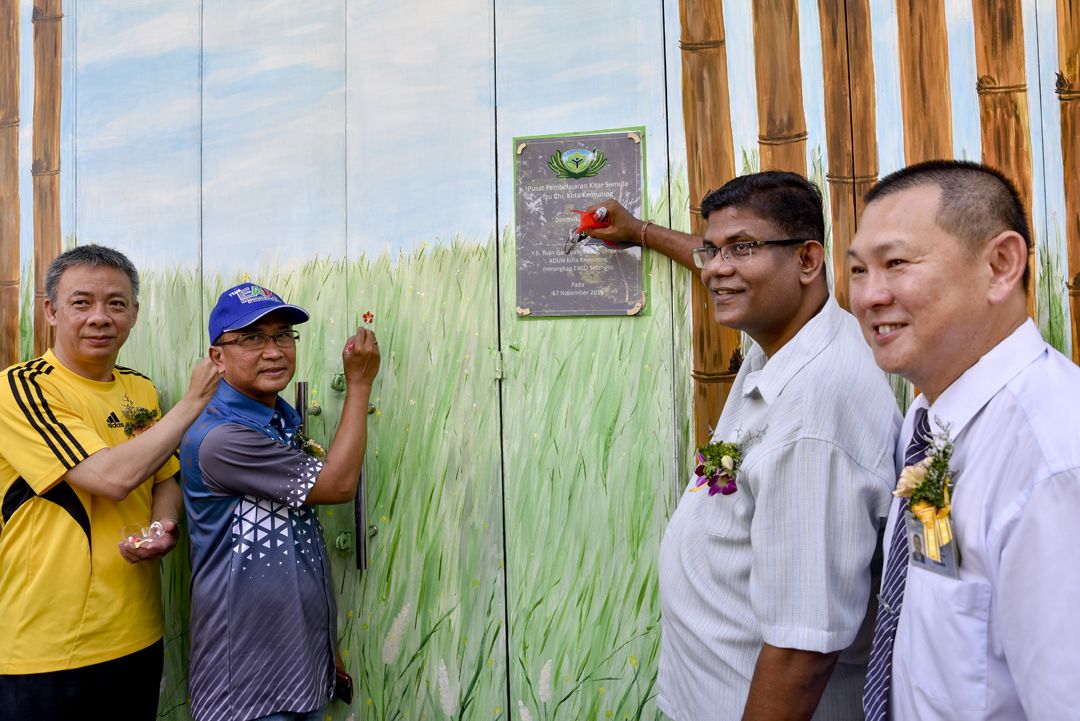 Ganabatirau commended Tzu Chi for its efforts in setting up recycling education centres, as he sees the importance of education. He looks forward to working together for a better future. He also called on everyone to practise recycling, and to invite more people and school groups to visit the Recycling Education Centre, while promising that the City Council will give its full support and assistance.
A blend of creativity and expertise
With creativity, recyclables can be turned into amazing musical instruments. Helmi Rosli, music coordinator and lecturer of Universiti Teknologi MARA (UiTM), led seven students to spice up the opening ceremony of the Recycling Education Centre. They spent a week composing two songs and gave an elevating performance with the accompaniment of "musical instruments" like ceramic wares, plastic dinnerware, wooden boards, iron bars, iron cans and plastic pails.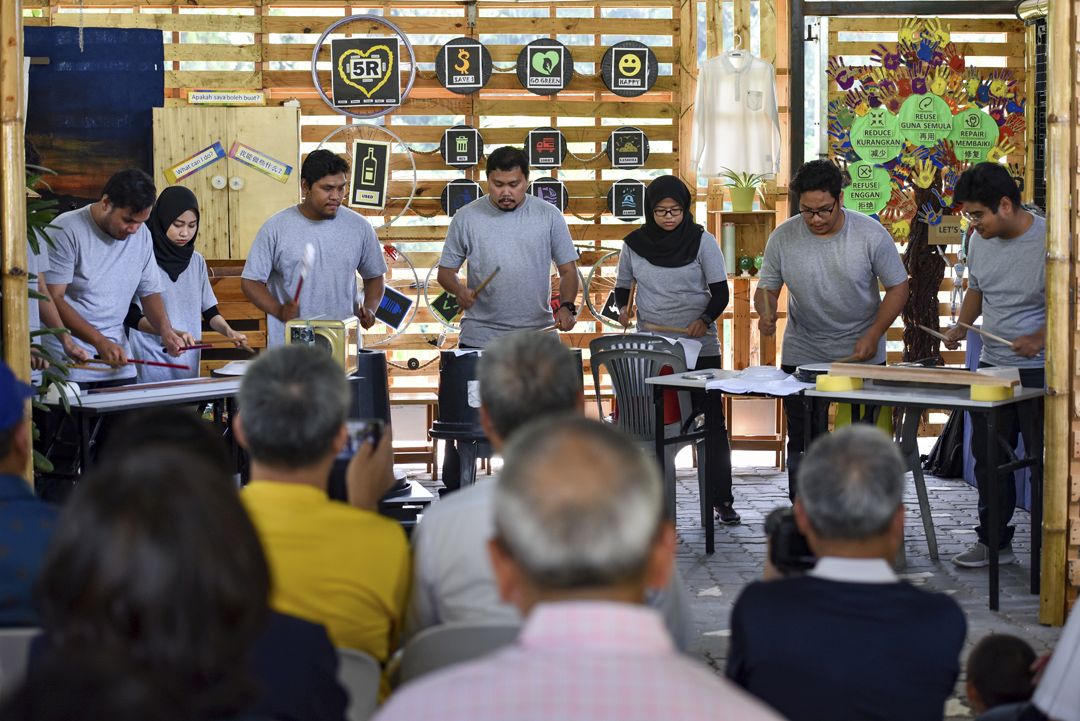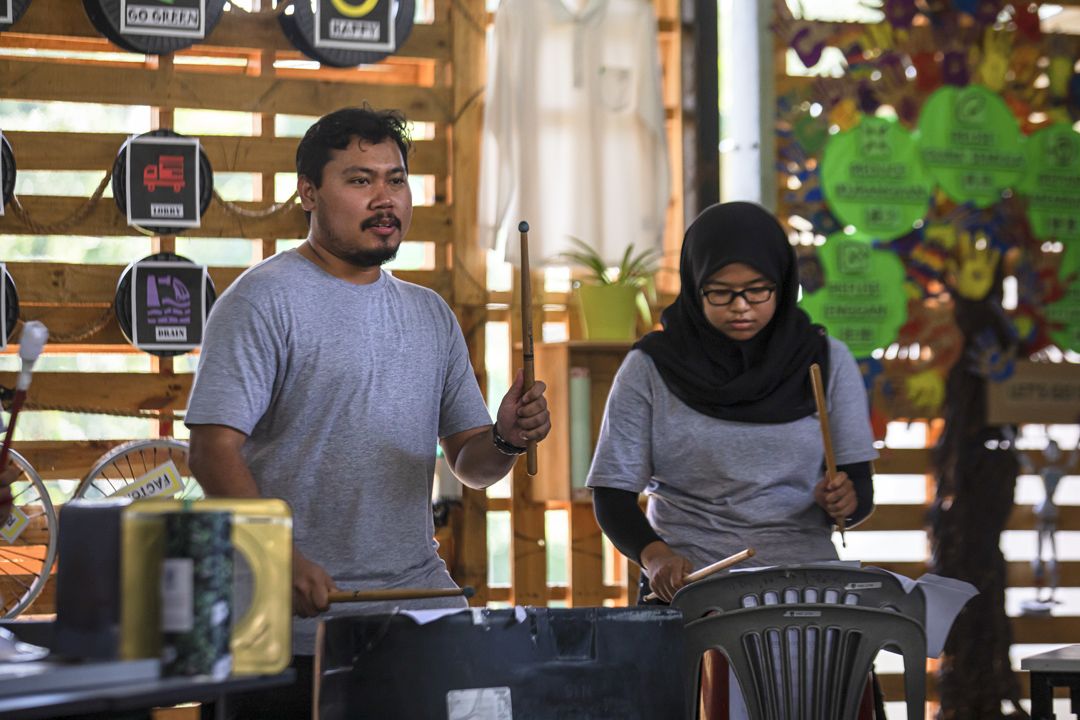 Helmi hoped that such composition could convey the message of extending resource lifespan and putting them into good use. He said happily, "Everyone has to practise recycling because it is the way to protect our Mother Earth. In addition, it is fun to form a band and produce music making use of recyclable items." He commented that the Recycling Education Centre is clean and tidy, and he has benefitted a lot from the environmental knowledge on displays. As an academician, he will make recycling a part of his life and instil the concepts of recycling in his students, and take them on a learning trip to the Recycling Education Centre.
Frank Teh Bin Khuan, Chairman of Kota Kemuning Hills Residents' Association, visited the Recycling Education Centre for the first time and was surprised by the amount of information on displays. He said, "I only know today that there are so many things that can be recycled and reused. The volunteers' explanation opened my eyes." Having learnt that one should not dispose everything as trash, he expressed that he will segregate them for proper handling. He will also think clearly before making any purchases to ensure that he buys only what are necessary.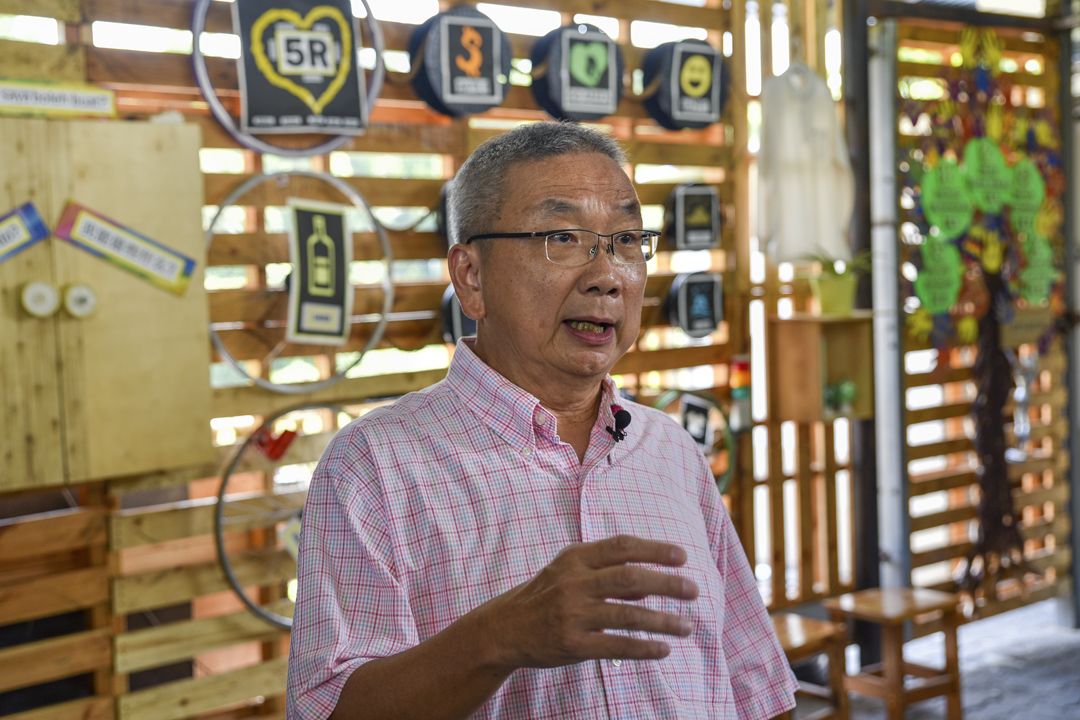 In addition, he will collect more information and promote environmental conservation to the residents to raise their awareness on the subject matter. He believes that human beings should change their mentality and way of life, and that persistent efforts in environmental education is necessary in view of the generally low awareness.
• 
Anyone can pick up a recyclable item and do recycling. Besides collecting and sorting recyclables, we should also constantly clear the trash in our hearts and minds. Hopefully, volunteers at the Tzu Chi Kota Kemuning Recycling Education Centre will continue to bring together the community members to protect Mother Earth – the only planet we can call home – hand in hand.