Tzu Chi volunteers based in Subang Jaya and Putra Heights made their rounds at the USJ4 park, MPSJ Stadium and Taipan Business Centre to encourage members of the public to sign a pledge of commitment to a vegetarian diet in anticipation of the upcoming Buddha's Day celebration.
On April 13, 2019, Tzu Chi volunteers, armed with vegetarianism pledge cards, copies of The World of Tzu Chi and fliers promoting the Buddha Bathing Ceremony, headed for the USJ4 park, MPSJ Stadium and Taipan Business Centre in several groups as early as 8 am. Their mission was to raise awareness on vegetarianism to the masses in anticipation of the upcoming Buddha's Day celebration, and appeal to the public to join the cause by pledging to adopt a vegetarian diet.
The advantages of embracing vegetarianism are threefold: it mitigates the effects of global warming, is beneficial to our overall health, and exemplifies respect for all forms of life.
Changing perceptions
The USJ4 park was bustling with early risers basking in the cool morning breeze while starting their day with various forms of exercise. Some were either jogging or walking briskly, while others were practising their qigong or taichi moves, or perking themselves up with aerobics routines.
Among those who pledged to adopt a vegetarian diet was Chen Mee Chee, 50, a qigong instructor, who had been battling cancer for 19 years, yet showed no signs of ever being a cancer patient. She attributes her vitality to her regular qigong sessions, a vegetarian diet and active volunteering. Upon being diagnosed with lymphoma, she wasted no time in switching from a meat-based diet to a vegetarian diet. In addition, she started practising qigong diligently and volunteered at a Buddhist prayer hall. She recited sutra verses every morning in a symbolic deed to cultivate merits for all sentient beings, and meditated occasionally to seek inner peace and tranquility.
Every time she passes by meat vendors in the wet market, she would be overwhelmed by the smell of meat wafting from the stalls, leading her to question the motivation behind the prevalent preference for meat consumption. She would also sympathize with the live poultry confined to cages pending slaughter and recite sutra verses to appease their souls.
Mee Chee often draws from her own experience to encourage cancer patients to embrace vegetarianism in addition to practising qigong, but it exasperated her that some were unable to resist the temptation of a meat-based diet and gave up on vegetarianism, causing their condition to deteriorate.
When volunteer Chong Chin Wei saw Nash Hamid, 65, heading her way, she swiftly approached him and tried to keep up with his pace, while initiating a casual conversation that gradually eased into the topic of vegetarianism. As a Muslim, Nash was less familiar with vegetarianism and voiced his opinion candidly: "The concept of vegetarianism is not acknowledged in the teachings of Islam. After all, livestock is reared for no other purpose than human consumption." Upon sensing Nash's hesitation, Chin Wei took a more accessible approach to introducing him to the health benefits and environmental impact of a vegetarian diet relative to a meat-based diet.
Nash stopped in his tracks and mulled over Chin Wei's message, as well as his present dietary choices. He mused, "I usually consume larger portions of vegetables compared to meat." He was moved by Chin Wei's sincere intentions in supporting Tzu Chi's efforts in advocating vegetarianism and pledged to start committing to a vegetarian meal a day.
Phang Mei Ling, who was winding down from her exercise routine, confided to the volunteers about her reservations that hindered her from taking the pledge. "I have long considered going vegetarian, but I left this plan on hold as I am unsure of how to prepare balanced, nutritious vegetarian meals," she admitted. The volunteers, in turn, were more than willing to share their experiences in reaping the health benefits of a vegetarian diet, as well as provide tips on vegetarian cooking, spurring Mei Ling to declare, "It is time to make the switch to vegetarianism!"
Humane intentions know no bounds
The MPSJ Stadium boasts a vast field and lush greenery, making it a popular sports venue among local residents. It was especially crowded as it hosted a sports meet by SMK Seafield, which drew enthusiastic cheers of encouragement for the contestants from all present across the field.
A group of unusual visitors stood out from the crowd, armed with various paraphernalia designed to raise awareness on vegetarianism. Some of them even sported vegetable and fruit-themed beanies.  They were none other than Tzu Chi volunteers, clad in their signature uniform colours of navy and white, engaging with the crowd to drive home the message on the benefits of vegetarianism.
"It doesn't take much to initiate change for the betterment of the environment. It is as simple as committing to a vegetarian meal per week. Vegetarianism benefits both the environment and your health. You may start by signing a pledge to adopt a vegetarian diet," explained one of the volunteers, Khor Lee Choon in fluent Bahasa Malaysia, evoking the interest of Fairuz and Yusma, a Malay couple, to sign a pledge to commit to a day's worth of vegetarian meals per week. The husband-and-wife pair conceded, "It's a cause worth supporting. It's heartening to see everyone responding positively."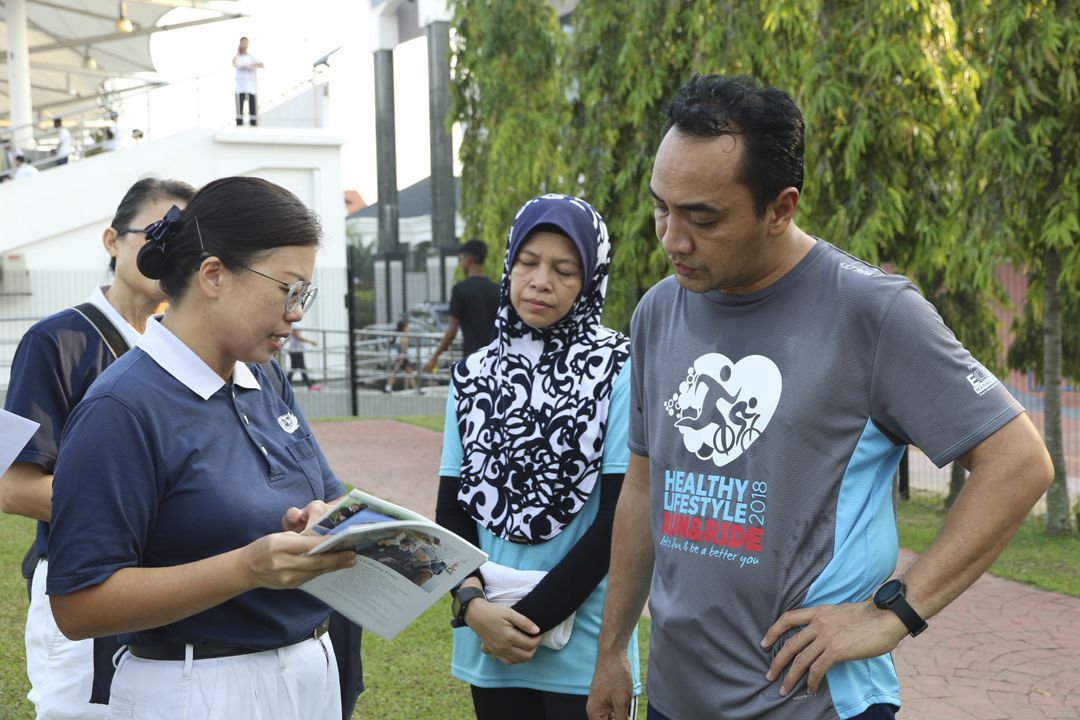 Fairuz and Yusma confessed that they were aware of the health benefits of a vegetarian diet, but had deferred the idea of committing to it. Signing a pledge would serve as a reminder for them to cultivate a healthy diet through vegetarianism. Fairuz informed that he would opt to break fast with vegetarian meals daily during the fasting month.
Nur Alia, a sprightly Form 4 student of SMK Seafield, signed a pledge to consume two vegetarian meals daily and reserve the merits accumulated in appreciation of nature and her parents. "I am a nature lover. The environment is now becoming increasingly polluted, hence when I was informed by the volunteers that going vegetarian gives nature a second chance, I am inspired to embrace vegetarianism as a sustainable way of life," she said. She also expressed her intention to spread the word on vegetarianism to her social media circles, besides extolling the virtues of protein-rich, plant-based food sources like beans and soy products as healthier alternatives to meat-based sources.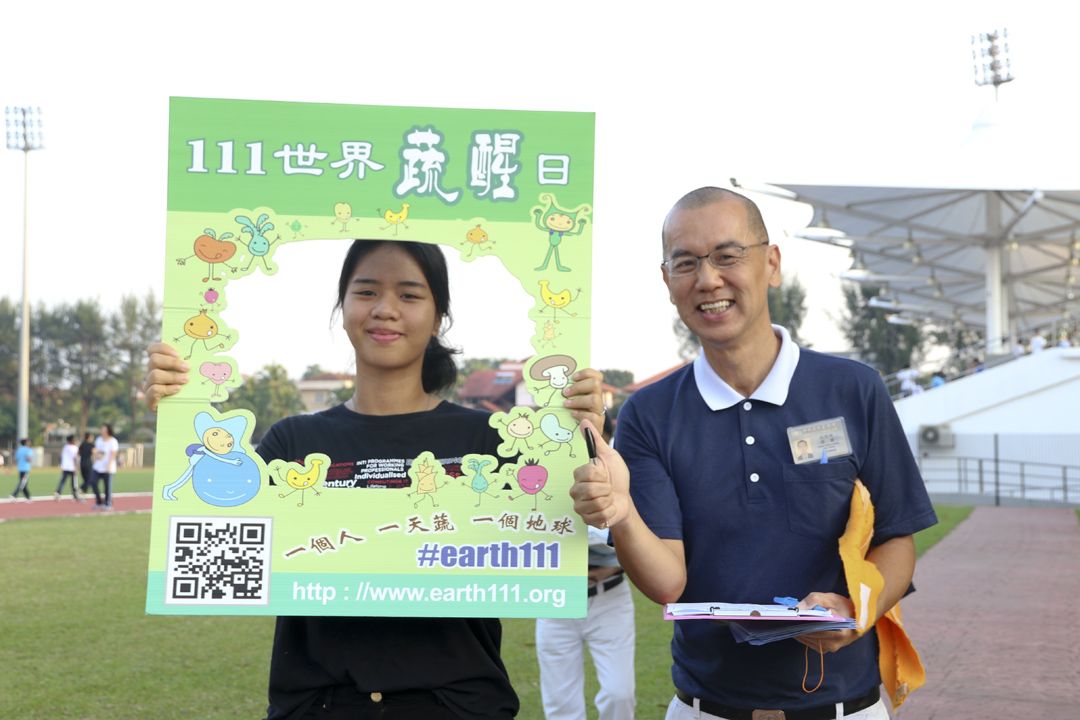 Allisa Adrina and Nur Dini, who attended the sports meet as spectators, pledged to commit to a vegetarian meal a day after being alerted to the sorry state of the Earth by volunteer Ng Yok Yeng. "It is as simple as starting with a vegetarian breakfast daily," they echoed. The volunteers' ingenious approaches to promoting vegetarianism appealed to all, irrespective of race or religion.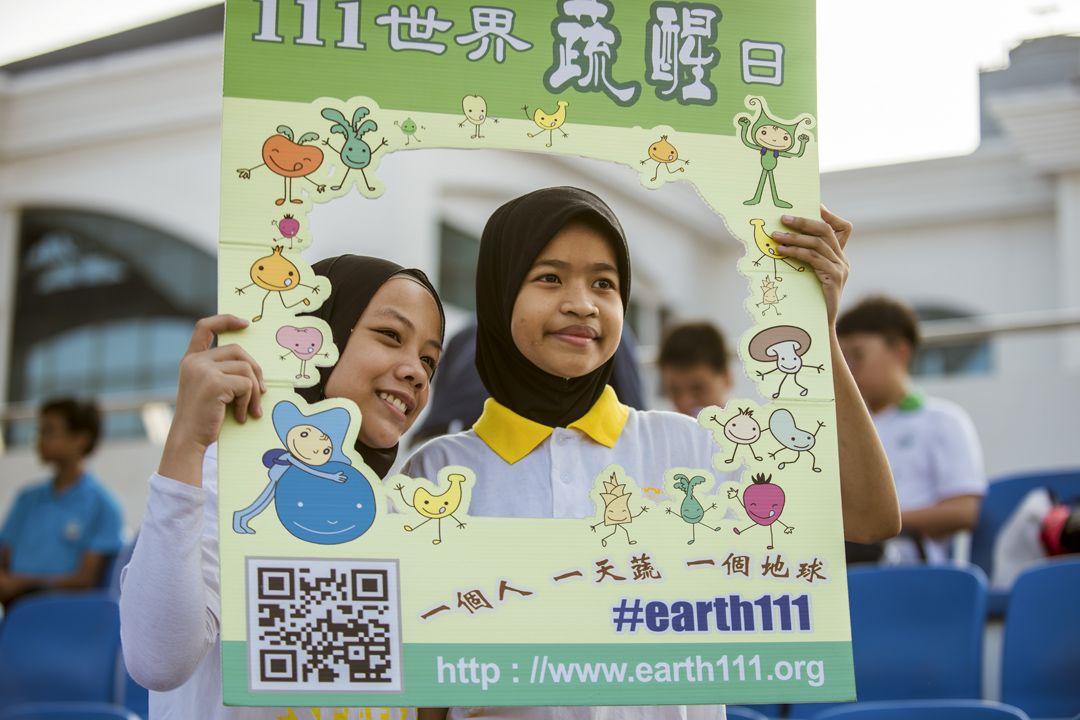 Making a difference
The Taipan Business Centre was busy with activity, as harried passersby rushed about their business without so much as pausing for a breather. The volunteers proactively sought out business owners, retail staff and members of the public alike, stopping by a handful of shops in the vicinity to widen their reach.
Yoon Soo Kim, the owner of a Korean restaurant, heeded the suggestion of a volunteer who visited his restaurant last year to serve affordable Korean-style vegetarian fare. Vegetarians account for only 5 to 10 percent of his customer base, but he was willing to introduce two Korean-style vegetarian dishes to the restaurant's menu in a bid to promote awareness on vegetarianism.
Furthermore, Yoon Soo claimed that he would accommodate requests for vegetarian options. "Most of the ingredients used in Korean cuisine are vegetarian-friendly after all. By substituting meat-based components with plant-based ingredients, I am able to come up with equally delectable vegetarian dishes," he offered.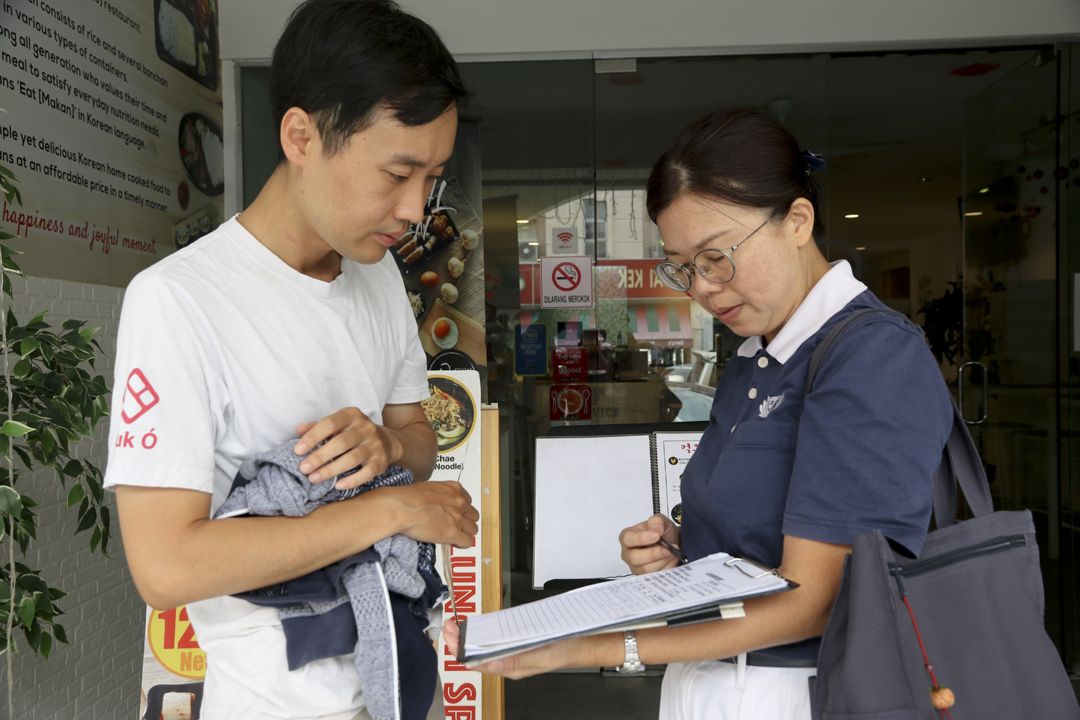 All five sales personnel at Ninjaz, a phone accessory shop, signed a pledge to commit to a vegetarian meal daily to reduce their carbon footprint. They even proposed to the volunteers to organize community talks on vegetarianism. The volunteers were open to the idea and hoped for future opportunities to launch vegetarianism awareness campaigns in the area.
Ni Mei Mei, who hails from Fujian, China, frequently travels to Malaysia on business. She chanced upon Tzu Chi volunteers promoting vegetarianism at the Taipan Business Centre, and signed the pledge to go vegetarian. "A vegetarian diet is the way to go. I grow my own vegetables in my front yard back home, as it is safer to consume vegetables that are not contaminated by pesticides. Also, my husband and I prefer lighter meals," she quipped.
She also shared that vegetarianism is now a growing trend in China, and told the volunteers, "I am glad for the chance to sign the pledge. I will introduce my friends to vegetarianism when the opportunity arises."
Volunteers also approached How Kan Sim and Chong Qiao Xin, a mother-and-daughter pair, as their paths crossed. Qiao Xin, 6, is a student of Tadika Didik Jaya USJ and was unwittingly introduced to a vegetarian diet by her teacher three years ago. She was then too young to fully grasp the concept of vegetarianism.
Kan Sim, on the other hand, was initially worried that a vegetarian diet lacks nutrients essential to Qiao Xin's growth and insisted that the latter consume meat. However, Qiao Xin stubbornly resisted every morsel of meat, compelling the family to adapt to a diet that is rich in plant-based food sources with smaller portions of meat. Kan Sim pledged to a day's worth of vegetarian meals every week and commented on the shift in her family's eating habits: "We lean towards a vegetarian diet most of the time. Consuming less meat feels easier on the stomach."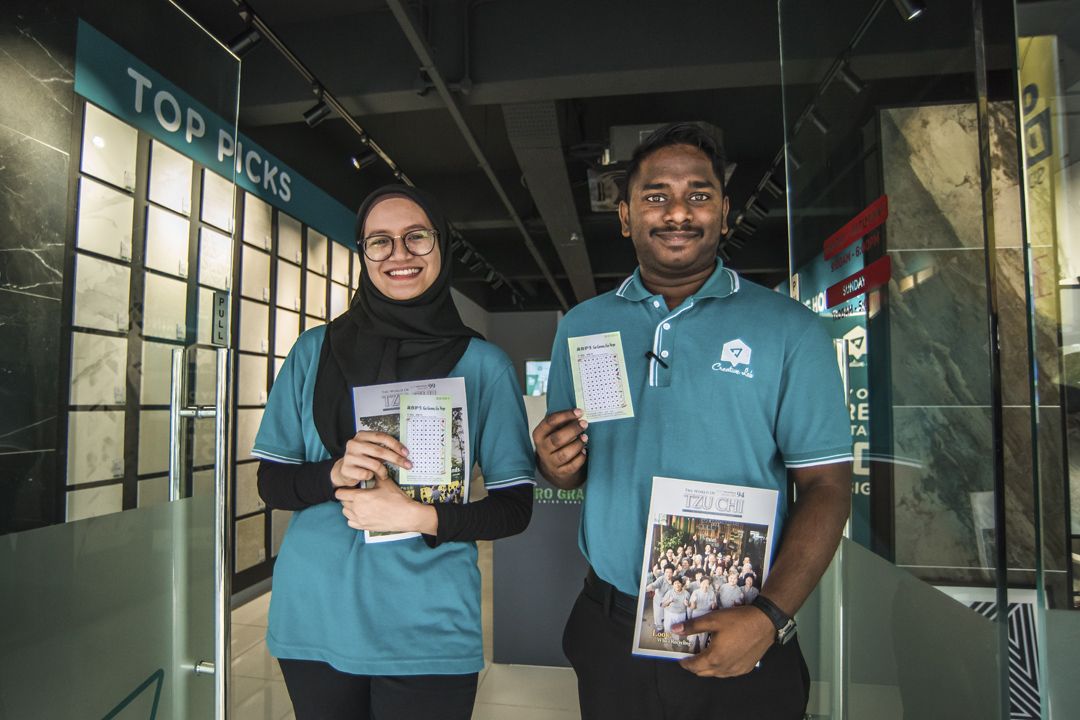 Retail assistant Shefereena Isreen pledged to join the vegetarianism movement after gaining insights on the benefits of a vegetarian diet from the volunteers. She had her doubts, though: "Is bread vegetarian-friendly?" she enquired. The volunteers responded with a resounding "Yes!" She was eager to take her first step in doing her part for the environment, starting with a vegetarian breakfast daily.
•
The volunteers strongly believe that their persistent efforts in spreading the message on vegetarianism to the public would eventually bear fruit. The environment would be in safe hands when an increasing number of the population commits to vegetarianism with compassion and wisdom.