Due to weather conditions, volunteers of Tzu Chi Malacca could not carry out the prostrating pilgrimage in celebration of the Foundation's Anniversary and Master Cheng Yen's birthday as planned. Although the event was replaced with sutra chanting, it was done with no less sincerity and earnestness.
April 27, 2019, the 23rd day of the 3rd month of the lunar calendar, is just a day away from the 53rd Anniversary of Tzu Chi Foundation, which was also the 50th Anniversary of the completion of Jing Si Abode. Volunteers of Tzu Chi Malacca made good use of the weekend to organize a prostrating pilgrimage event.
Unexpectedly, it started to rain early that morning. Volunteers then quickly switched their plan from prostrating pilgrimage to the chanting of the "Preface of the Lotus Sutra".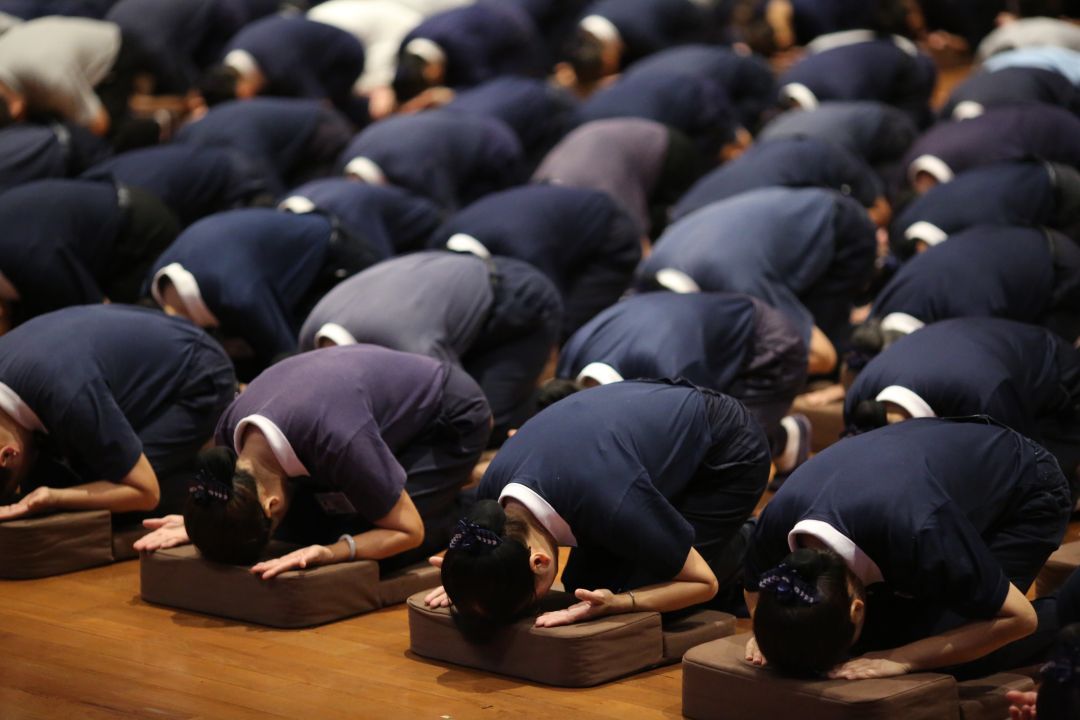 Chanting with utmost reverence
Among the 360 participants were volunteers Lo Heng Yuan, Wu Yan Xue and Ji Huan from Taiwan, who were in Malacca to share their life's stories the evening before. Heng Yuan informed that he was looking forward to his first participation in a prostrating pilgrimage overseas, but the event had to be moved indoor to sutra chanting due to weather conditions. Nonetheless, he was moved by the volunteers' devotedness to the Dharma and their respect for Master Cheng Yen, which was evident in their enthusiasm, not dampened by the morning showers.
Heng Yuan believes that the Vulture Peak, where the Buddha preached the sutra, is only in one's mind; and that one should let go of one's ego and humble oneself to accept the Dharma and nurture one's wisdom. While chanting the sutra with utmost sincerity, he repented for his past mistakes and vowed to walk the Bodhisattva Path towards attaining Enlightenment.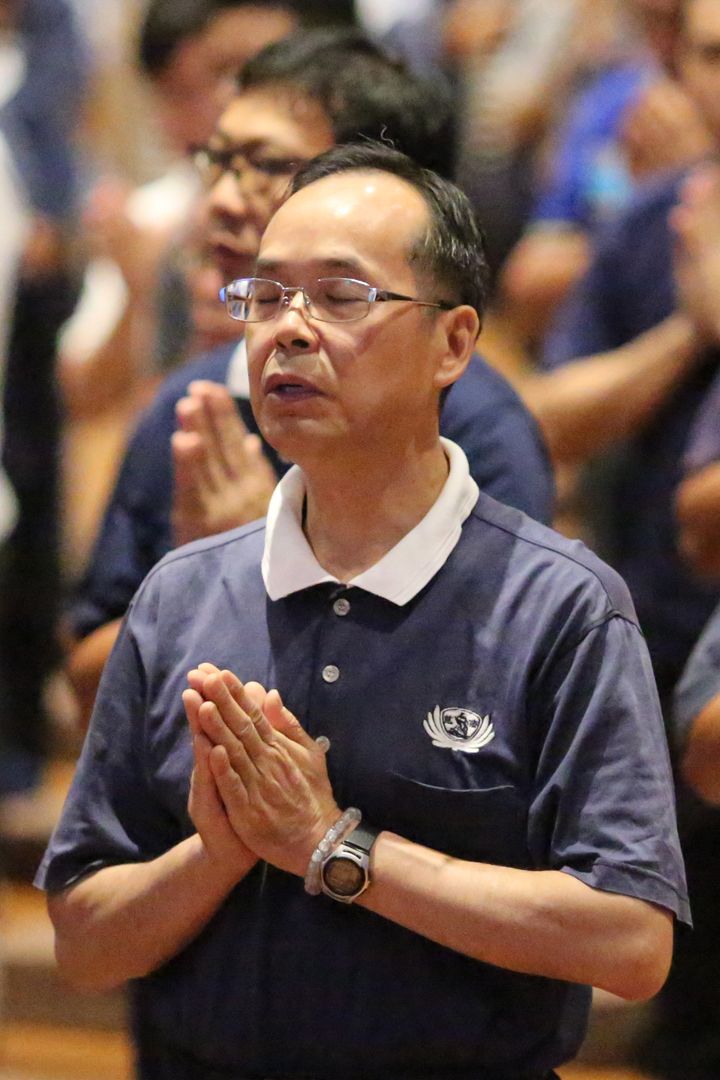 He related a story told by Master Cheng Yen about Sariputta, a Buddha's disciple. Sariputta was so kind that he did not hesitate to dig out his eyes to help another man, yet, the latter found it disgusting. The rejection had caused Sariputta to retrogress from his spiritual cultivation.
Heng Yuan shared, "There might be stumbling blocks along the path of spiritual cultivation. Thus, we must have great determination and resolve to keep ourselves on the Bodhisattva Path."
He wished the Master good health and a long life, and for Tzu Chi's missions around the world to flourish, inspiring more people to walk the Bodhisattva Path together diligently and to work together towards purifying mind and creating a harmonious and peaceful world free from disasters.
The power of the young
Chee Wei Han, a Tzu Chi Collegiate Youth from University Technical Malaysia Melaka (UTeM), attended the prostrating pilgrimage event last year and learnt that with each step forward and each prostration, faith replaced arrogance, allowing the Dharma to enter the mind and be practised in daily life. Seeing the participants moving forward in the same direction and with a common goal, he felt that the same persistence should apply to the path of spiritual cultivation, regardless of difficulties and obstacles. Therefore, this year, he invited six of his university mates to join him in the event, hoping that they too can appreciate the essence of the Dharma.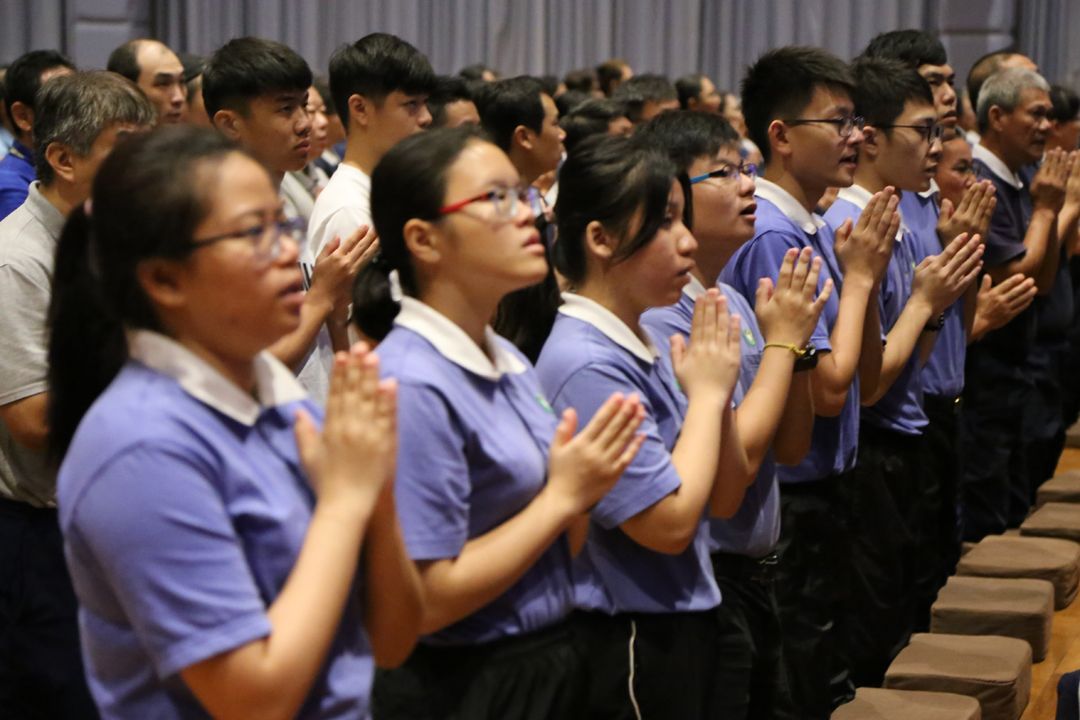 Another Tzu Chi Collegiate Youth, Cheong Jin Li, participated in the event together with his peers despite having his examination later that morning. He credited his calmness to his preparedness for the exam.
For him, whether it is a prostrating pilgrimage or sutra chanting, both share the same goal and remind him to cultivate himself and grow his wisdom while serving among the masses. He shared, "A year has passed. Many things have changed but I'm still inflicted by some worries and vexations. This annual event allows me to settle my mind and accept Master's teachings so that I can get rid of my worries and strengthen my faith on spiritual practice."
Both Wei Han and Jin Li were glad that their participation in Tzu Chi has broadened their horizon, given them a chance to exercise their social responsibilities and gain some insights into life's truth.
Still active at old age
Volunteer Goo Yee, who has never missed the annual pilgrimage event said, "After depositing 50 years of my age in the Age Treasury, I'm now 21 years old. For sure I must participate in this event!" She added that she could no longer perform the prostration following a knee surgery last year, but even if she could only bow instead of performing prostration, it conveys her sincere wishes for Tzu Chi and the Master.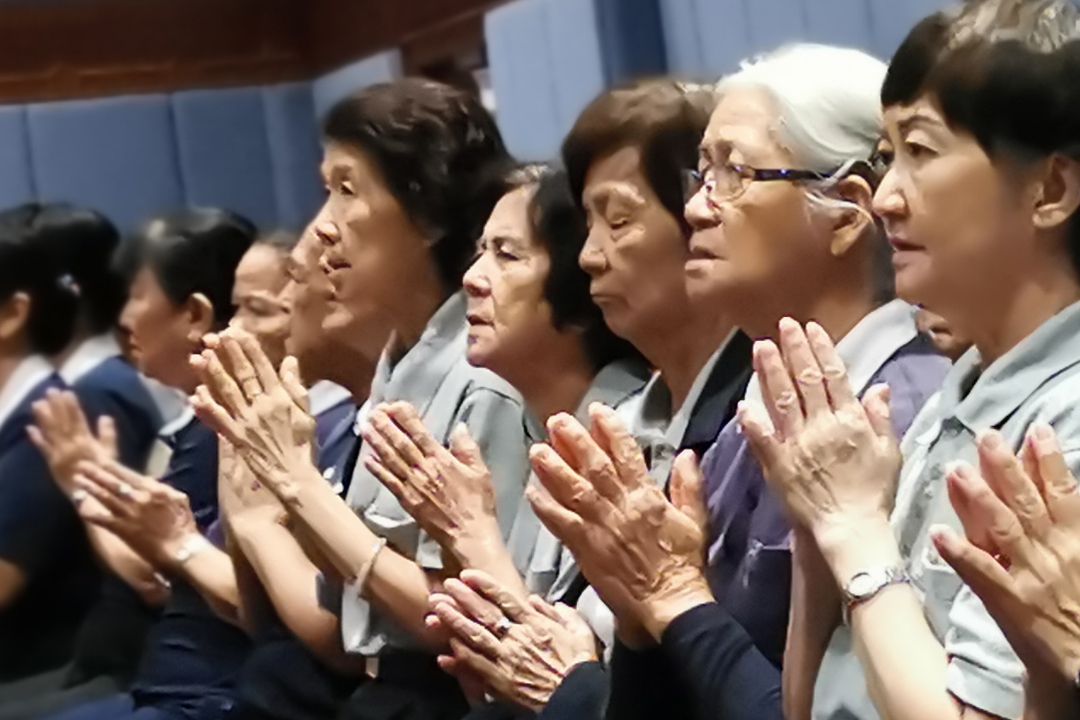 She said, "It's our blessing to have Master with us. Her teachings are very useful to everyone." She related that before she was introduced to Tzu Chi, she always wondered whether there is an avenue for her to put the Dharma into practice. She readily accepted a volunteer's invitation to participate in recycling activities and was certified as a Tzu Chi Commissioner last year.
She quipped, "I find my life meaningful when I participate in Tzu Chi and help others personally. I'm filled with spiritual joy and a sense of fulfilment being able to help people and Mother Earth."
 
The joy amidst the unpredicted
Seventy-eight-year-old Gan Kim Hiok shared smilingly, "My daughter asked whether I would like to join her in the prostrating pilgrimage, and I said yes!" It surprised her daughter, Loh Siew Cheng that she got herself ready earlier than expected that morning although they returned home late from a talk at Tzu Chi the night before.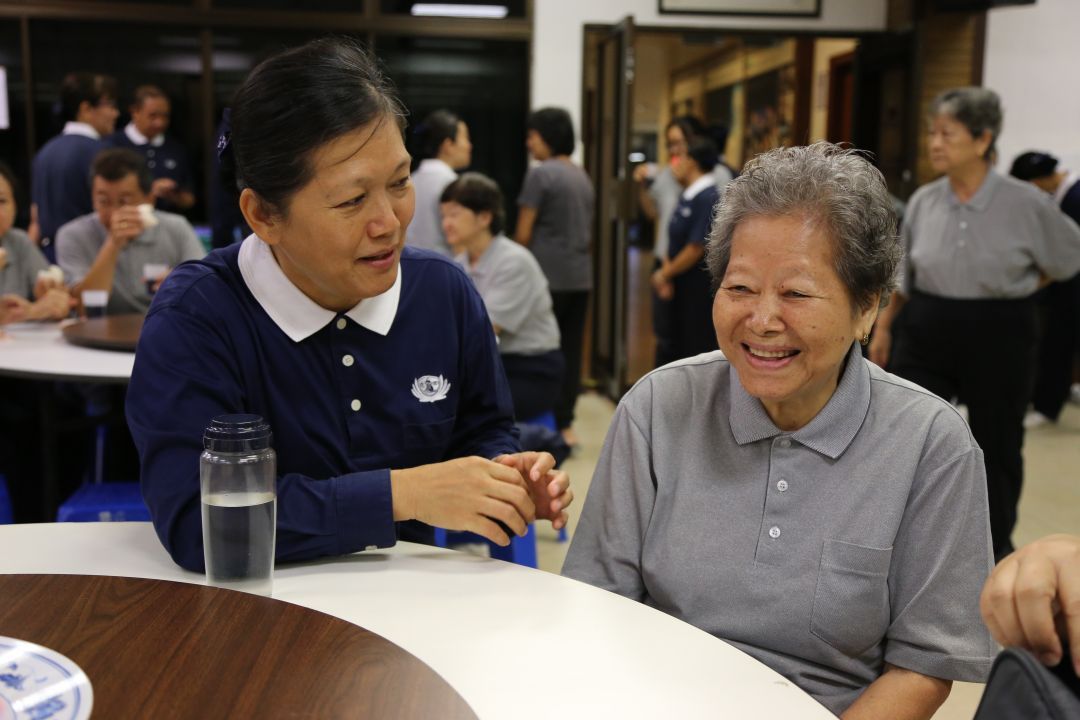 Even though Kim Hiok anticipated her first participation in a prostrating pilgrimage, she accepted the replacement for a sutra chanting. She prayed earnestly and wished her children good health and safety, and for herself to stay healthy so that she can continue to participate in recycling activities and will not burden her family.
Feeling her mother's joy, Siew Cheng was glad that she made the right decision. She thought the prostration was not for her aged mother with osteoporosis until she witnessed some elderly who could not kneel participated in the event. She hoped that her mother's participation in the event can help foster her karmic ties with Buddhism, Tzu Chi and others.
The unpredictable weather reminded Siew Cheng not to take things for granted. The happening of each event requires harmony of human, time and place. Although the event did not go as planned, as the CEO of Tzu Chi Malacca, Siew Cheng was grateful of the volunteers' immediate action in making the alternative arrangements, and was appreciative of their teamwork and earnestness. She also looks forward to promoting the spirit of compassion to more people with reinforced faith and resolve.