Raising funds for the construction of Muar Tzu-Chi Jing Si Hall had been an uphill endeavour dutifully pursued by a dedicated team of volunteers. Their combined enthusiasm and conviction that this Jing Si Hall will be a spiritual sanctuary benefitting all who pass through its doors, spurred them on through several charity events until their goal is achieved.
March 23, 2019 was a public holiday in Johor to commemorate the Sultan of Johor's birthday. Tzu Chi Muar, situated in the state of Johor, took advantage of the state public holiday to hold a charity fair in Taman Temiang Jaya, Muar. This was the third charity fair held in the neighbourhood where the Jing Si Hall is currently being built. The Jing Si Hall is nicely taking shape with the completion of the basement and its first level. Seeing this, it is a source of inspiration, motivating the volunteers to raise more funds for the construction to progress at full capacity until completion.
This charity fair also involved Tzu Chi volunteers from Kluang (in Johor) and Malacca chapters. Everyone came together to support each other and thus made the event a success. Their collective efforts to help raise funds for the construction of Muar Tzu-Chi Jing Si Hall was in fact instrumental in spreading waves of kindness across the Muar community causing them to generously support this charity fair. For public members who were unable to attend but were eager to lend their support, volunteers were ready to take their advance orders.
 
Buns and cookies filled with love
Tzu Chi Malacca volunteer, Yo Bee Kiow enthusiastically assisted in the making of approximately 3,000 buns for the event. Upon receiving a request for an additional order of buns at the eleventh hour, she accepted the request without hesitation and worked with a team of volunteers to fulfil the order. Although she was caught in a disorienting flurry of activity as it was also her first time assuming a coordinator role, she found the experience enriching and enjoyable.
On March 21, 2019, a group of volunteers gathered at Malacca Tzu-Chi Jing Si Hall to make buns for the Muar charity fair. They included retired teachers and housewives who were invited by Tzu Chi volunteers and friends to take part in this activity.
This was retired English teacher, Tan Lee Cheng's second year helping to make buns to raise funds for the Muar Jing Si Hall. She shared that she was motivated to participate in this fundraising effort as she wished to give back to society, having benefitted from it in her younger years.
"Making and selling buns for charity is a meaningful act of giving too. I hope that those who had benefitted from Tzu Chi's assistance, especially the younger ones, will give back to society in any way they can. Everyone is capable of contributing in their own way," said Lee Cheng.
Meanwhile, Lee Cheng's former colleague and retired Mathematics teacher, Tan Jock Eng responded with a smile, "We hope that the world is free of malice and war. Tzu Chi provides a cultivation ground to purify our hearts and minds, and volunteering through Tzu Chi cleanses our hearts of impurities."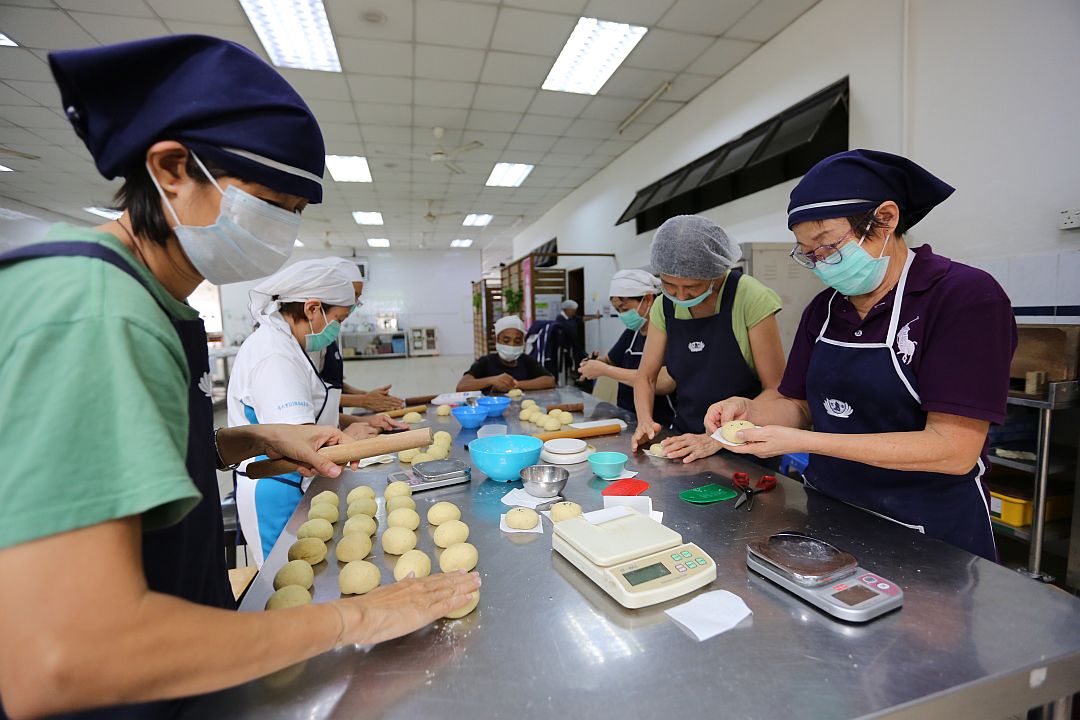 One of the vendors at the event, Bee Kiow donated cookies manufactured in her factory. She came with her factory manager, Tai Siew Yong and a group of factory workers to assist in the charity fair. "The Jing Si Hall is a spiritual home for everyone, hence it is only apt that everyone contribute towards its completion. We are very blessed to be granted this opportunity to give," said Bee Kiow. She added that Jing Si Hall located anywhere is a shared home for everyone. To contribute to one's own home is an inevitable duty, however contributing towards the Jing Si Hall fills one's heart with joy and blessings.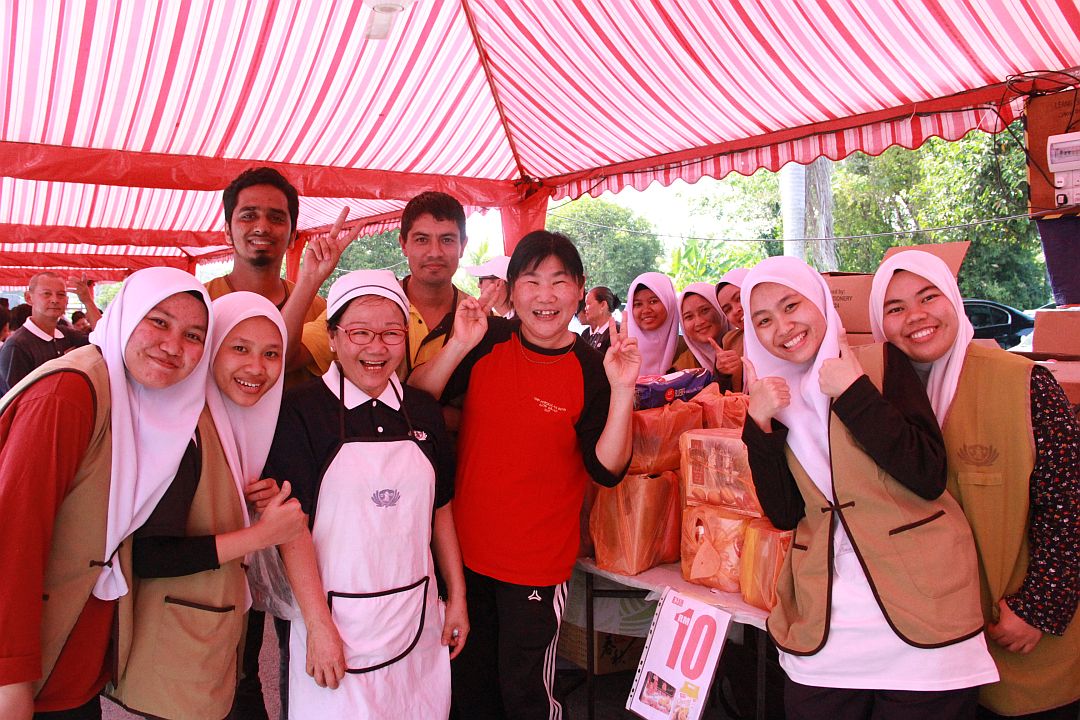 Siew Yong explained that the factory workers were actually university students interning at the factory. It is her hope that these students will benefit from this enriching experience of volunteering for charity and continue this good practise in future. She also revealed that her family benefitted from Tzu Chi's assistance over 20 years ago, hence now is her repayment for the kindness received.
It is hoped that upon completion, the Muar Jing Si Hall will provide a spiritual retreat for visitors to cultivate a pure heart and discover compassion within, and be inspired to give back to society and make this world a better place.
Bringing joy with lovingly prepared delights
Volunteer Zui Lee Hoon first debuted at the inaugural charity fair in 2015 with her signature delicacy – Chinese mochi. Since then, she would whip up a medley of vegetarian offerings at various charity fairs, including fragrant vegetarian rice, vegetarian nasi lemak, mee rojak, desserts and pastries.
Sharing home-cooked food with the public brings Lee Hoon much joy. She enjoys experimenting with new tastes and whenever she comes across new dishes, she would attempt to recreate the dishes at home. She hopes to promote vegetarianism by offering more vegetarian fare to cater to a diverse range of palates.
For the charity fair, she single-handedly prepared 100 servings of her popular mee rojak in advance, in the Taman Mas Jaya Recycling Centre kitchen. This included the dressing, roasted peanuts, vegetable crisps and other condiments. Her spare time in the afternoon was used to promote her culinary creations.
"I always try my best to allocate time for charity work," she said. She supports the construction of the Jing Si Hall as she believes that the venue would benefit the public. Modern society is mired in instability and unrest, hence it is now easier than ever to be distracted and stray from the right path. The Jing Si Hall provides a nurturing space for inculcating a healthy mindset and positive values amongst the younger generation.
Vendor Tan Beng Chye, who had participated in two successive charity fairs, was busy serving char kuey teow (fried noodles) to members of the public who were patiently waiting in line for his specialty dish. Beng Chye is a man of few words but he was all smiles when he declared his decision to take a day off from his business to make time for the charity fair. He is thankful to have acquired such culinary skills despite possessing little wealth. As he works hard dishing out one plate of char kuey teow after another for a good cause, it is proof of his will to serve.
Music is food for one's ears and spirit
The charity fair was enlivened by strains of melodious music, courtesy of SCF Sound and Light Company (for the audio equipment) and Guo Hua Entertainment (for the performers). The manager of Guo Hua Entertainment, Simpion How, managed to rally 21 members of his troupe to perform at the charity fair as they have always been active in charity work. He recalled the enthusiastic response from all troupe members from near and far when the invitation was received as they believe in using their vocal expertise for the greater good.
•
Tan Khoo Heo, the coordinator for this year's Tzu Chi Great Love Charity Run, set up a booth at the charity fair with his team to promote the event to the public. He attempted to attract the attention of the public by wearing the "Charity Run" T-shirt and displaying the event poster prominently. He successfully recruited 50 participants and also many well-wishers who were unable to participate in the run had pledged donations in support. He had been stepping up publicity efforts for the Charity Run while striving to formulate a comprehensive execution plan to ensure a successful charity run.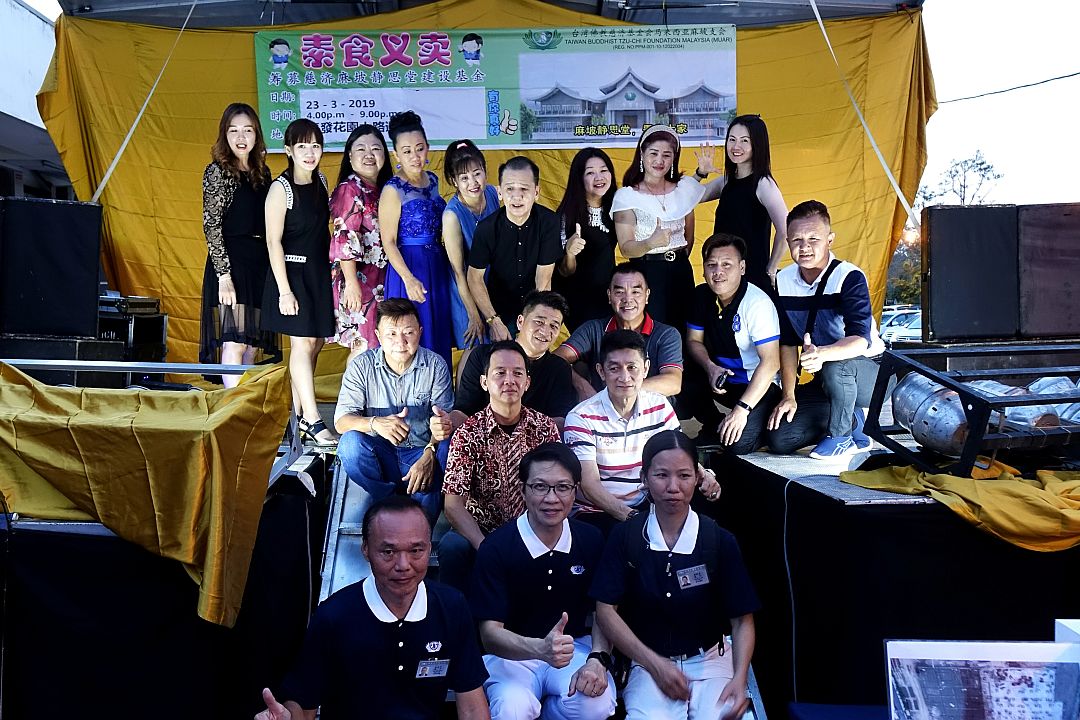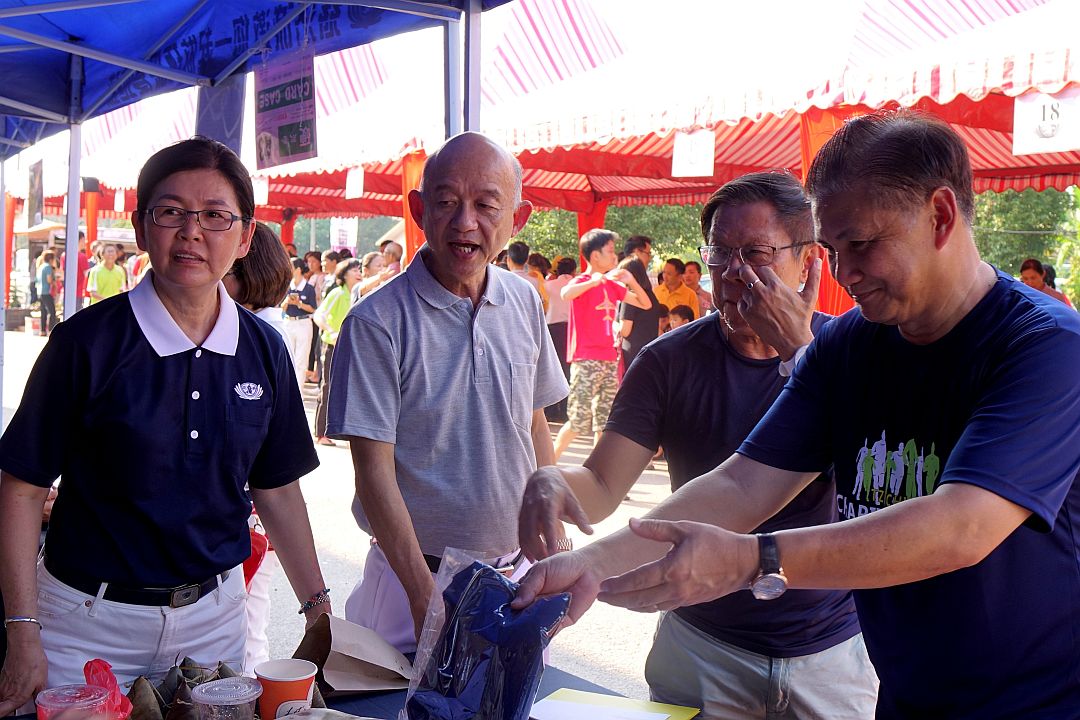 To cultivate blessings by doing good deeds is a noble undertaking in life. The volunteers had devoted themselves wholeheartedly to fundraising efforts for the construction of the Jing Si Hall, with the ultimate hope of achieving the targeted amount thus ensuring its completion so that the Jing Si Hall can serve humanity.