Language is no barrier when it comes to Dharma learning. This is evident in the 23 Indian volunteers and public members who had put up a spectacular and soul-searching performance during the Auspicious Seventh Lunar Month Prayers and Blessing event, held at KL Tzu-Chi Jing Si Hall on July 30 and 31, 2022.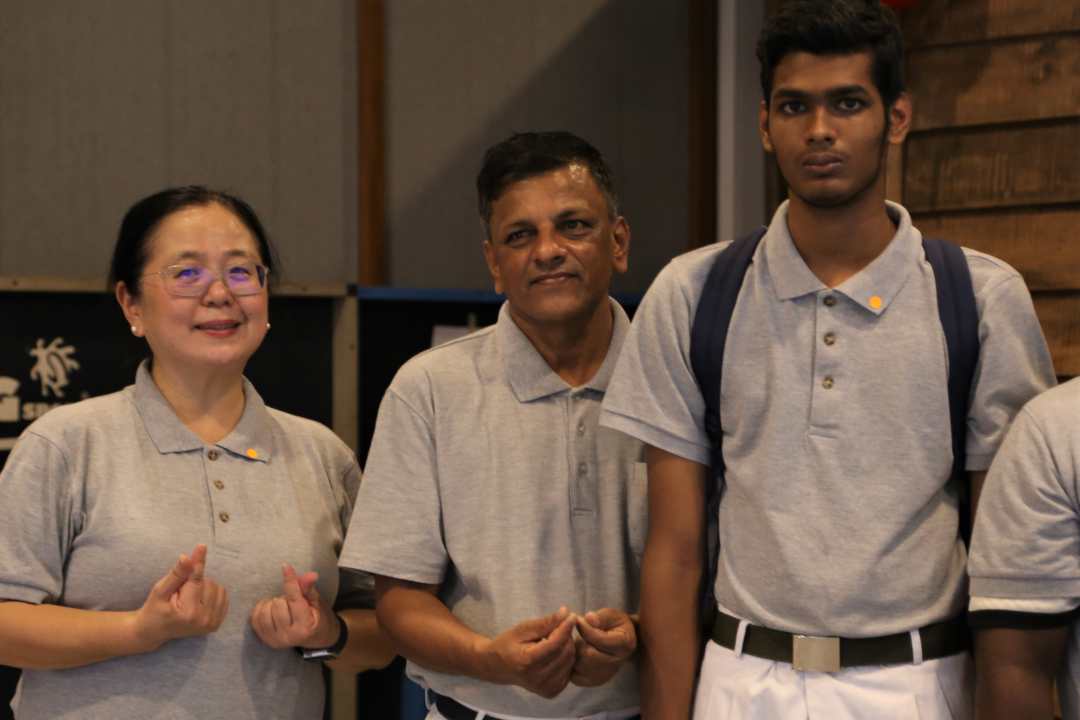 Tzu Chi volunteer Chong Sui San had her first contact with the Indian community during one of her home visits in 2007. After years of relentless efforts, she has managed to inspire more than a hundred residents of the Rimba Jaya Apartment to join as monthly donors, and 20 as Tzu Chi volunteers.
What drives her to keep going despite the odds? A compassionate intention that goes beyond providing temporary relief—to walk the journey with the less fortunate, thereby improving their lives and purifying their minds. She said, "When I saw the teenagers going through a rebellious phase, I felt obliged to guide them so that they would not end up on the wrong track."
◎ A single but determined thought
Tzu Chi has been providing aid to needy families in the vicinity, as well as tuition for children under Sui San's arrangements. Over the years, Sui San has been actively inviting them to participate in Tzu Chi activities, like Buddha bathing and year-end blessing ceremonies. Besides the growing number of Indian volunteers, Sui San also witnessed the fruits of her labour in the children, who are now polite and diligent Form 4 or Form 5 students.
For the recent musical adaptation performance in July, the teenagers joined the other Indian volunteers. Some volunteers took the initiative to translate the sutra verses to the Malay language, which they were familiar with, so that they could better appreciate the meanings and convey them through their sign language interpretations. Their parents also joined the book study sessions and sign language practices, learning the Dharma together.
One verse that particularly resonated with Sui San was "a single thought". It was the single thought to bring positive change to the life of the Indian community, that has kept her to persevere; and it took her seven years to finally plant some seed volunteers within the Indian community, including Shanmugawali.
Beaming with joy, Shanmugawali shared, "Even though I do not know the Chinese language, I could still learn the Dharma. I am especially happy that I managed to get eight children from my neighbourhood to join me in this musical adaptation. Their exposure to Tzu Chi over the years has helped them to grow up well-behaved, polite and helpful. I feel honoured to be able to participate in Tzu Chi activities to help those in need, and to guide the children in the community to be kind and strive for progress."
Shanmugawali expressed her gratitude to Master Cheng Yen. "Although I am a Hindu, I feel fortunate and grateful that I could follow Master's teachings, and get involved in Tzu Chi to help the poor and needy."
At the prayers and blessing event, Shanmugawali prayed for everyone to be free from poverty and illnesses, and that everyone would fulfil their duties to be good people, so that there will be peace in society.
◎ Finding the secret to happiness
Another performer, Letchumy, had a mild stroke two months ago. Invited by Sui San, she made use of her free time while recuperating at home to participate in the sign language practices, along with her mother and son.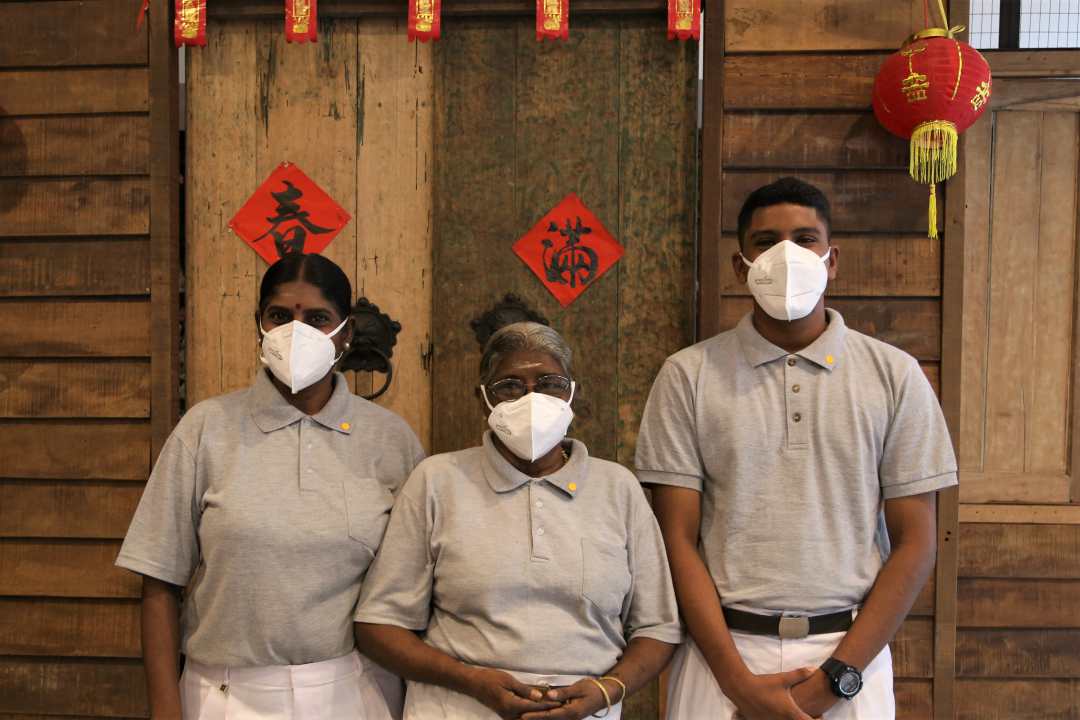 Her greatest challenge was to remember the movements and sign language interpretation for the sutra verses. Nonetheless, she was always deeply moved during the practices, feeling that everyone was learning the Dharma together. The performance was an emotional moment for her as she could feel what it was like to be in a Dharma assembly with her Dharma family.
Letchumy's 17-year-old son, Lingkeswaran, was a beneficiary of Tzu Chi's food and tuition subsidies when he was eight. He learned from the Sutra that "the secret to happiness is helping others". Now a Form 5 student, he hopes that he, too, is able to help others.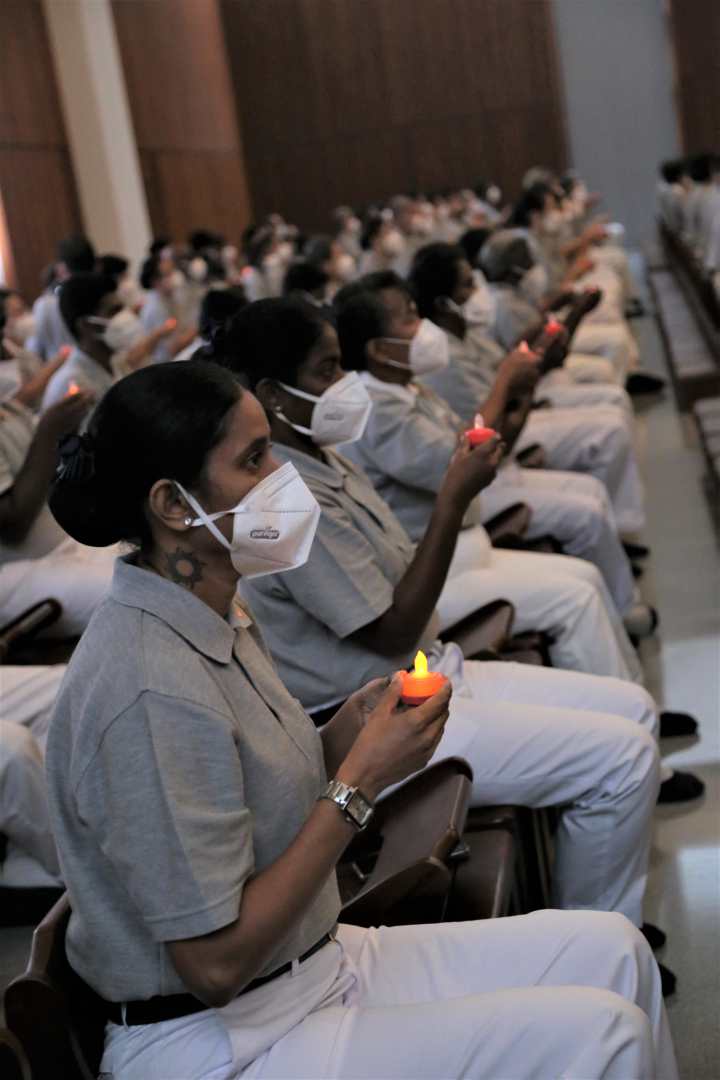 ●
Having overcome language barriers and hurdling through three months of diligent practice, the Indian performers were certainly joyful that they could help spread the Buddha's wisdom to the audience through their sign language rendition. They also dedicated the merits to all suffering beings and prayed for peace in the world.