Following the Year-end Blessing Ceremony held for the Chinese-speaking community, Tzu Chi Klang organized a special Year-end Blessing Ceremony on January 12, 2019, for the non-Chinese speaking group. Transcending language and religion, the event was wholly conducted in Tamil and Malay to enable the attendees to better understand Tzu Chi.
Individuals of diverse backgrounds have been joining the ranks of Tzu Chi volunteers, including the non-Chinese speaking group. Hence, since 2016, Tzu Chi Klang has been organizing Year-end Blessing Ceremony specially for this group of participants, so that they too can experience the New Year festivities and receive blessings from Master Cheng Yen.
Recycling resources for the greater good
Prior to the Ceremony, recycling volunteers offered brief, yet informative explanations on harnessing the potential of recyclable materials. On display were a PET bottle, recycled PET pellets, recycled fabrics, and Tzu Chi's eco-blanket used in disaster relief. They conveyed the message that the PET bottles we tend to simply discard can be regenerated into useful products with a versatile range of applications.
A group of teachers and students from a Rohingya refugee school were awed by the volunteers' presentation as it was their first exposure to such facts. The refugee school chairperson, Mohd Arab, remarked in surprise, "It is unbelievable that PET bottles can be processed into threads to be woven into eco-blankets for charitable purposes. We should start collecting these recyclable resources." He hoped to promote recycling practices within the community to inspire more people to take action.
Kindness ripples across religious boundaries
"Good afternoon everyone. Welcome to the Year-end Blessing Ceremony," said Emcees K. Murugan a/l Krishnan and Revathi a/p Ponnusamy, who hosted the event in Tamil and Malay respectively, while English subtitles were shown in all the videos screened throughout the Ceremony. As many of the refugee school teachers and students in attendance were Muslims, a religious teacher was invited to lead them in prayer at the start of the Ceremony.
The "Tzu Chi 2018 Year in Review" and a review video of Tzu Chi Klang's activities demonstrated the compassion of Tzu Chi volunteers in reaching out and bringing hope to those in suffering, both locally and globally. The spirit of Great Love that transcends religious and language barriers moved many attendees to tears, including a refugee school teacher, Salleh.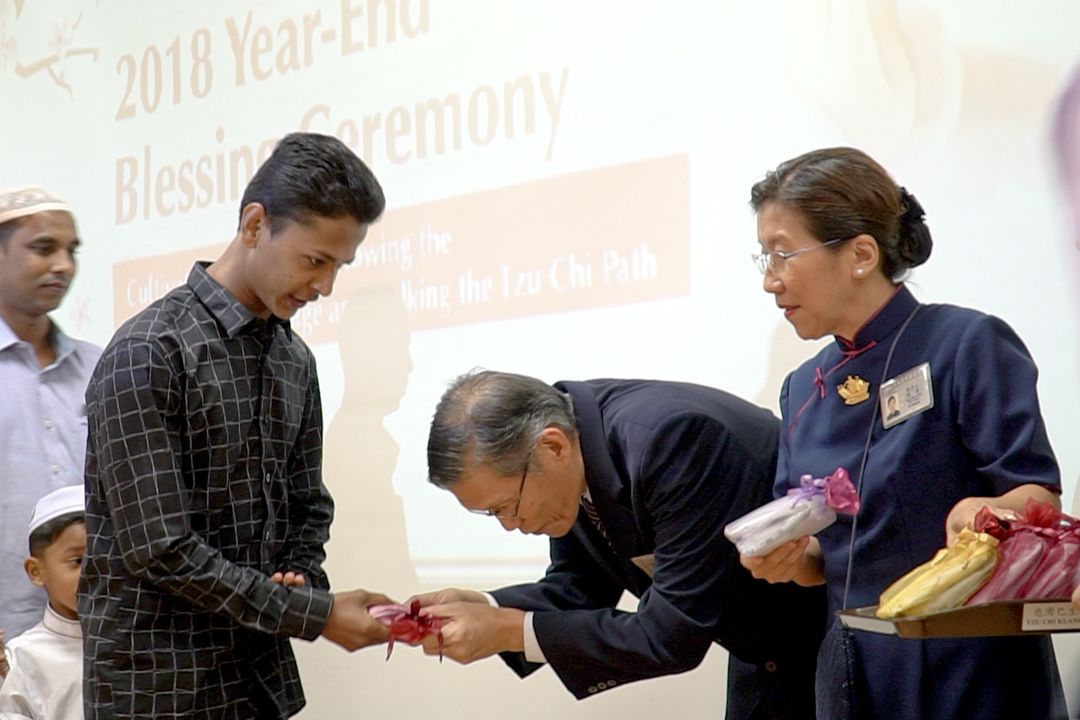 "I am really touched by the volunteers' selfless giving in various countries like Indonesia and Thailand. Through the Year-end Blessing Ceremony, I learnt that we are all equal beings. Regardless of faith or status, we should strive to help others. Compassion knows no boundaries." As a devout Muslim, charity work is a cause close to his heart. "To me, all worldly deeds are divided into only good and evil. We should commit to kind deeds to remind our future generations of the good in people."
Marianal a/p Arumugam lives near a recycling point and is acquainted with many Indian volunteers. Hence, she is no stranger to Tzu Chi, although this was her first time attending the Ceremony. After repeated invitations, she finally plucked up courage to join in the Ceremony with her child.
"I was moved by the screening of "Tzu Chi 2018 Year in Review". It evoked in me the joy of helping others. My son requires constant care, so all I can do is contribute as a Tzu Chi donor, and prepare food for the volunteers on Recycling Day." Marianal was happy to be able to contribute, albeit in a limited capacity.
Inculcating moral values since young
During the Ceremony, 25 Indian students from Tzu Chi's tuition class between the ages and 6 and 15 performed a stage adaptation of the story "Buddha Crossing the River", enlightening the audience with the wisdom of the Dharma.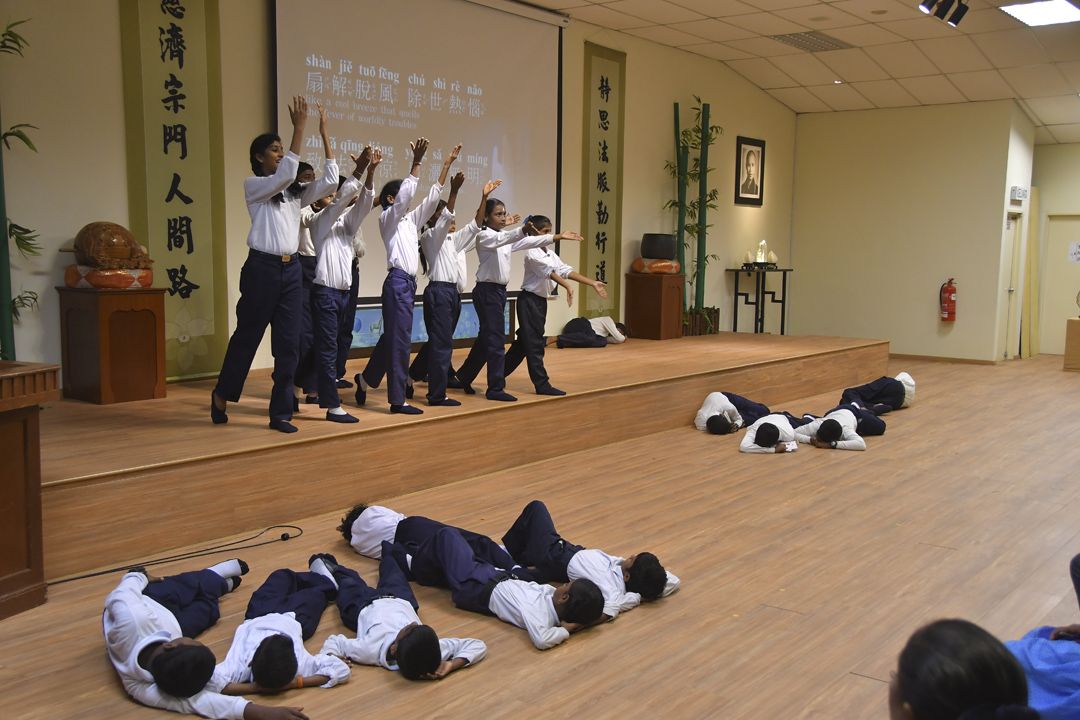 Teacher Radha Bhaskar Kallil, a veteran teacher of the Tzu Chi's tuition class, places equal importance on her students' academic progress and moral education. "Academic-based education is crucial for children to ensure they thrive in society. But, as an educator, I think moral education prevails. Therefore, I aim to instil positive values in them by encouraging them to participate in the performance." Teacher Radha also hoped that the students would strive to refine their moral and cultural cultivation by spending time to practise and rehearse the performance after school instead of idling their time away.
The countless hours spent on intensive practice culminated in the performance of a stage adaptation of the 'Finale' of the "Twelve Great Vows of the Medicine Buddha". Every gesture and movement was energetically executed, while the tolling of the bells and beating of the drums symbolized the delivery of blessings.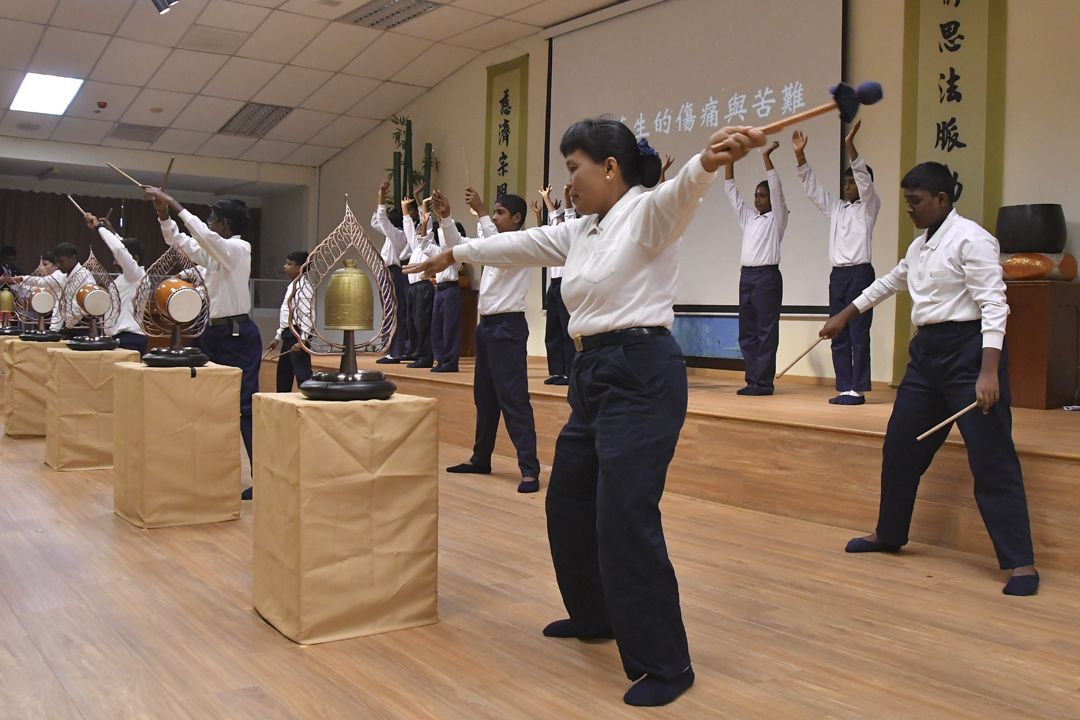 Fourteen-year-old Eashwaran a/l Rengamnathan admitted that he felt nervous about making mistakes on-stage. Not only was the schedule tight, the rehearsal was also held during term time. Nevertheless, he persisted till the end, and benefitted immensely from the experience.
After observing the disasters caused by global warming in "Tzu Chi 2018 Year in Review", Eashwaran said warily, "We should not waste food, because many other places like Africa are lacking in food and water supply. Every grain of rice must be appreciated."
Experience comes with involvement, as attested to by 10-year-old Heyshika a/p Sudakaran, who was inspired to emulate the volunteers' exemplary attitude. She said, "The story 'Buddha Crossing the River' teaches us to be mindful of our words and to not engage in conflict with others."
Undertaking new roles to improve oneself
Revathi was once a member of the audience at last year's Ceremony, but this year's Ceremony saw her donning the grey uniform in the role of the event's emcee.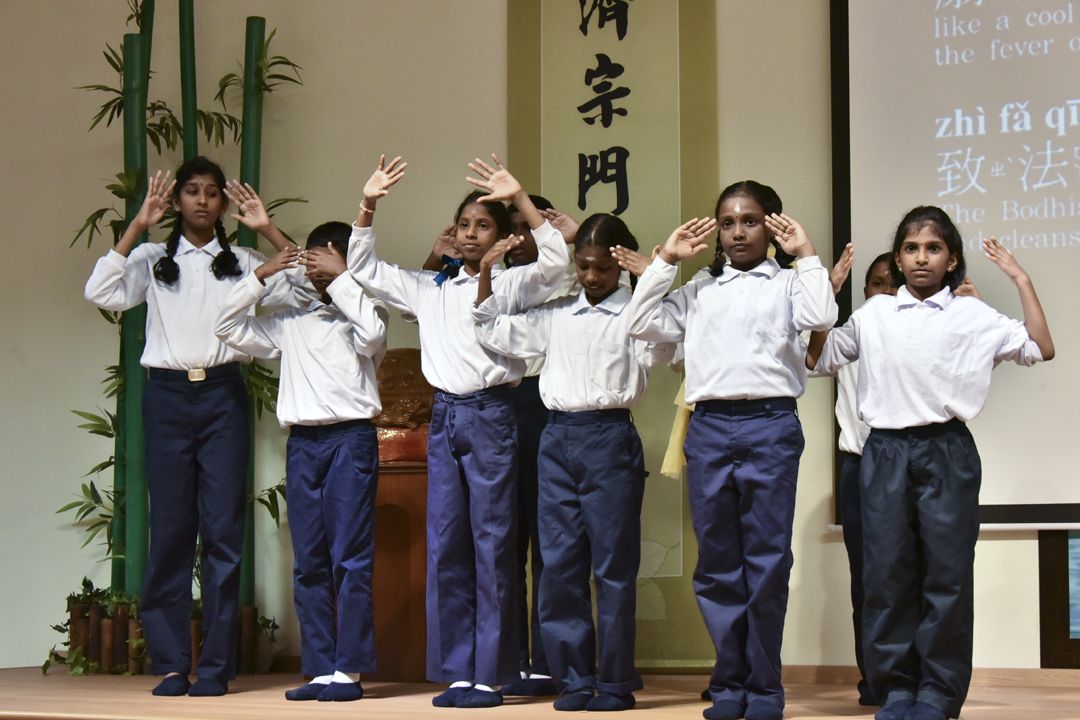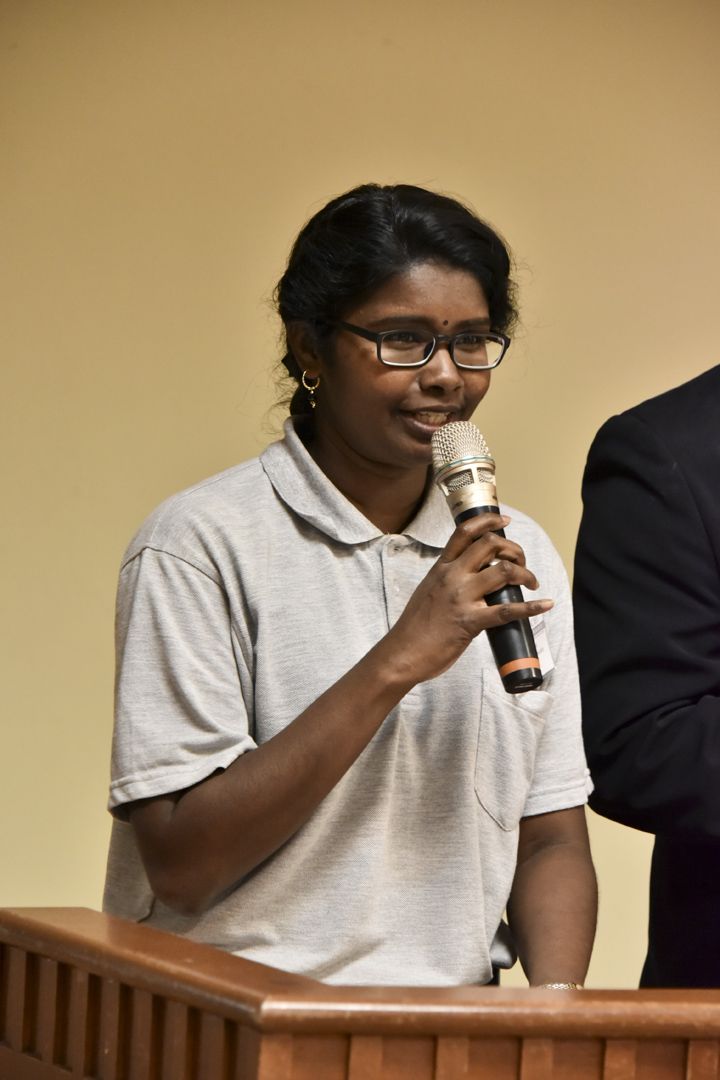 Back then, she was hesitant to join Tzu Chi. But as she became more familiar with Tzu Chi's missions through reading online sources and taking part in home visits with the volunteers, she discovered that the volunteers embodied Master Cheng Yen's spirit of compassion in performing tasks. She admired the volunteers' united front. Upon witnessing the hardships experienced by care recipients, she learnt not to take her more fortunate circumstances for granted, and decided to become a volunteer.
Despite feeling the overwhelming pressure of being an emcee for the first time, Revathi was able to calmly handle the many curveballs thrown her way throughout the Ceremony.
She credited her performance onstage to the volunteers' assistance. Having to juggle between her full-time job and taking care of her children, she only had time at night to prepare for her emceeing role. She was grateful for and touched by the volunteers' generous help in answering any questions she had.
•
Before the Ceremony ended, the 180 attendees each received a red envelope of blessings and wisdom. This Ceremony not only transcended the barriers of religion and language, it was also an occasion filled with meaningful moments and a peaceful atmosphere.