The "Medicine Buddha Sutra" serves to remind all to nurture compassion and selfless benevolence towards humanity from within, as well as to seize every opportunity to learn and practise the way of the Dharma and cultivate wisdom in order to foster universal peace and harmony.
On December 29 and 30, 2018, Tzu Chi Klang held three Year-end Blessing Ceremonies at SJK (C) Kong Hoe to express its gratitude to the public and Tzu Chi volunteers for their support and contributions towards Tzu Chi in the past year.
The organizing team planned the event based on the theme of "gaining a deeper understanding of the sutra to acquire ocean-deep wisdom", in addition to presenting a sutra adaptation performance of the first five Vows from the "Twelve Great Vows of the Medicine Buddha" to disseminate the wisdom of the Dharma to the public. A total of 355 sutra adaptation performers spent many months studying the sutra thoroughly, hoping to spread the noble spirit of the Medicine Buddha.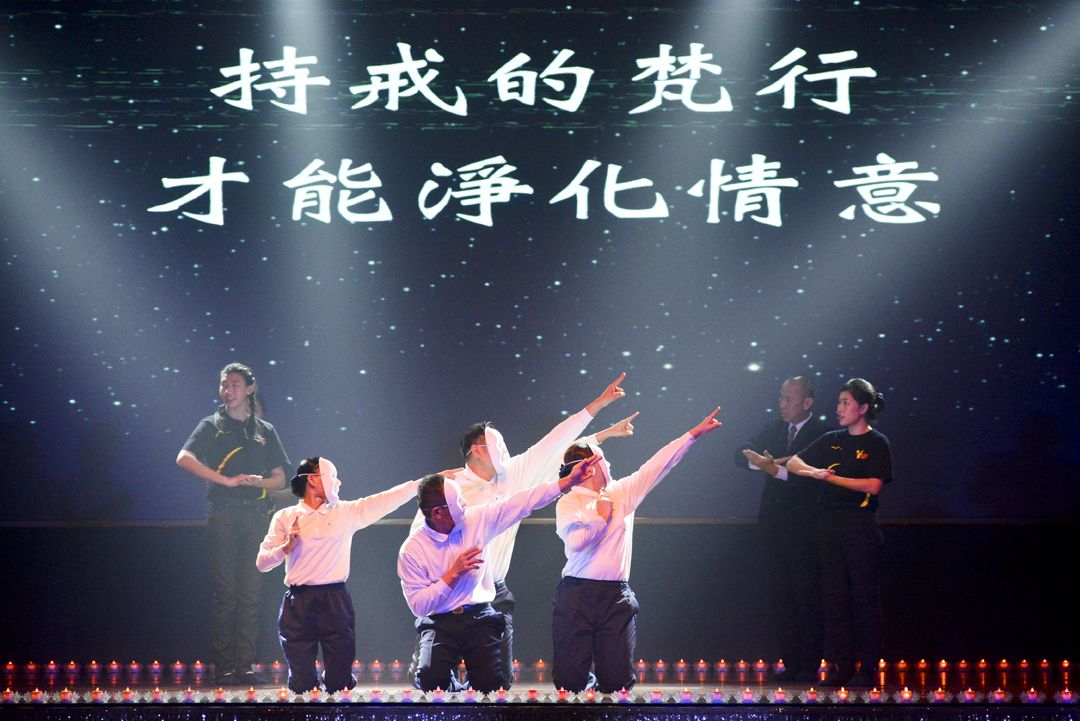 Every year, Master Cheng Yen will bestow upon the Year-end Blessing Ceremony a theme, as well as New Year blessings and a new outlook for the coming year. Looking back on the past year, the world was plagued by both natural and man-made disasters as its equilibrium was disrupted. Hence, the designated theme for the year 2018 was "Nurture a love for life, a heart of gratitude and respect for one another. Foster the spirit of harmony, avoid conflicts, and cultivate blessings hand in hand." This theme reflected Master Cheng Yen's appeal to all to respect and love all beings and to build a peaceful and harmonious society steeped in Great Love.
Paving the way with compassion and kindness
The three Ceremonies attracted about 2,300 attendees in total. All eyes were on the drums-and-bells performance with its resounding drum beats. Following that was the screening of "Tzu Chi 2018 Year in Review" which led the audience on a journey of Great Love around the world, sustained by Tzu Chi volunteers. Many were moved to tears watching the review by the generosity and sincere intentions of the donors to benefit the needy.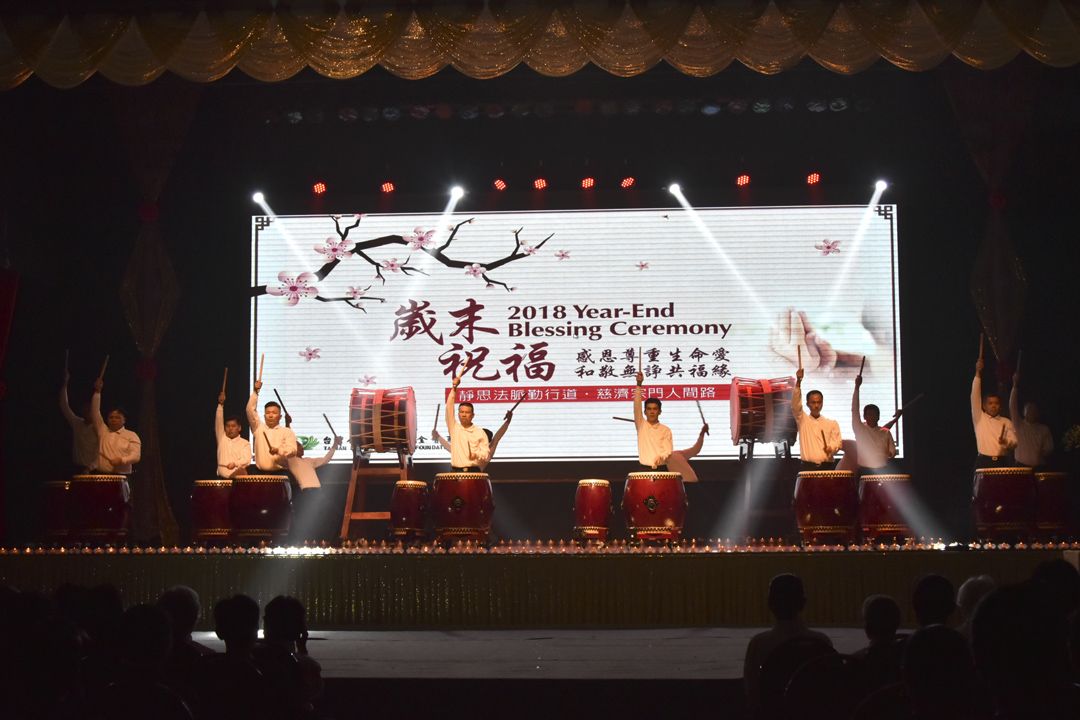 Venerable Master Shi Zhi Man from the Sepang Hai Tong Temple, who has been attending the Year-end Blessing Ceremony for many years, complimented Tzu Chi volunteers' selfless efforts in making the event not only successful, but also better than the previous editions.
She said, "My wish for 2019 is that everyone cultivates mindfulness, lives a simple life, and stays motivated. Modern society is beset by greed, anger and ignorance. These habitual tendencies need to be eradicated to bring hope to the nation."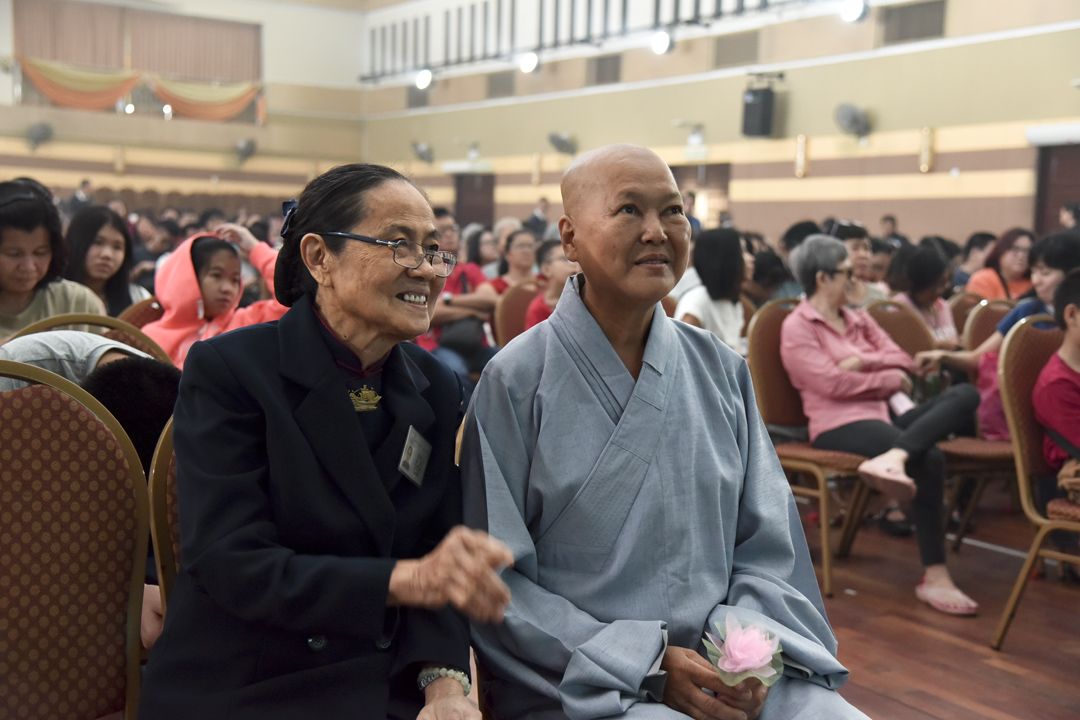 Master Zhi Man also helps out at the Sepang recycling centre regularly and is a role model to others, humbling herself to sort recyclables, as well as always bringing homemade pastries for the volunteers to forge good relationships among each other.
Diligent in cultivating wisdom
"These are the 'phonetic notes' that correspond to the pronunciation of the Chinese characters. I think only I myself am able to understand them," said Jean Ooi with a wide grin, while showing the image on her phone of a piece of paper filled with English letters and several red-coloured bell symbols. She was one of the performers of the sutra adaptation, yet she only comprehends simple Chinese and finds reading Chinese characters a challenge.
Her son and daughter also participated in the sutra adaptation performance together with her, while her husband served as her Chinese language teacher, besides ferrying the family to and from rehearsal sessions. Jean's husband allowed her to make "phonetic notes" using the English alphabet, besides adding the red bell symbols to remind her of the exact points at which to strike the bell. Jean's practice schedule increased in frequency from once to thrice a week as the performance date drew closer. Practice makes perfect, and now she could form gestures in tune with the rhythm as soon as the music starts, immersing herself in the profound meanings of the sutra verses. She shared, "We are born into this world to endure suffering. We have no choice but to walk on the Bodhisattva Path to gain a better understanding of ourselves and learn to be compassionate to others."
Jean's participation in the sutra adaptation performance was made possible by virtue of her daughter, Dory Tay's invitation. Dory, a physiotherapist by profession, joined TIMA after actively volunteering in the Tzu Chi Stroke Support Group for the past three years. She has been seeking an opportunity to involve her family members in Tzu Chi's endeavours. She revealed, "My family members know of my active involvement in Tzu Chi, but I lacked an avenue to rope them in. Incidentally, the sutra adaptation performance offered an ideal opportunity. I invited them to join me by striking the bell and playing the drums. It feels good to have my entire family join me in participating in my first Year-end Blessing Ceremony."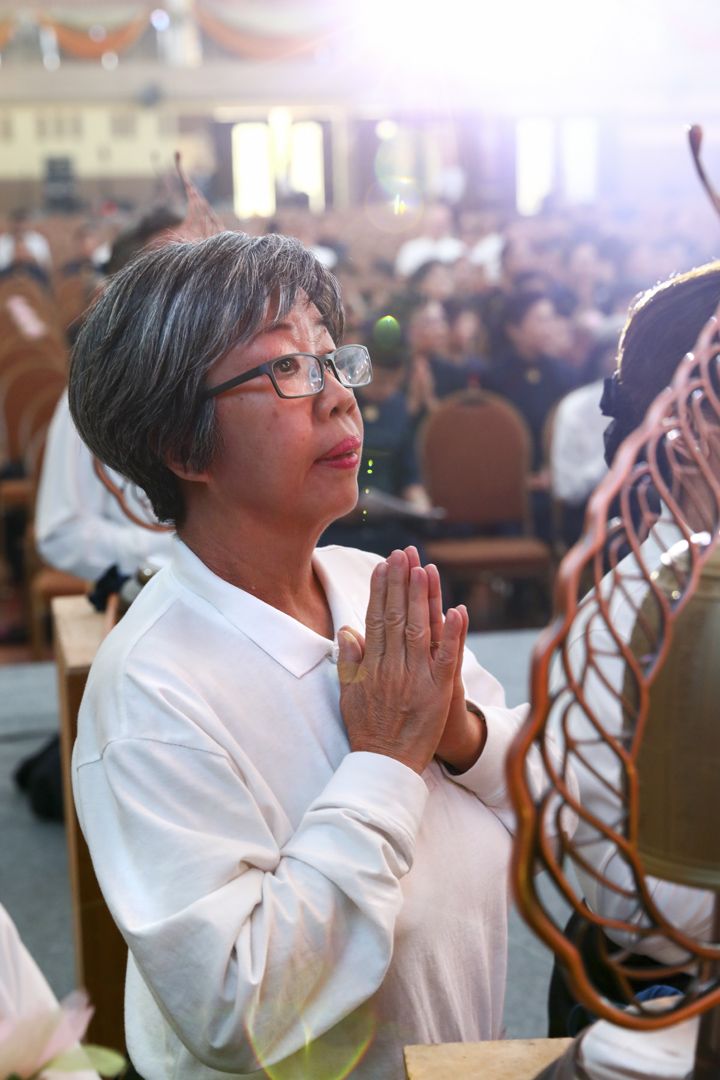 Volunteer Ng Kim Keong has been actively involved in Tzu Chi for the past 21 years. He played double roles in the sutra adaptation performance, and related that each time he participated in the Year-end Blessing Ceremony, he felt more at peace with himself. He declared, "No matter how busy I am, I would try my best to partake in the Year-end Blessing Ceremony, as it is also a chance for me to reflect on the past year before moving on." He would keep his red envelope of blessing and wisdom with care after perusing it thoroughly. "Every red envelope of blessing and wisdom has commemorative value. Furthermore, it represents blessings from Master Cheng Yen, reminding me to continue walking on the Bodhisattva Path and seek improvement diligently."
Helping others generously
Kuan Siew Yin experienced a fulfilling sense of satisfaction by performing the sutra adaptation on stage. As she had only received the invitation to participate in the performance near the performance date, her practice hours were limited. Nevertheless, she gained a deep understanding of the sutra in the process of preparing for the performance.
A working mother of two, Siew Yin initially declined the invitation to perform as she was worried about being unable to fully commit due to her schedule. However, she courageously took the first step at the volunteers' encouragement, and brought along her 7-year-old son, with whom she enrolled in the Parent-child Bonding Class, to participate in the performance.
"In the beginning, I thought practice hours would be minimal, but after committing, I realized a considerable amount of time would be spent practising," Siew Yin said smilingly. After reaching home past 7 pm from work, she had to settle her other child before arriving at the Tzu Chi Community Centre at 8 pm with her son. It was a hectic, yet gratifying experience for both mother and son.
Siew Yin herself could not comprehend a single word of the sutra, let alone her son, who is only seven years old. This dilemma resulted in constant conflict between mother and son. Whenever her son, Wen Wei, became frustrated, Siew Yin would attempt to persuade and encourage him. Wen Wei timidly admitted that he likes lyrical sign-language and participating in the sutra adaptation performance. The sutra is a profound text, and some of the words in the sutra were beyond Wen Wei's comprehension. Yet, he worked very hard to commit it to memory, which made his mother proud.
Siew Yin frankly remarked that she was perplexed by the sutra before this, but after participating in book study and practice sessions, she eventually grasped the stories illustrated in the sutra.
She confidently declared that from a scene conveying the third Vow of the "Twelve Great Vows of the Medicine Buddha", she understood that helping the poor and needy fosters a more harmonious society.
Selfless contribution of love and care
Pastor Ahsan from Pakistan watched the performances on-stage and review videos attentively, after which he shared, "The scenes in 'Tzu Chi 2018 Year in Review' depicting the aftermath of natural disasters and the volunteers' selfless deeds impacted me deeply. Every religion wishes for a peaceful world, and for those in need to receive assistance, love and care. Although Tzu Chi volunteers come from different backgrounds, their spirit of selfless giving is commendable. May God bless all of you."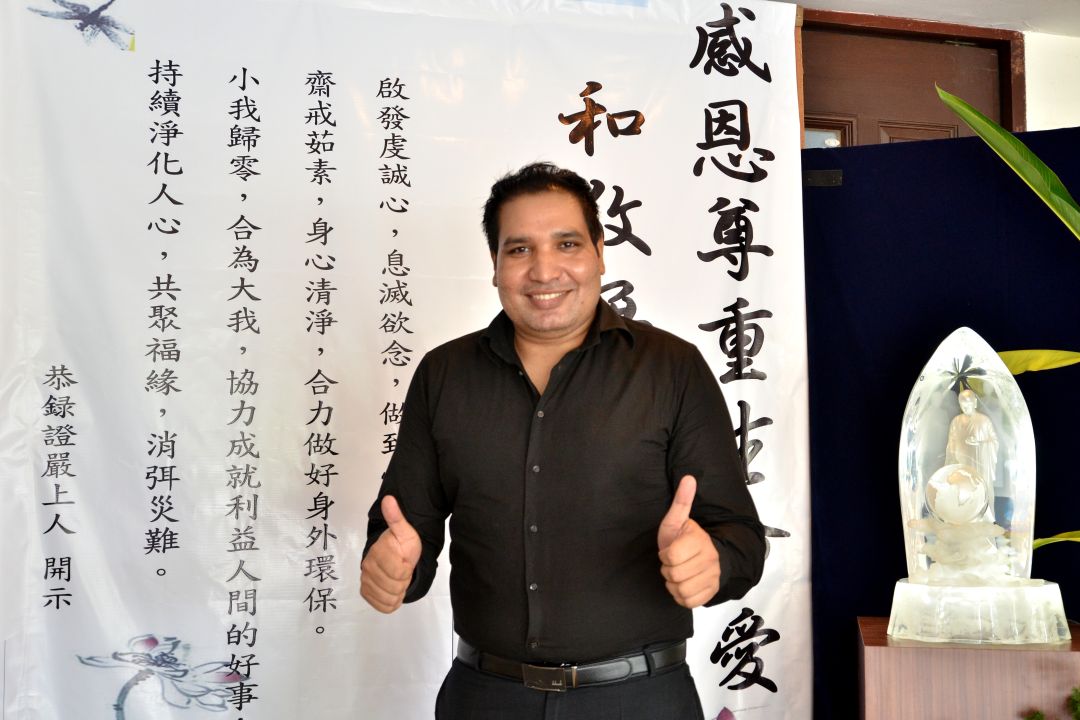 Pastor Ahsan's sister, Zarnaz, who has been living in Malaysia for more than two years, attended the Year-end Blessing Ceremony at the invitation of volunteer Yang Chang Wah. She said, "I was touched by the scenes showing the volunteers working selflessly to help the needy and those in suffering. It made me realize there is still love and peace in the world. The Buddha's compassionate spirit inspired me to commit myself to helping the disadvantaged."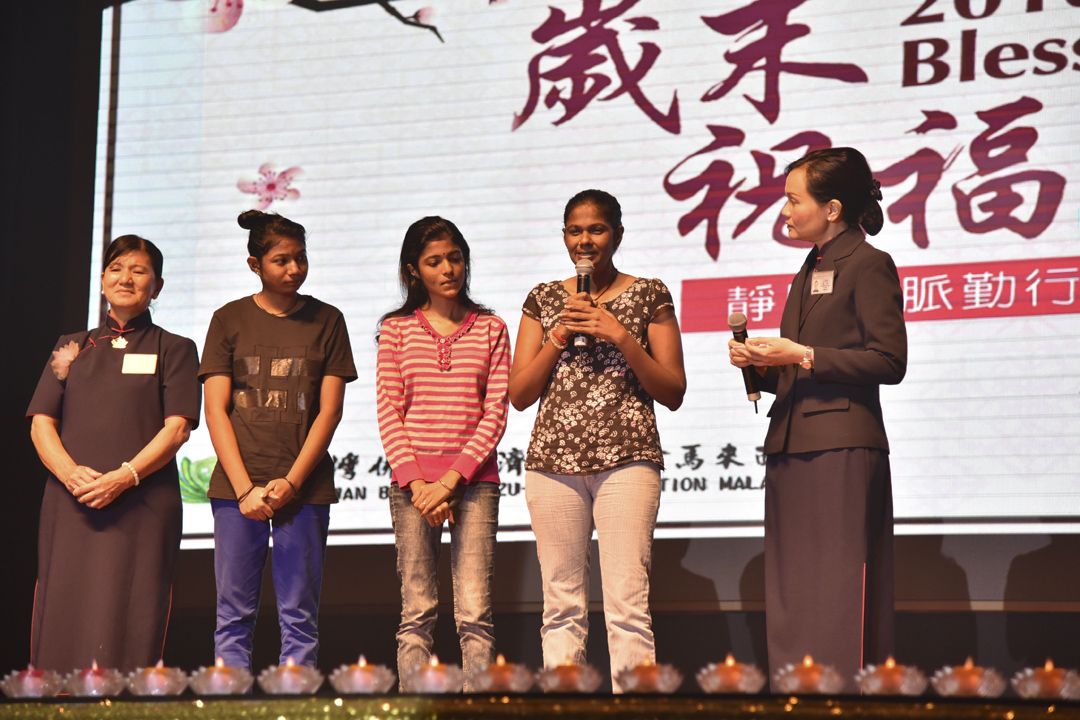 Lee Siew Lain attended the Year-end Blessing Ceremony for the first time, and was moved to tears listening to Indian care recipient, Rani Manian sharing her story. Siew Lain is a single mother, as her husband passed away when she was pregnant with their daughter, who was born with special needs. She was struck by misfortunes one after another, yet she remained strong and has moved on.
Siew Lain said gratefully, "Rani's story of suffering from illness and poverty saddened me. I shed tears along with her. Although I perceive myself to be living in hardship as a single mother with a special needs daughter, her plight is worse off than mine. I should be contented." As Siew Lain received the red envelope of blessing and wisdom from the volunteers, she expressed her simple New Year wish – that both she and her daughter stay healthy.
Counting our blessings
Yang Yu Hua, who hails from Klang, attended the Year-end Blessing Ceremony for the first time and received a red envelope of blessing and wisdom with joy. "I heard that the 'Medicine Buddha Sutra' is a sutra text of great renown. Today, I finally had the opportunity to watch its sutra adaptation performance, presented by over 300 volunteers. It was a nuanced, profound and moving performance. The meaningful sutra verses displayed on the screen were deeply implanted in my mind. I didn't expect to benefit this much from the performance. I must study this sutra text again diligently."
Yu Hua revealed that she lives near a Tzu Chi recycling point, hence she helps out there regularly besides contributing to Tzu Chi's housekeeping division, leading her to sign up to attend the Year-end Blessing Ceremony.
She remarked introspectively, "Although I did not personally experience the natural disasters shown in the review video, I was touched by the volunteers' selfless contributions. I sincerely hope Master Cheng Yen's wish for a peaceful world free from disasters will be realized soon."
"I want to receive the red envelope of blessing and wisdom every year, because it contains blessings from Master Cheng Yen and has commemorative value. This is my fourth time receiving it, and I will continue attending in the coming years," said Huang Mei Qing, an educationist, who relocated from Penang to Klang. This was her first attendance at the Year-end Blessing Ceremony organized by Tzu Chi Klang.
Watching the screening of "Tzu Chi 2018 Year in Review" gave her many insights. "Gratefulness arose from within me; I am grateful for being able to live in a harmonious Malaysia. At the same time, I discovered there are many others who require our help," said Mei Qing.
•
In three Ceremonies over two days, everyone received a red envelope of blessing and wisdom from Master Cheng Yen as a token of appreciation for continuously supporting and contributing to Tzu Chi. It is also hoped that all who have benefitted from practising the essence of the Dharma are able to start the new year on a new slate with a purified mind.