Tzu Chi KL & Selangor hosted 15 sessions of the annual Year-end Blessing Ceremony between December 2018 and January 2019. It was a time primarily for self reflection, a time to express our gratitude to those who have helped us and also gratitude to those who have given us the opportunity to help them. The highlight of this ceremony was receiving Master Cheng Yen's red envelope of blessings and wisdom for the year ahead.
Founded more than half a century ago, Tzu Chi Foundation continues its charity and relief missions of Great Love to more and more communities and countries around the world. This had been made possible by the collective support of public members and the deep and unwavering commitment of all its volunteers. Hence, Tzu Chi chapters around the world will, without fail, hold its annual Year-end Blessing Ceremony, giving thanks to all its supporters and volunteers alike for sowing seeds of Great Love and growing a heart of gratitude in the receiver as well as in the giver.
The theme for the 2018 Year-end Blessing Ceremony is: "Nurture a love for life, a heart of gratitude and respect for one another. Foster the spirit of harmony, prevent conflicts and create blessings hand in hand."
Master Cheng Yen's gentle reminder to all her followers is to uphold vegetarianism for the love of animals. Master also reminds us to ensure social harmony and avoid conflicts by being vigilant in observing right speech and right actions at all times.
Returning home to Jing Si Hall
On December 15, 2018, KL Tzu-Chi Jing Si Hall welcomed its first batch of participants. Among them was a group of 40 participants from Segamat in the state of Johor. Volunteer Lee Foong Yen took the initiative to invite her relatives and friends in her hometown and chartered a bus to ferry them to Kuala Lumpur. She explained that this was an opportune time as this year's ceremony was during the school holidays and coming to Jing Si Hall in Kuala Lumpur will help them understand more about Tzu Chi's missions.
Foong Yen confidently said, "By being here, they will be able to find out how their monthly donations are used."
Another group of 40-plus participants travelled all the way from Manjung in Perak state, to participate in this event. Its organizer, volunteer Chuah Cheng Cheng from Manjung recalled that in September 2018, she and three volunteers dropped by to visit KL Tzu-Chi Jing Si Hall on their way home from Johor. Being inspired from that visit and on learning that Tzu Chi KL & Selangor will be hosting the Year-end Blessing Ceremony in December, they vowed to invite a busload of participants from their hometown for the Year-end Blessing Ceremony. They had to overcome various challenges to fulfil their vow, such as securing a chartered bus in December, being the peak holiday season for travelling.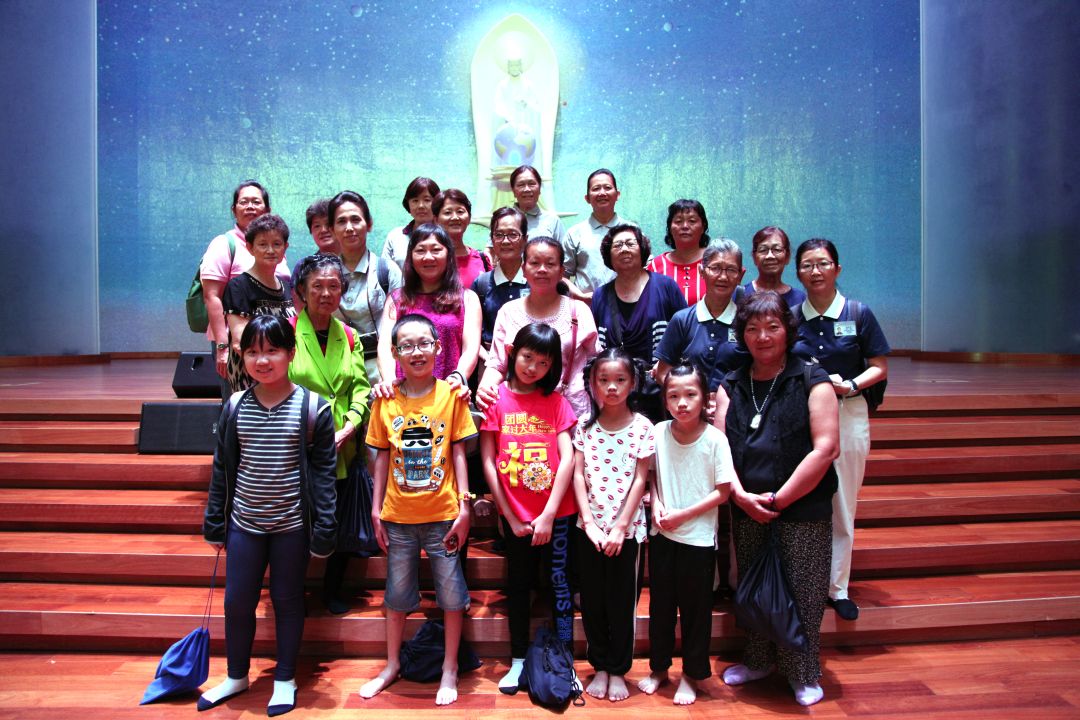 A "Carnival" like atmosphere
The joyous and celebratory atmosphere reverberated throughout Jing Si Hall, be it in the International Hall, Gratitude Hall, Sutra Hall, 280 Hall, Exhibition Hall, dining hall and the main reception area. Participants immersed themselves in the activities organized for them regardless whether they are public members, past or current recipients of Tzu Chi study aid, financial aid or caring aid, teachers and students from UNHCR Tzu-Chi Education Centre, or donors' and volunteers' families and friends.
Beautiful large and small red lanterns and calligraphy on large red scrolls extensively decorated Jing Si Hall helping to create an aura of auspiciousness. Volunteers sincerely and warmly welcomed all the participants who were then presented with door gifts. Participants were served to a vegetarian meal, entertained by specially-designed activities such as traditional Chinese instrumental performances, praying for peace signified by striking the bell at the Bamboo Bank section or take part in fun games at the Games section. They can have their photo taken against an impressive giant red envelope backdrop or browse through the 'red envelope' mini-exhibition to appreciate the evolution of it over two decades. Participants can also explore the Jing Si Exhibition Hall to learn about Tzu Chi's history and its global outreach over a span of 53 years through its Missions. Last but not least, participants are honoured by being presented with a red envelop of blessing from Master Cheng Yen.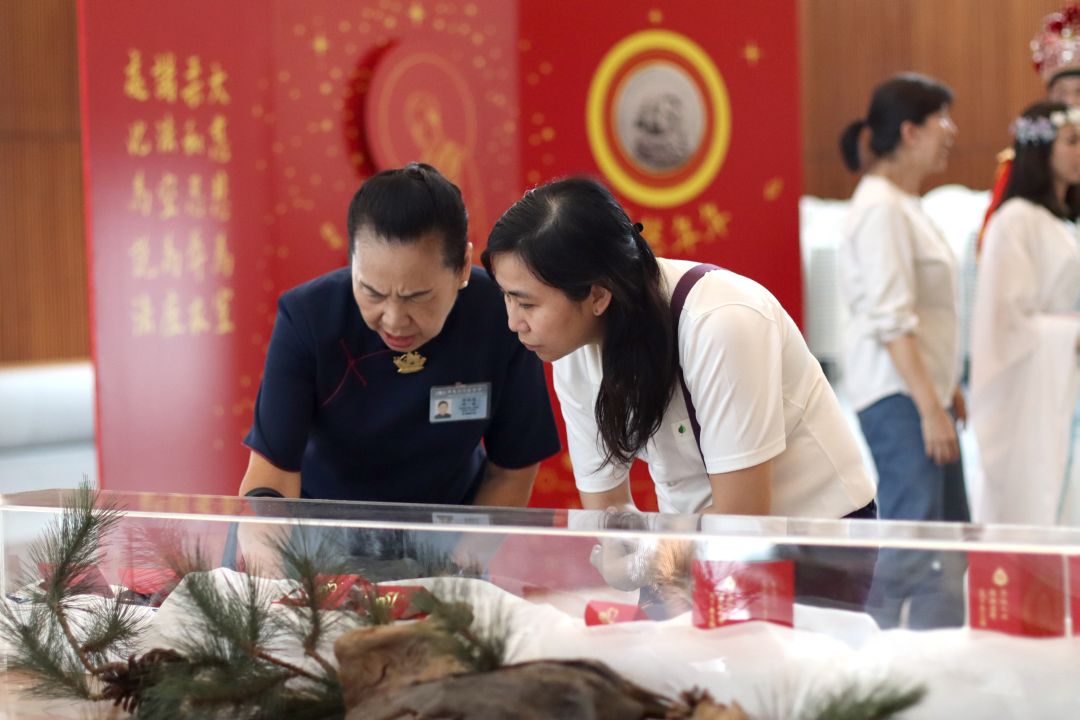 After visiting the Exhibition Hall, Low Mee Yun from Segamat, Johor, was finally able to gain a deeper understanding of Tzu Chi. She shared that she had learnt about Tzu Chi's international disaster relief work and the annual Bowing Pilgrimage from news media and was both impressed and deeply moved. Thus, she had been keen to know more about Tzu Chi. At the Exhibition Hall, she also learnt about the eco-blankets made from PET bottles and these eco-blankets were distributed for free in Tzu Chi's disaster relief missions which really impressed her. She immediately signed up as a monthly donor in support of Tzu Chi's humanitarian missions.
Spreading love through acts of caring
The programme of the Year-end Blessing Ceremony began with a documentary video titled, "Tzu Chi 2018 Year in Review", which depicts Tzu Chi's humanitarian missions carried out across the globe. From disaster relief, charity, study aid, free medical outreach to environmental protection, Tzu Chi volunteers were there to reach out to those whose lives were challenged with pain and suffering.
Tzu Chi care recipient Chien Soo Teng and two of his family members were on stage to give a testimony of Tzu Chi's spirit of Great Love. Soo Teng shared that he used to believe 'true charity' never existed because in his mind these charitable acts were always motivated by personal gain. He held the belief that there was always an ulterior motive behind such acts of kindness. However, thanks to Tzu Chi volunteers' persistent and genuine care, his suspicions and disbelief were erased and replaced by acceptance of Tzu Chi's Great Love.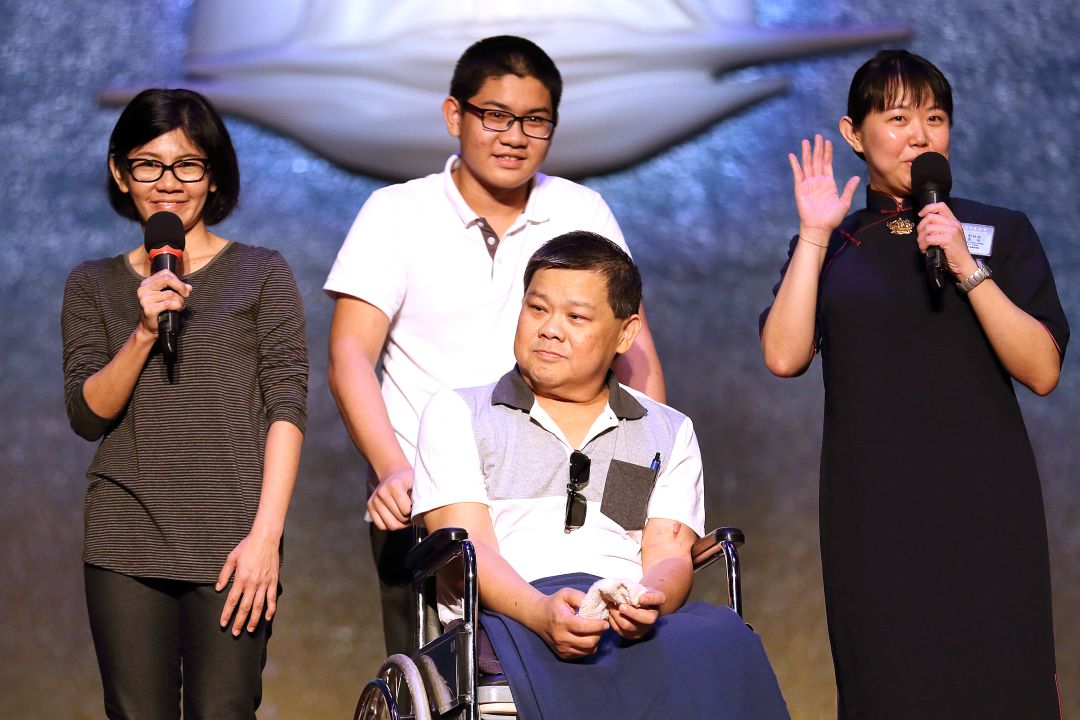 Soo Teng was diagnosed with hereditary diabetes at the age of 23 and 20 years later, it caused his two legs to be amputated. Subsequently, he was unable to work and the family's financial burden fell on his wife, Liew Foung Khung. She explained, "Taking care of him is not a problem because he is an obedient patient. He will take his medication as prescribed by the doctor and also keep track of his follow-up visits." Their two children, who are sensible and filial, have also been Foung Khung's greatest support. She continued, "They are self-driven to complete their homework and help in household chores. They can clean the floor much better than me." Her candid remarks won a big round of applause from the audience.
Soo Teng related, "Tzu Chi's assistance and accompaniment boosted my spirits. I had watched some inspiring life stories of others through the programmes on Da Ai TV, and I would like to share my story with you all too."
The couple's 14-year-old son, Zhi Yen, is a recipient of Tzu Chi Study Grant's "Filial Piety Award". He assumed the responsibility of taking care of his father on returning home from school. Speaking about it, he said, "Taking care of dad is my responsibility. I don't find it difficult and neither will I complain about it. My elder brother and I will share completing the household chores to reduce our mother's physical burden and help our father's recuperation progress by easing his mind."
Having learnt of Zhi Yen's dream, to purchase a house for his parents in the future, volunteers created a 3D cardboard model house as a surprise gift for him to present to his parents on stage.
Another care recipient, Wong Tang Soong, lost part of his eyesight due to a workplace accident. He felt like he was imprisoned being partially blind and had contemplated suicide. Fortunately, his friends provided support by taking care of him and together with Tzu Chi volunteers' companionship and care, his life changed for the better.
Now, Tang Soong would go to the recycling centre and help by performing the simple task of sorting recyclables using his touch senses. He expressed his gratitude to his friends and volunteers for their care and said that even though he could not see the volunteers' faces clearly, he could feel their kindness. He urged the audience to join him in recycling saying, "I can do it, so can all of you!" Everyone applauded in recognition of his inspiring and sheer determination.
He added before ending his sharing, "I will never forget Tzu Chi's aid, as well as the care and support from the volunteers."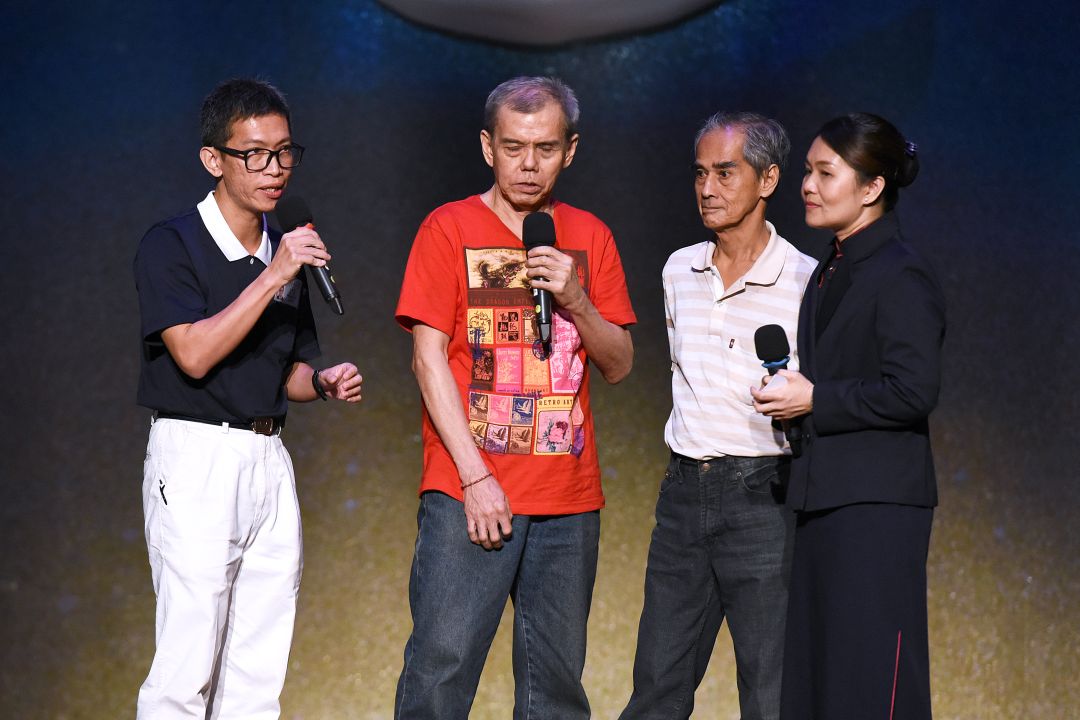 A unique red envelope of blessings and wisdom
Every year at the Year-end Blessing Ceremony, all participants will receive a red envelope of blessings and wisdom from Master Cheng Yen and Dharma Masters at the Jing Si Abode, which is a token of appreciation to everyone for their support towards Tzu Chi's missions.
"I receive red packets from my company and elders every year, but today, I receive one from Master Cheng Yen for the first time. I could feel Master's heart and wishes in it," said Ng Tzyy Jiunn, who had always felt that disasters reported on the news media had nothing to do with him. However, after watching the documentary video, "Tzu Chi 2018 Year in Review", he said, "It dawned on me the meaning of Bodhisattva Path after watching Tzu Chi's relief work following these disasters."
Another participant, Tang Wai Cheong was invited by his friend to attend the Year-end Blessing Ceremony. He admitted, "I attended out of curiosity, because my friend told me I could get a red packet here." When he entered the Jing Si Hall, he was deeply impressed by the warm greetings by volunteers. He was not disappointed on discovering that Master's red envelope was not the usual red packet he had in mind. Instead, he was overjoyed and smilingly said, "It is different from what I had expected. It carries blessings from Master Cheng Yen and I will cherish and keep it properly."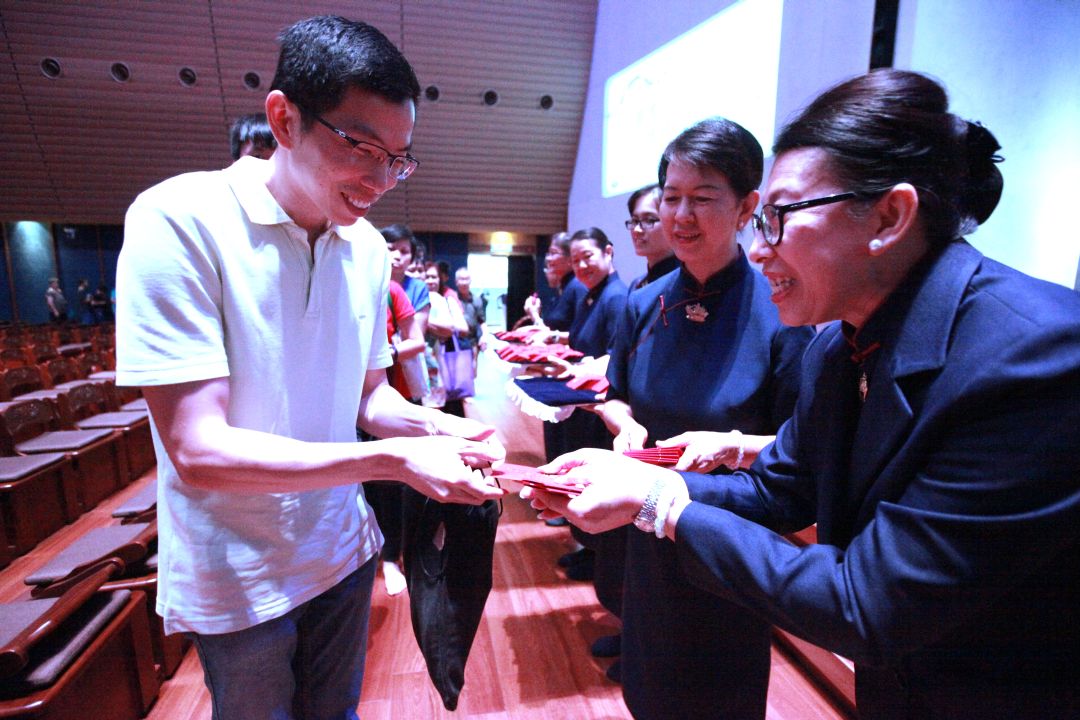 After watching the "Tzu Chi 2018 Year in Review" documentary, Wai Cheong acknowledged his amazement by the selfless giving of volunteers in providing relief after disasters. He said, "It is beyond my imagination that there would be so many enthusiastic, kind and caring people participating in disaster relief work because I had always believed that people nowadays are generally indifferent and selfish, including myself!"
From this event he realized that everyone should nurture compassion and he expressed his keenness in participating in a visit to a centre for the disabled in Kuala Kubu Bahru in the following month. He is ready to join his friend to this centre to extend his love to the residents there.
It was also Looi Tyck Chee's first time attending Tzu Chi's Year-end Blessing Ceremony. After receiving the red envelope, he walked out from the hall and was attracted by the giant red envelope there – especially the portrait of the Great Awakened One of the Universe on it. Reading the Jing Si Aphorism on his red envelope – "Learn to lower your head and do not learn to solve matters with your fists" – he is reminded by Master that, one should practise humility in order to solve problems.
•
Master Cheng Yen extended blessings to everyone present through a video footage and encouraged all to uphold vegetarianism.
Echo Chien, CEO of Tzu Chi KL & Selangor, gently reminded all present, "Master Cheng Yen paved the Bodhisattva Path and even at 83 years old now, she is still working for Buddhism and for all sentient beings, inspiring everyone to be kind and do good deeds…"
She called upon all to join the ranks of volunteers and set good examples for the next generation to follow. Time flies. As 2018 ends, let us reflect on the past one year, seize the moment and be vigilant and mindful in the year ahead so that we will grow spiritually.