Living in a rapid-developing world, we have, however, become less connected to the environment. At the Year-end Blessing Ceremony, volunteers prompted everyone to retrieve their mobile phone and tap on the screen, committing themselves for a good deed that will bring about a better planet for all.
Tzu Chi Malacca hosted three sessions of the annual Year-end Blessing Ceremony on December 14 and 15, 2019, at the Malacca Tzu-Chi Jing Si Hall. Despite the rainy and chilly weather, the hearts of the 1,599 attendees were warmed by the thoughtful volunteers who shaded them from the rain with umbrellas, and who welcomed them with friendly smiles.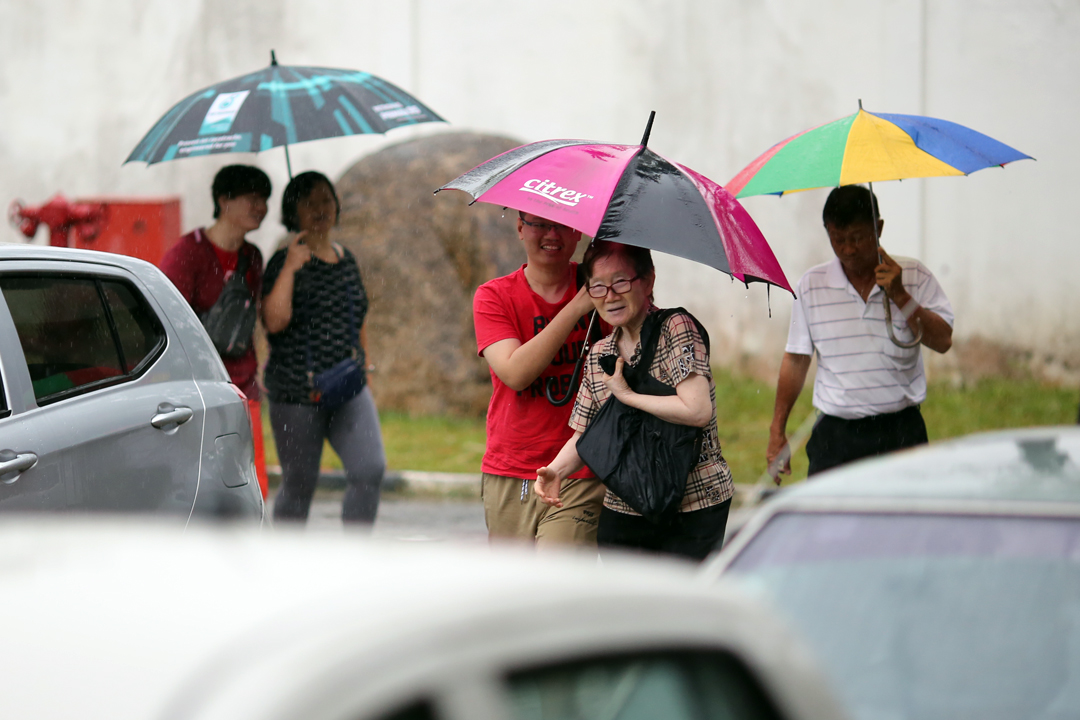 Outside the event hall, volunteers invited the attendees to come together for a good deed by responding to the "Act Now" climate campaign. The cute angry bird on the poster boards that they were holding looked different from usual, with a callout: "I'm not angry, I love the Earth!" There were also photo news of a whale found dead with loads of garbage in the stomach, as well as tips on environmental conservation in daily life, such as, saving energy, bringing own reuseable bags for shopping, cherishing food, reusing items and committing to zero-waste fashion, on the informative poster boards.
The Act Now climate campaign is primarily an online and social media campaign initiated by the United Nations, to encourage a change in lifestyle habits, and to opt for choices that have less harmful effects on the environment, to combat climate challenge. It is hoped that the individual actions will collectively create a positive impact on the environment. To-date, the campaign has recorded more than 560,000 climate actions from the global citizens.
Loving all beings and the environment
The theme for the 2019 Year-end Blessing Ceremony was: "Sincerity, uprightness, faith and steadfastness are our nourishing ground. Loving-kindness, compassion, joy and equanimity are our soothing breeze." As we usher in the new year, Master Cheng Yen hopes that we can all cultivate sincerity, uprightness, faith and steadfastness, remove all the weeds in our hearts and minds, and safeguard all beings on Earth; and practise loving-kindness, compassion, joy and equanimity, give a pleasant feeling to everyone who meet us, and inspire them to have good thoughts and do good deeds.
The Ceremony started with a throwback of Tzu Chi's work around the world in the past one year. Through the video footage, the audience witnessed how Tzu Chi volunteers brought warmth and love to those who lived in the dark corners of society. The performance, "The Story of Dharma Master Wu Da" that followed, led the audience to reflect upon themselves and repent for their wrongdoings.
The landfill crisis in Malacca also prompted everyone to reflect on the harm they have done to the environment. Although Tzu Chi has been promoting environmental conservation in Malacca for 26 years, the strength of the volunteers is too limited to deal with the deteriorating environment. It requires the effort of everyone to conserve the environment and Earth's resources, for a sustainable planet.
Loh Siew Cheng, CEO of Tzu Chi Malacca, reported the development of Tzu Chi's four major missions and expenditure of donations in 2019. She informed that the charity fund had benefitted 15,719 persons – a testament that each cent contributes to the force of compassion.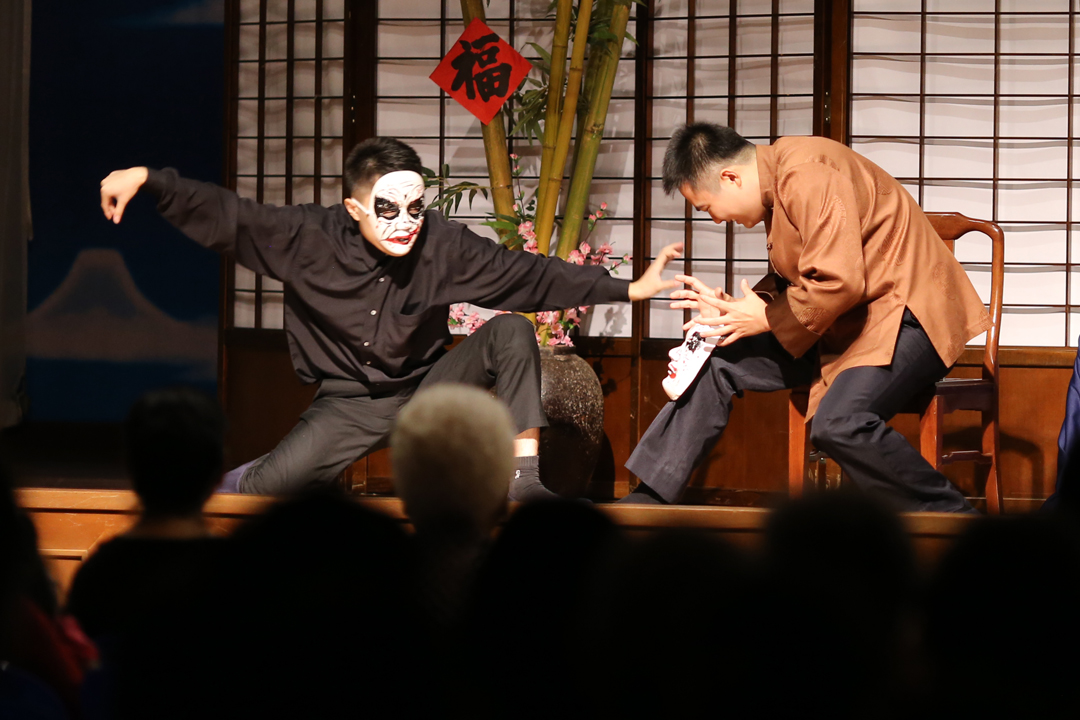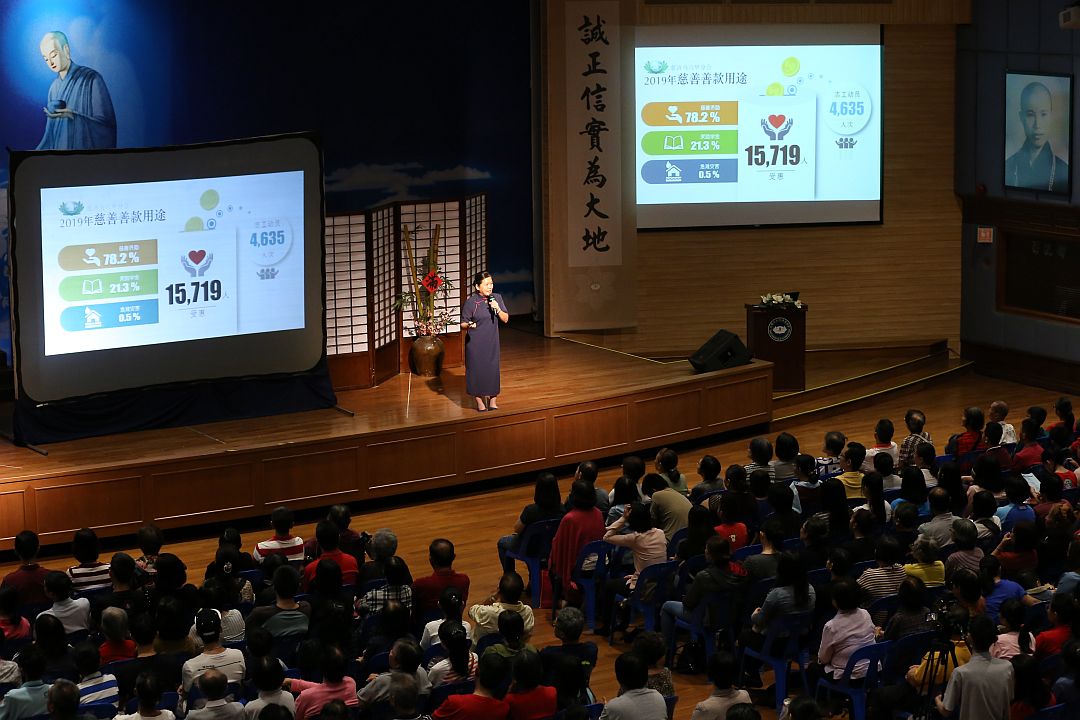 Transforming intention into action
In August this year, Ng Kim Kem, spurred by a kind thought, searched for Tzu Chi's contact details on the Internet and wrote to Tzu Chi KL & Selangor, indicating her will to participate in voluntary services. She was then referred to the Malacca Office, and has been participating in home visits and recycling activities during her spare time. She also attends volunteers' training classes.
Kim Kem concurs with Master Cheng Yen's depiction that by bringing together 500 people, we can relieve suffering like a Guanyin Bodhisattva with a thousand arms and eyes. She said, "Every one of us is a living bodhisattva. Hence, we must seize the time and opportunities to walk the talk!"
She came to the Jing Si Hall in casual attire for her first Year-end Blessing Ceremony. However, when she saw the volunteers greeting everyone warmly and promoting climate action fervently, she realized it was an important event to inspire everyone to walk the Tzu Chi Path and serve humanity. Hence, she requested to purchase a new uniform on the spot and wasted no time to go among the crowd to share about environmental conservation in her new uniform.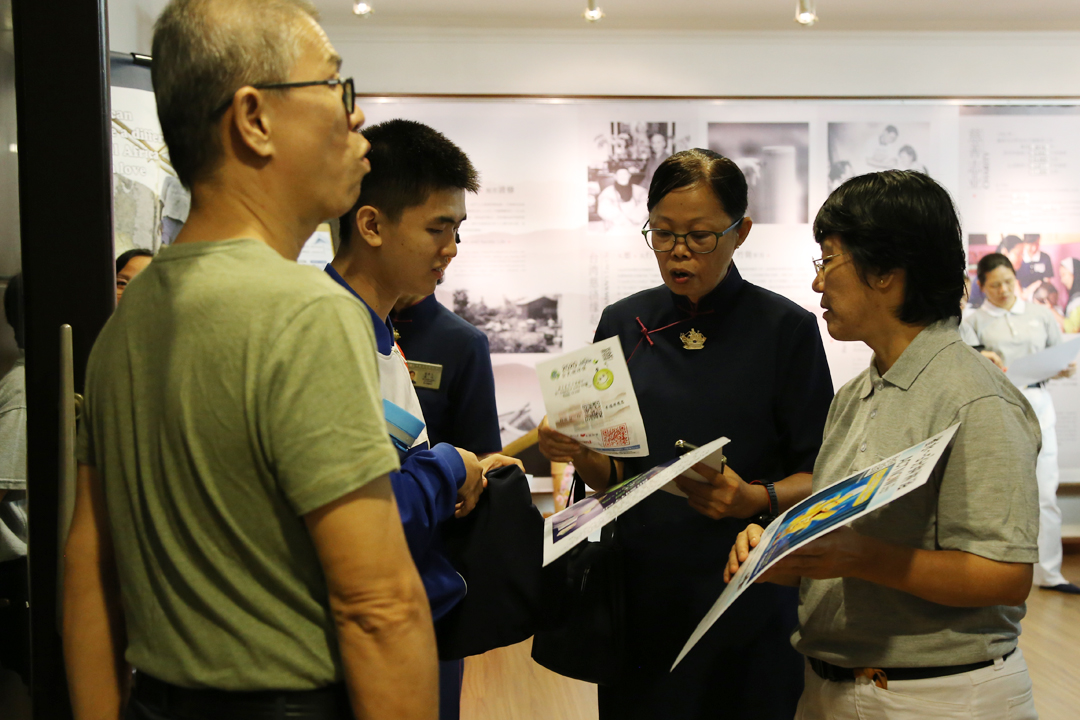 She discovered through her involvement in Tzu Chi that there are many people out there who are in need of help. She remarked, "We wouldn't know if we just stay at home!" She was moved by what she saw and experienced, and cherishes every opportunity to serve. She also acknowledged the power of concerted efforts, where more good deeds can be accomplished than at individual level.
Paying it forward
"I'm so touched hearing about how Tzu Chi helps needy children with their education, dialysis patients with their medical fees, refugees and people living as far as in Africa," remarked 68-year-old Soh Koon Tian, who has been attending Tzu Chi's Year-end Blessing Ceremony together with his wife since 2010.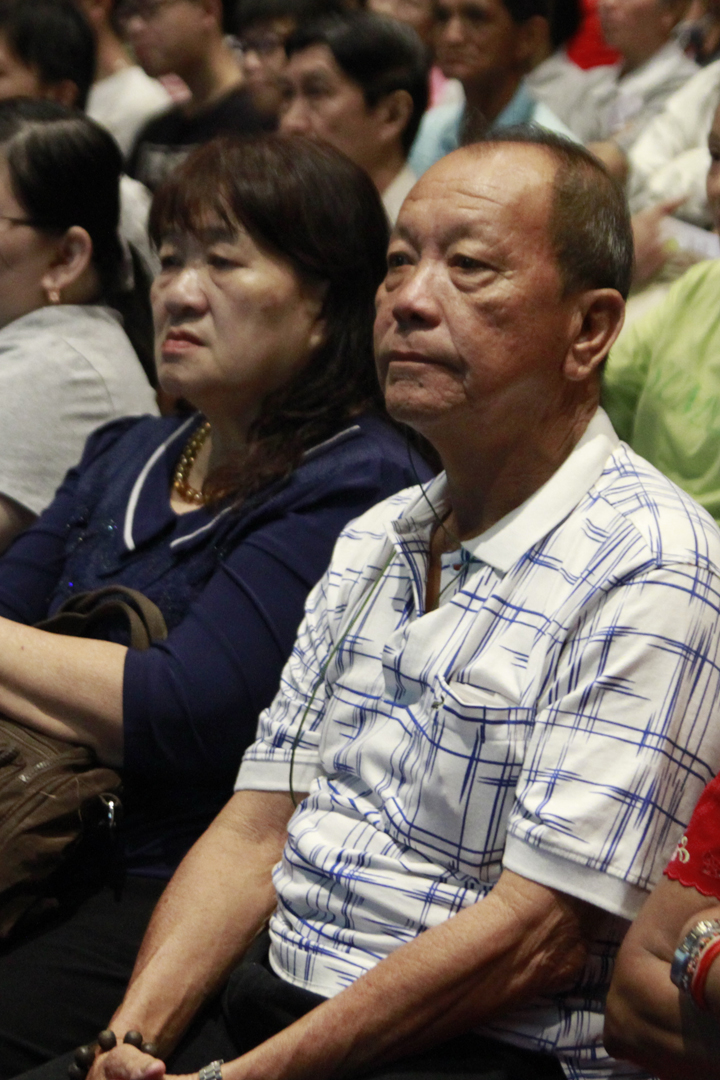 Like many others, he heard about Tzu Chi as a charitable organization, but did not know what exactly the organization does. It was not until 2007, when his bedridden brother suffered from bedsores, that he came into contact with Tzu Chi. Through a volunteer's introduction, he approached Tzu Chi to borrow a breathable mattress, to ease his brother's condition. The following year, volunteers invited him to help transport recyclable resources from the collection points to the recycling centre, on the monthly Recycling Day. Out of a sense of gratitude for the kindness he had received, he agreed unhesitatingly and has been handling the task until today.
Initially, he only helped to transport the recyclables. But later, he was moved by the volunteers' long-term dedication to safeguarding the Earth through recycling, and began to help sort out the recyclables. He also started to do recycling at home, and would bring home recyclables that he saw on the streets and other places. He believes that if everyone practises the concepts of recycling in their respective community, the marine life will not be poisoned by plastics, the Arctic glaciers will not melt, the islands will not be submerged in water due to rising sea levels, and the polar bears will not die of extreme climate change.
He commented, "Tzu Chi has done a very good job in charity and environmental protection, and has helped many people and the Earth, teaching everyone to love all beings on Earth, and to save the human race and Mother Earth with concrete actions."
He said that everyone is like an ant. The strength of each individual may be trifling, but when combined, it can form an enormous force. This is evident in the video footage showing the work done by the African volunteers. Despite living in poverty themselves, they carry out volunteer work diligently. Koon Tian firmly believes that it must be the sense of gratitude arising from the help they have received from Tzu Chi, that drove them to reciprocate the kindness; and it is such cycle of love and kindness that makes this world a harmonious and beautiful place.
Passing down love
Likewise, public member, Chong Lee Lee was deeply touched to see from the video footages that many people who are in need of help, extend a helping hand to others. She hopes that more people will have such a grateful heart, to create a better world.
Lee Lee is a music teacher of a primary school. It was her first attendance at a Year-end Blessing Ceremony, although she has been a Tzu Chi donor for more than a decade. Four years ago, she received a bamboo bank from a volunteer, and has since been depositing her small change in the bamboo bank daily. She would also save the money she gets from selling old newspapers in it. Thanks to her positive influence, her children would also save their remaining pocket money in the bamboo bank.
Lee Lee also leads her children to practise recycling and sort out recyclables at home. She would give away old clothing to her colleagues' children, keep and sell old newspapers, send the plastics collected to a Tzu Chi recycling centre, and request her children to wash and keep even a small plastic cup from takeaway order for recycling. By setting a good example, Lee Lee has planted the seeds of love in her children, and harbouring kind thoughts and conserving the environment have become a part of their lives.
She said, "Each time I go to the recycling centre, I would feel ashamed at the sight of the elderly volunteers doing recycling for a cleaner Earth." Her aspirations for the new year are: "to reduce buying unnecessary things, minimize waste footprints, instil a sense of gratitude in her children, and make them understand that blessed are those who give."
Connecting with Tzu Chi
Yee Wui Chee, a lecturer with Politeknik Merlimau, missed the Year-end Blessing Ceremony last year. Hence, when she learnt about the event from the newspaper, she immediately scanned the QR code for registration. Despite the heavy rain on the morning of December 15, she attended the Ceremony along with her parents and brother.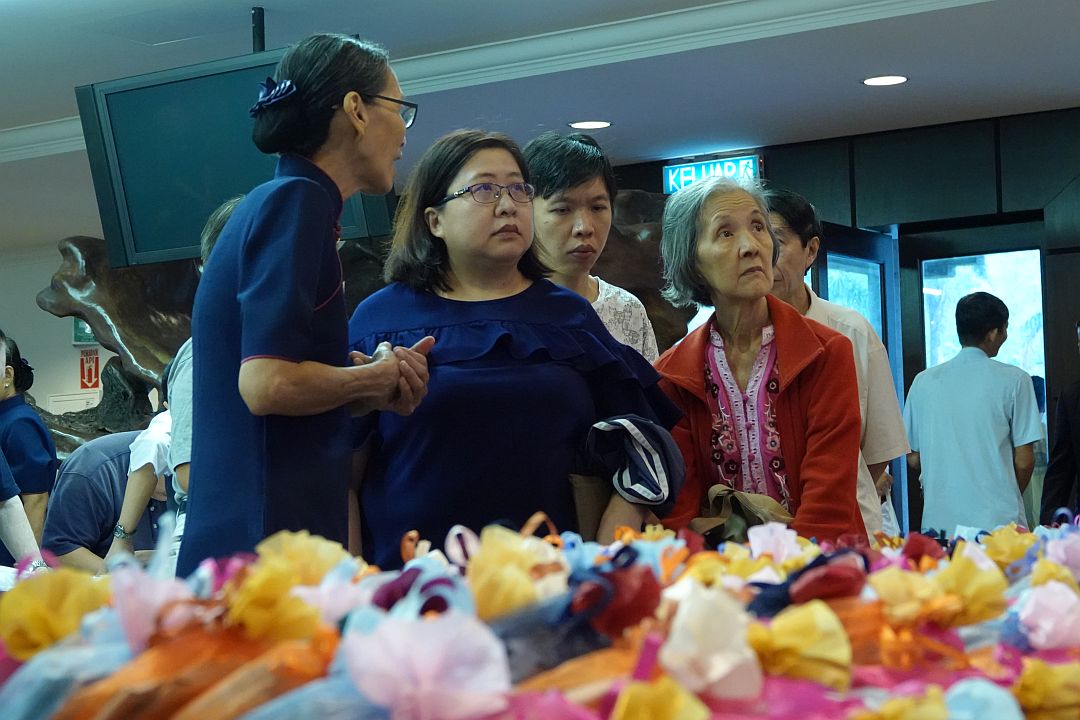 "I've heard about Tzu Chi from my friend but have never participated in any of its activities. I hope to learn more about Tzu Chi through this meaningful annual event. That's why I bring my family here," said Wui Chee. She learnt from the volunteers the spirit of Tzu Chi's Bamboo Bank Era, that little kindness when amassed, can accomplish great deeds; and saw through video footages how Tzu Chi gathers the power of its volunteers to carry out disaster relief work. On the subject of environmental conservation, she informed that she usually gets the information from the Internet and newspapers, and has been collecting and sorting out recyclables at home for the past ten years.
Apart from taking the opportunity to gain a better understanding about Tzu Chi, she also hopes to connect her recently retired mother to Tzu Chi, so that the latter can have the chance to continue repaying society.
Seeking positive energy
Chen Xiao Jie from China attended the Year-end Blessing Ceremony with her daughter. She was touched by the Great Love spirit of Master Cheng Yen, which is as tender as the love of a mother. The plights of so many suffering people around the world brought her to reflect on how fortunate she has been. She was glad to see that each cent of her monthly donations, though not a big sum, was put to good use. After being a Tzu Chi donor for six years, she finally decided to join the ranks of volunteer starting next year (2020).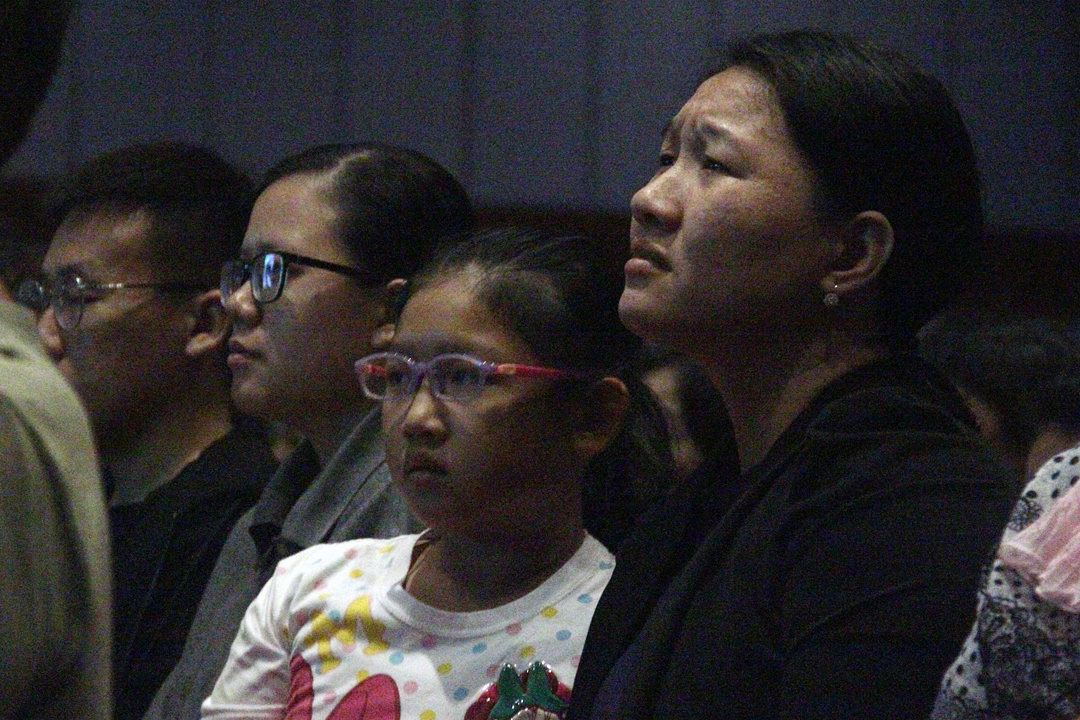 Her daughter, Tay Xin Rui, felt sorry to see the damages done to Mother Earth. She said, "The landfill is nearing its maximum capacity. I'm afraid that we will have no more space to handle the garbage. It's unimaginable if our houses were to be surrounded by garbage." Influenced by her mother, the young girl has been practising recycling in her daily life, like bringing her own eating utensils and reducing the use of plastic bags. She also responded to the Act Now campaign by pledging to limit her shower time to five minutes, save electricity, and reduce on meat comsumption.
Another attendee, Ser Chai Peng, skipped her dinner and rushed straight to the Jing Si Hall to attend the event right after work. To her, the annual event, where she would receive blessings from Master Cheng Yen and catch up on Tzu Chi's missions both locally and abroad, was too precious to miss.
She found it convenient and interesting to join the climate campaign by just scanning the QR code with a mobile phone and tapping on the choices of actions. She commented that perhaps the general public are unaware of the severity of the garbage issue due to a lack of exposure; and now, the campaign would help to raise their awareness and motivate them to contribute towards environmental conservation starting from simple actions in daily life.
"I love coming to Tzu Chi. I could feel the positive energy each time I'm here, and it helps me to face the problems in life more positively," mused Chai Peng.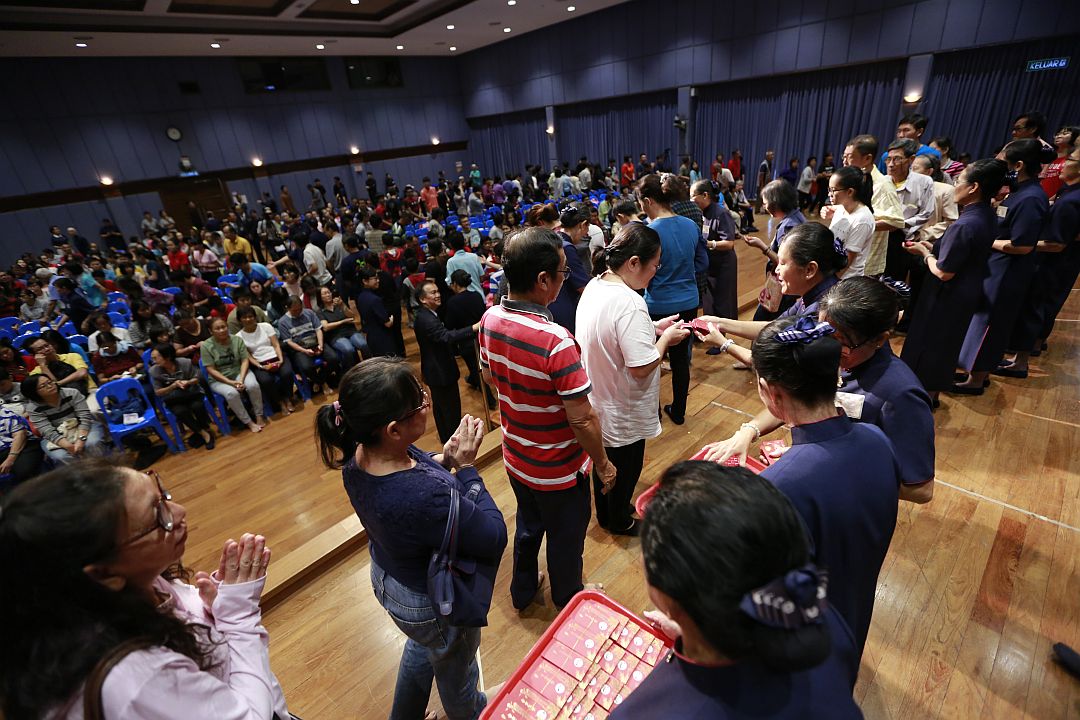 • 
Towards the end of the Ceremony, the attendees went on stage to receive blessings from Master Cheng Yen, conveyed in the red envelope of blessings and wisdom. Everyone prayed piously for a peaceful world, and to sow more blessings and protect the environment with vigilance and love.