A medical outreach is a regular activity of Tzu Chi, and a common routine for many Tzu Chi volunteers. However, for the residents of Kampung Lok Urai, who have no IDs, no money and are suffering from illnesses, it is a major event that they look forward to.
On June 30, 2019, seven years after the last free clinic, Tzu Chi volunteers once again cross the ocean to deliver medical relief on Pulau Gaya. After surveying the site twice to determine the location's suitability for each service, the volunteers carefully planned the site's arrangement and moved in some equipment on the eve of the event. To ensure that the event ran smoothly the following day, some volunteers stayed overnight at a recycling centre set up by the Kota Kinabalu City Hall on Pulau Gaya.
At this medical mission, the services provided by the medical team included general outpatient, dental care, dispensing of medications, blood pressure and blood sugar measurements, feeding deworm medications (for parasitic roundworms), eye check-up and optician services, as well as haircut.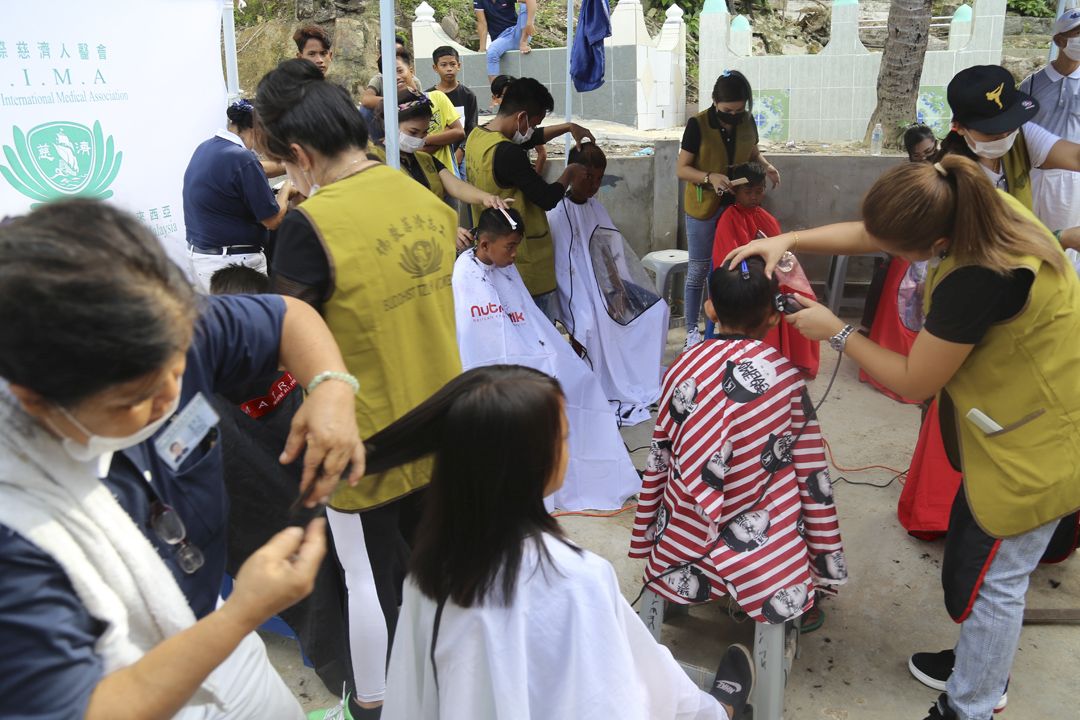 The general outpatient clinic was located in the newly built recycling centre, which has yet to come into operation. As the recycling centre set up on the ocean can only carry the weight of approximately 50 people, the volunteers had to strictly control the number of people entering and leaving the venue to ensure everyone's safety. In addition to general practitioners, there was also an eye specialist, who provided eye check-ups and prescriptions for glasses to the islanders in need.
The medication dispensing area was located outside the general clinic, readily dishing out medications as the patients left the clinic. The dental clinic was located in the Environmental Action Committee Learning Centre. Here, the patients could receive tooth extraction services, as well as toothbrushes and toothpaste. In previous medical mission programmes, the number of dental visits always greatly exceeded other departments. However, this time, their number of patients surprisingly fell behind the number of patients visiting the general clinic. At the same time, the hairdressing area located behind the learning centre also welcomed a long line of islanders waiting to get a new look; a total of 173 islanders received new haircuts.
Most of the islanders are from the low-income community and rarely would they seek medical help when feeling unwell. Many islanders were seeing a doctor for the first time in this free clinic. There were 501 islanders registered for the clinic, 210 of whom were citizens while 300 were non-citizens. This free clinic saw the participation of 80 volunteers and 45 medical personnel, who provided services to a total number of 1,333 visits.
Relieving the pain of the islanders
Tajmahal, an islander without legal ID, said that if she was ill, it would cost about RM150 to go to a clinic in Kota Kinabalu, including transportation and medical expenses. She would have to endure her illnesses or take painkillers if there were rumours of a naval patrol, as she feared that she would be questioned or detained by the Navy while traveling.
Tajmahal and her family were filled with joy learning about the free clinic. Like other islanders, they lined up for registration early in the morning. Tajmahal began her trip with tooth extraction at the dental fair. Despite her initial concern about the pain, she breathed a sigh of relief as the dentist removed the tooth decay easily. As she and her daughter had been coughing for two weeks, they then went to the general outpatient clinic while her son went to the hairdresser to get a new haircut. Tajmahal came to the clinic with a sick and aching body. After a few hours of treatment, she said that she could not describe the happiness and gratitude in her heart.
Thirty-five-year-old Ati moved to the island 15 years ago. She said that there used to be a clinic on the island. However, it was closed down. If the islanders need urgent medical help, they have to take a boat to Kota Kinabalu. For those who cannot afford to seek medical treatment, they can only stay at home and endure the pain in silence. Ati was deeply grateful for the medical help Tzu Chi had provided to the islanders.
Reaching out with compassion
Dr Wong Jing Go from Ipoh is currently serving at the Paediatrics Department at the Sabah Women and Children Hospital in Kota Kinabalu. This is the second time he volunteered at a Tzu Chi free clinic. He said, "Rather than resting at home on a Sunday, I prefer to come out and help the poor community." He found that the general illnesses of adults on the island are no different from other areas. Most of them suffered from chronic conditions like high blood pressure and diabetes. As for the children, they are prone to illnesses because they have never received any preventive vaccinations. For this reason, Dr Wong called on charitable organizations to extend their help in providing free vaccination services on a regular basis.
On one occasion, Dr Wong found that a baby, who had fever for several days, was in dire condition. He wrote a referral letter and suggested that the child's mother, Muhima, should immediately send the child to the hospital. Although it was a matter of life and death, the mother looked at the doctor with sorrowful eyes. Upon learning that she did not have money to take her child to the hospital, the volunteers provided immediate assistance. Her neighbours were also willing to accompany her and her child to take a boat to the Sabah Women and Children Hospital for medical treatment.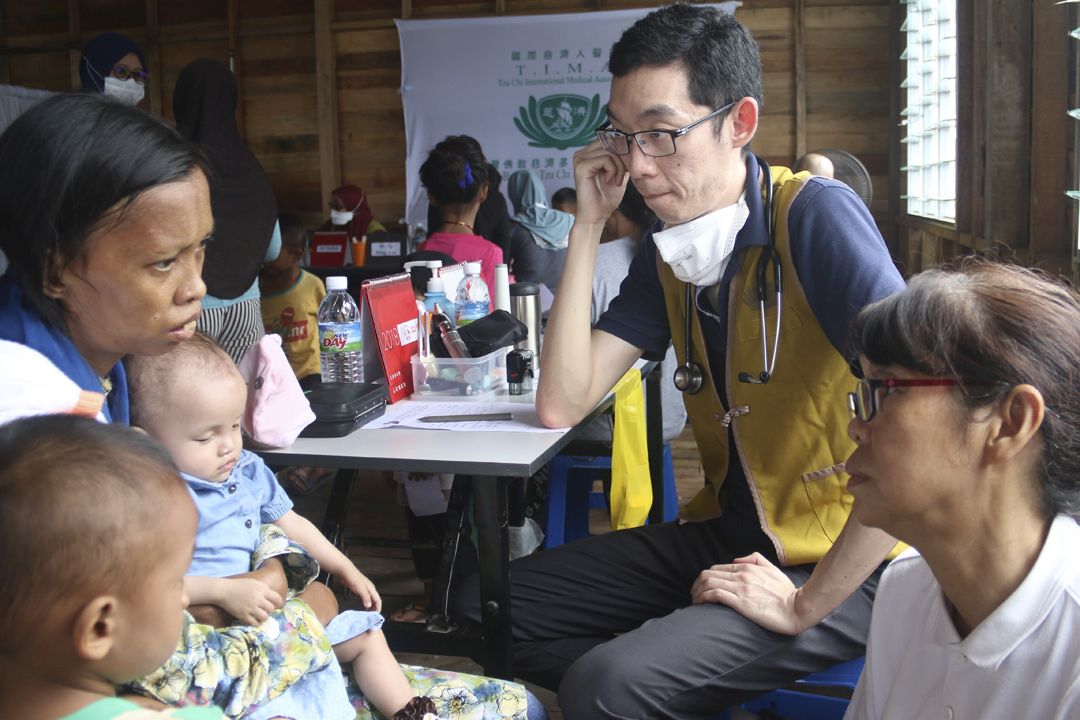 Dr Tan Keh Yee, who also serves at the Sabah Mother and Child Hospital, volunteered at a Tzu Chi free clinic for the third time. She admitted that at times, she would harbour negative emotions due to a heavy workload. But, each time she serves at a Tzu Chi free clinic, she would remind herself of her initial aspiration of becoming a doctor, that is, to help others.
Dr Tan informed that most of the local children were born at home and have no legal documents, so they do not have the privilege of receiving medical services, especially vaccinations, at a government hospital. She too hopes that charitable organizations can lend a helping hand to the islanders.
Currently serving at the government dental clinic in Lahad Datu, Dr Vassanty from Penang is contributing to a Tzu Chi medical mission for the first time. She discovered from the free clinic that tooth decay and toothache are common among the islanders, who lack oral hygiene knowledge. The patients' eagerness to receive treatment and their gratitude to the dentists after tooth extractions, gave her an immeasurable sense of satisfaction.She feels that the Tzu Chi volunteers are concerned about the patients' safety. They pay attention to their conditions and would ensure that every patient receives a good treatment. The joy from giving unconditionally gave Dr Vassanty the motivation to help others in need. Not only was she able to meet many new fellow dentists in this free clinic, but she was also able to experience delivering care in a limited environment.
Dr Naveenkumar from Kuala Lumpur is currently serving at Klinik Kesihatan Long Pasia, which is located in a remote plateau village about an 8-hour drive from Kota Kinabalu. He had participated in many free clinics organized by other NGOs. However, he found that Tzu Chi's free clinic was well-planned, be it at the check-in, reception, dispensary, general outpatient clinic or dental department. The smooth consultation process had helped shorten the waiting time. He believed that the free clinic is of great help to the islanders who could not afford to see a doctor.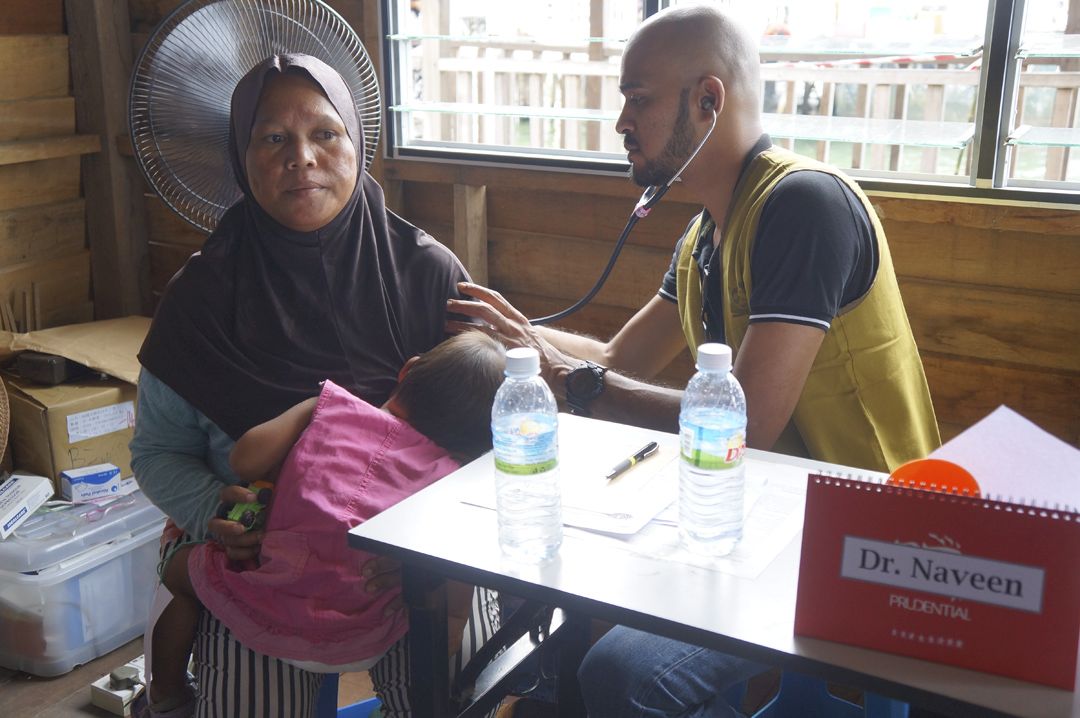 Dr Naveenkumar also shared that the poor hygiene at the islanders' homes has led to many children being susceptible to various diseases, such as, skin diseases, respiratory diseases, vomiting and diarrhoea. To improve the environment, it should start from the islanders' living environment. However, he lamented that if there is no comprehensive education system to increase local awareness, the situation will eventually return to its starting point. Hence, it is vital for the children to receive education, including effective communication and health awareness.
• 
The third free clinic in Kampung Lok Urai on Pulau Gaya ended around noon. It is the volunteers' hope that the islanders will play their part in environmental protection. At the very least, they must keep their houses clean and sources of disease at bay