The Tzu Chi International Medical Association (TIMA) held its inaugural TIMA Healthy Living Symposium to shed light on various healthcare issues by inviting reputable experts from different fields of the healthcare profession to share their experience and expertise in healthy living and dealing with various illnesses.
The Tzu Chi International Medical Association (TIMA) held its inaugural TIMA Healthy Living Symposium to shed light on various healthcare issues by inviting reputable experts from different fields of the healthcare profession to share their experience and expertise in healthy living and dealing with various illnesses.
The inaugural TIMA Healthy Living Symposium, organized by the Tzu Chi International Medical Association (TIMA), was held on February 24, 2019 at the KL Tzu-Chi Jing Si Hall in Kepong.
The aim of the event was to promote a healthy lifestyle, as well as to raise awareness on chronic diseases and the strategies to prevent and manage them. This event also served as a platform for healthcare professionals to share their knowledge and expertise with a wider audience. The Deputy Minister of Health of Malaysia, YB Dr Lee Boon Chye, was present at the event to officiate the closing ceremony.
The symposium was attended by a total of 216 healthcare professionals, including doctors, nurses, pharmacists, nutritionists, physiotherapists and Traditional Chinese Medicine practitioners.
Healing from the heart
In his speech, YB Dr Lee remarked that healthcare professionals play a significant role in contributing to society, as they are entrusted with access to resources that enable them to better serve the community. He also opined that healthcare professionals should take a patient-centric approach by being more considerate towards their patients' concerns and feelings.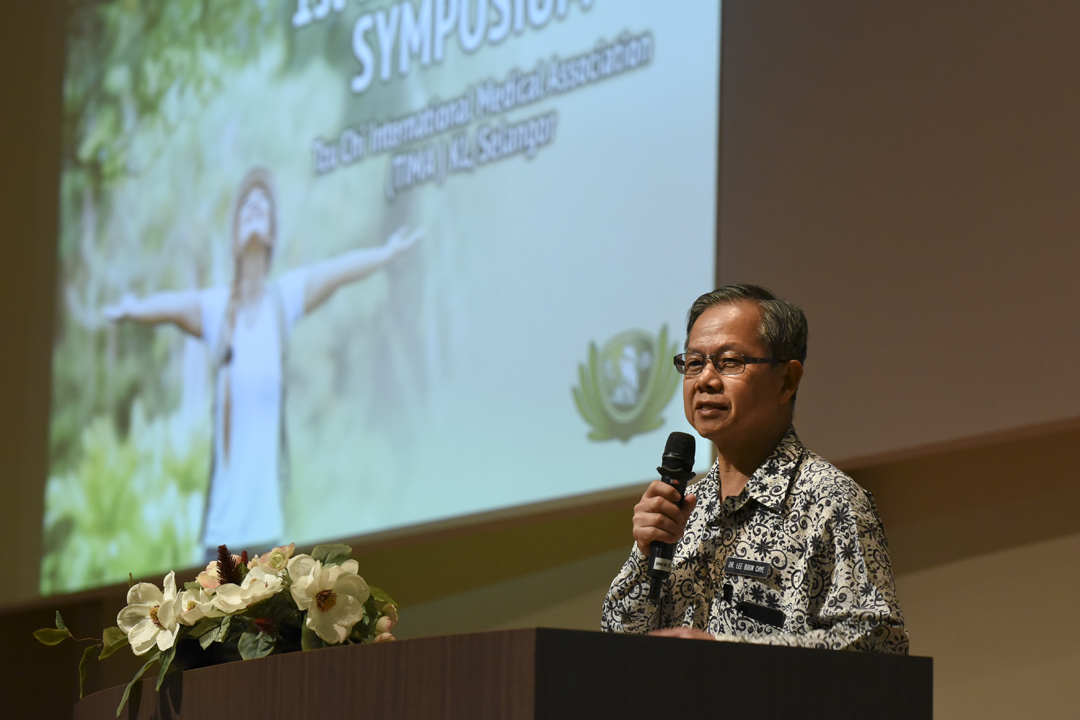 YB Dr Lee commended Tzu Chi for embodying the spirit of compassion in carrying out its medical mission, and for reaching out to those with limited access to medical facilities. He first encountered Tzu Chi when he was serving as a doctor in Ipoh. Back then, he was acquainted with a Tzu Chi care recipient suffering from heart and kidney complications, and whose dialysis fees were subsidized by Tzu Chi. The care recipient subsequently connected him with Tzu Chi, and now, it has been 20 years since he first signed up as a Tzu Chi donor.
He was given a guided tour of the KL Tzu-Chi Jing Si Hall by several Tzu Chi volunteers, allowing him the opportunity to better understand Tzu Chi's commitment to its charity, medical, educational and humanistic cultural missions on an international scale. He shared that in the wake of the 2004 Indian Ocean tsunami, he arrived in Kuala Kedah to assist in disaster relief efforts and offer medical services. The disaster zone was in a state of chaos, and the available resources were not managed efficiently. However, he was impressed by the professionalism of Tzu Chi volunteers on duty. They were not only well-equipped in providing disaster relief, but were also operating in an organized manner.
Healthcare insights by the experts
Among the speakers featured at the event were Prof Pathmanathan Rajadurai, Consultant Pathologist at the Sime Darby Medical Centre, Subang Jaya; Dr Wong Teck Wee, Consultant Cardiologist and President of the Healthy Aging Society of Malaysia; Dr Nurashikin binti Ibrahim, Public Health Medicine Specialist and Senior Principal Assistant Director of the Disease Control Division, Ministry of Health of Malaysia; and Dr Khor Hui Min, Consultant Geriatrician at the University Malaya Medical Centre (UMMC). They led the attendees in exploring various healthcare topics ranging from cancer and mental health to ageing concerns and nutrition.
"More than half of the top ten causes of death among Malaysians are related to the 'mouth'," shared Dr Eddie Chan Seng Hung, Consultant Paediatrician and Nutritional Medicine Practitioner, and Coordinator of TIMA KL & Selangor, when referring to the importance of being mindful of our food intake in his talk "Food as Medicine". According to Dr Chan, one in every four Malaysians will develop cancer by the age of 75, with one of the main factors being our dietary intake. Therefore, he stressed the importance of adopting proper dietary habits and encouraged all present to practise vegetarianism, as consuming poultry and dairy products is harmful to our overall wellbeing in the long run.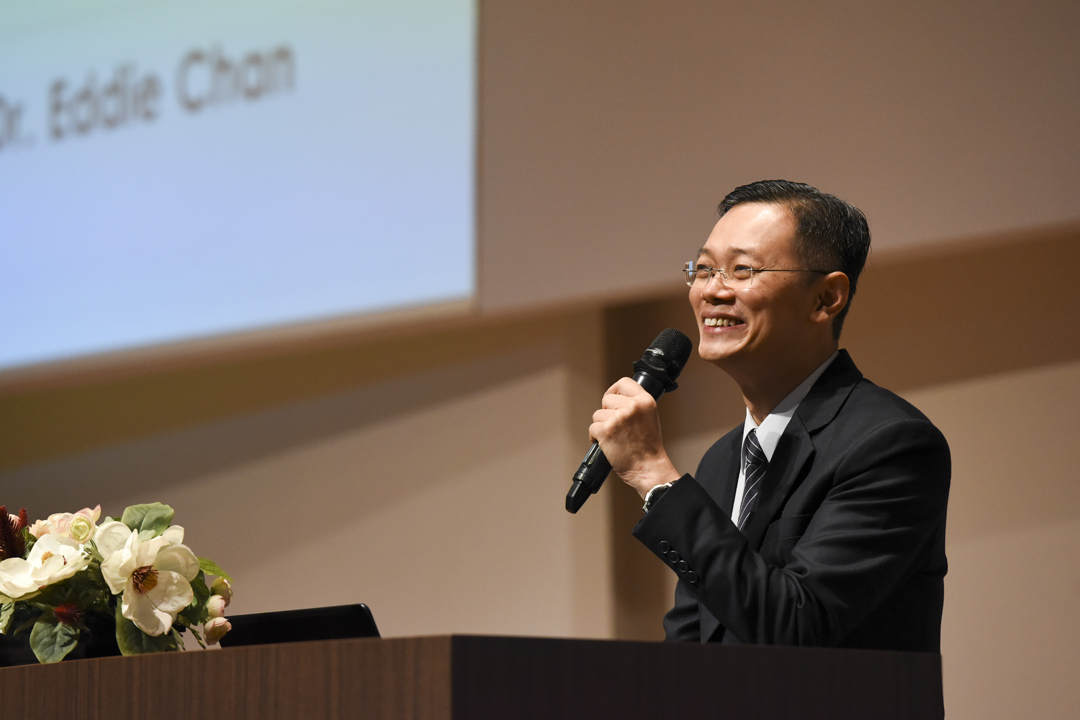 Dr Chan was also the main speaker of the "Role of Love in Healthy Living" session. He quoted the World Health Organization (WHO), stating that a healthy individual is defined by not only the absence of disease or infirmity, but also by a state of complete physical, mental and social wellbeing. But pain and suffering are inevitable in our daily lives, and suffering manifests from the non-fulfillment of our worldly desires. "Everyone experiences some form of suffering. How do we relieve our suffering then? One significant way to reduce suffering is to give love," mused Dr Chan.
Dr Chan also recounted a story of the heartwarming interaction between TIMA members, Tzu Chi volunteers and Tzu Chi care recipient, Leong Teik Hong. Teik Hong, who is 46 this year, was diagnosed with ankylosing spondylitis (long-term inflammation of the joints of the spine) at the age of 20, which left him bedridden for the past 26 years. Leong's mother has been meticulously tending to him, giving him the strength to stay optimistic and resilient. Tzu Chi volunteers stepped in to ease his burden by adopting him as a care recipient, extending financial aid and moral support to him and his family. Teik Hong was unable to attend the event due to difficulties in mobility, but the screening of a video featuring his plight moved many attendees to tears.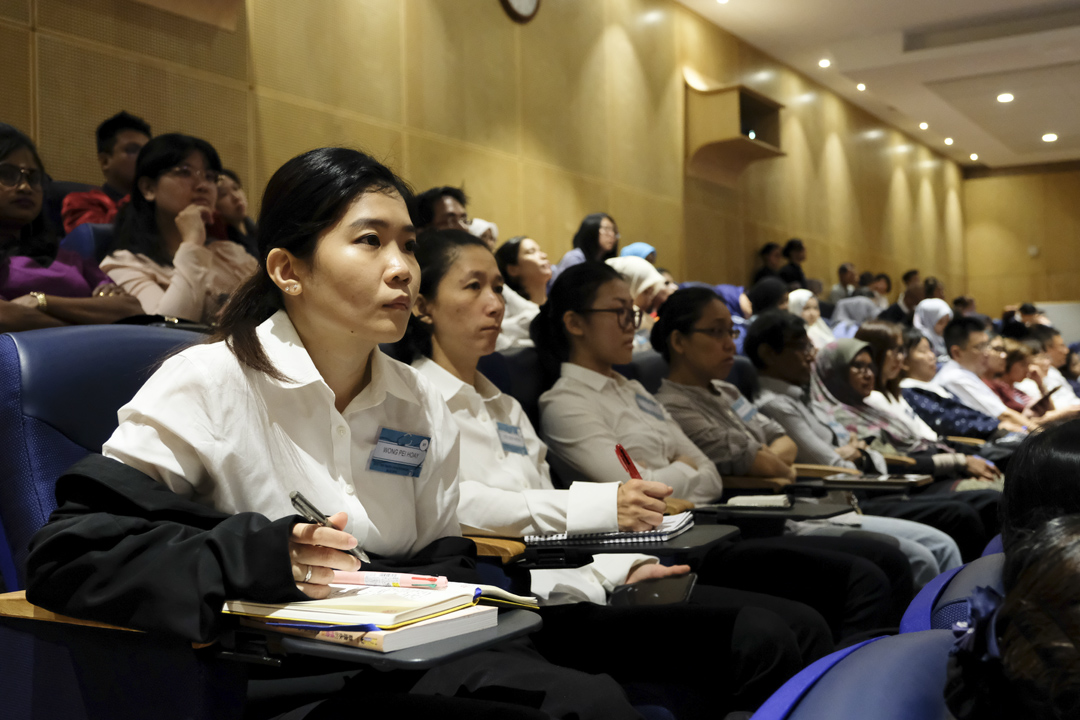 With years of clinical experience under her belt, Dr Khor Hui Min spoke on the topic of "When Memory Fades Away: Dementia Awareness for All". She advised the attendees to exercise more care and patience in tending to dementia patients, as well as to be gentle when interacting with them to counter any negative emotions they experience, as there is no cure for dementia; love remains the best possible remedy. If a family member shows signs of dementia, she advised other family members to attend to him/her with loving care, and minimize risks of accidents by taking precautionary measures, like attaching a label inscribed with an emergency contact number onto the patient's garments.
In her talk "Ageing and Women's Health", Dr Ng Poh Yin, Senior Consultant O&G and Consultant Urogynaecologist at the Kuala Lumpur Hospital, observed that the average life expectancy of humans has now reached 74.4 years. She offered tips on preventing health issues related to ageing and women's wellbeing, including physical activities or exercise in their daily routine, practising stress management techniques, abstaining from smoking, gaining sufficient sleep and staying mentally active by reading or taking up a new hobby, among other mind-stimulating activities. As women advance in age, adopting a balanced diet to maintain a healthy weight is important to avoid exerting excessive pressure on the joints and muscles. She also reminded fellow women to constantly communicate their concerns to their gynaecologist and undergo health screenings regularly.
A fruitful experience
Marina binti Julai, who works at the Tun Hussein Onn National Eye Hospital, was pleased to learn that TIMA has expanded significantly from a small-scale organization to one with an international outreach. The symposium has inspired her to reflect on her role in society and her capacity to contribute to society. She also expressed her willingness to give back to society by getting involved in TIMA's work.
Lim Sooi Imm has dealt with patients afflicted with various illnesses over four decades in the nursing profession, which left her to contemplate on the brevity and unpredictability of life. She gained a deeper understanding of Tzu Chi during a trip with fellow TIMA members to Tzu Chi's headquarters in Hualien, Taiwan. She was motivated to help more patients with her expertise. She insisted on attending the symposium despite having recently undergone an operation. Prior to this, she had also invited her colleague, Rohaya binti Ahmad to join the ranks of volunteer healthcare personnel in TIMA. Rohaya concurred that the healthcare field is rapidly progressing, yet many young lives are still being lost to various illnesses. Hence, she decided to participate in this symposium to enhance her knowledge on healthcare in order to serve more patients.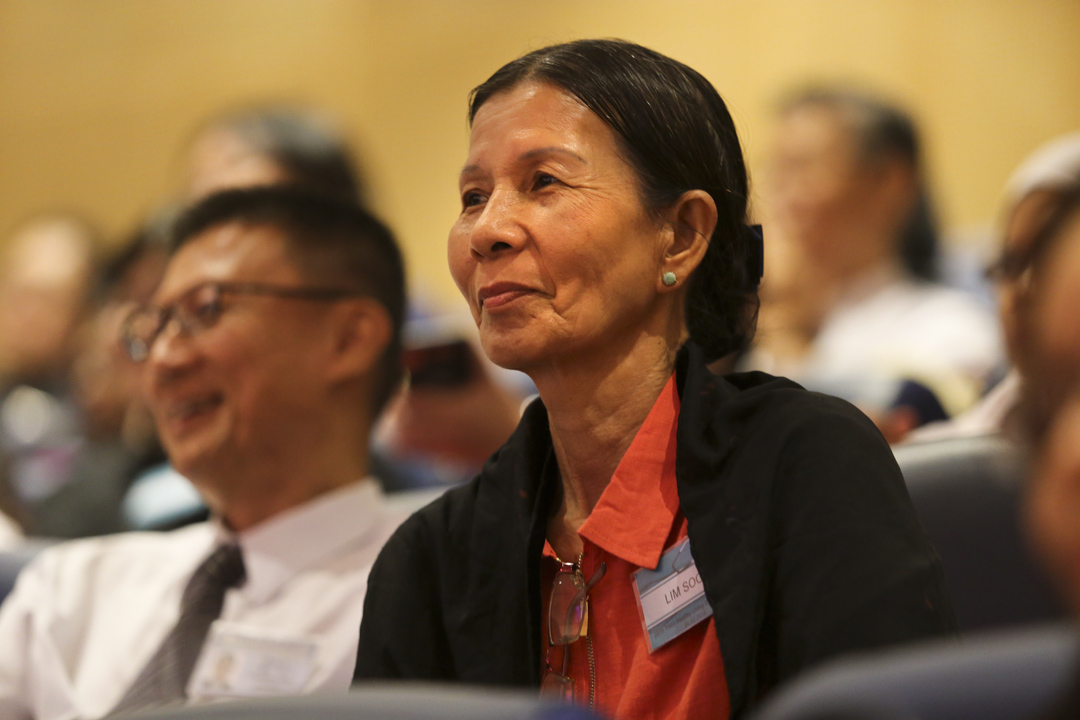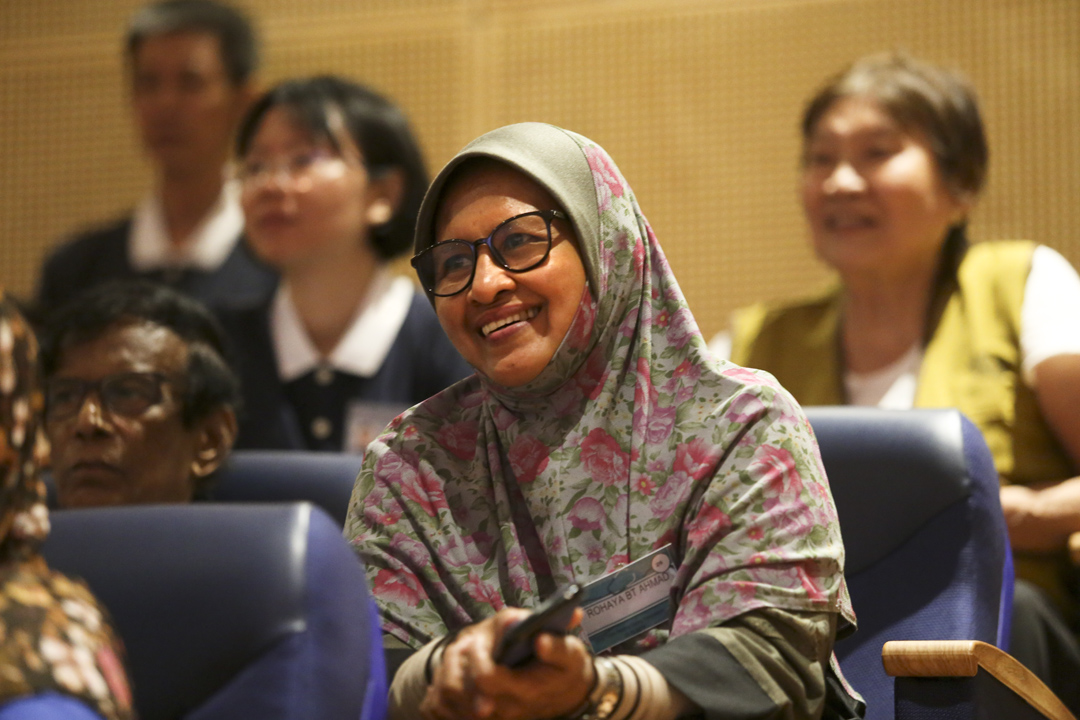 Another attendee, Nur Ainna binti Syuhadah Kamaruzaman, who works in the Gynaecology Department of Hospital Tengku Ampuan Rahimah, Klang, shared that the knowledge gained from the symposium has broadened her horizons, introducing her to useful information on the latest healthcare trends. "With the new knowledge I have acquired, I am now better equipped to share with my patients and family members on how to prevent the onset of various diseases," she said.
•
As modern life becomes increasingly hectic, the pursuit of a healthy lifestyle remains a coveted goal for many. Taking charge of our own health is the way to go, and the ideal way to start is by reassessing our lifestyle choices and daily habits.