With the 3-year fund allocation from US Bureau of Population, Refugees and Migration, Tzu Chi KL & Selangor is actively planning for and extending its medical outreaches to areas with significant refugee population to safeguard their health.
"The last three months, I have been having stomach ache and frequent urination. My whole body is aching, and I have no appetite to eat..." Fifty-eight-year-old Tayuba Khatu binti Abdul Amin lamented her suffering with a frown. Without legal identity, the cost of seeking medical consultation would be costly. That, coupled with the fear of being arrested, she could only resort to taking pain killers. According to the doctor, she had urinary tract infection and mild gastric pain, which would ease with medication.
Another refugee, Faiza, missed her menstruation. After scanning, it was confirmed that she was two months pregnant. She was advised to go for regular pre-natal check-ups at the clinic. However, as each visit costing between RM30 to RM40 will burden her financially, she has decided to practise birth control after giving birth to this third baby.
Twenty-three-year-old Thang Boi read about this free clinic from his Facebook friend and came all the way from Setapak to Puchong by taxi. He works as a kitchen assistant in a restaurant and has been having warm sensations on the left side of his body for almost a year. Due to his meagre income, he has not consulted a doctor for his condition. He expressed thanks to Tzu Chi for holding the free clinic and alleviating his bodily pain.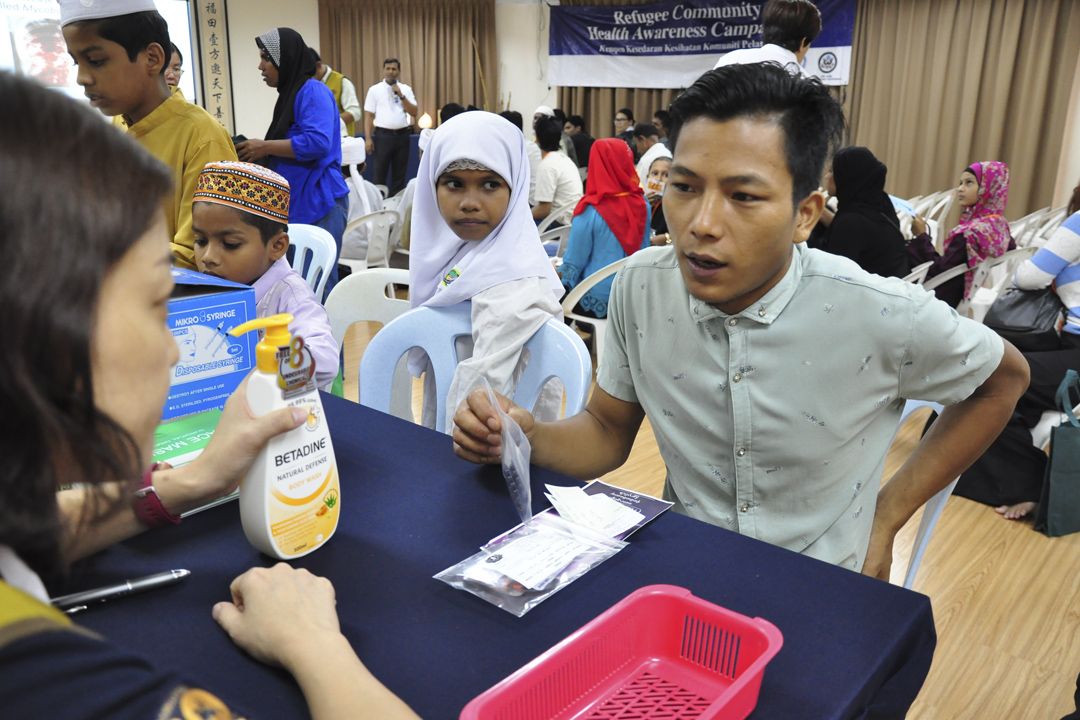 The predicament of Tayuba, Faiza and Thang Boi are typical of the Myanmarese refugees living in a foreign land.
Fund allocation for humanitarian assistance
In view of Tzu Chi's past track record in serving the refugees, in September 2018, the US Bureau of Population, Refugees and Migration (PRM) approved the 3-year grant to Tzu Chi. Sophia Wong, staff of Tzu-Chi Free Clinic KL said, "This grant can be used to purchase equipment, carry out maintenance work, conduct training for medical personnel, and hold mobile free clinic, among others."
With the fund allocation, TIMA KL & Selangor plans to hold free clinic two to three times a month in Selayang, Kajang, Shah Alam, Banting, and other areas in Klang Valley, where there is a high concentration of refugees, so that their health can be taken care of.
Fulfilling the commitment to PRM, a free clinic for refugees was held at Tzu Chi Puchong Community Centre on March 24, 2019.
For preparatory work, Tzu Chi volunteers from Puchong visited refugee schools and residential areas in Puchong, as well as 7-11 outlets, to distribute pamphlets and publicize the free clinic.
At an event to promote the free clinic, volunteer Tan Kai Hwa explained to the refugees that the medical outreach by Tzu Chi is free of charge, and promised to ferry them to and fro the free clinic venue. He also told them that there is an understanding with the police that they would not be arrested for attending the free clinic. The other purpose of the event was to let them know that in the event of sickness, they can go to Tzu-Chi Free Clinic KL to seek medical treatment.
Fetching refugees to and fro free clinic
On the day of free clinic, volunteers mobilized 18 cars to fetch refugees from four locations. One of the drivers, Kai Hwa, shared that he greatly empathized with these refugees who fled from war-torn homeland, had parted with family members and after much hardship, finally arrived in Malaysia. He felt Tzu Chi volunteers from Puchong should take this opportunity of free clinic to extend help to these refugees.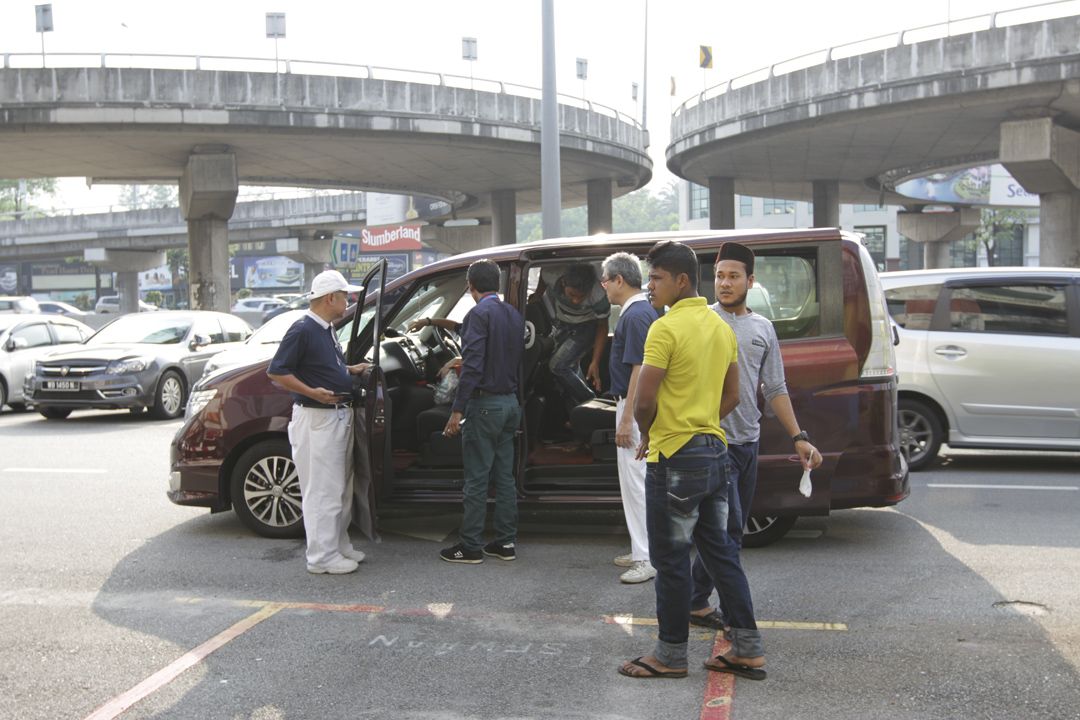 The first floor of Tzu Chi Puchong Community Centre was turned into a registration area, waiting area and dispensary, while the second floor was used for consultation. Each doctor was assisted by a trained translator to bridge communication with the patients.
Fifty-two-year-old Ali bin Rashid has been volunteering himself as a translator for Tzu Chi free clinic for six years. He informed that he would never hesitate to contribute because he was moved by Tzu Chi's kindness towards his fellow countrymen.
While those with common symptoms received treatment on the spot, those with more serious health issues were referred to Tzu-Chi Free Clinic for further examinations and follow-up treatments.
In conjunction with the World Tuberculosis Day, which fell on the day of the free clinic, the translator explained in Rohinya and Myanmarese languages, the symptoms, causes, prevention and treatment of Tuberculosis (TB). Hopefully, with these basic medical knowledge, the spread of TB could be reduced or curbed.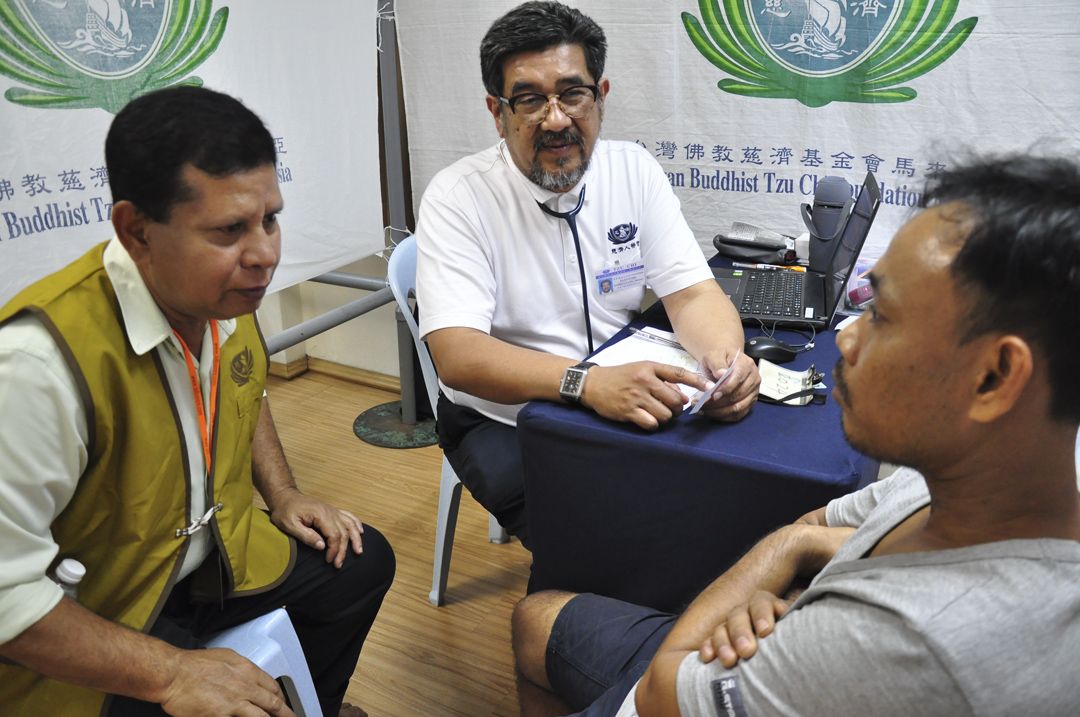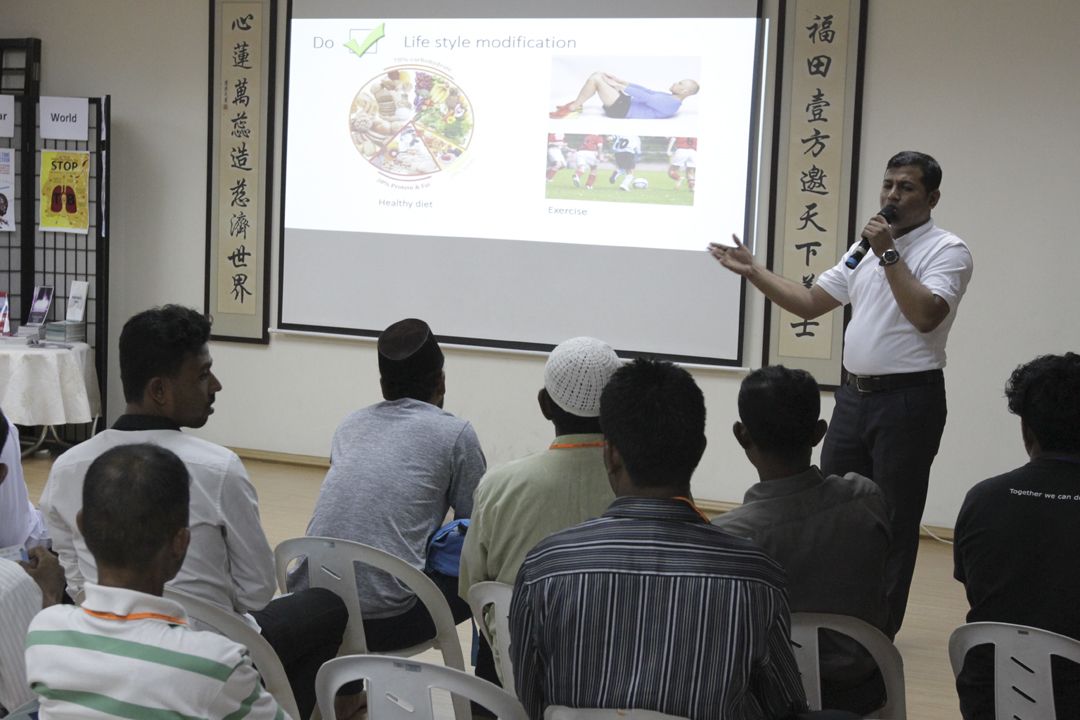 Will come again for next free clinic
A neurologist attached to University Putra Malaysia, Dr Hoo Fang Kee, has met Master Cheng Yen at Hualien and first heard of Tzu Chi during his student days. As a Dharma practitioner, he feels that serving the refugees is a form of selfless contribution. It treats not just the sickness of patients but will also enrich the souls of doctors. This is because by witnessing suffering, they would realize how blessed they are. After partaking in the free clinic for refugees for the first time, he understood Master Cheng Yen's teaching on the vicious cycle of sickness and poverty.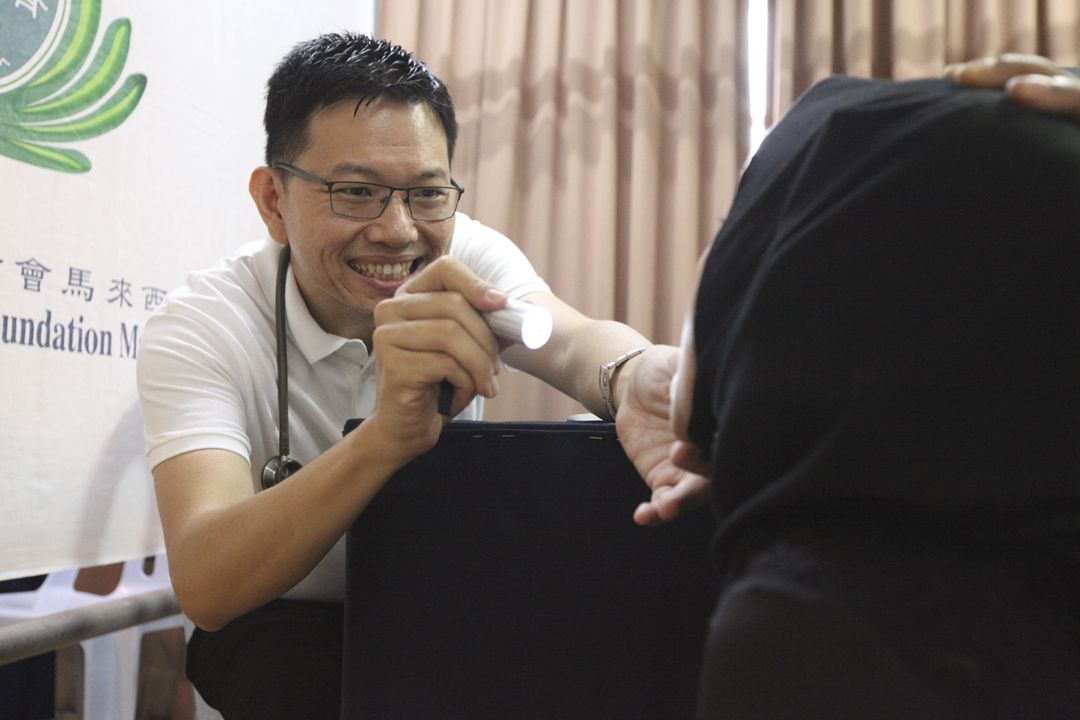 Associate Professor Ching Siew Mooi, who is also from University Putra Malaysia, has been involved in Tzu Chi free clinic since 2011 and has witnessed the positive effects of the free clinic sessions. She said, "Over the years, the free clinic sessions have indeed improved the health of refugees." She complimented the computerized registration and medical record keeping adopted in this free clinic, as this will go a long way in tracking medical history and reducing mundane work.
Both of them promised to serve again if there was another opportunity.
Ashley Ho Tian Hui, a pharmacist participating in a free clinic for refugees for the first time, had participated in some Tzu Chi's activities in 2014, when she was studying in Australia. When she heard that medical personnel were needed for the free clinic, she signed up to help without hesitation.
Ashley said, "The medical team can offer better service. When the refugees are waiting for consultation or dispense of medication, the medical personnel can listen to their problems. In this manner, they will gain bhetter trust and confidence on medical personnel and Tzu Chi." Ashley is impressed with Tzu Chi organizing the free clinic and hopes that the kind act will gain recognition and support from the government, henceforth better promotion in the future.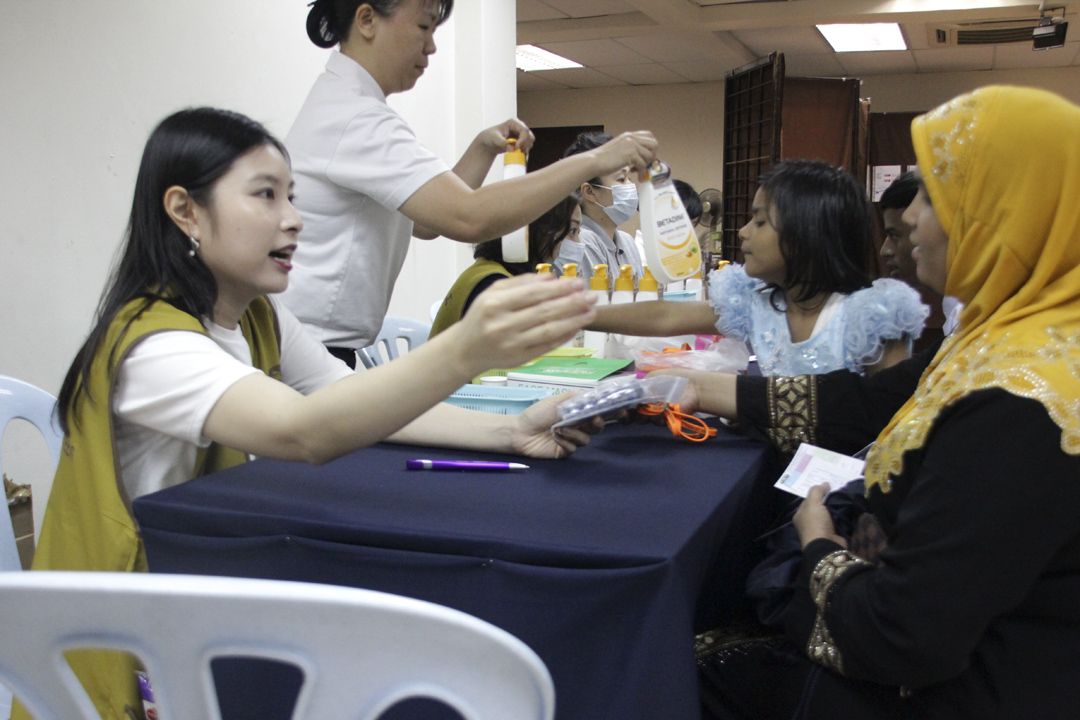 Follow-up at Tzu-Chi Free Clinic
Every time Abu Sidik bin Abul Khair urinates, he experiences pain in his urethra. Five years ago, he had an operation at Serdang Hospital. However post-operation, the urethra pain did not improve, hence, he came for the free clinic.
As the free clinic only provided general consultations, the doctor in attendance arranged for him an appointment with Tzu-Chi Free Clinic KL for further examination.
Another refugee, Mohammad Jubaim bin Abul Kasim, has unusual pain in his lower abdomen. The doctor examined him and suspected that he has kidney stones. Thus, he was referred to Tzu-Chi Free Clinic KL for further examination.
Being jobless, he seems a bit worried. The volunteers then comforted him and told him that the doctor at Tzu-Chi Free Clinic will do a thorough check-up and with the subsequent report, he can go to any hospital for treatment. Should there be a need for surgical operation, he can either seek financial assistance from UNHCR or Tzu Chi. With that, he can focus on treating his sickness.
• 
The 7.5-hour free clinic has benefitted 210 refugees, giving them a channel to seek medical attention.
Of all the suffering in life, pain from sickness is the worst. Hopefully the mobile free clinic, which will be held two to three times monthly, will benefit more refugees.