Practising medicine in Africa has been my dream as a medical student. But when faced with harsh conditions and the worrying plight of malnourished children in rural villages, I was overwhelmed by my own feelings of apprehension when ideals that used to exist only in the imagination are replaced with harsh reality.
When I was 16, I came across a scene on television depicting a group of doctors rendering their services in Africa. I came to learn that the doctors were part of an international organization called Médecins Sans Frontières (MSF, or Doctors Without Borders), whose members transcended national borders in their willingness to enter poverty-stricken areas and warzones to save lives. The selfless spirit of the doctors inspired my dream of serving as a doctor in Africa one day. To achieve my ambition, I decided to leave my native Malaysia to further my studies in the UK after graduating from a medical school.
I was aware that general practitioners were in high demand in the MSF, but I had developed a strong interest in geriatrics (the branch of medicine focusing on the healthcare of the elderly) as a medical student. Hence, I was caught in a dilemma when choosing a specialty to progress in upon completing my housemanship tenure. Nevertheless, I remained loyal to my initial aspiration of serving the African nations and successfully gained admission to the Royal College of General Practitioners in the UK.
After more than a decade, I am still pursuing my chosen path. My dream initially seemed distant, but thanks to Tzu Chi, I was granted the opportunity to realize my ambition sooner than expected.
Bursting the bubble
At a Tzu Chi event in Taiwan last November, I made acquaintance with Sister Denise Tsai, a senior volunteer who has been residing permanently in Mozambique. Upon learning from Sister Tsai that medical personnel and healthcare resources are severely lacking in Mozambique, I confided in Master Cheng Yen my wish to relocate to Mozambique and serve the locals. I envisioned the perfect ideal of a meaningful career of selfless service: on the one hand, I would be able to fulfil my dream of serving Third World countries with my medical expertise; on the other, I anticipated the prospect of dedicating myself to Tzu Chi's missions in Mozambique.
In March this year, Cyclone Idai struck three East African countries, resulting in widespread destruction. News footage of the post-disaster ruins and media coverage of the timely disaster relief efforts of Tzu Chi volunteers from Mozambique stirred within me a budding urge to leave immediately for the disaster site to do my part, but practical considerations made me think twice. The disaster came at a critical time when I was close to completing my medical specialist training; I was busy with assignments and preparations for final assessments, all of which I would have to pass in order to qualify as a general practitioner. I was concerned that participating in disaster relief efforts would affect my chances of graduating successfully.
But at the same time, my heart ached for the Mozambican children displaced from their homes, laying their thoroughly-soaked books on a muddy plot of land to dry. In the end, I was motivated by the Master's spirit of never hesitating to commit to virtuous deeds. I promptly settled all remaining tasks on hand and boarded a 33-hour flight from northern Scotland, where I was based, to Beira, a hard-hit area in Mozambique.
Although Beira is considered the fourth largest city in Mozambique and is home to the nation's second largest hospital, it is a relatively underdeveloped region. Tzu Chi volunteers extended continuous post-disaster support beyond Beira to the villages of Tica and Lamego, where the living conditions were appalling.
I recall participating in a student exchange programme organized by the Rotary Club over a decade ago. Through the programme, I spent seven months in India carrying out community service in rural areas. I thought the experience had exposed me to the poorest, most deprived corner of the world, but the trip to Mozambique redefined poverty for me.
A true test of character
On the second day of arrival in Mozambique, the volunteers saw a child with a bloated stomach in a village and suggested that I evaluate the child's condition to see whether threadworm medication was necessary. I picked up my medical kit and entered the village with a local volunteer who acted as a translator. As soon as I set foot in the village, a group of children crowded around me. I was startled; almost each and every child had a bloated belly and scrawny limbs.
In the UK, doctors are blessed with relatively comfortable working conditions. We have a steady supply of patients by appointment and a consultation room equipped with a computer and stocked with reference books that come in handy when in doubt. The consultation process is hardly complicated: we provide a diagnosis and prescription to the patient, who would then collect his or her medication from the dispensary.
In Mozambique, however, medical consultations were conducted from door to door on muddy terrain under the scorching sun – a stark contrast to the amenities I am accustomed to back in the UK. I was not only taken out of my comfort zone, but also overwhelmed by my own feelings of trepidation and apprehension when ideals that used to exist only in the imagination are replaced with harsh reality.
My first up-close encounter with the villagers' plight reminded me of similar scenes I have seen on television, portraying families huddled together on a bed of straw or muddy ground, living hand to mouth. The local hygiene conditions were worrying. The children were evidently susceptible to health problems as they were clad in filthy, tattered clothes, while their palms and feet were stained with mud. In contrast, children in the UK are more fortunate by far; their parents would accompany them to the doctor when they fall ill, and their medical expenses are fully subsidized.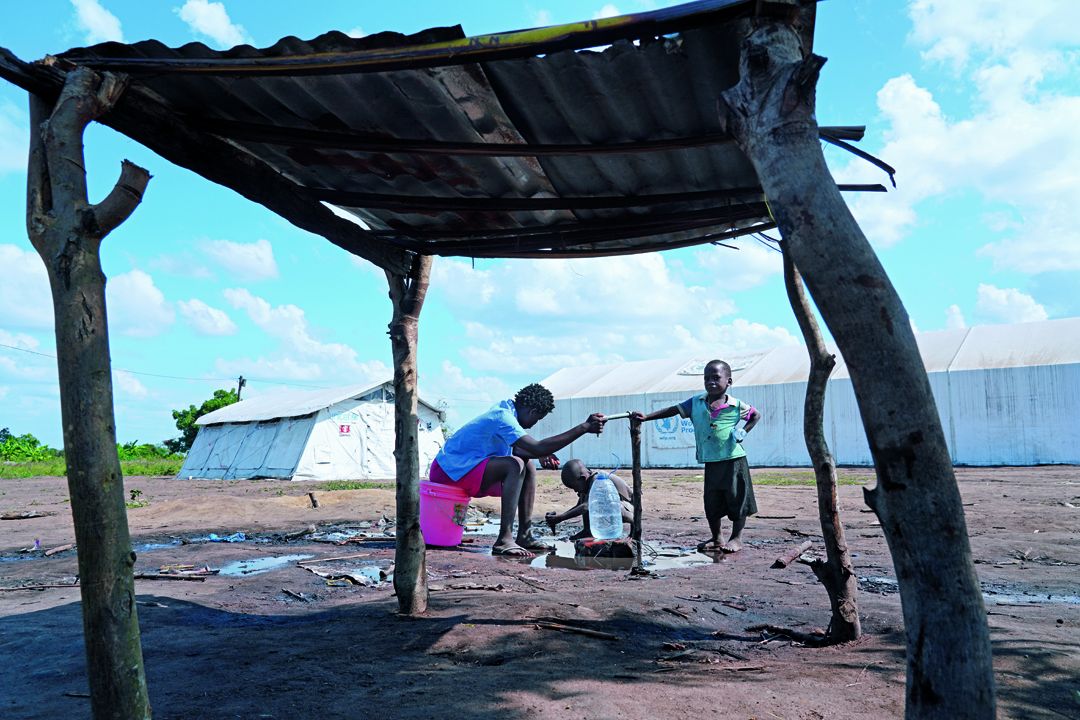 Children are likely to suffer from a distended abdomen for two reasons: the bloating might either be attributed to malnutrition, which causes the swelling of the stomach due to protein deficiency, or parasitic infection in the gut. I was able to detect swollen intestines in a few of the children by gently pressing their bellies. A cursory examination led me to suspect that most of the children were plagued by intestinal parasites. I had a supply of the antidote, but I was unsure of whether to prescribe it to the children, because relying on medication fails to solve the root cause of this malady – poor sanitation. The medication could only provide a temporary cure as the infection is bound to recur. I eventually decided to dispense the medication, albeit rather hesitantly. At the same time, I was compelled to ponder: How should we help the villagers improve hygiene conditions to reduce the risk of recurrent infections?
I was told that such circumstances were the norm in Mozambique; the living conditions in remote, inaccessible areas are even more deplorable. Many communities are in dire need of help, but where and how should we begin reaching out to them?
Frustrating experiences abounded throughout my time serving in a less-developed country, especially considering the fact that I had to attend to patients without an adequate supply of medication at hand. I have examined a handful of patients who had contracted coughs and colds, as well as children in whom crackling sounds in the lungs could be heard through a stethoscope – a symptom of underlying chest infection. When I asked their accompanying guardians how long had their child's condition persisted, the responses ranged from "a few months" and "over a year" to even "since birth".
I felt powerless before the litany of diseases afflicting the locals, as I had neither antibiotics nor medication within reach. All I could do was advise the parents to take their children to the nearest medical centre for treatment – a seemingly straightforward errand, yet one that the villagers often struggle with.
Between a rock and a hard place
Mozambique's healthcare system is severely flawed with a staggering 1:33,000 doctor-patient ratio, compounded by limited accessibility to medical services. Over half of all Mozambicans have to travel at least an hour by foot to arrive at the nearest medical centre or tribal clinic. By comparison, the doctor-patient ratio in Scotland, where I currently live, is 1:1,300. Medical practices are strategically situated in every community and are conveniently accessible within a 10- to 15-minute walk.
Mozambique also faces a significant shortage of doctors. The present pool of approximately 4,500 doctors are unevenly distributed across the country, with 70 percent stationed in Maputo, the capital city. On the other hand, Sofala, a province with a population of 9 million, is served by only 180 doctors working in the country's second largest hospital, Beira Central Hospital. The country is so acutely lacking in doctors that the tribal clinics in rural villages are staffed by "medical technicians" instead of practising doctors.
According to the Dean of Health Sciences at the Catholic University of Mozambique (Universidade Católica de Moçambique, UCM), Mozambique produces around 300 medical school graduates every year, but only 60 housemanship vacancies are offered nationwide owing to limited public resources, leaving over 200 medical graduates unemployed. A number of these graduates endure years of fruitless waiting for a job in the medical profession, only to end up in the business or pharmaceutical industry.
The role of the "medical technician" was created by the government out of the need to stem the country's shortage of doctors and to cope with the country's extensive healthcare demands. These medical technicians are divided into two categories: internal medicine and surgery. After undergoing three years of training, the technicians specializing in surgery are largely employed in hospitals to perform uncomplicated surgical procedures under the supervision of professional doctors. Technicians focusing on internal medicine would be assigned to work in tribal clinics – which accommodate patient numbers of up to 150 to 200 daily – at half the pay of a professional doctor. I have witnessed for myself the working conditions of internal medicine technicians at a tribal clinic in Lamego; the clinic was packed with patients to the brim with a long queue extending beyond its doors. It was also poorly ventilated and reeked of an unpleasant odour.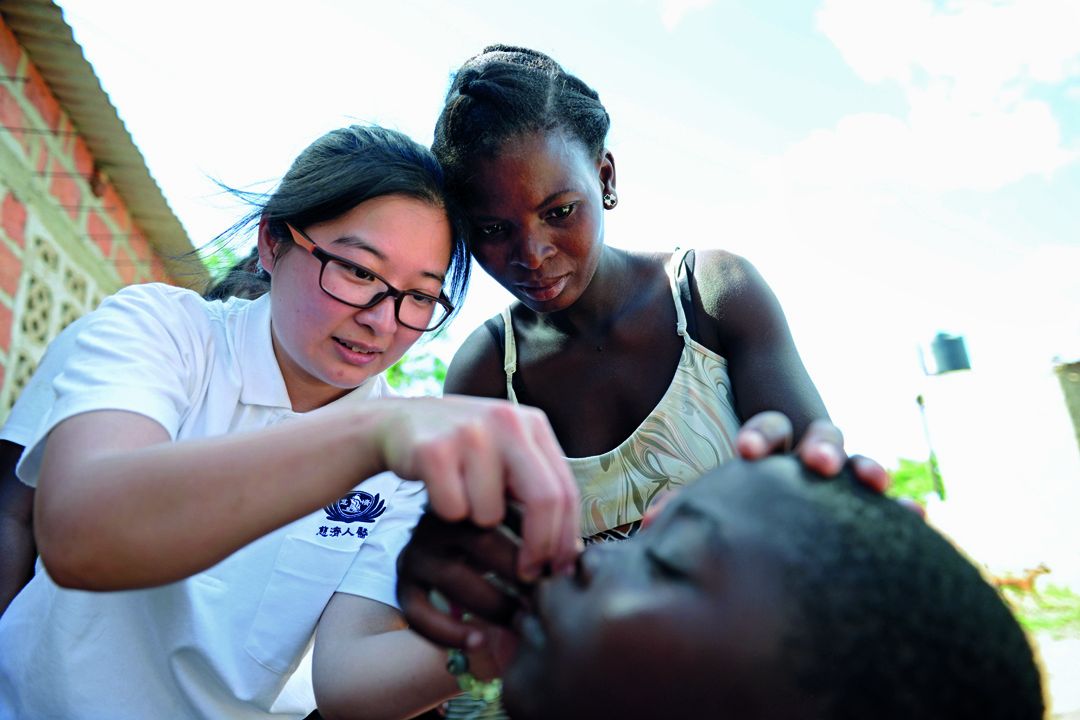 The medical graduates who are fortunate enough to complete their one-year housemanship tenure at the hospital will be posted to serve in tribal clinics for a two-year period. Sometimes, a doctor would be in charge of several tribal clinics. There are also instances whereby a doctor is expected to take responsibility for all tribal clinics across an entire province. As a result, many doctors are trapped in supervisory and administrative tasks at the expense of their clinical duties.
Stars shining bright in the night
I was once eager to practise medicine in Africa, but the challenges standing in my way have dealt a heavy blow to my confidence, leading me to question my decision. I was close to giving up when I met an infant who helped me regain my conviction.
The infant was nine months old and lived in the village of Tika. He looked malnourished due to the lack of proper nutrition, hence I expected some degree of developmental delay in him. However, he surprised me with his ability to sit firmly on the ground and even crawl forward to reach out for an object with guidance. The infant exemplified the indomitable power of the human will to live despite the harsh environment. I was greatly motivated by the infant. Although the external circumstances seem bleak, hope prevails. If even an infant is able to thrive in adversity, we should all the more persevere in our efforts to improve their lives.
The resilience of the Mozambicans is admirable. After collecting the relief supplies, the aid recipients made their way home barefoot in an hour-long journey, balancing a 10-kg sack of corn flour on their head while carrying a building kit containing construction tools. Life is tough for the Mozambicans, yet they remained optimistic and even radiated joy through song and dance.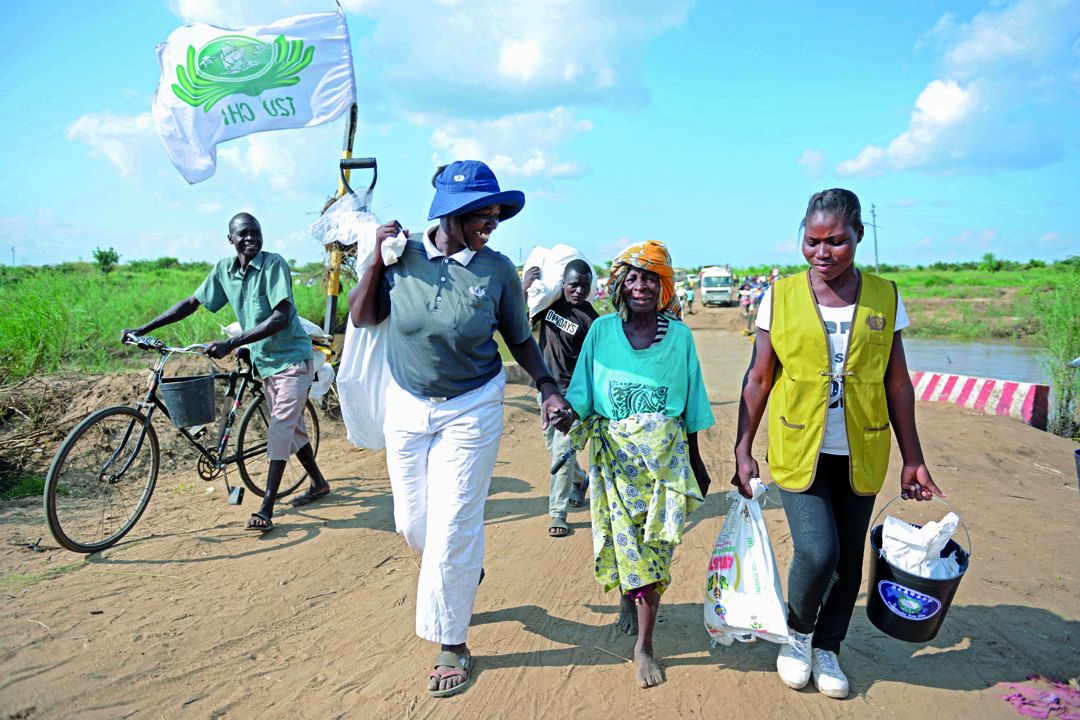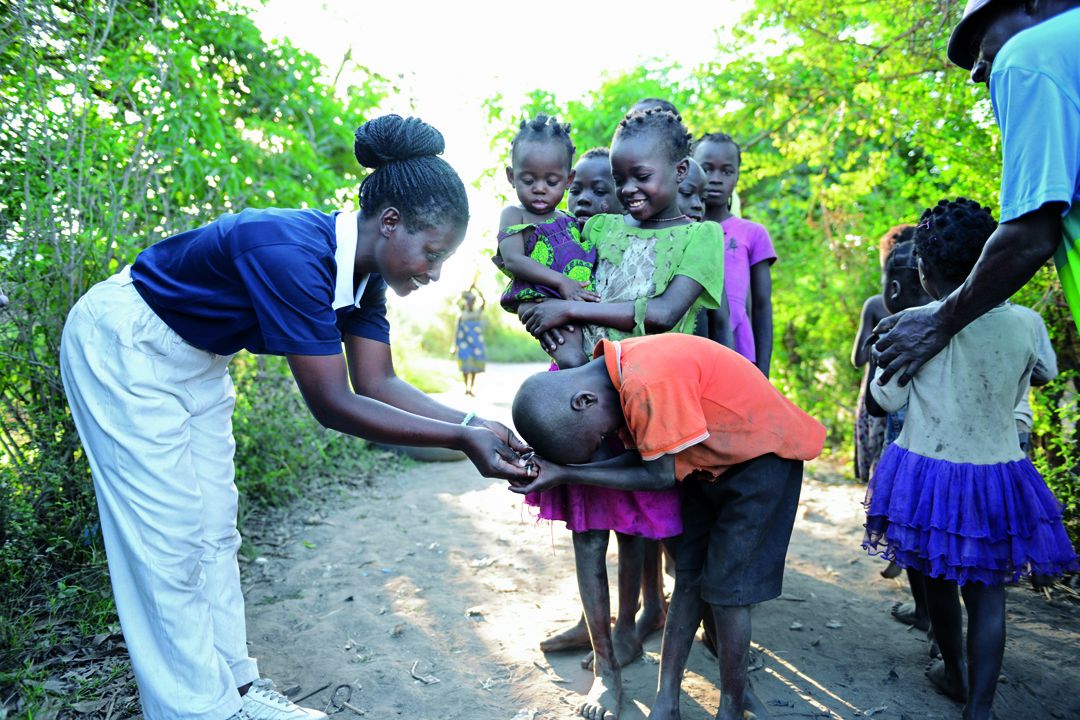 The Mozambicans' fortitude and equanimity in the face of disaster are worth emulating. Their composure is perhaps a reflection of their capacity for reconciling themselves to the vagaries of a life unburdened by material possessions and coming to terms with the prospect of rebuilding their lives from scratch. We provided them with only basic construction tools, but they managed to build complete homes with their resourcefulness, setting an example for the rest of us in so-called civilized societies.
The city of Beira was severely damaged by Cyclone Idai; the roads were riddled with potholes and the electric poles were upended. The wooden streetlamps were deprived of electricity supply, plunging the city into pitch-black darkness at nightfall. The absence of illumination posed a safety hazard to pedestrians and motorists, yet allowed the stars above to shine charmingly through the night sky without the interference of other light sources. The stars reminded me of the Mozambicans, whose uplifting and easygoing attitude to life exudes a soft yet captivating glow like the stars twinkling in the night sky, evoking my longing to return to their land.
Spreading happiness
Back in Scotland, I found it hard to believe that I had indeed made a trip to Africa. Many around me were curious as to why I would leave my comfort zone for unfamiliar territory and wondered if I had difficulties settling in.
I live in Inverness, a small town in northern Scotland that was once ranked second on the list of happiest places to live in the UK. It is regarded as a scenic paradise steeped in nature. If I were to isolate myself from various media channels, I would have been ignorant of the natural and man-made disasters happening around the world. It would certainly take some time to acclimatize myself to life in Africa. On second thought, now that I have reached the prime of life at 30, what should my next steps be? I recounted words of advice from a high school teacher who has influenced me deeply: Everyone is born into this world with a God-given mission, hence we ought to seek this mission and strive to accomplish it in our lifetime.
I grew up in a supportive environment. My parents have never objected to my decisions. They stood by my resolve to serve in Africa, even when others expressed opposition and doubt. Whenever my mother was questioned about my plan, she would respond, "Why not? Committing to serve in Africa is an honourable deed."
I have never regretted the vow I made to Master Cheng Yen. I am aware that the road ahead would be tough, but I trust Tzu Chi to grant me spiritual and emotional support to soldier on courageously. I believe I have discovered my life's purpose beyond settling for a comfortable life as a doctor in Scotland. Why should I hesitate to pursue it?