Each book study session shone like rays of sunlight that rid the mist and cleansed the mind of ignorance. While this helped to calm the mind, it has also enabled Wong Swee Nyun and spouse, Chong Yan Moy, to see life in a new light, and they have emerged more wholesome through learning the Dharma.
In December 2019, Wong Swee Nyun from Tzu Chi Entrepreneurs' Group initiated book study sessions for the group in his community. To engage the members, he encouraged open and honest sharing of their concerns and thoughts on life, before diving into Dharma teachings inspired by Master Cheng Yen's teachings and commentaries on the Lotus Sutra.
He was surprised that the open sharing prompted sound advice and encouragement, and negativity began to ebb away. This proved to be effective and meaningful, and the book study remained a much-anticipated activity for members even during the movement control order (MCO).
In March this year, when Swee Nyun learned that Tzu Chi KL & Selangor will be staging a musical adaptation of the Lotus Sutra, he and other members of the book study group decided to form a Dharma boat. To him, spreading the Dharma was an urgent task, for it was through the Dharma that he and his wife, Chong Yan Moy, were able to shift their mindsets and go through life calmly during the pandemic. He appreciated the fact that when one puts the Dharma into practice in daily life, one eventually becomes a better version of himself.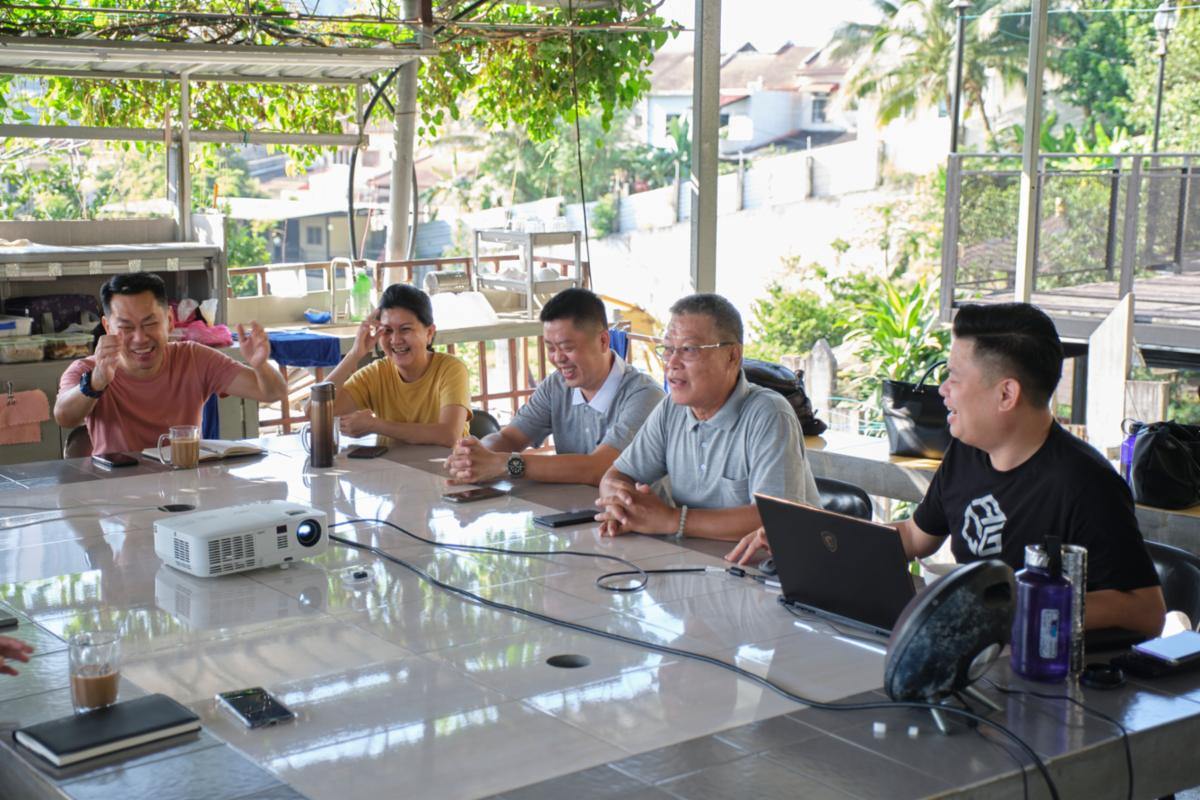 ◎ Failed as a father
In 2017, Yan Moy enrolled him in the Tzu Chi Global Entrepreneurs' Camp held in Hualien, Taiwan. During the visit to Tzu Chi's missions in Neihu, he heard so much about wholesome goodness, be it people, deeds or things. Upon his return, he joined Tzu Chi as a volunteer.
When he accompanied his child to the Tzu Chi Teenagers' Class, Swee Nyun had the opportunity to hear other parents sharing their stories. Only then did he realize that he had given too little time for his children, as he was busy with his business.
He started to make amends. He learned to listen to what they had to say, and to see things from their point of view when communicating with them. By the time he took up the responsibility of organizing the book study sessions, he was able to see through the Dharma teachings that he had been a father who had failed in his role.
"Many years ago, I became angry when talking to my then 18-year-old eldest daughter and I slapped her. Now, I really feel sorry for my action. At that time, I decided to send her to the faraway land of Chile to study because I thought she was too stubborn."
Although this daughter, Wei Ming, only went to study in Chile for one year, Swee Nyun had been feeling rather guilty. The time came for him to express his regret face-to-face with his daughter when she participated in one of the book study sessions. Wei Ming said that at that time, she was too eager to leave her family, and so agreed to go to Chile to further her studies.
Her revelation of her past feelings that the family once meant nothing to her shocked the father. What a fortunate action he had taken by changing his ways, to garner a change in her daughter's thought about him, and the place called home. Wei Ming also apologized to her father. The father-child relationship was rekindled.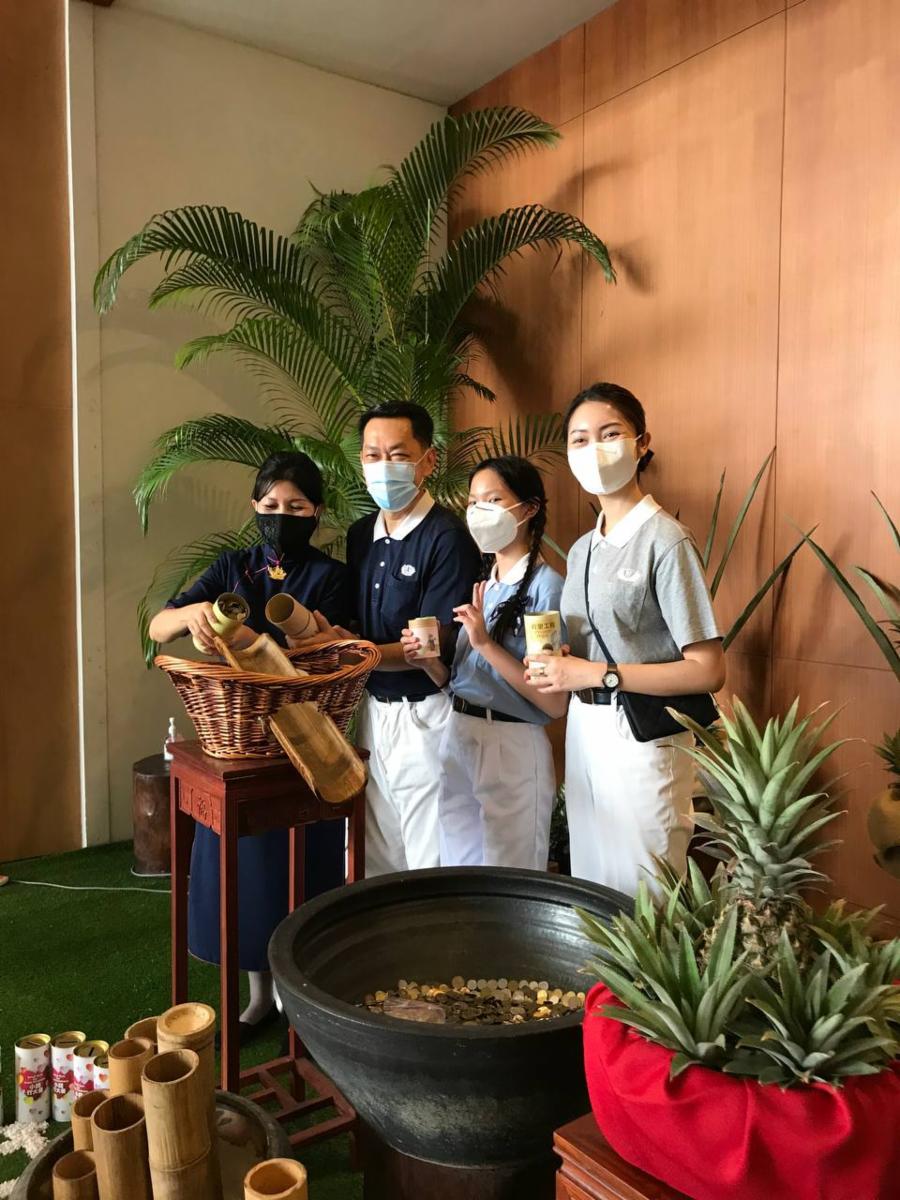 Interestingly, the more Swee Nyun learned about the Dharma, the more he gained. In March 2020, when the MCO was implemented, most businesses were forced to close temporarily. His credit card machine business was so badly affected that the turnover was zero for a period of time.
The MCO meant people had to stay home involuntarily. Swee Nyun said that if not for the Dharma that he had learned, he would have just confined himself in the room and focused on playing with his handphone, or worried about his business; and worse still, clashed with his family members. The Dharma had shown him the way, and he decided to make good use of the time at home to enjoy his family life.
Each day, he would proactively discuss with his children what to cook for meals. They would then go online to search for recipes, prepare the ingredients and do the cooking together. Interactions during such times became the source of joy and laughter. To his amazement, Swee Nyun realized that it was a period where he had spent the longest time with his children, and a time most memorable to him.
From his personal experience, Swee Nyun could tell that the book study sessions were platforms for heartfelt revelations of our deepest feelings and thoughts. It was also a medium through which the Master guided her followers to rid ignorance about the truth of life. He wished that more people could find their happiness through participating in this musical adaptation.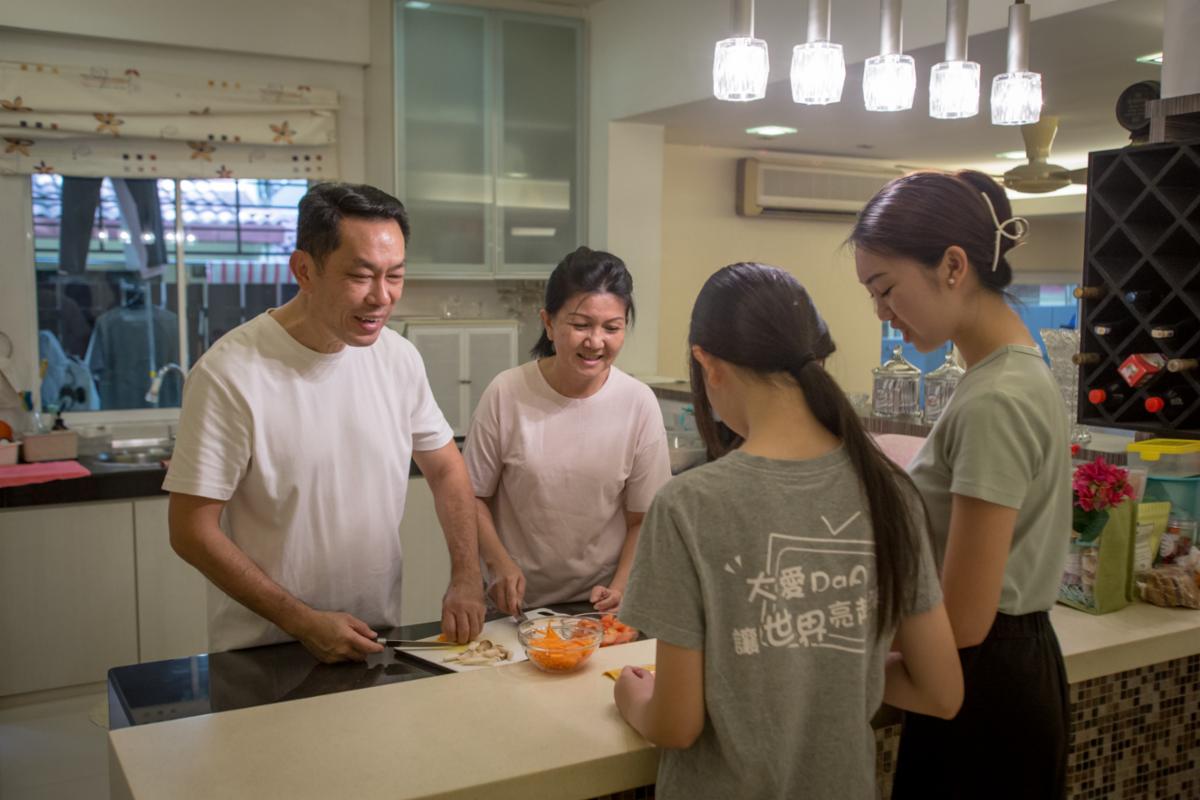 ◎ Dharma for the wearied mind
"Before I became a Tzu Chi volunteer, I just used the profit I made in business to buy properties and cars, and let my children indulge in luxuries like good food and travels. I gave to charity at times. That was all to my life then. But I was not comfortable at all. I always worried about the future for my son…" As a mother, Yan Moy was also busy in the commercial world. She was always thinking about providing a comfortable life for her children. To her, the best thing to do was leaving them huge amount of assets, for it was the best guarantee for their future.
Yan Moy's greatest worry was about her son with learning disabilities. Besides assets, she was also looking for a school that could provide a compassionate learning environment for him. By chance, she came to know Tong Siew Bee, a Tzu Chi Commissioner, at a dinner function. The latter recommended a school for her son. She also told her about Tzu Chi, and encouraged her to find out more about the organization.
In the same year, Yan Moy went to Jakarta with fellow Tzu Chi volunteers for a visit to Tzu Chi's missions. The trip was an eye-opener; she could feel the Master's compassion in founding Tzu Chi, and the urgent call to act before it was too late. Upon returning home, she became an active volunteer. Swee Nyun also became a volunteer under her influence. The couple found a common goal through volunteering, and their relationship was enhanced.
As a Tzu Chi volunteer, Yan Moy has had the opportunity to see various facets of life so different from hers. Visits to the care recipients made her wonder how anyone could survive in such unimaginable conditions. Cases of care recipients in absolute poverty clouded with illnesses made her realize what suffering really meant. Such stark realizations led her to feel how well life had treated her. By and by, she began to worry less about her children. After listening to the Master's words, "One can bring nothing but the karma at the end of life," she realized that her efforts in accumulating material wealth might not be of any good for her children.
That awakening changed her perspective about life. She started to sell off her properties and cars; she even scaled down the size of her business that she had managed for more than 30 years, to make time for Tzu Chi activities. "What a blessing that I had the opportunity to join Tzu Chi and learn the Dharma. Otherwise, I would continue to buy properties; how was I to pay the bank loans when my business turnover was zero due to the pandemic…" Yan Moy dared not imagine how she could deal with the huge stress of loan payment, which could have driven her into a state of losing direction in life, a sense of fear, or even losing her sanity due to the pressure of indebtedness.
During MCO, Yan Moy diligently took part in Tzu Chi's online spiritual cultivation sessions, mid-day prayers and sharing by volunteers; the monthly book study session proved that where there is Dharma, there is a way. She knew that the Dharma is the remedy for calming the mind, especially during the pandemic.
"Thanks to the book study sessions, conflicts between in-laws, as well as husband and wife were resolved. All families have their own problems. However, the Dharma is comparable to a clear stream that washes away, over and over again, whatever that worries the mind."
Indeed, the book study sessions, to Yan Moy, were like a mirror that not only reflected the spiritual being of others, but also illuminated the spiritual being of her own. She found herself becoming gentle in temper, more caring in the use of words, and more importantly, she realized that the best asset for her children was not material wealth, but the Dharma. She strongly believes that as long as her children are well versed in the Dharma, they would grow up to be individuals of high morality, with the wisdom to face all kinds of challenges.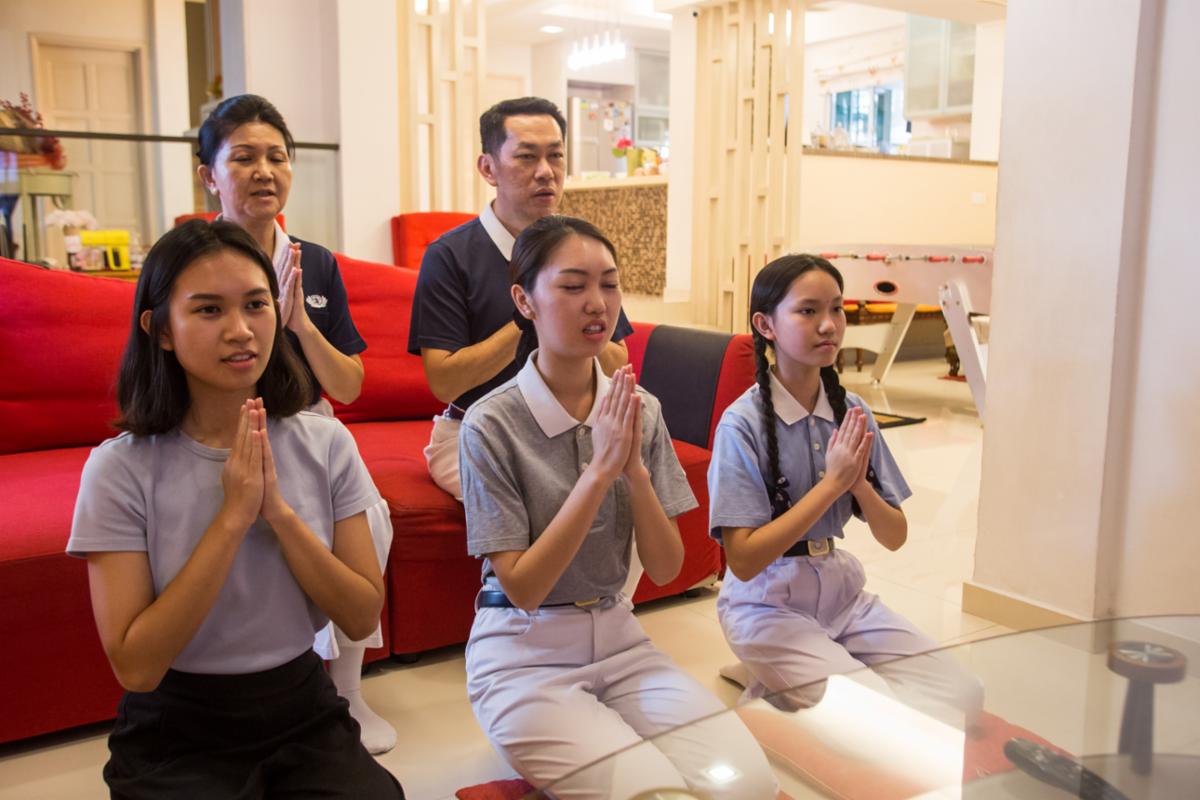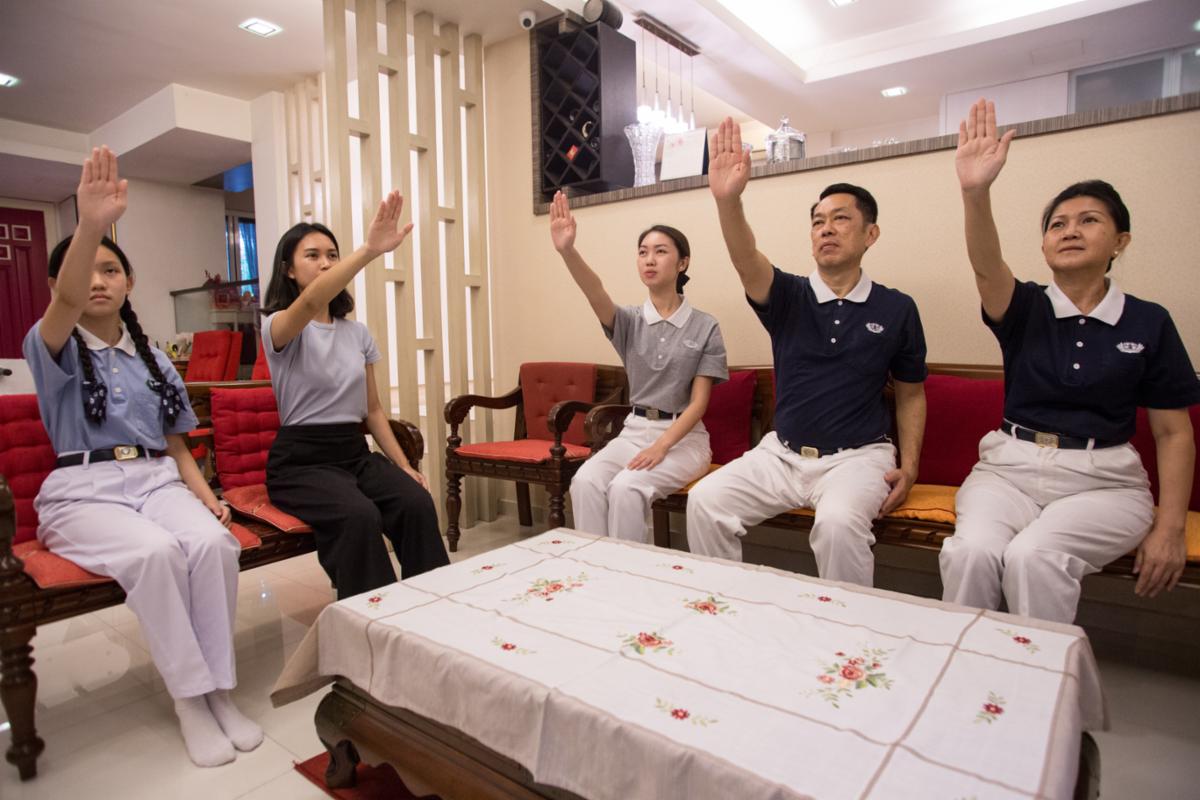 ●
It is no wonder that the musical adaptation carries a special significance for Swee Nyun and his wife, and their three children. Together, they find joy practising the movements.
Swee Nyun believes that the blessings he had accumulated in his past life have given him the affinity to listen to the Dharma in this life. "Besides cherishing this affinity, I will continue to organize book study sessions and call on more volunteers, friends and colleagues to learn the Dharma and advance in the path of spiritual cultivation, so that everyone can be a better self," he said.