"I am grateful that because of the Dharma I did not wreck my marriage. I am also grateful that the Dharma has guided me to be a good wife and mother." – Siow Kim Yen
On 30 and 31 July, 2022, Tzu Chi KL & Selangor held four sessions of the 2022 Auspicious Seventh Lunar Month Prayers and Blessing event at the KL Tzu-Chi Jing Si Hall, where volunteers and members of the public prayed for all sentient beings through a musical sutra adaptation, which also purified their bodies and minds through the Dharma.
Among the attendees was Siow Kim Yen, who participated as a performer in the "Dharma Sea" on July 30. Putting her palms together reverently, she recited the adapted verses of the sutra with a focused mind, as if transporting herself back to more than 2,000 years ago, listening to the Buddha preaching on Vulture Peak, relieving everyone of all kinds of inner suffering.
Kim Yen could not help but cry several times. She was full of gratitude to still have the opportunity to immerse herself in the Dharma in this life. She deeply felt that this was a day of exceptional affinity, which also signified a fresh start for her life.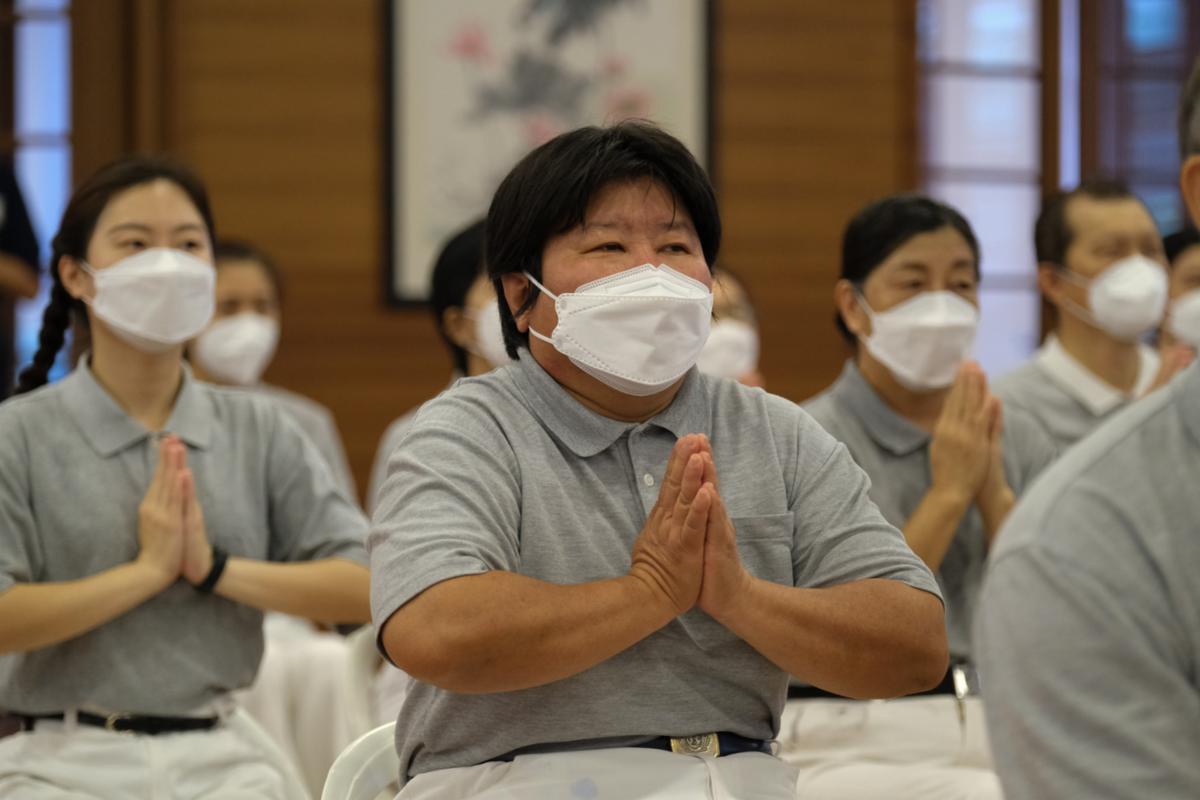 ◎ The ticking time bomb
Forty-seven-year-old Kim Yen is a volunteer from Jelebu, Negeri Sembilan. She was invited by Tzu Chi KL & Selangor volunteer Tang Chiew Liew, to participate in the musical sutra adaptation. Whenever there was an outdoor book study session and sign language practice, she would drive two hours to Chiew Liew's home in Kuala Lumpur. It turned out that they met each other in 2014, at an exchange session on Humanistic Culture promotion. To Kim Yen, the long journey was not a hindrance. Instead, she was grateful for taking the opportunity to go deeper into the Dharma and rediscover her lost self.
Kim Yen and her husband, Chin Kin Foong, have a son and a daughter. She saw herself as the head of the family; whatever she decided or said, the family must obey, or she would lose her temper. As Kin Foong worked as a car mechanic in Kuala Lumpur, all household chores and the burden of taking care of the children fell on Kim Yen. Perhaps due to the stress, she was irritable and always kept a straight face. Over time, the family's relationship grew tense and the atmosphere was far from harmonious.
In 2013, Kim Yen performed a routine medical examination and found an aneurysm, which grew like a bunch of grapes, on her spine. The doctor informed that surgery was not an option in her case, and that she could still live a normal life as long as the aneurysm does not rupture.
Nonetheless, Kim Yen still felt terrified and miserable, as though she was carrying a ticking time bomb, and she had suicidal thoughts. As fate had her way, one day, she saw a deaf elderly man, whom she knew, fainted on the ground in the market. She instinctively patted his cheeks with both hands, attempting to wake him up. Seeing the elderly man gradually regaining his consciousness, she realized how tenacious life is, and the fact that she could wake him up with her pair of hands proved that she was still a useful person. There was no reason she should take her own life!
With a shift in mindset, she decided to face her illness bravely. Also, upon learning of the health benefits of vegetarianism, she decided to adopt a vegetarian diet. For the past nine years, she has lived peacefully with the aneurysms. Apart from being prone to colds and throbbing pain in her hands and feet at times, her condition has been stable.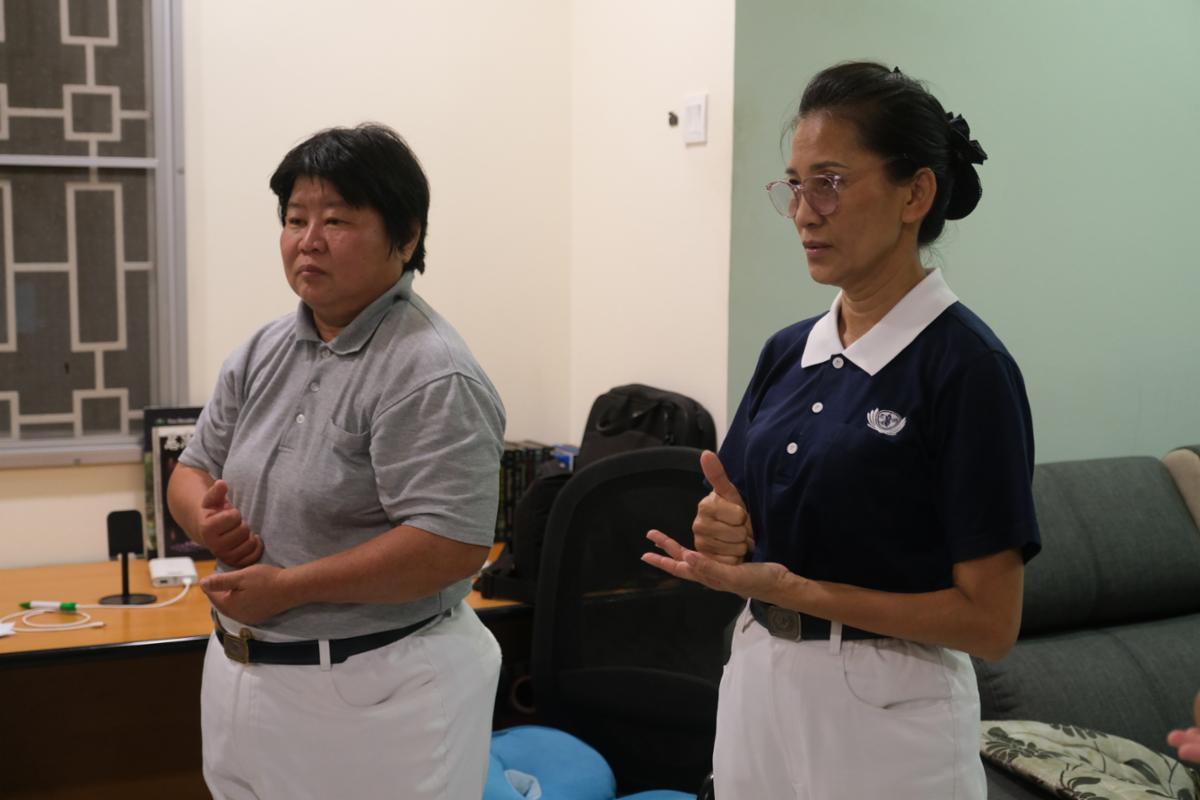 ◎ The knots untied
Kim Yen first got in touch with Tzu Chi in 2013 in Seremban. At that time, she observed that the volunteers were compassionate and happy in helping others. Aspired to be like them, she started to get involved in Tzu Chi.
Being part of the team that promotes Tzu Chi humanistic culture, she read books by Master Cheng Yen, and the Jing Si aphorisms nourished her heart. She became more cheerful, and would smile occasionally. However, she was still unable to tame her irritable temper, which affected her relationships with others.
Back then, Kim Yen's father was frail and sickly with anaemia. Although she brought her father home to take care of him, she could not help losing her temper with him when things did not go her way. She informed, "On one occasion, my father complained to my elder brother about my temper. I was so furious about it that I scolded him, and even had the urge to get physical. I said I wanted him to leave my house."
In 2015, Kim Yen participated in the "Dharma as Water" musical sutra adaptation hosted by Tzu Chi KL & Selangor. As she gradually learned the karmic law of cause and effect, she realized that losing her temper and saying unkind words were actually hurtful to others. Nevertheless, she could not hold her emotions and actions in check.
In mid-2016, before her father's demise, she recalled what the Master said, "One must repent and resolve a negative karmic affinity." Although she managed to repent to her father in time, she regretted that she was only a dutiful but not a submissive and obedient daughter in the seven years she took care of her father.
At the end of the same year, Kim Yen and Kin Foong visited the Jing Si Abode in Taiwan, where they fulfilled their wish of seeing the Master. The warm hospitality of the Taiwanese volunteers was also memorable to them. Upon returning to Malaysia, Kim Yen actively participated in Tzu Chi activities. However, she gradually slacked off and felt demotivated due to interpersonal issues, which she found challenging to her.
Once, during a verbal fight with her husband, the latter unintentionally uttered the word "divorce". It triggered her, and she furiously threatened to get physical with him if he ever mentions the word again. Since then, "divorce" became a knot in her heart that she could not untie. As the relationship between the couple grew further and further apart, she feared their marriage would really fall apart one day. In addition, she suffered from insomnia and suspected that she had depression. All these drowned her in worries.
In 2021, Chiew Liew invited Kim Yen to participate in book study sessions, which were conducted online due to the pandemic. Initially, Kim Yen just participated with the mentality of trying it out. But, after several sessions, she found the sessions to be her spiritual anchor and gradually fell in love with it.
In 2022, the book study activity was extended to also include outdoor book study sessions, sign language practices, and so on, in preparation for the musical sutra adaptation. During one of the sessions, the Master said, "To love is to give from the heart. One who is wise and understanding is freed from attachments and disputes." Kim Yen took the enlightening words to her heart.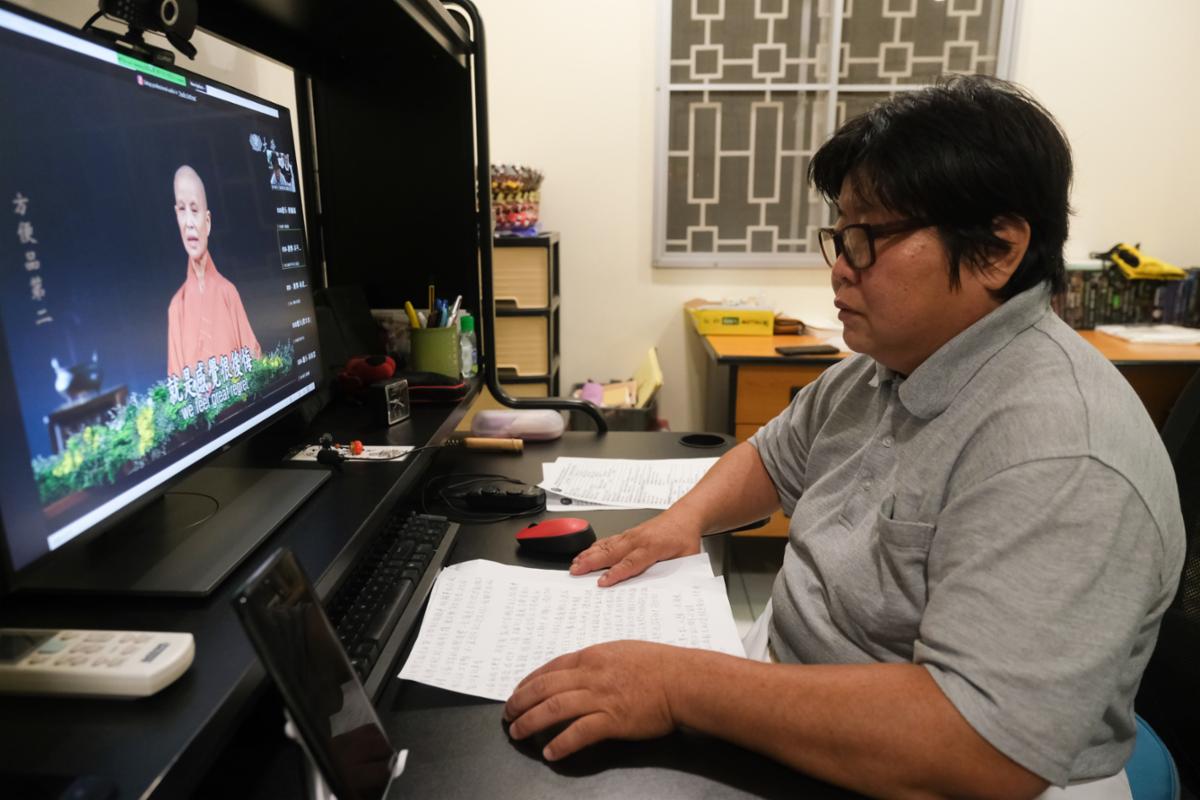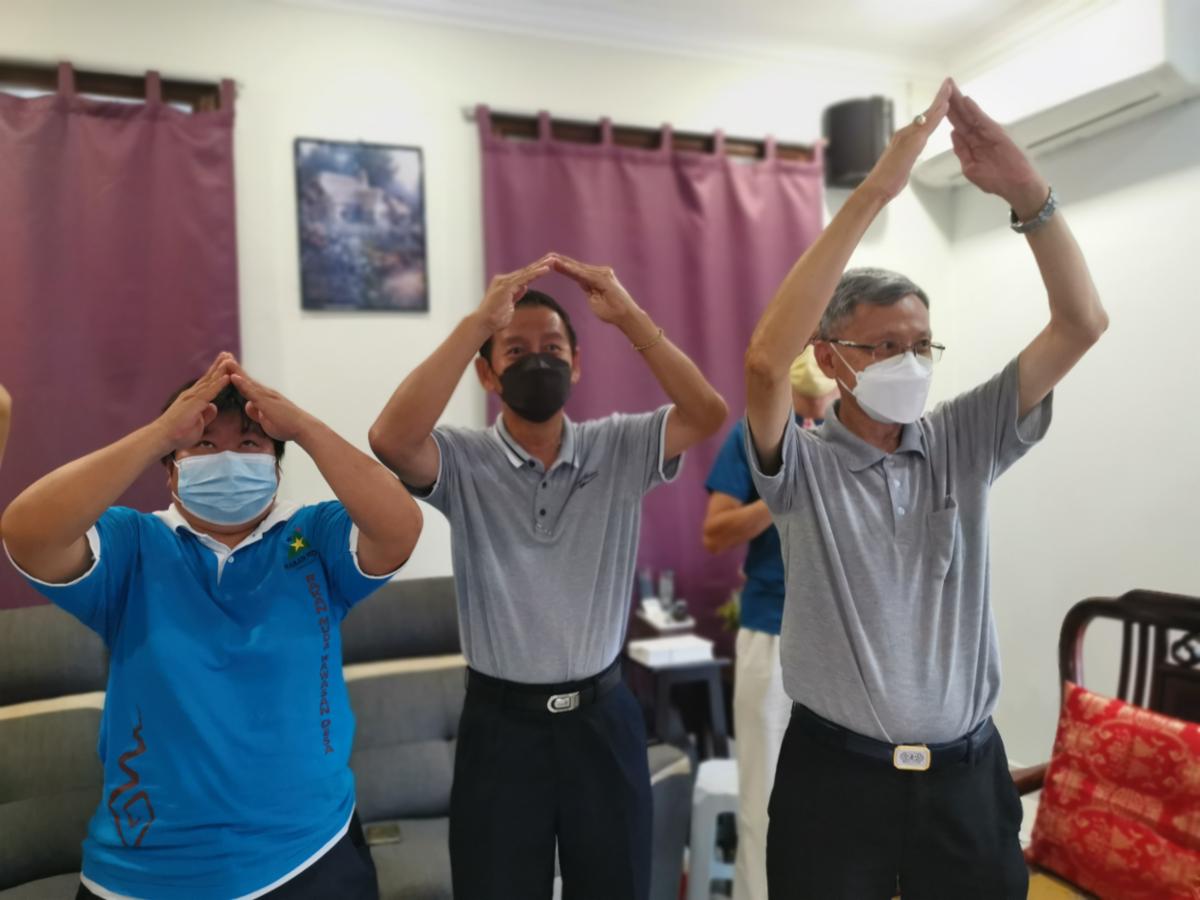 ◎ Harmony restored
As she ruminated over the Master's words, she suddenly felt that they were the Master's advice for her. She pondered if she had given love sincerely in this life, and got rid of her attachments with wisdom and understanding. She recalled how she had thrown tantrums towards people around her, and was awakened by the Jing Si aphorism, "One who is kind-hearted but has a bad temper and speaks unkindly cannot be deemed a good person." Hearing the Master mention, "The biggest punishment in life is regret!" also made her reflect upon herself. Isn't her biggest regret for not truly being a filial and docile daughter that would allow her father a peaceful old age?
Kim Yen was afraid that if her relationship with her husband remained bitter, they would not only be entangled in a bad relationship in this life, but the karmic effect might be carried on to their next lives. Moreover, their eldest son, Wei Sheng, also expressed his wish to see his parents communicate well. The son's request dawned on her that disharmony in the family would cause distress for the children, too.
Kim Yen recalled that her husband and son tested positive for Covid-19 last year, while she herself tested positive in May this year. In the face of the virus and living with an aneurysm in her body, she felt even more that life is impermanent and that she should not wait to cultivate herself. Hence, she let go of her ego and not only voiced her repentance to everyone at a book study session, but also sincerely apologized to her husband for the many things she had done wrong over the years, and sought forgiveness from him.
She was moved to tears and the knot in her heart untied when Kin Foong told her afterwards, "I know you had done a lot of things wrong, and I was angry, but what good does it do? We have lived to this age… In fact, I still love you very much."
Perhaps her heart was full of Dharma thanks to the two years of book study, whenever she felt irritated or was about to lose her temper, a Jing Si aphorism or sutra verses would come to her mind, alerting her to shift her mindset. Her positive changes were noted by Kin Foong, who found her smiling brightly instead of showing a stern face now, and has a more positive state of mind. Wei Sheng was also moved to witness his mother's transformation, where she has learned to be less egoistic and smile more. Hence, he supports her involvement in Tzu Chi.
Although the father and son had to work and miss Kim Yen's performance at the Auspicious Seventh Lunar Month Prayer and Blessing event, they made it a point to have dinner together at a vegetarian restaurant a day before, to wish her a successful performance. It is their hope that Kim Yen could participate in Tzu Chi activities happily and live each day well. Kim Yen was so touched that she held Kin Foong's hand and walked with a contented smile on her face.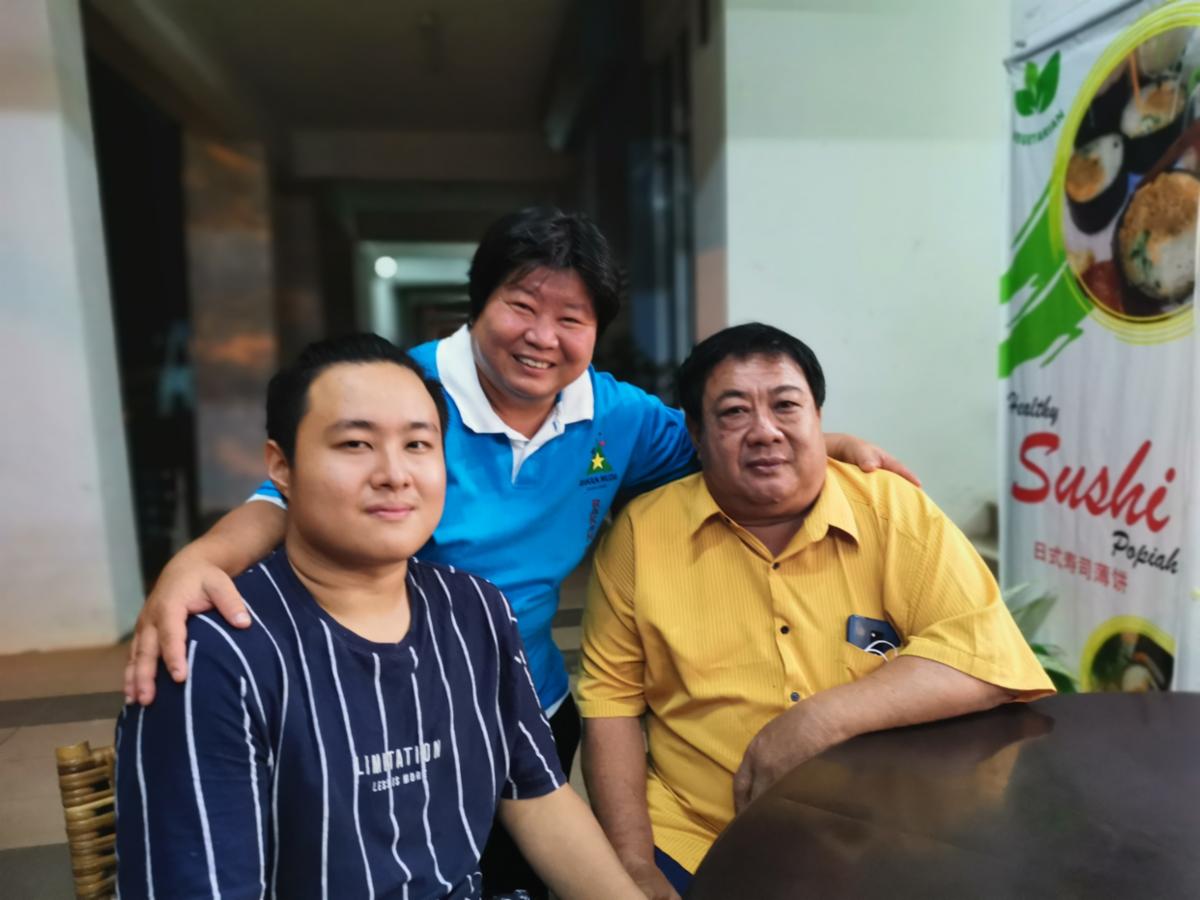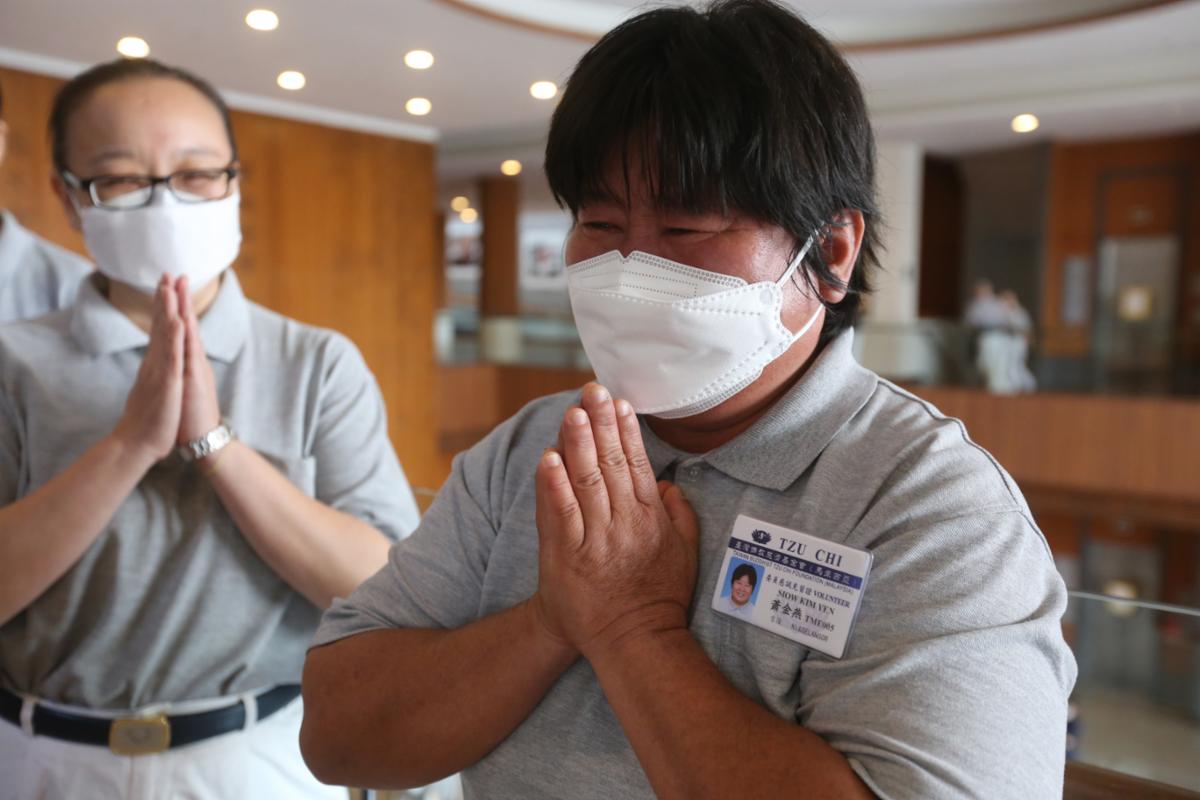 ●
"I am grateful that because of the Dharma, I did not wreck my marriage. I am also grateful that the Dharma has guided me to be a good wife and mother." After participating in the musical sutra adaptation, Kim Yen deeply felt the teachings of the Sutra of Immeasurable Meanings that the Dharma can wash away all the afflictions and impurities of the mind, just as water can cleanse away dirt, be it water from a well, a pond, a stream, a river, or a sea.
She aspires to learn the Dharma more diligently and continue her work in Tzu Chi actively, for there are too many sufferings in the world and more living bodhisattvas are needed to relieve suffering and bring forth joy. Taking this opportunity, Chiew Liew put on a volunteer name card for Kim Yen once again, wishing her continuous improvements and promising to walk with her on the Bodhisattva Path, diligently and resolutely.