Lalitha, who once needed Tzu Chi's help, is now able to help others. She cooked her signature dish for the charity sale to help the Ukrainian refugees.
The clock showed 4-ish a.m. It was an early start for Lalitha a/p Muniandy who was busily preparing ingredients for cooking nasi lemak (coconut milk rice). Her target was to cook 40 packs of nasi lemak and deliver them to the KL Tzu-Chi Jing Si Hall for the charity food bazaar.
Setting foot in the Jing Si Hall for the first time, Lalitha was taken in by the lively atmosphere of the bazaar. When she noticed that more hands were needed, she decided to stay and help out. Volunteer Liew Mei Ling put on a volunteer vest for her, and shared with visitors that Lalitha had sacrificed her sleep to cook the nasi lemak. Everyone was touched and gave their support. Within an hour, the nasi lemak was sold out, and Lalitha continued to promote other food. She could not contain her joy seeing the overwhelming response from the public. "I am really happy to see more and more money in the contribution box. I hope I can sell more to help more Ukrainian refugees."
Lalitha has learnt from news reports that millions of Ukrainians have fled their homes as a result of the war and many are in need of food and shelter. Hence, she agreed to contribute when Mei Ling talked to her about the charitable cause. She said, "We are fortunate to be safe and alive, and have food to eat. These war-torn people are really suffering and we, who are safe and well, should extend a helping hand to them."
◎ Once a receiver, now a giver
Lalitha knew the value of external help and support, especially in her darkest hour. She herself had received help from Tzu Chi, which relieved her plight and brought positive change to her life.
Lalitha lost her husband to an accident nine years ago. She struggled to bring up her four children. However, happiness seemed somewhat elusive even after her children had grown up. She faced obesity and health issues, and the family relied on her eldest daughter and second son for livelihood. Following the Covid-19 outbreak in March 2020, her eldest daughter lost her job at a clinic. To compound matters, her son, who worked as a delivery man, met with an accident and had to undergo surgery for his leg injury.
As the family sank into financial difficulty, Lalitha applied for Tzu Chi's "Kita1Keluarga" relief programme (K1K 1.0), which aimed at providing short-term financial assistance to local families impacted by the pandemic. That brought Mei Ling and fellow volunteers into her life.
In one home visit, Mei Ling noticed that Lalitha looked physically and mentally distressed. She shared with Lalitha the benefits of a vegetarian diet as well as some easy vegetarian recipes. Her sincerity touched Lalitha. From twice a week, to three and finally five times a week, Lalitha began to enjoy vegetarian food and soon became a full-fledged vegetarian.
After the three-month K1K 1.0 relief aid had ended, Mei Ling continued to keep in touch with Lalitha. From the latter, she learnt that her daughter has resumed work, her son was recovering, and she was learning vegetarian cooking and pastry making online. Half a year into the vegetarian diet, Lalitha's health had improved, and she attributed it to her diet and exercise.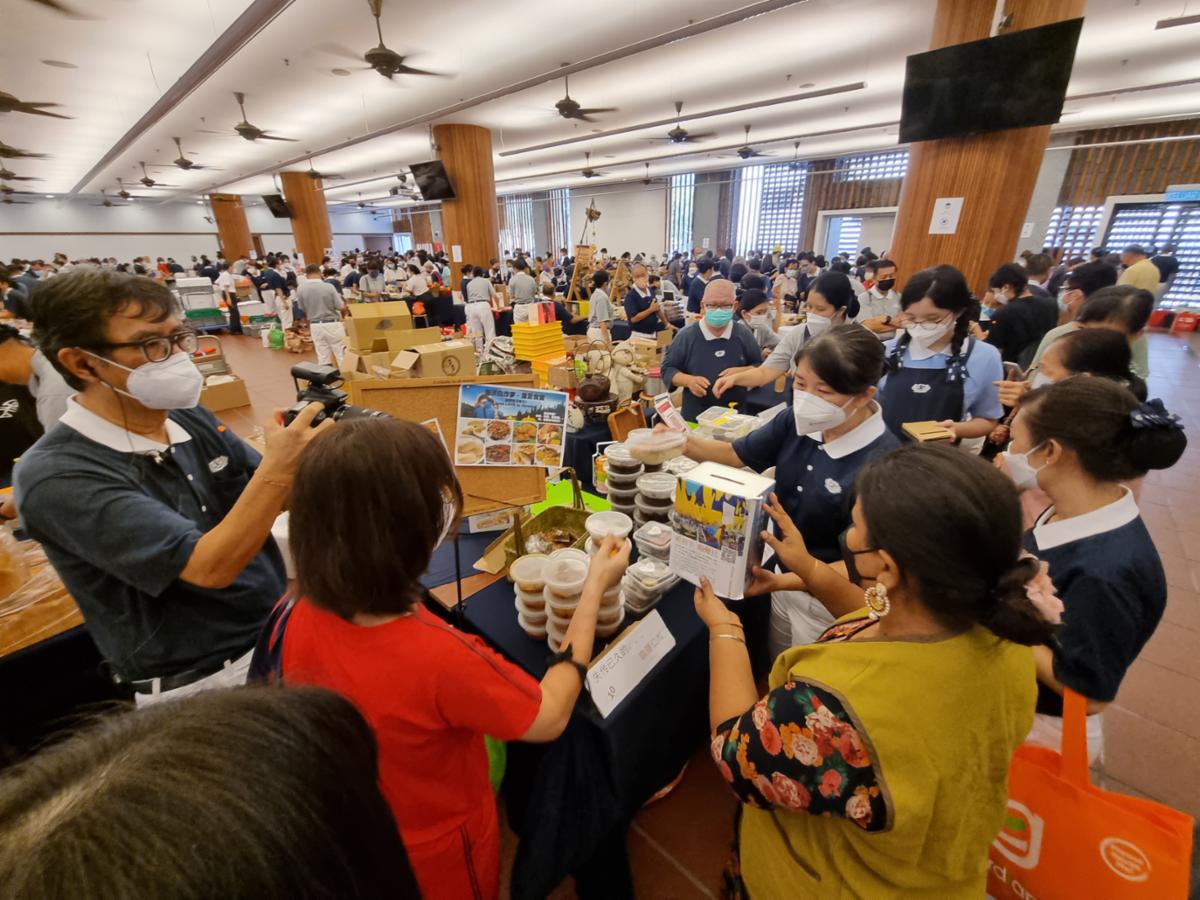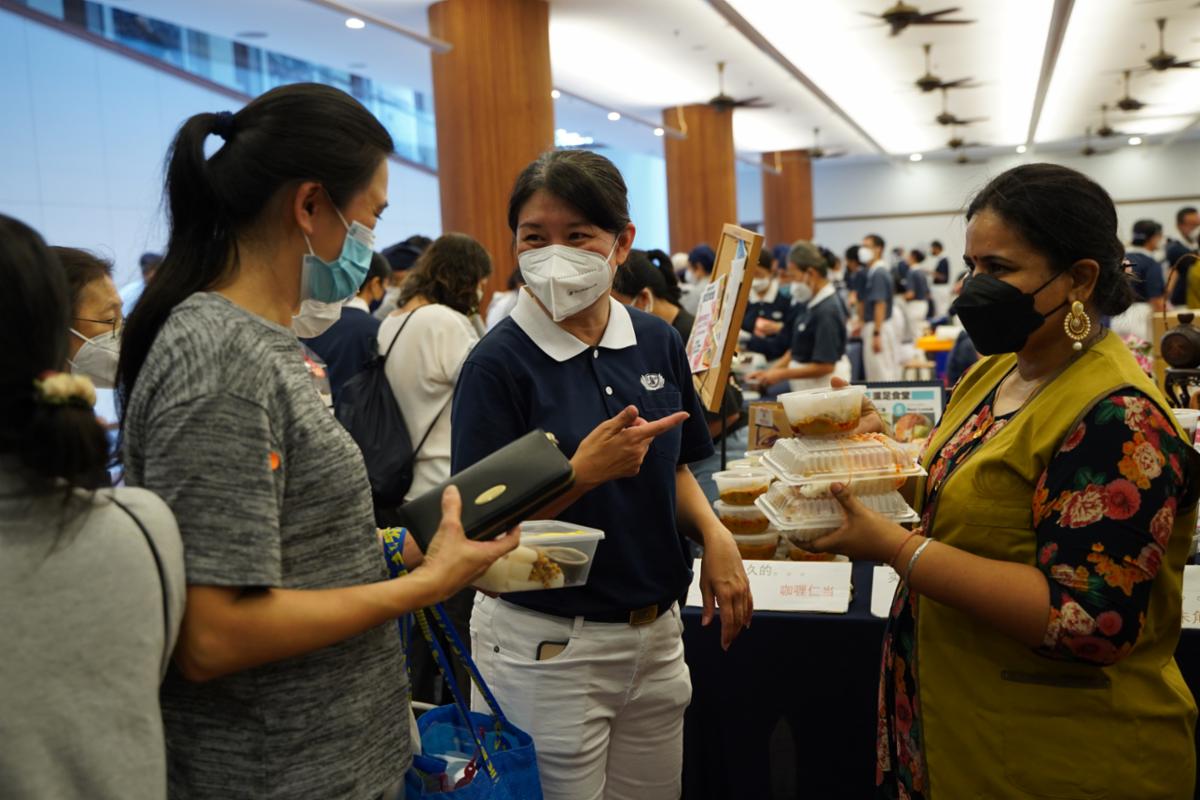 ◎ A renewed faith and excitement to do charity
Seeing how energetic Lalitha was at the charity bazaar, Mei Ling was relieved that a shift in mindset has restored Lalitha's health and enriched her life. For Lalitha, it was a new lease of life. "Being here today, I am deeply moved. It turns out that there are so many people who support vegetarianism and many are willing to help the Ukrainians."
As she paid homage to Buddha, she uttered a bold and sincere promise: "I will cook more vegetarian food and make more pastries to attract more people to become vegetarians, and I am willing to donate ten per cent of the proceeds to help the needy. I pray for everyone in the world to embrace vegetarianism and live in harmony with the animals. Only then will the world be peaceful."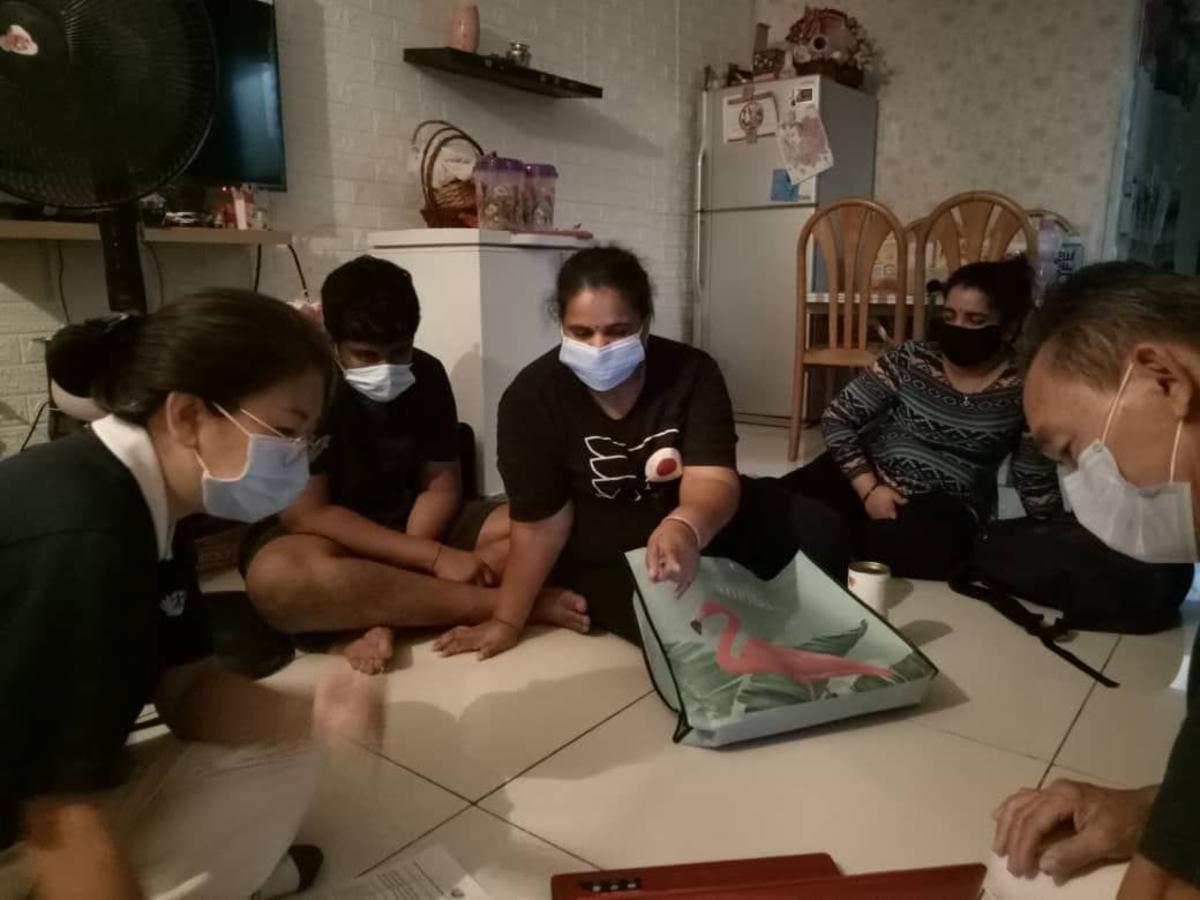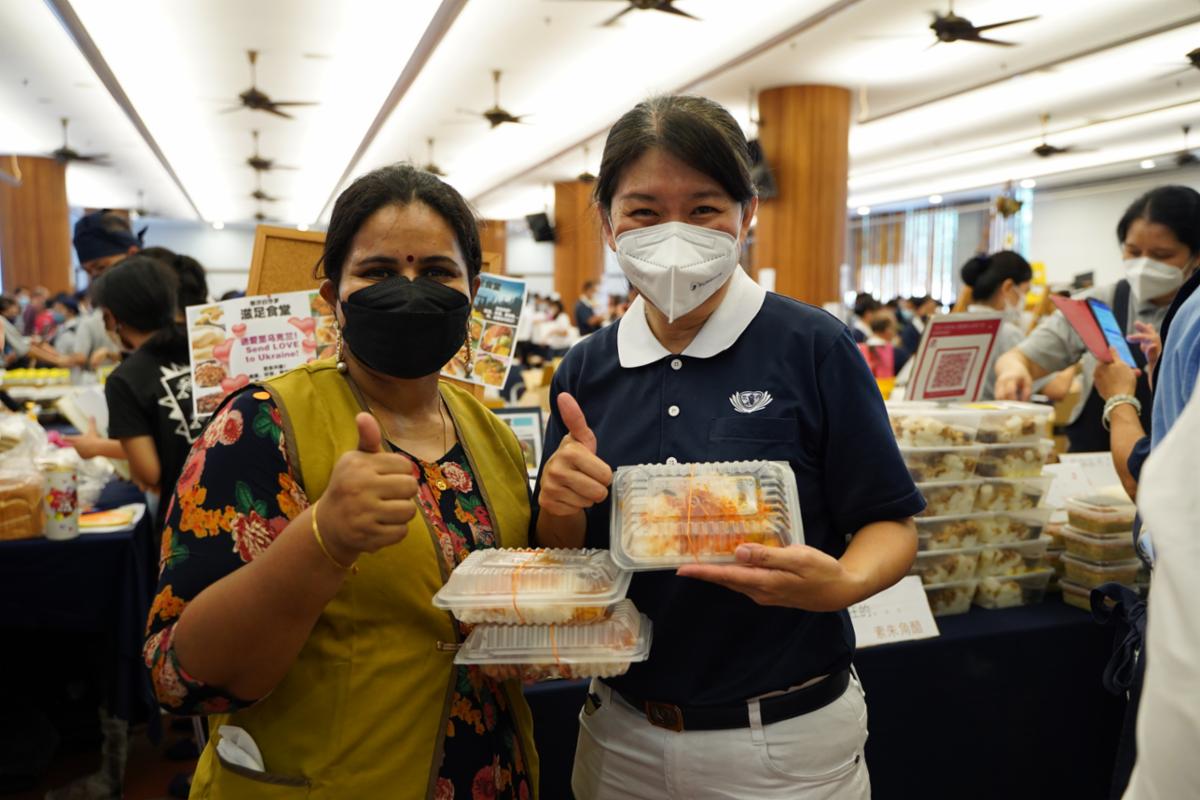 ●
The charity bazaar has reaffirmed Lalitha's intention to go vegetarian and do good. Besides convincing her friends to go vegetarian, she also hopes to become a Tzu Chi volunteer, and promote vegetarianism and charitable acts.