"It has been a long time since we last celebrated Chinese New Year by spring cleaning, painting the house and decorating it with lanterns. I am very delighted; so is my mother," admitted Lim Moi's youngest daughter, Hon Yon Heong timidly, indirectly expressing her gratitude towards Tzu Chi volunteers for their goodwill.
Seventy-eight-year-old Lim Moi has long been confined to an old, tattered two-seater sofa due to her poor health and deformed joints. Her two sons, who are mentally-challenged, are her primary caregivers. Her limbs have become stiff as she has been curling up for an extended period of time, and she is all skin and bones as a result of inadequate care.
Lim Moi has five children. Her husband passed away many years ago. Her eldest son is mentally unstable, her second son is married and has lost contact with the family, her eldest daughter moved out after marrying, her youngest son has a learning disability, and her youngest daughter works in a factory in Kulai and only visits her on weekends. The family relies on the youngest daughter's income and government welfare aid to sustain their livelihood.
Relief by volunteers
In early 2017, a group of Tzu Chi volunteers visited Lim Moi's home in Felda Bukit Permai, Layang-Layang after being notified of the family's plight. They found Lim Moi and her family living in a wooden house built on stilts that is more than half a century old. The house, with a cramped living room that also serves as Lim Moi's bedroom, is minimally furnished with basic furniture, indicating poor living conditions. The house is owned by the former employer of Lim Moi's late husband, who has allowed them free boarding all these years. After assessing the case, volunteers started conducting repair work on the doors and windows around the house. They also replaced the old sofa and mattress with new ones to create a more comfortable living space. In addition, Tzu Chi has been subsidizing two tins of high-nutrition milk powder monthly for Lim Moi, who has been in good spirits after consuming the milk for some time. The volunteers also reminded Lim Moi's sons to prepare the milk formula for Lim Moi and massage her limbs regularly.
The volunteers had previously suggested to Lim Moi's family to relocate to a rented property in town for a better living environment. However, the family was reluctant to move out from the wooden house they have called home for most of their lives. The only remaining solution, therefore, was to give the house a makeover. The volunteers evaluated the condition of the house and found water leakage through the worn zinc panels of the kitchen and bathroom when it rained. The only toilet shared by the family – a simple shed stationed outside the house – was severely clogged due to poor maintenance, so the family had to relieve themselves outdoors or use the neighbours' toilet. Lim Moi's soiled diapers were carelessly disposed of by her children, causing a lingering stench. After obtaining permission from the landlord, the volunteers proceeded to clean and repair the house at the end of 2018.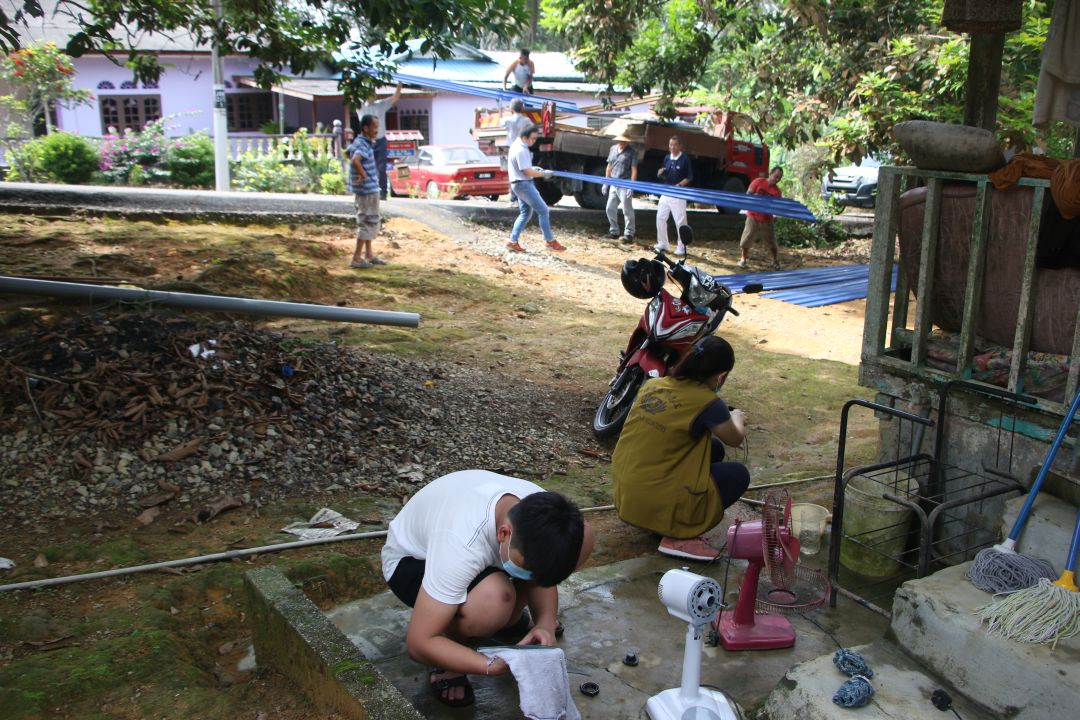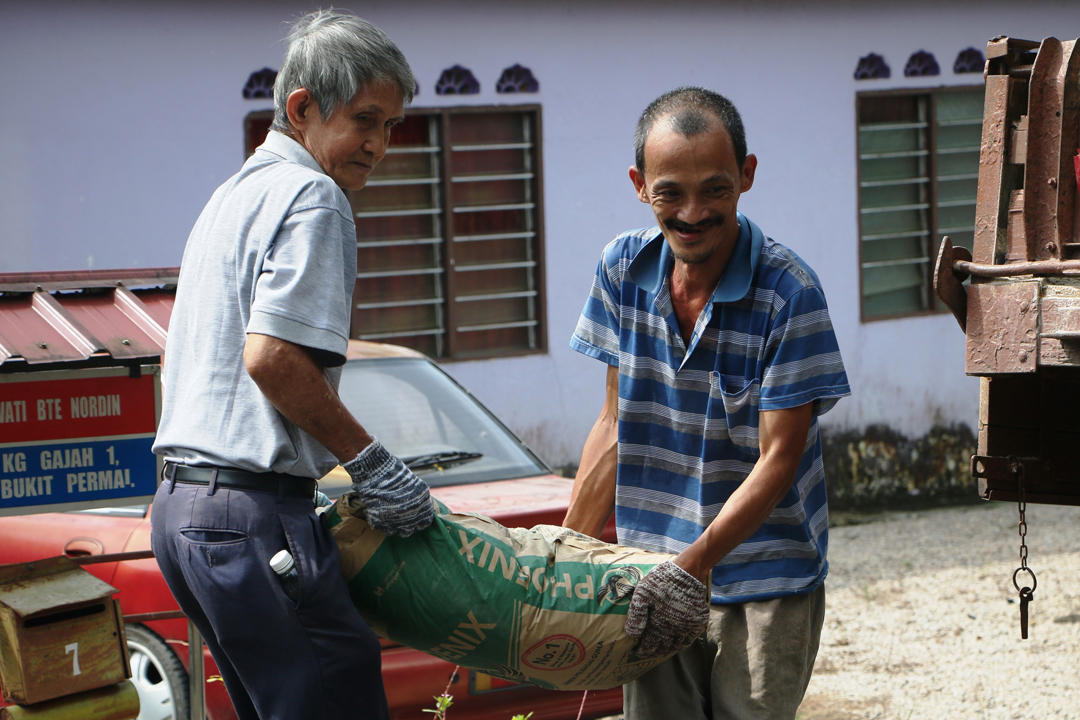 In November, the volunteers carried out a thorough cleaning session, besides covering the worn-out, flawed floor surface with a protective layer. They also transported construction materials, such as sand, concrete and zinc sheets to the house to refurbish the kitchen, replace the bathroom roof and install a sitting toilet, among other repair work. The following month, the house was given a fresh coat of paint. The volunteers were pleased to see Lim Moi's children proactively taking up various tasks from lifting construction materials to cleaning and painting, with smiles on their faces despite being drenched in sweat.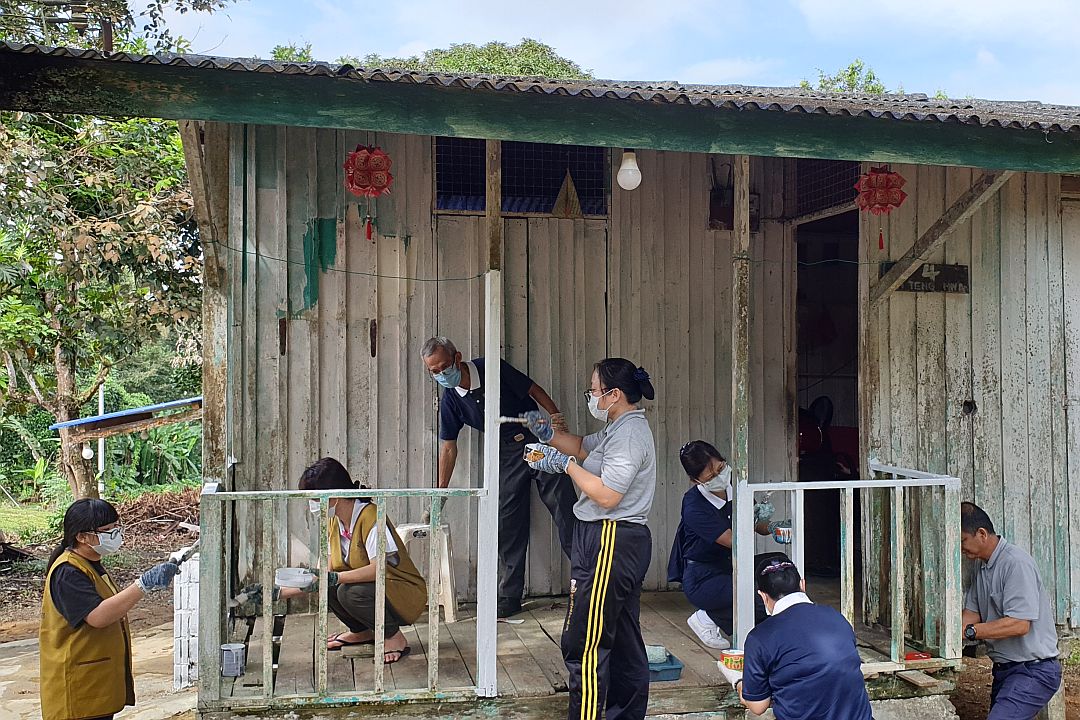 On January 26, 2019, volunteers arrived at Lim Moi's house with material aid and some festive ornaments to bring early festive joy to Lim Moi's family. Everyone chipped in to decorate the house with spring couplets and handcrafted festive ornaments to add to the festivities. This makeover – the first in a very long time – marked a joyous and meaningful start to the year for Lim Moi's family, as they were finally granted a renovated kitchen, a brand new toilet and a clean living space.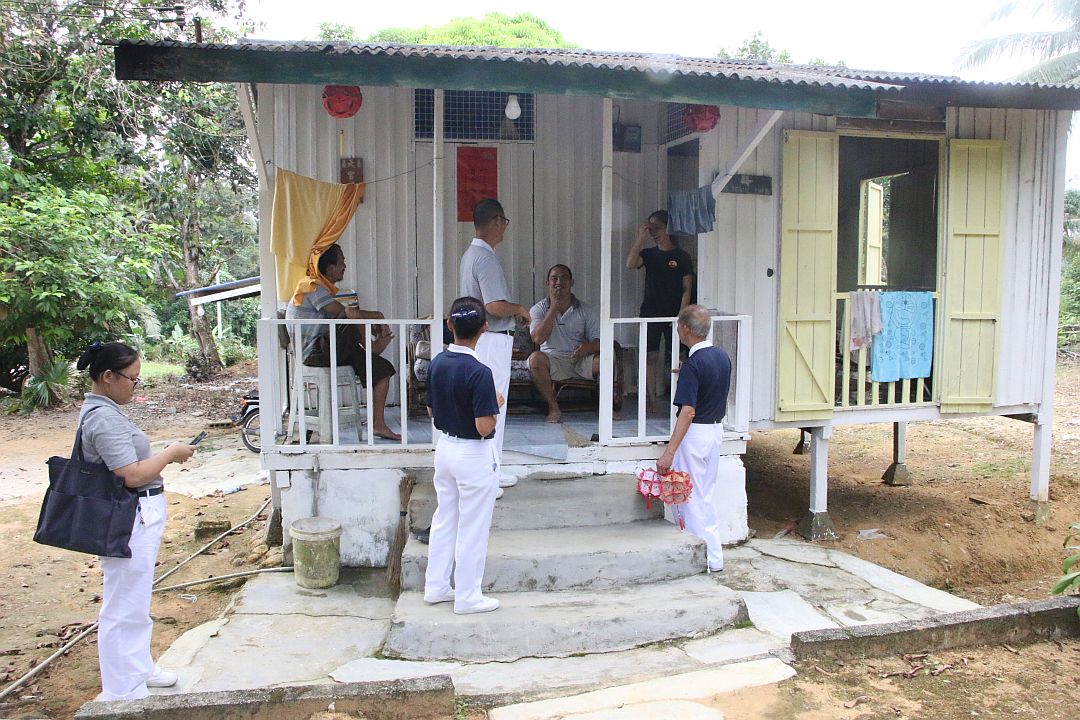 Furthermore, the volunteers gifted the family with a blessing card from Master Cheng Yen, delivered from the Jing Si Abode in Taiwan. All present gave Lim Moi their New Year's blessings. Although she had difficulties expressing herself through speech, she looked pleased. Lim Moi's youngest daughter, Hon Yon Heong, was elated, as she pointed out that the home had never felt that festive before. She was sure that Lim Moi would appreciate the festive atmosphere.
Lim Moi's son, Wan Yoon Ping, eagerly shared with the volunteers that he has been depositing spare change into his bamboo bank, and excitedly expressed his wish to donate the savings in his bamboo bank to those in need. The family learnt about the story of the bamboo bank from the volunteers two months ago, when the volunteers presented the family with two bamboo banks to encourage them to contribute to charitable causes. Although Yoon Ping's bamboo bank contained only RM3.55, his sincere contribution was priceless.
•
Over the past two years, volunteers not only improved the living conditions of Lim Moi's family, but also pulled them closer together and inspired them to commit to kind deeds. May Lim Moi's children perform their care-giving duties well and be blessed with a joyous new year.