Granny Varudamah loves to show others photos of her younger self and her aged mother, daughter and former employer. Seeing the volunteers, she turned teary again. Gently patting on her shoulder, a volunteer comforted her saying, "Let bygones be bygones. Do not dwell on it anymore, alright?"
The local volunteers informed that Granny Varudamah lives in the past, just like the moments captured in the photos. Her memories are full of bitterness and family squabbles, like who had ill-treated her and who had hurt her with their words. Once she starts talking about the past, there would be no end to it; no one could interject or stop her.
The only fond memory she has is her previous Chinese employer who had treated her well, just like a family member. When heavy rains come, she would take down all the photos on the wall before going into her room or the kitchen to shelter from the rain. When the volunteers renovated her house, her only request was to have new photo frames for those photos.
Cheap rental but without maintenance
Varudamah was born into a good family where her father held a senior position in an estate and she was her father's blue-eyed girl. Unfortunately, she did not do well in her studies. After marriage and the birth of three daughters, at age 24, she worked for a well-to-do Chinese family as housekeeper until her 83-year-old employer passed away in 1990. By then she was 43, and her husband had gone missing.
What she cannot get over is the frequent family squabbles. The fact that her eldest daughter and son never returned home after getting married adds to her resentment and helplessness. In 1998, she relocated to Pokok Mangga in Malacca with her youngest son, and has been staying in a wooden house rented from her nephew at RM70 per month since then.
According to her neighbour Wong Foi Cheng, a Tzu Chi care recipient who has been staying there for more than 50 years, the houses there were previously staff quarters of a latex factory. When the factory progressively closed down, the workers left and the wooden quarters were rented out to many families for a nominal sum. However, the property owner would not be responsible for repairs and maintenance.
Like many other wooden houses with damp soil condition, Granny Varudamah's rented house was not spared from termite attacks. She recalled that she noticed the presence of termites since the first year she moved in, and it got worse by the day. There were termite nests on the right wall, holes on the wooden panels and pillars, and some wooden panels had even fallen off. Thus, whenever it rains heavily, the rainwater would splash in, damaging the furniture. Once, volunteers visited Granny Varudamah the day immediately after a heavy rain and discovered puddles of water on the floor of the living room. Granny Varudamah had no means of repairing her house, as she is living on government's welfare funds and subsidy from Tzu Chi.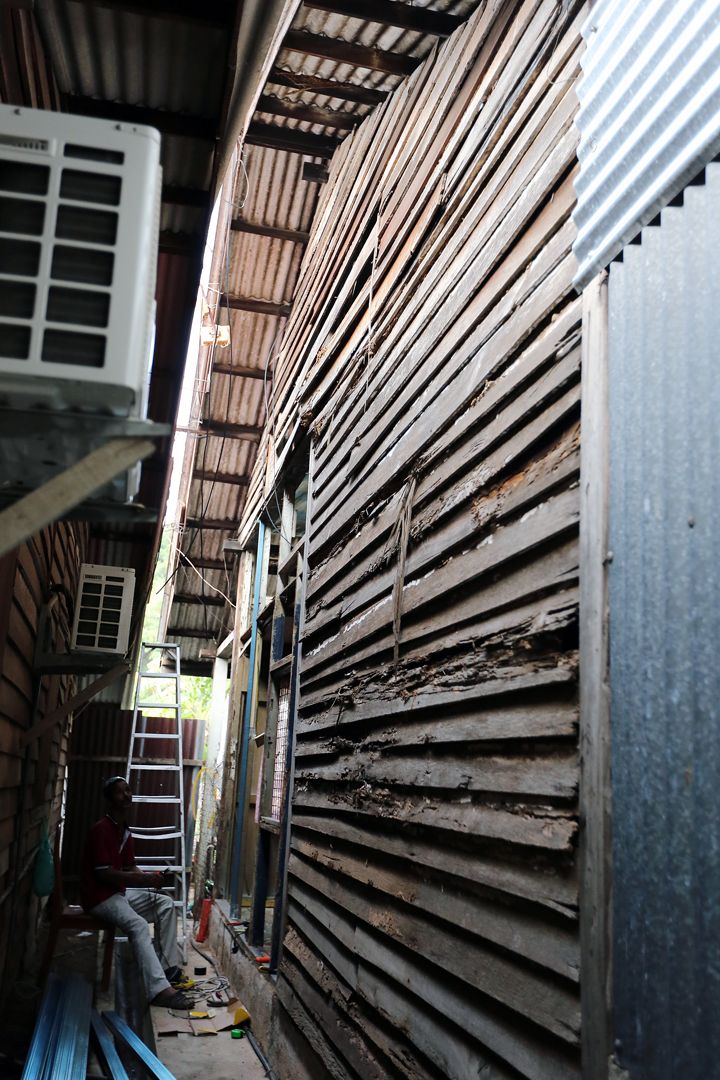 Challenging repair work
At every home visit, Granny Varudamah would bring up the subject of her damaged house, hoping that someone would help to repair it. Noting her concern, volunteers began to bring others to examine the condition and assess how the repair work could be done.
Volunteer Koh Geok Ping, who is in charge of the repair work related, "Initially, we thought of replacing the wooden panels, which is the fastest way to fix it, and the price would be in the range of RM400 to RM500." However, someone suggested that they use zinc panels instead to avoid termite attacks. But, it was still not an ideal solution, for the price would go beyond a thousand and the building material will make the house hot like an oven.
On one occasion, an assemblyman visited the place and Granny Varudamah approached the former for help. After taking a look, the assemblyman informed that they dare not do anything for fear that the house would collapse during the repair work considering the extent of damages. The few others in the construction line whom Geok Ping brought to see the house also did not think they could do anything to help.
Although the house was no longer safe for occupancy, 75-year-old Granny Varudamah, who has been staying there for over two decades, was unwilling to move out for she is used to the environment with her Chinese neighbours. Faced with her persistent query and out of concern for her safety, volunteers brought up the subject for discussion a number of times at meetings.
Then, volunteer Ng Ai Choon recalled a visit to KPT Recycle in Kuala Lumpur back in 2016. Partner with Tetra Pak, the company produces PE-AL roof tiles and boards from used Tetra Pak carton packs. In fact, at the Tzu Chi Recycling Education Centre in Ayer Keroh, the PE-AL boards are used to partition a space for fellowship activities.
Ai Choon explained, "PE-AL board is a good option because it can reflect sunlight, thus reducing indoor temperatures. Furthermore, KPT is willing to participate in corporate social responsibility." Subsequently, a staff from Tzu Chi Office contacted the company and they agreed to offer the PE-AL boards free of charge.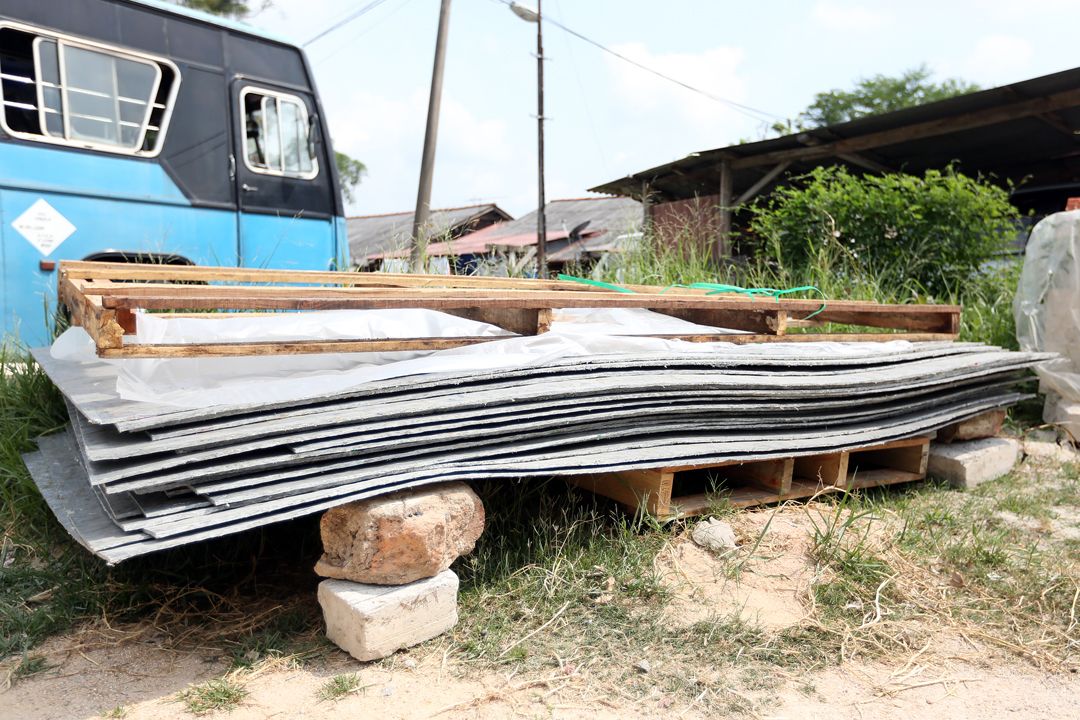 Charitable work infused with recycling
On May 13, 2019, the PE-AL boards were delivered to Granny Varudamah's house, while at the same time, Geok Ping managed to get some foreign workers to take on the home repairs. Prior to the start of the repair job, which is not the same as building wooden walls, Geok Ping specially drove the workers to the Recycling Education Centre to let them see how it is done.
With everything set, the repair work began on May 14. The workers dismantled the wooden panels, erected metal pillars, installed PE-AL boards and sprayed anti-termite solutions after all were done.
Although the job involved only one wall, it took about a week to complete. The seemingly simple task was complicated by the termite infection, which damaged the top parts of the pillars and the roof was at risk of collapsing. Thus, the workers, although experienced, were cautious and cracked their heads together with volunteers to overcome the issue.
Finally, they found a sturdy wooden column as support and managed to complete the job. Ai Choon expressed gratefulness to the contributions by society in supporting a good cause, not just reducing the cost from thousands to hundreds, but also setting a good role model for others to see how recycled items can benefit mankind; and how charitable cause can go hand-in-hand with recycling to help underprivileged families.
Geok Ping was grateful to the foreign workers for taking on the job that required experience and skills. The workers, who are due to return to Bangladesh in a year, told Geok Ping that in order to ensure the wall can last for many more years, they took extra efforts and care. They also worked on the request from Granny Varudamah's youngest son to add on PE-AL boards in the room without extra cost.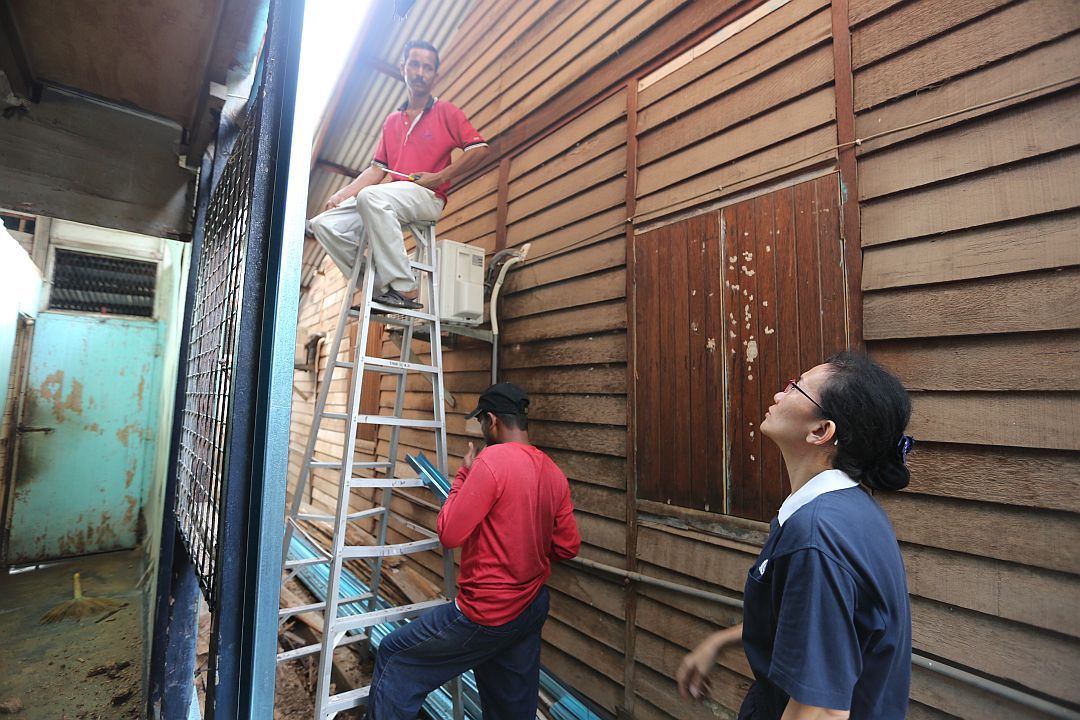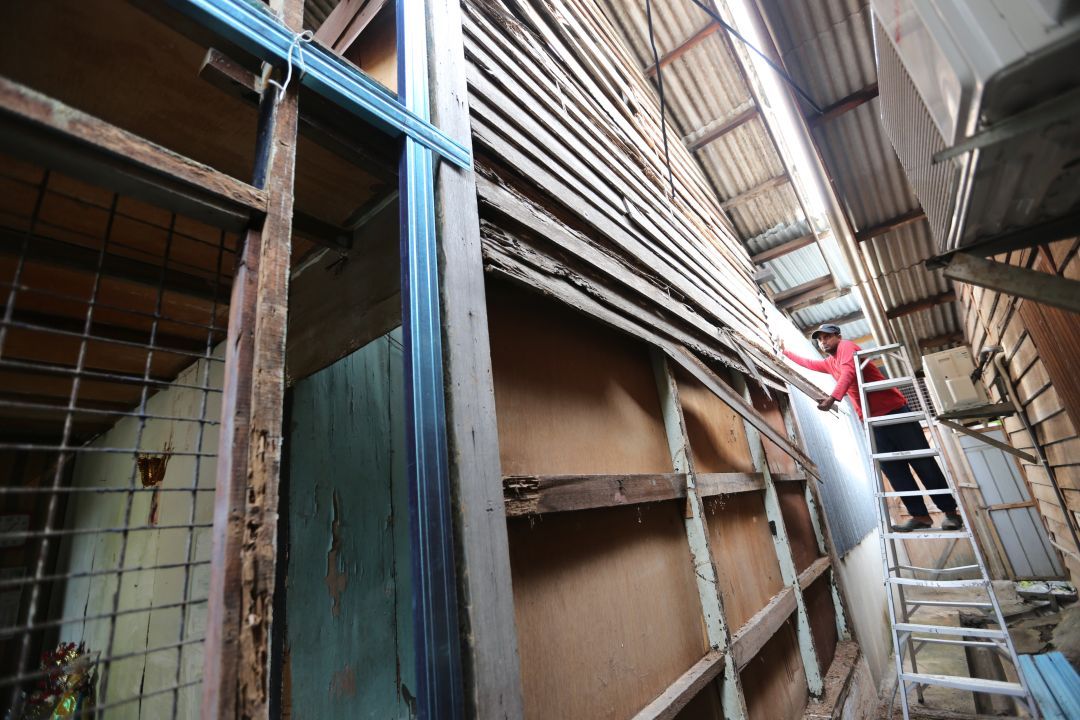 Inspired to do recycling
Last year, the youngest son of Granny Varudamah went into drug rehabilitation centre. Although he was subsequently discharged, old habits die hard, and he now survives on scavenging. Erratic in temperament, he would vent his anger on his mother when he was in a foul mood, leaving her mother in tears.
For the sake of her son, Granny Varudamah lives a very frugal life. Her meal is usually just rice served with only chilli or egg. Besides, she either walks or takes the bus when out shopping. Some household items, like television and mattress, were also brought in from the recycling centre by the volunteers.
Although the house is minimally furnished, Granny Varudamah keeps her house very neat and tidy, decorating it with cute little items and plenty of plants at the porch. She even has two chubby cats.
But no thanks to the piled-up grievances over the years, Granny Varudamah now has high blood pressure, diabetes and high cholesterol, and needs to take medications daily. This worries the volunteers.
Geok Ping said, "The subsidy for living expenses has taken care of her day-to-day life. The house renovation gives her a safe environment to live in. Next, we have to take care of her heart," while Ai Choon said, "Each of our home visit seems to trickle sad memories for the granny. We hope she can step forward and get involved in recycling work instead of dwelling on the past."
Looking at volunteer Lai Quee Lan, Granny Varudamah remarked that she would only break into smiles when "Tzu Chi" (how she addresses the volunteers) visits, and that she would always include the volunteers in her prayers as a gesture of gratitude to Tzu Chi.
On May 20, upon completion of the renovation, volunteers brought a cake to celebrate and told Granny Varudamah that everyone loves her and hopes she will be happy always. Suddenly, she burst into tears and said that to her, the cake means birthday celebration. On her birthday, she normally goes to the temple to pray and has never celebrated.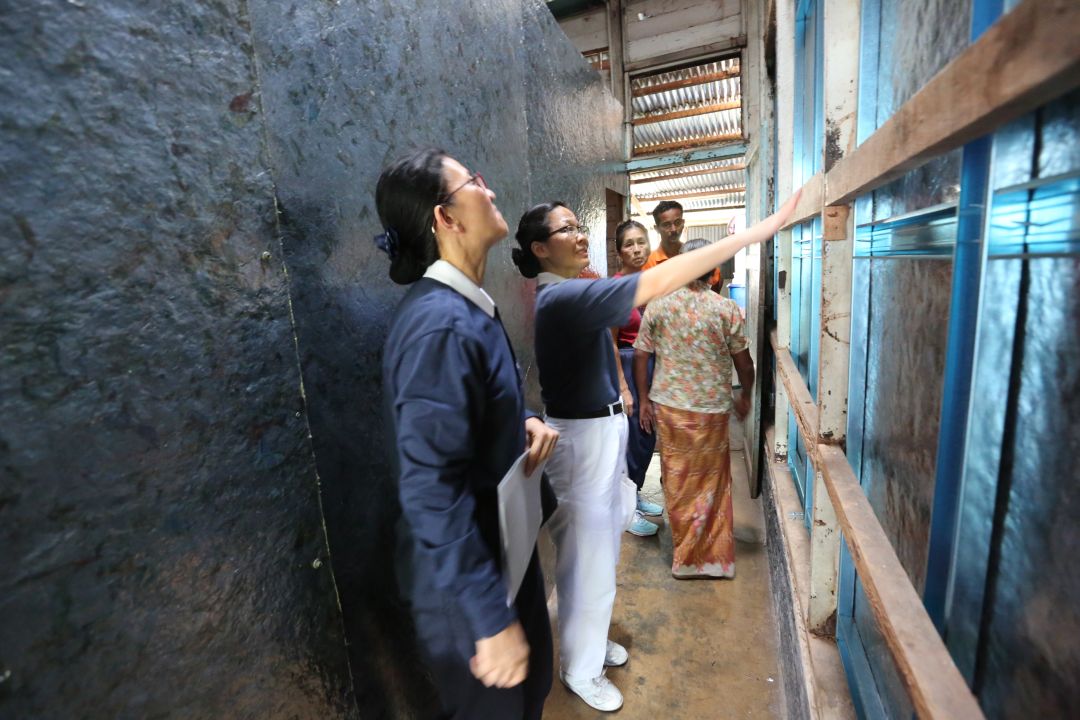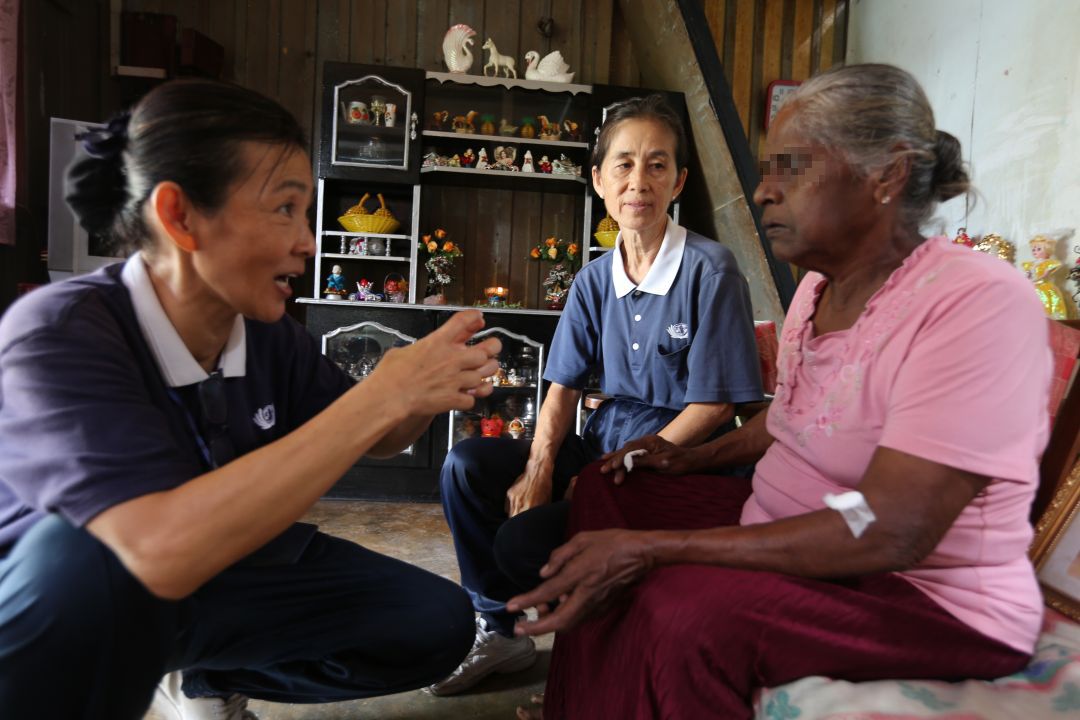 After listening to volunteers' explanations that the PE-AL boards come from recycling Tetra Pak packs, and that several thousands of carton packs are required to make one piece of board, Granny Varudamah was deeply touched and agreed to join the volunteers to do recycling, making full use of her two hands to do good deeds.