Nearing the Lunar New Year, a dream for the past decade was realized for Lim Yoke Sim and her mother, and it was delivered to their doorstep. Both were truly happy and moved, claiming that it was their most memorable, merriest and happiest Lunar New Year.
Lim Yoke Sim, a lady with thick and slightly curled long hair, big eyes with thick eyebrow, and a sunny smile on her face, is the angel in her family and a beauty in the eyes of volunteers. Although she is unable to move around freely at a young age of 27, it is hard to see any trace of sadness or sorrow in her sweet smile.
"Since the high fever at 7-years old, my lower limbs were paralysed and I spent the past 20 years in a wheelchair. I couldn't walk since then. I need my mother's help for almost everything, like going to the toilet, getting on and off the bed......" Yoke Sim gave an account of how her life has been inseparable from her mother, who is like her patron saint and her pillar of support.
One day in November 2018, Mrs Lim pushed Yoke Sim's empty wheelchair outside, planning to clean it. Unexpectedly, she bumped into a flower pot and fell to the ground, unable to get up. At the hospital, it was found that there were bone fractures on her thigh. For the following three months, she had to take the wheelchair while waiting for the fractures to heal.
Yoke Sim was deeply saddened, and the dream in her heart became stronger. It turned out that Yoke Sim had dreamt of having a disabled-friendly home as early as ten years ago. Although she lives in a single-storey terrace house without staircases, the internal layout, whether it is the door to the bathroom or kitchen, can only fit through one person. When Yoke Sim was in the wheelchair, she could not push through the doors. Hence, she had never been in the kitchen, and always had to rely on her mother to carry her in and out of the bathroom.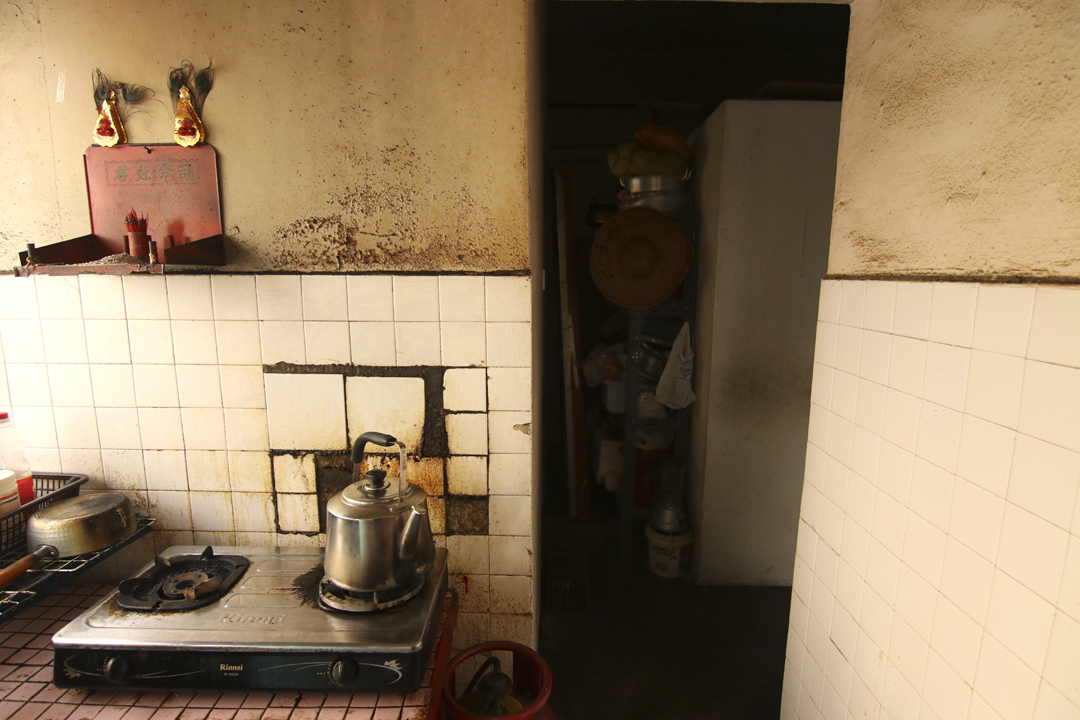 "Mum will grow old one day and lose her strength; and I am heavier as a grown-up. I really can't bear to increase mum's burden."
For that reason, Yoke Sim had always wished for her home to be fitted with disabled-friendly facilities and designs, so that she could move around in her wheelchair and be self-reliant, thus reducing her mother's burden.
"However, the installation would cost us around RM20,000, an amount beyond what my family could afford with only my two brothers working to support the family's livelihood. If it wasn't for Tzu Chi's help, my dream may never come true," said Yoke Sim with a broad smile. She never thought that the dream she had waited for ten years will finally be realized through Tzu Chi.
The first experience in a kitchen
Yoke Sim first got into contact with Tzu Chi when she was in Form 4. At the end of that year, she was recommended by the school to apply for Tzu Chi Study Grant, and her application was approved. During the presentation ceremony, she saw through an introductory film about Tzu Chi's charitable work around the world and was deeply touched. However, since the ceremony, she had no means of contact with the volunteers.
Last year, after Mrs Lim fell down, there were suddenly two persons at home with limited mobility; and due to her injury, Mrs Lim could not send Yoke Sim to work. Thus, the latter took leave of absence, and they had to employ a part-time helper to clean, cook and help take care of both of them.
When Yoke Sim's uncle, who is a Tzu Chi volunteer in Penang, heard about their situation, he reported it to Tzu Chi Branch Office in Penang, which then referred the case to the KL & Selangor Branch.
Upon receiving the information, Ong Saw Tin, a volunteer who lives close to Yoke Sim, immediately contacted the latter. She also visited Mrs Lim at the hospital. To her surprise, they knew each other – Saw Tin often met Mrs Lim at a fresh market in Setapak, and they frequently caught up over a cup of tea.
Saw Tin related, "I often heard Mrs Lim mentioning about her daughter in a wheelchair, a brave and strong girl! I didn't expect her to be Yoke Sim. When I saw Yoke Sim, I immediately recognized her as a beneficiary student I had met at Tzu Chi Study Grant presentation ceremony." Saw Tin felt the incredible affinity that they had finally met.
When Saw Tin and other volunteers visited Yoke Sim at her home, she asked about the help that Yoke Sim needed. She then learnt about Yoke Sim's 10-year dream for a disabled-friendly living space.
Saw Tin felt for Yoke Sim; she understood the importance of the facilities for a person with limited mobility. After their evaluation, Tzu Chi KL & Selangor approved the subsidy for the construction and engaged construction workers to renovate and create a disabled-friendly home for Yoke Sim.
Everything went smoothly. The workers not only accelerated their work speed to complete the renovation before Chinese New Year, but were also considerate of Yoke Sim's desire in their design. To make it easier for Yoke Sim to get in and out of the house, they built a ramp at the door, allowing the wheelchair to go straight down from the house to the slope reaching the gate. The kitchen door was enlarged, and the stovetop was rebuilt according to the height of the wheelchair. The bathroom door was also enlarged, allowing the wheelchair to go straight in. The walls on both sides of the toilet were equipped with handrails to provide stability and support. The shower head was lowered to the height reachable by Yoke Sim.
Now, the ground is flat and unobstructed from the outside slope to the inside of the house. Yoke Sim can drive the wheelchair by herself and move around freely. Another change that makes her even happier is that she can finally stand in front of the countertop in the kitchen she has never been in, to prepare a meal with her mother.
Welcoming a beautiful and sweet life
On January 19, 2019, and although there were still two weeks away from the Lunar New Year, each volunteer brought over a dish they cooked to celebrate with Yoke Sim and her mother. Besides sharing the joy on the near completion of the renovation, it was also an early reunion dinner with both of them. To express her gratitude, Yoke Sim specially prepared a "vegetarian rendang" with guidance from her mother.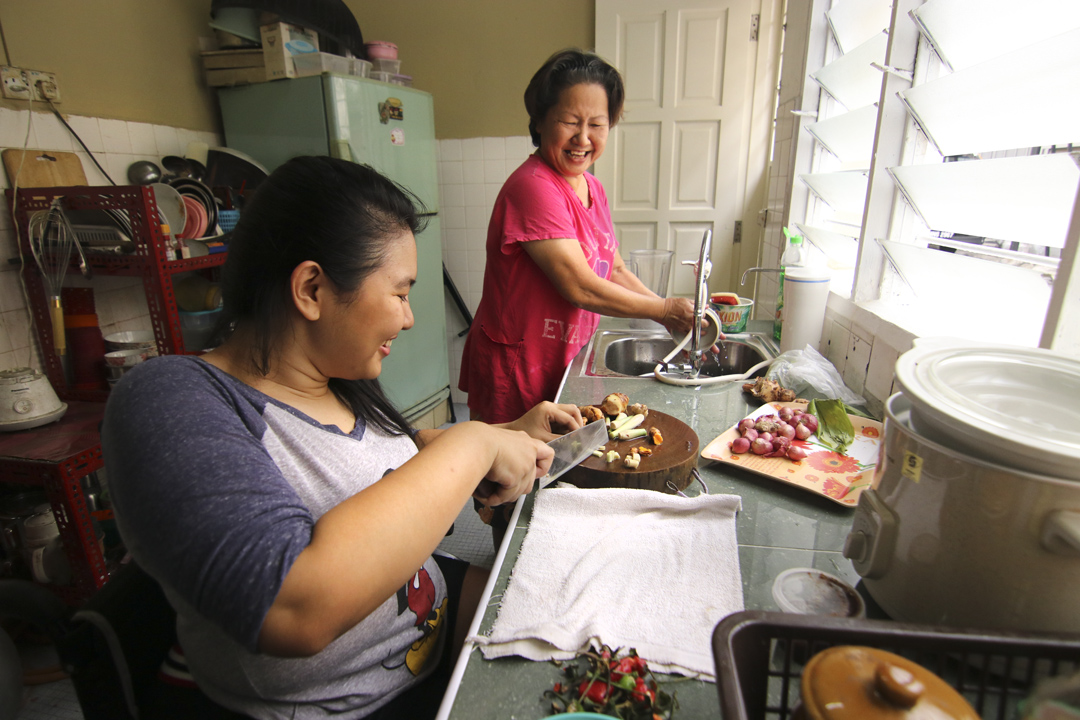 When Mrs Lim took out the good-smelling dish, everyone could not help but taste it, and agreed that it was delicious. Yoke Sim smiled and revealed that her mother used to be a chef and her two brothers are also cooks. She was the only one, just starting to learn the way to cut vegetables. Watching everyone enjoying the food, a positive Yoke Sim announced that she will cook more often in the future.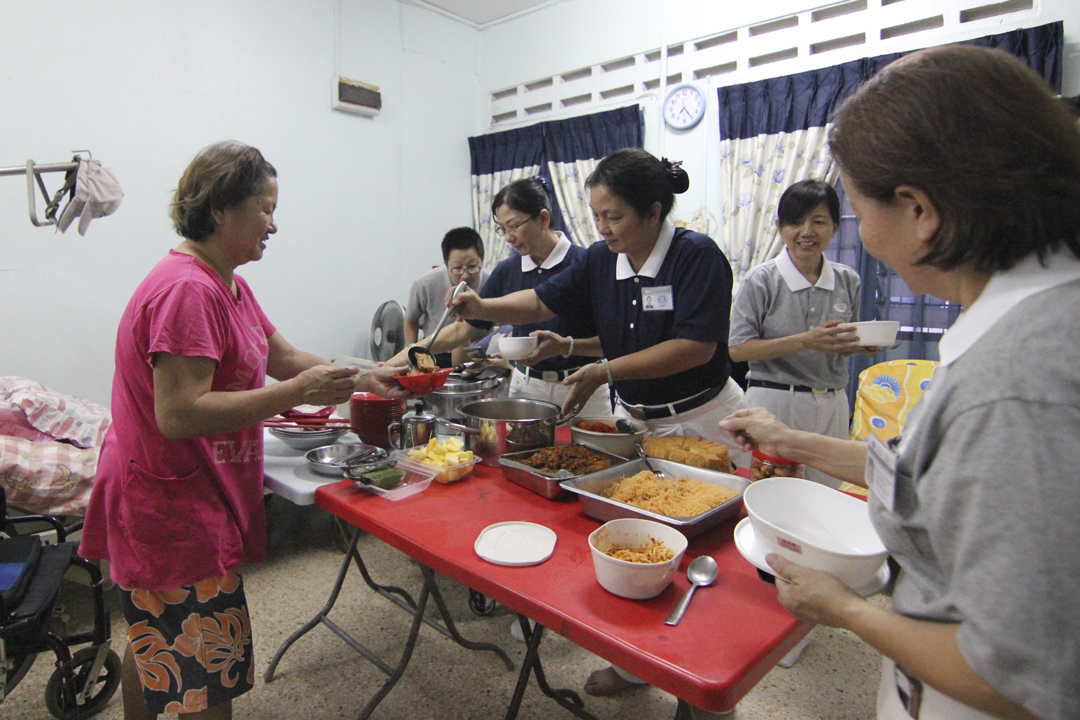 Her announcement made her mother smile broadly. Mrs Lim sincerely thanked Tzu Chi for creating a disabled-friendly space for her family, so that Yoke Sim can learn to be self-reliant and does what she wants. It turned out that before the fall, when Mrs Lim and Saw Tin used to chat over tea, she heard about the efforts of Tzu Chi volunteers and deeply felt that it is very meaningful to be able to help others through voluntary service. However, she had to turn down Saw Tin's invitations for any activities or recycling in order to take care of Yoke Sim. Now, with the disabled access and facilities, Yoke Sim can move around freely, and no longer needs someone to carry her around.
Yoke Sim knew that her mother longed to do meaningful things, so in front of the volunteers, she encouraged her mother to help with recycling. She told her mother that it is time for her to do what she likes. Mrs Lim listened and promised, "I can walk slowly with a walking stick now. In a month's time, as my fractures heal and I can walk as normal, I will join you all for recycling."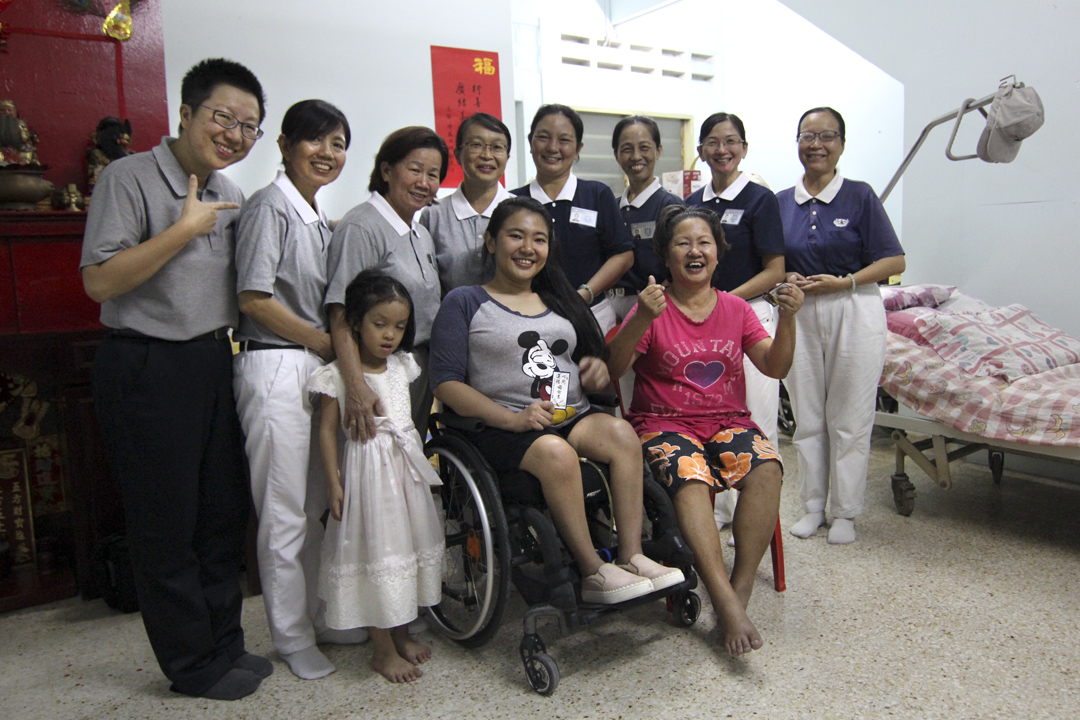 •
"It is such a blessing for Yoke Sim and Mrs Lim to have gone through the difficult 20 years. We look forward to many more 20 years in the future. May Yoke Sim and Mrs Lim continue to live with more smiles and greater courage. We wish both of you peace and health!"
Words of blessing filled the home and then amongst the warm applause, volunteers brought out a cake. Yoke Sim and Mrs Lim smiled widely. When they saw the words "Keep smiling" written on the cake, the duo could not help but smile again, because this is what Mrs Lim often says to encourage her daughter.
It was an evening filled with warmth and laughter. Mrs Lim said that since the celebration of her grandson's full moon eight years ago, the family has never had such bustling time. At that moment, she really felt the joy of having loved ones celebrating a festive season together.
For Yoke Sim, although the Lunar New Year has yet to arrive, she has already received the unforgettable gift and good wishes. She is convinced that with the blessings from volunteers, tomorrow will always get better. From that day onwards, she will start a new life in the disabled-friendly home. She deeply believes that a beautiful and sweet life awaits both her and her mother.