Poverty and illnesses are interlinked. Oftentimes, when a family member, especially the breadwinner, falls sick, the whole family becomes trapped in predicaments. For Lim Siong Heng's family, Tzu Chi volunteers lifted them up with charity, medical and education assistance.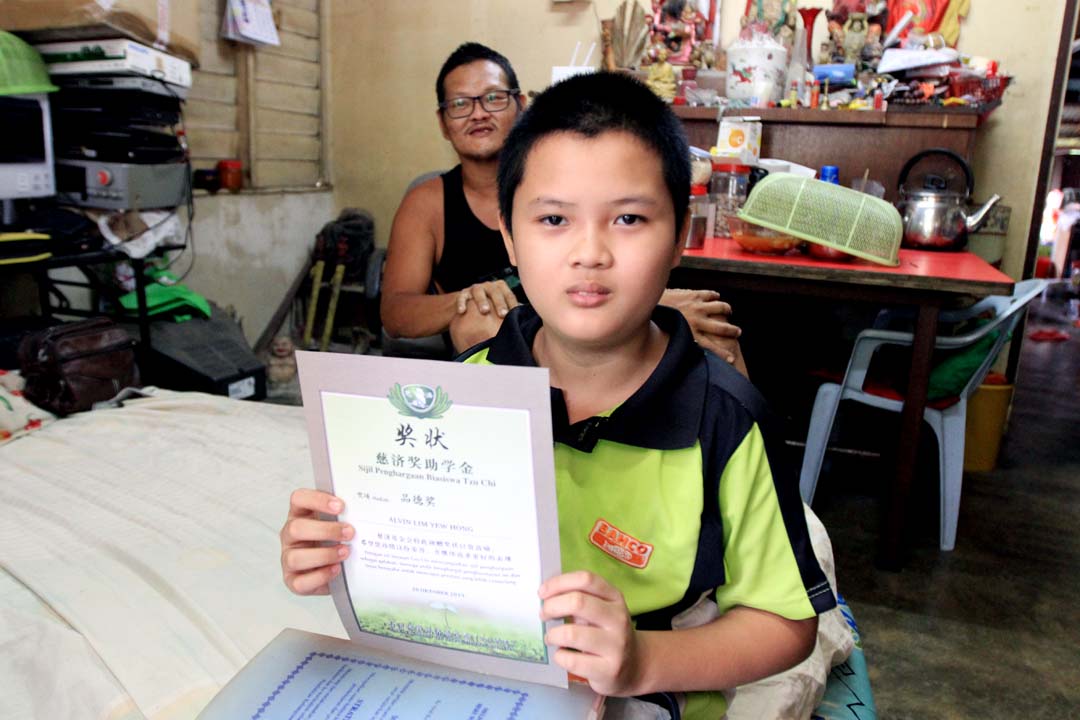 Lim Siong Heng, a Tzu Chi care recipient, has been unwell for the past two months. He would be gasping for air after speaking a few words, and at times, could only lie in bed feeling dizzy and weak. Nonetheless, his biggest concern was not his health, but the livelihood of his family.
His wife, Bek Siew Leak, was under tremendous stress having to look after her husband and kids, while worrying about his health and family's finance. Her pent-up emotions were tearfully released when Tzu Chi volunteers and doctors from Tzu Chi International Medical Association (TIMA) visited her family in late July 2022 to offer care.
◎ From education aid to family needs
Siong Heng, who is in his 40s, has deteriorating eyesight due to diabetes. Worried about his safety, and to take care of their children, Siew Leak could only join him to scavenge recyclables for a living. Although life had been tough, they managed to scrape by. However in 2020, they had zero income and struggled to subsist for several months due to the pandemic.
When they began to see hope following the easing of the pandemic situation and restrictions, they were dealt with another blow. Siong Heng was rushed to the hospital for dizziness and weakness, and was found to have a high white blood cell count, with suspected bacterial infection. As the hospital was short of hospital beds, he was given medication and allowed to recuperate at home. However, his condition did not improve after some time. He still felt dizzy and could not walk properly, let alone go out to collect recyclables.
During that difficult period, Tzu Chi volunteer Ng Siew Khim paid the family a visit regarding the children's education aid—Siong Heng's sons, Yew Hong and Yew Man, have been beneficiaries of Tzu Chi Study & Awards Scheme for the past three years. Upon discovering the family's predicament, Siew Khim immediately reported it to Tzu Chi, and they became Tzu Chi care recipients, receiving monthly assistance since January 2022.
Although Siong Heng's health improved over time, and was able to go out and collect recyclables later on, he would still be panting if he spoke too much. Hence, volunteers advised him to get further health check, and to avoid piling up recyclables, which would not only affect their living environment and health, but also their children's studies. Nevertheless, the couple continued to leave home at 5-ish in the morning to look for recyclables, before they were carted off by the garbage trucks. With their hard work, their house was cluttered with recyclables, some of which were covered with a thick layer of dust, and even the walking space was blocked.
When Dr. Ng Guat Kiat and Dr. Saw Bee Chian saw their living environment, they, too, offered their advice. After studying Siong Heng's blood test report in detail, Dr. Saw explained to Siew Leak that her husband's kidney functions were deteriorating, affecting his heart, lungs and other organs. In addition, he also had a serious bacterial infection in the lungs. The poorly ventilated and cluttered living environment might encourage the growth of bacteria and viruses, consequently posing health risks to the family.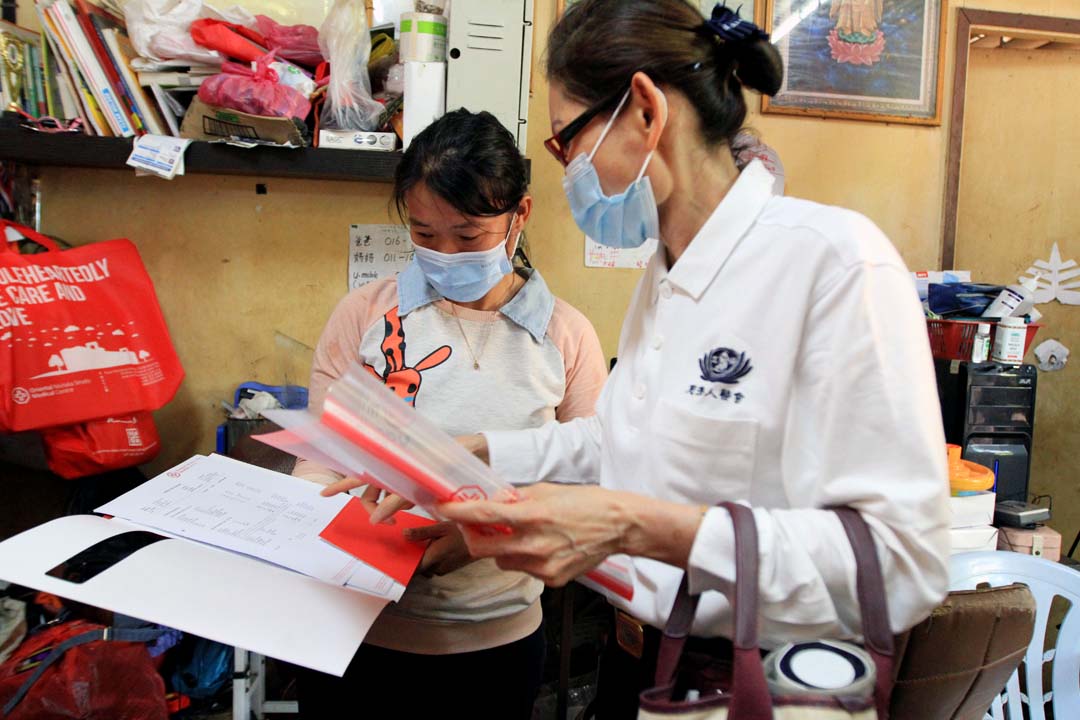 Siew Leak responded, "It is not that we do not want to clear the recyclables collected sooner, but we will only get RM1 for each piece of electrical appliance sold. The recycling trader might even refuse to take them. If we dismantle them and sort the parts out, we can get higher proceeds. The copper wires fetch a good price, but it takes time and effort to extract them. As much as I wished to dismantle and segregate them, my time and energy are limited. For others, these items might be rubbish, but for us, each of them has our sweat in it and they mean money."
◎ From curing people to healing minds
On the other side, Dr. Ng was talking to Siong Heng, who was lying lucidly in bed. Being aware of his diabetes, Dr. Ng was concerned when she noticed plaster banding on his sole. As it turned out, Siong Heng has been scavenging around wearing slippers, and puncture wounds are not uncommon. Even his 12-year-old youngest son has become skilled at cleaning and dressing the wounds for him. Upon examination, Dr. Ng found the wound had scabbed over. Hence, she advised Siong Heng to remove the bandage to allow the wound to breathe, besides educating him on wound care.
Siong Heng confided in the doctor his frustration and helplessness. His asthmatic condition had not improved since last December. He had also tried to arrange a hospital appointment for his deteriorating eyesight, but had not been able to get one for the past few months. The volunteers shared with him about the PeKa B40* healthcare scheme, while Dr. Ng assured him that as long as he follows the procedures, he will be referred to the general hospital for treatment if a medical condition is detected.
This information brought much relief to Siong Heng. He said, "This soothes my worries. Otherwise, I do not know how much longer it will be delayed and how my family can sustain. These few months, I could only send the recyclables to sell once every few weeks, when my health condition permitted me to drive. My children and wife would load the recyclables into the car, and my wife had to unload them all by herself at the factory."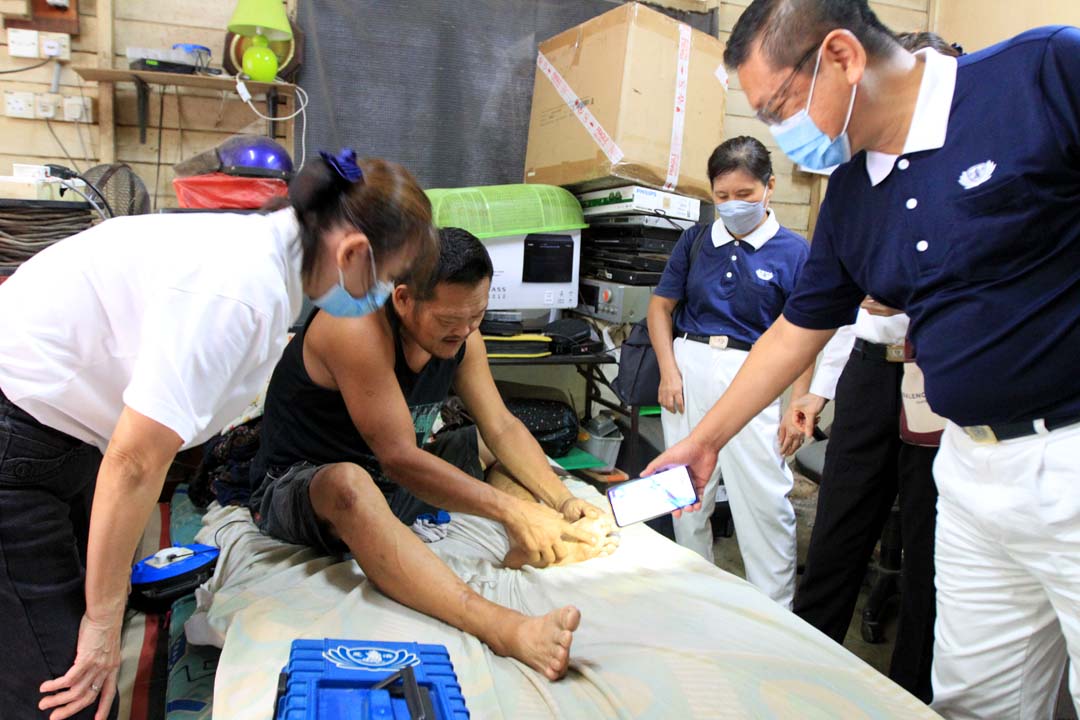 Siong Heng also took the opportunity to enquire about free dentures as he had only three teeth left and had difficulty chewing. He was overjoyed when Dr. Ng, who happens to be a dentist at Tzu-Chi Free Clinic, asked him to visit the clinic for his dentures. He shared that he had been focusing on scavenging and thinking about his family's livelihood. The doctors' visit had benefitted him greatly and he looked forward to his recovery so that he could be the pillar for his family again.
◎ A guiding star that lifts the spirits
Since the volunteers stepped in to care for the family in January this year, they have not only brought them financial assistance from Tzu Chi, but also encouraged the couple to make a career change so that they could have a stable job and income to improve their living conditions.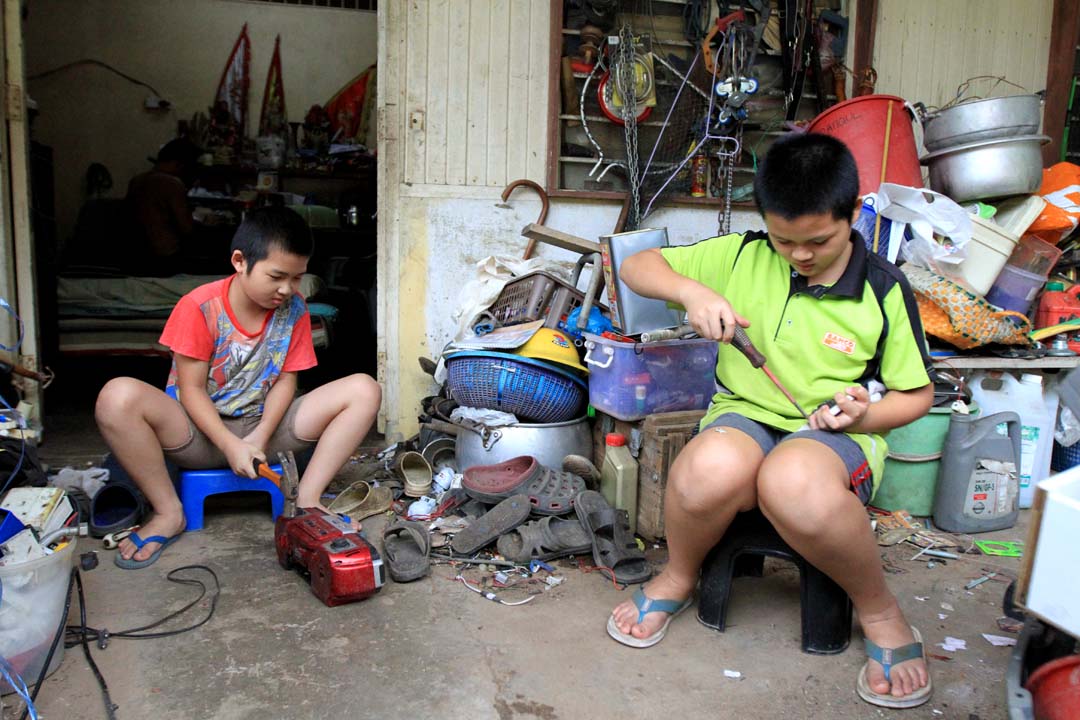 Moreover, volunteers applied for their sons to be enrolled in the online English tuition initiated by Tzu Chi Malacca in March this year for children from disadvantaged families. The shy older son, Yew Hong, has been highly receptive to the online lessons. He would test the Internet connection half an hour before the classes begin to ensure that he would not miss any lesson.
The youngest son, Yew Man, though not interested in studying, was drawn to the English lessons. Their tuition teacher, Principal Ong Siou Mei, commended on their keen attitude and how they cherished the opportunity to learn. They also showed progress after a few lessons.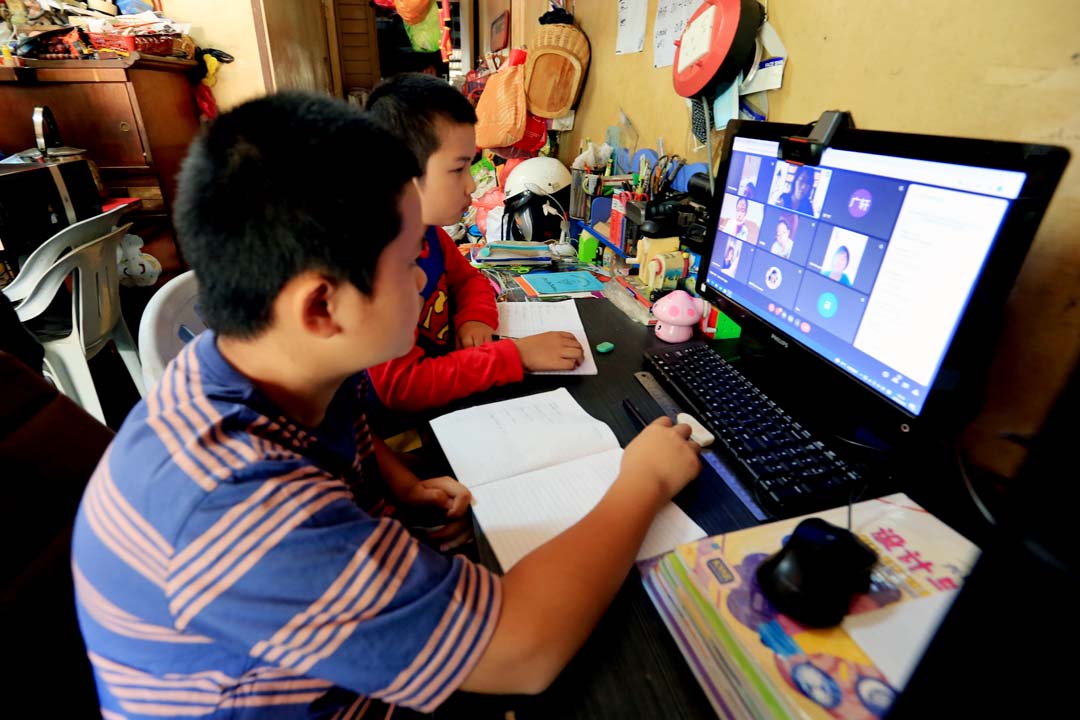 For that, Siew Leak was grateful, for she and her husband are incapable of guiding their sons in their studies, and also could not afford tuitions for them. She hoped the free tuition could help transform the boys' lives.
The couple was also grateful and touched for the care and support offered by the doctors and volunteers in various aspects, from their daily life and healthcare to the children's education. Siong Heng expressed, "I cannot imagine how we could get through this period if it was not for the assistance from Tzu Chi!"
Siew Leak added, "Sometimes, when we found some rotten vegetables in the rubbish bins, we would just remove the rotten parts and eat the good parts. We also ate expired frozen seafood discarded by others. We are thankful for the education aid from Tzu Chi, which has connected us with the organization, and for the volunteers' visits and care, which has led to subsequent assistance for us. Tzu Chi is really our guiding star!"
●
When Tzu Chi volunteers reached out to a disadvantaged family, they do not just bring financial assistance, but go further to care for the family's well-being, such as the children's education, medical needs, living environment and safety, and offer help and support as needed. Their ultimate goal is to help the care recipients to be self-reliant, and to share the kindness they received.
For Siong Heng's family, the volunteers and doctors will continue to care for them, and step by step, help the head of the family to regain his health and assist the couple to get stable jobs, so that their lives will gradually return to normal and the children can study in peace. Hopefully, they can start anew in the coming year, after relocation to their new home.
* The PeKa B40 scheme was launched by the Ministry of Health Malaysia in 2019, to provide free health screening, medical device assistance, incentives to complete cancer treatments and transport incentives to those in the bottom 40% income (B40) bracket and aged 40 and above.