Undergoing dialysis treatment is a lengthy process that burdens kidney patients not only physically, but also financially. However, kidney patient Yan Kyin Kyu, a recipient of Tzu Chi's financial aid, braces herself for the challenges ahead with remarkable courage. She hopes to someday prove herself capable of living independently without aid – and help others along the way.
Early each morning, Yan Kyin Kyu, 38, sweeps the floor of the self-service laundromat she works in, mops away the dirt and grime, and wipes the surfaces of the washing machines and dryers until they are spotless. Upon ensuring that the laundromat has been thoroughly cleaned, Kyin Kyu clears away her cleaning tools before driving to her next weekly housekeeping engagement at an office space.
Working in a laundromat for three 2-hour shifts weekly is unlikely to be an issue for most. However, it is challenging for illness-stricken Kyin Kyu, who is racing against time to work hard for her livelihood and medical expenses for as long as her health still permits.
An unforeseen hurdle
Kyin Kyu, a Burmese Chinese, migrated to Malaysia 11 years ago after marrying her Malaysian husband, Tan Kim Seng. Kim Seng earns a meagre income working at a car maintenance workshop as a spray painter, but the family lives frugally enough for Kyin Kyu to stay at home to care for Kim Seng and their three children full-time.
Trials in life often arrive unannounced. Sometime in March 2018, Kyin Kyu began feeling unwell. She had trouble eating and lost sleep due to breathing difficulties. She went to a clinic to seek medical consultation, but to no relief. Her condition deteriorated and persisted for a month, resulting in weight loss and lethargy. She was at her wit's end, and eventually requested for a thorough physical examination at a more comprehensive medical facility.
The medical report revealed that the toxin levels in Kyin Kyu's body had exceeded the norm. The doctor advised her to be admitted into the hospital for dialysis treatment, or risk endangering her life. However, Kyin Kyu hesitated at the thought of being hospital-bound. Both her mother and younger sister were hospitalized and later succumbed to liver cancer and kidney failure respectively. Kyin Kyu was traumatized by her mother's and sister's ordeals and feared that she herself would end up with a similar fate, hence her reluctance to be hospitalized.
Kyin Kyu finally overcame her inner dilemma and relented to being hospitalized as it was the only feasible option. Lying in the ward made her uneasy as she could not help dwelling on the prospect of her own mortality. She even conveyed her plans for her funeral arrangements to her husband in advance, yet she held on to her lingering worry for her young ones: "My children are waiting for me back home. I cannot lose this battle!"
After enduring a long night at the hospital that seemed to stretch on forever, Kyin Kyu underwent her first dialysis session early the following morning. So overwhelming was Kyin Kyu's denial over her condition that she experienced hallucinations during the treatment and attempted to forcefully remove the catheter. On several occasions, she even appeared to have temporarily lost her senses, leading the doctor to suspect her of having sustained a brain injury. Fortunately, she regained full consciousness two days later.
A little support goes a long way
Kim Seng admitted that his mind went blank upon first learning of Kyin Kyu's diagnosis. His primary concern was that he was unable to afford the costly medical expenses. He turned to various sources for assistance, but all his applications for aid were rejected. He was well aware that relying on loans from family and friends to pay the bills was not a sustainable solution to relieve the couple's financial burden caused by Kyin Kyu's chronic condition.
One day, Kyin Kyu's daughter returned from school and informed her mother that one teacher, a Tzu Chi volunteer, had offered to nominate the family for financial assistance. A dejected Kyin Kyu sighed, "There's no point in applying. I'm not even a Malaysian citizen."
"The sponsoring organization [Tzu Chi] is not from Malaysia either. It's based in Taiwan!" came the girl's innocuous reply.
Kyin Kyu decided to try her luck and submitted the application form. She was rewarded with good news a week later. "Tzu Chi volunteers visited me at home and brought me hope," recalled Kyin Kyu joyfully.
Recounting her first visit to Kyin Kyu's home, volunteer Cheow Sit Yuen was overcome with sympathy at the atmosphere of gloom looming over the household. Kim Seng was shrouded in sorrow as the burden of the medical expenses weighed heavily on him. On the other hand, Kyin Kyu appeared to have lost all hope and was on the verge of tears, her face creased with worry for her illness and her children.
Kim Seng is deeply grateful to Tzu Chi for easing his burden by partially subsidizing Kyin Kyu's dialysis fees. He is also thankful to his children's teachers for providing free tuition classes and transportation to his children, allowing him peace of mind to focus on his work.
From denial to acceptance
When Kyin Kyu first started on dialysis treatment, she fell into despair and was prone to lamenting her suffering. It took the care and concern of a young acquaintance she befriended during treatment to free her from her inner turmoil.
The acquaintance reminded her to be grateful as her condition only called for dialysis treatment, unlike more life-threatening diseases like cancer. These words of advice gave Kyin Kyu a fresh perspective on her illness and left her with renewed fortitude to take her illness in her stride.
Besides providing financial relief, volunteers would also conduct monthly visits to Kyin Kyu's home to keep tabs on her health and her family's well-being, as well as extend moral support to her over the course of her treatment.
Kyin Kyu has always had faith in her fellow countrymen as her pillar of strength to rely on in times of need, but her encounter with the volunteers altered her conviction. She professed to have never expected the volunteers, who are not related to her by blood, to welcome her into the fold like family. During festive seasons, the volunteers would not only bring her festive delicacies like rice dumplings, mooncakes or pastries, but also express concern for her family. She appreciated the volunteers' unconditional kindness in making her feel at home in a foreign land.
Kyin Kyu is grateful to have received help, but at the same time expressed her hope to secure casual employment to support the family's livelihood or even bear her own dialysis expenses one day so that her share of Tzu Chi's subsidy could be channelled to those who are more deserving. She was moved by the assistance provided by Tzu Chi and her friends to tide her over difficult times. "I'm forever indebted to those who have helped me in times of need," she declared.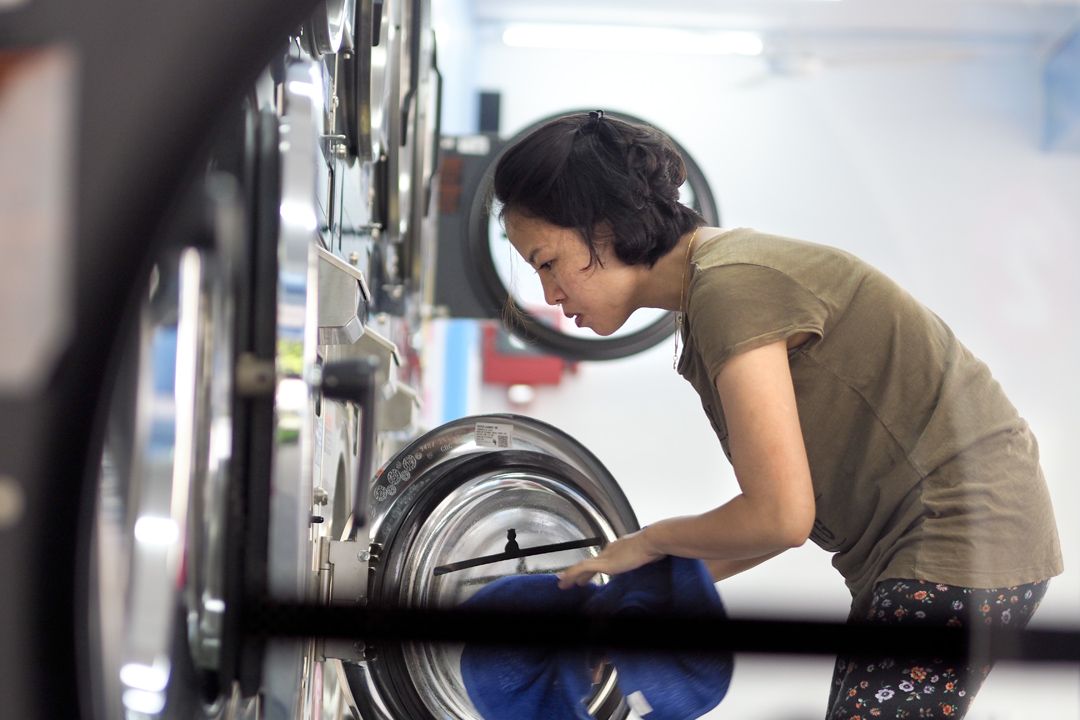 The self-reliant Kyin Kyu is constantly on the lookout for various means to supplement her household income, including working odd jobs that are less demanding, such as housekeeping, administrative tasks and online retailing. Her household expenditure soared with the addition of her dialysis fees, yet she would insist on saving up spare change for charity in the spirit of giving over receiving.
Kyin Kyu's illness turned out to be somewhat a blessing in disguise, as her children had learnt to be more considerate and had matured into well-behaved and sensible individuals, while her husband would volunteer to help with the household chores. Kyin Kyu herself now pays more attention to her diet, in addition to participating in line dancing sessions in her community and staying fit with regular exercise. "Hospital wards are rife with pain and suffering. It's difficult to empathize with the pain endured by the patients unless we experience the pain ourselves. Now, I'm aware that health is of paramount importance," she mused.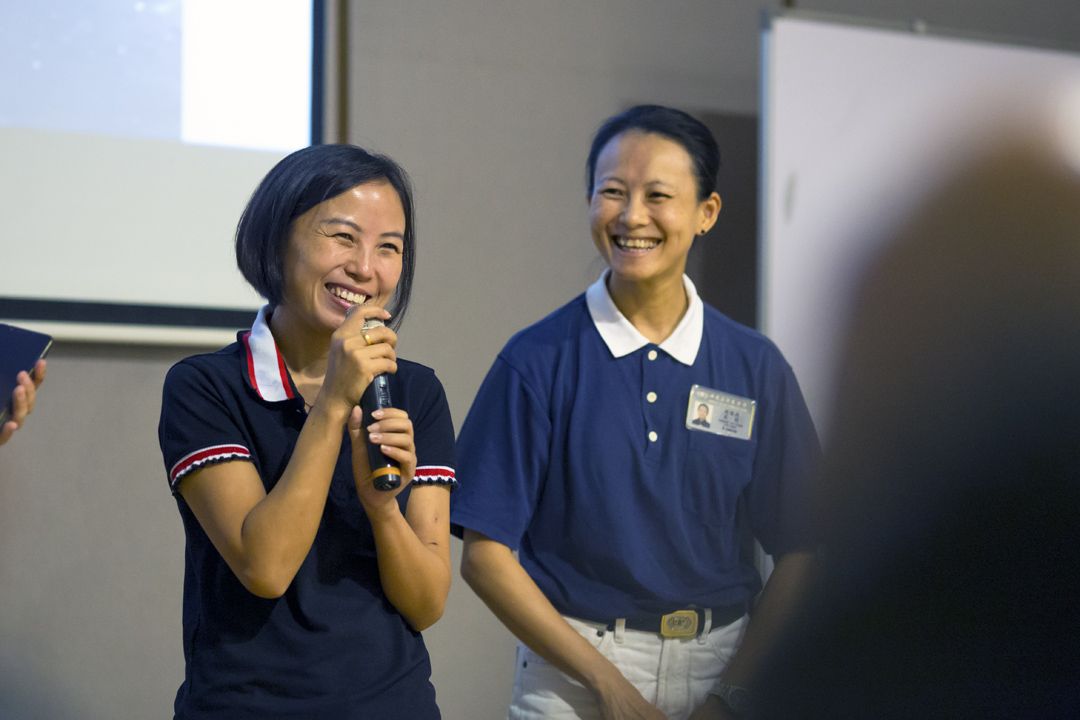 The past year, since commencing dialysis treatment, had been a rough ride for Kyin Kyu, but she remains determined not to be defeated by her condition. She credits her husband and children as her source of motivation to go on living. The hours spent in dialysis sessions no longer felt like drudgery. Instead, she cherishes the idle time as an opportunity to enjoy some peace and solitude. She is content with her current circumstances and values quality time with her family. Her health might have been compromised, but in return, she has been granted the fortune of rekindling warm and loving relationships with her loved ones.