In order to improve the health conditions of the vulnerable groups, Tzu Chi International Medical Association (TIMA) members and volunteers started extending free clinic services for refugees in various communities this year. Prior to this, the services were limited at the Tzu-Chi Free Clinics in Pudu and Klang, as well as monthly medical outreach at SJK (C) Kheow Bin, Selayang.
On August 3, 2019, the Tzu Chi mobile clinic at Community Hall Taman Mesra welcomed refugees from nearby Kajang, Sungai Long, Sungai Chua and Bandar Mahkota Cheras. They brought along the young and old in their families. Services offered on that day included western medicine, dental and physiotherapy.
A day earlier, Tzu Chi volunteers made the effort of promoting the event at Ciimnuai Learning Centre Bandar Sungai Long and three other refugee religious schools within the vicinity. They even thoughtfully arranged transportation and simple vegetarian breakfast for those who came to seek treatment.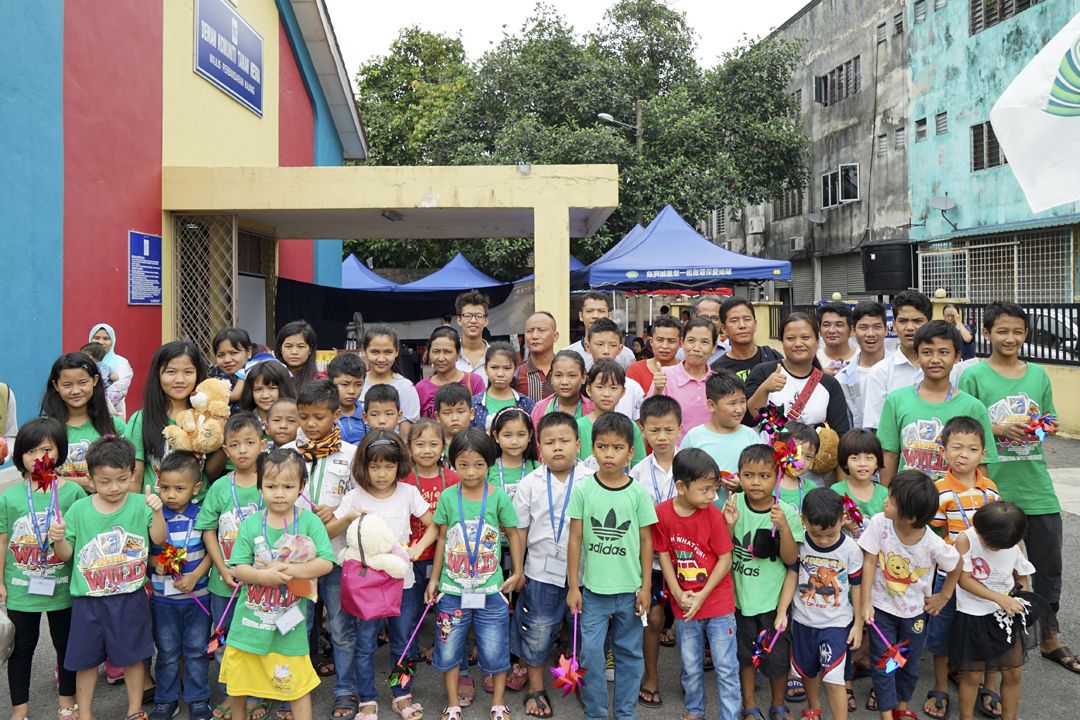 It was a clinic like no other. There was neither smell of medicine nor painful moans. Volunteers transformed the hall into seven clinic spaces using plastic frames and white cloth printed with TIMA logo. Chairs were placed in rows at the dispensary section for patients waiting for their medications. At the reception and health education areas near the hall entrance, children were seen playing with toys while their parents and guardians listened to the sharing on health care. A group of students were also seen eating the food prepared by the volunteers on the lawn.
The bus ride
"Today was a special experience because I've not encountered anyone who would bring people on a bus for free to see a doctor, and even prepared food for patients and toys for kids. Instead of being treated like patients, these students seemed more like being on an excursion." The 55-year-old Nang Lian Khual, Headmaster of Ciimnuai Learning Centre Bandar Sungai Long since 2012, has been living in Malaysia for a decade. He revealed that all 70 students from the Learning Centre and more than 10 parents decided to attend the mobile clinic when they received the flyers from Tzu Chi.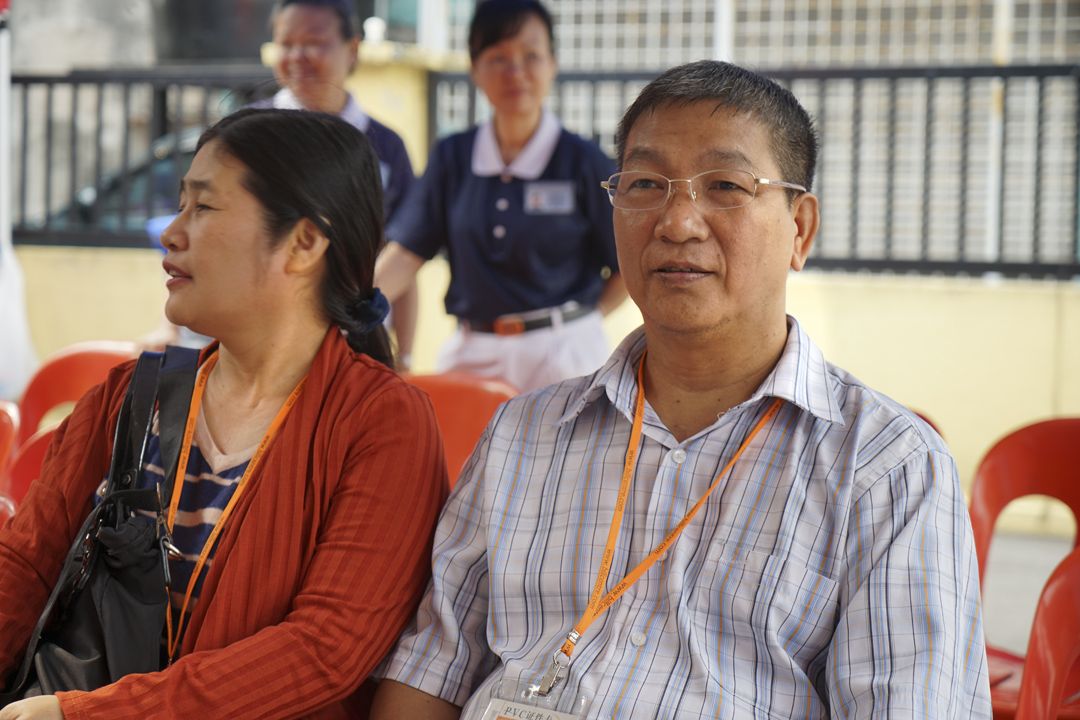 He thanked the volunteers for their considerate and loving effort to ease the students' fear for medical appointments, which resulted in their delightful experience. While keeping his students and their parents company, he also gained tuberculosis-related knowledge at the health education section. He expressed, "Many tuberculosis-infected members in our community do not know how to care for themselves. After gaining this knowledge today, I'll share with them the importance of having more fruits and vegetables, maintaining personal hygiene, as well as environmental cleanliness."
It was also Nang Lian Khual's first free medical consultation. For the past one and a half years, he has been experiencing frequent urination and occasional bowel incontinence. However, the idea of seeking medical attention was put off by the fear of expensive fees. He could only try his best to bear the urge to release himself. His condition worsened as time passed, and he started experiencing other symptoms, like tiredness and dizziness.
At the mobile clinic, the doctor advised him to visit the Tzu-Chi Free Clinic in Pudu as soon as possible for further blood test, investigation and finally treatment, if necessary. Volunteers also reminded him that his mission of taking care and educating students could only be sustained when he regains his health. He was relieved that Tzu Chi could offer him a full body check for free, and said, "I'm grateful for this opportunity. I'll visit the Free Clinic after settling tasks at my Learning Centre."
The familiar sight
Twelve-year-old Ciin Nop Cing was one of the students who came with Nang Lian Khual. While she waited patiently with her grandmother, she looked around at the busy volunteers in their blue and white uniforms.
"I'm here for my toothache while my grandmother has pain in her lower abdomen, around her waist and knees." She explained in simple but fluent English. From her self-introduction, volunteers learnt that she and her family moved from Myanmar to Malaysia six years ago. She was given a nice English name, Mary, and often interpreted for her recently-arrived grandmother who could only speak her mother tongue.
When volunteers acknowledged her bravery during the visit, she resumed her childlike nature and said, "Our family used to live in the KL city centre. My mother and sister have brought me to Tzu-Chi Free Clinic a few times when I was ill. The doctors there were friendly and I like them." Back then, it was convenient for Mary and her family to take a bus from Old Klang Road to Pudu. However, after relocating to the Sungai Long township in Kajang a year ago, the travel distance has become much further.
Recently, Mary started experiencing toothache with occasional sharp pain. She thought of requesting her mother or sister to bring her to the Tzu-Chi Free Clinic, but to her delight, she learnt about this mobile clinic at school, hence her visit on this day with her grandmother. The dentist discovered that she had a decayed tooth, which could temporarily be controlled by anti-inflammatory medications. She was advised that if the pain and swelling worsened, she should visit the Tzu-Chi Free Clinic for tooth extraction.
Mary was then brought to the health education area to learn more about dental care. She listened attentively, and learnt that only by brushing her teeth properly twice a day would her teeth be protected. She also received free toothbrush and toothpaste after the session, and was reminded again of the importance of regular dental hygiene.
As for her grandmother, it was found that she had a hernia, which caused bleeding during bowel movements. To prevent the condition from worsening, the doctor referred her to the Tzu-Chi Free Clinic for further examination. She was also assured that Tzu Chi would offer support should she require an operation.
Mary consoled her grandmother and promised the volunteers that she would persuade her mother to bring her grandmother for a follow-up appointment. She believed that her grandmother's pain would be alleviated after treatment.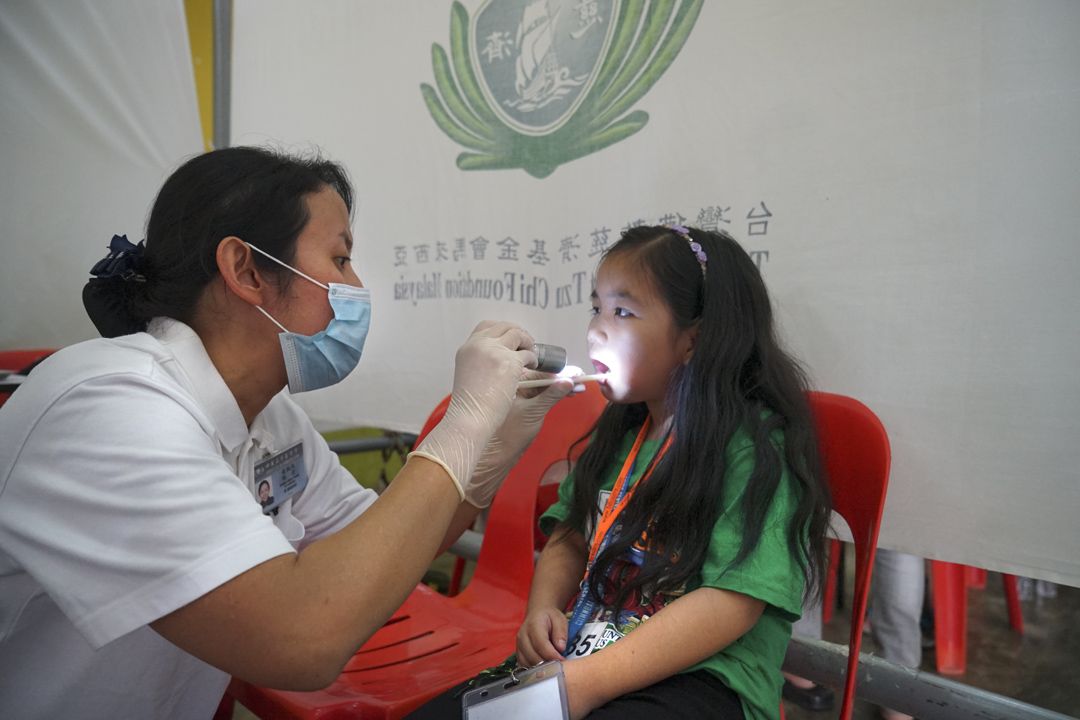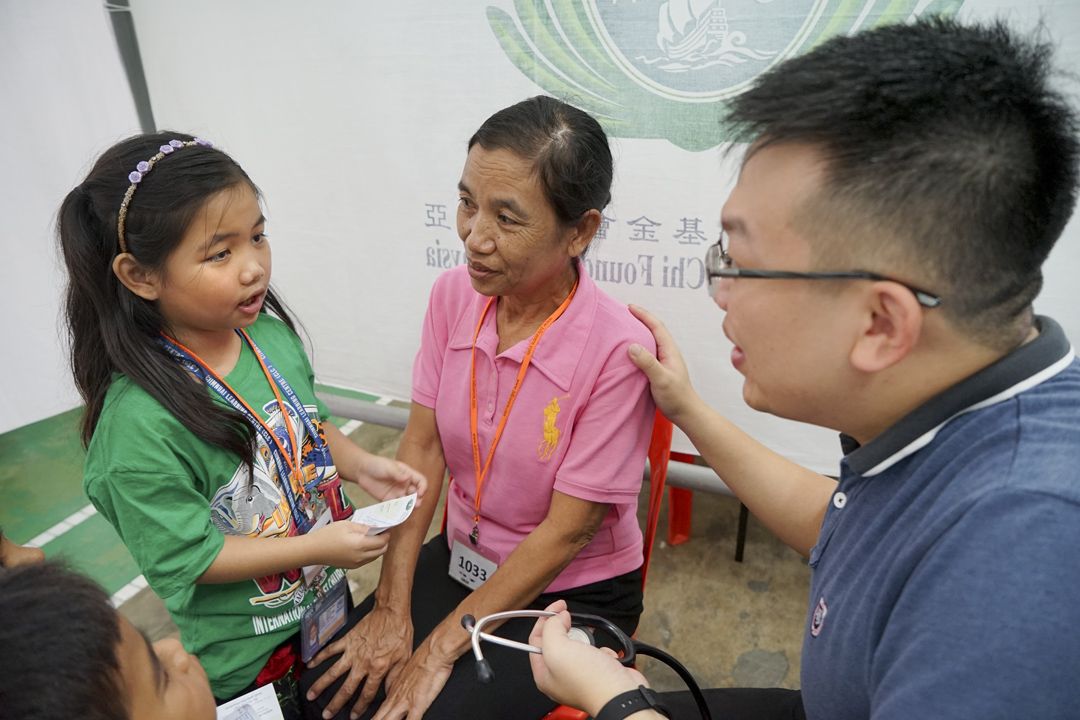 Not worrying about money
Afsarin, a Muslim refugee from Pakistan, brought his three children on a motorbike to the mobile clinic. He has been living in Malaysia for over 20 years, and used to make a living by selling second-hand clothing. However, when the business failed, he became a lawn mower. With a maximum salary of RM500 a month due to limited working days, there were financial constraints for the family.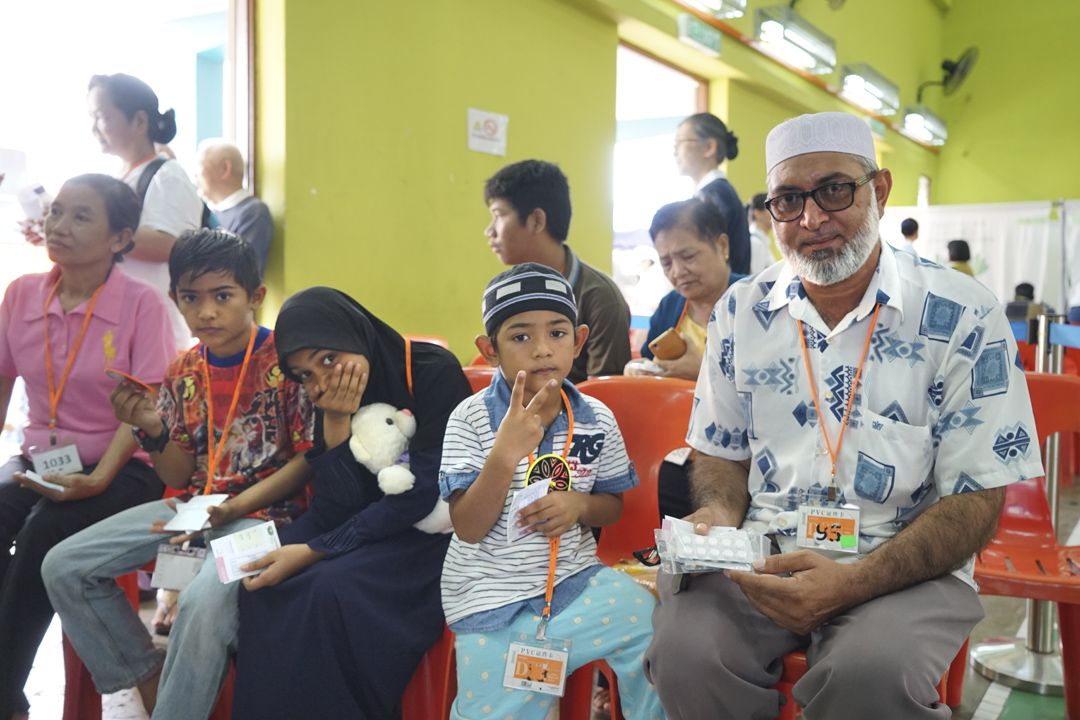 "We cannot afford going to the doctor when we fall sick. Only when my child's condition is severe will I borrow money from friends to see the doctor. I've been experiencing constant back and knee pain, worsened by recent cough and cold, but I've no money to see the doctor." When the pain was unbearable, 47-year-old Afsarin would buy over-the-counter medication, which was unfortunately ineffective. Hence, when he received the Tzu Chi flyer this time round, he was keen to bring his children along as they have also recently started to exhibit symptoms of a cold.
Afsarin was grateful for the free medications and treatment by friendly doctors. Such services would normally cost over a hundred Ringgit, which he could never afford. He was also given a referral letter so that he could have follow-up treatments at the Tzu-Chi Free Clinic, which offers a wide range of services, including Western and Chinese medicine and physiotherapy that could help reduce the pain in his knees.
Recovering sickness with sleep
When the 14-year-old Muhammad Jubair bin Salim and his four younger siblings walked into the community hall, they immediately caught the volunteers' attention. This was due to his fatigue appearance and non-stop coughing. Volunteers discovered that the party had just travelled on foot for 35 minutes, led by Jubair, who had a fever for four days.
While they were waiting for their appointment, Jubair started telling their family story to the concerned volunteers. He was the eldest brother to seven other siblings, including a pair of 3-year-old twins. Their father works as a lawn mower, while their mother is a homemaker. The family came from Myanmar seven years ago. At that time, their father had already been working in Malaysia for several years. As the family continued to grow, the father's lone income could no longer support the entire family. So, when someone fell ill, they could not afford going to the doctors. "Each time we were ill, father would say it'll be alright after having a sleep. Sometimes when it was unbearable, mother would then buy over-the-counter medication for us," Jubair could not hide his helplessness in his voice.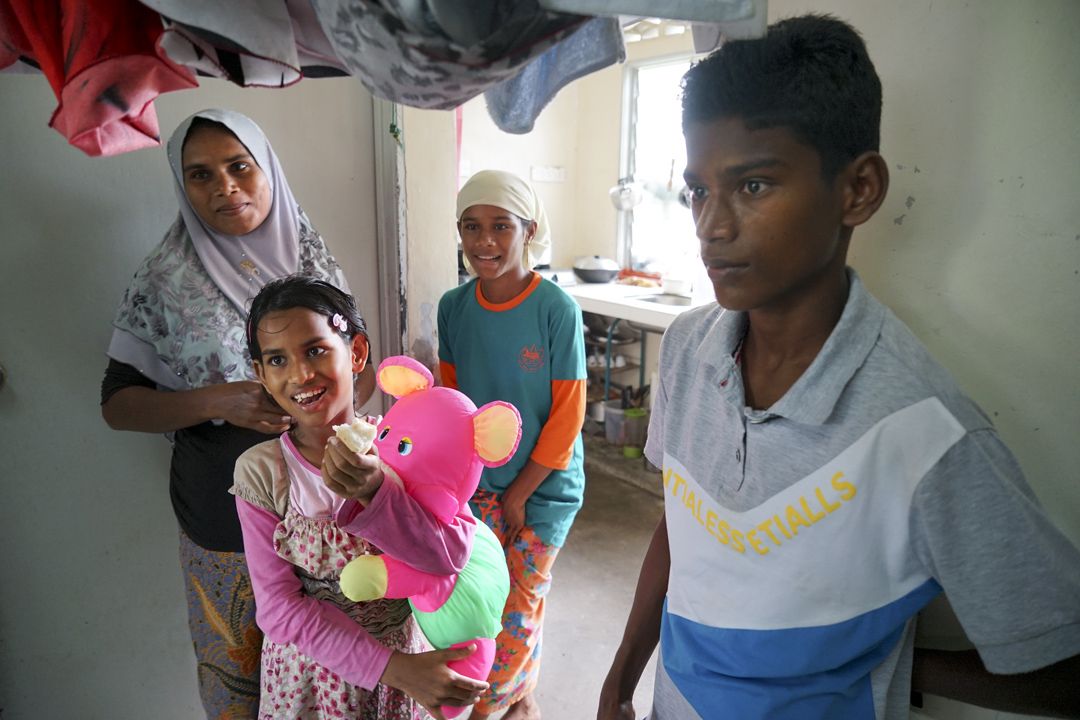 All of them were seen by the doctors and prescribed medications as needed. As they were leaving the premises with a bag of toys and food, it started drizzling. One of the volunteers, Nyen Chui Mei, could not bear to see the children having to walk in the rain, thus she arranged for another volunteer to drive them home, at the same time, paying a home visit. When they arrived at a junction near their home, volunteers could not proceed further on the unpaved road, which was only accessible by foot. As they entered the near-empty living room, they came across their 8-month pregnant mother, who panicked slightly upon seeing the visitors, whom she thought were government officers.
The mother was relieved when Chui Mei introduced herself as a Tzu Chi volunteer. As soon as the mother served the packets of rice brought back by her children on a plate, her young ones could not help but quickly took turns to grab a bite. Chui Mei learnt that the family's rental and utilities cost approximately RM700 per month. With a monthly income of RM1,000, the family struggles to live. Jubair revealed that the family has an outstanding electricity bill of over RM500.
Even when living in such poverty, Jubair told the volunteers that he could still live with hunger and sickness. He often reminds himself of his father's advice about the importance of education. By concentrating on his studies, he wished to change the fate of his family with the knowledge gained. Each day, he would walk to the refugee school, which is 30 minutes away from his home. His effort has made him one of the top few students in class.
At the end of the visit, the children bid goodbye to the Tzu Chi volunteers at the front door. Chui Mei planned to revisit the family with further assessment and assistance.
Returning service next time
"These refugees may never know what their health conditions are, if they did not come to this free clinic," said Dr Liza binti Ahmad Fisal, who volunteered for the first time at a refugee free clinic. Even though she had worked non-stop and skipping lunch since morning till 3pm, she did not feel hungry. Instead, she found joy as she treated each patient. Dr Liza was glad that most patients' conditions were not severe, and were mostly fever or coughing caused by the recent smoke haze. However, she felt sorry for the refugees when she learnt about their stories.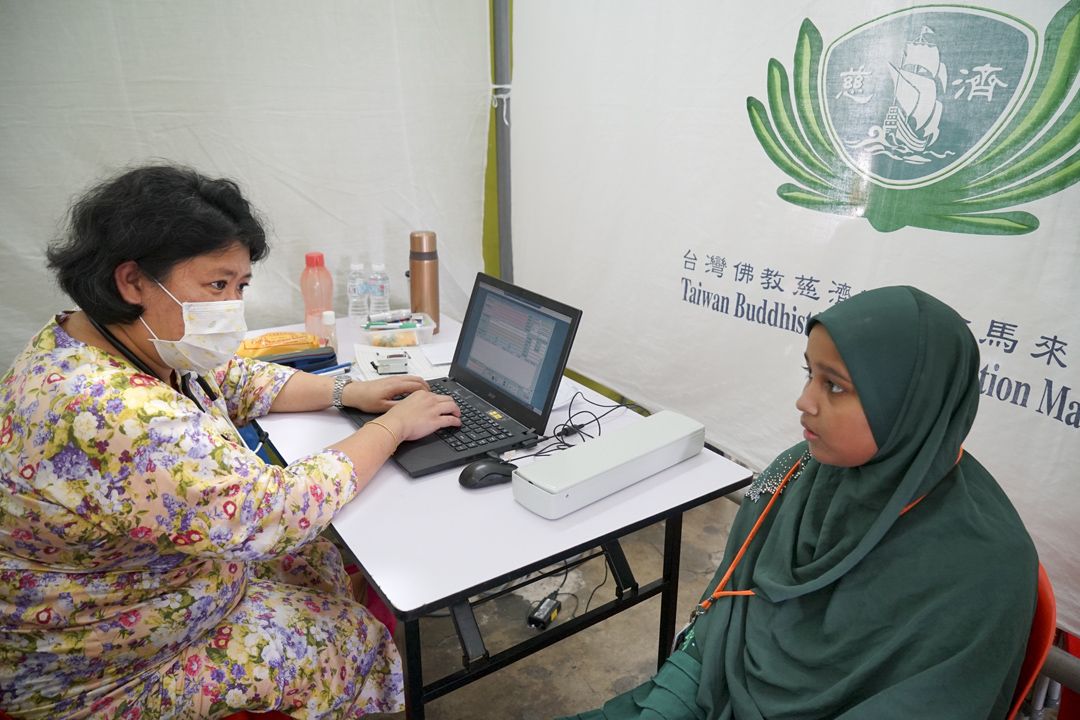 "One Chin woman bought traditional herbal medicine from her friend after being told that she has diabetes. She experienced palpitations after taking the herbs for a period of time, however, the friend insisted that she should continue with the treatment. When I checked her blood pressure and blood glucose level, they were within normal levels. I then advised her to stop taking the herbal medicine and to follow up with a detailed body check-up at the Tzu-Chi Free Clinic."
Dr Liza felt that as the refugees do not have much opportunity to receive proper health check-ups, they are sometimes misled and have improper medications. After receiving Dr Liza's advice, the patient was relieved and promised to seek professional medical advice if she experienced discomfort again.
One other patient also left an unforgettable impression on Dr Liza. It was a 14-year-old girl, who decided to skip school and stay home after being influenced by her friends. She eventually started experiencing dizziness and lack of strength, besides feeling depressed. After conducting a detailed examination, Dr Liza found that there was no apparent issue with the young patient's physical health. It was more likely that the idle lifestyle has caused her to overthink. Dr Liza guided the girl to consider going back to school, where she could learn from the teachers and play with peers. This would be more meaningful than sitting around at home. With Dr Liza's patient guidance, the girl seemed to have accepted the former's advice, as she nodded and said that she would return to school.
Such stories have touched Dr Liza, and she promised that she would again contribute at the next refugee clinic held by Tzu Chi. Even though she has not registered herself as a TIMA member, she still longs to offer care to this group of vulnerable patients.
•
The mobile clinic had benefitted 289 patients. With the good kick-start, all health professionals and volunteers are looking forward to more opportunities to offer assistance, love and care to the refugees.