To a Burmese couple, the birthday cake brought by volunteers, with "Love & Health" written on it, was like the little candles on the cake, lighting up their worried hearts. They prayed wholeheartedly and wished for peace, love and health to accompany their kids forever.
Mohd Salim bin Sultan and his wife, Rahaatar Neesar, carrying a two-month old twins and a three-year-old daughter, Sufaidar Bibi, sat around the cake gleaming with happiness. This family portrait was especially precious because at that instant in Rahaatar's heart, she could feel the gift of baby Saajidah Bibi's life coming from everyone's love and blessings. If there was no warmth in society, it would have been a regretful Saajidah-less family portrait.
Twins of different fates
On August 31, 2019, Malaysia celebrated the 62th year of Independence. On this meaningful day, volunteers turned up to visit Salim's twins with a birthday cake. Rahaatar purposely made a simple meal to treat the volunteers and their friends. She expressed with joy that everyone's presence was the babies' best blessing. It was precious and she would treasure it her whole life.
Volunteer Tan Kay Huan could not help but reach out to embrace the little twin sister, Saajidah, as soon as he saw her. The big round eyes on the peaceful face stared curiously and attentively at Kay Huan.
"Saajidah has put on weight since I saw her at the hospital!" Kay Huan cheered. Rahaatar smiled fondly, saying that Saajidah was better-behaved than her sister. Instead of being noisy when she was hungry, she would simply wait quietly.
Although Saajidah was only a few minutes younger than her sister, Sumaijah Bibi, their fates were nothing alike. The elder sister was born healthy and active; the younger one was diagnosed with pulmonary valve stenosis and required pulmonary valvuloplasty, without which she would have died due to breathing difficulties.
Rahaatar shared that Saajidah's birth was a miracle. On July 2, following her delivery of Sumaijah at the Kuala Lumpur Hospital, she was astonished to find that she had twins when a wailing Saajidah arrived.
"The doctor didn't say they were twins when I did my check-up, therefore we were caught off guard when Saajidah arrived; and sadly, she was not a healthy baby. My husband and I didn't know what to do as we had no more money for the child's surgery."
Rahaatar disclosed painfully that Saajidah spent over 30 days at ICU in the hospital; and as they could not afford the RM30,000 surgical fee, the operation had to be delayed indefinitely. She admitted that it had never crossed their minds that the delivery fee and Saajidah's stay at the ICU would amount to RM12,000, which was their entire savings plus a loan from Salim's employer.
Having witnessed her daughter's condition turning critical and then life-threatening without surgery, the couple applied for medical assistance through UNHCR without expecting much. UNHCR then sought assistance from Tzu Chi, and on August 3, upon receiving a message from Tzu Chi KL & Selangor office, Kay Huan and other volunteers swiftly arranged for a home visit to further assess Saajidah's situation and Salim's financial constraints. After a team meeting, it was agreed that Tzu Chi and UNHCR would share the surgical cost so the baby girl could undergo an operation as soon as possible.
However, as the scheduling issues at Kuala Lumpur Hospital did not favour Saajidah's critical condition, the hospital made arrangements for her to be transferred to Gleneagles Hospital on August 6. The following day, Saajidah underwent an emergency surgery. Thankfully, the operation was a success; and two days later, Saajidah's intubation tube was removed. On August 10, she was safely discharged.
Rahaatar flashed back and admitted that she spent her days in fear worrying about her hospitalized Saajidah and was not in the mood for confinement. It was not until the day she was allowed to stay in the hospital to take care of her daughter post-surgery that she could relax slightly. After her discharge, Saajidah became more and more lively, and was as healthy as her elder sister. Only then was Rahaatar relieved.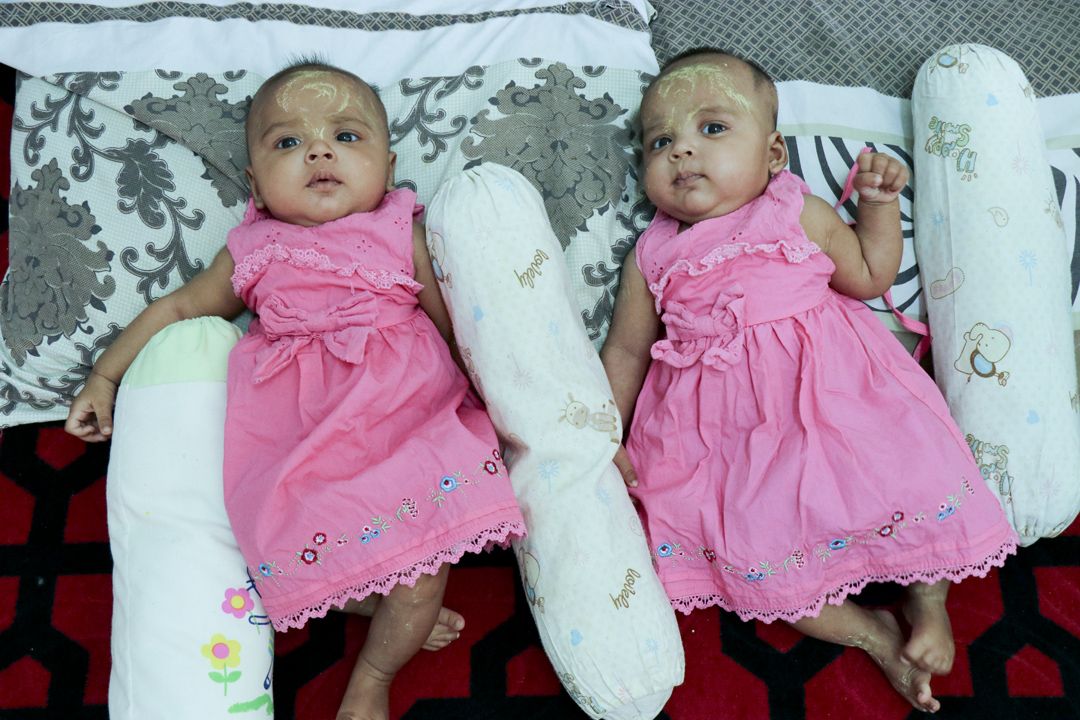 Blessings, the best gift
"Saajidah is a blessed child to have received help from both UNHCR and Tzu Chi. She is not only a miracle, but also a happy baby like Sumaijah."
Rahaatar and Salim were grateful for the pair of lovely twins. However, the gloomy Salim admitted that their burden had become heavier and that he would have to work harder to support his family.
As a father of three himself, Kay Huan can relate to Salim's worries. From the original family of three to the current five, with the arrival of the twins, the milk powder alone was a huge burden. As head of the family, Salim inevitably felt the pressure.
As a friend, Kay Huan cared about Salim's work. The latter did not hide the fact that law enforcement officers would often patrol his workplace, forcing him and other refugees to hide; working only three days a week sometimes, and this would greatly reduce their earnings.
Salim shook his head and sighed; it was not easy to earn a living in Malaysia. Ten years ago, he had to flee Myanmar because the Rohingya ethnic group was persecuted by their local government. Despite having a refugee card, he could not work legally and ended up working for a fishmonger at the Selayang Market. He worked so hard that he not only earned enough for his food and livelihood, but he also managed to save some money.
Six years ago, when Salim learnt of the riot back home, he became worried about Rahaatar, his girlfriend then, and sent her money so that she could take a fishing boat and sneak into Malaysia. However, when Rahaatar and some 400-plus passengers on four fishing boats arrived at Langkawi, they were arrested by the Malaysian Marine Police and sent to a locked out refugee camp for 60 days because they were reluctant to return to Myanmar. They were only released after receiving the UNHCR refugee card.
After contacting Salim, Rahaatar travelled to Kuala Lumpur and they started a family. Life gradually settled down and they were earning enough after their eldest daughter's birth. The couple had hoped for a boy, but instead they had twin girls.
Kay Huan knew that having used up his savings, Salim was worried about repaying the medical expenses he had borrowed from his employer. Other than comforting the father, Kay Huan also informed him that Tzu Chi would offer help upon evaluation if any difficulty had arisen. Upon hearing that, Rahaatar promptly enquired if Tzu Chi could sponsor the twins' vaccination. She was worried that without the funds, the children would be left unvaccinated.
Volunteers immediately contacted the staff at the Tzu-Chi Free Clinic in Pudu and discovered that refugee kids get free vaccinations at the Free Clinic. They shared the good news with Rahaatar and volunteered to accompany her and the babies to the Free Clinic. Rahaatar and Salim heaved a sigh of relief upon receiving the good news, and thanked the volunteers repeatedly.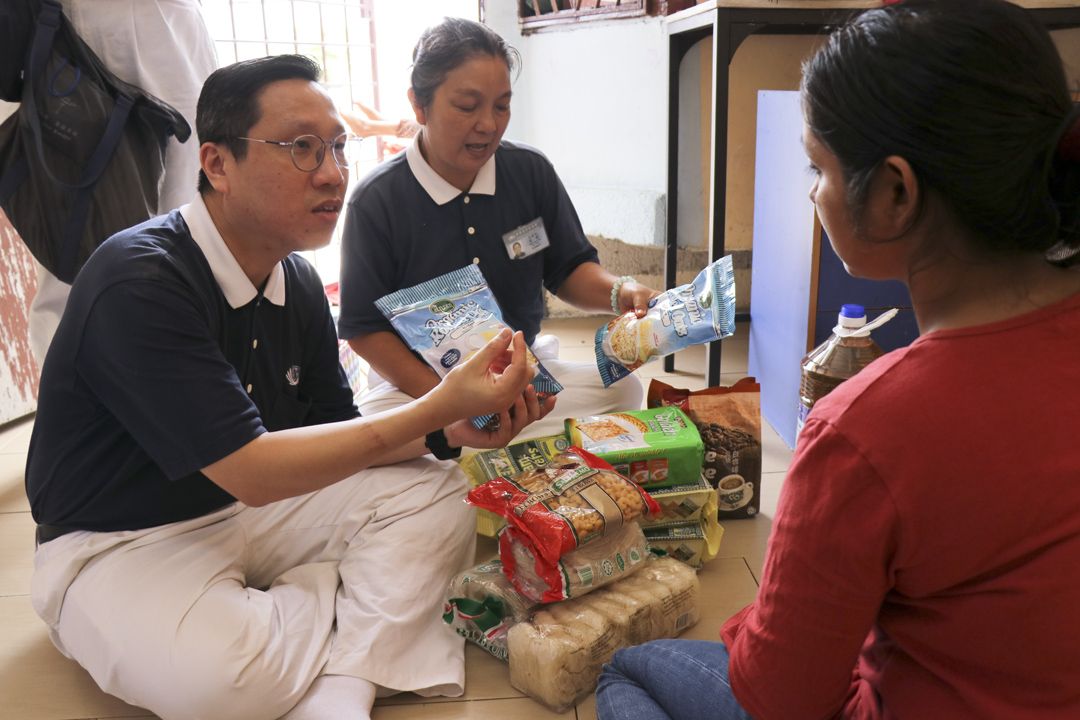 That day, volunteers brought the couple cereals, milk powder, dry food and other supplies. Although it was not a lot, they were grateful. They welcomed the volunteers to enjoy the simple dishes Rahaatar had prepared to celebrate Saajidah's discharge and the twins' full moon.
In return for the meal, the volunteers brought out a cake decorated with small candles. Everyone clapped and sang the birthday song to congratulate the sisters. The lovely twins were well-behaved the whole time, looking to the left and right with their big eyes, curious about everything that was going on around them. The couple said that everyone's blessing was the best gift for the children.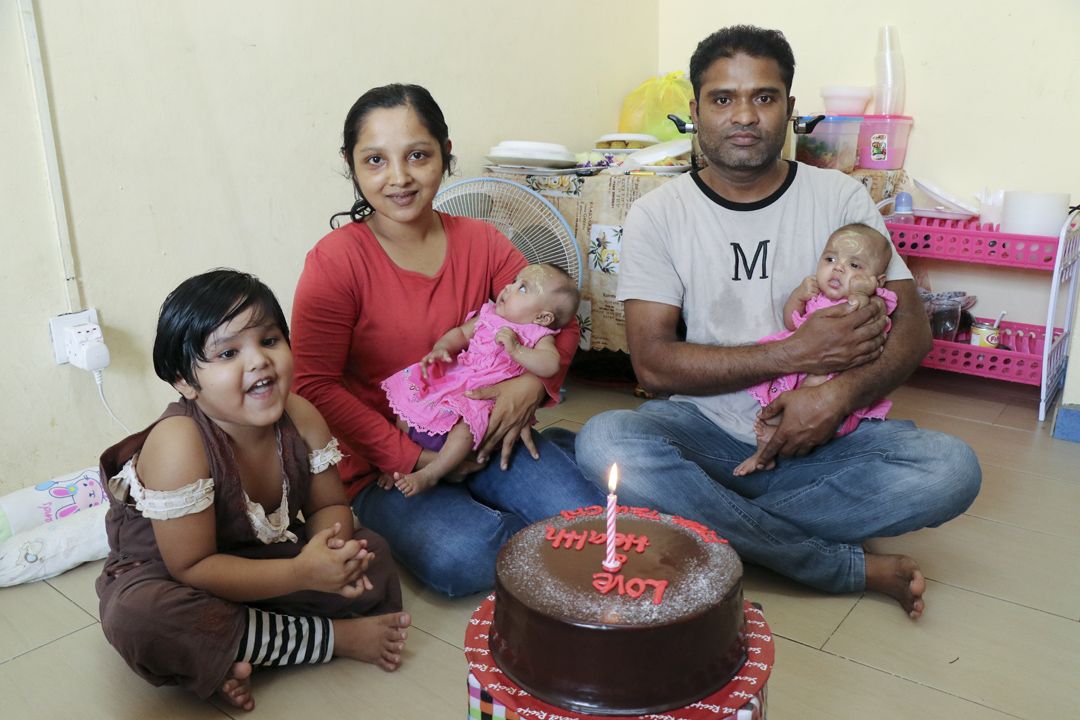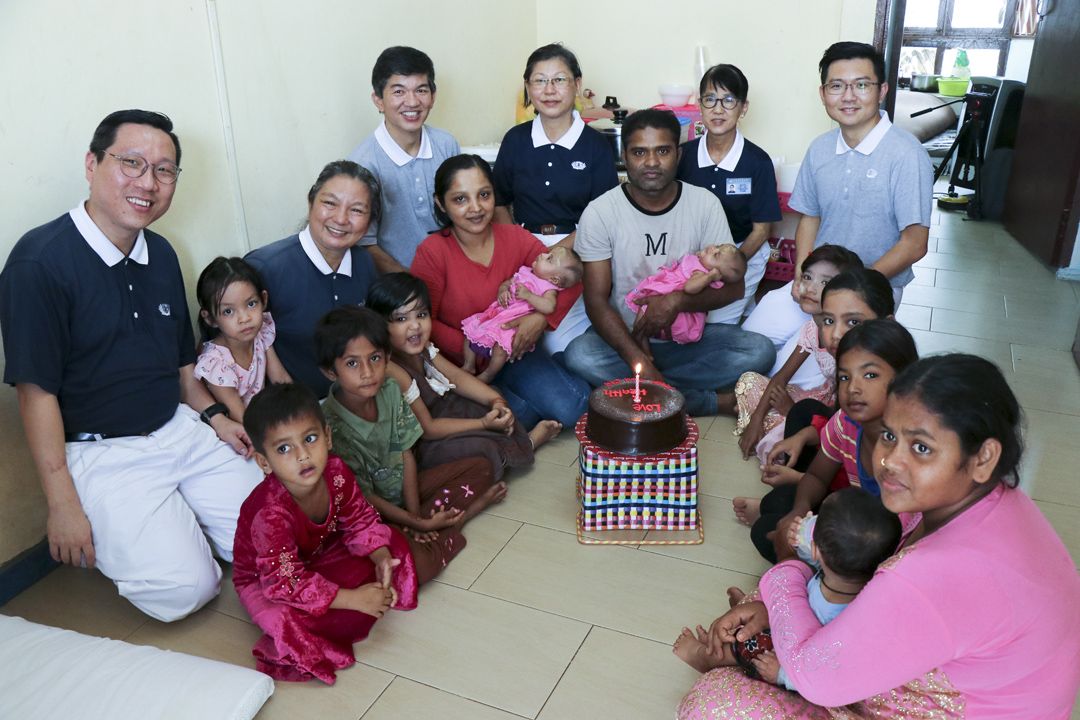 No uncrossable barriers
Salim and Rahaatar prayed for no-war, no-genocide, and for a peaceful life for all, where all children could receive good education and grow up healthily and happily.
While she was praying, Rahaatar could not help but cry, her voice breaking. She thought of her family back home, of how she was forced to leave her home due to the persecution. Now that she was in a foreign country, she longed for peace, hoping that wars would disappear and her children and their children could live a worry-free life.
"Then, in our hometown, people of our ethnic group were persecuted. I couldn't sleep peacefully at night, constantly wary of the fight until I came here. Although life is bitter, we can sleep at night; we can wait for other countries to accept us…"
Kay Huan, who understood Rahaatar's feelings, was deeply moved. He was glad that he grew up in a country without war where people of different religions and beliefs live in harmony. Living a stable life is the greatest happiness.
In order to help the family understand that the medical assistance they received was from donations collected from the public, Kay Huan shared the English version of Tzu Chi monthly journal to introduce the couple to Tzu Chi, and a bamboo coin bank to share about the power of accumulated ten, twenty cents to help those in need.
Kay Huan talked about the 30 housewives who saved NT 50 cents from their grocery shopping daily to carry out Tzu Chi's charity work in the early days. Rahaatar was touched and upon realizing that the charity fund was a collection of kindness from thousands of donors, she adopted a bamboo coin bank right away, expressing that she was willing to contribute. At the same time, she would recall these heart-warming stories of kindness and share them with Saajidah when she grows up. She wished that Saajidah would cherish this precious life and study hard to repay everyone's love and blessings.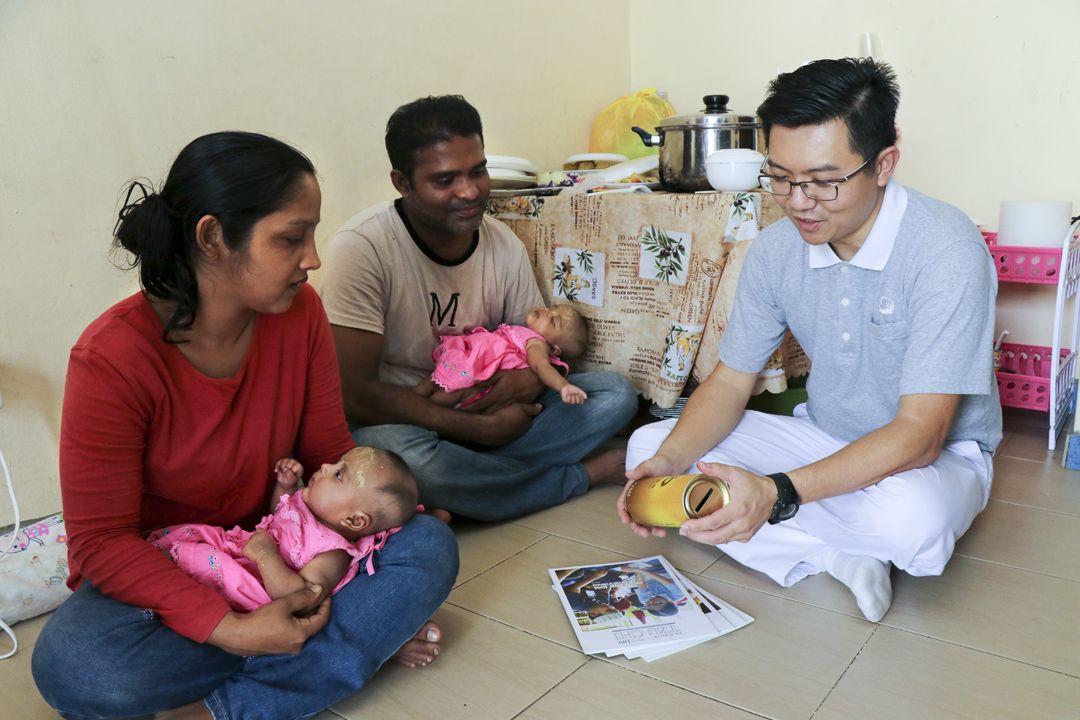 "Today, we are elated that everyone has come with blessings for our twins. Thank you, and thank you!" A tearful Rahaatar repeatedly voiced her gratitude. Salim shared that he would face future barriers more optimistically for the sake of his family. He believed that there would be no barriers too tough to overcome with everyone's blessings.
•
As Kay Huan walked out of Salim's home, he could feel Saajidah's body warmth lingering on his arm. Looking back at their lovely faces, he could not help but pray a sincere prayer that the family could live a peaceful and stable life. He also hoped that Rahaatar's wish for her children to get a good education and become one who would contribute to society, would be realized.