As the New Year approaches, Tzu Chi Malacca volunteers distributed spring couplets of inspiring messages to various communities and shared the review of Tzu Chi's mission for 2018 as a way to thank the public for their support. They also spread the message of environmental conservation, hoping to encourage everyone to commit to proper resource management in their daily lives.
Tzu Chi Malacca volunteers started delivering New Year blessings to the public since January 2019. Volunteer Lau Bok Lan, one of the planners of the event, said that Tzu Chi seized the New Year occasion to foster closer ties with the community and Tzu Chi donors, and take the opportunity to share Tzu Chi's endeavours in recycling and charity in the past year.
After communicating closely with Malaysia Solid Waste Management and Public Cleansing Corporation (SWCorp) in October 2018, Tzu Chi Malacca learnt that 50% of waste in the landfills is composed of recyclable materials. The lack of public awareness on waste classification and resource management has caused an extensive waste of recyclable and reusable resources, as well as a severe waste management problem. As it is the time of year for spring cleaning season, volunteers seized the opportunity to call on the public to adopt recycling practices in daily life and implement waste classification in order to reduce waste and mitigate damage to the environment.
Showing gratitude by delivering blessings
"Hello, we are Tzu Chi volunteers. We are here to deliver blessings and wish you a Happy New Year!"
On January 12, 2019, a team of five volunteers visited shop lots in Bukit Beruang to deliver Jing Si Aphorism spring couplets and promote the concept of environmental protection, in addition to sharing Tzu Chi's missions and its activities. They also delivered receipts for previous bamboo bank donations and gathered new donations to continue spreading kindness.
Volunteer Chua Gek Sian said that the volunteers introduced the spirit of the bamboo bank days to the shopkeepers three years ago, and have been collecting donations from them once every two to three months. This occasion marked the first time the volunteers delivered spring couplets to thank them for their support.
The owner of a water filter shop, Loh Kim Ping, chatted happily with the volunteers, while her children unfolded a spring couplet that read, "Being content and grateful brings a blissful life." Kim Ping also took the opportunity to educate her children. "Instead of appreciating your possessions, you misplace them often and ask for new ones again. You should count your blessings and be grateful." The volunteers taught the children some effective organizing skills and ways to incorporate recycling practices into their life.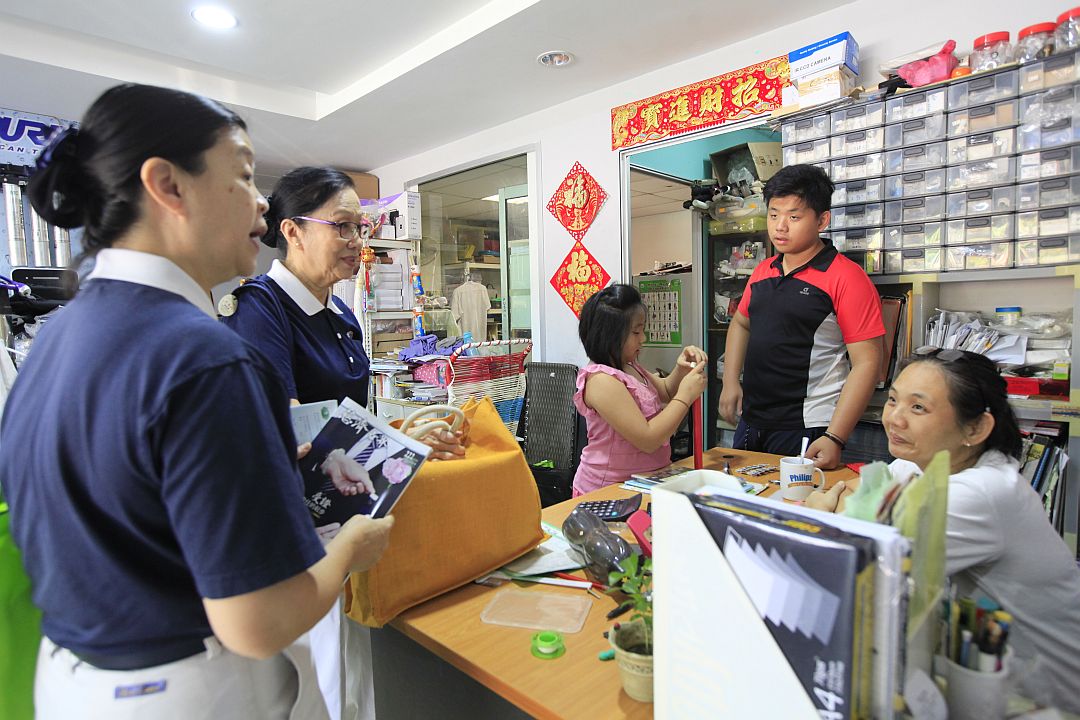 Besides being grateful for the volunteers' guidance, Kim Peng appreciated their effort in collecting donations from her regularly so that she, too, has a chance to contribute to charity and gain new insights from the volunteers despite having to stay in the shop all day. She said, "Although I can't venture out much, I learn about the volunteers' work from online sources and trust that my donations to Tzu Chi are put to good use. Thank you for taking the trouble!"
Accumulating drops of kindness into a stream of love
After a pleasant conversation with volunteers Chiew Lee Hoon and Tan Bee Chui, vegetarian food shop owner, Leow Wing Hin, adopted a bamboo bank to be placed at the counter in the hope of inspiring kindness from more people.
Wing Hin shared, "Back then, vegetarianism was less common, so we promoted the vegetarian diet by preparing dishes using the ingredients sold in our shop for the public to sample. But now, it has gained traction. I am very grateful to Tzu Chi and the volunteers' effort in promoting vegetarianism and environmental protection." Nowadays, an increasing number of people are adopting the vegetarian lifestyle for reasons other than religion, such as, health, environmental conservation and animal welfare.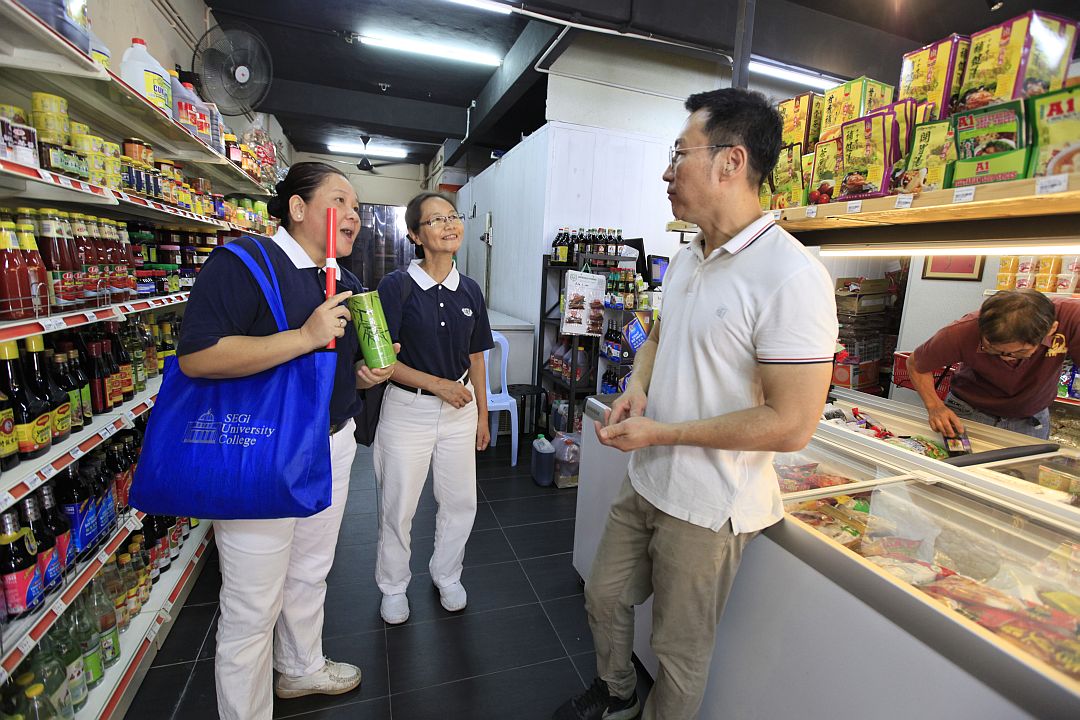 Bee Chui also introduced Wing Hin to the nearby Tzu Chi Recycling Point and encouraged him to not only practise vegetarianism, but also to collect recyclables from his shop.
Some retail staff, who were busily serving customers, set aside the work at hand to hand over their bamboo banks to the volunteers. Some felt apologetic for donating a minimal amount, but were reassured by the volunteers, who responded, "A little kindness goes a long way. Awakening the spirit of kindness in people is what matters most, for a single good deed can counteract a thousand misfortunes!"
Owner of a car repair workshop, Pee Li Cheng, hurried upstairs to retrieve her bamboo bank at the sight of the volunteers. Instead of placing the bamboo bank in her office as her customers rarely enter the office space, she placed it at home to encourage her children to perform charitable deeds. Over the past few years, her family has cultivated the good habit of saving small change into the bamboo bank daily.
Clearing doubts through communication
For Chiew Lee Hoon, the time spent delivering blessings and promoting recycling practices in Bukit Baru two days ago was tiring yet meaningful. She recalled, "We met a public member who stopped supporting Tzu Chi due to a misunderstanding. She once saw Tzu Chi offering aid to those living in big houses, hence, suspected that the public donations were misused."
In response to that, Lee Hoon and fellow volunteer Boon Yok Wah explained the entire process of home visits, starting from the initial visit to the subsequent monthly visits. Additionally, a case reassessment procedure is carried out regularly every four months, which requires care recipients to submit a complete set of documents, including household income and expenditure statements, as well as utility bills, for the evaluation team to reassess the aid required. Each step of the reassessment procedure must be strictly followed.
They also remarked that taking matters at face value might blind one to the underlying real reasons. For example, the big house could be an inheritance, and its inhabitant could be suffering from an unexpected illness or facing adversity, or that Tzu Chi might just be providing emotional support instead of cash relief or material aid. Yok Wah emphasized, "Tzu Chi aims to provide emergency relief. When the care recipients are capable of self-sustenance again, Tzu Chi stops giving aid. Saving one life saves the entire family by extension, thus reducing social problems."
The person concerned thanked the volunteers for clearing her doubts and expressed her interest to continue supporting Tzu Chi. Lee Hoon said that besides promoting recycling, volunteers may resolve the public's doubts so that they can better understand Tzu Chi.
Putting knowledge into action
On January 16, a team of seven volunteers delivered blessings to the shops near the Tzu Chi Ayer Keroh Recycling-cum-Educational Centre. Upon hearing volunteer Chan Geok Hong's explanation that 50% of waste in landfills is composed of recyclable materials, coffee shop owner, Teo Soon Lai responded, "That's a serious problem!" He added that a volunteer who runs a shop on the same street, Chow Fock Heng, would collect bottles, cans and other recyclable items from his shop regularly to be sent to the recycling centre. Soon Lai acknowledged the volunteers' efforts by saying, "I am very grateful for your service, from carrying out recycling by the streets and then to having a recycling centre up and running now."
Geok Hong said that last year, Tzu Chi Malacca has provided aid to students from over 800 households, as well as long-term support and care to more than 300 households. Soon Lai was so inspired by Tzu Chi's efforts that he adopted a bamboo bank on the spot. He was grateful and happy to receive from the volunteers, blessings and a spring couplet that read "Blessings come naturally with kind deeds."
Having been in business for many years, hardware shop owner, Tan Yu Nuo, has long known about the Tzu Chi recycling centre located near her shop. However, due to space constraints, she has yet to implement recycling and waste classification in her premises. Volunteers encouraged her to start small, as Tzu Chi's recycling work not only contributes to saving the Earth, but the money collected from selling recyclables is also used for charitable purposes.
Equipped with information on resource classification distributed by the volunteers, Yu Nuo was ready to take her first step. Volunteers also invited her to get involved in recycling by visiting the recycling centre and the pre-loved items section in her spare time.
Heightening awareness on recycling
Some owners of newly-opened shops or new retail staff were unaware that a recycling centre is situated in the industrial area across the street. After being introduced to the recycling centre by volunteers, Guck Soon Kah, an employee of a newly-opened mobile phone shop, said, "Many people asked us where to send their recyclables to. Now that I know the answer, I can guide them there."
Despite having worked for several months in a pharmacy in the same vicinity, Pang Min Woon only became aware of the location of the recycling centre that day. She shared, "Many recyclable items were discarded as rubbish in my work premises, so I started collecting them and took them home to be sent to the Tzu Chi Recycling Centre in Batu Berendam." Prior to this, she did not notice that a recycling centre is located near her workplace.
Volunteers Tan Chye Choo and Lee Choy Yean commended Min Woon's efforts, and shared that Tzu Chi Malacca has collected over 870,000 kilogrammes of recyclables in 2018. If everyone incorporates recycling practices into their daily life, more resources can be recycled and reused, thus protecting the Earth and ensuring a safe living environment.
Min Woon appreciated the volunteers' efforts in promoting environmental conservation, as she herself learnt about the concept of recycling in secondary school when volunteers visited her school to impart knowledge on recycling.
When the volunteers visited an optical shop and clarified the purpose of their visit, the shopkeeper and several customers enthusiastically enquired if certain items are of recyclable value. Volunteers responded to their queries with detailed explanations and welcomed all to send their recyclables to the recycling centre.
•
Master Cheng Yen preached that all disasters are caused by human acts; and as time is running out, we must take action now. The Earth has sustained damage to its atmospheric layer so is it still safe for us to live on? No amount of wealth is enough to guarantee the peace of our environment if it is plagued by crises.
Volunteers have been making their rounds delivering New Year blessings, in addition to promoting environmental protection, vegetarianism and charity, with the hope of inspiring kindness in more people and prompting all to take action to create a better environment.