The equilibrium between the elements of nature has been disrupted by our exploitative practices towards the environment, resulting in occurrences of both natural and man-made disasters globally. Embracing vegetarianism is considered an effective means of reducing carbon emissions and preserving the environment in the long run.
On May 12, 2019, Tzu Chi KL & Selangor organized a Buddha Bathing Ceremony in conjunction with the joint celebration of Buddha's Day, Mother's Day and Global Tzu Chi's Day at the KL Tzu-Chi Jing Si Hall in Kepong.
This year's event was themed "Nurture a love for life, a heart of gratitude and respect for one another; foster the spirit of harmony, prevent conflicts and create blessings hand in hand". It was a message from Master Cheng Yen that carried the hope of spreading compassion, encouraging peaceful and harmonious relationships among mankind, and highlighting the significance of respecting and protecting all sentient beings by adopting a vegetarian diet.
The main objectives of this annual triple celebration are to cultivate an appreciation of the essence of Buddhist teachings, to provide an opportunity for the expression of gratitude to the Buddha and our parents, and to inspire kindness and compassion in all.
Vegetarianism for all
The volunteers participating in the event began arriving at the venue as early as dawn. They were then assigned their respective positions in the group formation and waited patiently for the event to commence at daybreak. Two hundred and twenty-seven Lucite sculptures of the Buddha were lined up atop an extended platform for the Buddha bathing ritual, while a fruit and vegetable-themed decorative set up was installed on the platform to reflect the focus on vegetarianism.
The Buddha Bathing Ceremony was conducted with utmost piety and reverence for the Buddha's benevolent spirit, led by Dharma Masters from various schools of Buddhism. The solemn proceedings and symbolic gestures in paying tribute to the Buddha embody the positive values Tzu Chi upholds and exemplify the dignified grace of spiritual devotion.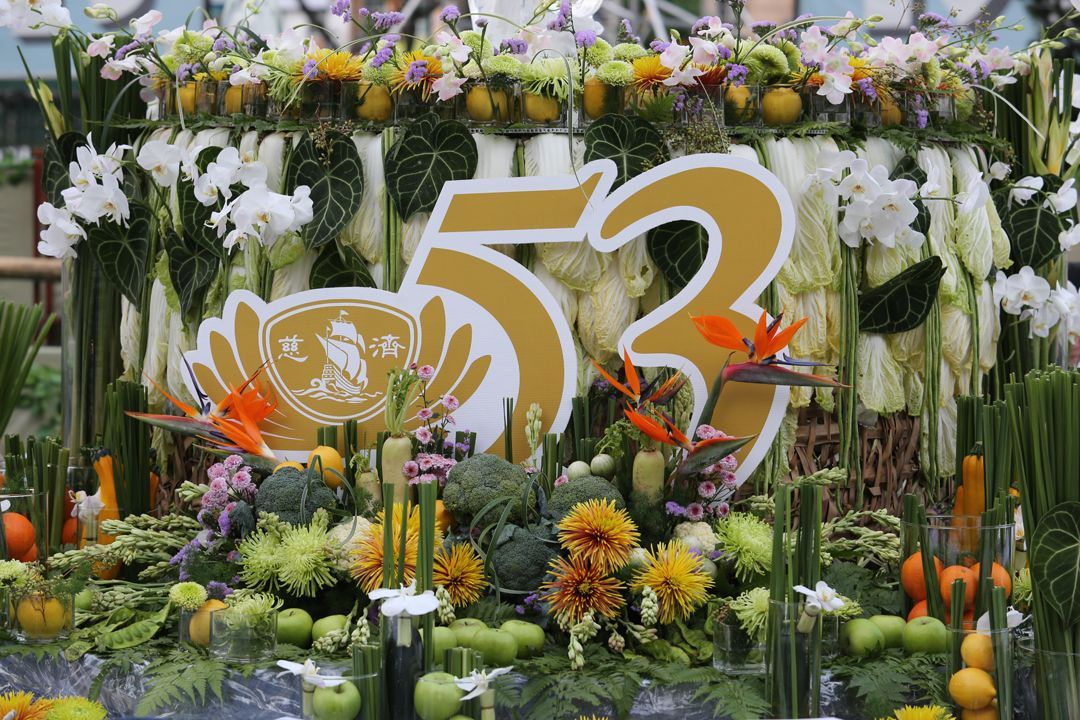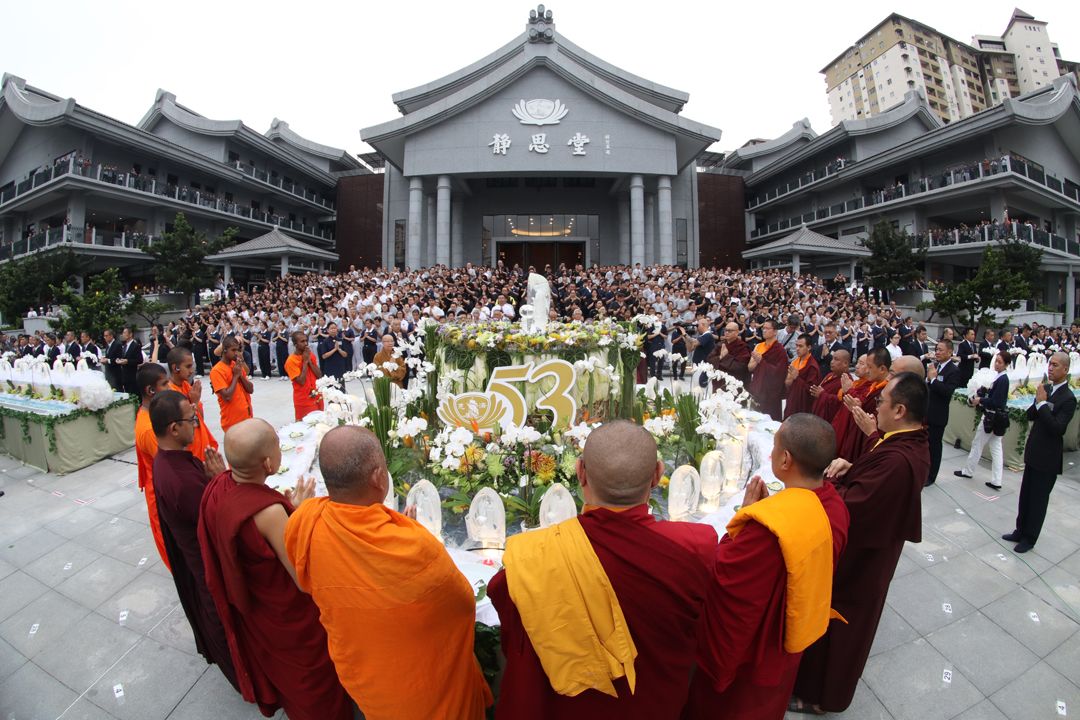 The event was graced by the presence of dignitaries from Belgium, Sweden, Italy and Croatia, as well as representatives from the Taipei Economic and Cultural Office in Malaysia. A total of 3,456 volunteers from Tzu Chi's various missions and members of the public gathered to form the words "Go Green, Go Vege" and four Chinese characters representing the core concept of "protecting lives through vegetarianism" to drive home the message on the advantages of vegetarianism and the imperativeness of a paradigm shift in our consumption habits.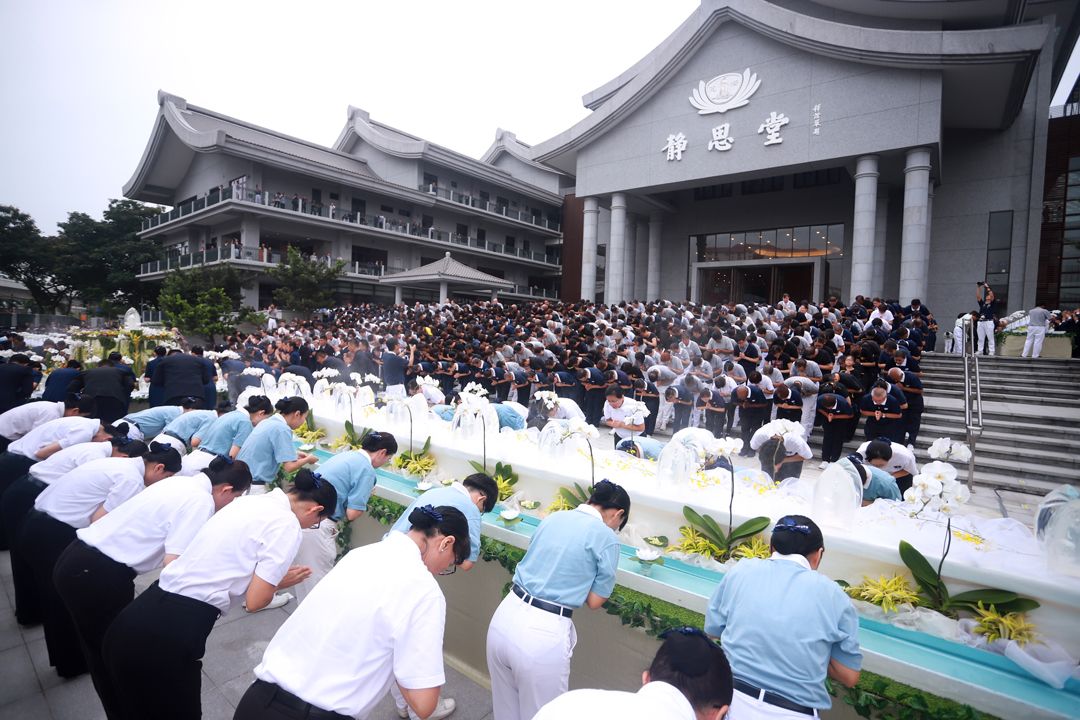 Venerable Ming Ji, Chairman of the Malaysian Buddhist Association (Kuala Lumpur/Selangor Branch) and Superintendent of Kwan Inn Teng Temple in Petaling Jaya, has been attending this event for many years. He was particularly appreciative of Tzu Chi's advocacy of vegetarianism as the focus of this year's event, which resonated with the Kwan Inn Teng Temple's move to promote vegetarianism.
Venerable Ming Ji added, "We should emulate the Buddha's compassion and abstain from meat consumption. Committing to vegetarianism and refraining from any involvement in acts of slaughter is a meaningful way to commemorate the Buddha's birth."
In the wake of global warming, climate change and the prevalence of natural disasters, Venerable Ming Ji expressed his hope for more to heed the call to adopt a vegetarian lifestyle for the benefit of all beings.
Lee Sew Foo, 54, first joined Tzu Chi as a volunteer three years ago after being introduced to the organization by her older sister, Lee Ah Poh. She has been attending volunteer training but is hesitant when it comes to being certified as a Tzu Chi Commissioner as she had reservations towards committing to vegetarianism.
"I'm a meat lover. My sister was very persistent in encouraging me to commit to vegetarianism, but I was reluctant." said Sew Foo, admitting that it was a challenge to resist the temptation of meat-based dishes served during family meals.
Eventually, she hesitantly agreed to commit to vegetarian meals on the 1st and 15th days of every lunar month in observance of Tzu Chi's endorsement of vegetarianism as a conscious effort to protect all forms of life. In early April, she suffered a sudden onset of chest pain, but further examination failed to reveal any underlying health complications. Nevertheless, this incident reminded her of her older brother's death by similar circumstances, thereby alerting her to prioritize her health above all else.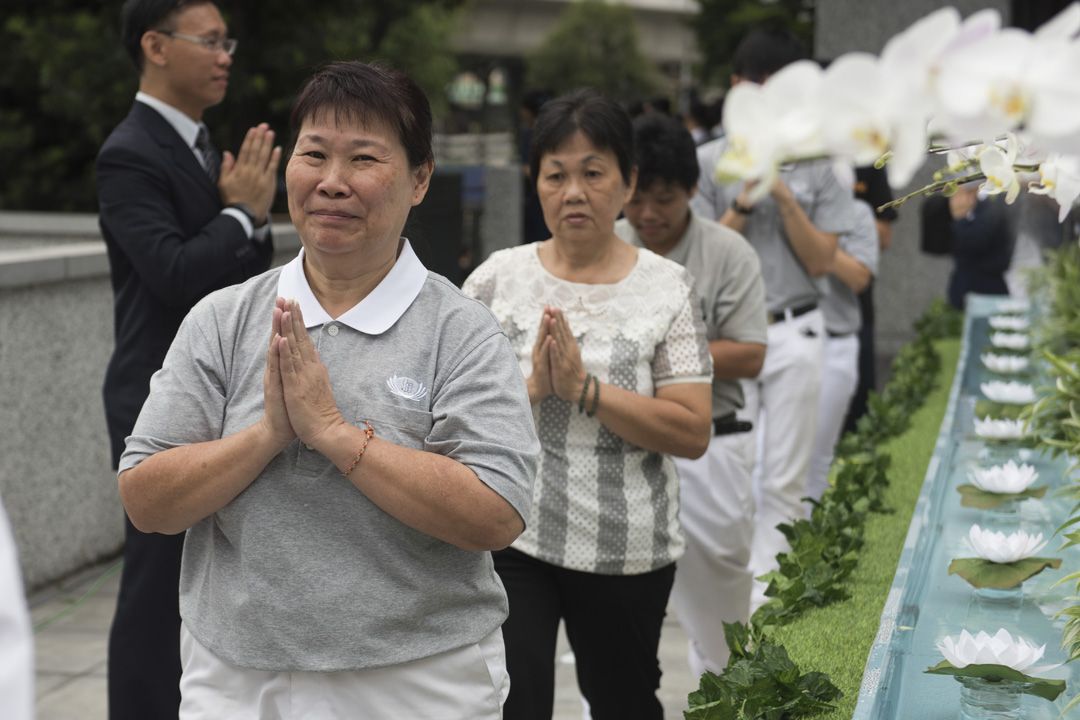 The health scare drove her to the decision to adopt a vegetarian diet and keep her gluttonous desires in check to avoid accumulating negative karma by consuming livestock and poultry. "Whenever I recited the Ten Precepts of Tzu Chi*, I used to skip the Precept declaring 'Do not kill'. Now that I have committed to vegetarianism, I am able to recite all the Precepts proudly!"
"I hope for reduced suffering for animals and for more people to embrace vegetarianism to protect the Earth. This way, the scale of livestock farming is reduced, and the food resources to be spent on livestock could be directed to feed the starving instead," wrote 14-year-old Rowan Leong Zhen Nam on his vegetarianism pledge card.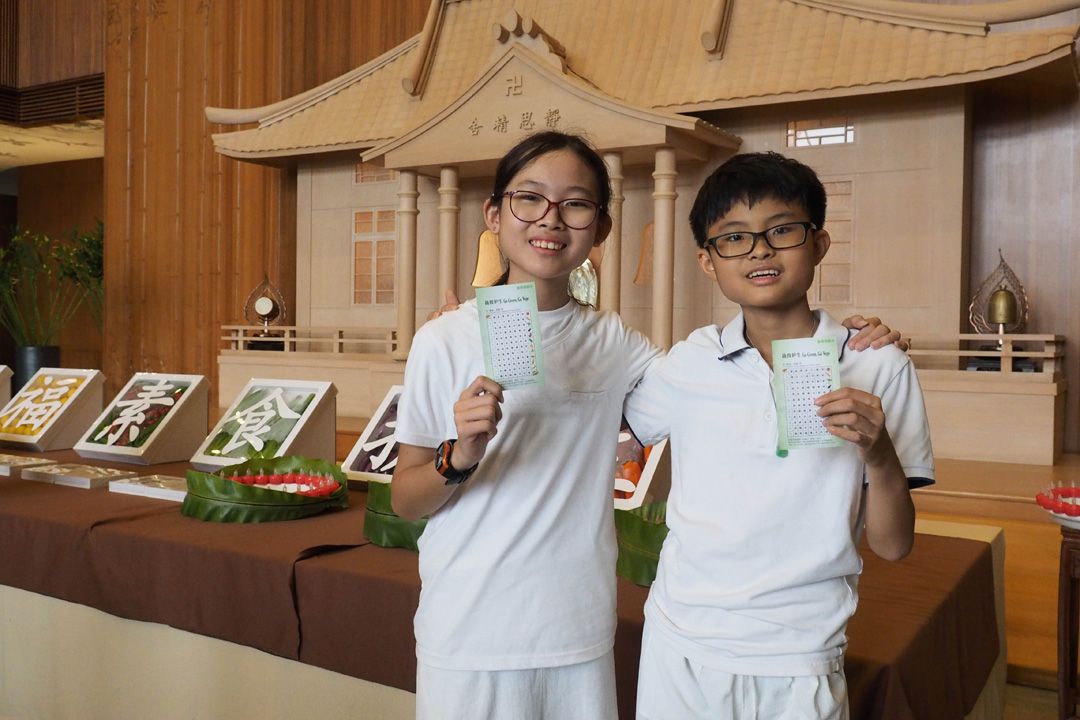 After the Buddha bathing ritual, Rowan and his younger sister, Renee Leong Man Leng, folded their palms in sincere prayer before the statue of the Buddha, and deposited their pledge cards in the designated collection area.
Rowan's first step towards vegetarianism started at the age of 8, when he reduced the frequency of his meat consumption to once a month. He was influenced by his mother, who adopted a vegetarian diet in her commitment as a Tzu Chi volunteer. At 9 years old, Rowan resolved to embrace vegetarianism after watching a movie depicting the cruelty of the livestock industry during his time in Tzu Chi's Parent-child Bonding Class. He noted that self-discipline is key to committing to vegetarianism.
Making vegetarianism accessible
Another attendee, Professor Tamara Boscia, who lectures at the University of Malaya, has only arrived in Malaysia a month ago, but has been committed to vegetarianism for 35 years. She attended the Ceremony in her role as the cultural officer of the Embassy of Italy in Malaysia. This was Prof Tamara's first time attending a Buddha Bathing Ceremony. She marvelled at the air of venerable formality surrounding the event and remarked, "Coordinating such a large number of participants in order to present an orderly formation is definitely no mean feat. I am moved by the wholehearted immersion of the participants in this display of spiritual devotion."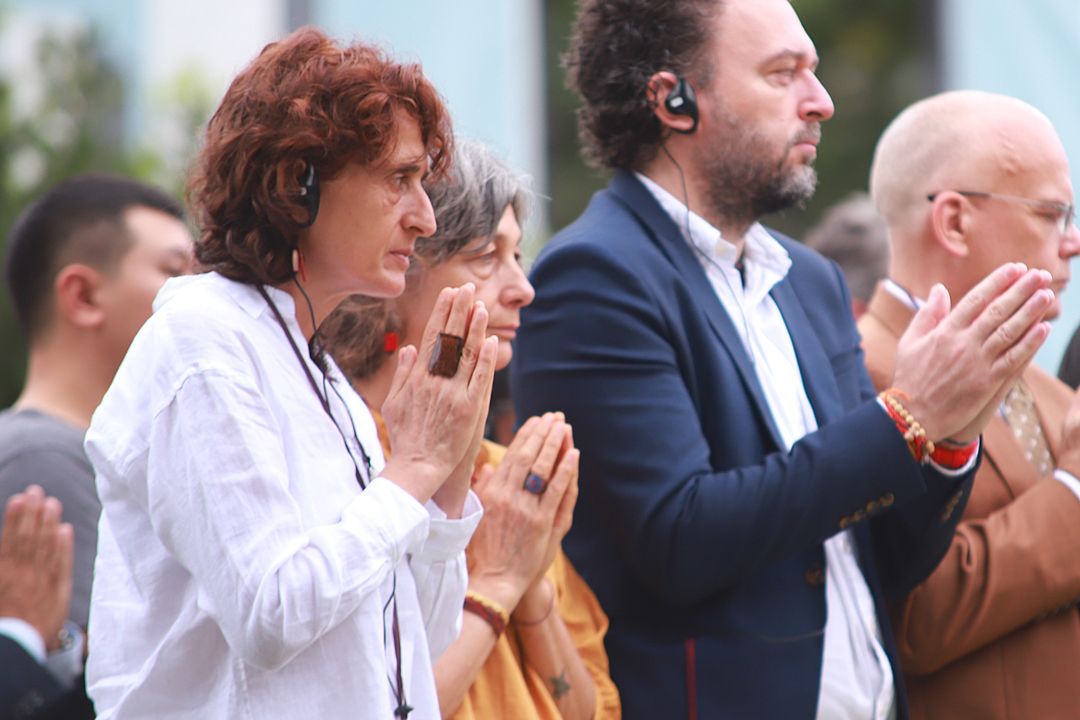 Prof Tamara also acknowledged the dedicated efforts of the volunteers in promoting a vegetarian lifestyle. She admitted to finding joy in adopting a vegetarian diet, as it is not only nutritious and easily accessible, but also contributes to environmental conservation and encourages humane practices. She also acknowledged that convincing the public to commit to vegetarianism takes considerable effort, but the step-by-step approach adopted by Tzu Chi volunteers makes it easier to appeal to the public as it promotes a gradual increase in the frequency of vegetarian meals.
Venerable Dr Karma Tashi Choedron, Sangha Advisor of the Vajrayana Buddhist Council of Malaysia, attended the Ceremony for the second time, and was awed by the sophistication of the formation.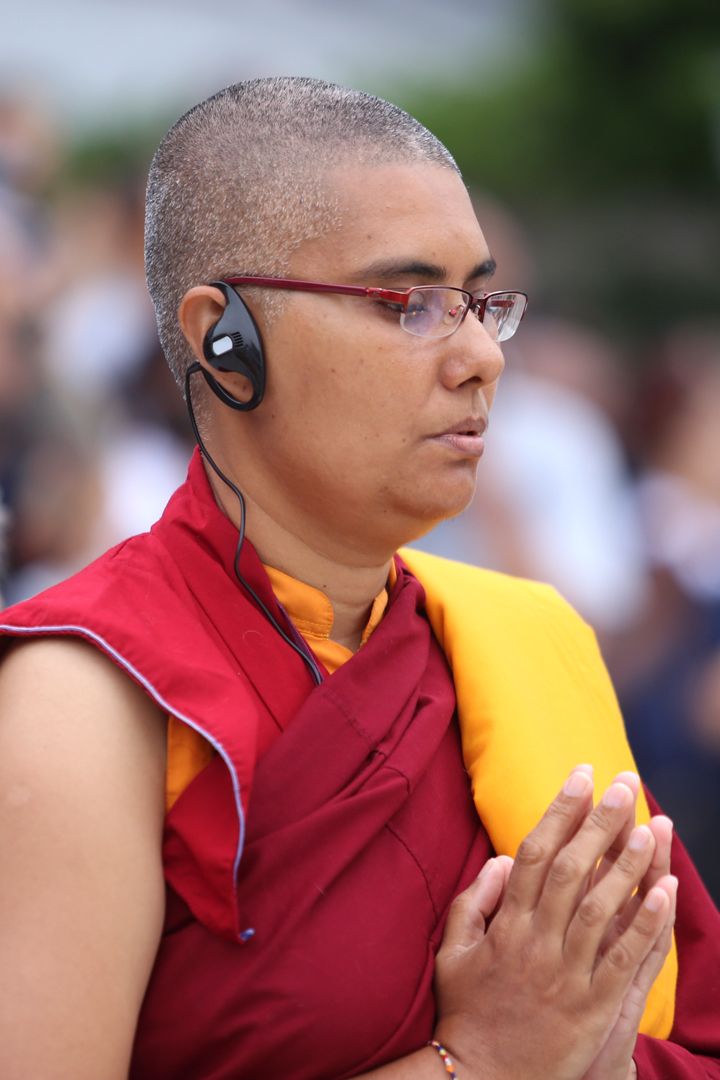 "Buddhists should cultivate a heart of compassion and refrain from subjecting animals to suffering. Furthermore, the carbon emissions resulting from livestock farming contributes significantly to global warming," said Venerable Dr Karma, stressing the importance of the vegetarianism movement before concluding that "A vegetarian diet not only benefits our health and reduces negative karma. When suffering is minimal, a more peaceful and harmonious world is possible."
•
It is hoped that the message of vegetarianism highlighted in the Buddha Bathing Ceremony would inspire all to cultivate a heart of compassion and gratitude, as well as foster a love for the environment.

*Tzu Chi's Ten Precepts encapsulate the principles that Tzu Chi volunteers abide by in their daily conduct. The first five Precepts are based on the traditional Five Buddhist Precepts; the latter five were added by Dharma Master Cheng Yen in response to the circumstances in modern society. The Ten Precepts are:
1. Do not kill
2. Do not steal
3. Do not fornicate
4. Do not lie
5. Do not drink alcohol
6. Do not smoke, use drugs, or chew betel nuts
7. Do not gamble or speculate
8. Be filial to your parents and be moderate in speech and attitude
9. Abide by traffic regulations
10. Do not participate in politics or demonstrations
 Please view more snopshots of the event: 2019 Triple Celebration