While Tzu Chi volunteers occupied themselves preparing for the Buddha Bathing Ceremony on May 12, 2019, they were also mindful in organizing a unique ceremony to accommodate the underprivileged group under Tzu Chi's care, enabling them to share the spiritual joy and inner peace in paying respect to the Buddha on this special occasion.
Each year in conjunction with the Tzu Chi's Buddha Bathing Ceremony, volunteers would also thoughtfully organize small-scale Buddha bathing ceremonies in nursing homes and at the homes of care recipients with mobility difficulty.
This year, volunteers in Malacca conducted the ceremonies at the homes of care recipients Chan Lai Wan and Low Doon Eng on May 5, and at the Kenangan Nursing Home in Taman Seri Serindit on May 11.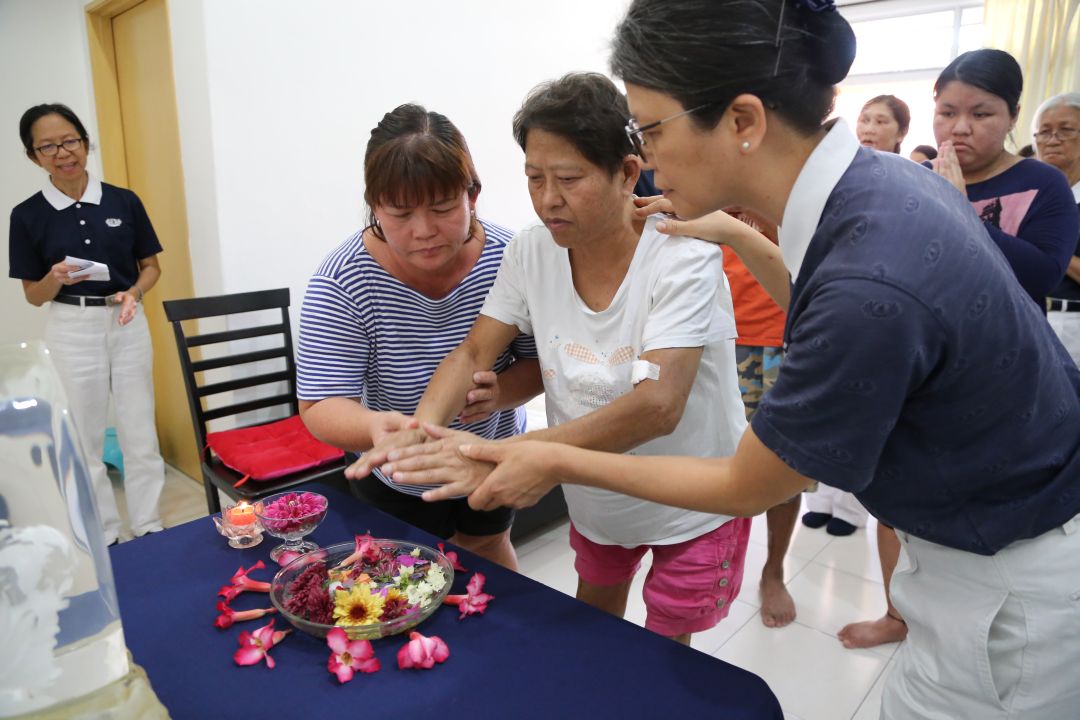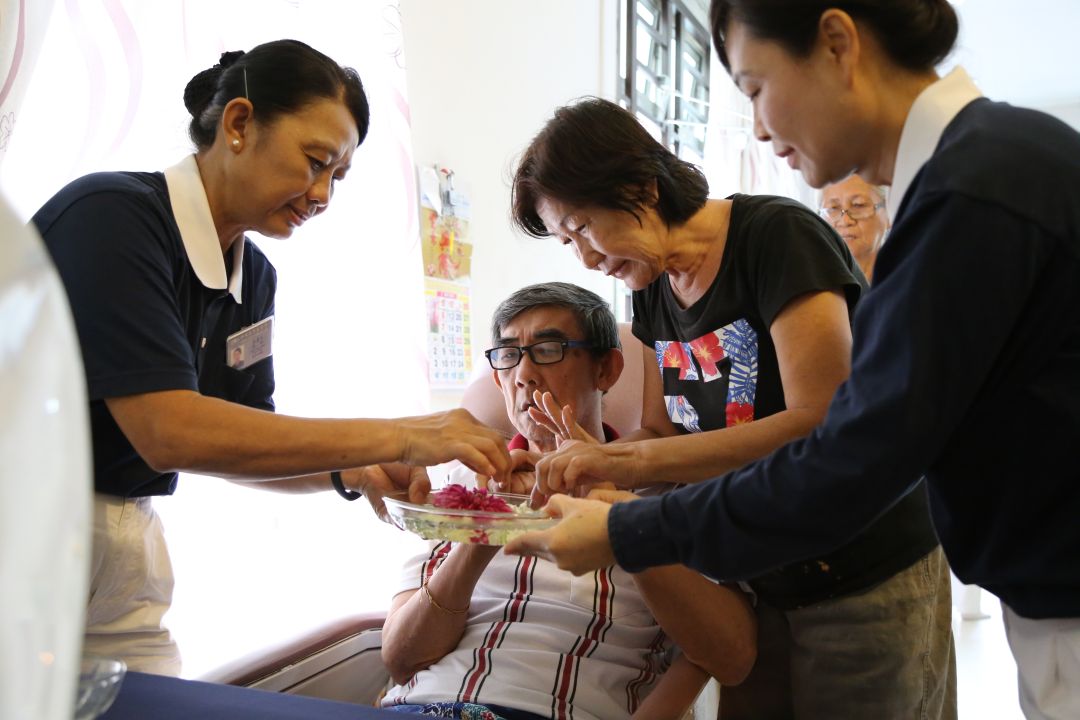 Realizing one's blessing
Although the ceremonies were small in scale, volunteers were mindful in the arrangement and decoration of the Buddha bathing platform. With soothing Buddhist music playing in the background, volunteers explained to visually-impaired Lai Wan the steps and assisted her in completing the Buddha bathing ritual.
After bowing reverently to the Buddha statue with her palms folded and receiving a flower bud, Lai Wan expressed in tears, "I'm grateful to Tzu Chi for offering me help when I was desperate. I'm also grateful to my siblings for taking care of me untiringly all these years."
Lai Wan, whose husband died several years ago, is currently living with her younger sister. She suffers from kidney disease and lost her vision due to diabetes. Fortunately, her siblings readily take care of her by preparing her meals, taking her to follow-up visits to the doctor and supporting her financially. Their care, coupled with monthly visits by volunteers, has warmed Lai Wan's heart despite her illnesses. She was overwhelmed as she performed the Buddha bathing ritual and felt how blessed she has been.
Volunteer Kee Lee Fong, who has been caring for Lai Wan since Tzu Chi began subsidizing her medical expenses more than five years ago, recounted, "Initially, she was concerned being a burden to her family. But she slowly became more positive with care and friendly advice from volunteers. Now, she has accepted her circumstances and replaced complaints with a sense of gratitude."
Unceasing support for the helpless
Low Boon Neo is the elder sister of care recipient Doon Eng. They have been depending on each other ever since their parents passed away. Doon Eng fell into a financial predicament following a stroke that resulted in him being paralysed from the waist down. The helpless siblings then sought Tzu Chi's help.
In order to care for her brother so that he could recover and regain independence soon, Boon Neo brought Doon Eng to stay with her family. Volunteer Wee Boon Fook recounted, "Initially, communication was a problem as Doon Eng was unable to speak. As a result, he often threw tantrums. Nevertheless, his sister showered him with the greatest patience and words of comfort."
Having taken care of Doon Eng for more than a year, Boon Neo said smilingly, "My brother has changed for the better. All my efforts have been paid off." Boon Neo was happy to note that her brother has been taking the initiative to undergo rehabilitation treatment and is starting to respond with some simple sounds.
She was pleased to have volunteers at her house for the Buddha bathing ceremony. The constant support and encouragement from volunteers have been her source of strength along the journey. Her brother also beamed with joy as he performed to Buddha bathing ritual.
We remember you
On May 11, volunteers arrived at the Kenangan Nursing Home, which accommodates 18 old folks. Among them, Sim Guay Moi and Han Ogee Hiae, both in their 80s, have been Tzu Chi care recipients for over a decade. They were relocated to the nursing home as they were living alone and needed the care of others because of their mobility issues.
After their relocations, volunteers began to organize small-scale Buddha bathing ceremony at the nursing home instead of taking them to Tzu Chi's Buddha Bathing Ceremony like what they did in previous years. This allows them and other residents to pay tribute to the Buddha and purify their minds on this special occasion.
As most of the residents have mobility difficulties, volunteers went to them in pairs, with one holding the fragrant water and another the flower. After completing the Buddha bathing ritual with assistance from a volunteer, Guay Moi, who suffers from blurry vision due to cataract shared joyfully, "I used to attend Tzu Chi's Buddha Bathing Ceremony annually before I moved here, and I thought I would have to miss the event after the relocation as I could not walk. To my surprise, volunteers hold the ceremony for us here. This is my second year performing a Buddha bathing ritual here."
Ogee Hiae had also been anticipating the day when volunteer Lai Lok Yen informed her about the arrangement a few days earlier. She was glad to be able to perform the Buddha bathing ritual and to catch up with the many familiar volunteers besides Lok Yen and Low PohHoon, who have been visiting her monthly.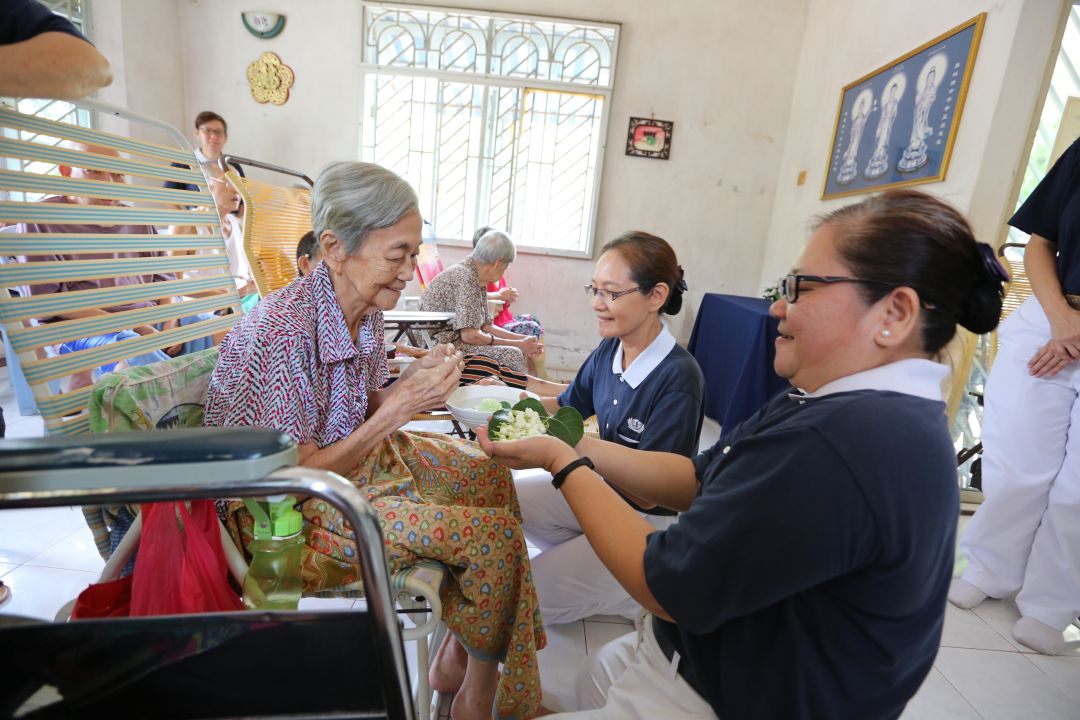 Spreading positive vibes
Volunteers also brought the Buddha statue to the first floor, which accommodates residents with serious illnesses, so that they too had the opportunity to perform the Buddha bathing ritual and feel the spiritual joy.
The ceremony ended with everyone singing "We Are One Family" and the prayer song. The warm and serene ambience enveloping the venue moved a resident, Tay Kai Seng to the brink of tears. He said, "It's my first time experiencing such a warm and solemn ceremony. I'm so touched by the power of religious faith and what you have done."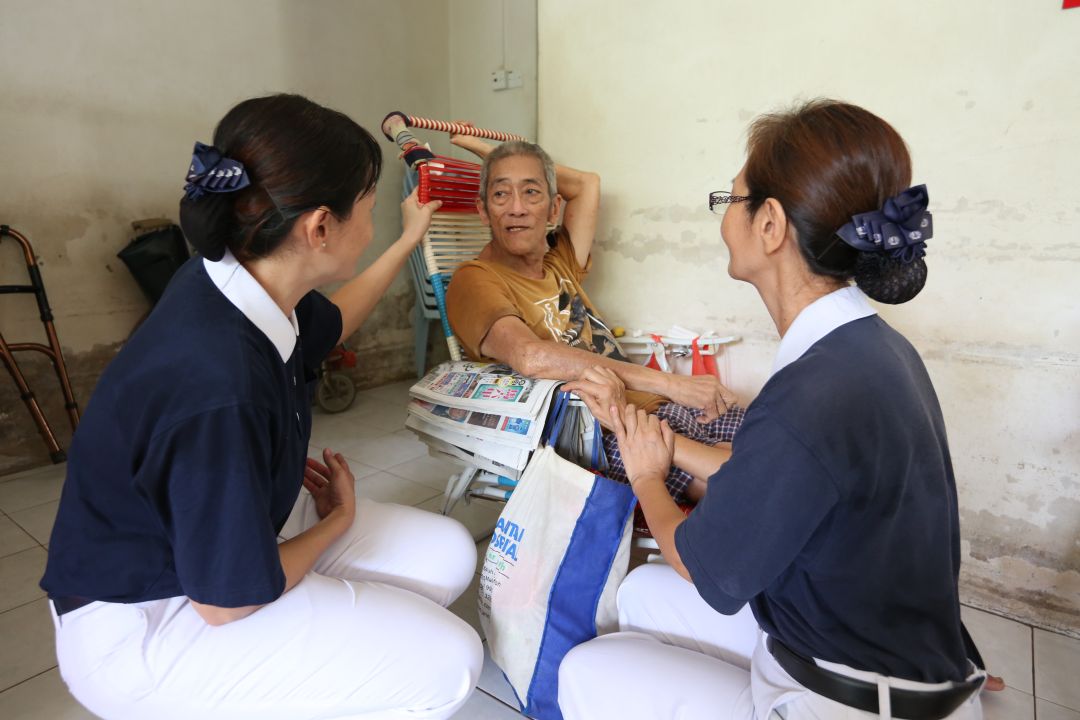 Kai Seng revealed that he has stopped praying at the temples for many years owing to his weak legs. He has not left the nursing home since he moved in more than a year ago. He was profoundly moved by the chance to receive the Buddha's blessing at the nursing home – something that he had never imagined would happen. He wished for his health to improve so that he could return home soon.
●
With the small-scale mobile Buddha bathing ceremonies, more people, especially the elderly and those with mobility difficulties, had a chance to pay tribute to the Buddha, purify their minds and energize themselves with positive vibes.