On May 12, 2019, Tzu Chi Malacca held a Buddha Bathing Ceremony, where public members were invited to appreciate the beauty of Buddhism through the rituals and inspire them to contribute towards charitable causes through various activities.
This year, a wooden hut is spotted on the Jing Si field. It signifies the early days when Master Cheng Yen spent half a year engaging in spiritual cultivation before she founded Tzu Chi, and the spirit of self-discipline, diligence, frugality and perseverance upheld by Dharma Masters at the Abode.
After visiting the hut, Yap Hui Peng remarked, "Master Cheng Yen lived on wild vegetables, had only two hours of sleep daily, copied the Lotus Sutra diligently, and even burnt her arms as an offering to the Buddha on a monthly basis. For most people, a short period of retreat for self-reflection is acceptable, but not when one has to live a minimal life without a phone for a prolonged period. Thus, I hold great respect for Master Cheng Yen. She has led a frugal life while giving of herself to the world with Great Love."
Soft lightings illuminate the ceremony
"Our mind tranquil and undisturbed, always abiding in Samadhi..."
With the song "Our Mind Still and Clear" playing in the background, the offering team paced orderly and reverently towards the Buddha bathing platform.
Seeing the soft and soothing lights shining upon the Lucite Buddha statues, volunteer Yew Kwong Chai, who was part of the offering team, was filled with joy. As an electrician, he has been contributing towards the light installation for the ceremony every year, and was grateful to be able to chip in his professional skills for the worthy cause.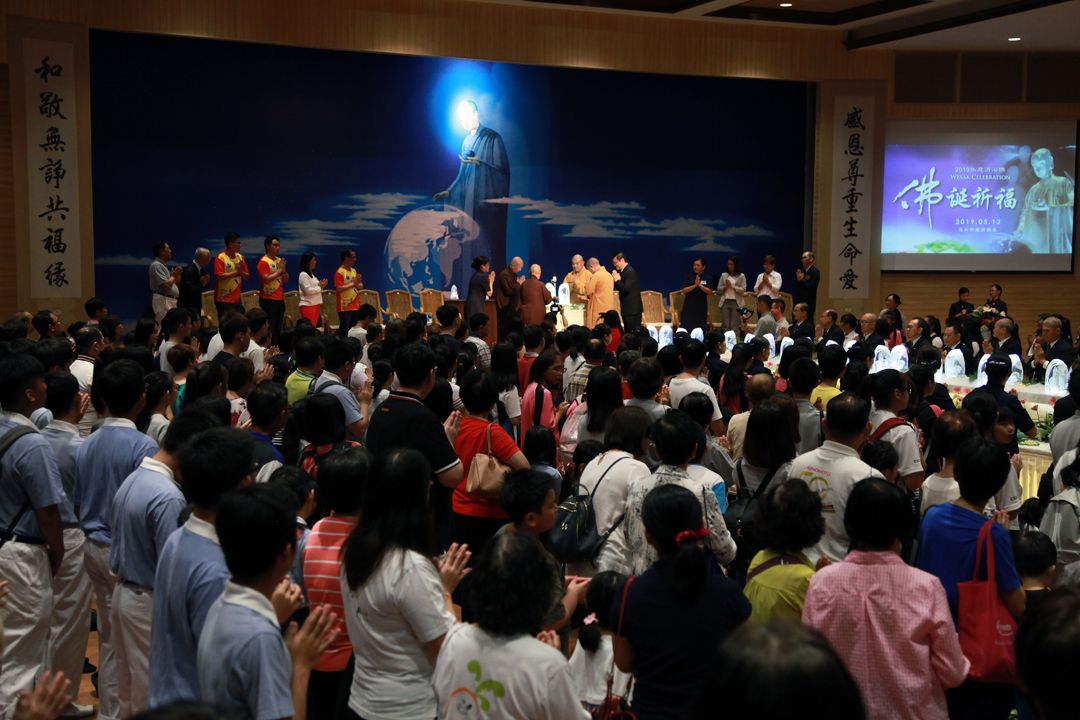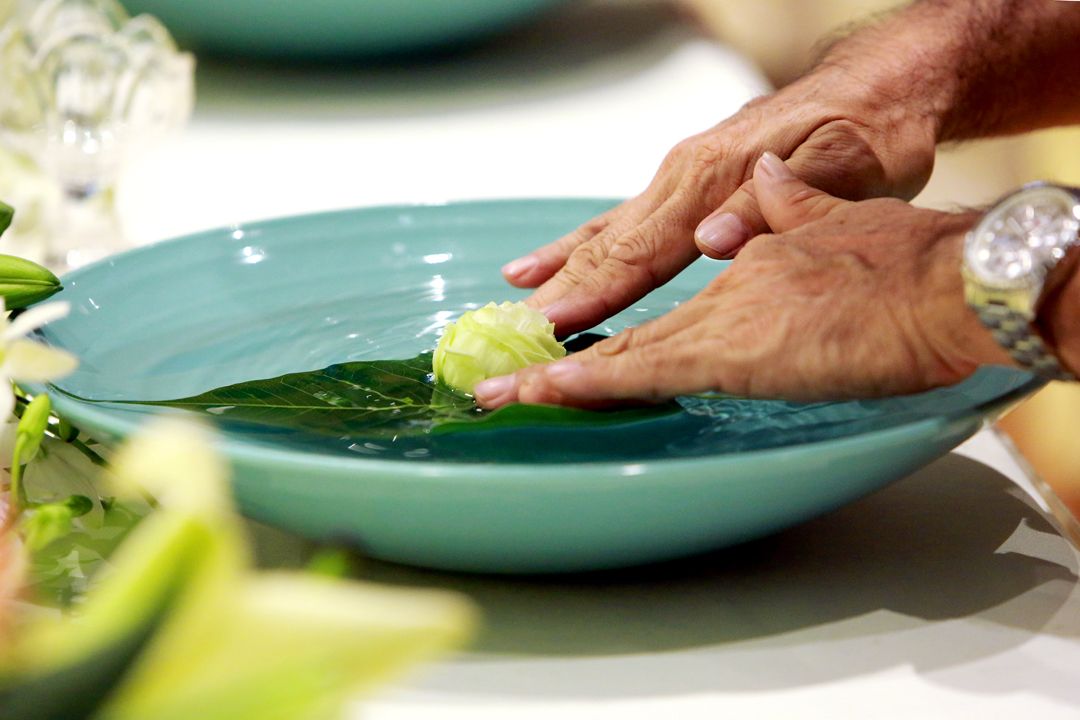 Keeping a revere heart
Supported by a walking aid, volunteer Han Bee Dan walked on one leg to the Buddha bathing platform and performed the ritual reverently. She said, "It is a must for us, Buddhists, to participate in such an auspicious occasion for Buddha's Day, Mother's Day and Global Tzu Chi's Day. We shall garner everyone's kindness and pray for this world." She added that it was also an opportunity for her to calm and purify her mind while reflecting upon herself.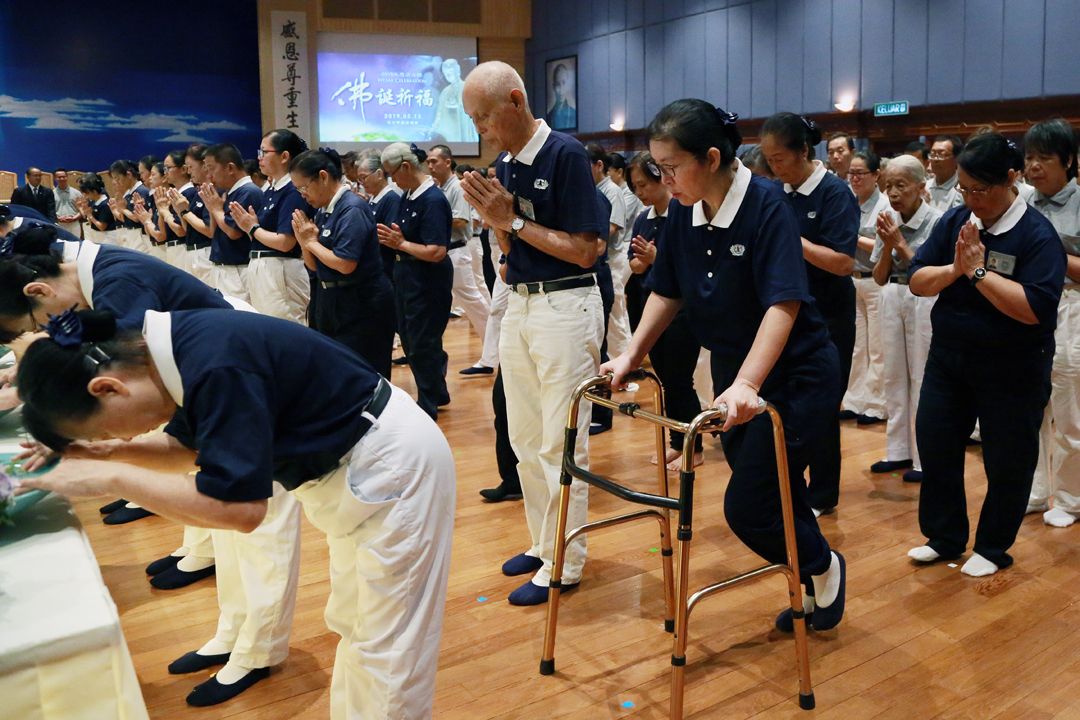 When she read the Jing Si Aphorism: "Accepting the adversities in life with readiness creates positive affinities and karma", printed on the paper roll she picked, she could not help nodding and said, "It matches my thought perfectly!"
Two months ago, she suffered fractured bones from a fall and had to undergo surgery. She was reluctant to accept it initially, but managed to overcome the unpleasant feeling eventually. On the positive side, she can now better relate the suffering of care recipients and realize the importance of emotional comfort over material aid.
While recuperating at home, she felt like she was consuming away her blessings. Thus, she seized the time to read "Daily Journal of Dharma Master Cheng Yen" and would not miss any home visit meetings whenever a volunteer could offer her a ride.
Joining efforts with government body
Master Dun Bei, who attends Tzu Chi's Buddha Bathing Ceremony annually, confirmed his attendance as soon as he returned from his trip to China on March 11. Master Feng Zeng and Master Ke Ping, on the other hand, attended the Ceremony for the first time. After a guided tour by volunteers, the Dharma Masters commended, "Tzu Chi's charitable work is no mean feat, and you have reached so many places around the world. Your spirit is truly admirable."
Adly bin Zahari, Chief Minister of Malacca, was represented by Ginie Lim, Chairman of Malacca State Women, Family Development, Social Welfare and Orang Asli Affairs Committee. In her speech, Ginie Lim acknowledged Tzu Chi's efforts in reaching out to disaster victims and the disadvantaged groups, as well as in education and environmental protection.
She was moved by the solemn and dignified ceremony, and informed that she had tagged along with the Chief Minister's visit to Master Cheng Yen at Jing Si Abode in Hualien, Taiwan last March. She deeply admired how the Master has put the Buddhist teachings into actions and created a global influence. After returning from Taiwan, she had discussed with the local volunteers on collaborations in environmental protection and social welfare aspects.
She believes that sincerity is a significant component of charitable work and that the concepts of recycling should be put into practice.
Never too old to do good deeds
Like previous years, Brother Ambrose Loke from Saint Francis' Institution travelled from Kuala Lumpur to attend the Buddha Bathing Ceremony in Malacca along with his translator, who is a Buddhist and a Tzu Chi donor.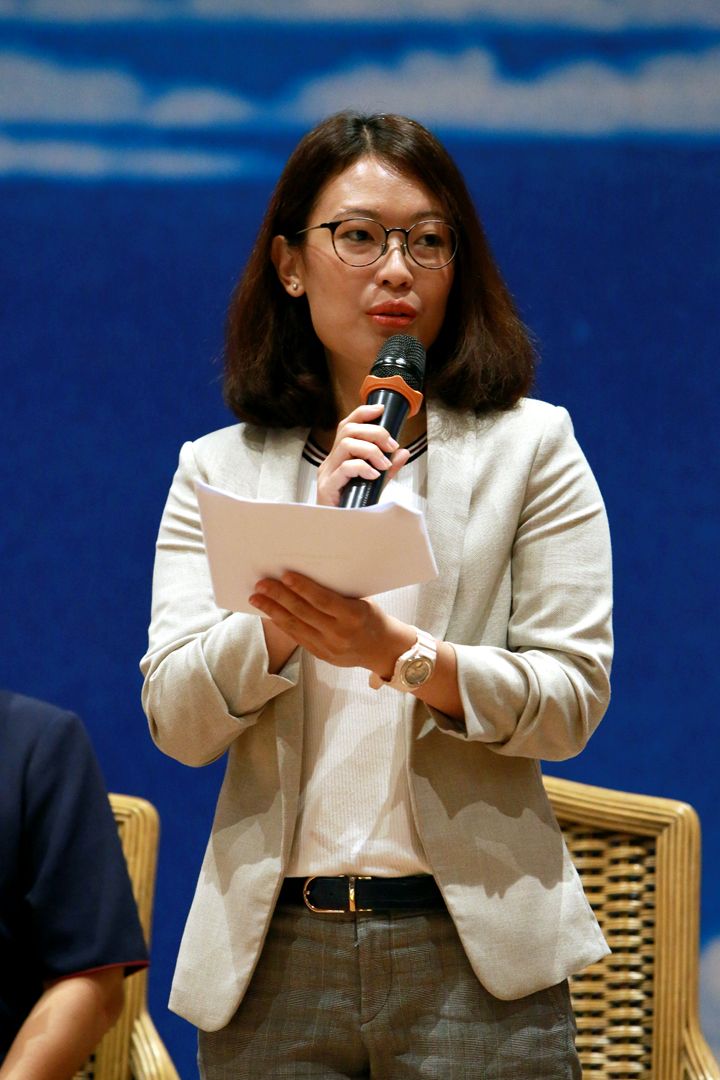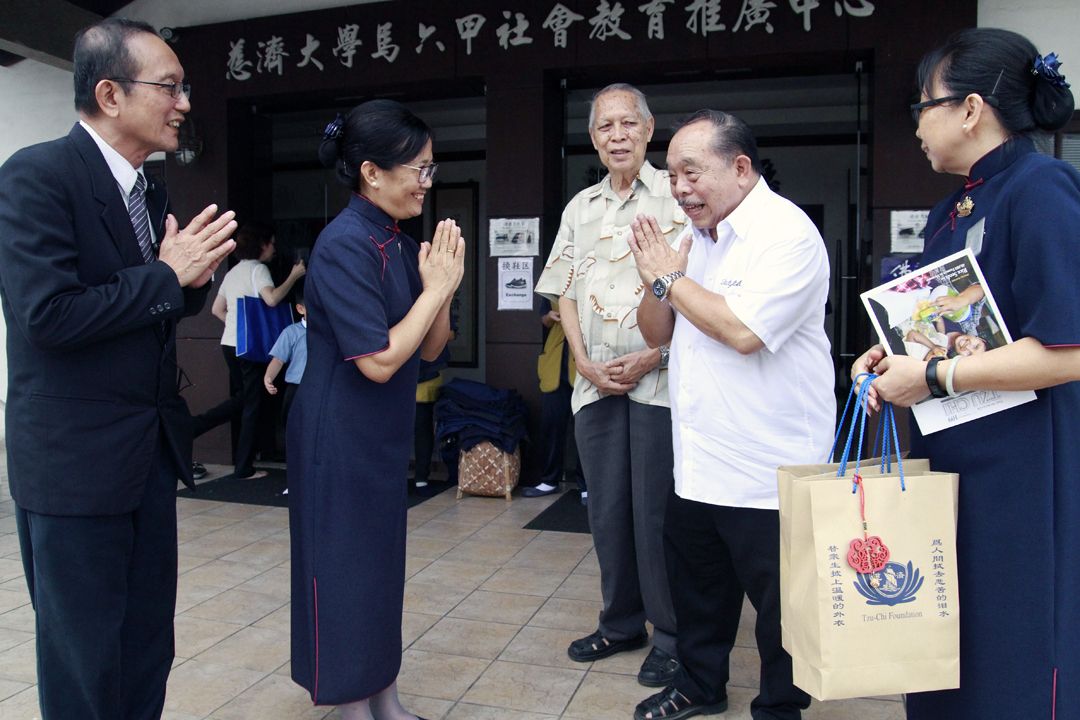 Brother Loke shared, "I first met Tzu Chi in an event where I was the school principal. I was later transferred to Saint Francis' Institution in Malacca in 1989 and had served the school for seven years. It was then that Tzu Chi left an impression on me. I admire the charitable work done by Tzu Chi and its contributions towards society, helping the disadvantaged group with respect regardless of race and religion. This is akin to how we help students who fall behind or lost their direction in life."
Brother Loke also commended Tzu Chi for providing an avenue for the elderly people to serve others and find meaning to their life, as was evident in the Ceremony.
When he learnt about the concept of the "Age Treasury", Brother Loke, who is 75 remarked smilingly that he is only 25 after depositing 50 years of his age in the "Age Treasury" and is still fit for many charitable work. He declared, "Indeed, I never think that I'm old. We are not until we perceive ourselves as old, and our health will deteriorate as we think it will."
Passing on Great Love
Whenever Ong Soh Cheng receives any notifications on Tzu Chi's activities, she will spread the news to others to benefit more people. This includes the Buddha Bathing Ceremony.
She recalled, "At one of the previous Buddha Bathing Ceremonies, I was so moved during the prayer that I cried."
Another participant, Ho Geok Chun attended the Ceremony along with her husband and 6-year-old daughter at the invitation of her sister, Geok Moi. It was the family's fourth attendance at such a ceremony and they drove specially from Seremban to Malacca for this purpose despite the couple being both polio patients.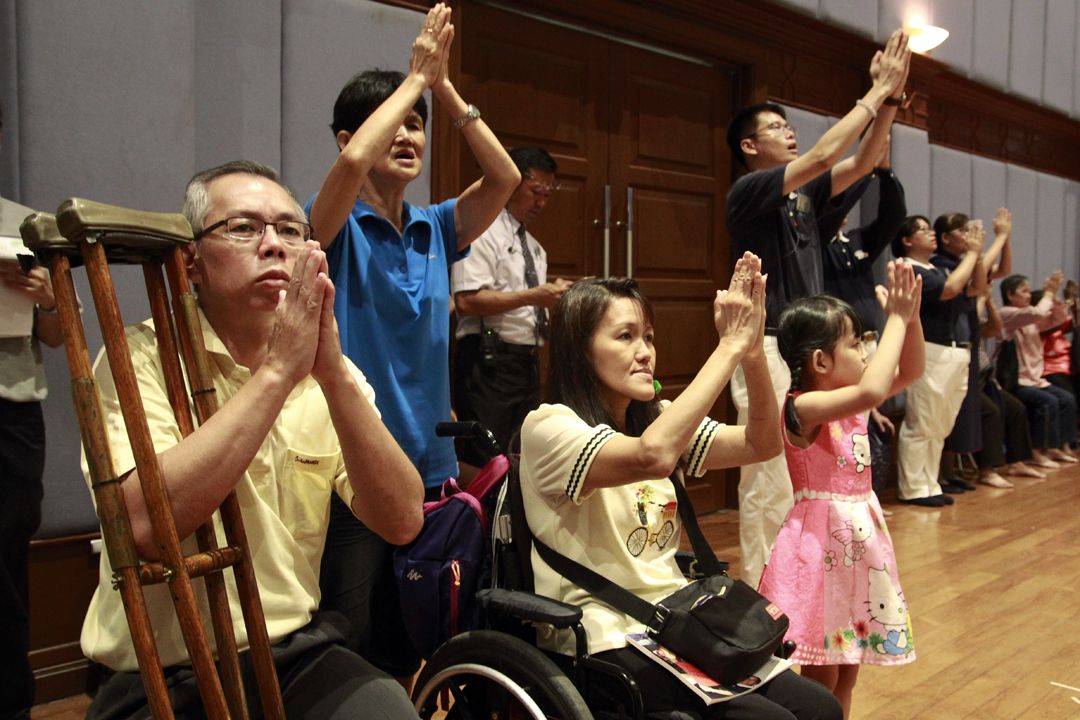 "Buddha's Day is a special occasion to us, and we are here to receive blessing and spiritual comfort," said Geok Moi, while Geok Chun's daughter donated money in the bamboo bank, which she and her father saved. "This is to repay the care and love we had received during our time of need," shared Geok Chun.
Taking advantage of the event, Malacca State Government offered oral examinations to the public attending the event, as part of its campaign to raise awareness on oral hygiene. One of the dentists, Fong Chia Ying, informed that she has been participating in the Ceremony with her mother for the past several years. This year, with an additional role as a dentist, she had to provide oral examinations besides giving talks and sharing her knowledge in oral care. Although occupied throughout the session, she was happy to be able to volunteer her service. She also found the event, with vegetarian food served, meaningful.