The month of May is symbolic on Tzu Chi's calendar as Buddha Bathing Ceremonies are conducted to celebrate Buddha's Day, Mother's Day and Global Tzu Chi's Day in an auspicious occasion that commemorates the significance of reverence to the Buddha, filial gratitude and respect for all sentient beings.
It is an annual affair for Tzu Chi volunteers to invite care recipients to participate in the Buddha Bathing Ceremony. Yet, some care recipients are hindered from attending the ceremony in person due to illness, disabilities or other reasons. In upholding the compassionate spirit of reaching out to those who are disadvantaged, a group of 12 volunteers from Shah Alam organized a mobile Buddha bathing ceremony in their local community on May 5, 2019, bringing the ceremonial set up into the homes of care recipients residing in the area to enable them to bask in spiritual joy and positive vibes.
Welcoming the Buddha in earnest
Saraswathi a/p Rethinam and her family have been placed under Tzu Chi's care since late 2010. Saraswathi's son, Krishnan Kumar, is fondly called "Big Baby" by the Shah Alam-based volunteers, alluding to his large build and his complete dependence on others as he is mentally-disabled and autistic. He also suffers from epilepsy and relies on medication to keep his condition under control. Insulin injections have become part and parcel of his daily routine ever since his most recent diagnosis of hyperglycemia. Saraswathi has been taking care of him meticulously for the past 41 years.
    
Upon learning of the volunteers' intention to conduct the Buddha bathing ceremony at her home, Saraswathi was elated and invited one of her nieces and her close friend, Liew Yeu Mee to partake in the occasion. She prepared flowers and a basin of water in anticipation of the arrival of the Buddha's statue. She even served traditional Indian delicacies to the volunteers.
Saraswathi stood solemnly before a Lucite statue of the Buddha and completed the Buddha bathing ritual under the guidance of the volunteers. She also prayed for her cancer-stricken older sister's early recovery and for Krishnan to be free from pain and illness. Her personal wish was none other than peace and happiness for her family.
She is constantly worried that her son would be left to fend for himself without anyone to rely on if she were to outlive him, compelling her to plead to the divine powers to grant her the opposite. Lamenting her son's predicament touched a raw nerve and brought her to tears.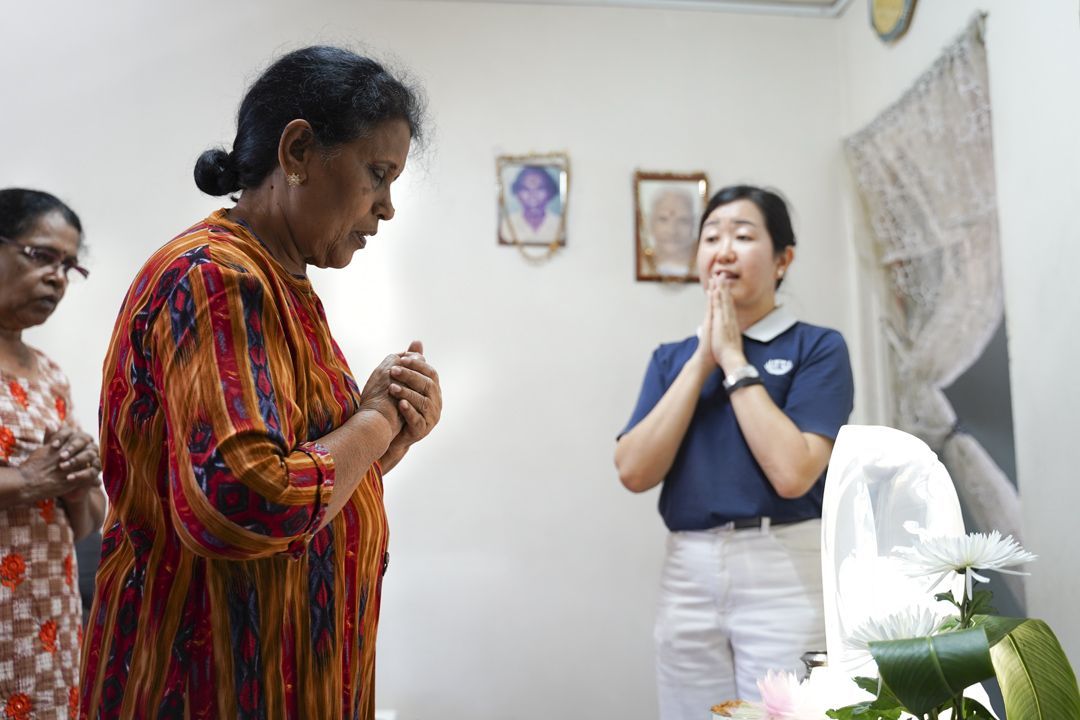 She has developed a close rapport over time with the volunteers, who have been caring for her, and expressed her gratitude to the volunteers for their continuous concern. She acknowledged the volunteers' generous gesture of delivering the Buddha to her home as indicative of their sincere intentions to shower her with an abundance of blessings. She, in turn, hoped to transfer the blessings to volunteer Ngeu Yet Meng, who has been looking out for her, to grant him robust health to enable him to continue serving the needy. She was concerned for Yet Meng upon learning that he had been taken ill, but is now relieved that the latter had regained his health.
A gesture of gratitude
The initial plan was for Krishnan to bathe Saraswathi's feet but as he was hesitant, Saraswathi's niece, Sarala Devi stood in for him instead. "I cherish Aunt Saraswathi like my own mother. I'm more than willing to do her bidding," said Sarala.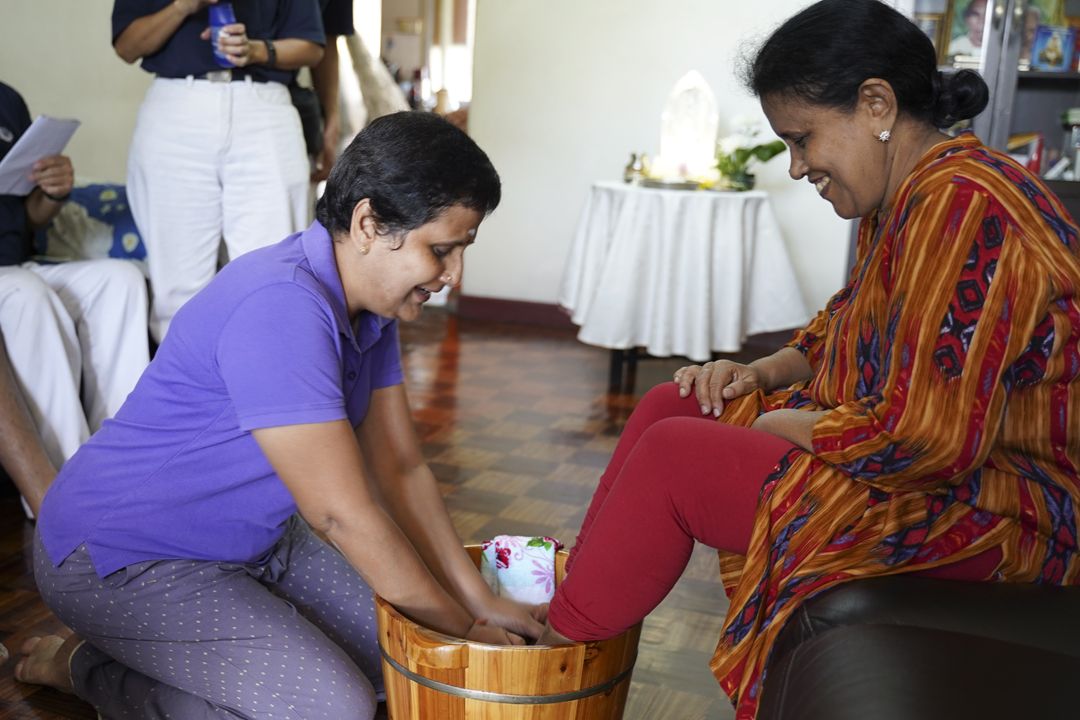 After divorcing her husband 16 years ago, Sarala raised her two daughters single-handedly. Her daughters contracted asthma growing up and were frequently hospitalized, but fortunately for her, Saraswathi has always been around to care for the children. "I'm indebted to Aunt Saraswathi for lifting me up when I was at my lowest. All her life, she has always placed the needs of others before her own. I've nothing worthy to repay her sacrifice with, except my love," she professed of her intention to bathe Saraswathi's feet. She was also grateful for the opportunity to partake in the Buddha bathing ceremony and wished for all to be blessed with peace and prosperity.
Yeu Mee, who is Saraswathi's hairdresser and also a close friend, sympathized with Saraswathi's plight, but her attempts to reach out to Saraswathi have been limited by the language barrier between them. Hence, she had to be content with lending a rapt listening ear to Saraswathi whenever the latter vented her frustrations.
As Yeu Mee stood before the statue of the Buddha, she experienced a sense of calm and peace rising from within. She prayed for everyone to be blessed with good health, and for Saraswathi to be liberated from hardship and misery.
Strengthening family bonds
Next, the volunteers made their way to the home of Kanaga a/p Malaikh, a cancer patient who also suffers from Parkinson's disease and a host of other ailments. She is unable to secure stable employment and relies on Tzu Chi's assistance to sustain her livelihood. She collects recyclables as a way of returning Tzu Chi's favour.
Kanaga's hands trembled ever so slightly throughout the Buddha bathing ritual, but she eventually managed to achieve a state of inner serenity. She was delighted to be surrounded by the volunteers' company for her first ever Buddha bathing ceremony. She also thanked the volunteers for their continued assistance and looks forward to the occasion next year.
Ravikumar a/l Muniandy walks with the support of a metal leg brace and crutches after a road accident many years ago left him with multiple fractures in his right leg. His wife walked out on him and his two sons following the accident. His impaired mobility hindered him from seeking gainful employment, so he has to depend on his older sister, Paramesvari, and financial aid from Tzu Chi for sustenance.
The volunteers arranged for his sons to stand on either side of him to massage his hands and were deeply moved by this tender moment. The father-and-sons trio even huddled together in an affectionate embrace. "My sons are very loving and family-oriented. Instead of loitering around in their free time, they would stay by my side and offer to wash me up, serve me meals and ensure I take my medication on time," noted Ravikumar.
Ravikumar folded his palms before the statue of the Buddha in a sincere prayer for his sons to grow up in a carefree environment. He was also grateful to the volunteers for supplying him with medical attention. "I was awash with serenity when faced with the Buddha's statue. I hope my leg would recover soon, and that I could reunite with my wife for the sake of my children," he said calmly.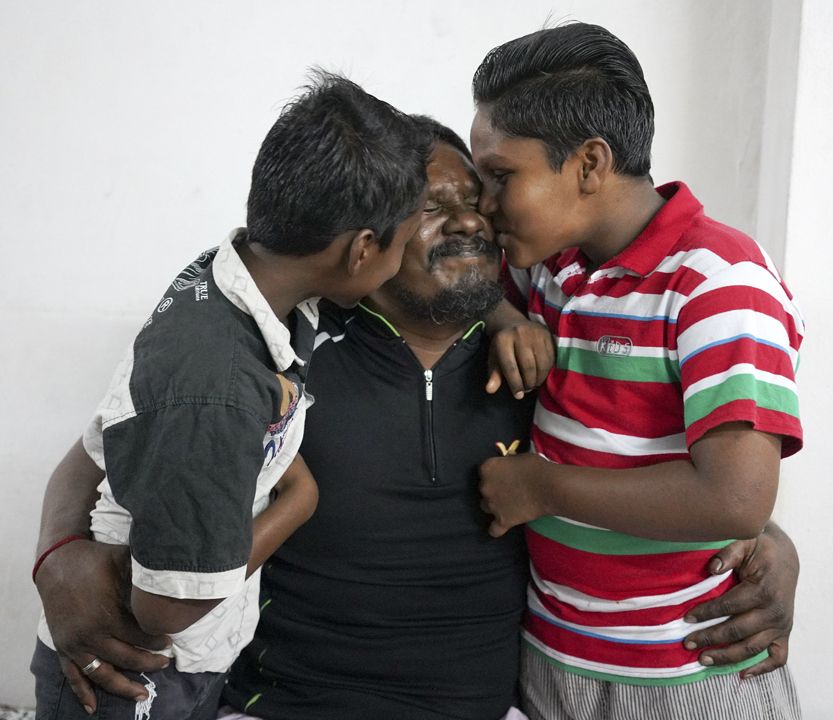 •
The tradition of bringing the Buddha bathing ceremony to the care recipients' homes aims to comfort the care recipients with the benevolent presence of the Buddha, giving them renewed hope in life by cultivating a positive mindset rooted in the spirit of compassion and seeking the silver lining amidst hardship.