In this place, young people witness the natural laws of life, getting old, being sick, and suffering in bitterness, helplessness and impermanence; the elderly are not lonely – learning to care for others, from being passive to becoming active. In this place, doctors, patients and volunteers encourage and care for one another, bringing warmth and energy to the otherwise chilly clinic.
"Where do you feel pain?" Early in the morning, Physician Thoo Lien Yin from TIMA took a small stool and sat in front of a patient who is taller than her. The patient kept on describing her health situation, while Physician Thoo listened. The latter treated her with acupuncture and once in a while, advised her on a healthy dietary intake and suggested some simple muscle stretches and so on. As the patient finished speaking, Physician Thoo also finished inserting the needles and went on to her next patient.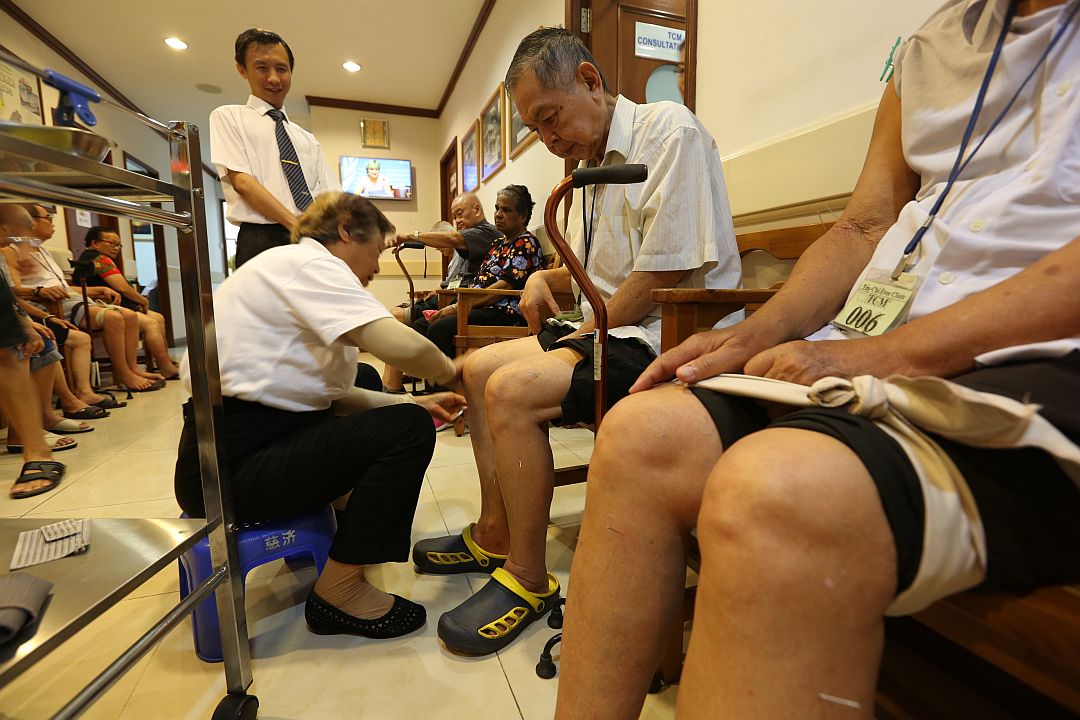 "Sister (volunteer), there are a few people there who have waited for a long time. I'll go and get them in..." A patient, who had finished her consultation, walked out with a cane and started serving.
The Malacca Tzu-Chi Free Clinic provides medical services four mornings per week. Services include Chinese and Western medicine, dental care and ophthalmology. It seems like a daily routine, but comments such as, "This family has been visiting for a long time. I watched him recovering," could often be heard as conversations flow.
Relieving worries
"I'm really thankful to Tzu Chi for helping my mother walk again, which greatly relieved my worries." Although she was faced with health problems again, Ganagammal a/p Ramasamy, a tailor in her 40s, is no longer as worried as before.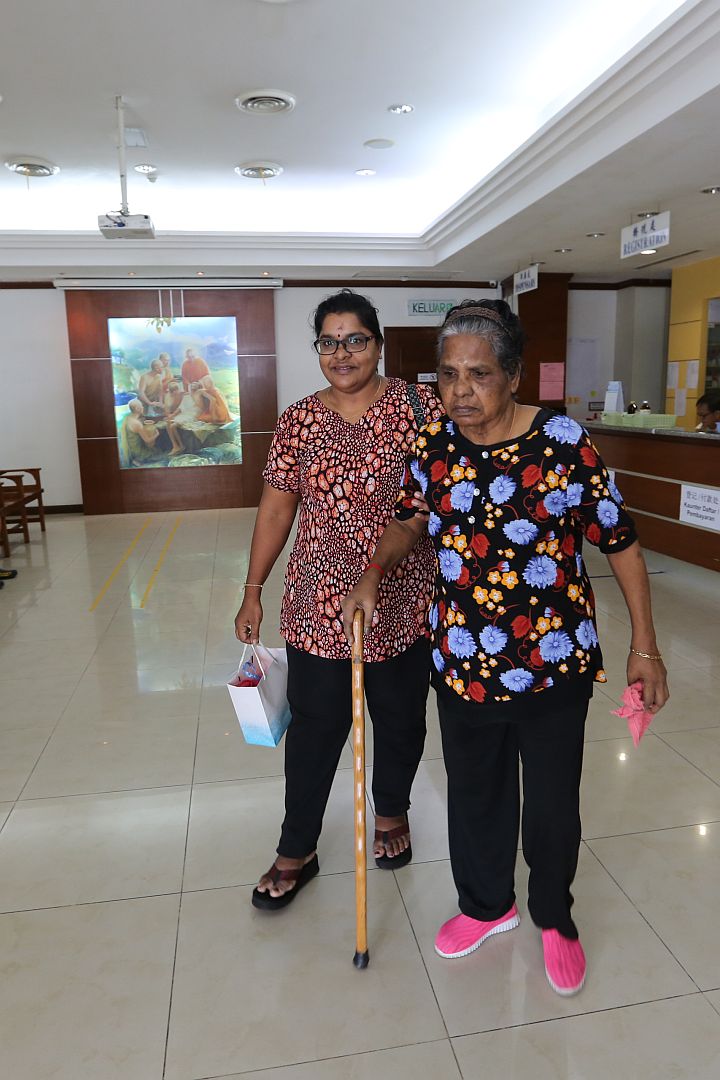 Years ago, her mother had a stroke. At the same time, Ganagammal had some health problems. After an operation, Tzu Chi volunteers started caring for the family and introduced her mother to the Free Clinic. After treatment for more than a year, her mother was able to walk with a cane and do some light housework, without having Ganagammal by her side all day long.
Besides being grateful to the doctors and the Free Clinic, she is also very grateful to the volunteers, who are ever so encouraging and gave praises for every little improvement her mother achieved.
Educating the patients using soft power
In the Traditional Chinese Medicine (TCM) department, most patients are stroke survivors. They used to be in denial and wondered, "Why me?" After treatment, some of them continued to be socially active, unbeaten by the disease; and some patients might lose their temper due to their illness and helplessness.
Chee Chan Ngoh, who is 70-plus years old, comes to the Free Clinic every Wednesday right on time. Besides his home, this is the second place he regularly visits. When volunteer Pow Kim Lan saw him coming in, she greeted him loudly with a big smile; but a year ago, she would not dare do that.
"Mr Chee had a very bad temper, his tone was fierce and he always had a straight face. I remember once when the TCM physician asked for his blood pressure recording booklet, he pulled it out from his pocket and threw it at the physician. Volunteers were dumbfounded, while the physician hurriedly got up and caught it." On that day, Chan Ngoh's blood pressure went over 200. The physician quickly asked volunteers to send him to the emergency room at the general hospital.
Many years ago, Chan Ngoh's high blood pressure caused a stroke and he unconsciously crashed his car into someone else's home. After being discharged from the hospital, he was worried that he could not take care of himself, so he asked his family to send him to a nursing home. When his neighbour, volunteer Goh Kok Eng heard about it, he paid Chan Ngoh a visit. Seeing that his condition was not too bad, he carefully analysed and persuaded him to continue staying at home, and later took him to the Free Clinic.
Chan Ngoh had a strong ego and this could be due to his previous job as a high-level management executive. Kim Lan patiently communicated with him and explained that doctors at the Free Clinic are providing their services voluntarily. As such, patients ought to treat them with respect instead of venting their anger at the doctors.
Some other volunteers also fetched Chan Ngoh to the Tzu Chi Ayer Keroh Recycling Education Centre, treating the action of sorting recyclables as rehabilitation. While they worked together, volunteers shared some Dharma with him. As time passed, his morale was boosted and his temper had mellowed.
After more than a year of treatment, Chan Ngoh moved from a four-legged walker to short distance walking without his cane. When Kim Lan commented on the improvement in his health and temper, Chan Ngoh responded with a smile, "You're right. I used to be a bit fiercer. Nowadays, I control my temper."
Bustling crowd on Sundays
Every Sunday morning, the Free Clinic is bustling. A group of patients on rehabilitation at the SOCSO Rehabilitation Centre would carpool and travel 45 minutes to the Free Clinic, for TCM, Western medicine and dental services.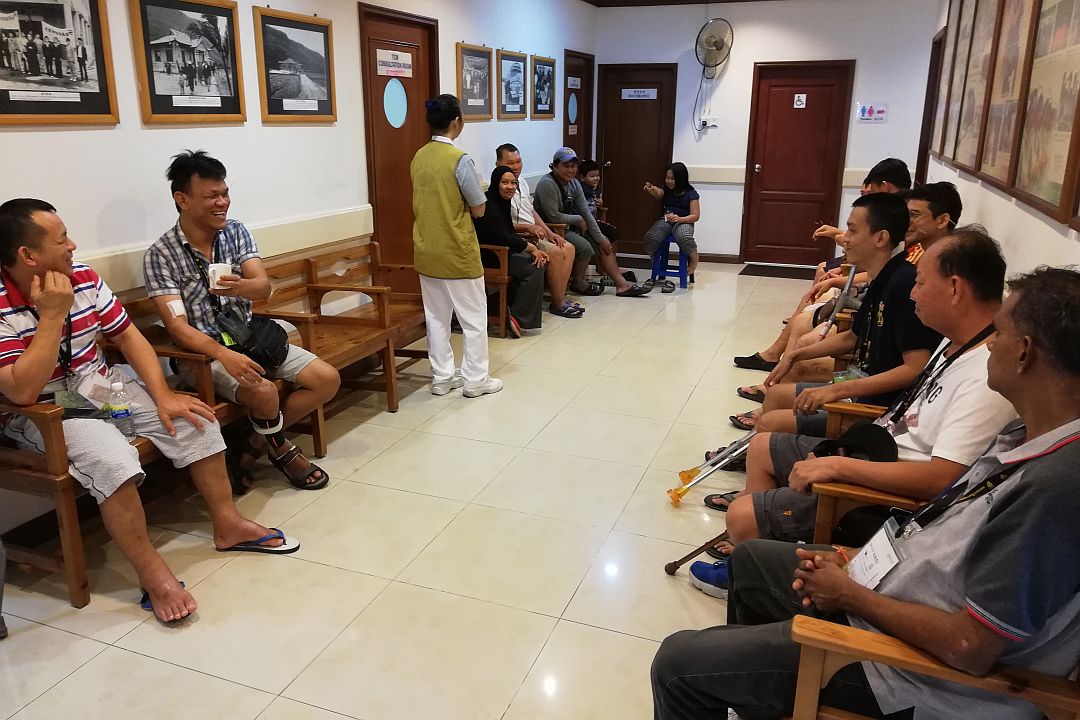 Besides the well-equipped facilities and rehabilitation conducted by the medical staff, the SOCSO Rehabilitation Centre also cooperates with Tzu Chi. Every month, the volunteers are invited to give the patients some emotional boosts; volunteers may prepare cars and chauffeur them, or they may call a taxi to the Free Clinic. While they take turns for treatment, they take care of each other as if they are at home and help with some simple tasks, bringing vigour to the Free Clinic.
A Malay patient, who sustained spinal cord injury in a car accident, hurt his foot during rehabilitation. Volunteers with medical background helped to clean his wound. He told the volunteer, "Don't worry, just go ahead and clean the wound. I cannot feel the pain." He also tried acupuncture on both his feet and head.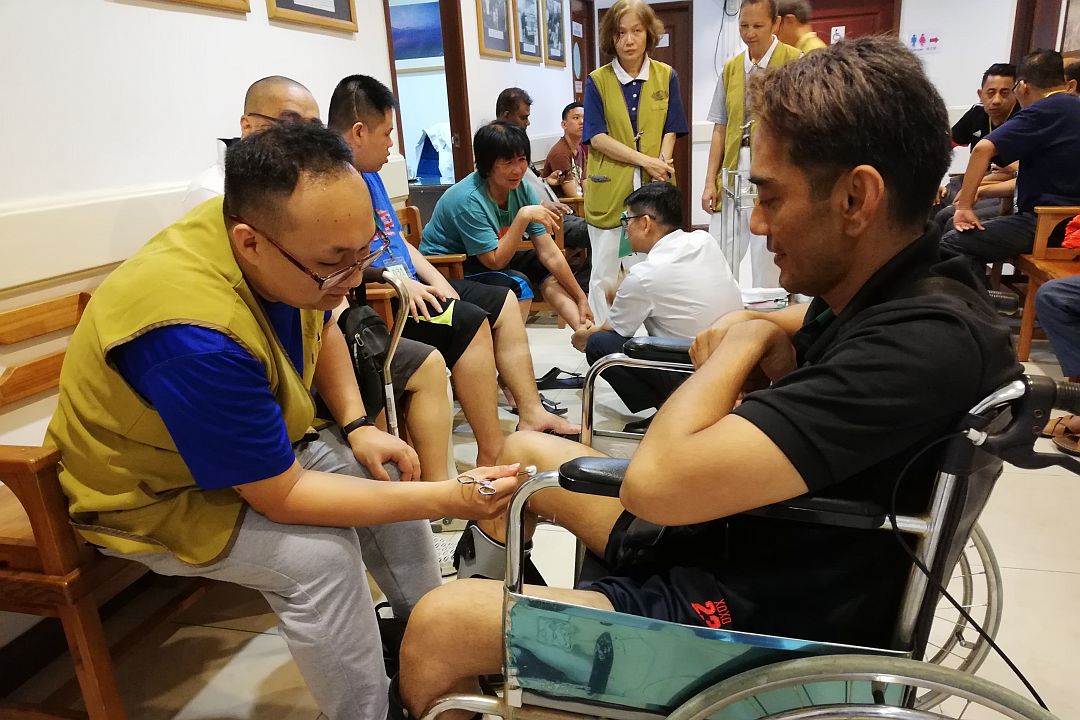 "My family is in Bangi, Selangor. After the accident, I came to SOCSO Rehabilitation Centre for rehabilitation. It has been four months. I heard from my friend that acupuncture can help with my recovery, so I came to try. Last week was my first time trying acupuncture and I felt that there was progress, so I came back. I hope the multi-aspect treatment will help me return to work as soon as possible," he said.
Looking after the health of refugees
In addition to caring for social institutions, Tzu Chi care recipients, elderly living alone, aborigines, welfare card holders, low-income households, people with disabilities, etc., the Free Clinic also provides medical services for refugees and foreign workers.
On the morning of August 24, Mohommad Rofique Bion Dil Mohammud rode a bicycle for about 20 minutes to travel from Pengkalan Rama to the Free Clinic. With a pale face, he curled up on the wooden chair and dozed off once in a while. He told the TCM physician that he had been unable to sleep for three to five days, feeling very warm and was losing his mind.
After laying him down, the physician treated him with acupuncture. Soon after, he began crying out "Ouch... ouch..." The physician explained that it was because the blockages on his nerves were restoring, and as the energy and blood began to flow, he felt the pain.
When he stepped out of the Free Clinic, he was energized. Volunteer observed that his lips were red again and asked him to return the following day.
Mohommad Rofique is a Myanmarese worker doing road maintenance, and he can go to a government clinic for medical treatment. However, he has stopped worked for nearly half a year. With great discomfort, he listened to his friend's suggestion, brought his UNHCR card and came for consultation at the Free Clinic, finally able to relieve his pain.
The following day, another refugee brought his family of four to the Free Clinic. All four adults and children registered to see the doctor. When the Western medicine doctor on duty saw the family, she greeted them as if she was meeting friends and did a check-up on his body, which had undergone surgery three months ago.
According to him, in government hospitals, surgery costs are higher for foreigners, but UNHCR cardholders pay half price. His relatives and friends helped him with the medical expenses. For general illness, he would normally choose to visit the doctor at the Free Clinic.
"I'm really thankful for the Free Clinic, otherwise being a rag picker, I'd not be able to bring my wife and kids to see a doctor when they fall sick." Relieved, he smiled with folded palms. With a month's worth of medications in hand, the family set off for home.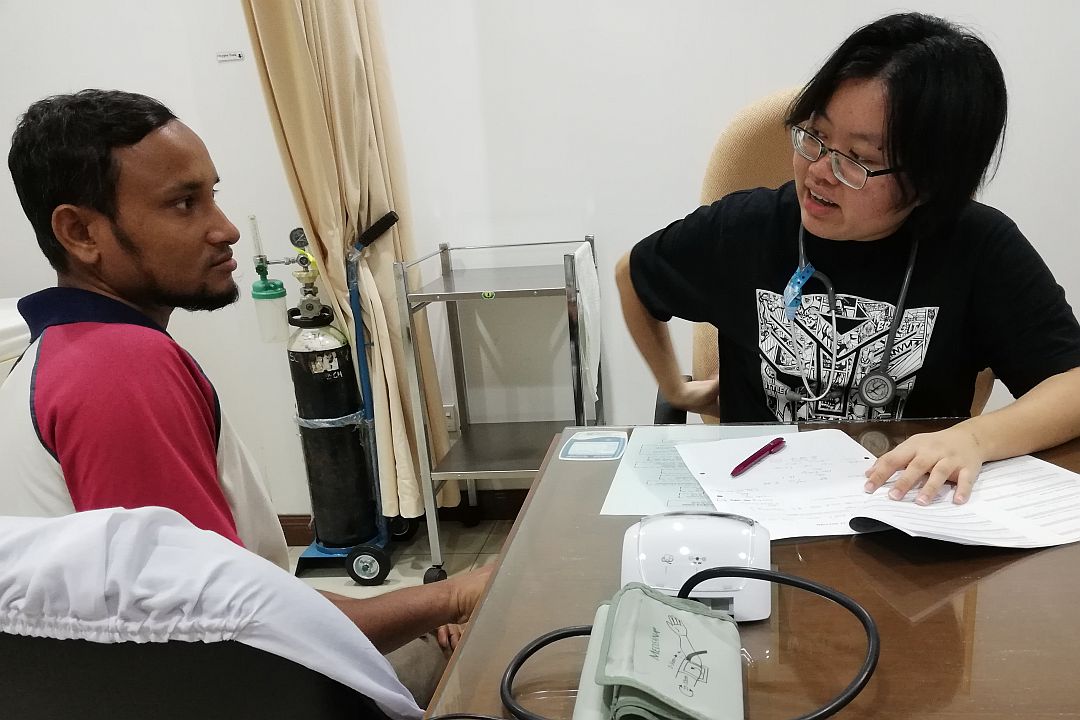 Counselling for young people
"Think, what's your hobby? Can you think of an area of expertise that you may develop into?" Ong Susan, a nurse, asked the young Malay girl in a wheelchair.
Besides providing medical services, the Free Clinic also provides counselling for Tzu Chi care recipients. As the Malay girl has a Chinese father and a Malay mother, she has mastered more than two languages since young. After graduating from school, she found an ideal job and was ready to learn to drive. She was confident about her future. Unexpectedly, as she was riding a motorcycle to the driving school one day, she met with an accident. After the trauma, her wound and bone could not heal, so the doctor inserted an external fixation on her right foot. That was more than a year ago.
This accident seriously affected her physical and mental development. Hence, she felt that fate was unfair to her. A girl who used to be socially active and lively was forced to stay at home, only with the mobile phone by her side all day long. She could not take care of herself and needed help from her parents for daily activities. On August 25, her mother had to see a doctor at the Free Clinic. With her father's help, they successfully brought the daughter along, and the whole family met Susan.
Susan remarked, "She's still very young and beautiful, and there are still many things she can do. Self-pity cannot change her current situation." Unable to watch a young life falling into negative thoughts, Susan encouraged her to reflect on her strengths by asking her questions. She also tried to lead the girl into thinking about her own values, building on them and hopefully change her mind to look forward.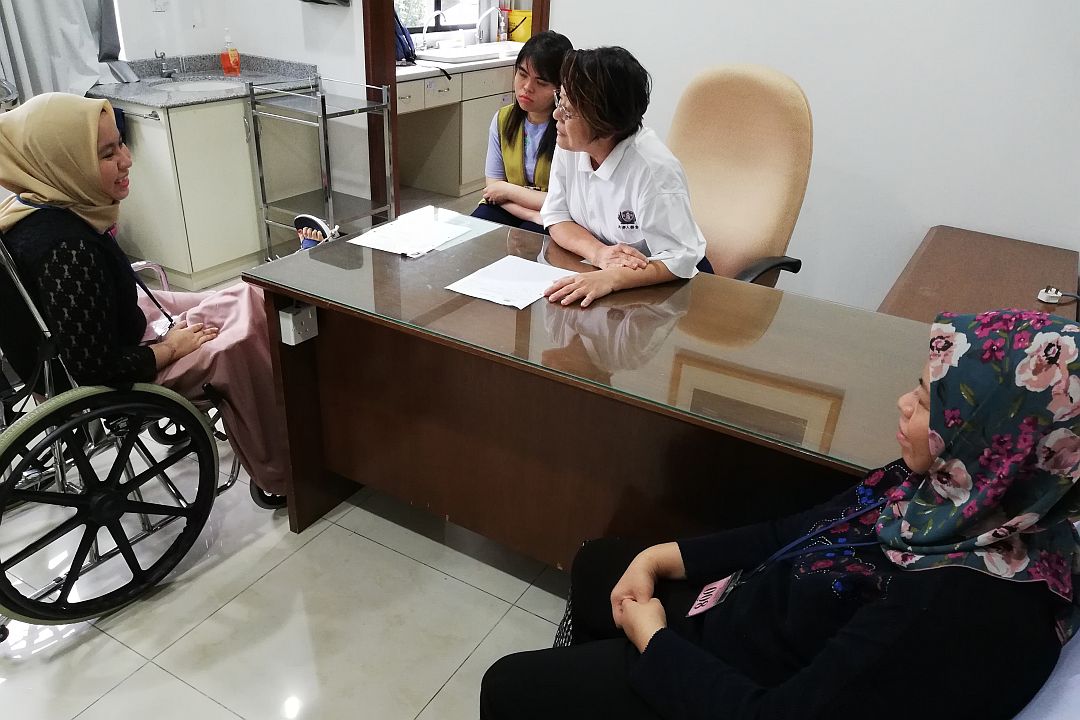 The nurse also counselled her parents, "Parents should keep a distance instead of taking care of everything, so that the child can stand up on her own." They made a mutual promise that the child will start to learn some simple chores, and she will come to the Free Clinic the following month for the nurse to "have a look".
•
A simple expression of concern or a friendly greeting can bring joy to the patients. This is one thing that volunteer Ng Swee Huang is happy to do. Each time when a patient holds her hand and says, "I'm very grateful to you, you're all great people, showing concern to me every time...," she would feel like meeting an old friend while serving.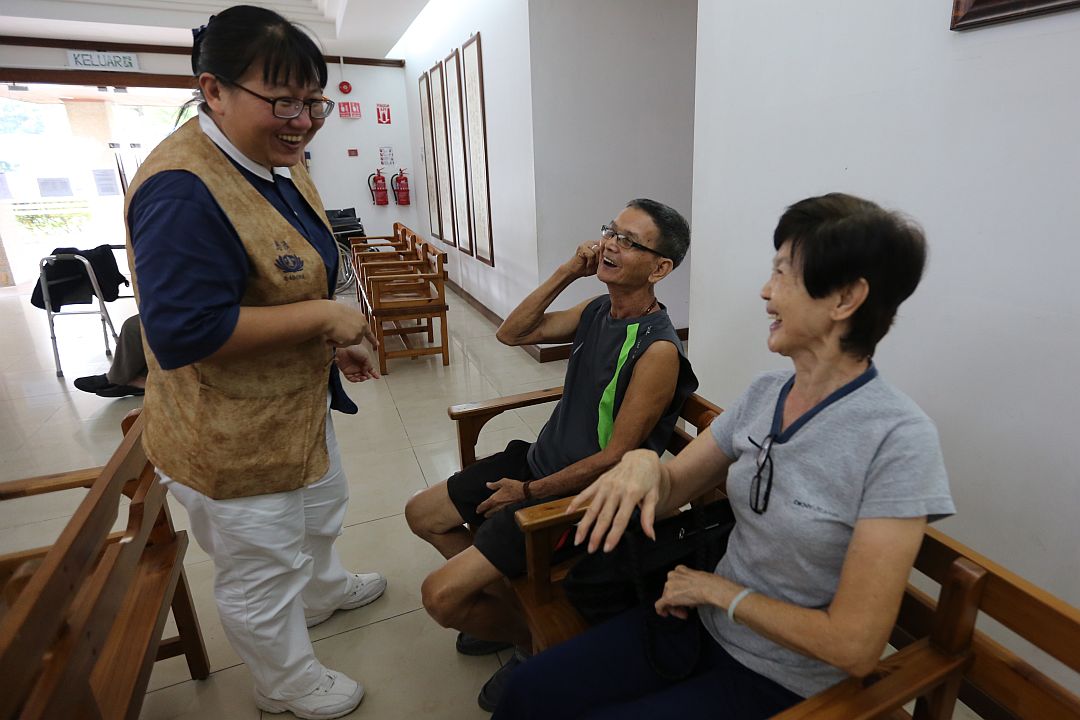 Swee Huang is normally actively involved in environmental protection, but she also volunteers at the Free Clinic every Thursday. She said, "In the mission of environmental protection, I see hope and thriving improvements. In contrast, when I am volunteering at the Free Clinic in the Medical Mission, I learn about the natural laws of life and witnessed impermanence. It ignites my compassion. Involving in both missions allow me to achieve a balance in life."
Each and very warm little story from the Free Clinic is indeed a lesson about life.