"Although my left eye has lost its vision, I no longer cry to my husband. Instead, I am grateful that I can still see with my right eye." – Volunteer Chong Chin Wei
In 1971, a baby girl was born in a small town in Malacca. Her arrival added a lot of joy to the family. Being a well-behaved, smart and filial child, she was the apple of her parents' eyes. She recounted, "My parents would take me along wherever they went. I even had the chance to take the plane when I was just one year old!"
Like a little flower in the greenhouse, Chong Chin Wei grew up under her parents' painstaking care. Life continued to be smooth sailing after she had grown up. Living a blessed life that everyone envied, she unconsciously developed a sense of superiority and arrogance. She described, "I had a very cold public persona. I rarely smiled, and was only tender towards my family."
Also, as an associate professor at a university, she was strict with her students and was often unapproachable. She revealed, "I would turn my students down when they asked for my phone number. I also never took an active interest in students who did not turn in their assignments or were absent."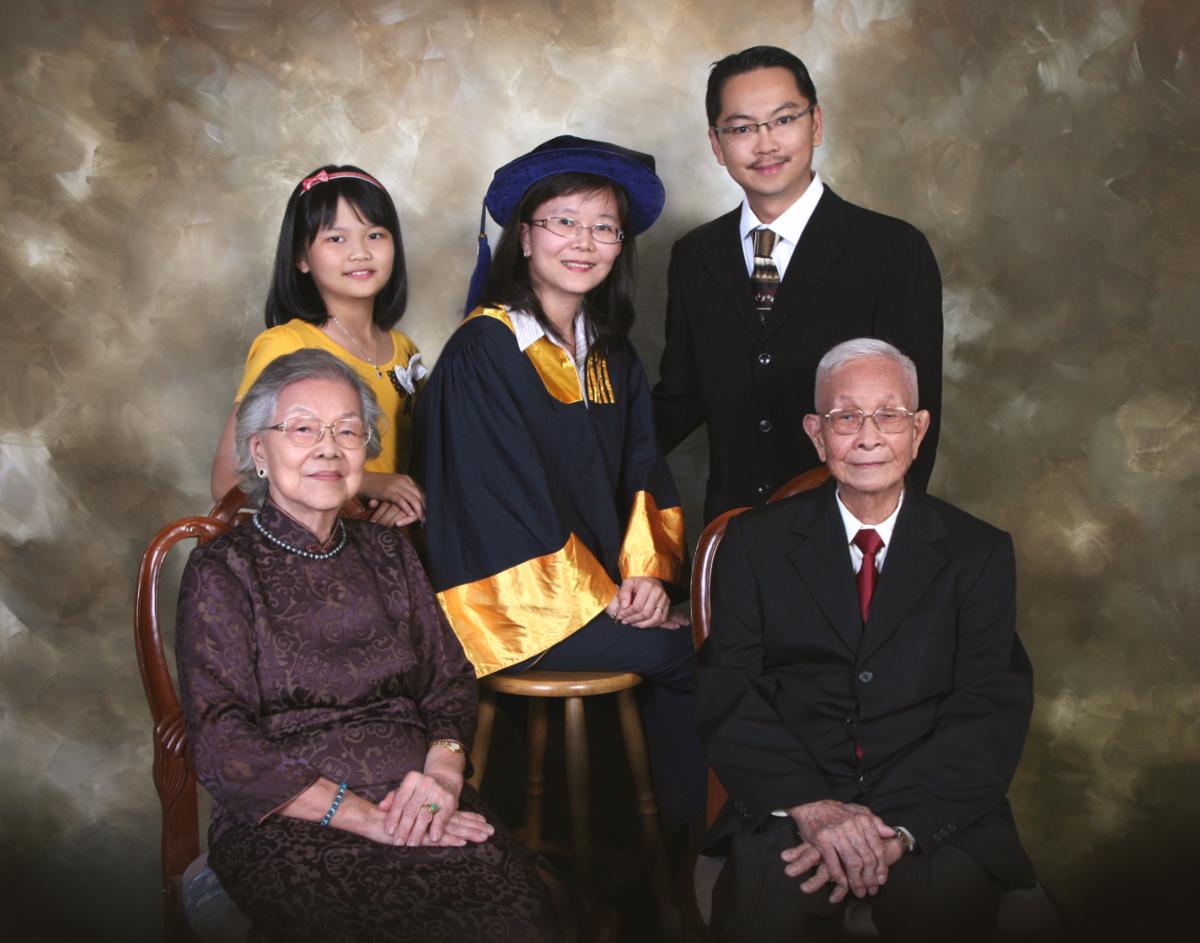 ◎
Happiness crashed out of the blue
When everything seemed to be going smoothly, impermanence quietly crept into her life. In 2004, after returning from a family trip to China, Chin Wei experienced sudden blindness in her left eye. "I visited the hospital immediately, and after several days of intravenous steroid injections, my vision returned to normal. Similar situations happened several times a year, and sometimes I would have stomach pains, sudden inability to urinate, or other conditions for no reason. Strangely, I would recover each time after getting steroid injections…" Chin Wei recalled.
Even with multiple Magnetic Resonance Imaging (MRI) scans, doctors were unable to diagnose the cause of the disease and had to rely on steroids to control Chin Wei's condition. She said in a self-critical tone, "The doctor only said multiple parts of the body were inflamed. I felt terrible that I did not take this disease seriously in the first place!"
In 2007, Chin Wei again lost vision in her left eye. The side effects of receiving high doses of steroids had unsettled her, so she sought medical help again. She had to self-administer medications (via injections) on alternate days. "My arms, abdomen, hips and other parts were 'full of holes'," she said.
After about five years of peaceful life, God gave Chin Wei another difficult challenge. Her life hit rock bottom in 2013. In June, her 90-year-old father was hospitalized for a bacterial infection. As Chin Wei had just recovered from her illness, her family asked her to recuperate at home. Chin Wei blamed herself for her absence. She said, "My dad trusted and relied on me a lot, but I could not be there when he needed me most. I felt so guilty and kept asking why these unfortunate events happened to me…"
Chin Wei's affinity with Tzu Chi also matured at this time. Her husband, Gan Geok Chew, chanced upon Tzu Chi volunteer Wong Yock Pa during his morning jog, and the latter invited him to help out at the recycling centre. When Yock Pa learned about the family's situation, she and the community leader visited Chin Wei's father. Their thoughtful gesture left a good impression on Chin Wei. She remembered clearly, "The Tzu Chi sisters looked dignified in their commissioner uniform. They even sang 'Love in the World' for my dad, and it moved me and my family to tears. We felt Tzu Chi was exceptional."
On September 19, Chin Wei's father succumbed to his illness. She was devastated and plagued by guilt, anger, frustration and depression. During that period, she also needed to take care of her frail and sickly mother. This resulted in an emotional and physical toll on her. Yock Pa often visited her and shared her own experience of coping with the loss of her husband, which touched Chin Wei, feeling the warmth of Tzu Chi volunteers. She related, "I kept crying in front of Sister Yock Pa, and she kept comforting me…"
In November, Chin Wei's body began to act up. She experienced abnormal symptoms, including loss of vision, incoordination and weakness of limbs, difficulty in urinating, and even developing herpes zoster. "When I had an attack, I could not even perform simple movements like clapping my hands, walking and putting on clothes."
Feeling helpless, Chin Wei could only vent her emotional pain by crying, throwing tantrums and complaining. Her house was shrouded in negativity, which in turn affected her relationship with her husband.
As Chin Wei's deteriorating condition left her doctor at his wit's end, she was referred to the University of Malaya Medical Centre (UMMC), where she was diagnosed with Neuromyelitis Optica Spectrum Disorders (NMOSD), a rare autoimmune disease of the central nervous system that primarily attacks the optic nerves and spinal cord leading to blindness and paralysis. Chin Wei was shocked but still felt grateful. "Fortunately, I met a benefactor. The doctor said the consequences would be disastrous if I had continued to receive the existing treatment."
Although Chin Wei had found the proper treatment for her physical illness, the mental remedy was unavailable. At Geok Chew's encouragement, a resentful Chin Wei began to attend Master Cheng Yen's Dharma talks at dawn, virtually. Once after the Dharma talk, a volunteer gave her a hanging ornament with a Jing Si aphorism on it that read: "With wisdom, one has no afflictions." The wise words of Master struck her and brought her to reflect: "Although I am highly educated, it does not help when I encounter challenges. I am always paranoid and lose my temper. How ignorant I have been!"
Chin Wei admitted that she did not understand what "wisdom" meant initially. However, after constantly listening to the Dharma, participating in Tzu Chi activities, watching Da Ai TV, reading Tzu Chi books and so on, she gradually learned to solve her worries the wise ways.
"A chipped cup is still round if you look at it from a different angle" is one of the Jing Si aphorisms that has helped her reframe her mind. She said, "I used to cry to my husband that I had lost my left eye, and what if my right eye went blind too? In fact, I should think differently and be grateful that I can still see with my right eye."
Chin Wei's visits to Tzu Chi care recipients also helped her to see herself. She said remorsefully, "I met a diabetic care recipient who often grumbled although his wife was very obedient to him. In him, I saw a shadow of myself. I was still unsatisfied and complained about my husband and mum even though they took care of me tirelessly."
Chin Wei was motivated to face reality. She learned to live with her illness and change her outlook on life. She admitted that she had focused on making money, enjoying life and taking care of her family. After joining Tzu Chi, her horizons expanded, and she realized that there was a group of marginalized people in society who needed assistance. Since then, she began to actively participate in Tzu Chi activities, especially charity home visits and Cash-based Intervention programmes for refugees, hoping that she could nurture her compassion and live a more meaningful and worthy life. In 2017, she was certified as a Tzu Chi Commissioner, and took up the role as a Charity Team cadre member.
In an environment full of kindness, Chin Wei was influenced and became more soft-spoken. She said shyly, "My family and colleagues commented that I smiled more, and am friendly and easy-going now." She is now also an amiable lecturer in the eyes of her students. "In the past, I stood firm from my perspective, but I have learned to think from the students' perspectives and be considerate."
She cited an example: "Recently, a student was absent from exams for multiple subjects. I quickly looked up her phone number and called to express my concern. As it turned out, she was hospitalized! I would never have done such a thing before…"
◎
Expanding the breadth of life
Thanks to the Master's teaching, Chin Wei has regained a happy life. She expressed, "Actually, there are many people who are like me, blindly pursuing material enjoyment, and when impermanence strikes, they become lost and helpless. We all need Master's guidance. Same for a friend of mine who is highly educated. She shut herself up after being diagnosed with cancer, and it was already too late when I tried to counsel her …"
For this reason, Chin Wei organizes a monthly recruitment drive in Putra Heights, where she and her team would go out on the streets to share with people about Tzu Chi, evoke their compassion and guide them to contribute to charitable causes. Over the years, they have recruited over 100 monthly donors, and she keeps them posted and invites them to Tzu Chi activities and courses through a WhatsApp group. To their delight, some of these donors have already put on Tzu Chi volunteer uniforms, some have progressed to undergo volunteer training, and some have been certified as Tzu Chi commissioners.
"During the 2020 MCO, my illness relapsed, affecting the vision in my right eye and completely took away the function of my left eye, turning me into a disabled person… Recently, my hearing has deteriorated, and I need to wear hearing aids…" Despite the physical challenges, Chin Wei did not make any excuses. Instead, she seizes the time to give.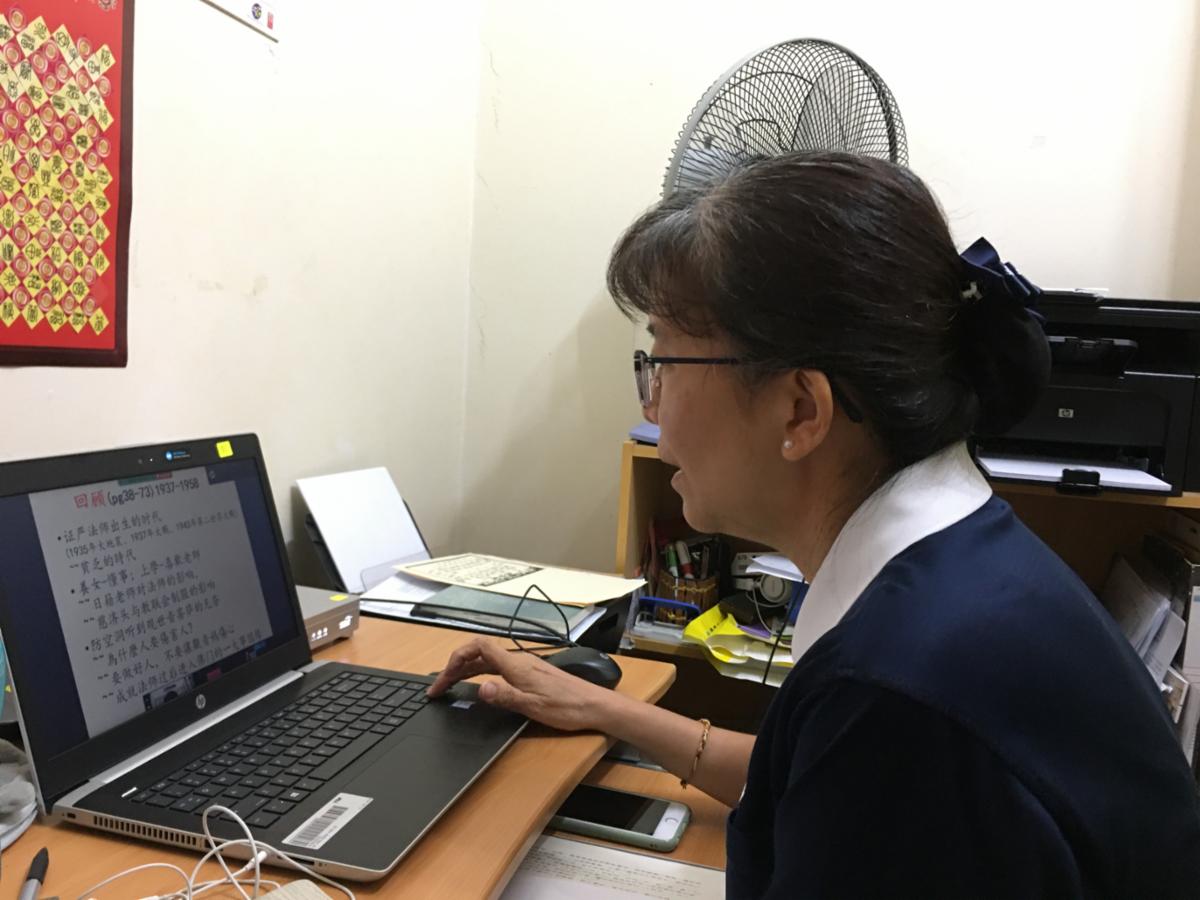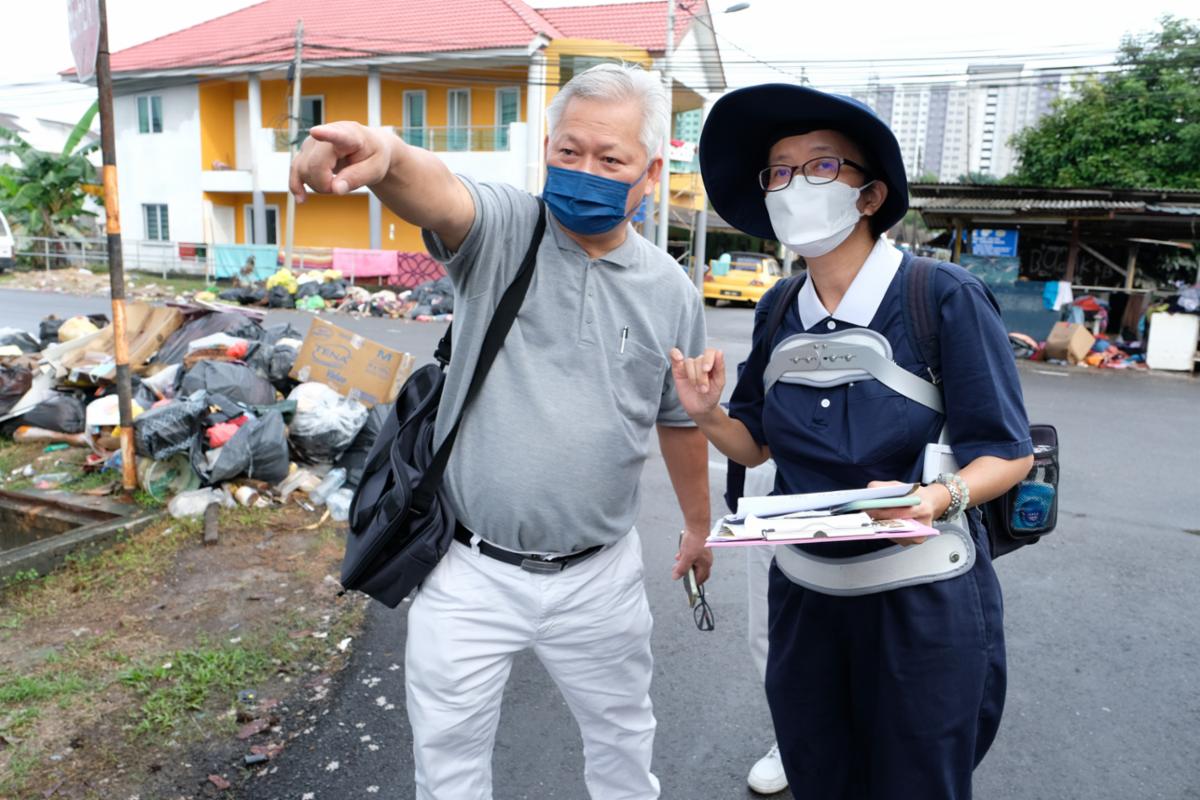 ●
"Like a sick boatman, so long as there is a solid boat, he will still help others to cross the waters." These verses from the Sutra of Infinite Meanings seem to be a reflection of Chin Wei, helping herself and others while serving among the masses. It is Chin Wei's hope that her willpower and health will multiply, and she could strengthen the team of community volunteers to benefit humanity and foster peace in society.