Facing challenges is part of life. But, we must not give up. Instead of holding onto what we had lost, we should cherish what we have now, while envisioning the future. Haslina is one such person. She did not succumb to her ill fate but looks forward to the day when she successfully climbed the steep hill.
"Hello, is Haslina home?"
Haslina Geraldine, a Tzu Chi care recipient, greeted the arriving volunteers with a big smile on her face and warmly welcomed everyone into her house.
Sixty-two-year-old Haslina is a diabetic patient, who requires insulin injection daily. In 2015, her right calf was amputated as a result of her illness. In order to get herself a prosthetic calf, she applied for financial aid from the Ministry of Health. It was approved, but she still needed to pay for some miscellaneous charges herself. As she could not gather enough money for that even with loans from her family and friends, Tzu Chi stepped in to relieve her predicament.
In addition to long-term care and companionship, Tzu Chi also offers appropriate support for Haslina's family according to their needs. Besides being jobless and without any source of income, Haslina was also burdened with her house rental, food, utility bills and other living expenses. As such, Tzu Chi has been providing her with living allowances since November 2016.
A deteriorating situation
When Haslina finally received her prosthetic leg, she was thrilled and eager to practise walking in it. Every day, she would practise for five or six times, and she would need to take an hour's rest after an hour of practice. She also required help to stand up at the beginning of each practice session. Despite the discomfort and pain in her thigh rubbing against the prosthetic leg, she persevered with the hope that she could move freely with her prosthetic leg in a year's time.
Nonetheless, things do not always work out as planned. While she was mastering the use of her prosthetic leg, her left knee swelled up due to bacterial infection. She had to undergo procedures to remove the dead skin and festered part of the wound. The doctor warned that the wound requires proper care and would take a year or two to fully heal. To a diabetic patient, that was no doubt a great challenge.
After she was discharged from the hospital, Haslina had to go to a nearby clinic for wound cleaning and dressing on a daily basis. The doctor suggested the use of Silver Alginate dressing to reduce the risk of infection and aid healing. However, it needs to be replaced daily and would incur an average cost of about RM300 per month. As it was too expensive for Haslina, the doctor suggested an alternative – to transplant skin from her thigh to her wound. But, Haslina rejected the idea considering the consequence of having to take care of two wounds. Thus, she asked for assistance from Tzu Chi and was overwhelmed with gratitude when volunteers delivered the dressing patches to her.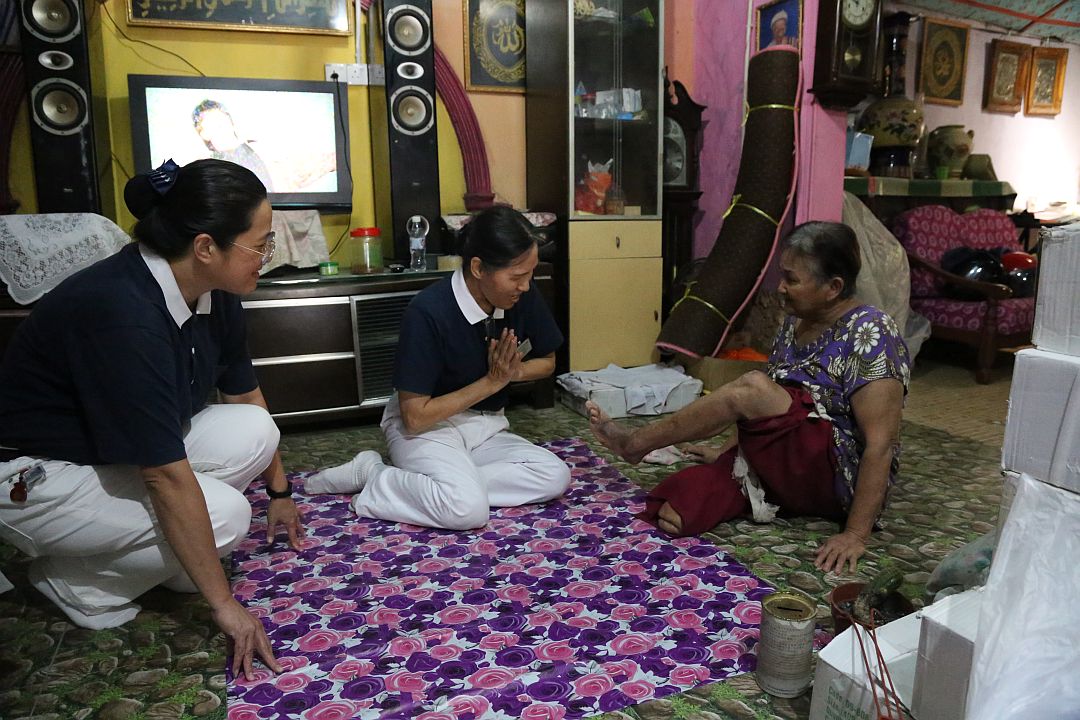 A virtuous habit
Within five months, Haslina informed a volunteer that her wound had healed and that she no longer needs the dressing patches.
She recalled how Tzu Chi's charitable principles struck a chord with her on the first home visit from volunteers, where Lim Ah Keng shared the spirit of Tzu Chi's Bamboo Bank Era and sources of charity fund. Since then, whenever the volunteers visited, she would retrieve her coin bank from her room and empty her savings into a collection pouch. The volunteers would also join her by depositing some money, and everyone would make a good wish for another fresh start besides exchanging blessings.
Once when Haslina was hospitalized, she was concerned that she would miss her daily donation and prayer. It was only after the volunteers' explanation that she realized what truly matters is the benevolent thought to help others within one's capacity.
Now, saving money in the bamboo bank for charitable causes has become a significant part of Haslina's morning routine. When she was away from home, she would make up for it upon return. She said, "I would take the opportunity to wish everyone well."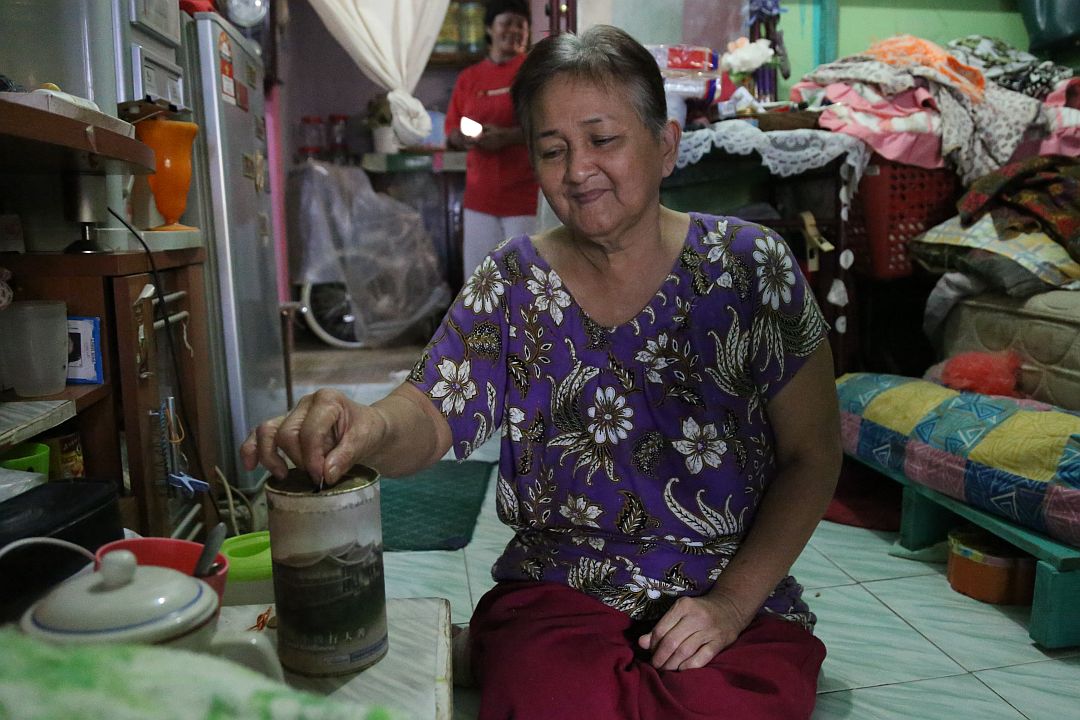 An ardent heart to help
Volunteer Tee Siok Lee was aware of Haslina's intention to work instead of having to rely on help from others. As Siok Lee is engaged in a packaging job with a hardware company, she sought a favour from the company's driver to deliver some items to Haslina so that the latter could work from home and have some income.
Having learnt that Tzu Chi extends help to the needy regardless of race and religion, and that Tzu Chi Muar is raising funds for the construction of a Jing Si Hall, Haslina signed up as a Tzu Chi donor and contributes towards the building fund monthly. She will also chip in her efforts in culinary work for the upcoming charity fair on August 31.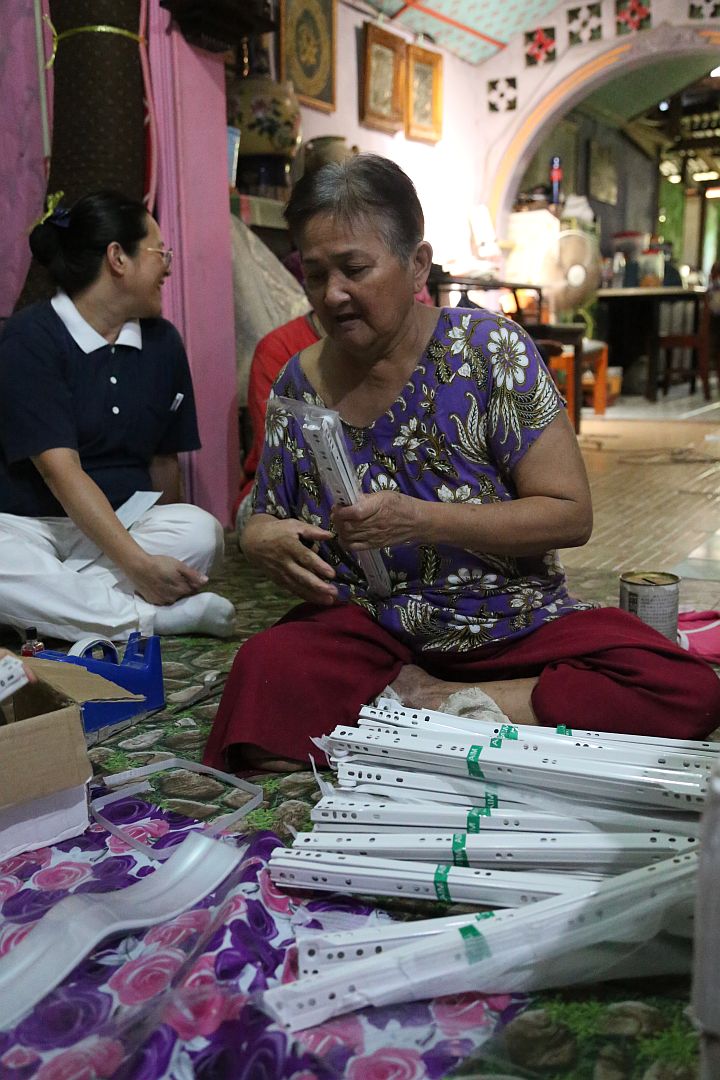 A content life
With a job, Haslina's life has become much more fulfilling. Although she does not earn much, it was enough for her to purchase some health supplements and contribute towards charitable causes. Other than monthly donation, she would sometimes give some money to the needy she came across on the streets.
She shared an interesting story that someone had offered her some money while she was sitting by the roadside, waiting for her relative to fetch her. She declined the kind intention because although she is sick and poor, she is content with her life.
"Contentment is the key to happiness. We don't need the extras," she mused. She did not hesitate to share part of her packaging jobs with her neighbours, who expressed their wish to take up some outsourced work to help with their family's livelihood. She feels that someone has to lend a hand when help is needed.
Faced with life's challenges, she said, "We just have to accept them, and we can certainly get through them if we face them." Having worked as a cook and been equipped with massage skills, she still looks forward to realize her dreams to work full-time again someday.
•
There is no ordeal that lasts forever. We can always make a positive shift in our experiences by reframing our mind. Upholding Master Cheng Yen's teachings, Tzu Chi volunteers always give their best to make the aid recipients feel loved and to have truly benefitted from the help they received. They can then approach life in a different light that adds depth to it.