With the construction of Tzu Chi International School Kuala Lumpur (TCISKL) in full swing and its opening scheduled for January 2020, Tzu Chi KL & Selangor held a charity fair on June 23, 2019 to support the good cause. Some volunteers and public members also gave their support in the form of "Honorary Board Members".
The setting up of the Tzu Chi International School Kuala Lumpur (TCISKL) has received a positive response from the public. This is evident from the support given to its ground-breaking ceremony on September 16, 2017, and admission briefing on May 1, 2019.
Many people from all walks of life, who anticipate its completion, have also been contributing to its building fund through charity sale of a variety of food, handmade products and other items, as well as donations that symbolize a lotus flower (RM1,000), a set of table and chair (RM300) or a Tzu Chi Honorary Board Member (RM120,000).
From 'principal' to 'principle'
"I used to say that I'm the Head of 'Laughter' (homonym of 'school' in Chinese), but now I've become someone who can understand principles easily, with me being a Tzu Chi Honorary Board Member*," quipped Cheak Wei Ying, a Tzu Chi volunteer.
Wei Ying, a former school principal, explained that she liked to call herself "The Head of Laughter" instead of "The Head of School", as it gave her a feeling of lightness; and regardless of the praises for her generous donation, she does not think that it is something extraordinary. She interprets the Chinese term of "Honorary Board Member" as "being able to understand principles easily", based on the homonym.
Despite her sense of humour, she knows very well that the origin of the letter of appointment as a Tzu Chi Honorary Board Member can be traced back to August 16, 1986, a day prior to the opening of Hualien Tzu Chi Hospital. It was a token of appreciation from Master Cheng Yen to those who donated NT$ 1 million for the construction of the Hospital, as well as to commend the donors' kind act as a role model for everyone to emulate.
Since then, volunteers have been applying the same concept to encourage more people to contribute towards the construction of Tzu Chi's Jing Si Halls, hospitals, schools, and so on. These facilities will benefit the public at large. Over the past few decades, many of the wealthy and the ordinary alike, have given their support out of the belief that "every being is equal and everyone should do good deeds with a heart of gratitude".
Wei Ying is one of the grateful individuals, who appreciated the inspiration for her to donate a large amount of money in support of a good cause, particularly the promotion of Tzu Chi's education model that is founded on love.
Hope for the future
In fact, Wei Ying had wanted to make the donation in 2017 using the gratuity fund she received upon her retirement from her 35 years of service in the education sector. However, her husband advised her to put the idea on hold as their youngest son was still schooling then.
Remembering the Master's advice to ensure that one's family is taken care of first, she accepted her husband's words but made a vow to make the donation to support the construction of TCISKL when circumstances permit.
In June this year, volunteers of Tzu Chi KL & Selangor organized another charity fair following the earlier one in August 2017, to garner support for the construction of TCISKL. Wei Ying felt that it was the right time for her to make the donation as her youngest son will complete his studies in the coming year and she believes that her family will be able to cope by living a simple life. Thus, she again proposed to her husband.
Wei Ying said, "Tzu Chi International School is close to completion and this is the time when fund becomes crucial. It's a good time to donate my gratuity fund. I'm happy to contribute what I've received from the education sector back to the education sector."
Wei Ying submitted the Tzu Chi Honorary Board Member donation form in early June, along with RM20,000. Although she has opted to complete the donation by instalments, she felt at ease and certain. To her, the gratuity fund means just a figure if it is kept in the bank, but by donating it for the construction of TCISKL, it turns into something practical, which will instil kindness and good character in the children.
Wei Ying shared that she had witnessed in her teaching career how spoon-feeding was applied in education and how school bullying left an impact on the affected students. In addition, she had also witnessed how some students had become disinterested in their studies and developed poor behaviour due to a lack of love and care in their lives, and eventually led to social issues. However, she is convinced that a good education, such as that provided by Tzu Chi, will shape the students' future. For example, her experience of introducing the teachings of Jing Si Aphorisms and the practice of recycling to her students had seen the latter turning more sensible and well-behaved.
Nurturing the future pillars of society
Besides supporting the model of education founded on love, Wei Ying also donated for Tzu Chi Honorary Board Member out of a sense of gratitude. She recalled that Tzu Chi volunteers extended their care when she was grieving over the loss of her mother in 2009. The volunteers encouraged her to join the Great Love Mothers team, and that led her to actively involve herself in Tzu Chi's missions.
While volunteering with Tzu Chi, she learnt about life's principles, such as, "do good deeds and fulfil filial duties now" and "count your blessing, cherish it and sow more blessing". She was also inspired to sow blessings for her parents.
She related, "I wanted to create blessings for my late parents but didn't know how. Then, when I heard from volunteers that donating in the names of the deceased is one of the ways, I had for three consecutive years made a monthly donation of RM500 towards the building fund for the construction of KL Tzu-Chi Jing Si Hall in my late parents' names."
Wei Ying was pleased to be able to perform some good deeds on behalf of her late parents. Now that she has retired from work, she dedicates her time for the education of refugee children at UNHCR Tzu-Chi Education Centre in Ampang. Her faith in the power of education is affirmed seeing how the refugee children have forgotten about the bitterness of life in their pursuit of knowledge, besides improving their character.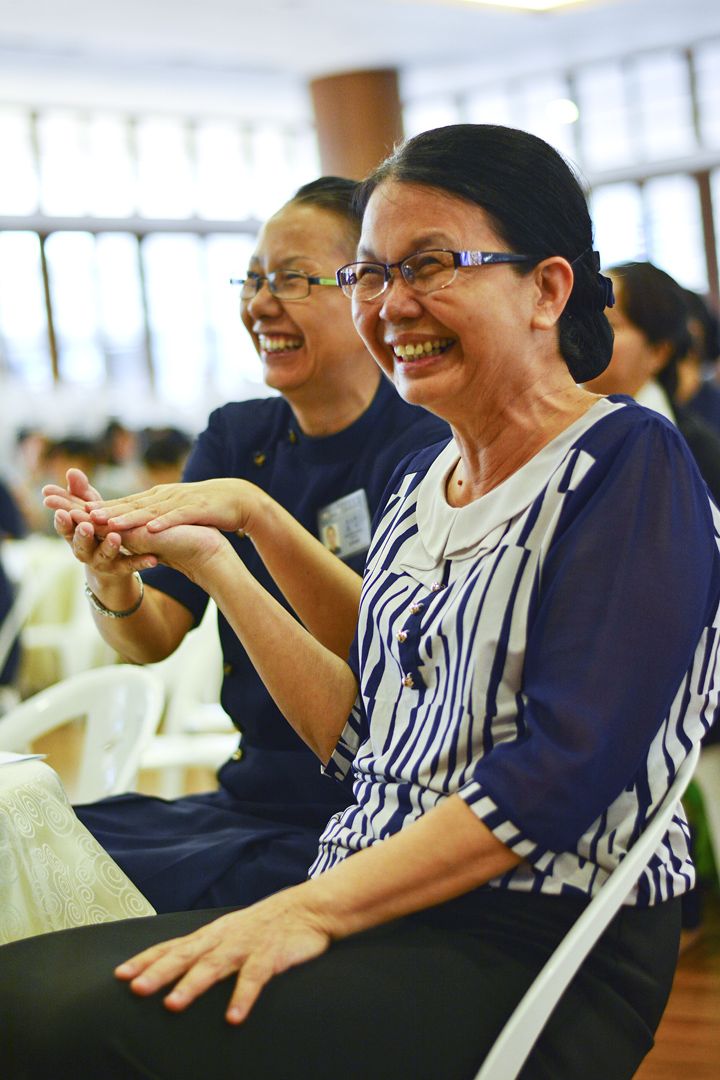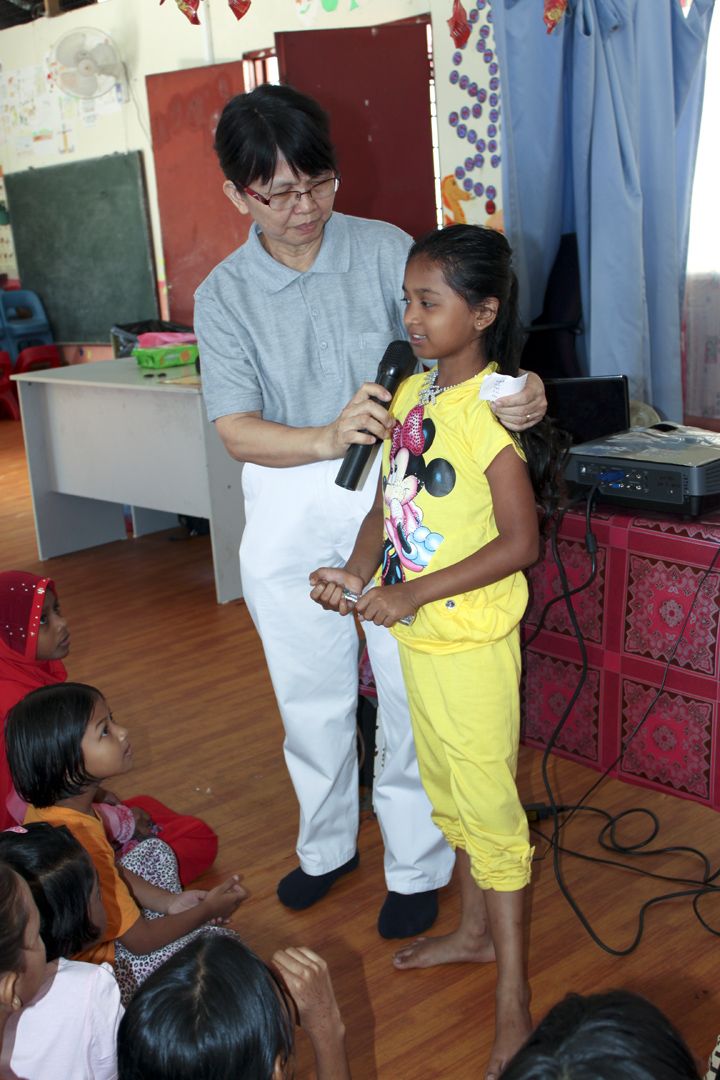 •
Happy with her contributions, Wei Ying looks forward to the opening of TCISKL and hopes that the students will learn diligently and become future pillars of society.