On June 23, 2019, Tzu Chi KL & Selangor volunteers joined forces in organizing three charity fairs held concurrently at KL Tzu-Chi Jing Si Hall in Kepong, One City Mall in Subang Jaya and Mines 2 in Seri Kembangan. The aim was to raise funds for the construction of Tzu Chi International School Kuala Lumpur (TCISKL), in anticipation of its official commencement of classes in January 2020.
More than 250 stalls were sprawled across three venues, stocked with a kaleidoscopic variety of goods that encompassed almost everything under the sun, from handicraft creations to freshly-prepared food and potted plants. The volunteers solicited sponsored products from various merchants and pooled together their resources in the name of charity, with the hope of granting prospective students the opportunity to pursue a promising future.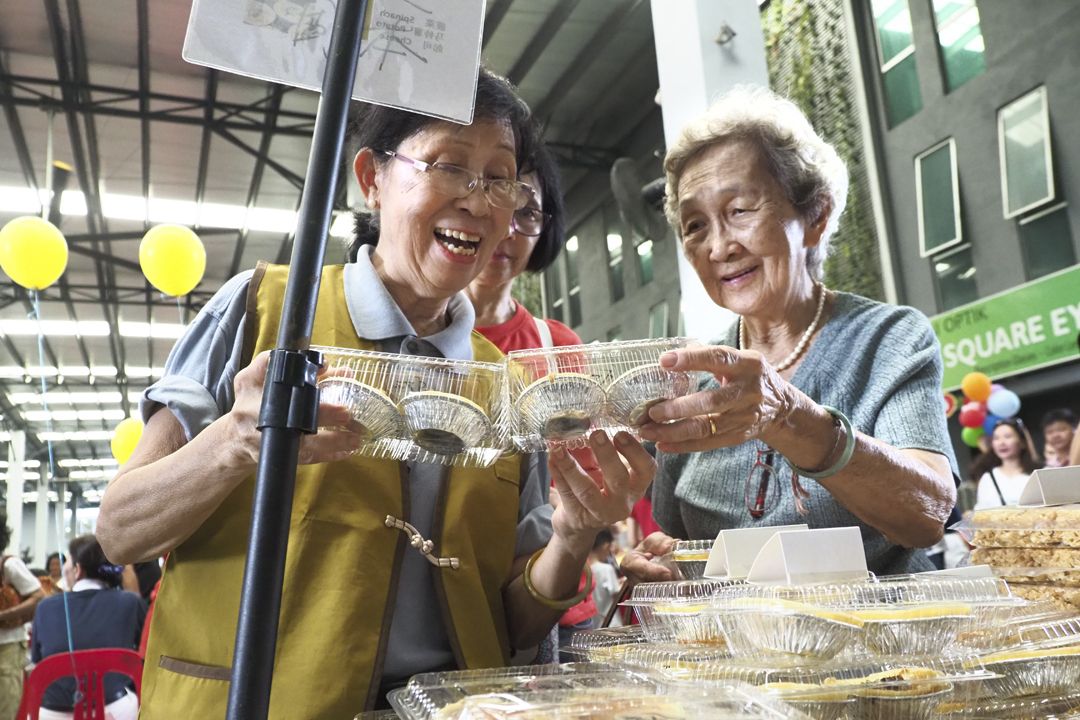 The charity fair held at One City Mall was grounded in the values of gratitude, joy and giving back to society: expressing gratitude to the donors for their generous contributions; seeking joy in the lively atmosphere of the charity fair; and rewarding the public for their steadfast support. In addition, 10,000 lucky charms were given away to the visitors as a token of blessing.
Goodies at every turn
The venue was bustling with activity even before 9 am as final preparations were in order. A lyrical sign language performance livened up the scene, followed by the opening speech, delivered by the Deputy CEO of Tzu Chi KL & Selangor, Sio Kee Hong, who extended a warm welcome to the visitors and conveyed Tzu Chi's educational ideals.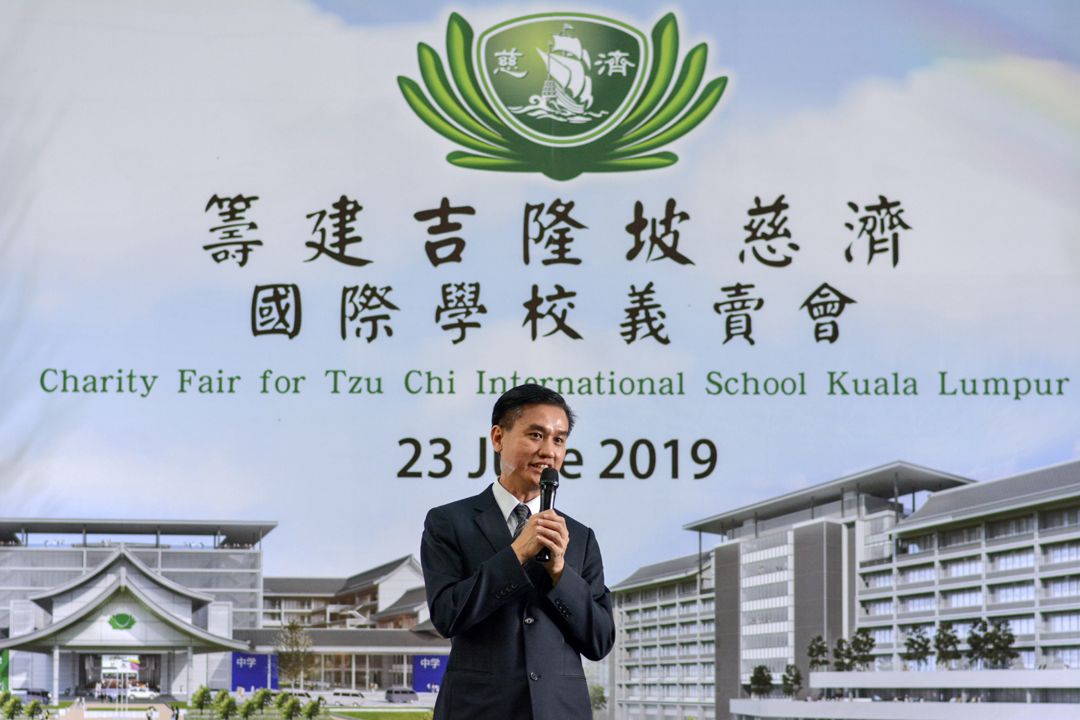 The vendors came up with creative, memorable names for their stalls to attract attention, but the pungent aroma of durians wafting from one of the stalls stood out, pulling in a sizeable crowd eager to lay their hands on the King of Fruits. The stall helpers were busy parting open one durian after another to keep up with the seemingly endless stream of patrons. By 10 am, the first batch of durians had all been snapped up, prompting the vendor to adopt a numbered queue system to manage the crowd for the second batch of newly arrived durians.
The durians, weighing about 1,000 kg in total, were sponsored by TIMA member Tan Sue Sian's family, who owns a fruit orchard and operates a fruit export business. Making incisions with surgical scalpels is part and parcel of Sue Sian's profession, yet he had proven to be equally skilled at cutting open durians with a knife, as he obliged the crowd by demonstrating his expertise in splitting open the thorny fruit. "Durians were in season when the volunteers approached me with requests to sponsor the fruit for charity, so I agreed after seeking my family's consent. I'm honoured to be able to participate in this charity fair, as it gives me the opportunity to give back to society," he shared.
United as a family
"TCISKL is the first Tzu Chi-affiliated school in Malaysia. Tzu Chi is family, so as part of the family, we should take an active interest in any happenings concerning Tzu Chi, including raising funds for TCISKL," remarked volunteer, Teoh Paik Lim, with a smile as he greeted fellow volunteers around him. Paik Lim, who hails from Penang, managed to collect donations worth 100 Jing Si desk-and-chair sets (each set denotes a donation of RM300), besides supplying "chopstick noodles", a specialty food product he developed. Meanwhile, Low Keong Koon, CEO of Tzu Chi Kedah, sponsored 1,200 5-kg sacks of rice.
On May 8, 2019, Paik Lim was leading a group of recycling volunteers from the Northern region for an exchange session with recycling volunteers in KL & Selangor when he learnt of the TCISKL fundraising movement. He promptly shared the news with volunteers from the Northern region upon his return to Penang.
Volunteer Lim Suh Mei, who is based in Butterworth, hatched the idea of contributing to the charity fair by making eco-friendly baskets woven from recycled strips of wrapping paper. Suh Mei, together with Lin Mei Zhen, the volunteer-in-charge at the Tzu Chi Butterworth Recycling Centre, mobilized volunteers from other communities, such as, Sungai Petani, Tambun and Nibong Tebal to work round-the-clock on producing the eco-friendly baskets. In the month leading up to the charity fair, the volunteers managed to achieve the predetermined target of 150 baskets. "Repurposing non-recyclable waste into handicraft products to raise funds for TCISKL is a meaningful endeavour," Suh Mei opined.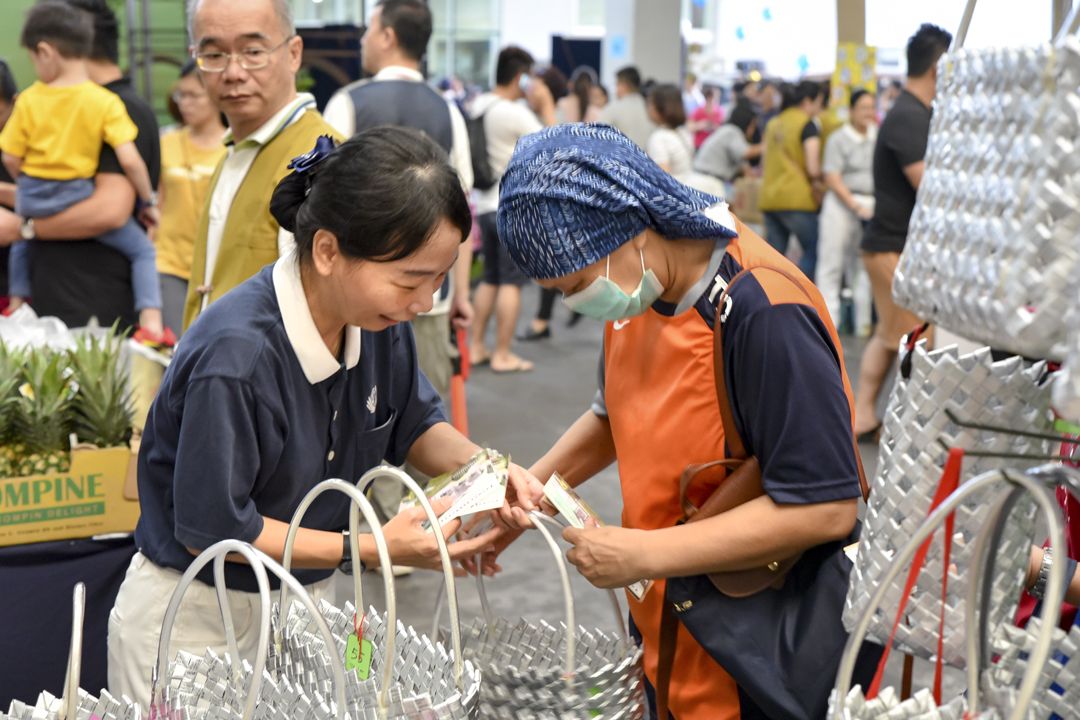 Suh Mei underwent a kidney transplant two years ago and has now regained her health, compelling her to commit to more kind deeds as a way of giving thanks for her recovery. "Weaving the strips of plastic together is symbolic of binding together the hearts of volunteers from different communities. Volunteers from Penang and KL & Selangor seldom work together on the same event. Now that Tzu Chi is finally establishing its first school in Malaysia, we should cherish this rare opportunity to do our part for the cause," she noted.
The charity fair was made all the more memorable with the wholehearted support of volunteers from not only Penang, but also Kelantan, Ipoh, Muar and Tampin, among othes. "TCISKL is a boon to the local educational landscape. My contribution is not worth mentioning at all – it represents my blessings for my youngest daughter, Leong Yit Chia, and my grandchild," said Lee Kim See, a volunteer from Ipoh, who donated the equivalent of an Honorary Board membership in Yit Chia's name.
Kim See started circulating news of the fundraising event to fellow volunteers in Ipoh through word of mouth, culminating in collected donations worth the equivalent of two Honorary Board memberships and 59 Jing Si desk-and-chair sets. She participated in the charity fair as she was in town to visit her daughter.
Continuous support for education
On August 27, 2017, Tzu Chi KL & Selangor organized the first charity fair to raise funds for TCISKL. Back then, retired teacher Liew Loy Kaw, who lives in Old Klang Road, traded off her decades-old potted plants as well as those salvaged from the roadside and revived by her green fingers.
A gardening enthusiast, Loy Kaw continued cultivating potted plants after the inaugural edition of the charity fair. "I would often share photos of my potted plants on my social media platforms with friends, family, fellow volunteers and former students, who would sometimes buy the plants from me. I would then channel the proceeds to the TCISKL construction fund," she enthused with a grin.
This year, Loy Kaw once again donated potted plants to the charity fair. Her supply of aged potted plants was limited, hence she focused her efforts on preserving wild plants that grew by the roadside or were discarded by others. "I revived the plants because I appreciate their inherent value and hope to prolong their lifespan," said Loy Kaw, who was so devoted to the cause that even in her sleep, she dreamt of finding new owners who would adopt her potted plants for charity. She managed to raise more than RM6,000 by the morning of the charity fair.
On the day of the charity fair, Loy Kaw admitted that she had a restless night as she was kept awake by excitement and ruminations over ways to appeal to more donors. She also expressed her wish for the early completion of TCISKL to enable more students to benefit from Tzu Chi's education mission. "Nurturing students is like cultivating plants; they will grow well if given adequate attention," she quipped. She hoped to encourage others to donate to TCISKL and felt blessed to be able to contribute to this beacon of hope for students.
All for a charitable cause
Ten members from Ci Hang Welfare Association, Subang Jaya had been making their rounds at the charity fair since early morning, lugging bags of purchases including biscuits, bread, pastries and fresh vegetables. They stopped to take a breather every now and then to relieve their fatigue.
One of the members revealed that they would regularly raise funds to stock up on food supplies to be donated to institutions for disadvantaged groups, such as old folks' homes, orphanages and homes for the disabled. Upon learning of the charity fair, the members gathered RM4,500 to buy coupons in support of Tzu Chi and the welfare of disadvantaged groups.
As noon approached, the lunchtime crowd grew and made a beeline for the food stalls, accompanied by a performance by the Hong Shou Tong lion dance troupe. Nantha Kumar a/l Jayagandan, the founder of NSK Ventures Engineering Sdn. Bhd., was among the masses. He bought 20 coupon booklets at the invitation of his friend, a Tzu Chi volunteer, and distributed the coupons to 10 of his employees. "I'm pleased to see so many volunteers and visitors gathering here today in the spirit of charity. Choices are aplenty, and the prices are reasonable too," he commented.
Another visitor, Frenchman Julien Drolon bought two coupon booklets at the invitation of his friend and traded them in for several bags of sundry items, which he intended to donate to the Rohingya orphans and refugees as well as some underprivileged families. He commended the efforts of Tzu Chi volunteers and the work undertaken by Tzu Chi in collaboration with UNHCR, besides expressing interest in contributing to Tzu Chi's cause.
Venerable Ani Lodro Sangmo of Thrangu Dharma Society Petaling Jaya, who concurs with Tzu Chi's educational ideals, visited the charity fair with his followers and picked up some fresh organic produce and a crate of greens as a gesture of support for Tzu Chi. He was involved in the disaster relief operations following the Nepal earthquake in 2015, during which he had the opportunity to meet the Superintendent, Vice Superintendent and other representatives from Tzu Chi Hospital. He was also grateful to Tzu Chi for helping to rebuild the Thrangu Tara Abbey in Kathmandu.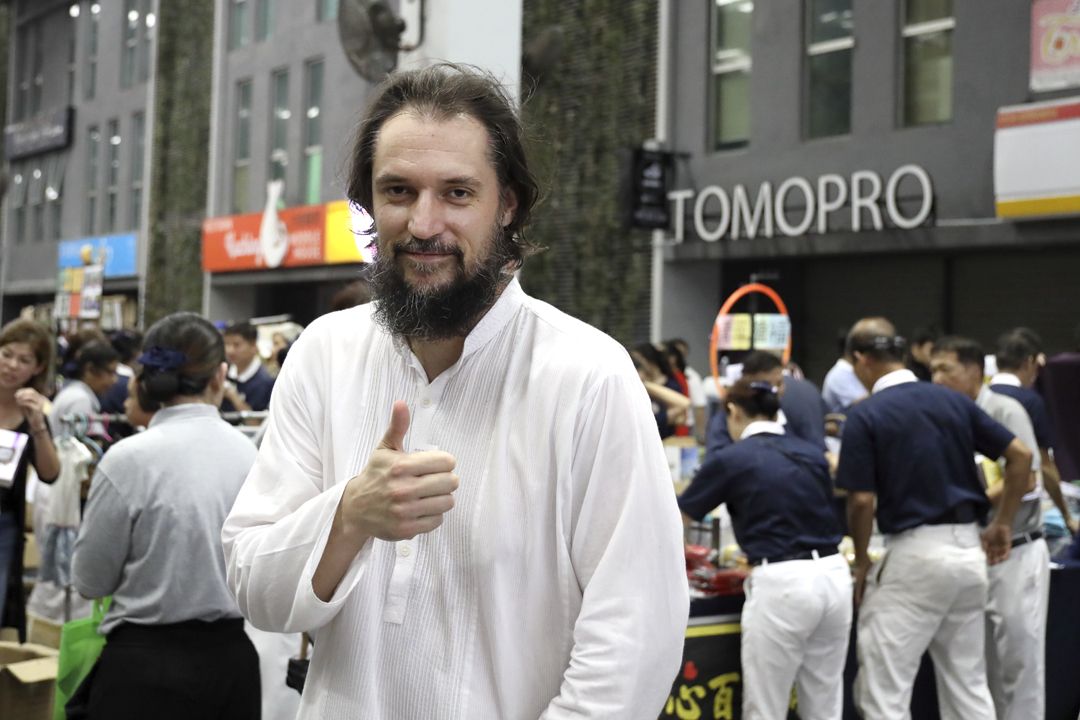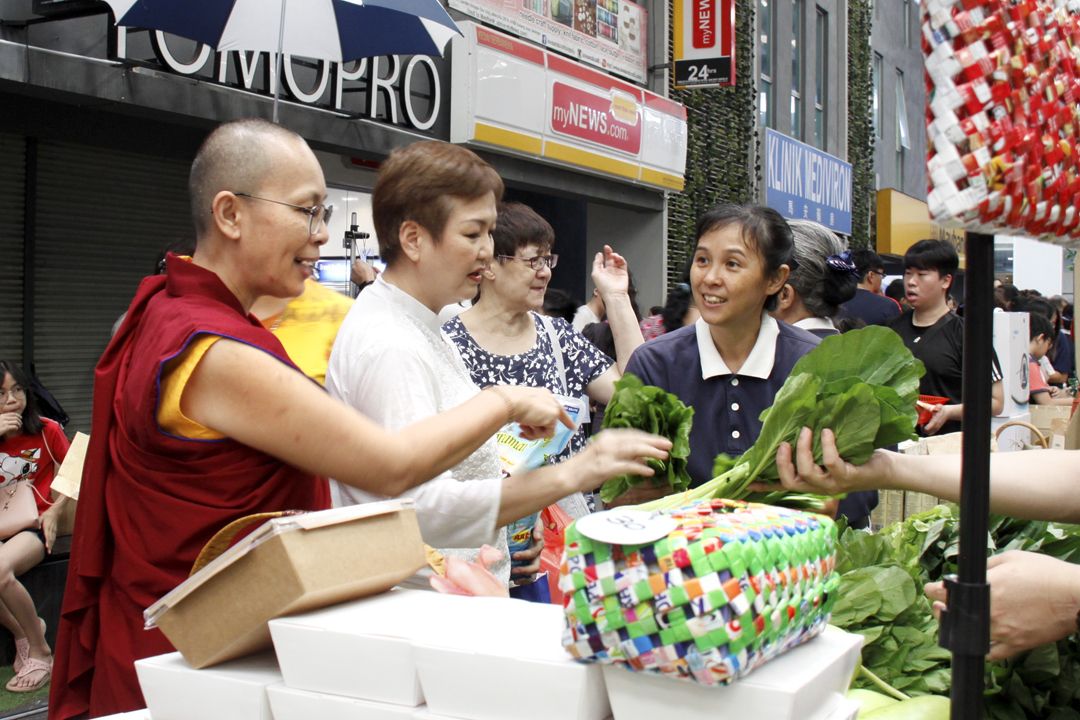 With an eco-friendly basket in hand, volunteer Leong Chin Chin beamed as she flipped open a notebook filled with her jottings. "I've listed here the names of the donors who have bought coupons, but are unable to visit the charity fair as they are busy managing their stalls at the market. I'm making purchases on their behalf," she explained.
Chin Chin, 78, would head to the market on her bicycle every day to introduce Tzu Chi's missions to others. "I would deliver blessings to donors at the market and forge positive affinities with them through the coupons. Whenever I encountered those who were hesitant to buy the full set of coupons, I would suggest to them to buy individual coupons instead. I ended up selling more than 50 coupon booklets altogether," she said of her flexible approach to boosting her coupon sales.
She is passionate in her work with Tzu Chi and brushed off the assumption that promoting the coupons was a taxing task. "Master Cheng Yen stressed that education is of utmost importance, as the younger generation is our hope for the future. Hence, I'll give my all in raising funds for TCISKL," she claimed. In addition, she is grateful to the Master for establishing Tzu Chi and pledged to serve until her last breath.
•
The charity fair was made possible with the collective effort of the community and Tzu Chi volunteers. The assortment of goods on sale was testament to the kindness and generosity of all who have pledged their support to TCISKL – an educational institution with a mission to nurture the leaders of tomorrow.