Thousands of people gathered at Tzu Chi Great Love Fun Fair. The collective goodwill from all who gave happily painted a beautiful scene of the future Muar Tzu-Chi Jing Si Hall, just like how the little twinkling stars pave into the beautiful Milky Way.
The sounding of the gongs by Dharma Master Ji Tong, Dharma Master Ji Huan, together with Soh Swee Choo and Er Chin Kok, persons-in-charge of Tzu Chi Muar, as well as Mr and Mrs Yeo Koon Lian, marked the opening of the Tzu Chi Great Love Fun Fair.
On August 31, 2019, Tzu Chi Muar organized a Great Love Fun Fair at Y Square Connexion, to raise funds for the construction of Muar Tzu-Chi Jing Si Hall. In the "Thanksgiving and Praising Ceremony", volunteers presented a song accompanied by a drum performance.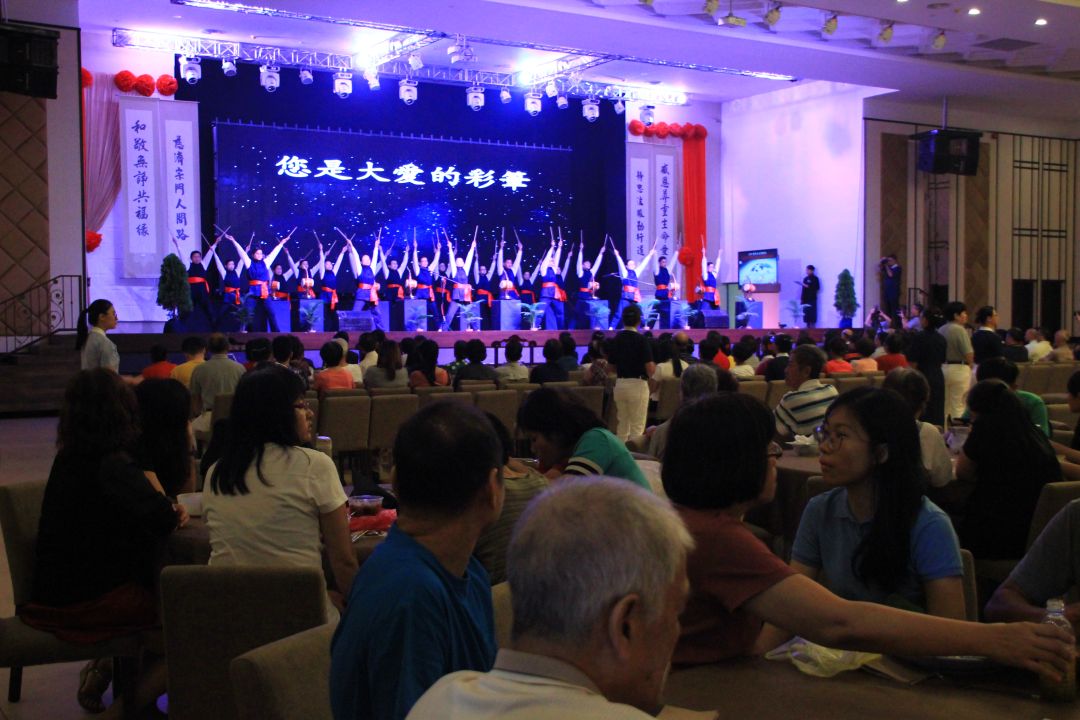 Following that, a group of people who donated towards the good cause as Tzu Chi Honorary Board Members (see Note) or sponsors, made it to the stage holding a lotus light each, signifying the love from everyone could light up the world. Also in the programme were the screening of a short film showing the construction progress of the Muar Tzu-Chi Jing Si Hall, and a speech delivered by Liu Dao Sheng, Vice President of an art club. He expressed his appreciation for the opportunity given to the artists to do good deeds.
Besides that, a Taiwan-born writer, Dr Yulduz Emiloglu, and Tzu Chi volunteer, Tan Soon Hock, were invited to share on the topics, "Life Is a Learning Journey" and "Great Love Is the Way to a Wealthy Life" respectively. There were also live singing performances, food and goods stalls, games zone, painting and calligraphy exhibitions, trial lessons for classes offered by the Tzu Chi Continuing Education Centre, and so on.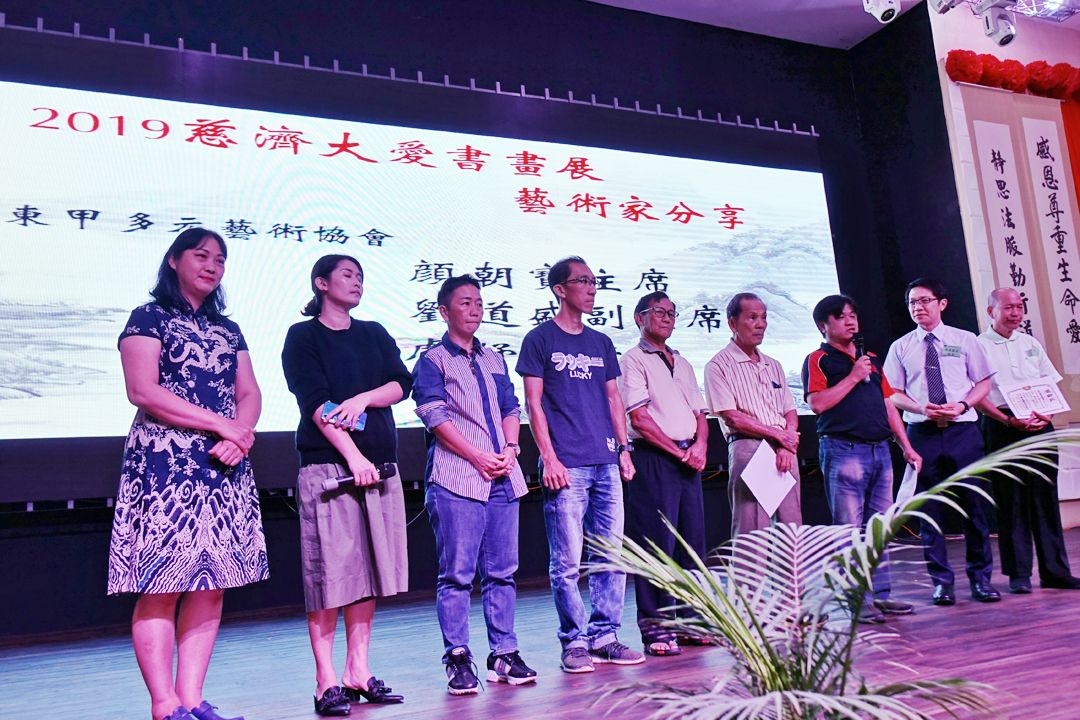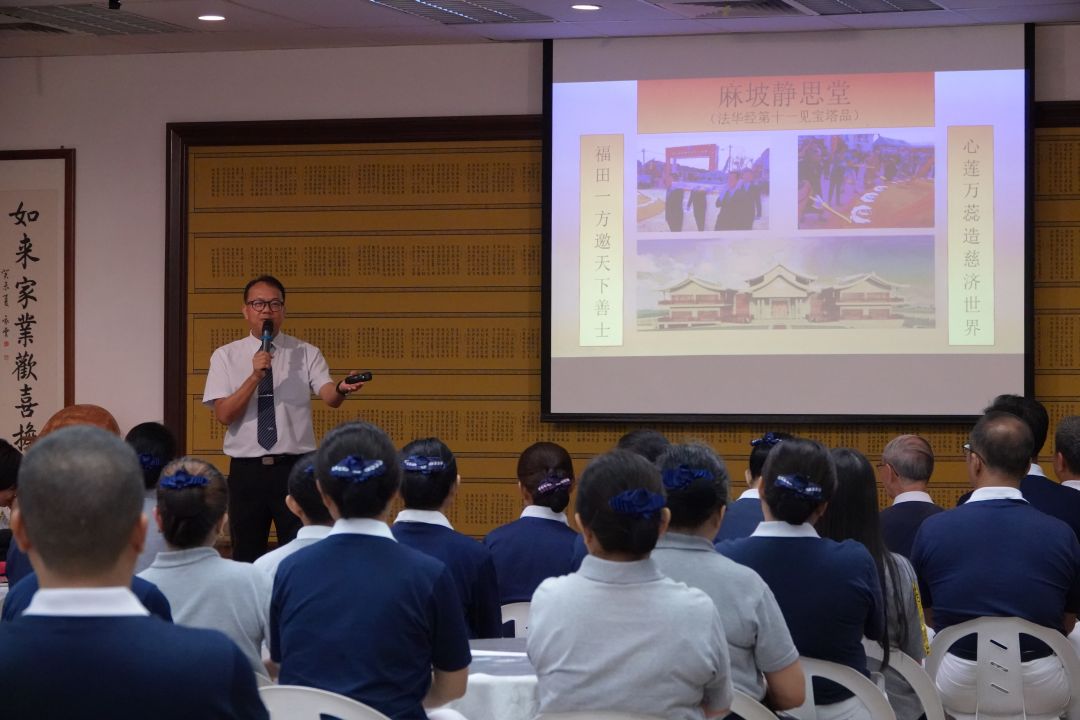 The meaningful event also received support from Tzu Chi volunteers from Taiwan, Singapore and other parts of Malaysia, as well as many kind-hearted business owners and public members. Everyone contributed in their own way, in the spirit of Great Love.
Joy from a dream fulfilled
Ng Koon Geok, along with her son and two sisters, Sai Koon and Chiew Leng, were among those invited on stage. Most of Koon Geok's sisters have made donations as Tzu Chi Honorary Board Members and their generosity make them her role models. During the Charity Run event in May this year, Koon Geok made a vow to make the same donation in the name of her son.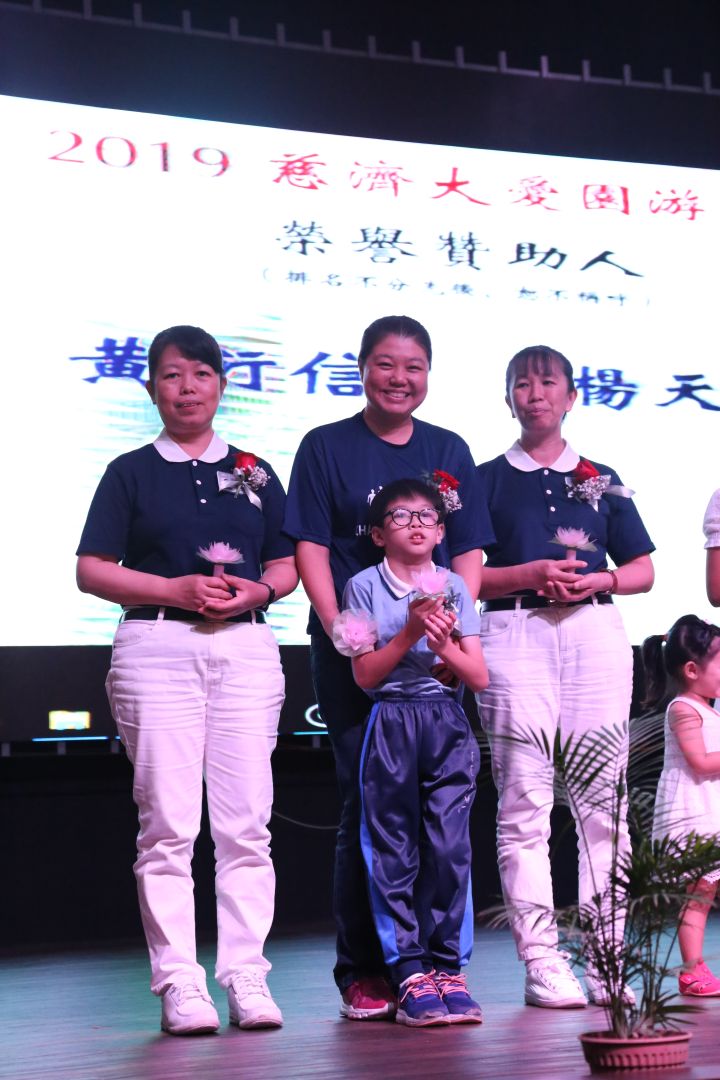 With the support from her husband and family, her vow was realized within three months. She said, "Just seize the opportunity to give when your heart is guided by the Dharma; otherwise, you will overthink and feel reluctant to give."
Despite the big sum of donation, she does not feel like she is less wealthy; the impact is tolerable so long as she keeps to a simple and contented lifestyle. She is grateful and counts it her blessing to be able to fulfil her wish to make the donation. She believes that with little contributions from everyone, the construction of the Muar Tzu-Chi Jing Si Hall will be completed successfully.
Promoting an eco-friendly way of life
Angel Chung, an instructor of Tzu Chi Continuing Education Centre remarked, "I love all the classes in Tzu Chi and I hope to contribute my part to improve the classes offered by the Continuing Education Centre."
Angel could feel the beauty of human nature in Tzu Chi, and she was moved by how everyone would give without asking for anything in return. She looks forward to the completion of the Muar Tzu-Chi Jing Si Hall so that it could provide a conducive learning environment for all.
She had specially flown from Taiwan to Malaysia to support the event. She departed from Kuala Lumpur to Muar as early as 5 a.m. to conduct trial lessons on the making of some natural and eco-friendly skincare products. She has been engaged in natural skincare product industry and has ten years of teaching experience.
This was her second time extending her support for the fundraising of Muar Tzu-Chi Jing Si Hall. She had donated 100 pieces of natural lipsticks for sale during the Buddha Bathing Ceremony in May this year, and was here in person to promote the lipsticks. This time around, she donated 100 tubes of bamboo-charcoal toothpastes and 100 bottles of essential oil soothing cream, besides conducting trial lessons to enhance the public members' knowledge of natural products. She also brought some gift sets, which contain a bamboo-charcoal toothpaste and towel each, for sale.
Many were attracted to either purchase the products or join the trial lessons for some hands-on experience.
Multiplying kindness and love
The Fun Fair also received positive support from many business owners, who adopted the food stalls, or even cooked their specialty dishes personally. Akai Fong, who prepared Hakka Lei-cha for the previous charity sale, invited two of his friends from the food industry to join him in the event this time.
One of his friends, who returned from Japan, prepared 400 packs of Japanese curry rice for sale. Another friend sold fruit 'rojak' (a salad dish) with home-made special sauce, while Akai himself sold reishi mushroom coffee. Although physically tired after a long day of standing and manning the stall, they were happy that all the food and drinks they prepared had sold out.
Lou Geok Jin, overall coordinator for the event, thanked her team for working together in unity. She said, "The volunteers have all put in a great deal of efforts. Although physically tired, we give with joy."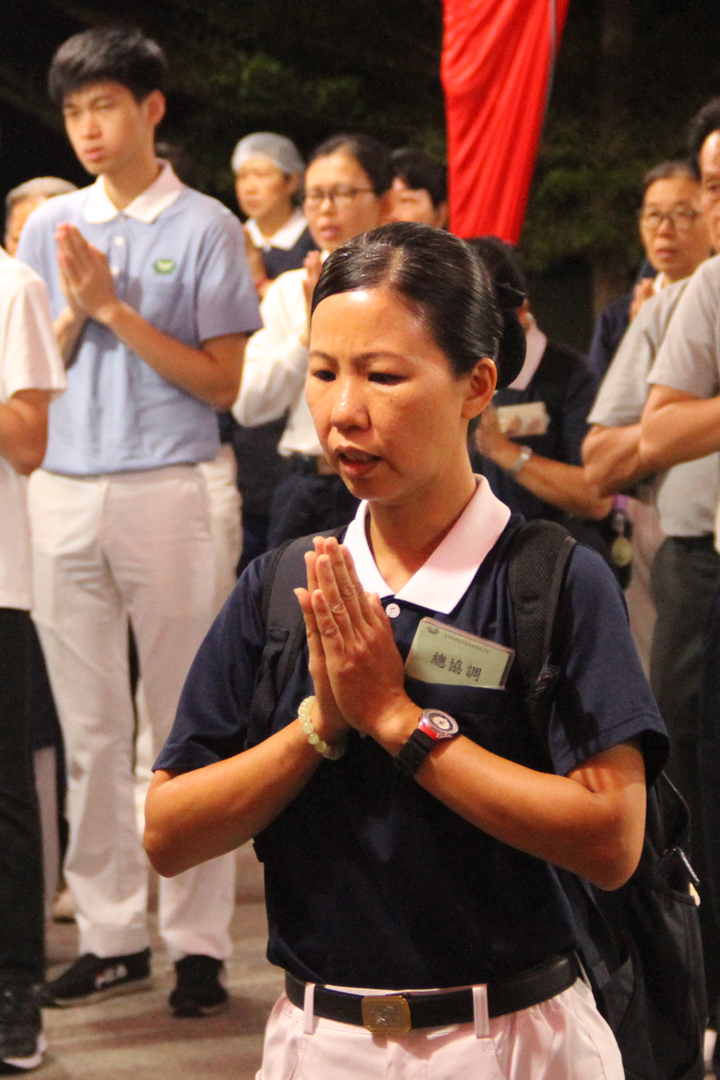 Other than these activities, the volunteers had also sought donation of "roof tiles" prior to the event. Geok Jin was grateful to Tan Soon Hock, volunteer from Tzu Chi KL & Selangor's Entrepreneurs' Group, for inspiring more people to respond to the initiative through his sharing. She was also thankful to volunteers from various Tzu Chi chapters, who had rendered their support by manning stalls that sold a variety of local dishes.
•
The event was a success with funds raised exceeding the target set. However, the volunteers will not slow down their efforts, not until the final target is achieved.
Note: Years ago, Master Cheng Yen called upon all kind people to contribute towards the Tzu Chi Hospital Building Fund. In response to the Master's appeal, Tzu Chi volunteers initiated every means to raise funds for this cause. Back then, NT$1 million was a huge amount. As the Master was very grateful to these patrons who had donated over NT$1 million, she appointed them as Tzu Chi Honorary Board Members to show her appreciation and commended their acts of kindness as a role model for everyone to emulate.