Giving is not the privilege of the rich but those who are sincere. A group of parents, whose children are enrolled in Tzu Chi's tuition programme, reciprocated by contributing towards the Tzu Chi Great Love Charity Fair to raise funds for the construction of Muar Tzu-Chi Jing Si Hall.
In support of the Tzu Chi Great Love Charity Fair organized by Tzu Chi Muar, volunteers from the charity division adopted a stall for the care recipients to partake in the event, thereby creating blessings for themselves while contributing towards the meaningful cause.
Prior to the event, the care recipients prepared their specialty dishes for everyone to taste so that their recipes could be improved accordingly. After a few practices, they were gradually able to control the quality of food and packaging, which also boosted their level of confidence.
The effort involved care recipients of different nationalities and ethnicities from eight households, and they prepared dishes such as, Vietnamese cold noodles, crispy vegetable fritters, Indian fragrance rice, Malay-style fried rice and soursop juice. On August 16, volunteers organized a small-scale charity fair for the care recipients to get a taste of the event, and the food were sold out within two hours. The experience helped them to further improve their recipes and hopefully, they will be able to attract more supporters during the actual event.
Feeling the joy
Vietnamese care recipient Dong Thi Thuy is a mother of three. She has been assuming the role of a breadwinner for her family since her Malaysian husband had a stroke and lost his ability to work a few years ago. She started with selling some homemade pastries, followed by some paper handicraft work at home and later, running a food-stall. For the charity fair, she prepared her specialty steamed rice cake, made with rice milk that she grinds from white rice.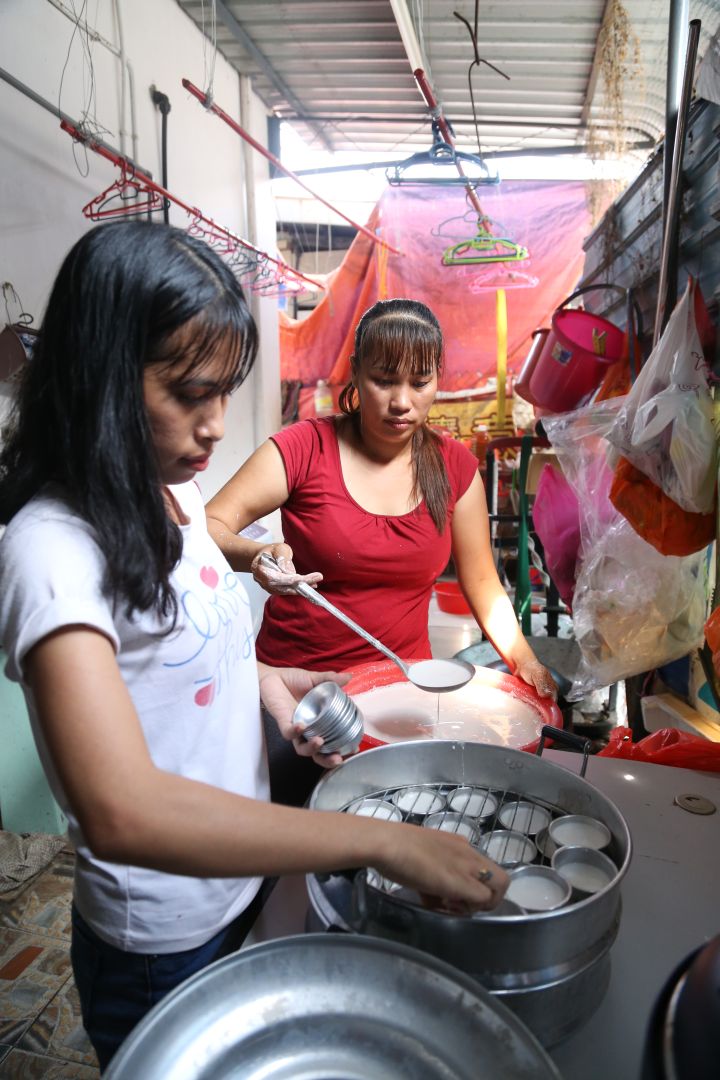 She explained that steamed rice cakes made from rice milk smell and taste better than those made from rice flour. Thus, she has insisted on using rice milk though it takes more efforts to prepare.
She has to first soak the rice grains. When they have expanded and softened, they are then transferred to the grinding machine that she especially brought from Vietnam. Then, she would slowly add some water and grind the rice grains into milk, and repeat the process a few times to ensure that all the rice grains are finely grinded. This is necessary in order to produce rice cakes that are smooth and fine in texture.
For the charity fair, she also replaced the usual fried preserved radish and spring onions with vegan-friendly ingredients. She shared that she loves to contribute towards charitable causes despite her limited income, thus she insisted on bearing the costs for ingredients by herself. Together with her younger sister, she produced a total of 400 steamed rice cakes for the trial sale, and hoped to increase the production to 500 for the actual sale.
A special way to reciprocate
Nguyen Kim Thuy, who also hails from Vietnam, shares the same fate as Dong Thi Thuy. She and her husband, who was diagnosed with kidney disease two years ago, have been making some paper handicraft work at home to support their livelihood. Nguyen Kim Thuy agreed without hesitation to contribute her efforts for the charity fair when she learnt about the event from volunteers. After discussions with her husband, they decided to prepare the vegetarian version of Vietnamese cold noodles for sale.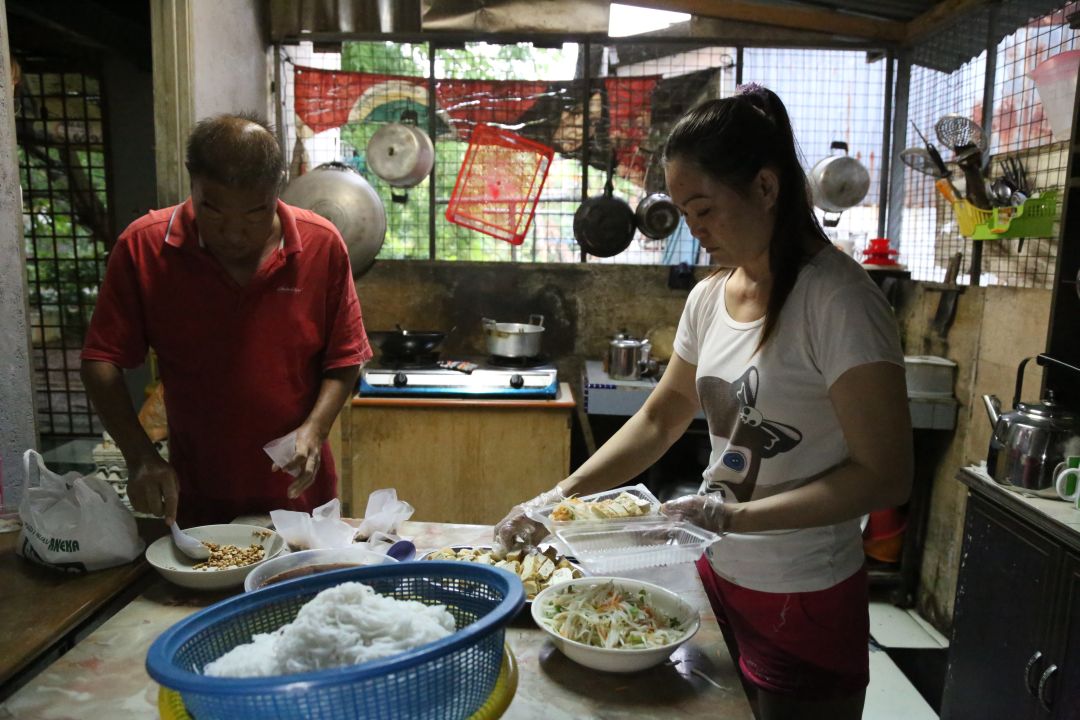 Nguyen Kim Thuy informed that the ingredients commonly used in the cold noodles include cucumber, carrot, bean sprouts, basil leaves, ground nuts and barbecued meat. While the Vietnamese are used to consuming these vegetables raw, she noticed that the Malaysians prefer cooked bean sprouts instead. Thus, she replaced the raw bean sprouts with blanched bean sprouts, and meat with fried bean curds. As for the gravy, she used calamansi juice, soy sauce, vegetarian fish sauce and red chillies. This combination of ingredients makes the cold noodles less oily and healthier.
As the vermicelli the Vietnamese use is different from those available at local stores, she specially sourced for this item from a Vietnamese specialty store. She did not mind paying the extras because she and her husband have hoped to contribute towards the good cause to reciprocate Tzu Chi's kindness by helping others.
Nguyen Kim Thuy shared that her children's academic performance has improved after attending tuition classes organized by Tzu Chi. She is grateful to the teachers for their dedication in coaching the students.
A household full of loving-kindness
Care recipient Dji Kim Lian shared that her child returned home from Tzu Chi's tuition class one day and asked her, "Mum, Tzu Chi will be organizing a charity fair, shall we contribute too?"
Thus, she decided to make crispy vegetable fritters to support the fundraising event. She revealed that her mother-in-law used to cook for temples and NGOs upon invitations, and she would help the latter with the chores. Her mother-in-law's spirit of giving has left a positive impact on her. Thus, even though she would feel giddy or experience asthma sometimes, it did not hinder her from contributing towards the good cause. She explained that she could take her own pace for the cooking, and added that, "Deep frying vegetable fritters on low heat make them delicious and less oily."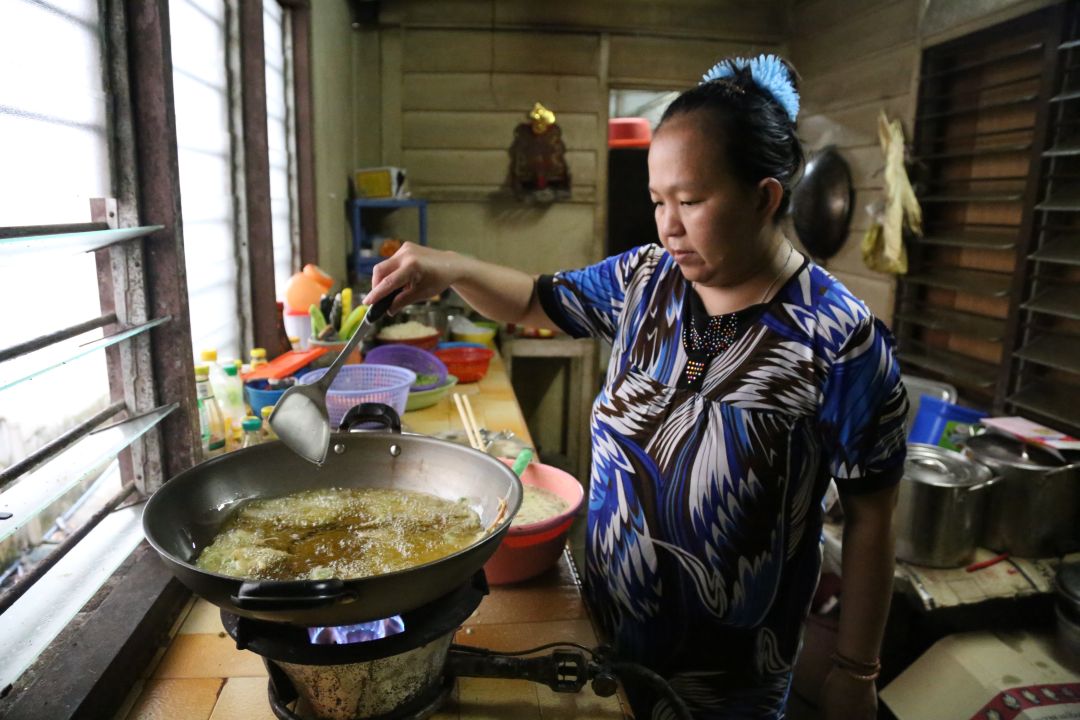 She shared that her child would also invite their relatives and friends to support the construction of the Jing Si Hall. Once when her brother-in-law visited them, her child asked the uncle whether he would like to donate roof tiles for the Jing Si Hall. The latter then made a generous donation of 20 pieces of roof tiles, which is equivalent to RM2,000. They were so happy and quickly called a volunteer to collect the donation.
●
Contentment is true wealth, and everyone can give. With volunteers' guidance, the care recipients are contributing to a good cause with a grateful and joyful heart. The little contribution from everyone will make the Jing Si Hall a place full of love, and one that will continue to spread the spirit of Great Love far and wide, ceaselessly.